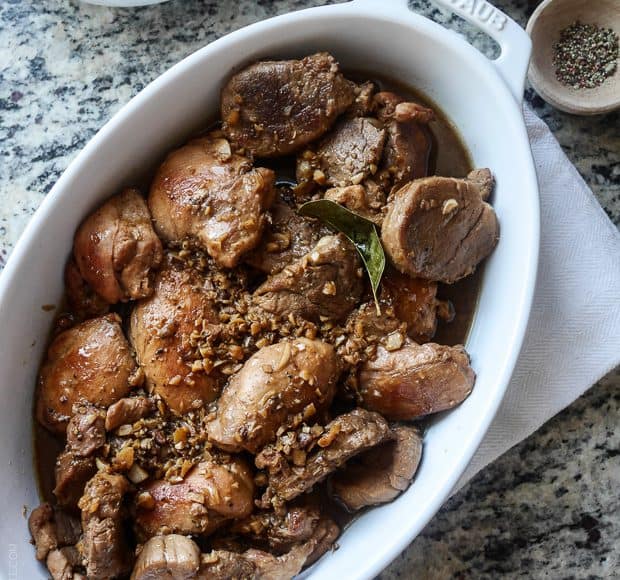 Simple Sundays | Filipino Chicken and Pork Adobo
I usually don't speak to my neighbors on the plane. I'm not one to drum up conversation – for me, that time in the air is a little respite from the every day, and I would hate to bother other travelers who may feel the…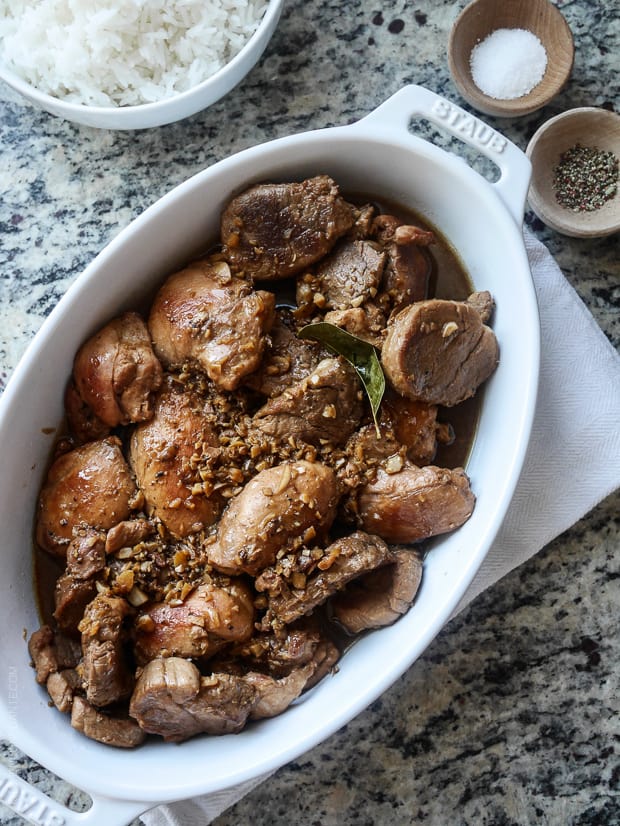 Simple Sundays | Filipino Chicken and Pork Adobo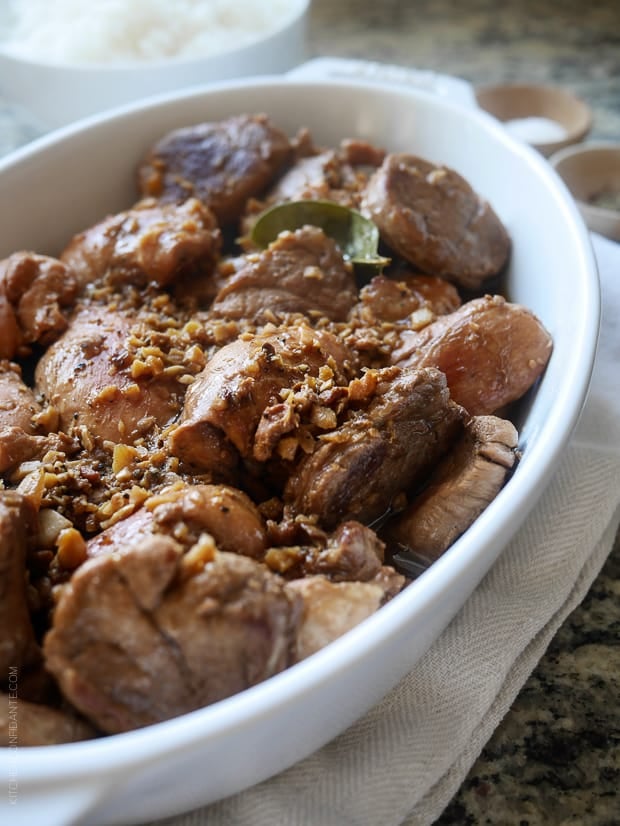 I usually don't speak to my neighbors on the plane. I'm not one to drum up conversation – for me, that time in the air is a little respite from the every day, and I would hate to bother other travelers who may feel the same way. But I've been on the road a lot lately (if you follow my Instagrams, then you will know what I mean), and for some reason, I found myself chatting with the woman next to me on a little regional jet from Houston to Lafayette.
We had more in common than I could have ever imagined. On the surface, it seemed that sharing this flight was the only common ground, but as we got to know one another, we laughed at how similar we were. As we soared over the rain drenched delta, we learned a lot. We each had two children, a girl and a boy, of the same ages. We both were nervous of small planes and dubious of the hail that was periodically spitting out of the jet's air vents. Both our mothers passed away from breast cancer.
It was a reminder of how we are all more alike than we think. Even when you can't imagine it.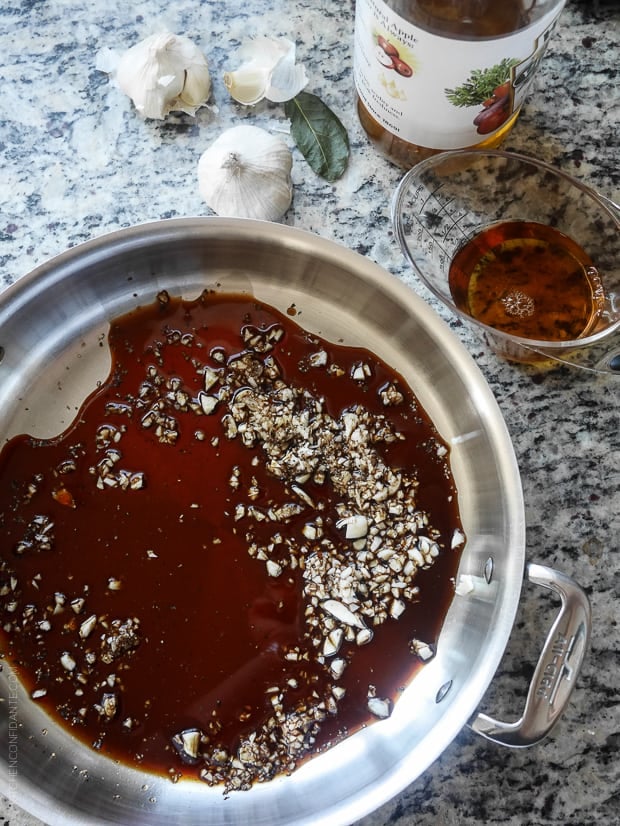 When I got home on Friday, I was exhausted. And eager for a home cooked meal. As delicious as my adventures were over the last several days – and I can't wait to share those with you – all I wanted was comfort food. I wanted something simple. Filipino Chicken and Pork Adobo, with lots of garlicky sauce, over a bed of white rice. I have shared some adobo recipes with you before, but they are variations and hybrids of this, the most basic and true to the adobo my mother made, and the kind my father loves best. This is favorite dish, and one that I can make with my eyes closed.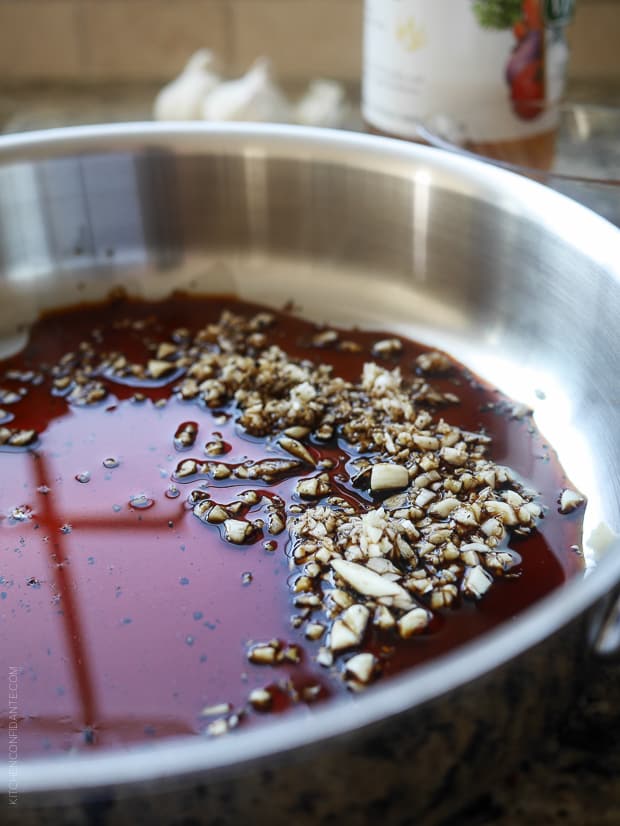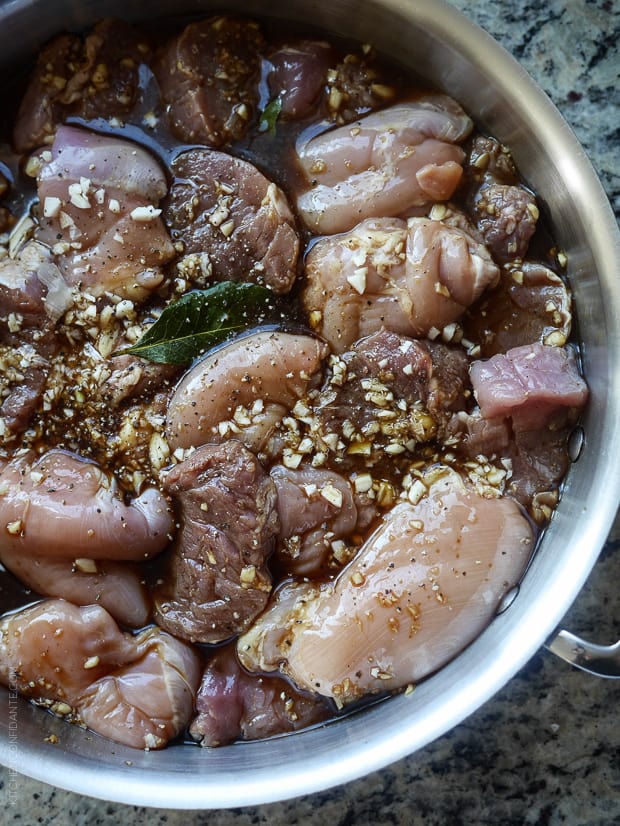 Adobo is typically one of the first dishes you taste when you're first introduced to Filipino food, and for good reason – it's the national dish, and it is simply delicious. I often make it with all chicken, but my dad prefers it like this, with pork, and together, it braises in a rich and flavorful sauce of soy sauce, vinegar and garlic. If I have time, I start marinating the meat the night before, but often, I make this meal in 30 minutes, and it is still bursting with rich flavor when I bring it to the table. It's a dish that will please your tastebuds, no matter what foods you grew up eating, a dish that reminds you that truly, we're more alike than we think.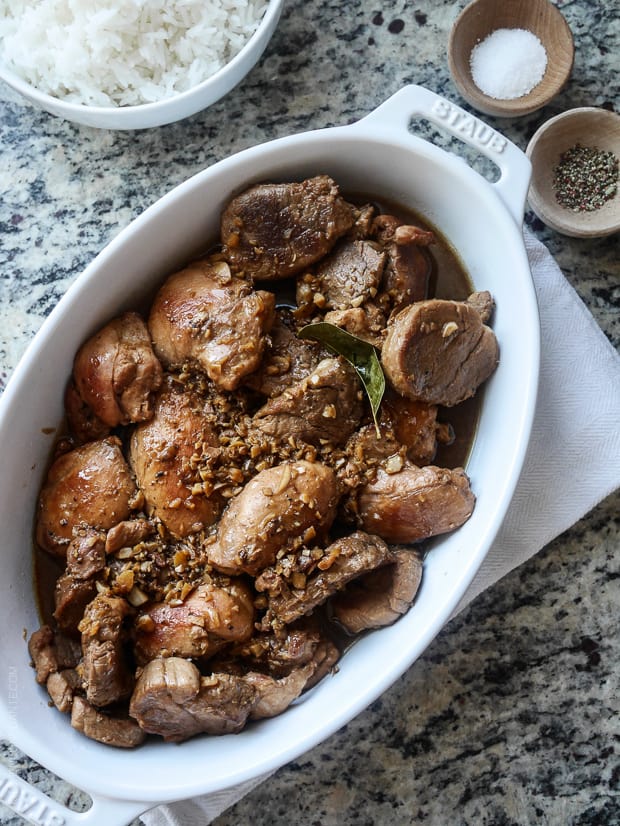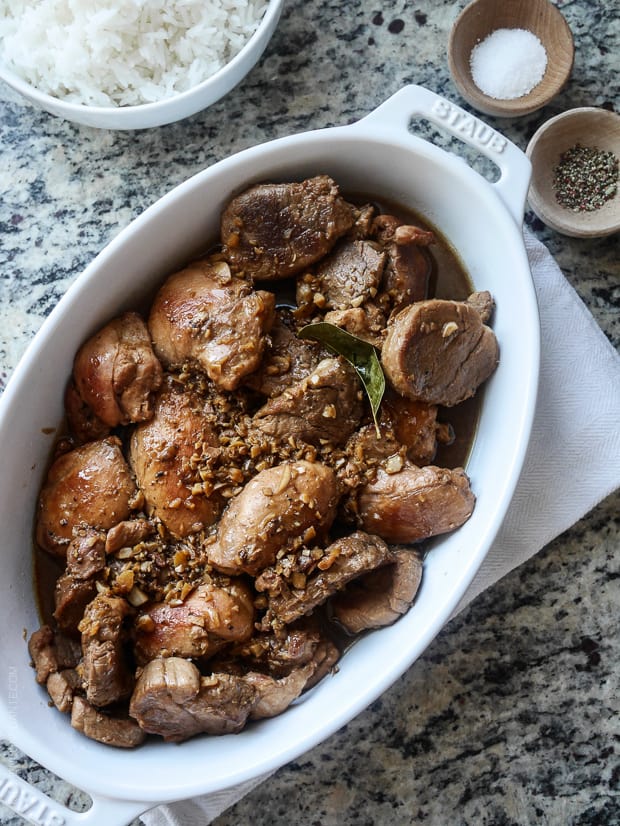 Filipino Chicken and Pork Adobo
This recipe is easily adaptable - use all chicken or all pork if you wish - and make more sauce (because to me, the sauce is the best part) by simply adding equal parts of soy sauce to vinegar. It's best served over rice, with lots of sauce!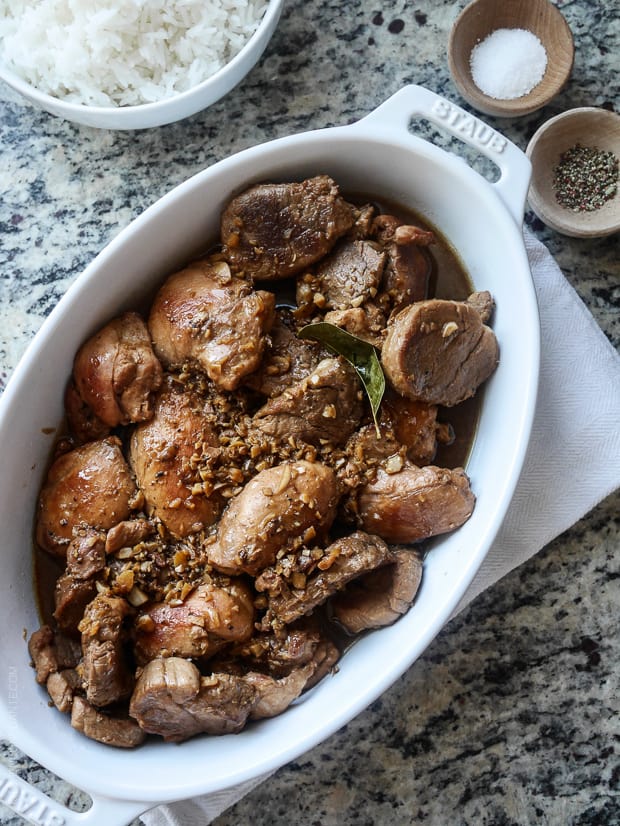 Print Recipe
Ingredients
6 chicken legs on the bone
1 small pork tenderloin, sliced in 1/2 inch rounds
1/3 cup soy sauce (I like Silver Swan for this recipe)
1/3 cup cider vinegar
1 small head of garlic, minced
freshly ground black pepper
2 bay leaves
1 tablespoon canola oil
salt and pepper to taste
Instructions
Marinate the chicken and pork in soy sauce, vinegar, garlic and pepper, in a non-reactive bowl, for 30 minutes to 1 hour, rotating at least once. The chicken can also marinate overnight.
Place the chicken, bay leaves and marinade in a deep sided sauté pan and cook over medium heat. When the sauce is bubbling, turn the chicken and cook until the meat is nearly cooked through, about 15 minutes. Transfer the sauce to a bowl, add oil to the pan, and brown the chicken and pork on all sides, working in batches. Return the sauce to the pan, bring to a boil and lower heat to a simmer. Adjust the sauce to taste with salt and pepper. Cook for about 20-30 minutes, or until the chicken is tender and the sauce a thick and deep color.
Serve over rice.