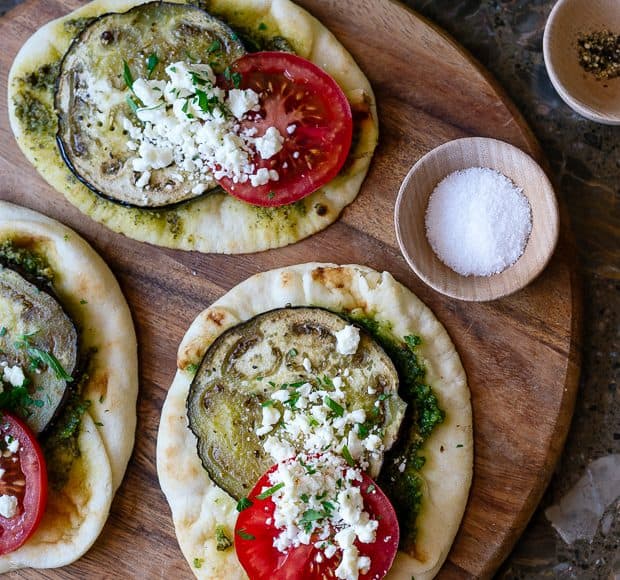 Roasted Eggplant, Tomato and Pesto Mini Naan
Aubergines. What an alluring word. I was slicing rounds of eggplant and asking my children if they knew what it was called in British English. We said it in our most sophisticated, highfaluting English accents — "aw-ber-jeen" then said "eggplant" in plain American English. Eggplant…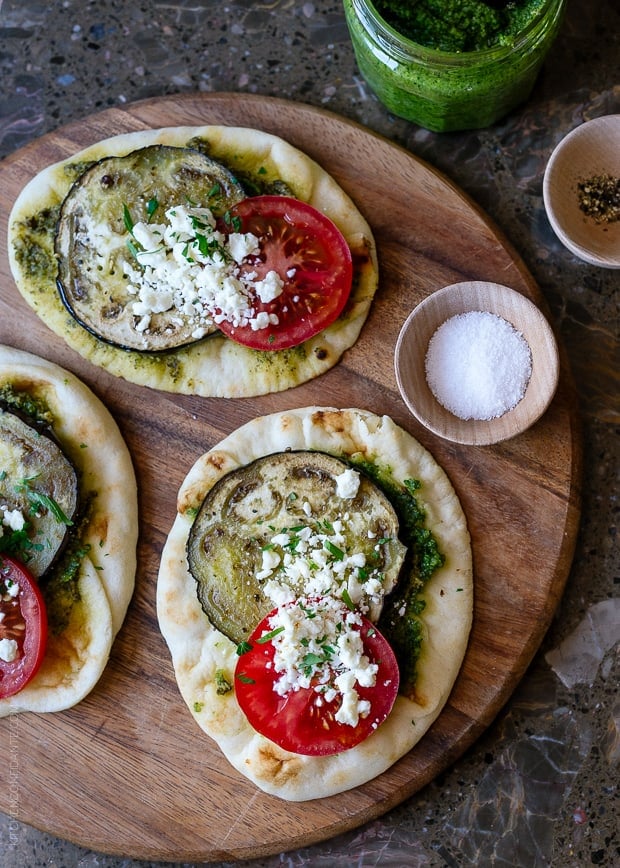 Roasted Eggplant, Tomato and Pesto Mini Naan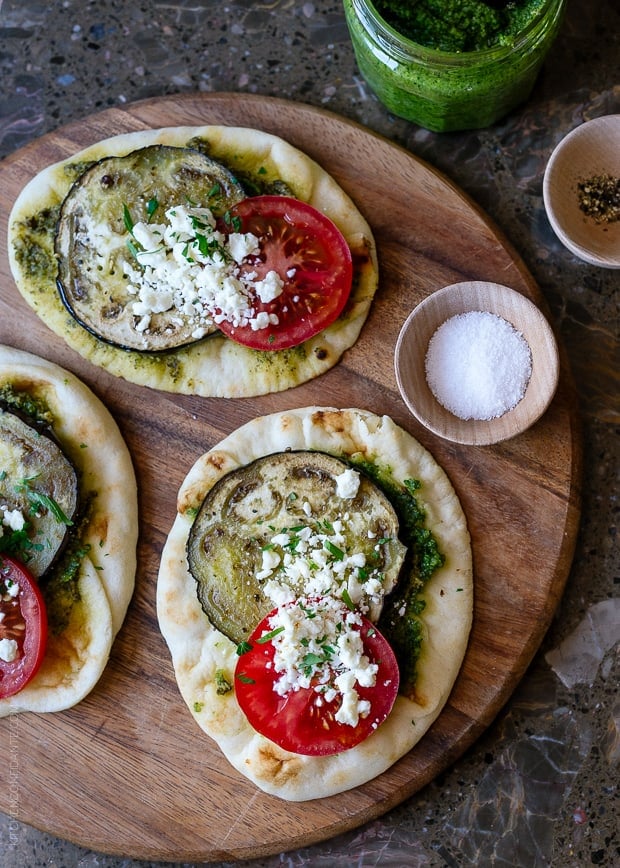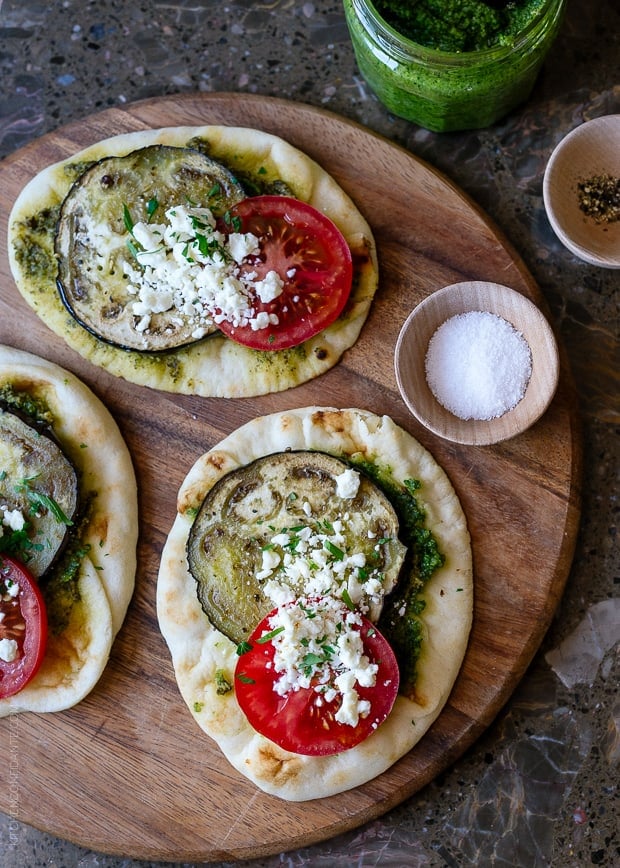 Aubergines. What an alluring word. I was slicing rounds of eggplant and asking my children if they knew what it was called in British English. We said it in our most sophisticated, highfaluting English accents — "aw-ber-jeen" then said "eggplant" in plain American English. Eggplant sounded like face plant. Right on the floor.
Ah well, eggplant may not sound as elegant, but it is an ingredient that I adore for its graceful curves and versatility. I love how it softens to suppleness when roasted in the oven, and how it soaks up bold flavors with a sponge. I decided that afternoon to make Roasted Eggplant, Tomato & Pesto Mini Naan.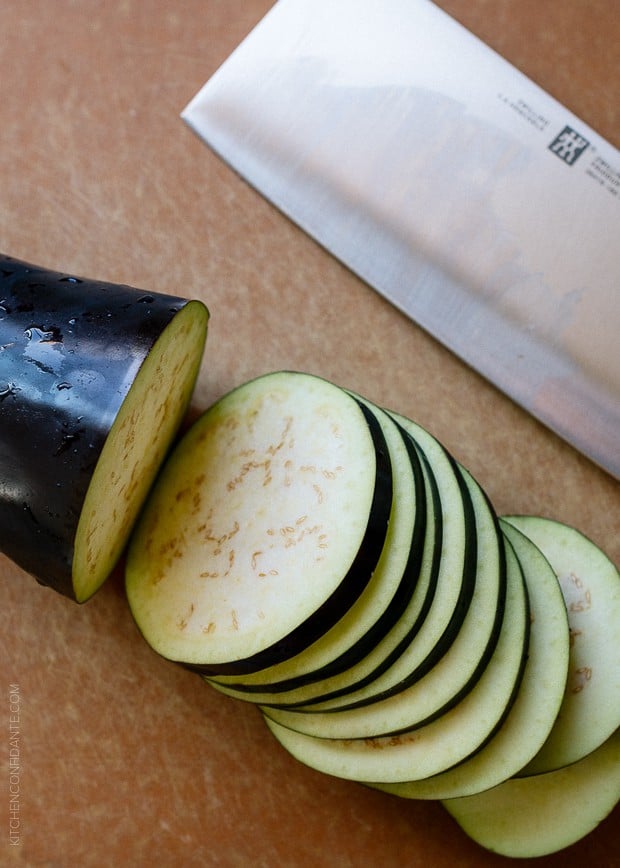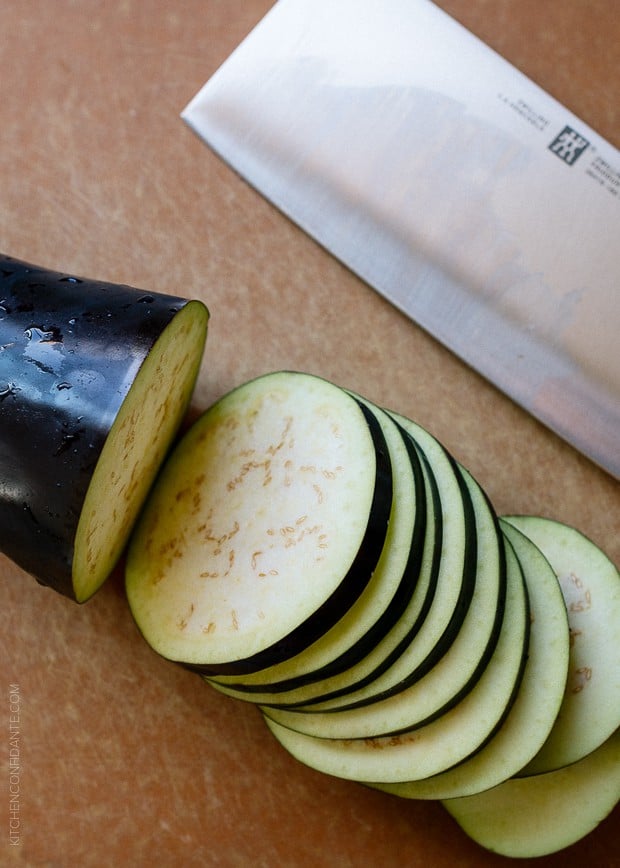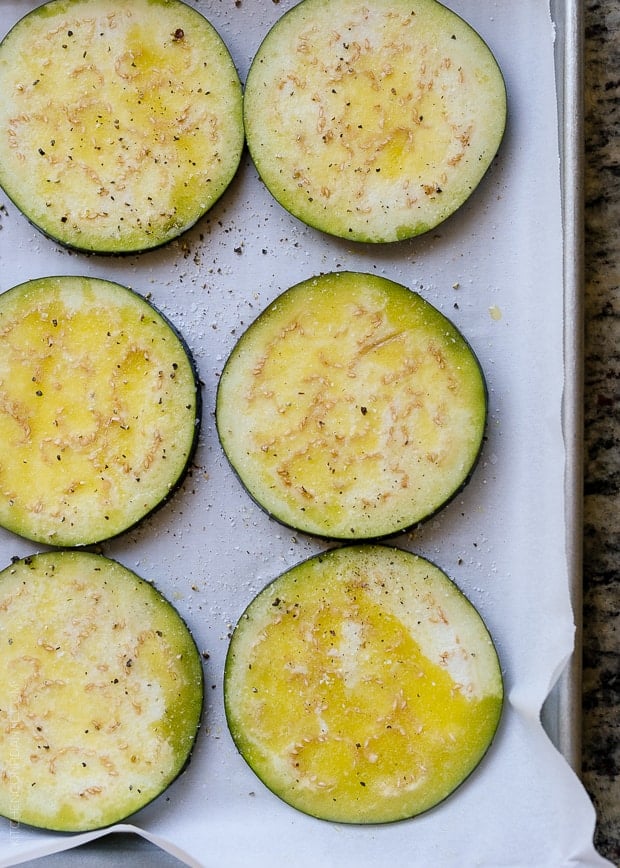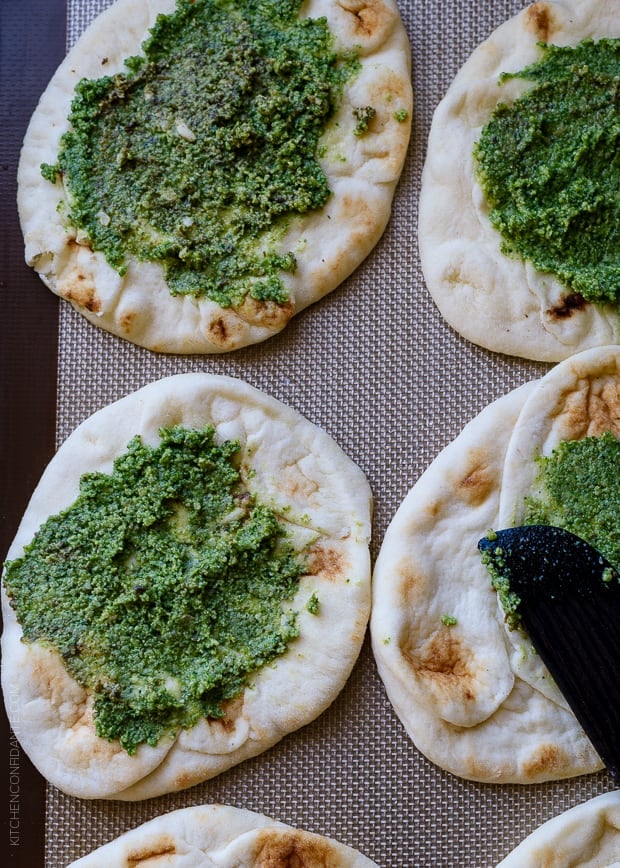 Which reminds me, can we chat about naan? It has other names too, such as nan or khamiri, but we simply know it as Indian flatbread. Again, naan sounds so much more interesting flatbread. We Americans take all the fun out of delicious words!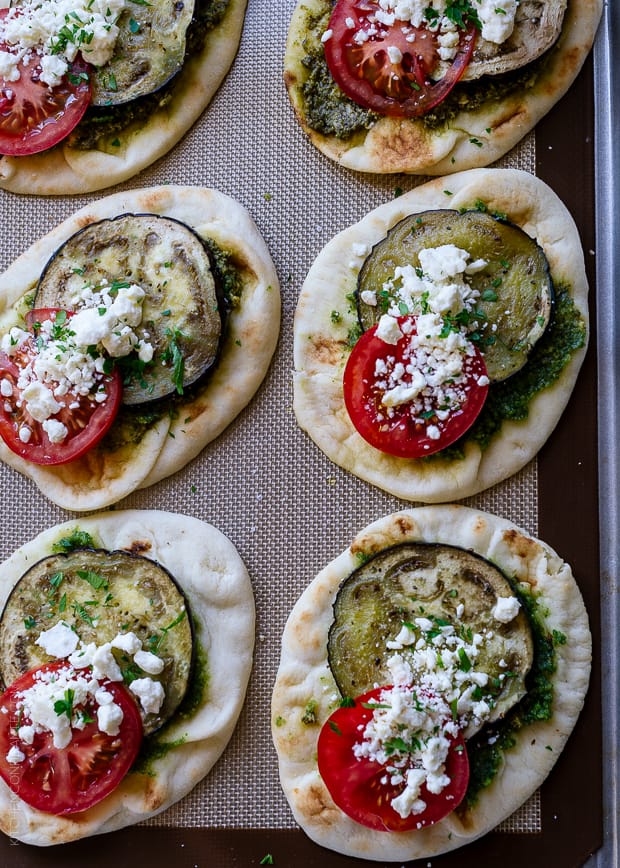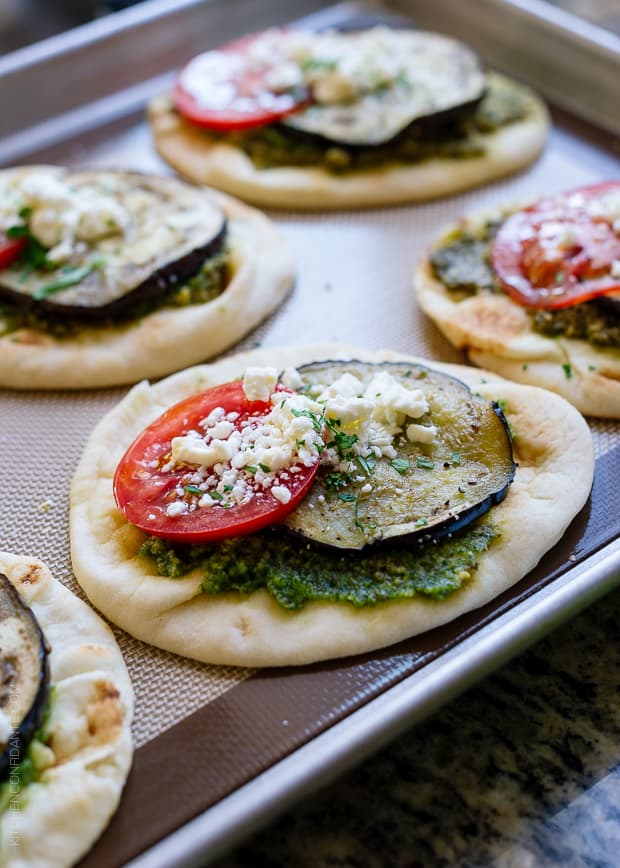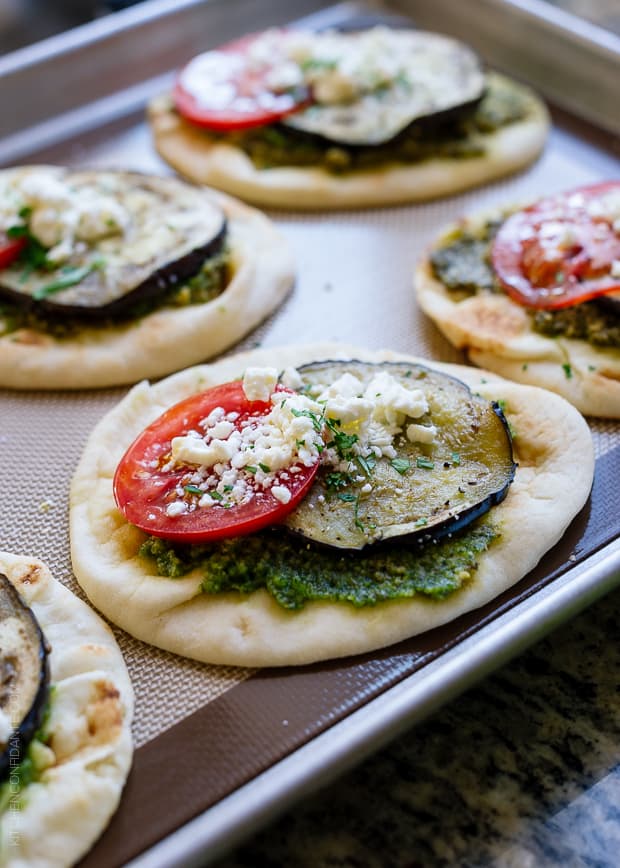 Last year, I had a wonderful time developing a recipe for Stonefire Authentic Flatbreads for their cross-country Stonefire Food Truck Tour. I still adore that Fig, Jalapeño Jam and Blue Cheese Pizza! This time, I made these roasted veggie mini naan with Stonefire Mini Naan, which I love for their light, pillowy texture. They toast up in just minutes, making these bites very doable in 15 minutes or less. I love them straight out of the oven, but they're just as wonderful at room temperature, so I'm already thinking ahead to those spring and summer picnics we have to look forward to – these will be perfectly packable!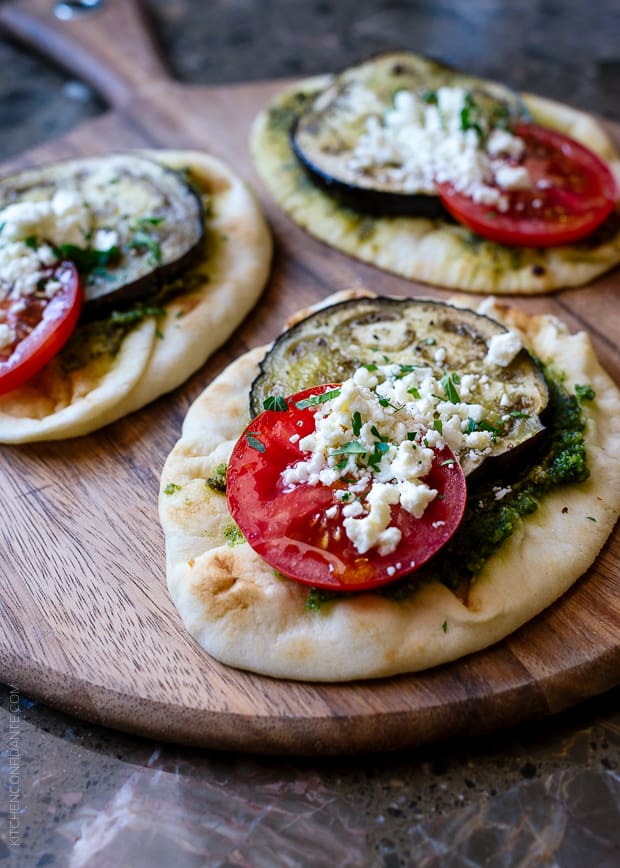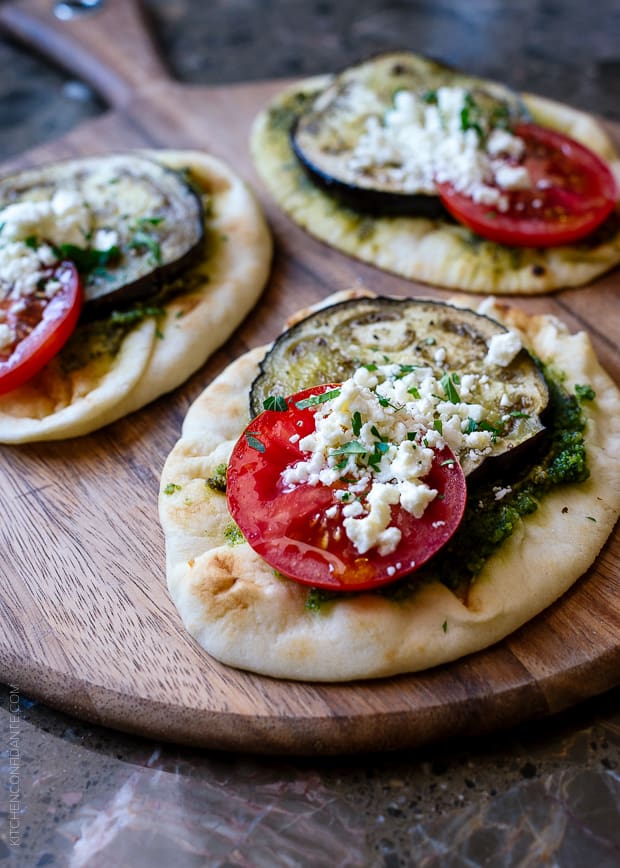 Disclosure: This post was made possible by Stonefire Authentic Flatbreads. Thank you for supporting brands that matter to me and help behind the scenes at Kitchen Confidante. All opinions are my own.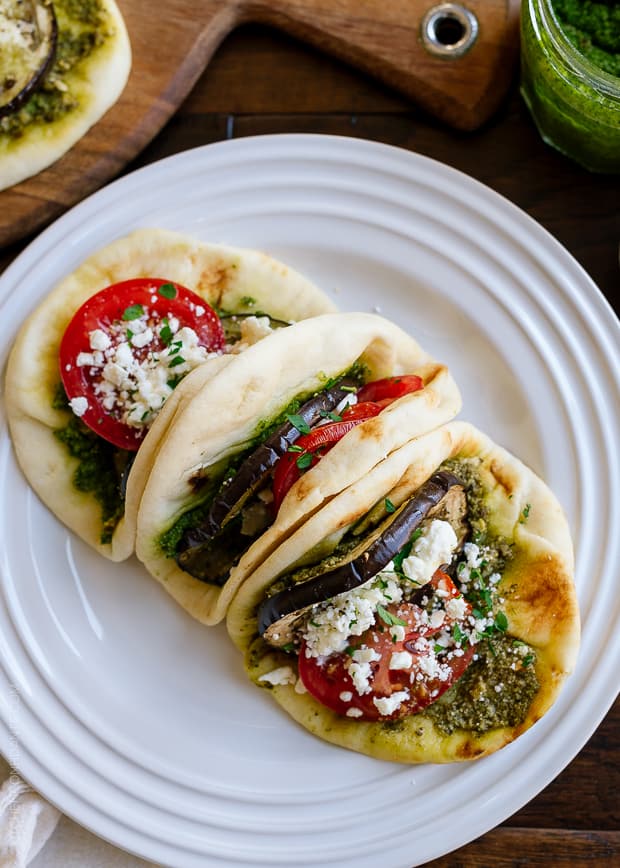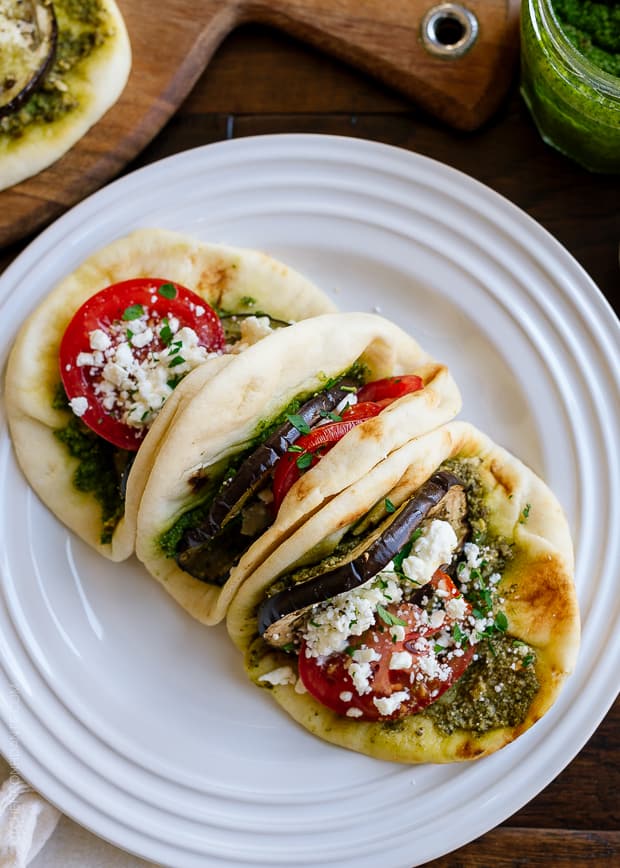 Roasted Eggplant, Tomato and Pesto Mini Naan
Eat it hot straight out of the oven or at room temperature - anything goes with these bites of naan! They're just as versatile for an easy lunch, simple appetizer, or picnic fare!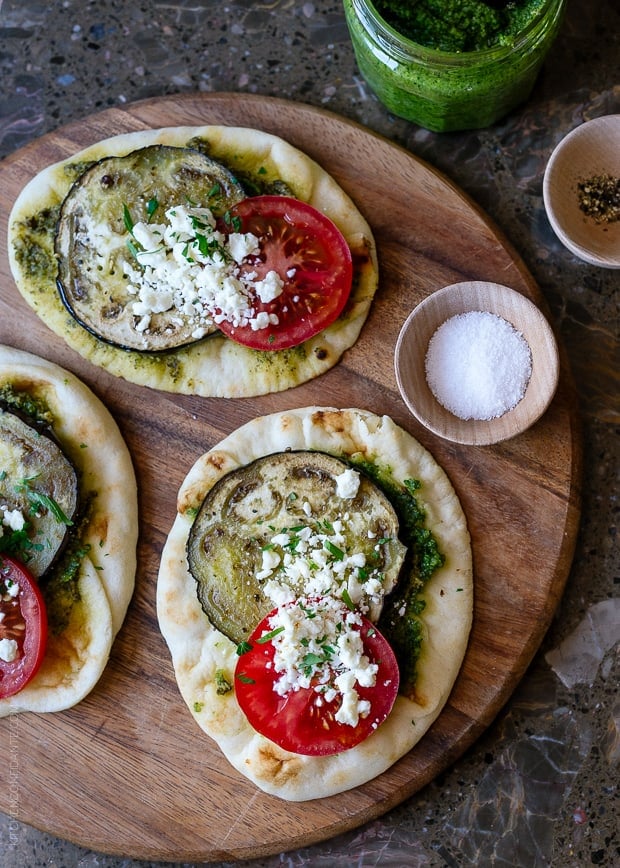 Print Recipe
Ingredients
2 packages Stonefire Mini Naan, Original
1 medium eggplant
1/4 cup olive oil
kosher salt
freshly ground black pepper
1 cup pesto
1 large tomato, sliced into 1/4" rounds
1 cup feta cheese
2 tablespoons chopped parsley
Instructions
Preheat oven to 400°F. Line a small baking sheet with parchment paper.
Slice the eggplant crosswise into 6 1/4 inch rounds. Brush on both sides with olive oil and arrange on the lined baking sheet in one layer. Lightly season with salt and pepper. Roast in the oven for about 10 minutes, until the eggplant is just fork tender.
While the eggplant is roasting, arrange 6 of Stonefire mini naan on a large baking sheet. Spread a layer of pesto on each naan. Place one roasted eggplant slice and one tomato slice on top of each naan. Season with a little more salt and pepper. Sprinkle with feta cheese and place it into the oven. Bake for 4 minutes, or until the tomato has wilted, the cheese has softened, and the naan is toasted. Remove from oven, sprinkle chopped parsley, and enjoy. It's wonderful served immediately out of the oven or at room temperature.