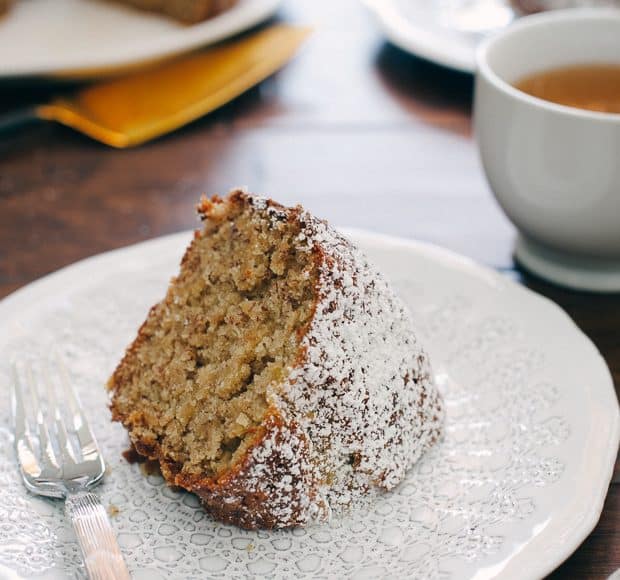 Banana Pineapple Cake
Use up those ripe bananas and have a slice of Banana Pineapple Cake! This old family favorite is simple to make and a taste of home. My mom was not exactly a cook.  At least for the early part of my childhood.  I have many…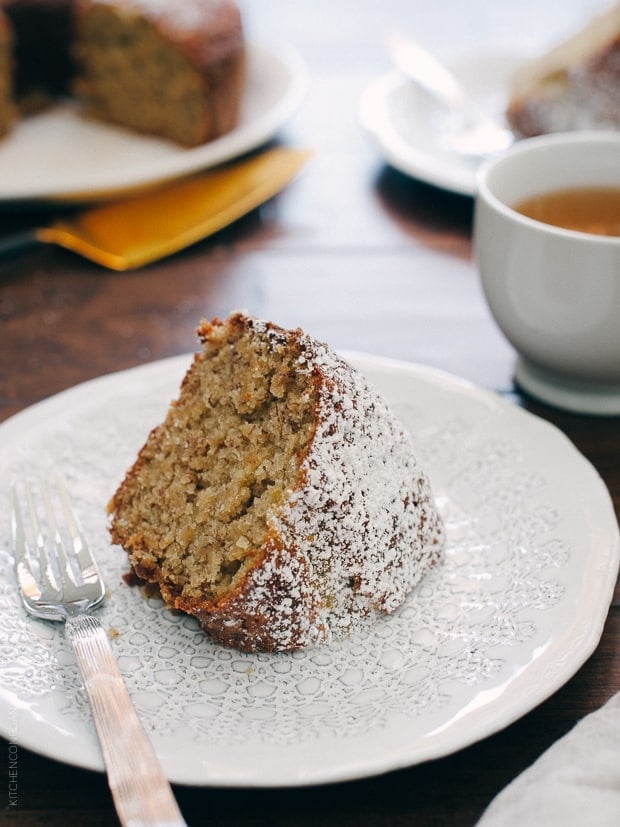 Banana Pineapple Cake
Use up those ripe bananas and have a slice of Banana Pineapple Cake! This old family favorite is simple to make and a taste of home.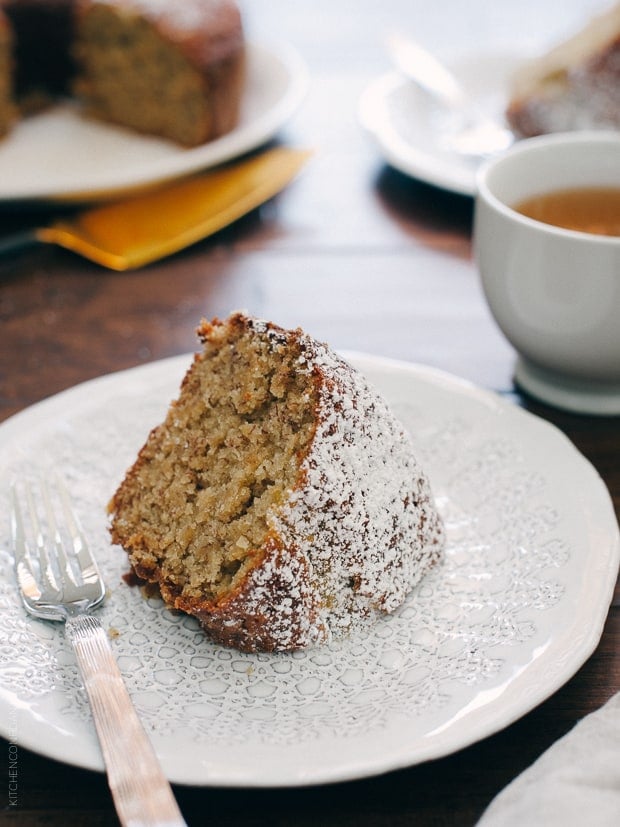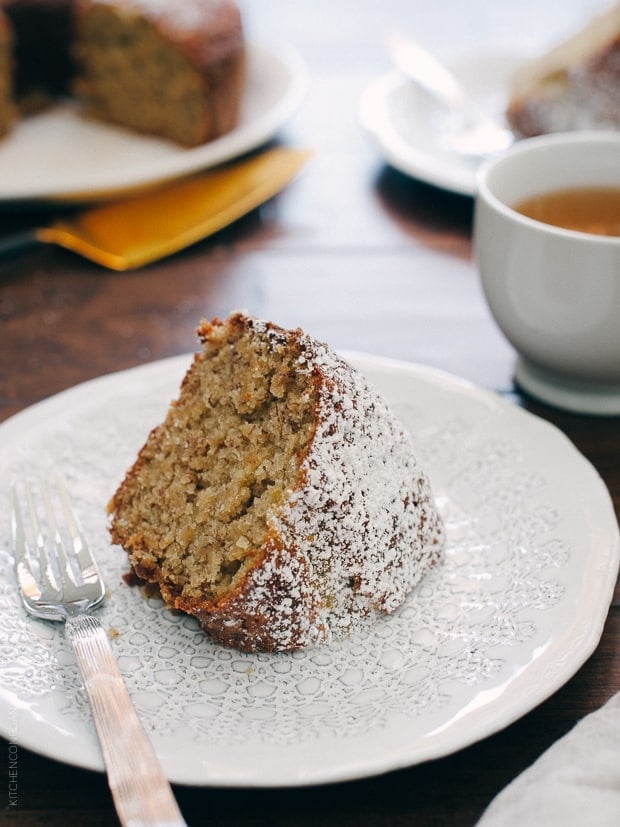 My mom was not exactly a cook.  At least for the early part of my childhood.  I have many memories of her producing dried out pork chops that would take half an hour to chew before each swallow.  As I got older, her skills as a cook definitely improved, but it was never her forte.  In fact, she had a cross stitch that she made framed on the wall that read, "Kitchen Closed.  I'm Sick of Cooking!"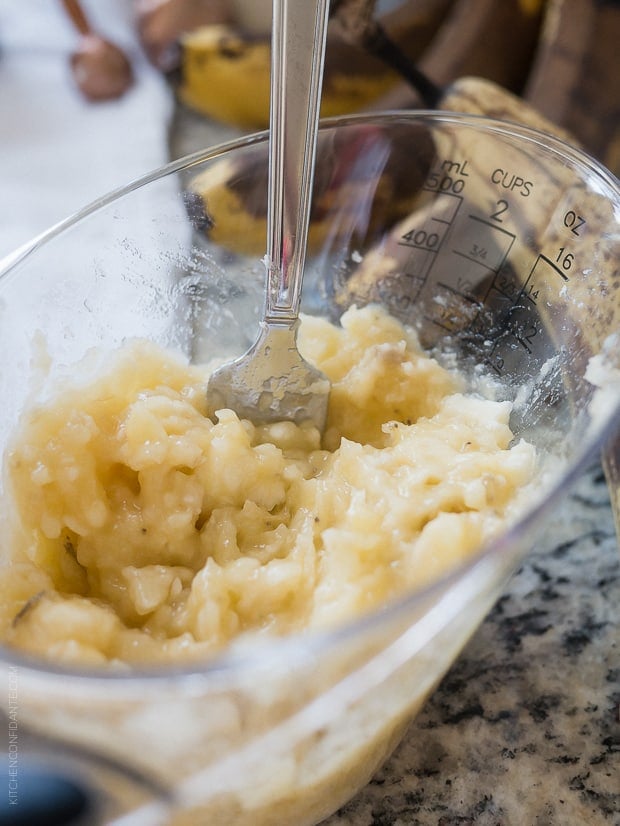 She was, however, a baker.  Some of my fondest memories of my mom were our Saturdays, when she would spend all day in the kitchen, working on cakes or breads.  I loved watching her and helping when I could.  When I was back home in New York a few summers ago, I found her binder of recipes, full of clippings and scribbles, along with letters from family.  This recipe for Banana Pineapple Cake was one she actually had time to transfer to an index card, in her neatest handwriting.  In the binder, I also found a letter from my aunt who told my mom how much she missed this cake of hers, one of her signature desserts.  I'm not sure the origin of the recipe, but for me, it's mom's.
Whenever I have ripe bananas, I have to decide, do I make banana bread or do I make banana pineapple cake? Well, sometimes I have so many ripe bananas, I can make both! Each slice of this homey cake brings me back to those Saturday bake days, my mother in her element, dusted in flour and sugar. With each bite, it's like being with my mom again, if only for just a moment.
Note: This post first appeared February 5, 2010; the recipe has been updated from the archives with improved kitchen notes and recipe annotation. I hope you enjoy this favorite from my kitchen.
Use up those ripe bananas and have a slice! This old family favorite is simple to make and a taste of home.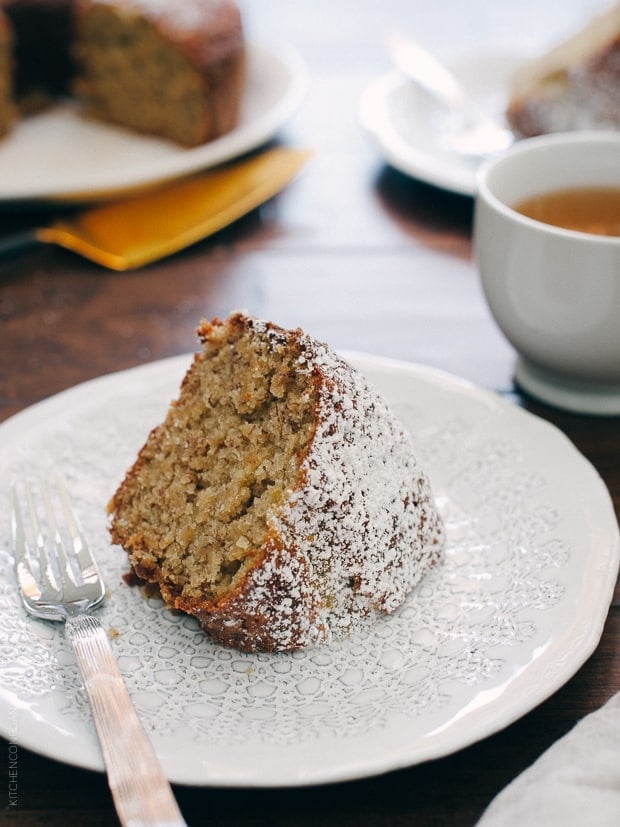 Print Recipe
Ingredients
3 cups all-purpose flour
2 cups granulated sugar
1 tsp kosehr salt
1 tsp baking soda
3 large eggs, slightly beaten
2 cups mashed bananas (about 4-5 very ripe bananas)
1 cup canola oil
1 8¼ oz can crushed pineapple*
1½ tsp vanilla
confectioner's sugar, for serving
Instructions
Preheat the oven to 350°F. Grease a 10 inch fluted tube pan with butter or cooking spray, and dust with flour. Set aside.
In a large mixing bowl, or in the bowl of an electric mixer, stir together the flour, sugar, salt and baking soda. Make a well in the center of the dry ingredients. In a separate bowl, whisk together the eggs, bananas, oil, undrained crushed pineapple, and vanilla. Add the egg mixture to the dry ingredients, stirring until just combined, scraping the bowl periodically. Do not overmix the batter.
Pour batter into the prepared tube pan. Bake for about 60 minutes, or until a toothpick inserted in the center comes out clean. Cool in pan 15 minutes, then remove and cool on wire rack. Sprinkle with powdered sugar before serving.
Notes
* If you wish, you can use fresh pineapple in place of canned. Simply crush chunks of fresh pineapple in a blender for a few seconds.