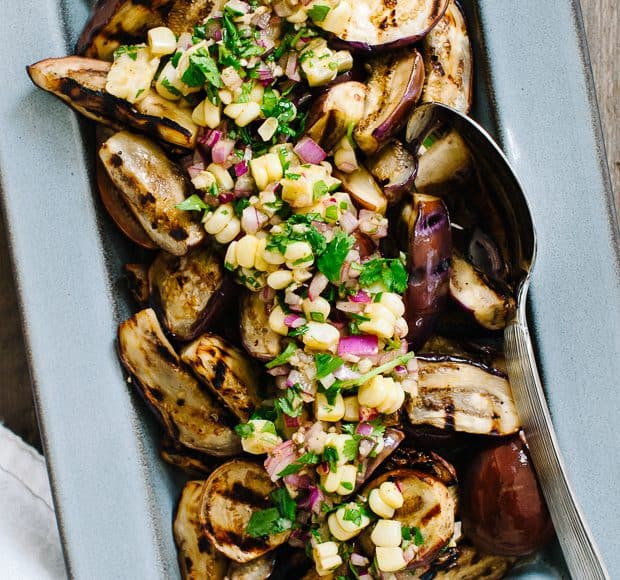 Grilled Eggplant with Corn Chimichurri
Fire up the grill for this flavorful veggie dish. Grilled Eggplant with Corn Chimichurri is a delicious way to enjoy the purple beauties. There was a time when I would devour the news. I loved the feel of the newsprint on my fingertips, when I…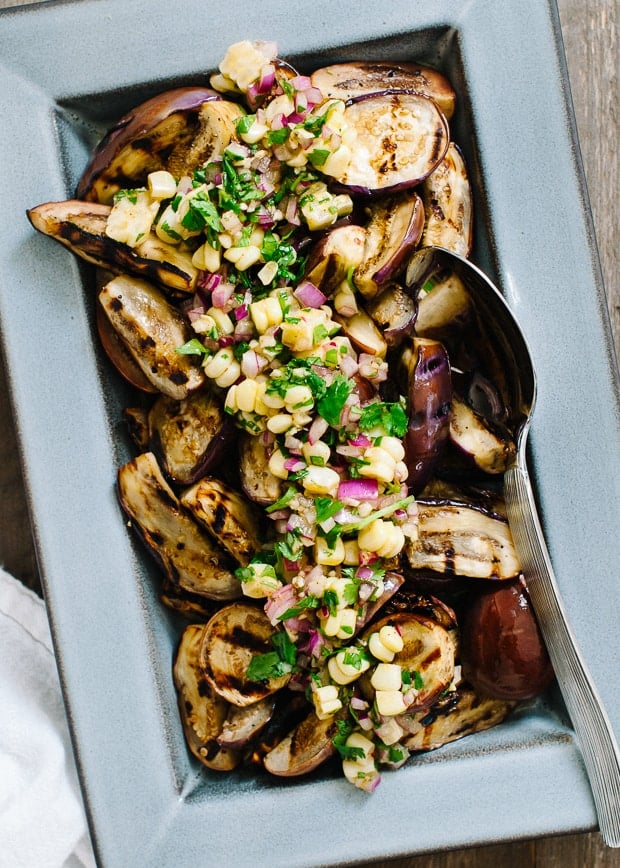 Grilled Eggplant with Corn Chimichurri
Fire up the grill for this flavorful veggie dish. Grilled Eggplant with Corn Chimichurri is a delicious way to enjoy the purple beauties.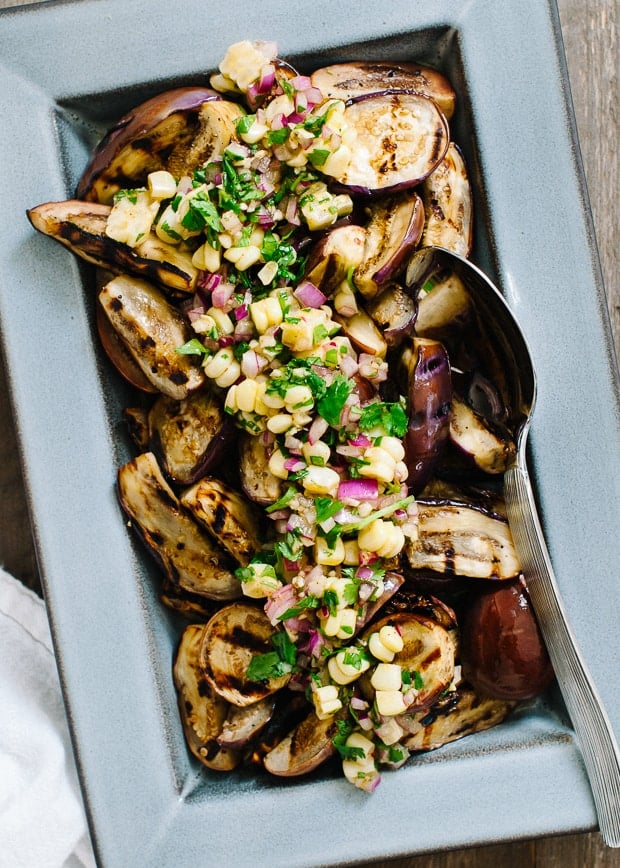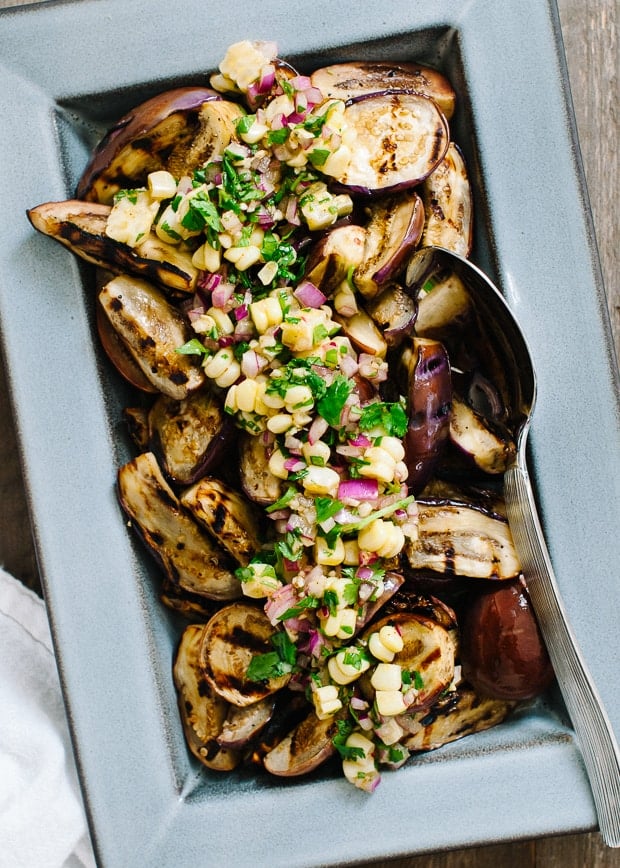 There was a time when I would devour the news. I loved the feel of the newsprint on my fingertips, when I would fold the NYTimes expertly as I rode the train to work, my eyes following the long column. I remember when color was introduced to all the black and white, and it almost seemed comical for a short while. That seems a long time ago, now that my eyes and fingertips scroll glossy screens that don't leave a trace of black smudge on my thumbs.
But what doesn't change is how awful the news reports can be. Between horrifying news and stomach churning crimes, I go through phases where I'd rather not read the news at all. I guess that's why visiting some of my favorite blogs is a welcome part of my day. More happiness. Less disaster. More delicious.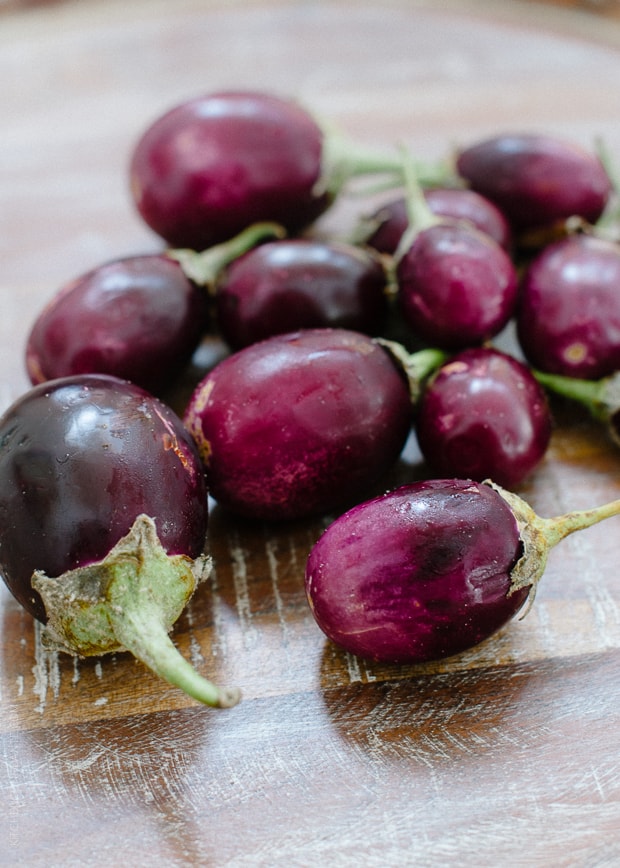 And when it comes to connecting with the world, social media, despite its trolls and meanness, still offers much more happiness. I shared my excitement over these gorgeous Indian eggplants on Instagram the other day, and it was so fun to see that many of you do, too.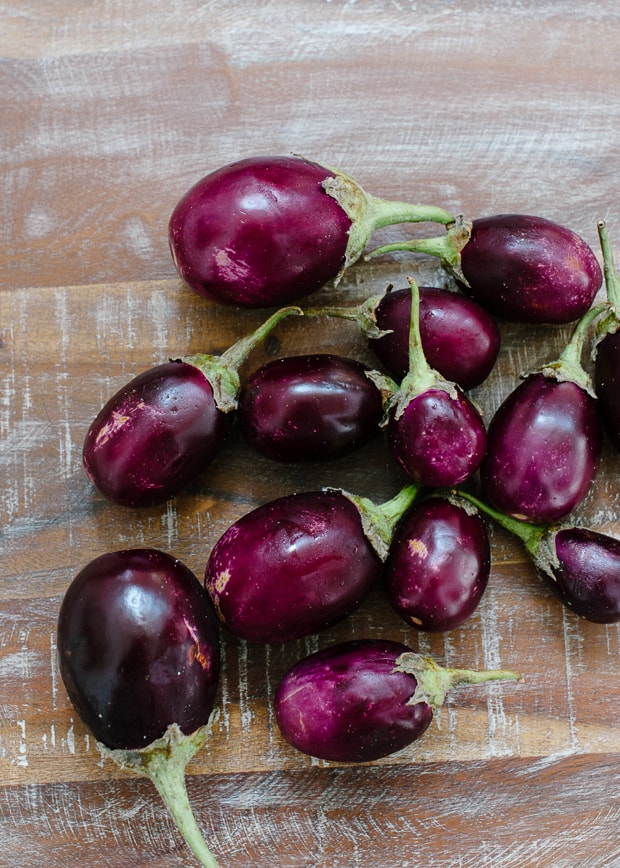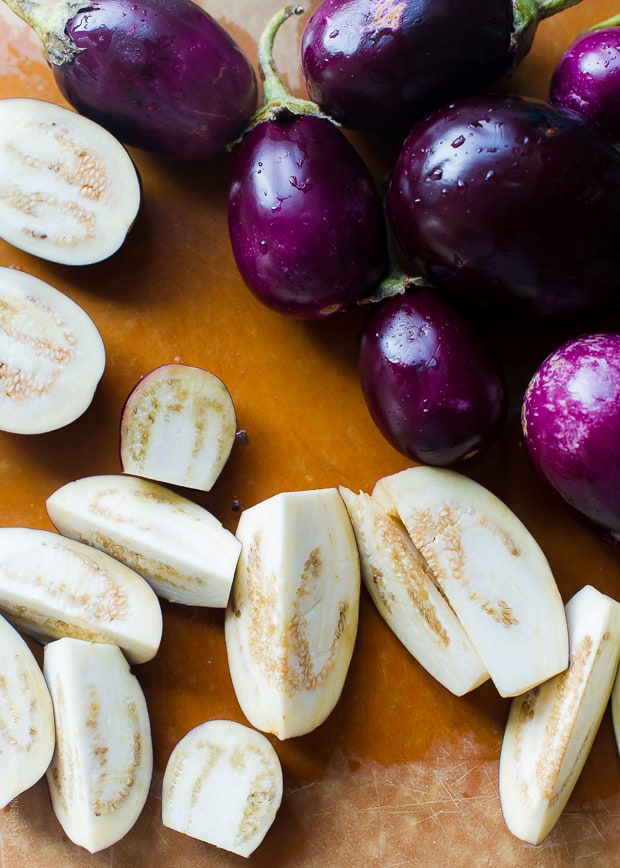 I turned to the grill this week as I sliced these purple beauties. Grilling eggplant is always a favorite of mine, and I remember my mother serving them simply dressed with some vinegar and garlic. So I decided to take this a step further, with a corn chimichurri. Fresh cilantro and basil and sweet kernels of corn add a fragrant crunch to the tender eggplant. As we try to savor the last days of summer, this seems to go with almost everything. And that is one thing I am happy to report.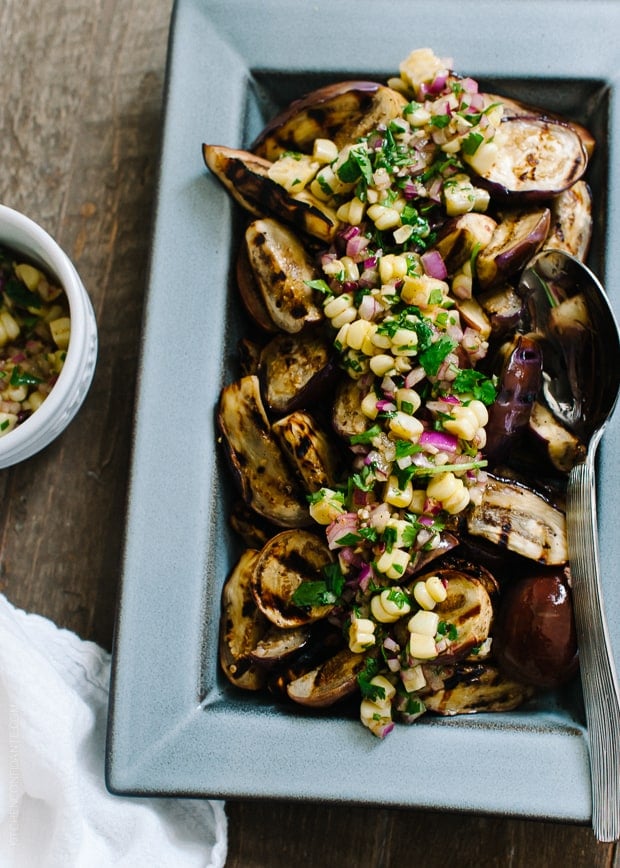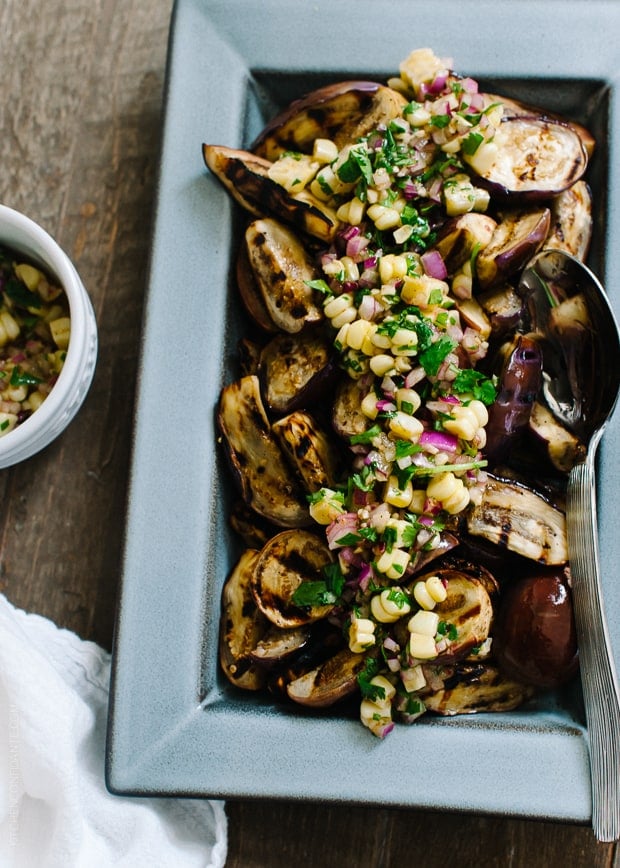 Grilled Eggplant with Corn Chimichurri
Eggplant on the grill gives the eggplant the char I love while making it tender enough to absorb the tangy flavors of the chimichurri. I especially love the sweet crunch of corn in this!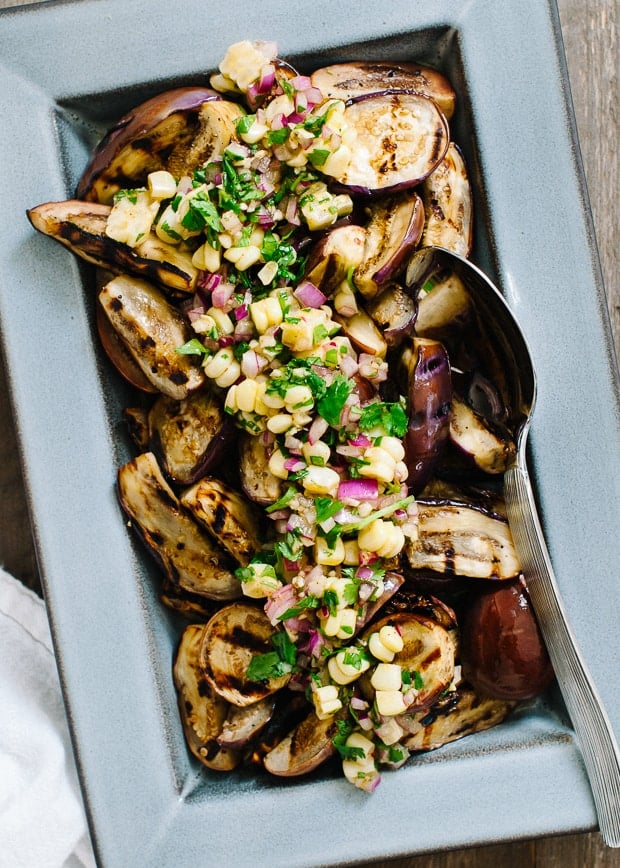 Print Recipe
Ingredients
1/3 cup plus 2 tablespoons extra-virgin olive oil
3/4 cup chopped cilantro
1/4 cup chopped basil
1/2 cup finely chopped red onion
1 ear of cooked corn, kernels removed from the cob
3 garlic cloves, minced
3 tablespoons sherry vinegar
1/4 teaspoon cayenne pepper
kosher salt
freshly ground black pepper
1 lb eggplant, cut into 1 inch thick rounds or wedges
Instructions
In a small bowl, stir 1/3 cup of olive oil with the cilantro, basil, red onion, corn kernels, garlic, sherry vinegar, and cayenne pepper. Season with salt and pepper, and set aside.
In a medium bowl, toss the sliced eggplant pieces with a few sprinkles of salt. Set aside as you preheat the grill to medium high heat. Toss the eggplant with the remaining 2 tablespoons olive oil.
Grill the eggplant until tender. Transfer to a serving dish, season wtih salt and pepper and dress with the corn chimichurri.