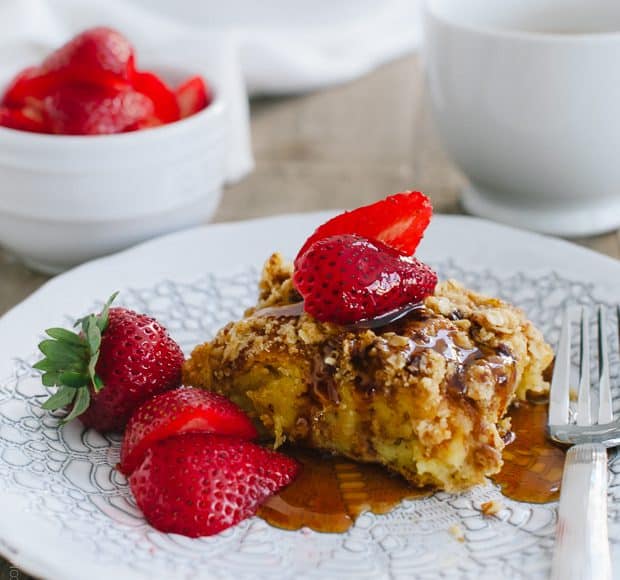 Simple Sundays | Baked Buttermilk French Toast with Oat Streusel
When you need to feed a crowd, Baked Buttermilk French Toast with Oat Streusel is a sweet (and simple!) start to the day. When you have a gaggle of your children's friends sleeping over, are pet sitting friend's pups, and the house is bursting at…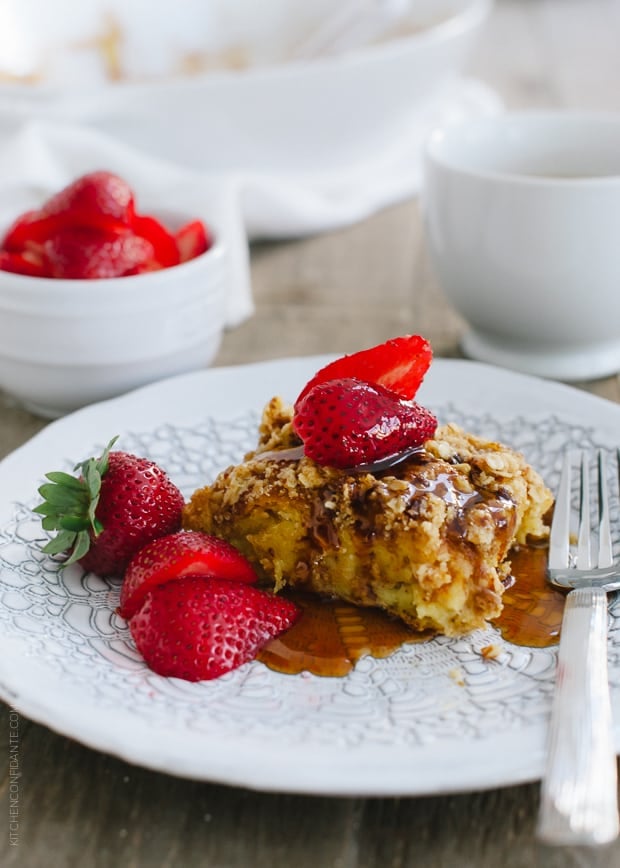 Simple Sundays | Baked Buttermilk French Toast with Oat Streusel
When you need to feed a crowd, Baked Buttermilk French Toast with Oat Streusel is a sweet (and simple!) start to the day.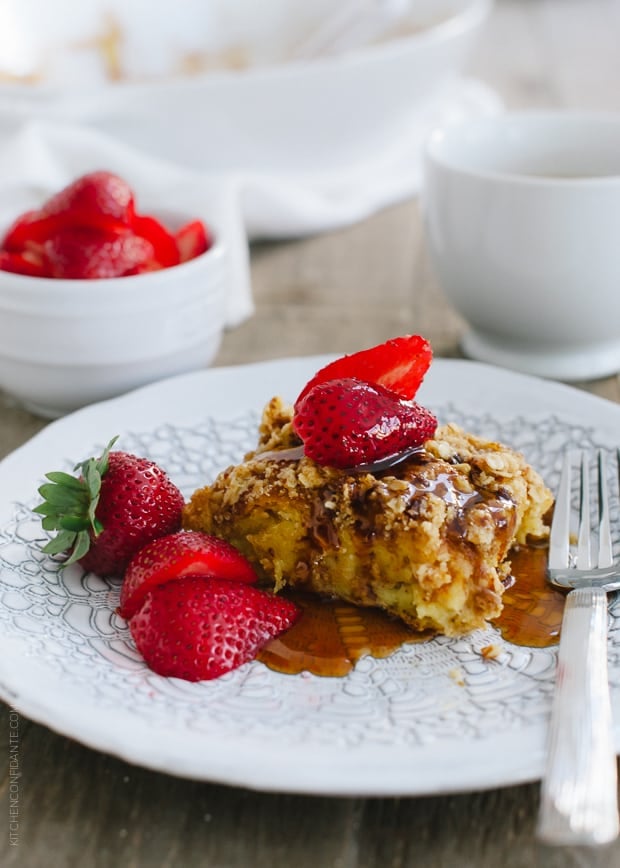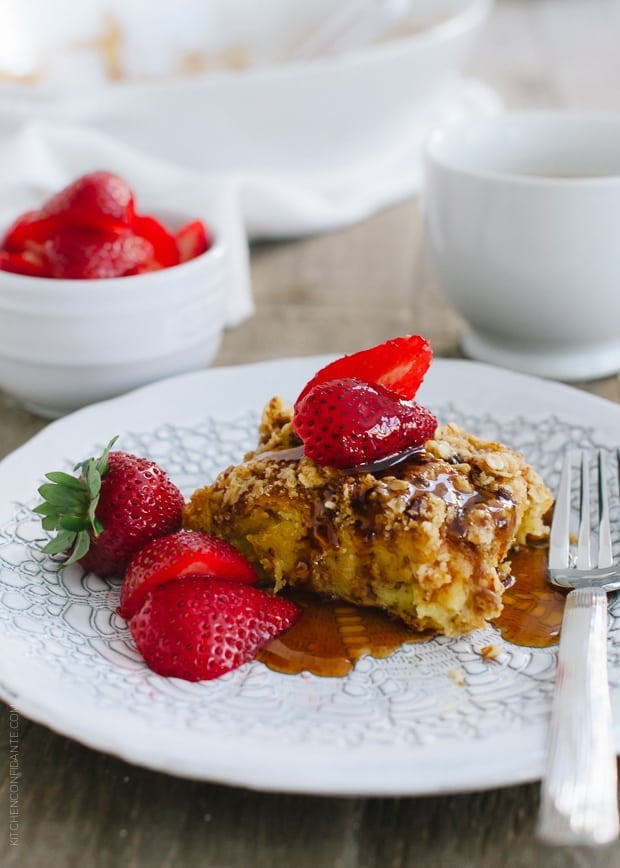 When you have a gaggle of your children's friends sleeping over, are pet sitting friend's pups, and the house is bursting at the seams, you need to keep things sweet and simple, not to mention your sanity. Seven kids, three dogs, 1 cat, and a gopher who thinks he's moving into the backyard – our home was filled with giggles and laughter, and it was one big hurrah for all, the weekend before school starts this week. Pancakes are usually my go-to for sleepover breakfasts, but after a little poll from our guests, french toast was apparently in high demand. This, I was happy to oblige, because I had baked several loaves of fluffy challah bread (recipe coming soon!) and they were begging to be transformed into something rich and custardy.
As the games wound down and the kids whispered in their sleeping bags, shushing each other as the crescendo of their voices rose, I prepared this overnight Baked Buttermilk French Toast with Oat Streusel.It took just a few minutes to slice the challah into cubes and smother them with a bath of buttermilk, eggs, sugar, cinnamon and vanilla.
And the following morning, as I tiptoed downstairs to preheat the oven, I tried my best not to wake them as I sprinkled a buttery oat streusel on top of the challah that had chilled and soaked in all the goodness overnight. Rather than spending my first waking hour at the stove flipping toast, I was able to enjoy my coffee as the oven worked its magic, the scent tempting me to peek every few minutes through the oven window.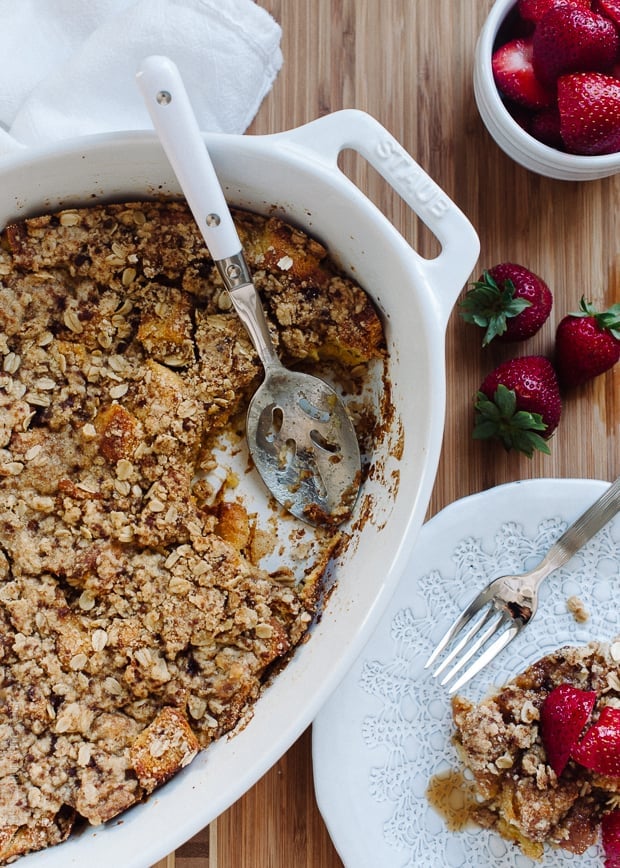 It seemed to be the first time many of our little friends had tried a baked french toast – and some were a little dubious of the streusel, including my daughter. "Oatmeal? Is that oatmeal?" was followed by "May I please have a little more?" and even "Can I bring some home?" I'll say it was a hit, and I hope you and your guests feel the same way, too.
Baked Buttermilk French Toast with Oat Streusel
When you need to feed a crowd, Baked Buttermilk French Toast with Oat Streusel is a sweet (and simple!) start to the day.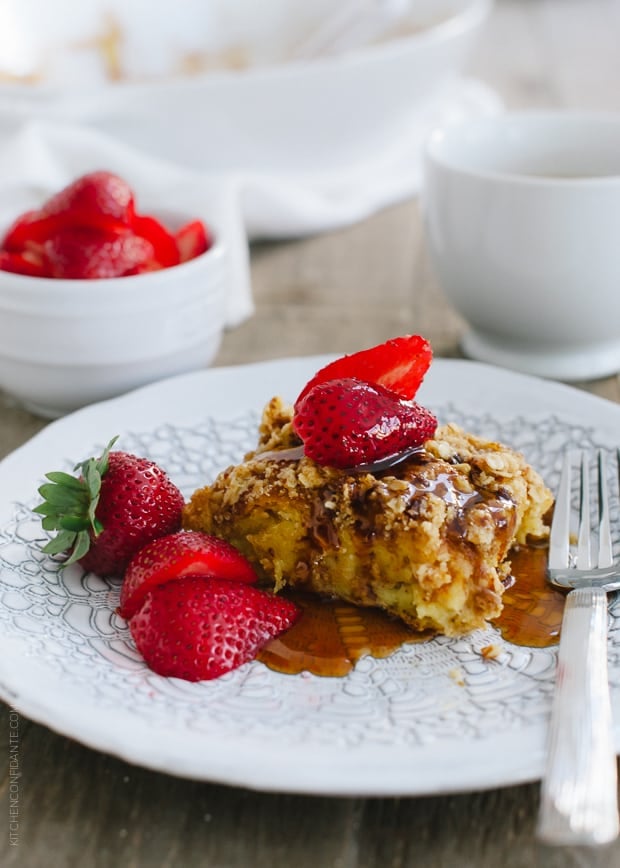 Print Recipe
Ingredients
For the Baked Buttermilk French Toast:
1 loaf challah bread (about 1 lb)
Unsalted butter, room temperature, for baking dish
2 1/3 cups buttermilk
4 large eggs
1/2 cup granulated sugar
1 tablespoon vanilla extract
1 teaspoon cinnamon
For the Oat Streusel:
1/3 cup flour
1/3 cup brown sugar
1/2 teaspoon cinnamon
1/4 teaspoon kosher salt
4 tablespoons cold unsalted butter, cut in cubes
1/4 cups oats
Instructions
Slice the challah into 1 inch cubes. Butter a 9x13 inch baking dish and arrange the cubes of bread in a single layer.
In a small bowl, whisk together the buttermilk, eggs, sugar, vanilla and cinnamon. Pour over the bread, coating it evenly. Gently press the bread down to let it all soak the custard. Cover with plastic wrap and chill in the refrigerator overnight (or a minimum of 30 minutes if not preparing the night before). In another small bowl, stir together the flour, sugar, cinnamon and salt. Using a pastry cutter, two forks or your fingers, cut in the butter until you have a crumbly mixture. Stir in the oats. Cover the streusel topping and chill in the refrigerator as well.
The following morning, preheat the oven 350 degrees.
Sprinkle the oat streusel over the soaked bread, pressing down gently with your hands. Bake the french toast for 45 minutes or until it is just firm.
Serve with fresh fruit and warm maple syrup.