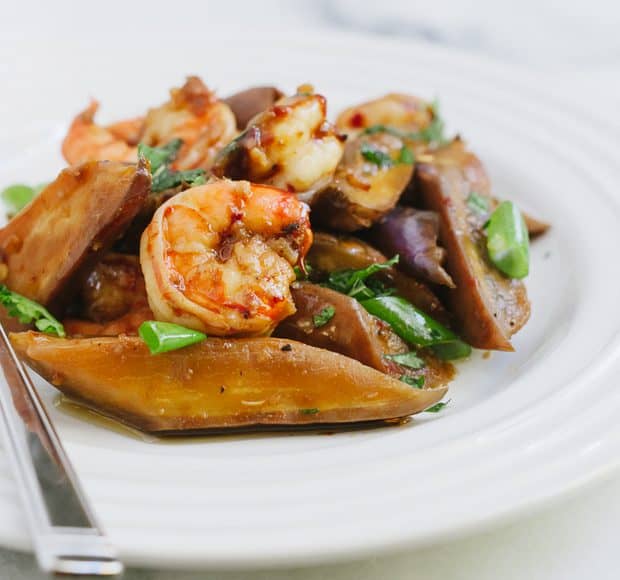 Simple Sundays | Sambal Glazed Eggplant and Shrimp
His little arms wrapped around me as I greeted him good morning in his little bed. "I missed you, Mommy. I felt like my love supply was half empty." Aw. Me too, buddy. I returned from a wonderful trip to Oregon on Friday evening –…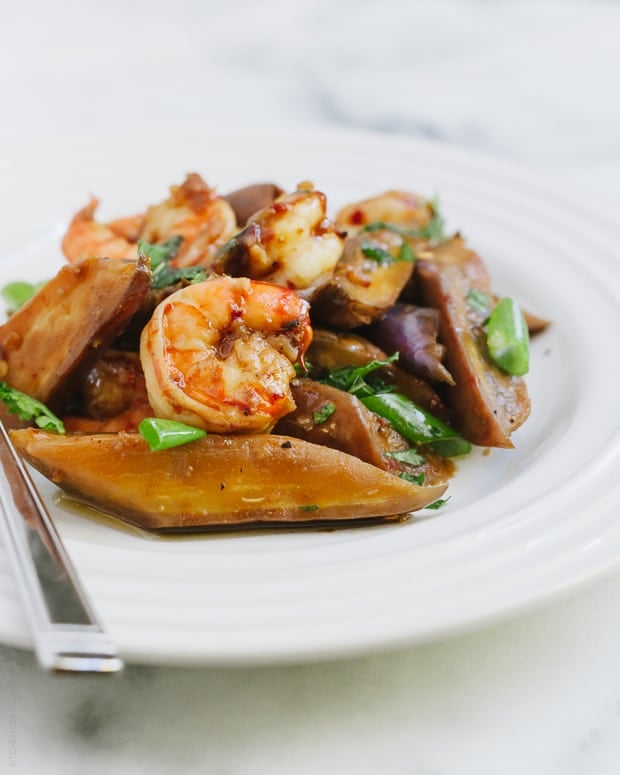 Simple Sundays | Sambal Glazed Eggplant and Shrimp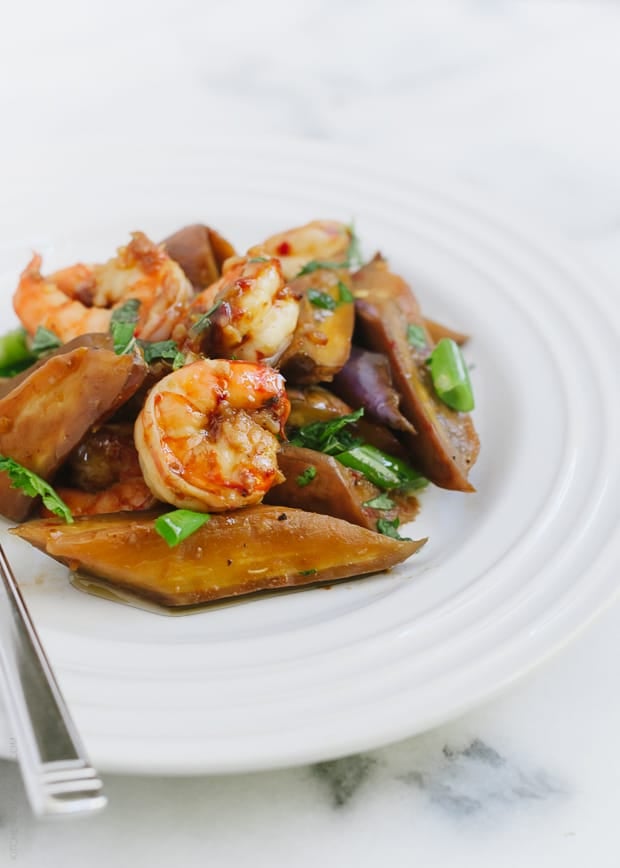 His little arms wrapped around me as I greeted him good morning in his little bed. "I missed you, Mommy. I felt like my love supply was half empty."
Aw. Me too, buddy.
I returned from a wonderful trip to Oregon on Friday evening – if you have been following my escapades on Instagram, then you will know that I have been cavorting with cows and eating more cheese and ice cream than I have in weeks. I can't wait to share more with you soon. But I was feeling like my love supply was low, too, and I was exhausted to boot! I caught up on sleep, spent time with my children, and did a little comfort shopping with my daughter. By comfort shopping, I mean to say we went to the Asian market to load up on comfort foods, and I've been cooking old favorites this weekend.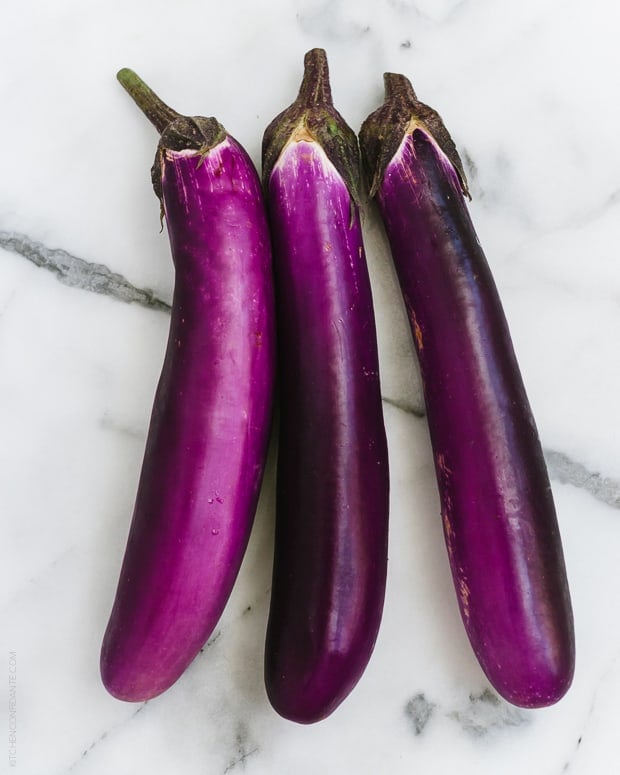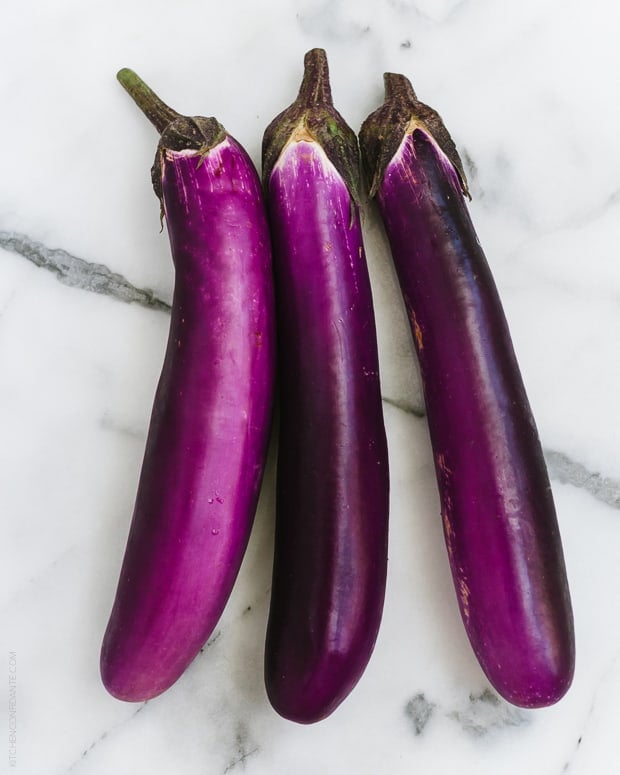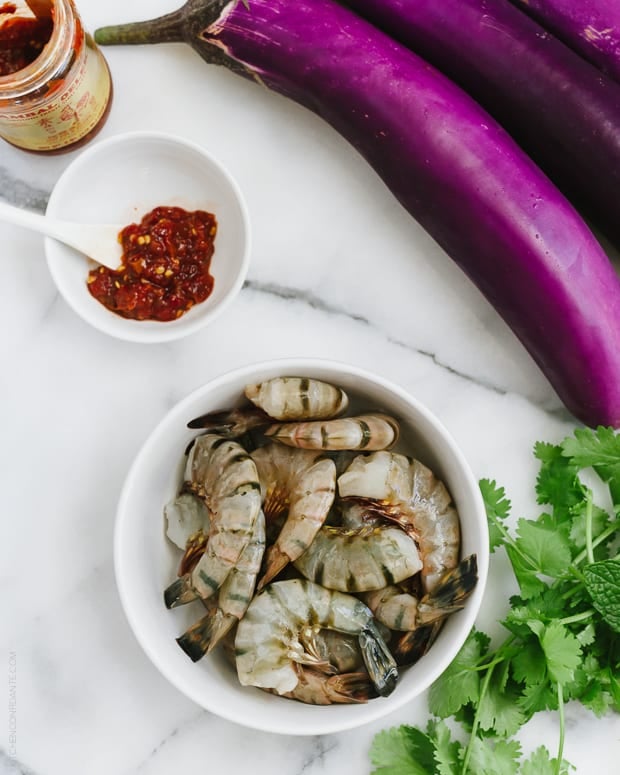 While we were at the market, I saw the Japanese eggplant and I couldn't resist. Something simple, something spicy – I was planning it out as we strolled the aisles and headed to the seafood section.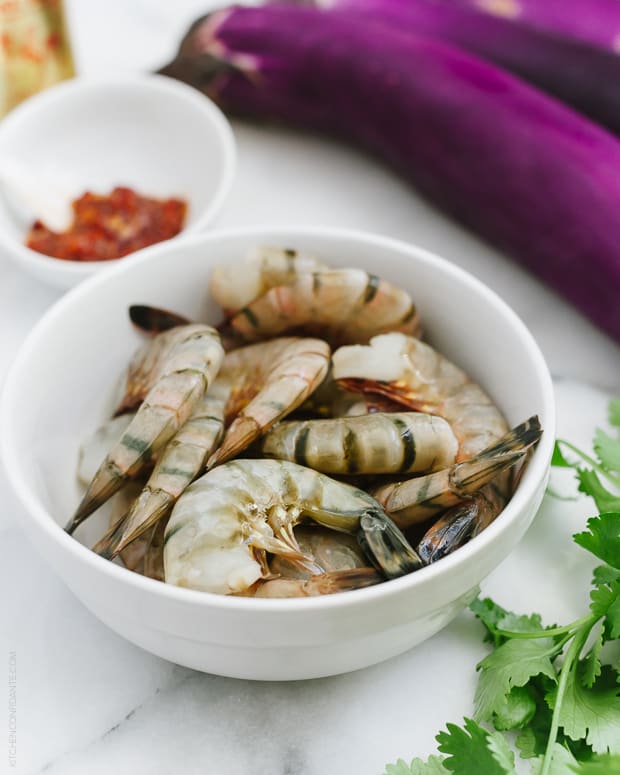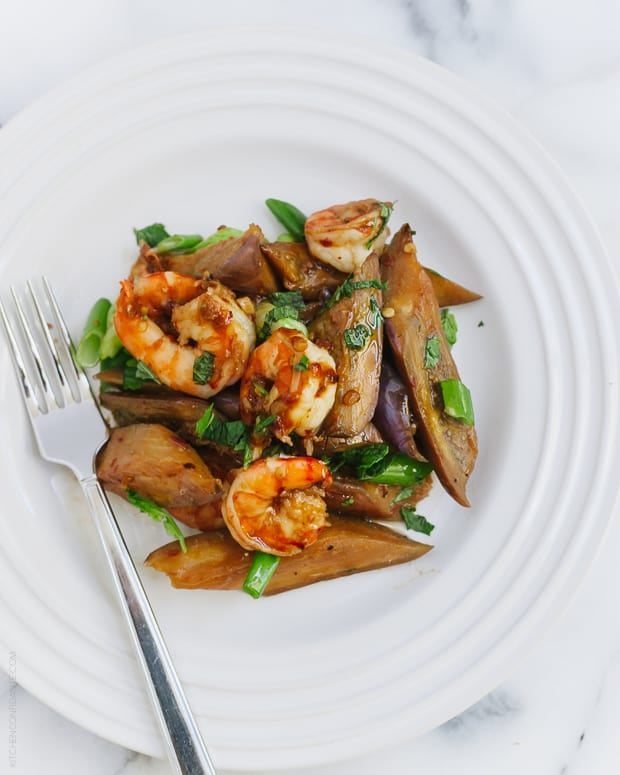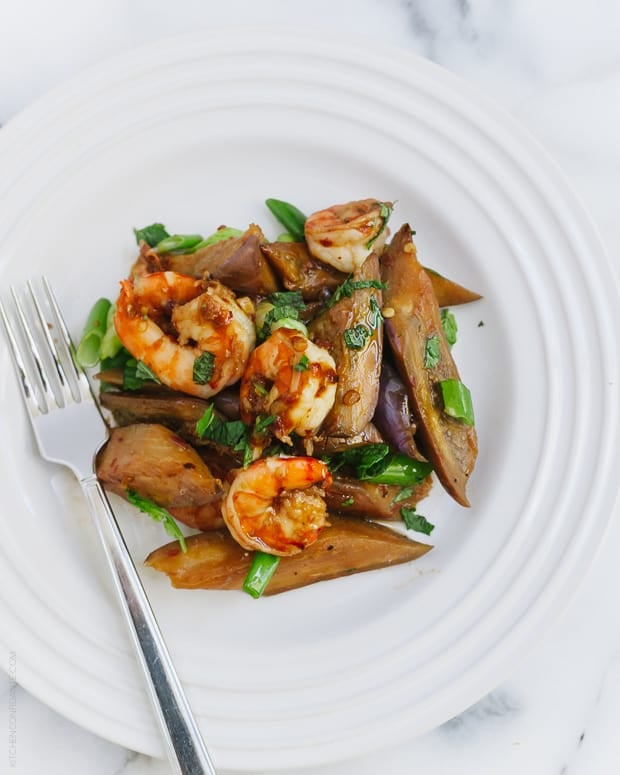 This Sambal Glazed Eggplant and Shrimp is just what I needed to get back into my groove. It's stir fries in mere minutes, but is packed with flavor and a spicy kick I love. I meant to serve it with rice, but I couldn't wait, I just ate it straight from the wok. Thinking it might be too spicy for my son, my husband and I were a bit hesitant, but he dug in. "This isn't spicy at all!" he declared. Well, I'm not sure about that – it has kick, but apparently, he does, too.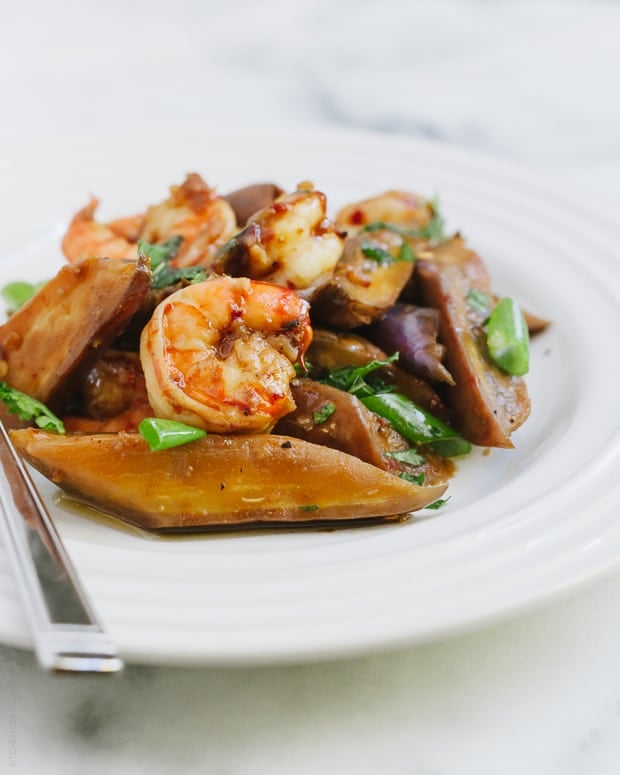 Sambal Glazed Eggplant and Shrimp
Like a good stir fry, this dish comes together very quickly, making it the perfect meal for any time you're short on time and in need of flavor.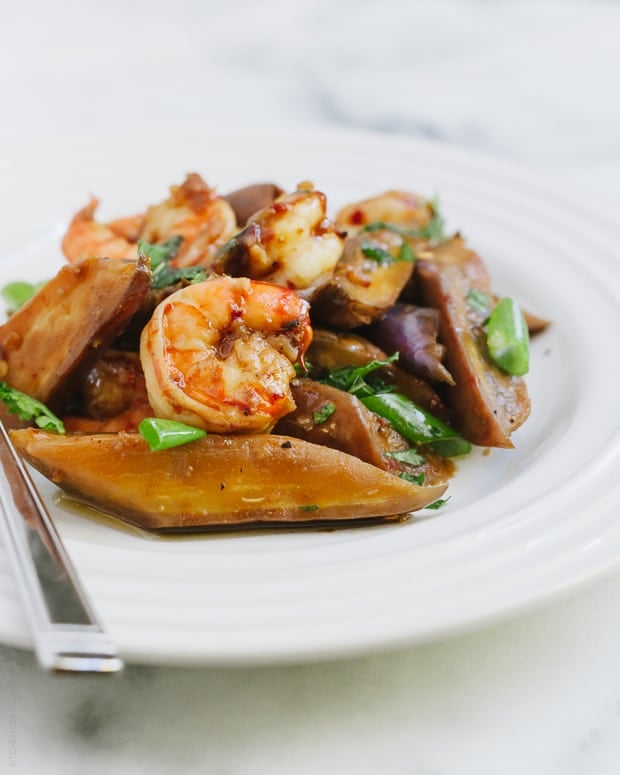 Print Recipe
Ingredients
2 tablespoons canola oil
2 cloves garlic, sliced
2 tablespoons sambal
2 Japanese eggplant, sliced in quarters lengthwise, then cut into 3 inch pieces (about 4 cups)
1 lb shrimp, peeled and deveined
1 tablespoon fish sauce (plus more, to taste)
1/4 cup hoisin sauce
2 scallions, cut into 1/2 inch pieces
2 tablespoons chopped cilantro
2 tablespoons chopped mint
drizzle toasted sesame oil
Instructions
Heat a wok or large skillet over medium heat. Add the oil and the garlic, and cook until it starts to lightly brown. Stir in the sambal and cook for 30 seconds. Add the eggplant and shrimp and stir frequently, raising heat to medium high. Season with fish sauce and hoisin sauce. Continue cooking until the shrimp is opaque and the eggplant is fork tender. If it appears to be drying out, add a little bit of water, a few tablespoons at a time. Stir in the scallions and cook for just a minute or two more. Transfer to a plate and garnish with cilantro, mint and a drizzle of sesame oil, and toss. Serve immediately with steamed rice.