Quinoa Crusted Eggplant Parmigiana
Things sure have changed. One of my daughter's friends was over the other afternoon, and as they munched on snacks and smoothies at the kitchen table, the chatter turned to their allowance. I was relieved to hear that I'm not the only parent who forgets…
Quinoa Crusted Eggplant Parmigiana
Things sure have changed.
One of my daughter's friends was over the other afternoon, and as they munched on snacks and smoothies at the kitchen table, the chatter turned to their allowance. I was relieved to hear that I'm not the only parent who forgets to dole out the cash each week; instead, the kids keep a running tab of the amount earned and deduct as necessary. Listening to them chat about their "earnings" made me laugh.
"Do you guys have any idea how much allowance I earned when I was your age?" I challenged them.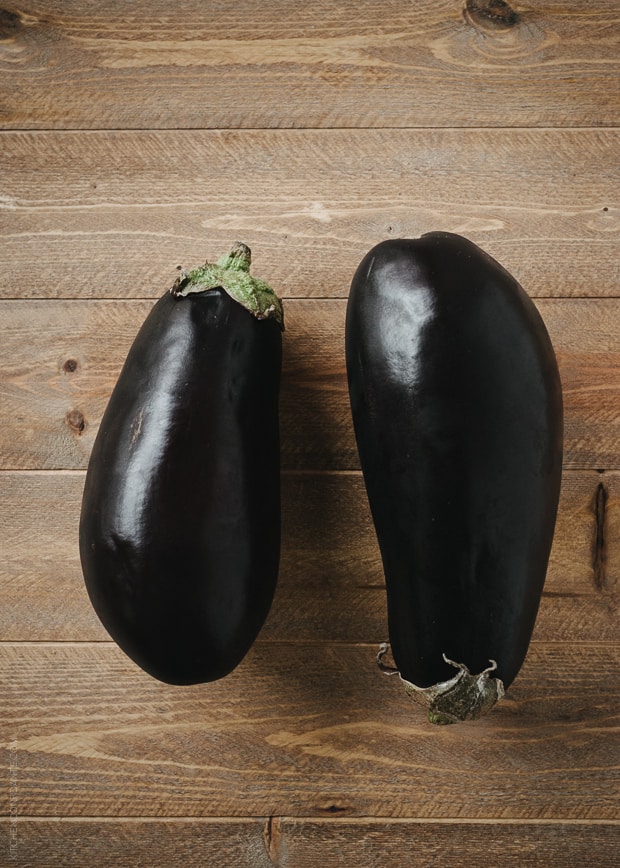 After a round of bad guesses, I told them. "Twenty-five cents! A day! You guys are so lucky!"
But then I remembered: back in my day (how's that for sounding ancient?), you could actually get something for a quarter. A penny, even! I found myself reminiscing about how I would make a detour to the candy shop on the way home from school, where my favorite treat would be Swedish Fish, one for a penny. Ten cents could buy you enough to last the whole walk home.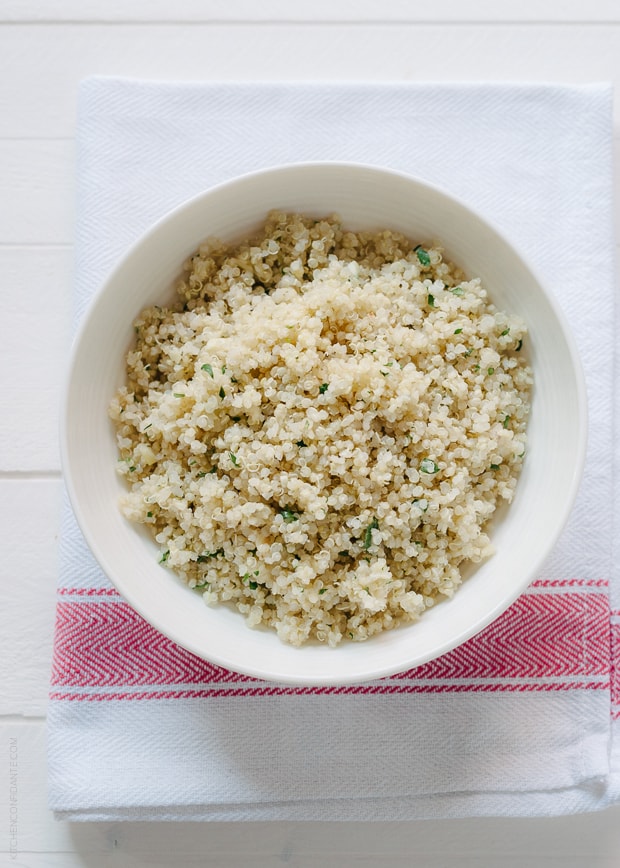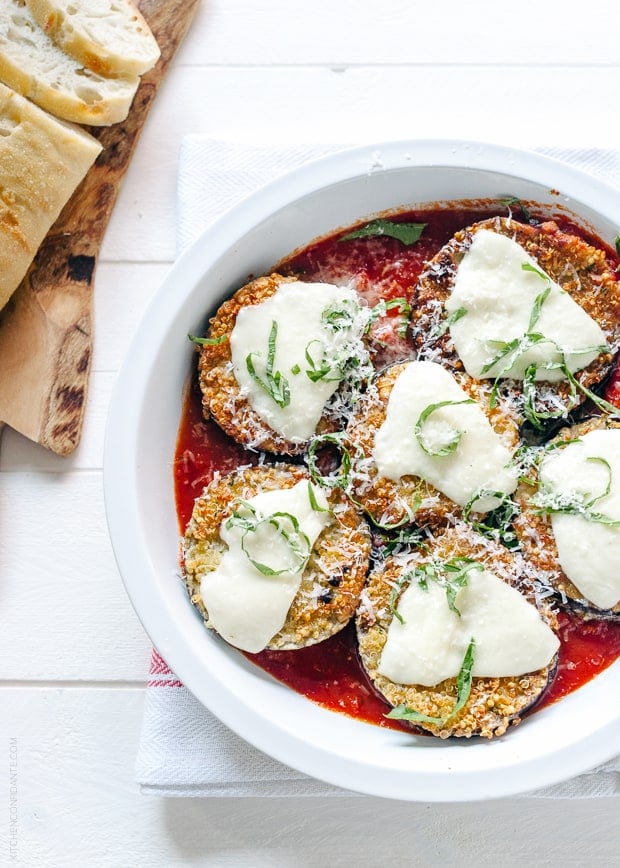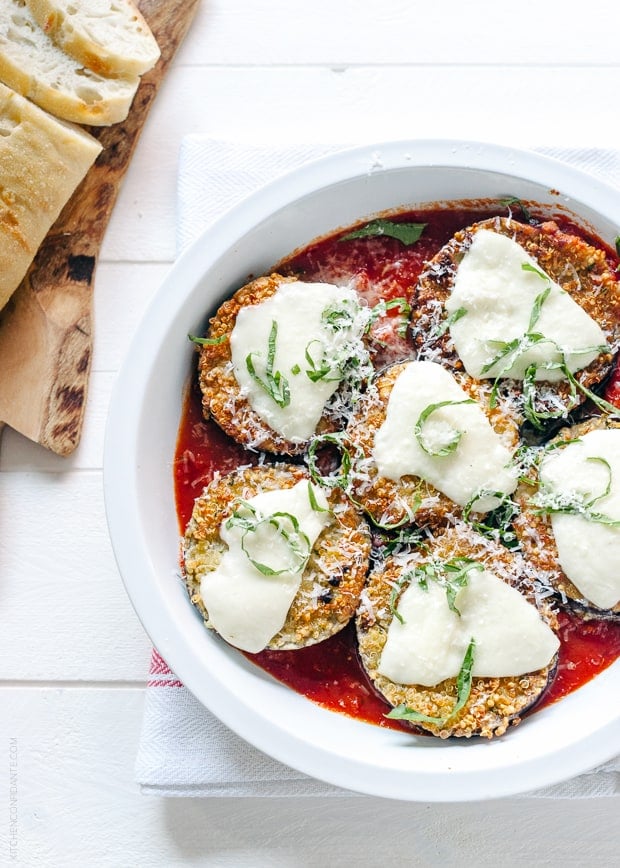 A few blocks away from the candy shop, there was a pizzeria, and every so often we'd get a pie, or my dad's favorite, veal parm heros. Crispy cuts of meat, crunchy from golden breadcrumbs and smothered in mozzarella, delicious bites of marinara soaked bread – I can see why this was my dad's favorite.
Years later, I married my husband, and chicken parmigiana was his favorite dinner. It makes the rotation as often as possible (he would argue not nearly enough). And when we're feeling like a change, eggplant parmigiana enters the rotation, as well.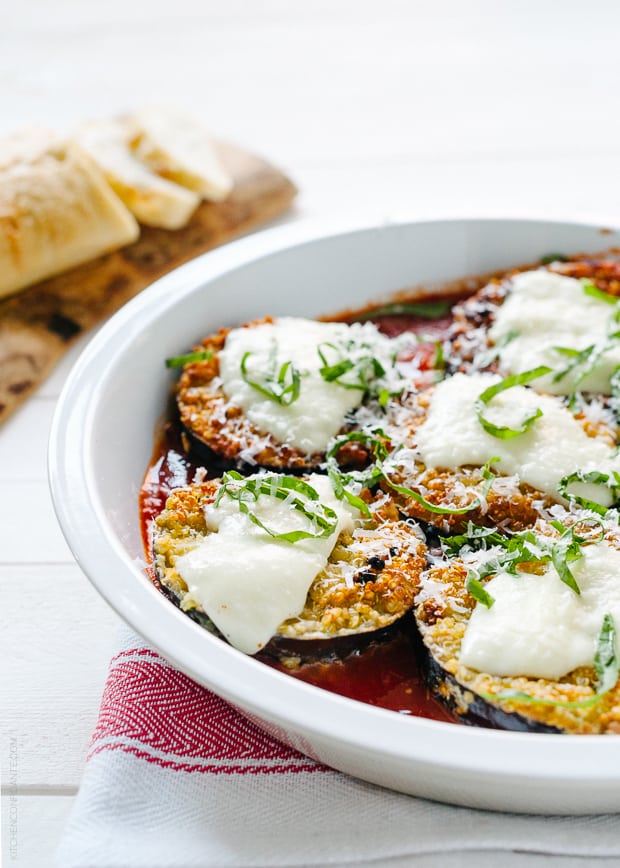 My husband brought home some beautiful eggplants the other day, his way of asking for eggplant parm. This time, however, I wanted to try something a little different. Instead of the traditional breading, I took golden quinoa, fluffy and speckled with garlic and flecks of parsley, and patted it onto the rounds of eggplant. When the eggplant hit the skillet, they crisped, like popped rice, leaving me with a crunch that rivaled panko. My husband and I agreed: the texture of the breading was better! And healthier, too.
A few years ago, I wouldn't have guessed that he'd be eating quinoa, let alone Quinoa Crusted Eggplant Parmigiana.
Things sure have changed.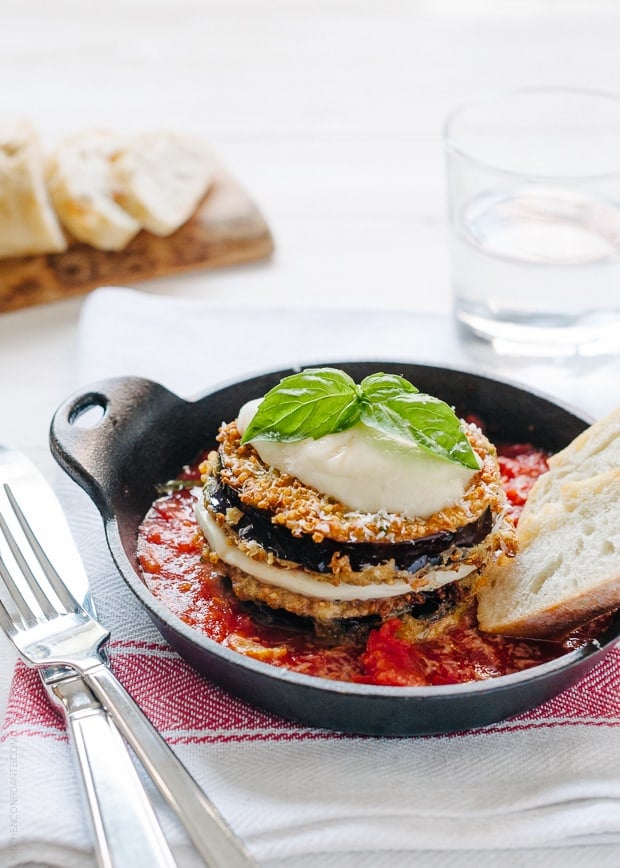 Quinoa Crusted Eggplant Parmigiana
This is a healthier twist on using breadcrumbs in a parmigiana - the quinoa crust gives each bite that crunch you hope for, but with extra nutrients!
Print Recipe
Ingredients
1 cup quinoa
2 cups water
4 cloves garlic, minced
1/3 cup flat leaf parsley, finely chopped
2 teaspoons kosher salt
1/2 teaspoon freshly ground black pepper
1/3 cup grated parmesan cheese
1 large eggplant, sliced in 1/2 inch rounds (you should have about 10 pieces)
1/2 cup all purpose flour
2 large eggs, beaten
15 oz marinara sauce
olive oil
8 oz mozzarella cheese, cut in 1/4 inch thick rounds
Fresh basil, chopped, for garnish
Instructions
Preheat the oven to 400 degrees F.
In a large bowl, soak the sliced eggplant in salted water for about 20 minutes. It helps to put a bowl on top of the eggplant slices to keep them submerged under water.
Meanwhile, place the quinoa and water in a saucepan and bring to a boil over medium heat. Lower the heat to a simmer, and cook for about 10 minutes. Cover and let the quinoa sit for 5 minutes more. The water should be full absorbed.
Stir in the garlic, parsley, salt and pepper, and adjust seasoning if necessary. Stir in the parmesan cheese and place in a shallow bowl.
Rinse the salted eggplant under cool running water and dry the slices wtih paper towels.
Dredge a slice of eggplant in flour, then dip into the egg, followed by the quinoa, patting the quinoa to help it adhere to the eggplant surface. Continue until all the eggplant is ready.
Pour enough marinara sauce to cover the bottom of a baking dish. Set remainder aside.
Heat the olive oil in a skillet, and test the oil by dropping it a few pieces of quinoa. When it browns and crisps, go ahead and begin frying the eggplant on both sides, working in batches. Place the crisp eggplant on the marinara sauce in the baking dish, sprinkle with a little salt and pepper, then place a slice of mozzarella cheese on top of each round.
Bake for about 10 minutes, or until the cheese is melted and the sauce is bubbling. Remove from the oven and sprinkle with basil and additional parmesan cheese. Serve immediately.