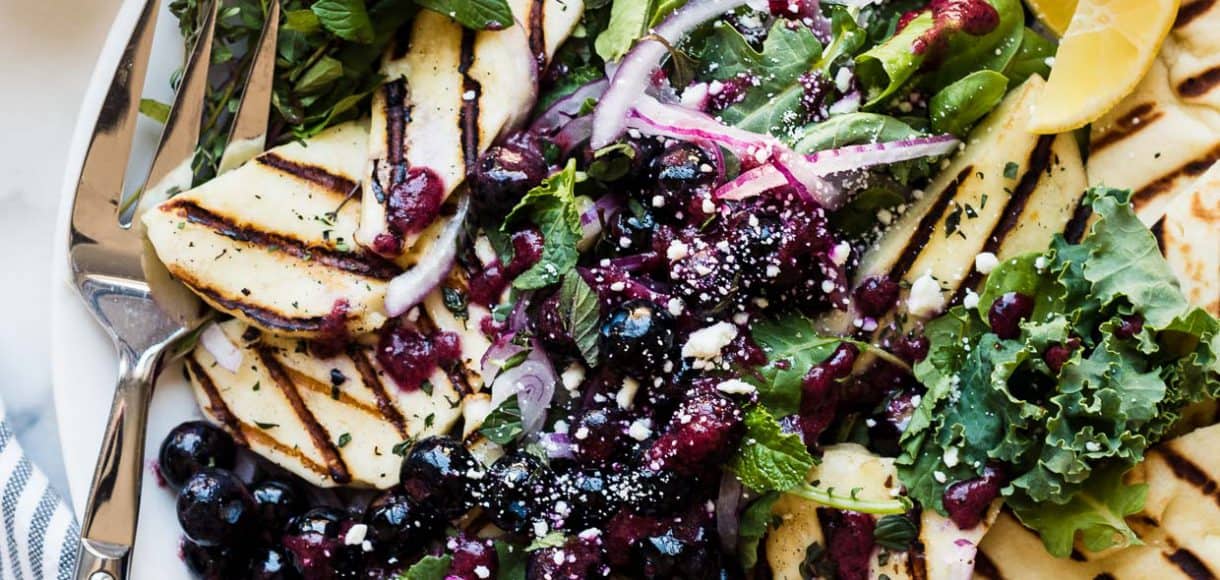 Grilled Halloumi Blueberry Salad
Fire up the grill for this Grilled Halloumi Blueberry Salad. You'll love the savory bite of this cheese in a wholesome salad with fresh blueberry salad dressing!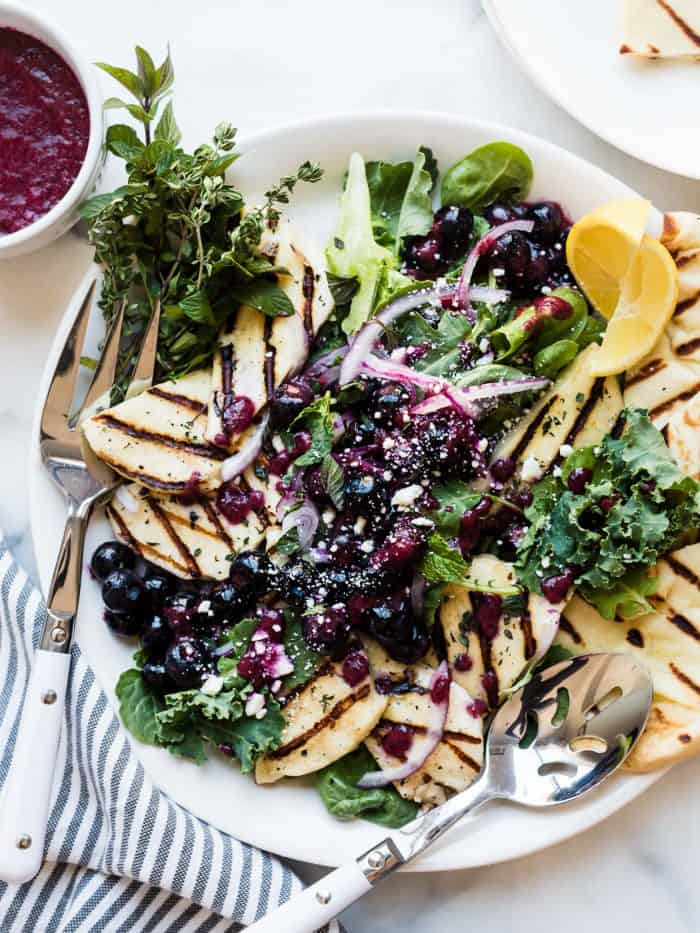 Grilled Halloumi Blueberry Salad
Fire up the grill for this Grilled Halloumi Blueberry Salad. You'll love its savory bite in this wholesome salad with fresh blueberry dressing!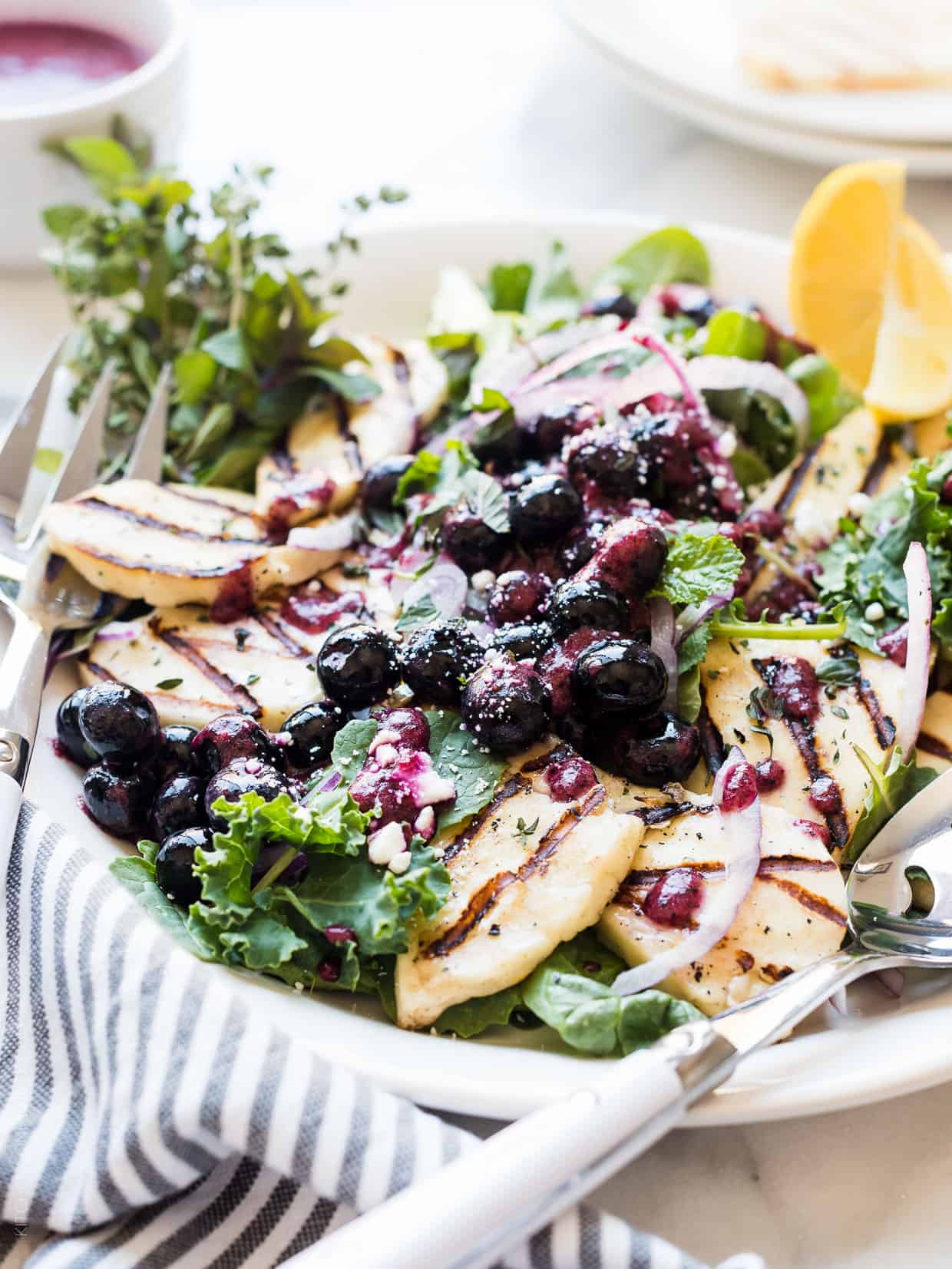 Sometime after I came home from a trip to New York, my best friend from childhood emailed me a link. "I think you should do something with grilled cheese if you haven't already," her note started.
That was a few months ago, and her suggestion has been sitting in the back of my mind. What really stuck was the idea of grilling cheese, and the melty goodness that yields to the knife when you slice through it. But I was also thinking about the place we met for a quick lunch during that trip – it was one of those quick, assembly line restaurants that can process hundreds of hungry office workers in a lunch hour, ourselves included, and it was all about salads. I had opted for a falafel salad, and while I found myself wishing my salad dressing had more kick, I wasn't really there for the salads anyway. We had half an hour to catch up a many year gap before she had to head back to work.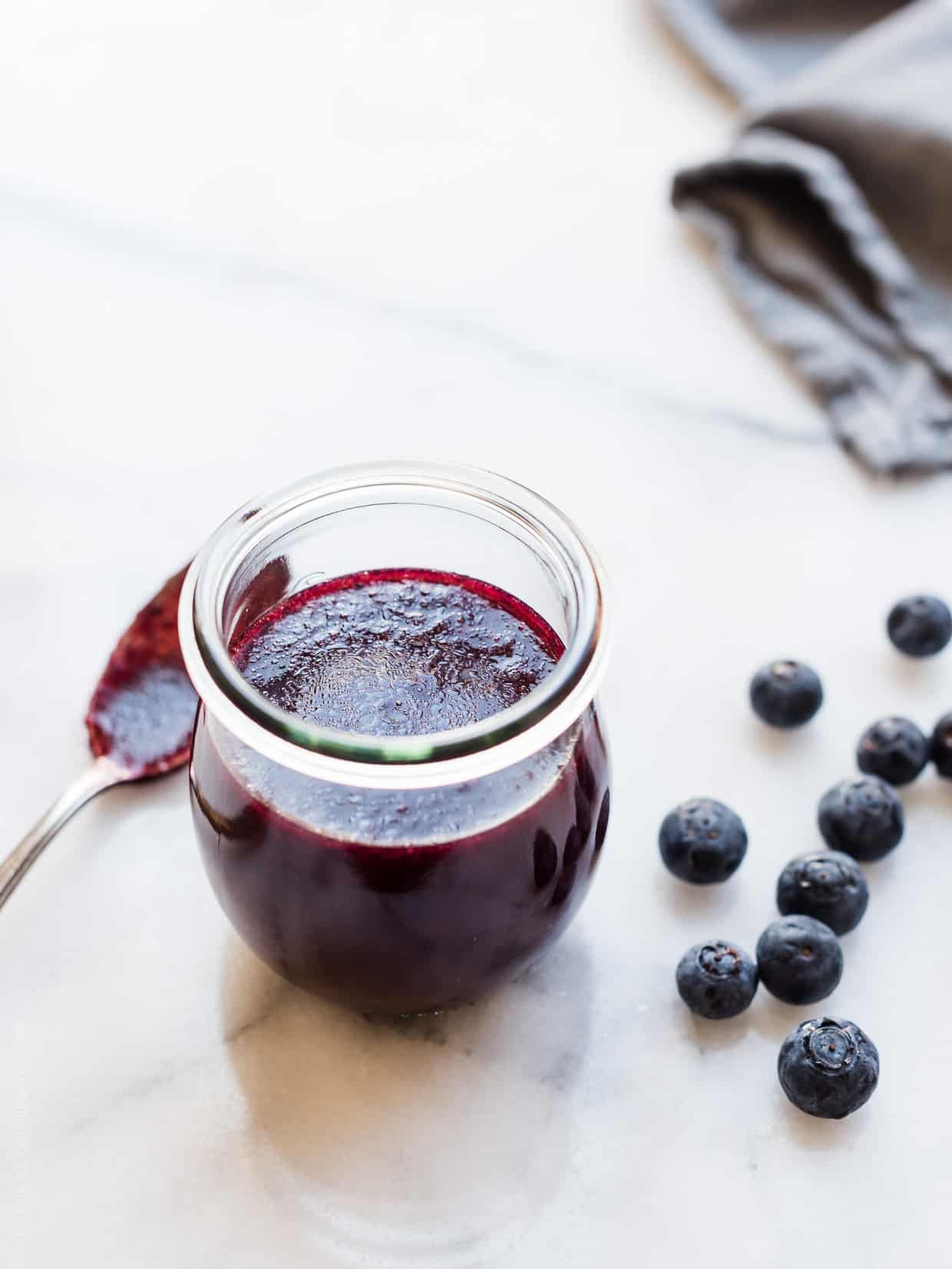 But I thought of grilled cheese again the other day when I was dreaming up this delicious blueberry salad dressing, and realized I didn't need the bread (although that is always a bonus). I wanted a cheese that would stand up to heat, and halloumi cheese is just the thing.
If you're not familiar with halloumi cheese, I hope you meet up soon. The beautiful thing about it is you can subject it to heat – the fry pan, the grill pan, the grill itself – and it will hold its shape like a little steak, but the inside will be soft and cheesy, and squeaky to the bite. It's the same pleasure you get from eating cheese curds, if you know what I mean.
I tossed the grilled halloumi into a salad of baby kale, spinach and arugula, and since I'm all about blueberries right now, tossed in dried blueberries, fresh blueberries and made a quick fresh blueberry salad dressing. Fresh thyme and mint from my friend's garden added brightness, and since I decided I couldn't have cheese without the bread, I toasted up some tender pita bread to serve alongside. The only thing missing was my friend from home.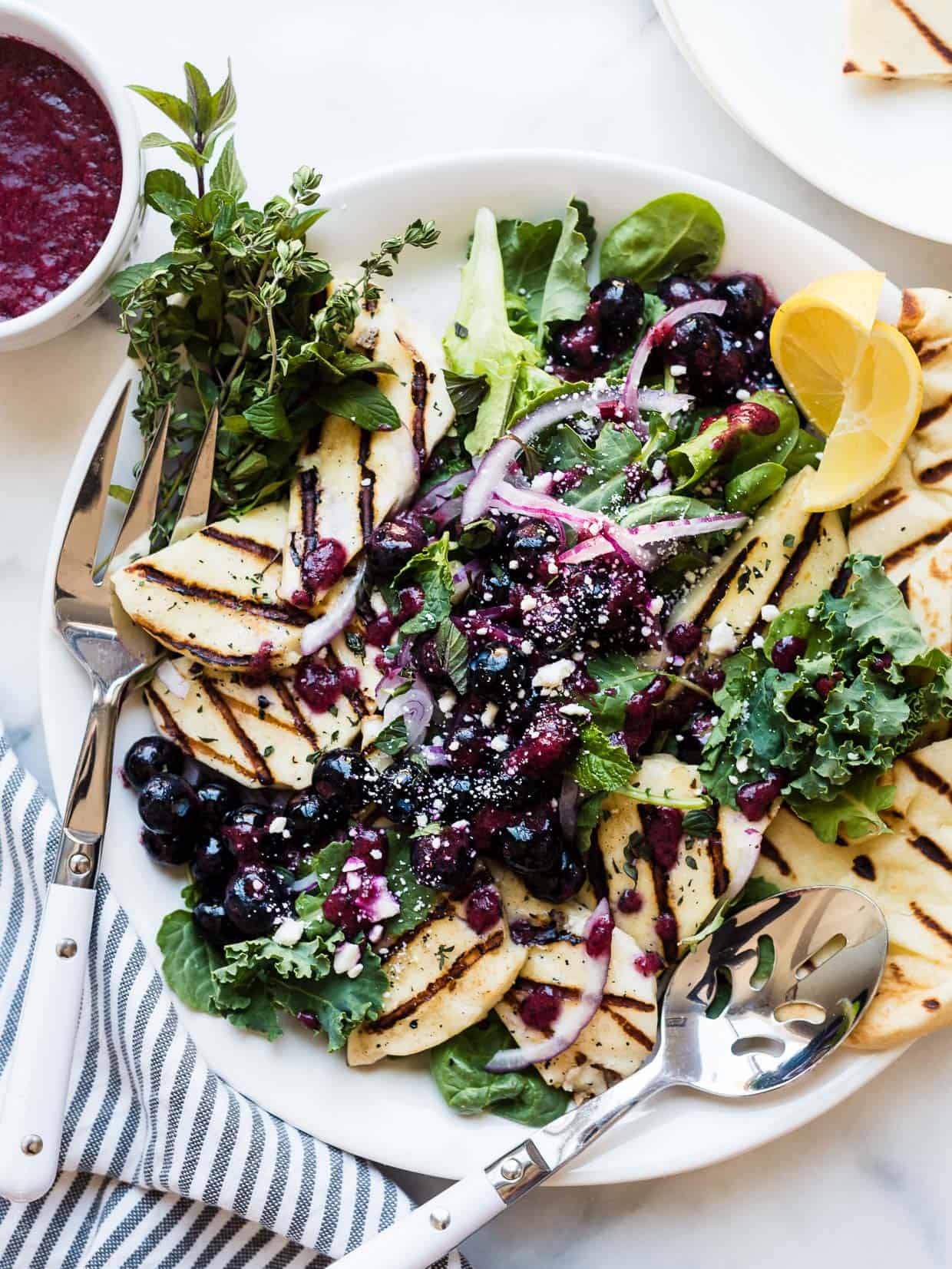 ENJOYED THIS HALLOUMI SALAD? TRY THESE OTHER HEALTHY SALAD RECIPES
Halloumi Salad with Beets and Blackberries
Falafel Salad with Lemon Garlic Dressing
Berry Jicama Salad
Blackberry and Blueberry Kale Salad with Aged Havarti
Hummus and Tahini Egg Salad
Grilled Halloumi Blueberry Salad
Fire up the grill for this delicious salad! Halloumi cheese holds up well to grilling, adding a savory cheesy bite to this wholesome salad that celebrates blueberries! You'll just love the blueberry salad dressing!
Ingredients
For the Dressing
6

oz

fresh blueberries

1/4

cup

sherry vinegar

see notes below

2

tablespoons

honey

1/2

teaspoon

kosher salt

1/3

cup

olive oil
For the Salad
4

cups

baby greens

I used a combination of baby kale, baby spinach and baby arugula

1/2

cup

thinly sliced red onions

thinly sliced

1/3

cup

dried blueberries

6

oz

fresh blueberries

Blueberry Salad Dressing

above, divided

8

oz

halloumi cheese

1

tablespoon

olive oil

kosher salt

to taste

1 1/2

tablespoons

fresh thyme

chopped, divided

1/4

cup

fresh mint

roughly chopped

1/3

cup

crumbled feta cheese
To Serve
1

lemon

cut in wedges

warm pita bread

grilled or toasted

remaining Blueberry Salad Dressing
Instructions
Make the Blueberry Salad Dressing:
In the jar of a blender, place 6 oz of the blueberries along with the sherry vinegar, honey and salt and blend. With the blender running on low speed, drizzle in the olive oil and blend until it just becomes emulsified, this will take under a minute. Pass the dressing through a sieve if you wish and set aside. You could make the dressing a day in advance, if you wish, keeping it in an airtight container in the refrigerator and shaking well before using. Makes about 1 1/4 cups dressing.
Make the Salad:
Toss the greens, red onions and dried blueberries with a few tablespoons of the Blueberry Salad Dressing and arrange on a platter. In a small bowl, mix the blueberries in 1/4 cup of the dressing and set aside.

Preheat the grill pan or grill. Brush the halloumi cheese with olive oil on both sides and lightly season with salt. Place the cheese on the grill and cook for about 3 minutes per side, or until it has grill marks and is beginning to melt. Sprinkle the cheese with 1/2 tablespoon of thyme, and transfer to the platter of greens.

Drizzle the dressed blueberries over the salad, garnish with remaining thyme, the chopped mint, and the feta cheese.
Serve:
Serve immediately with wedges of lemon to squeeze over the halloumi, warm pita bread and additional dressing on the side.
Notes
Since you are grilling the cheese, this is the type of salad that you need to serve immediately as the cheese will harden again as it cools. The cheese can be reheated if you wish (I've been known to use the microwave), but ideally, enjoy immediately!
If you don't have a grill or a grill pan, do not worry – just use a frying pan!
If you want even more zing to your dressing, you can also substitute balsamic vinegar for the sherry vinegar. Both are delicious.
Nutrition
Calories:
558
kcal
|
Carbohydrates:
39
g
|
Protein:
17
g
|
Fat:
39
g
|
Saturated Fat:
15
g
|
Cholesterol:
11
mg
|
Sodium:
1130
mg
|
Potassium:
333
mg
|
Fiber:
5
g
|
Sugar:
26
g
|
Vitamin A:
795
IU
|
Vitamin C:
38.4
mg
|
Calcium:
675
mg
|
Iron:
1.7
mg