Blackberry and Blueberry Kale Salad with Aged Havarti
If you love wine and cheese as much as I do, you'll love pairing them together in this summer salad that goes well with anything that comes off the grill. This post is brought to you by Castello cheese. I have a pair of hoop…
Blackberry and Blueberry Kale Salad with Aged Havarti
If you love wine and cheese as much as I do, you'll love pairing them together in this summer salad that goes well with anything that comes off the grill. This post is brought to you by Castello cheese.
I have a pair of hoop earrings that I reach for, which suits my less-is-more style (translation: I don't bother with accessories as much as I wish I would, which means I wear approximately 5% of the jewelry I own). Aside from the fact that these dainty earrings have a unique filigree pattern that matches just about everything, they're sentimental because they were the earrings I remember my mom reaching for the most — I think of her every time I snap them on, and feel her presence throughout the day.
Needless to say, my mom passed along more than these treasures – I think of her when I see the twinkle in my children's eyes after riding a roller coaster, when my daughter performs on stage, when my son does a goofy dance, and when they relish the delicacies she used to love. I think of her when we travel and how she was always planning the next adventure. And I think of her when I crave a sliver of cheese.
Cheese! My mother and cheese – I can't even explain this love she had for cheese. It was her weakness at night, more than dessert. Cheese was what she wanted to bring home from vacation, whether it was quesong puti from the Philippines or wheel of Edam from the Netherlands.
Of all the cheeses out there, I think of her most when I taste Havarti. This was her most favorite cheese ever, and because of that, I will always have a special place on my tongue for its salty, sharp character.
She would have been over the moon when I went up to Napa Valley last month to immerse myself in all things cheese and wine, and I thought of her as I sipped my way through flights and tasted my way through pairings of Castello cheese. I think she would have coaxed me to add more Aged Havarti to my cheese board.
What I love about Aged Havarti is that it's a cheese that is bold yet supple – it can complement bright and tangy dressings and balance sweet fruit without getting lost in the shuffle. I thought of her as I took some of the monster blackberries and blueberries and blended them in a dressing with some Napa Cellars Chardonnay and drizzled it over a salad ripe with fruit, candied walnuts and chunks of her beloved Aged Havarti. This Blackberry and Blueberry Kale Salad with Aged Havarti and Berry Wine Dressing would have gone perfectly with the summer meals she used to grill.
Simple. Goes with everything. Just how we both like it.
Disclosure: This post is brought to you by Castello cheese. Thank you for supporting brands that matter to me; sponsored posts such as this help behind the scenes at Kitchen Confidante. All opinions in this post are, as always, my own.
Blackberry and Blueberry Kale Salad with Aged Havarti
I love the hint of Chardonnay in the berry wine dressing that swirls through each bite of hearty kale and salty Aged Havarti cheese – it speaks to the sweetness of summer and, while bold, plays nicely with anything that comes off the grill, making it a great summer salad.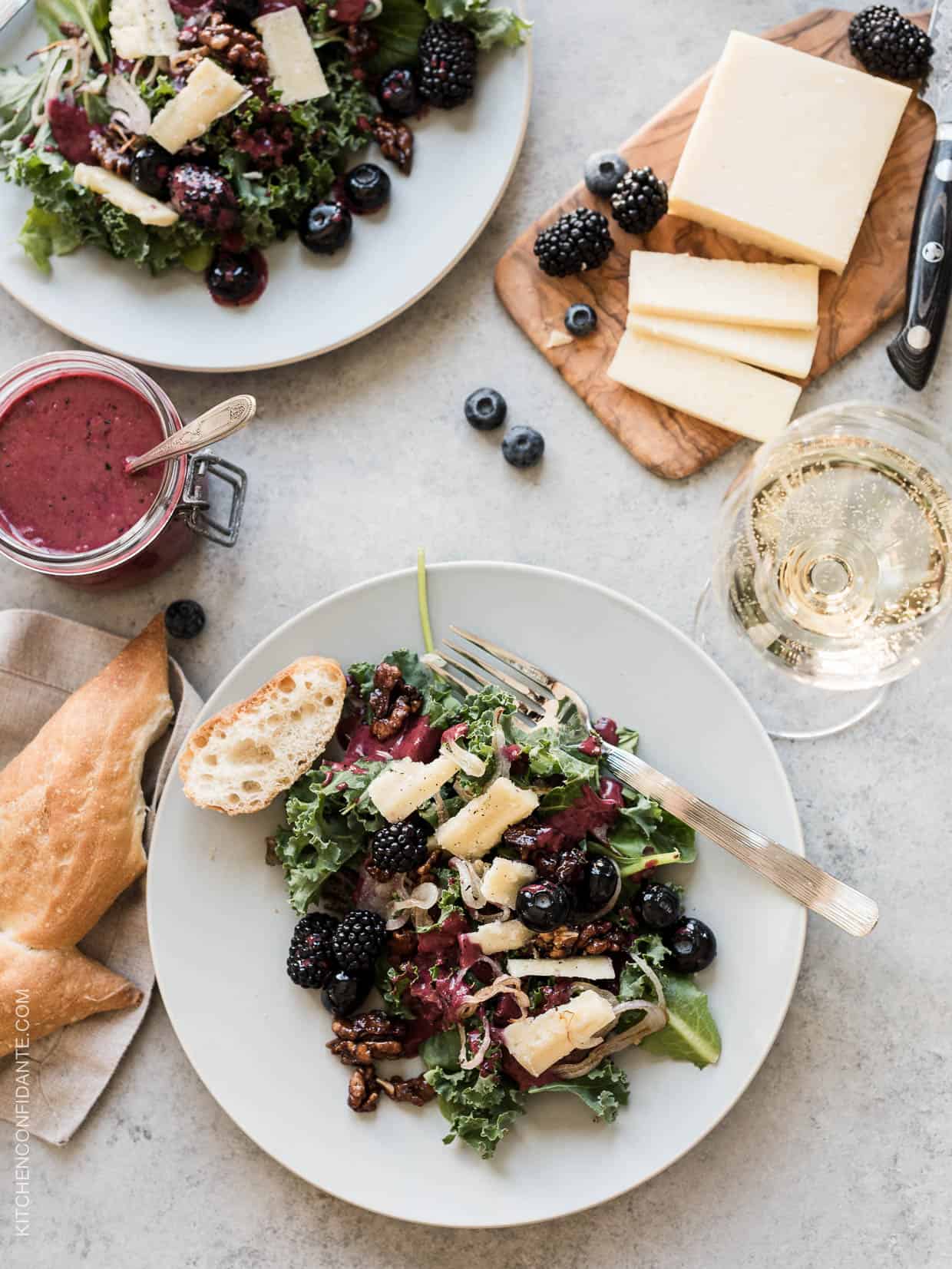 Print Recipe
Ingredients
RECIPE
Ingredients
6 oz blackberries, divided
6 oz blueberries, divided
1/4 cup chardonnay
1/4 cup red wine vinegar
2 tablespoons honey
3/4 teaspoons kosher salt
1/3 cup plus 1 tablespoon olive oil, divided
3 cups kale, stems removed and torn or roughly chopped
1 medium shallot, thinly sliced
1 cup mixed greens
1/2 cup caramelized walnuts
6 oz Castello Aged Havarti cheese, cut into bite sized cubes
Kosher salt, to taste
freshly ground black pepper, to taste
Instructions
In the jar of a blender, place 3 oz of the blackberries and 3 oz of the blueberries along with the chardonnay, red wine vinegar, honey, salt and ⅓ cup olive oil, and blend until it becomes emulsified, this will take under a minute. Pass the dressing through a sieve to remove the seeds and set aside. You could make the dressing a day in advance, if you wish, keeping it in an airtight container in the refrigerator. It should keep at least 3-5 days.
Heat remaining tablespoon olive oil in a small pan over medium-heat. Add the sliced shallots and cook until browned, about 3-5 minutes.
Assemble the salad by tossing the greens in a large bowl with about ⅓ cup of dressing. Divide the greens between four bowls. Top with the shallots, remaining blackberries and blueberries, caramelized walnuts, and Aged Havarti cheese. Season to taste with salt and freshly ground black pepper. Drizzle a little more dressing on top and serve with additional dressing on the side.