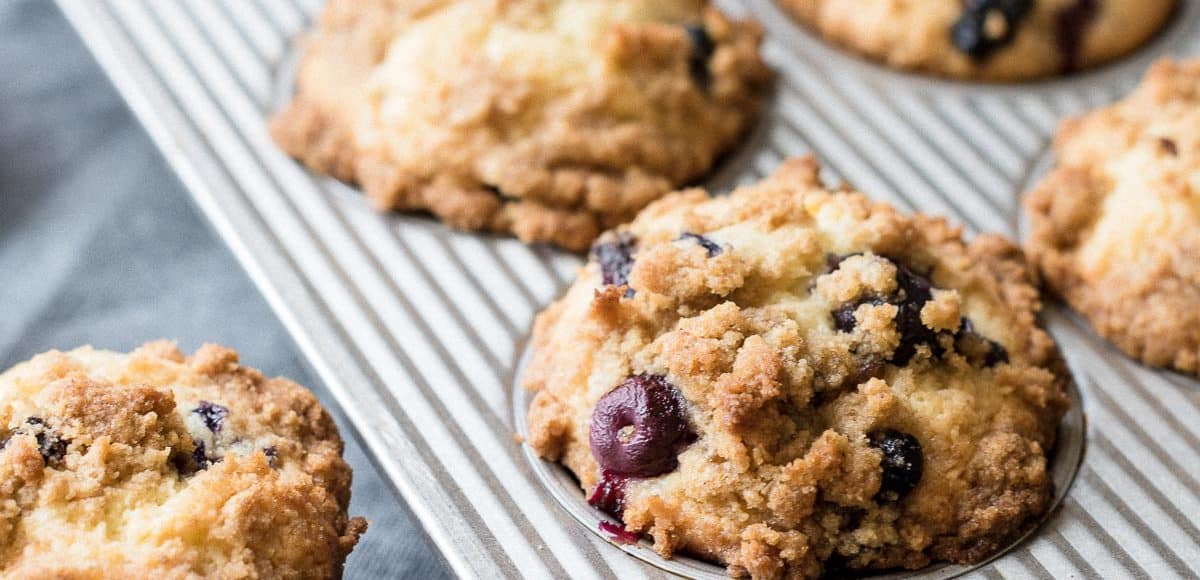 Bakery Style Buttermilk Blueberry Muffins
I've got a case of the summertime blues. The only thing is, it's not yet summer, and these blues aren't getting me down. Actually, it's quite the opposite. Blueberry fever has hit, perhaps replacing my rhubarb streak, and it's not even summer berry season! To…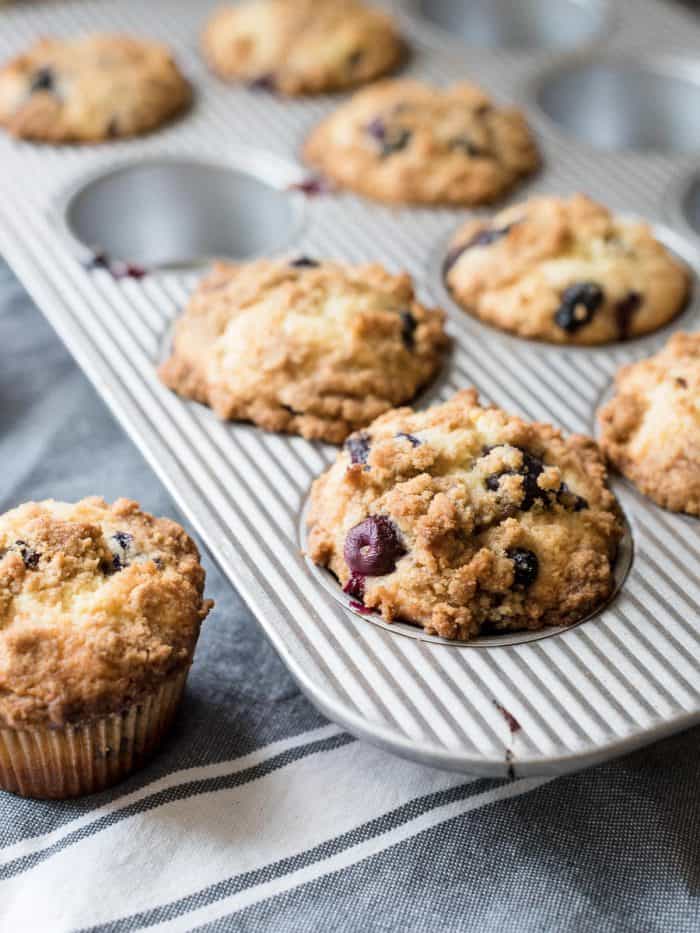 Bakery Style Buttermilk Blueberry Muffins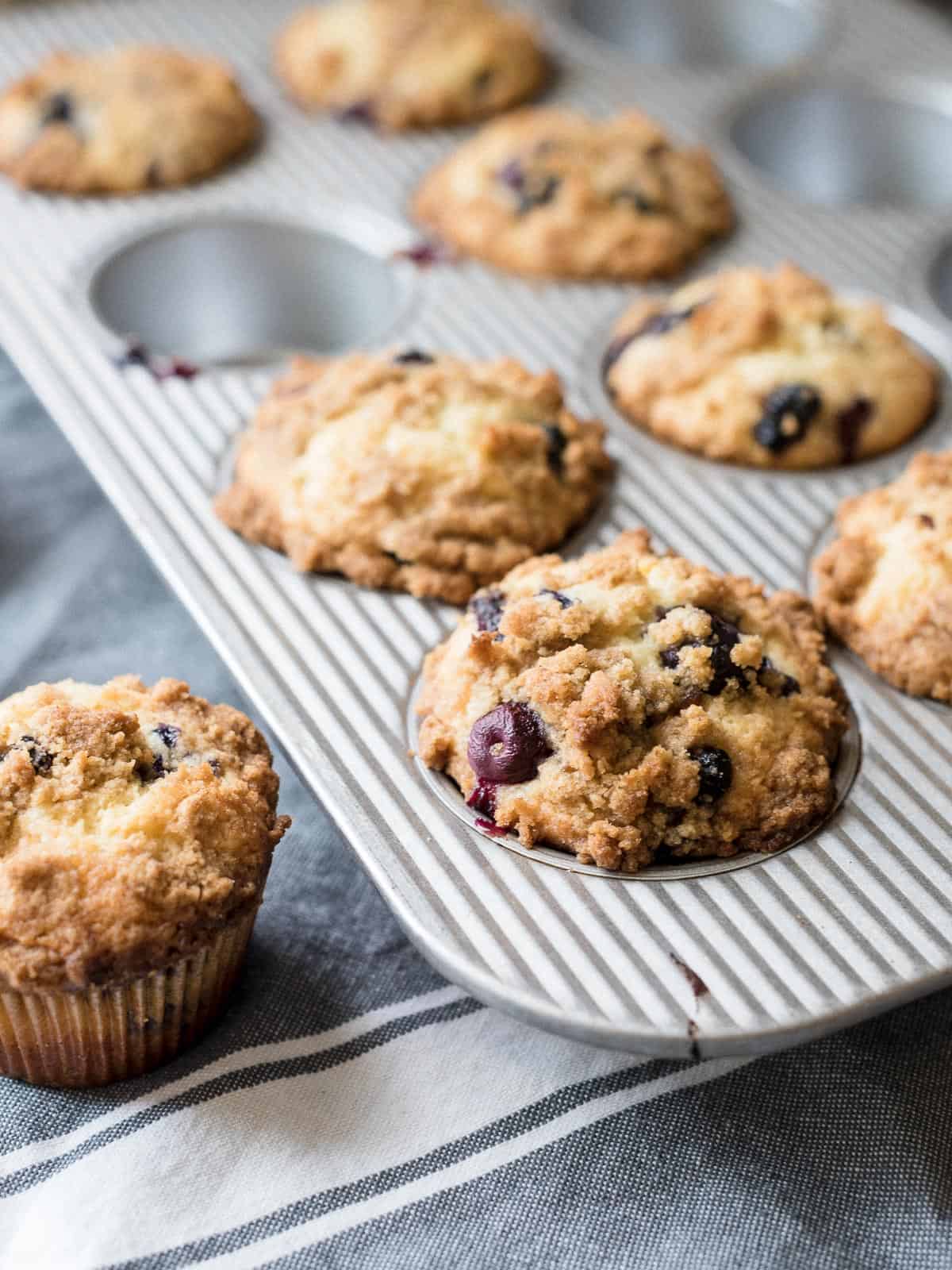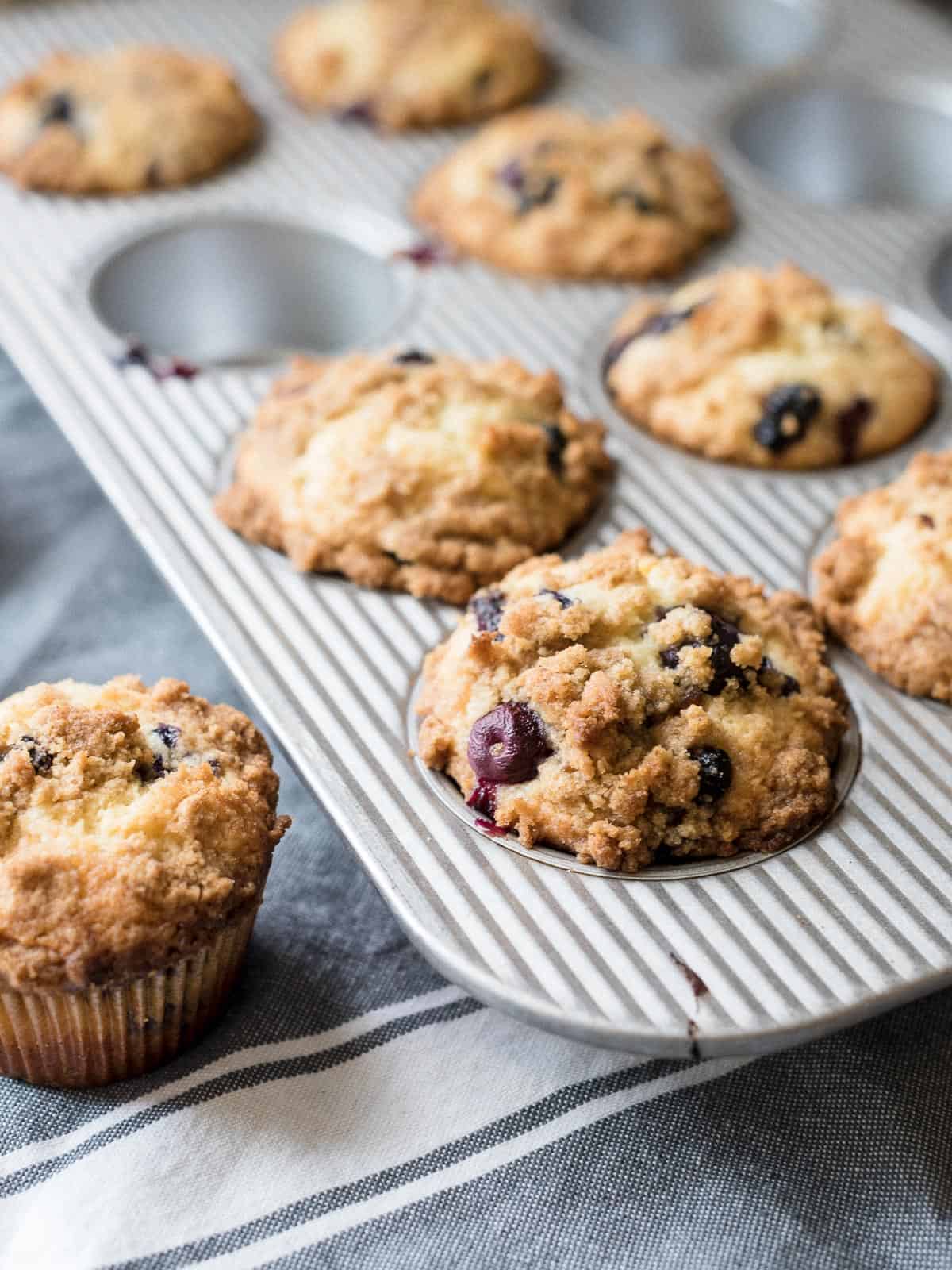 I've got a case of the summertime blues. The only thing is, it's not yet summer, and these blues aren't getting me down. Actually, it's quite the opposite. Blueberry fever has hit, perhaps replacing my rhubarb streak, and it's not even summer berry season!
To deal with the blueberry blues, I had to make something sweet, and I've been baking batches of muffins, the kind that usually calls to you from behind the counter at the coffee shop, their crumbly tops giving you just a peek at the blueberries bursting within. It's the muffin that you know you want, but maybe shouldn't get.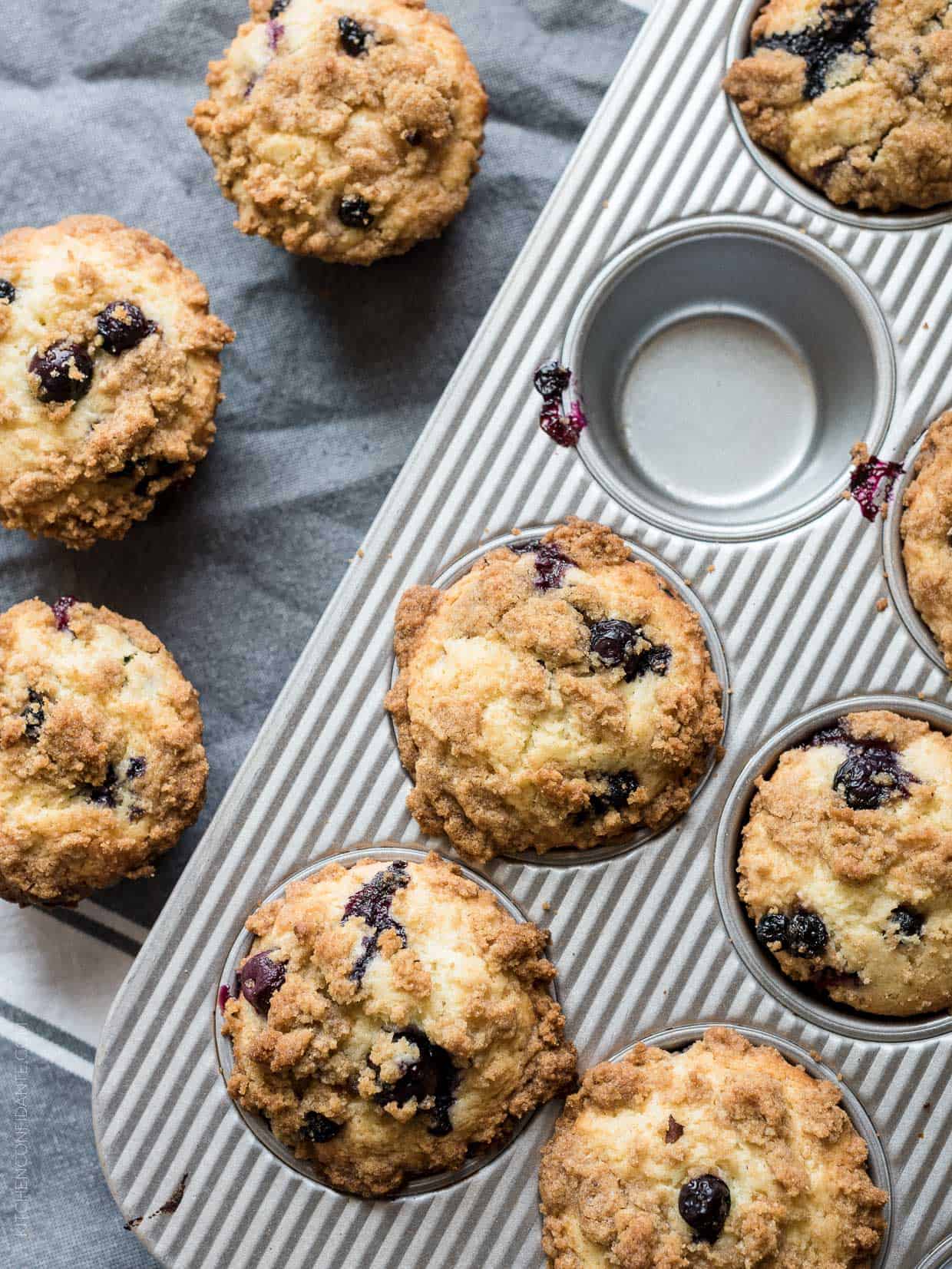 But not to worry. You can treat yourself any time with these Bakery Style Buttermilk Blueberry Muffins. They're cake-like and tender, with a cinnamon streusel that adds a crumbly crunch to each bite. And they'll definitely chase the sad kind of blues away.
Bakery Style Buttermilk Blueberry Muffins
Save yourself a trip to the bakery! These muffins are bursting with blueberries and crumbly streusel!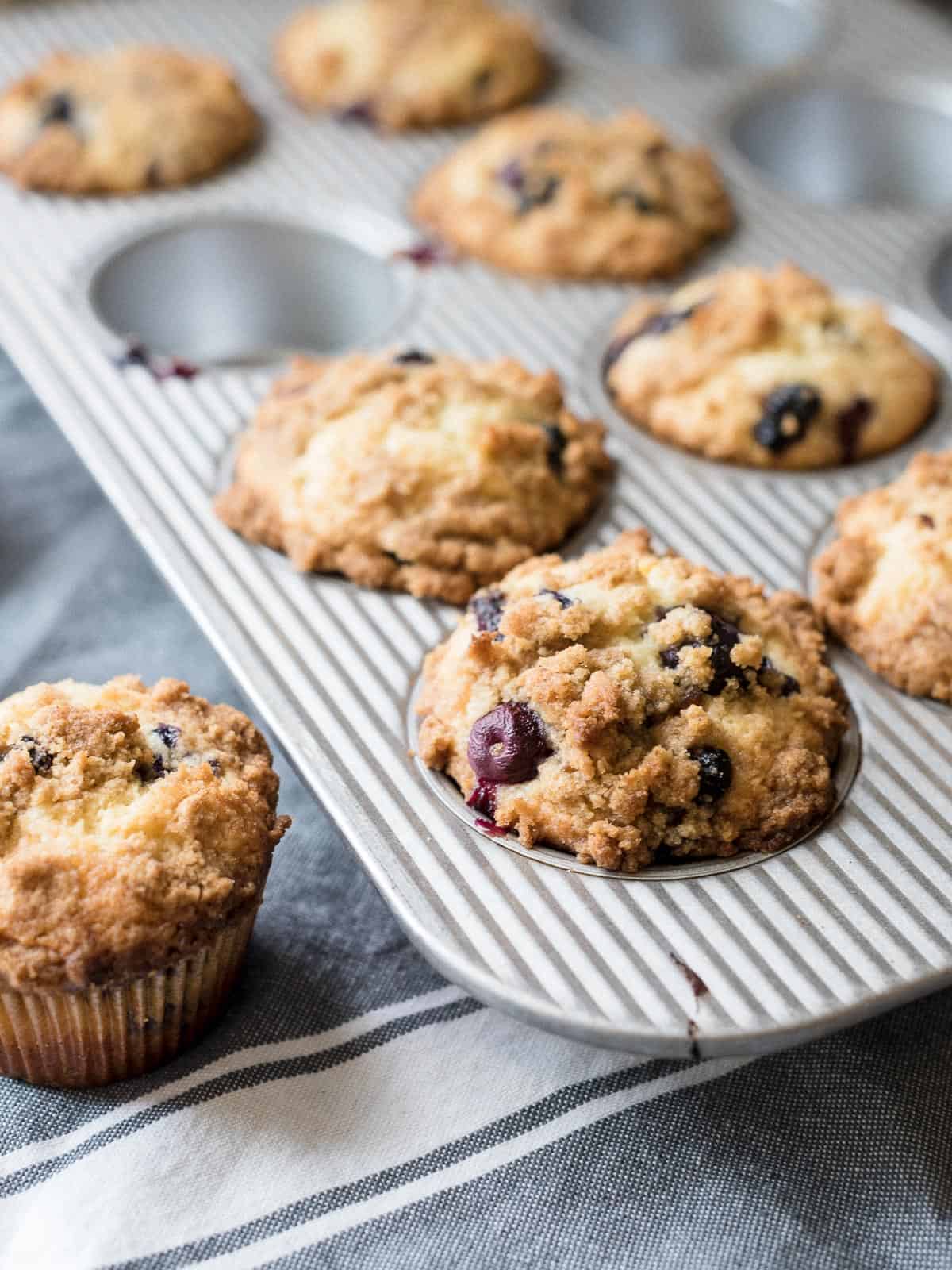 Print Recipe
Ingredients
For the Streusel:
1/3 cup granulated sugar (if you want a deeper color, use a combination of granulated and light brown sugar)
1/3 cup all-purpose flour
1 1/4 teaspoons ground cinnamon
1/4 cup (4 tablespoons) cold unsalted butter, grated or cut into small cubes
For the Muffins:
1 1/2 cups all-purpose flour
3/4 cup granulated sugar
2 teaspoons baking powder
1/2 teaspoon kosher salt
1/4 cup canola oil
1 large egg
1/2 cup plus 1 tablespoon buttermilk
1 teaspoon vanilla
1 cup fresh blueberries
Instructions
Preheat the oven to 375°F with the rack placed in the center of the oven. Line a muffin pan with cupcake liners and set aside.
Make the Streusel:
In a small bowl, stir together the sugar, flour and cinnamon with a fork. Drop in the butter, and using your fingers, a pastry cutter or two forks, cut the butter into the sugar mixture until you have crumbs. Set aside.
Make the Muffin Batter:
In a medium bowl, whisk together the flour, sugar, baking powder and salt until combined. In a small bowl, whisk together the oil, egg, buttermilk and vanilla. Add the buttermilk mixture into the flour and use a spatula to mix until just about halfway incorporated. Drop in the blueberries and mix a little bit more, just until the flour is incorporated – do not overmix the batter, you want it to be lumpy.
Distribute the batter into the prepared muffin pan and sprinkle with the streusel. Place in the oven and bake for about 18-20 minutes, or until a toothpick inserted into the center comes out clean. Remove from oven and place the muffins on a wire rack to cool before enjoying.