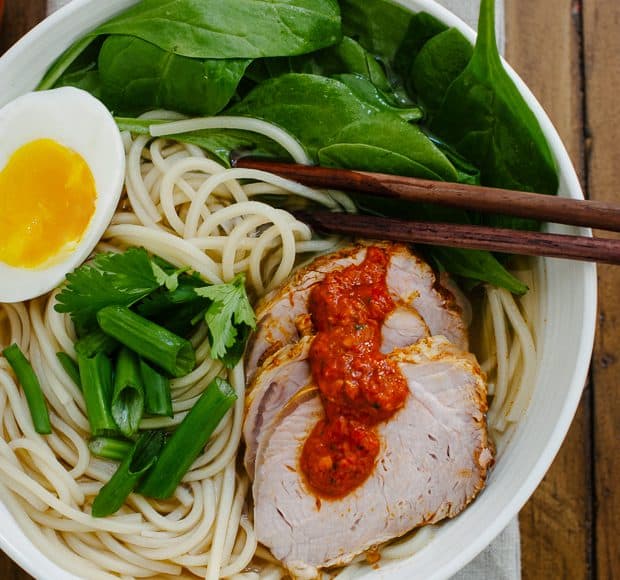 Harissa Ramen
Harissa Ramen is a spicy homemade ramen recipe. Learn how to make your own harissa and spice up your favorite noodle soup!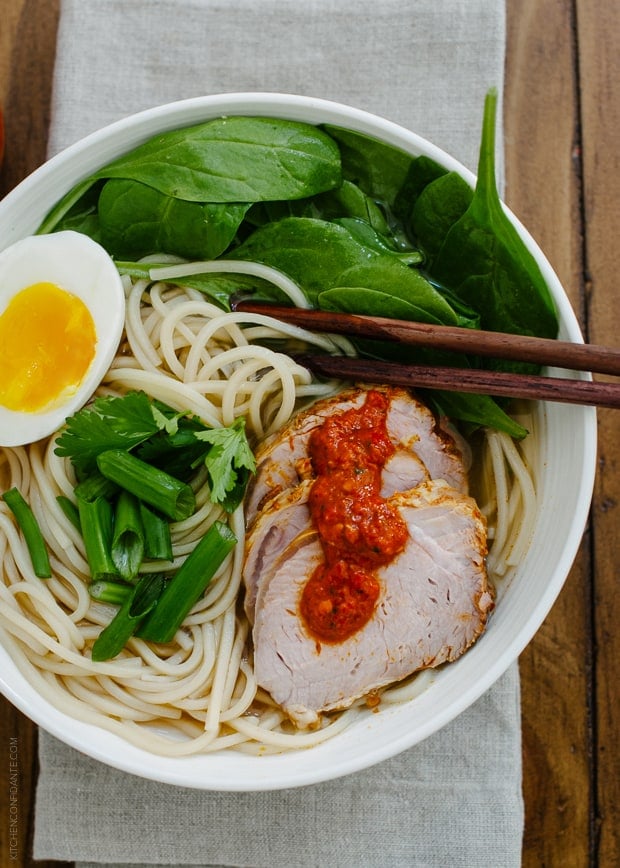 Harissa Ramen
Harissa Ramen is a spicy homemade ramen recipe. Learn how to make your own harissa and spice up your favorite noodle soup!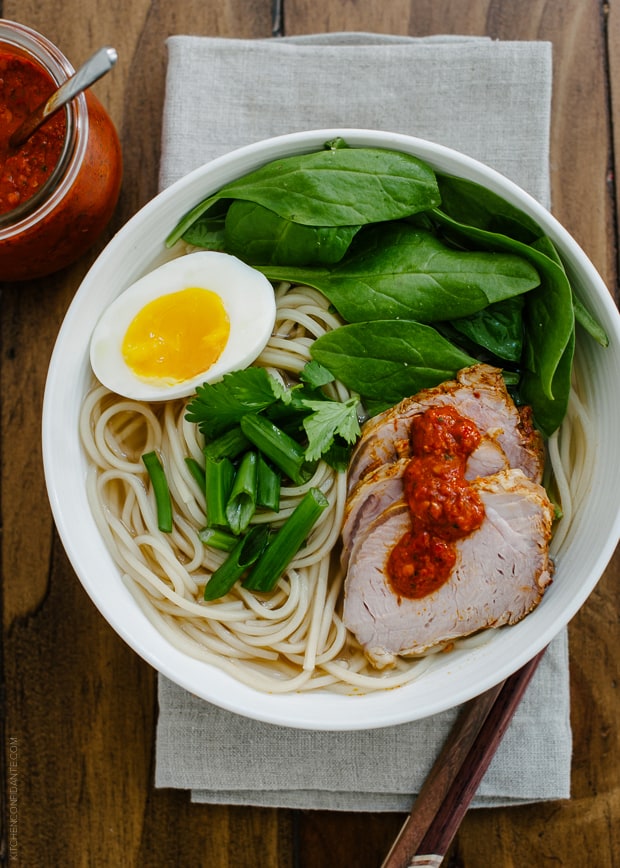 The mail does not come until near evening here. Getting used to the rhythm of life in the new house has meant waiting until dark until the postman rolls his truck up front, with packages from UPS and Fed Ex arriving even later, sometimes as the children are getting ready for bed.
Their energy and enthusiastic smiles are infectious, especially as they do their Santa work, delivering holiday cards and Christmas gifts to our door. They're starting to trickle in, and it's the Christmas cards that I love the most.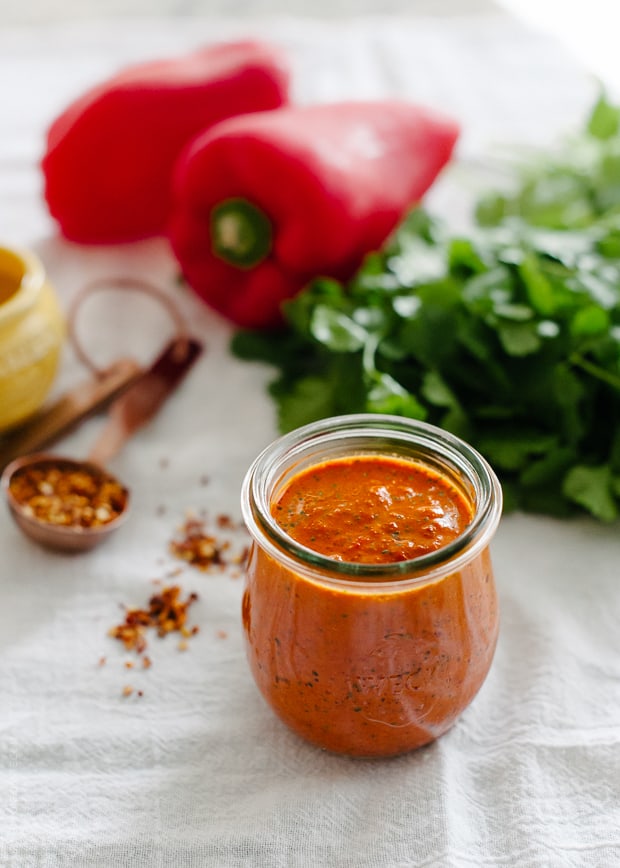 Call me corny, but I love Christmas cards. I love seeing how big our friends' children have grown. And to be honest, I always prefer the picture cards when the whole family is there, but I understand how elusive the family picture can be. This year, the photo for our own card almost became an afterthought, and my sanity thought it best to keep it simple by capturing a picture of just the kids.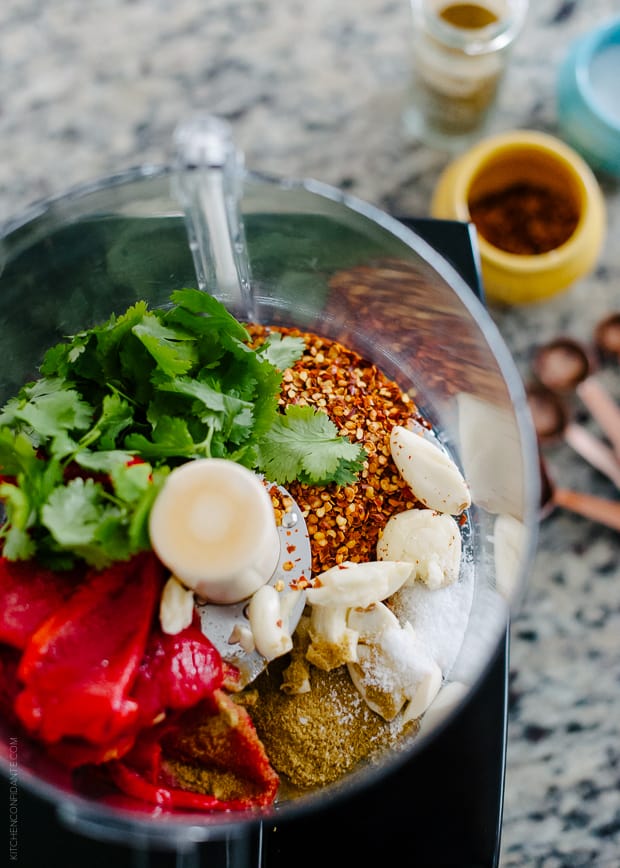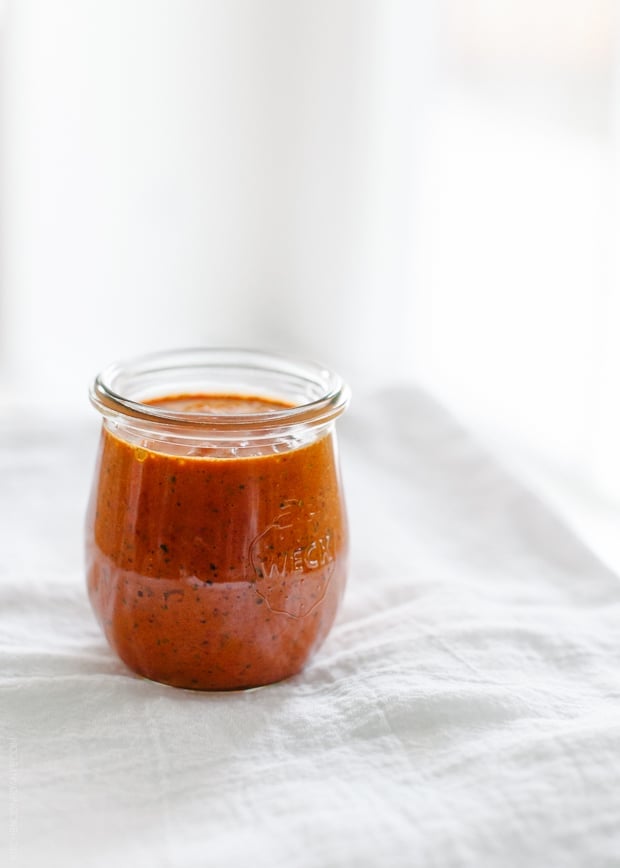 So there's the key word: sanity. How are you staying sane this holiday season?
Harissa Ramen | An Easy Spicy Ramen Recipe
With 10 days to go until Christmas eve, I'm finding myself at the busiest time of year – so I just don't have the time or energy for anything elaborate when it comes to dinner. By now you know that soup is my best friend, but that doesn't mean it has to be boring. Spicing it up with some heat and a luxurious soft boiled egg is all it takes to make me excited about a simple bowl of noodle soup.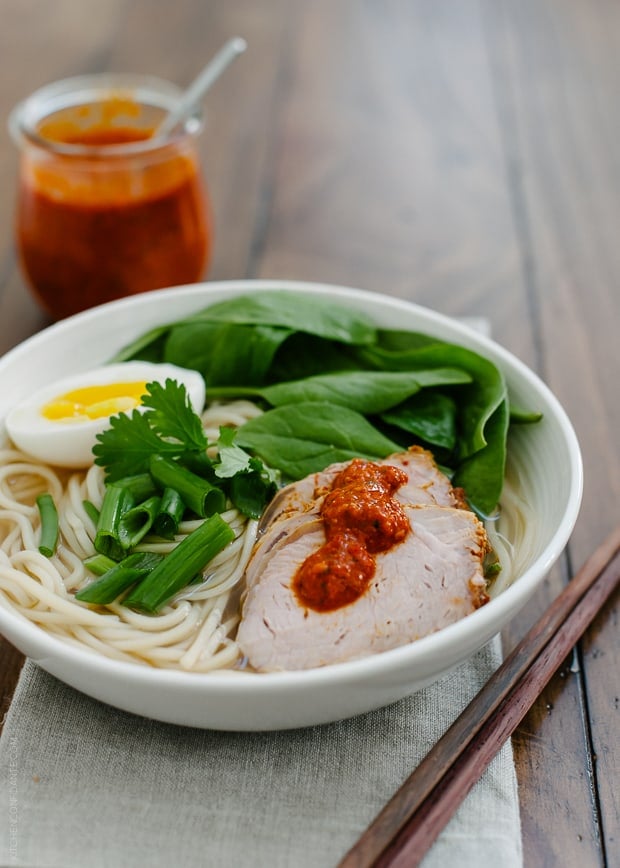 I pulsed some roasted red peppers with garlic and herbs to make a spicy jar of harissa sauce. I keep it in the fridge and it comes in handy – whether I'm roasting chicken, jazzing up some pork tenderloin or in this case, Harissa Ramen. The best part of ramen is I can use leftovers (pork, chicken, etc.) and pantry ingredients. And then there's the soft boiled egg; I'm not sure what it is, but a soft boiled egg is always reason to get excited, for me. Kind of like the Christmas cards in the mail.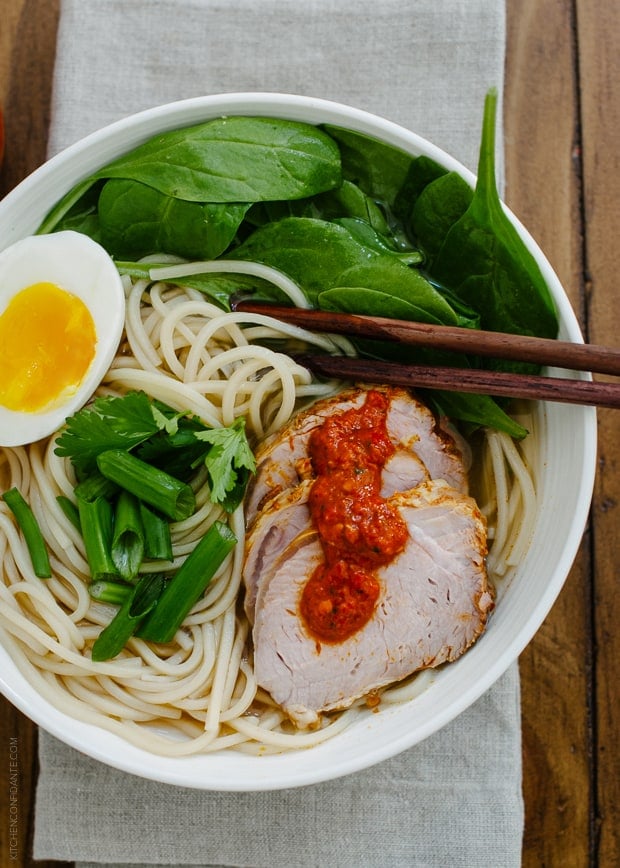 More Easy Meals
25 Simple Pasta Recipes
20 Simple Soup and Stew Recipes
Instant Pot Short Rib Ramen
Spiced Butternut Squash Lentil Soup (Vegan)
Vegetarian Pasta Puttanesca
Harissa Ramen
Harissa Ramen is a spicy homemade ramen recipe. It's your favorite noodle soup spiced up with harissa! This easy homemade ramen is great for weeknight meals or anytime you need some comfort food.
Ingredients
1

cup

fire-roasted red peppers

see notes below

6

cloves

garlic

2

tablespoons

red chili flakes

1

teaspoon

cumin

1/2

teaspoon

kosher salt

plus extra for seasoning

1/2

cup

fresh cilantro

1/2

cup

olive oil

9.5

oz

ramen noodles

2

large eggs

3

cups

chicken broth

3

cups

beef broth

2

cups

baby spinach

1

grilled pork tenderloin

sliced (see notes below)

3

scallions

sliced

cilantro for garnish
Instructions
In the bowl of a food processor, chop the fire roasted red peppers, garlic, red chili flakes, cumin, salt, and cilantro until it is a smooth paste. With the motor running, add the olive oil and blend until the sauce is smooth and creamy. Pour into a jar and store in the refrigerator until ready to use.

Bring a pot of water to a boil, then cook the ramen noodles according to package directions (about 4 minutes, depending on the noodles you have). Drain, rinse with cold water, then drain again. Set aside.

Bring a small saucepan of water (enough to submerge two eggs) to a boil. Carefully lower refrigerator cold eggs into the water, then lower boil to a simmer. Cook the eggs for 6-7 minutes, then carefully transfer the eggs to a bowl of ice water. Let the eggs cool for several minutes, then carefully peel and halve.

Heat the chicken and beef broth until hot. Divide the ramen noodles into 4 bowls, top with spinach, pork slice, and egg. Ladle the broth on top, garnish with harissa to taste, and top with scallions and cilantro. Serve immediately.
Notes
For convenience, jarred fire-roasted red peppers (such as can be found at Trader Joe's) can be used. Also, to save time, I will sometimes opt for pre-cut butternut squash that you can find in the produce section. Of course, if you have time, there's nothing better than roasting and peeling your own peppers over an open flame.
Use whatever leftovers you may have on hand. I always make extra Grilled Balsamic-Garlic Crusted Pork Tenderloin, which works well as leftovers here.
Harissa adapted from Harissa Sauce by One Tribe Gourmet, as featured on Saveur.com.
Nutrition
Calories:
890
kcal
|
Carbohydrates:
50
g
|
Protein:
61
g
|
Fat:
49
g
|
Saturated Fat:
13
g
|
Cholesterol:
229
mg
|
Sodium:
3686
mg
|
Potassium:
1555
mg
|
Fiber:
4
g
|
Sugar:
2
g
|
Vitamin A:
3118
IU
|
Vitamin C:
36
mg
|
Calcium:
129
mg
|
Iron:
8
mg