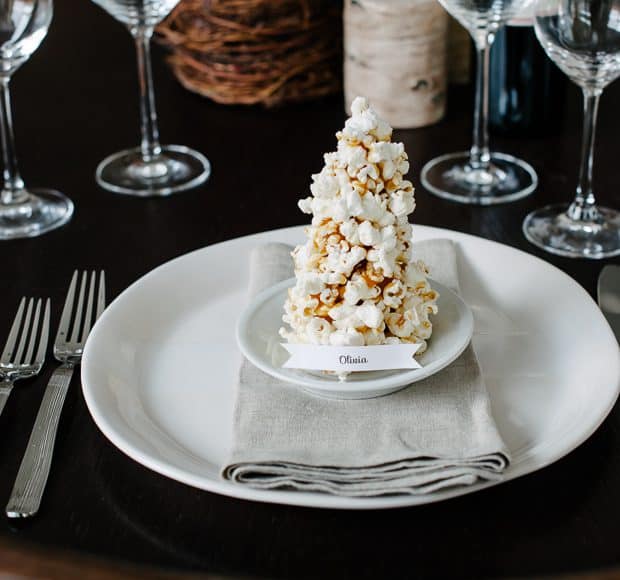 Popcorn Christmas Tree Place Cards DIY
What kind of music do elves like best? "Wrap" music! I've been scribbling elf jokes on my children's lunch napkins. If I have time, I'll sketch (poorly, I'm afraid) an elf, grinning at them. It's my little way of making them smile (I hope) as…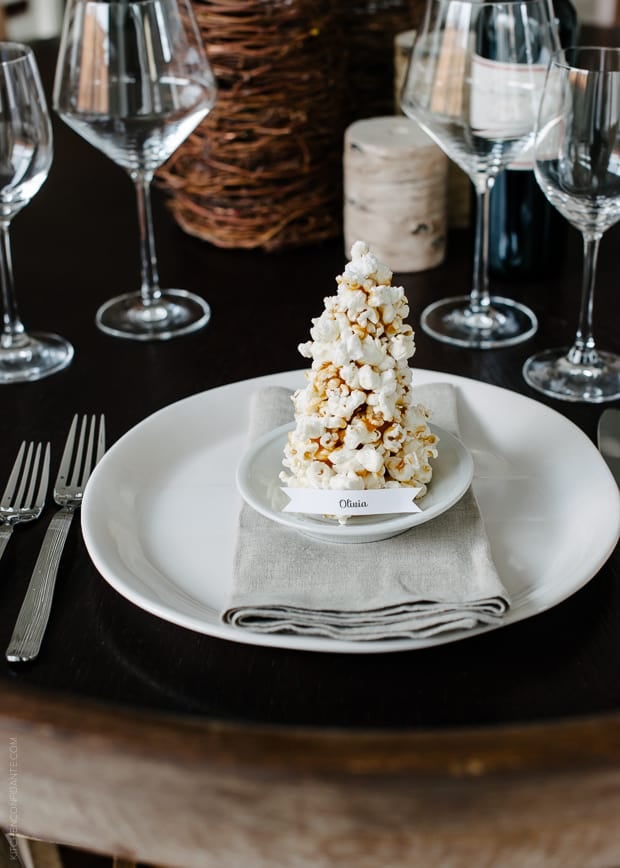 Popcorn Christmas Tree Place Cards DIY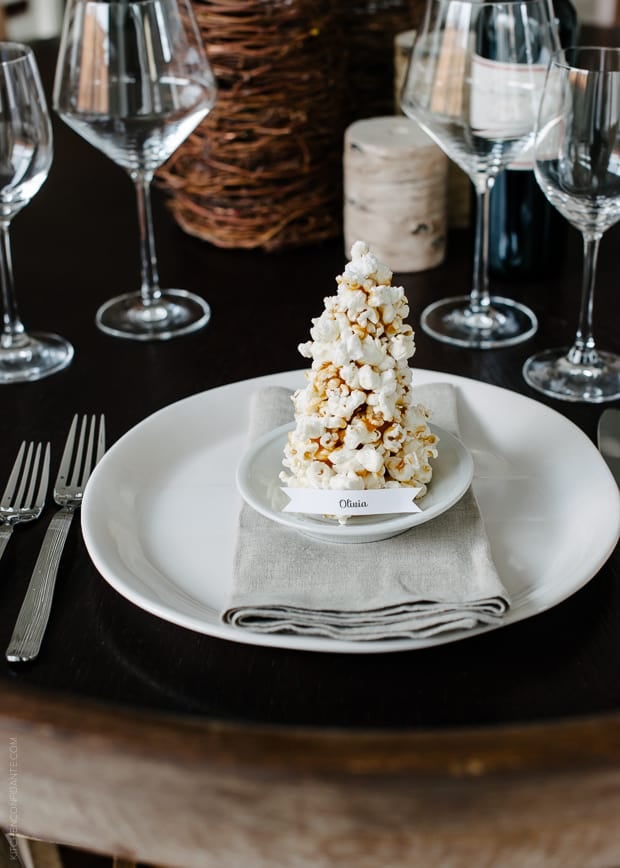 What kind of music do elves like best?
"Wrap" music!
I've been scribbling elf jokes on my children's lunch napkins. If I have time, I'll sketch (poorly, I'm afraid) an elf, grinning at them. It's my little way of making them smile (I hope) as they munch their sandwich, but the truth is, it's been good for getting me in the holiday spirit, too.
This Christmas has truly crept up on me! I woke on Monday in near panic, when I realized that the big day was just days away. How did that happen?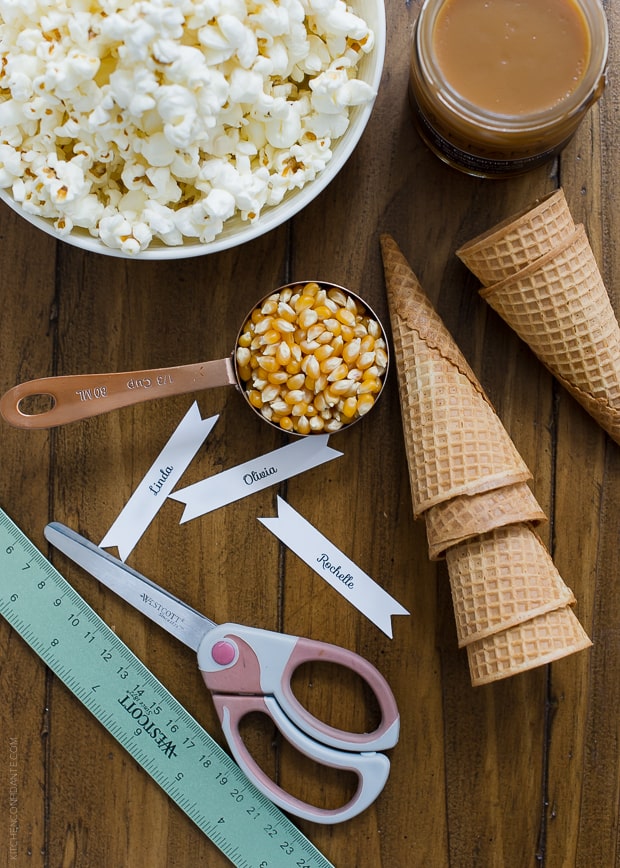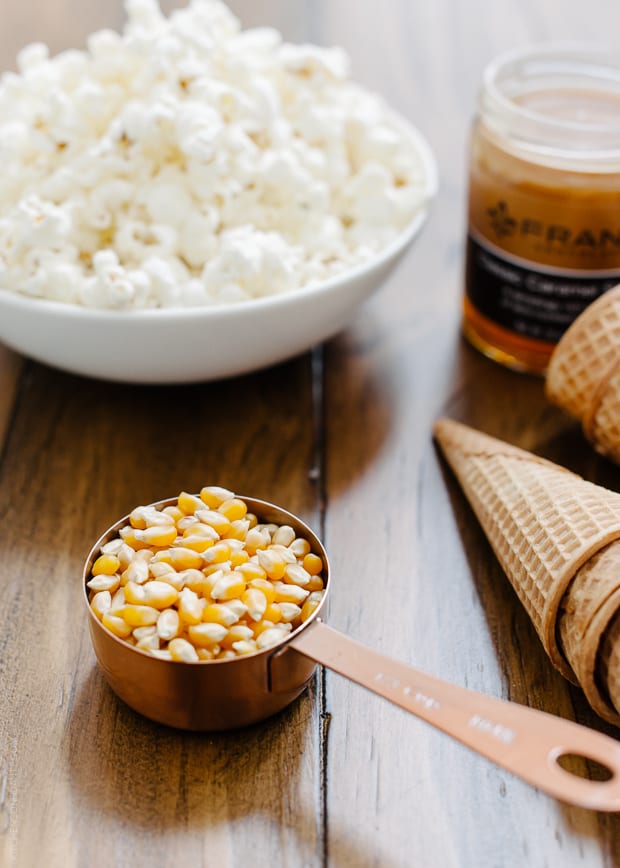 It's all about last minute preparation, and I just have to share these edible Popcorn Tree Place Cards DIY with you. Not only is it a sweet way to welcome your guests to their place at your holiday table, but if you wanted to, it is totally edible!
All you need are ice cream cones, caramel, and popcorn. Make a little extra popcorn — you'll need some to munch on as you glue the popcorn into little trees.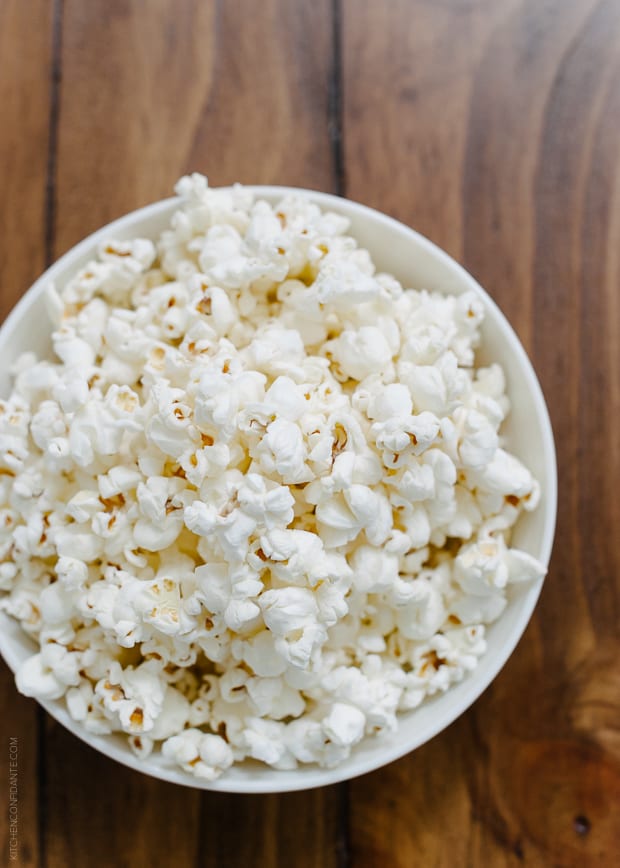 Start at the base, and make sure your caramel isn't too runny – you'll want it thick and sticky, but warmed a little so you can work with it, like glue. As you work your way to the top, the tree will come to shape. Finish it off with a dusting of powdered sugar snow if you wish, and card stock with your guests' names printed in pretty font, trimmed to about 3 x 1/2 inches.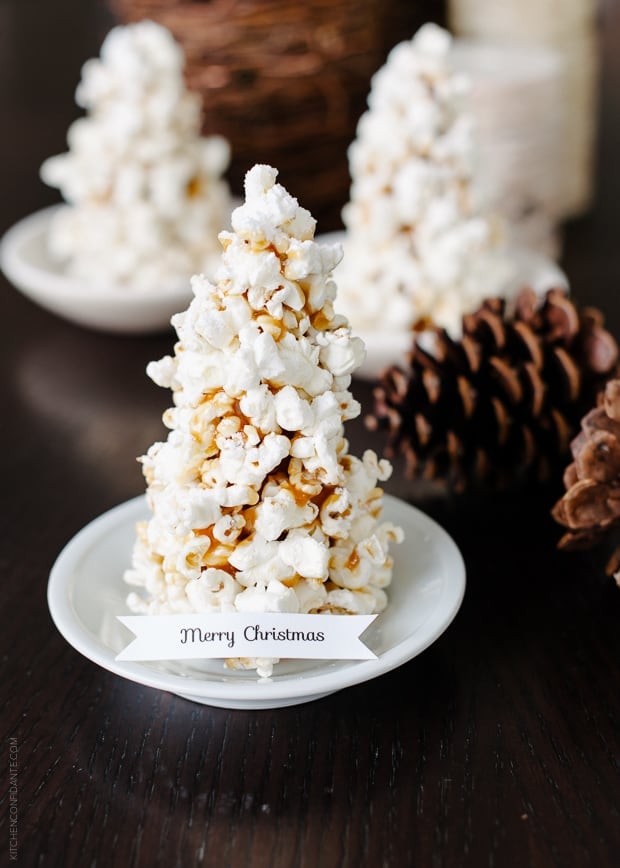 I like to firm it up a bit in the refrigerator, and it will keep there for a couple of hours. What I had intended as a cute place card turned out to be quite tasty, actually. It is totally edible, and can do double duty as dessert, if you serve a small bowl of ice cream on the side. The trees can be broken apart or you can bite the tops off the trees, whatever makes you feel like a kid at heart.
Popcorn Christmas Tree Place Cards DIY
These place cards do double duty as an edible treat! Just add ice cream on the side!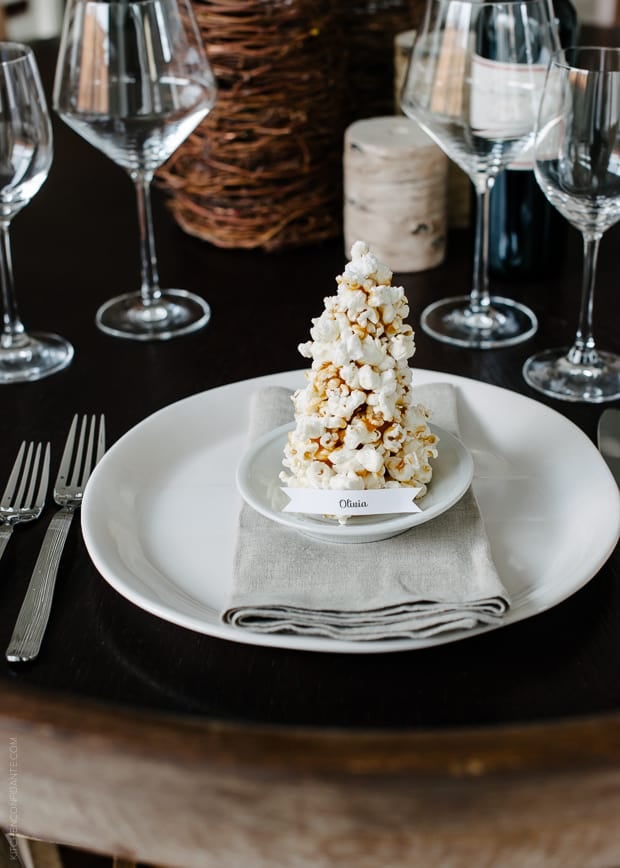 Print Recipe
Ingredients
8 oz caramel
4 ice cream cones
4 cups popped popcorn (there should be enough for you to munch as you make these)
powdered sugar (optional)
4 pieces printed card stock, trimmed 3" x 1/2"
Instructions
Warm the caramel in short bursts (15-20 seconds each) in the microwave until the caramel is still thick but warm enough that it can act as glue. If you overheat the caramel, wait for it cool.
Starting at the wide base of the cone, dip each popcorn into the caramel and "glue" it on the cone. Work your way around and to the top of the cone. Place the tree gently on a small dish and chill in the refrigerator until firm.
Sprinkle with powdered sugar if you want a snowy effect, and add the card stock for your place card.
If you wish to eat these, you can! It's also good with a little ice cream on the side.