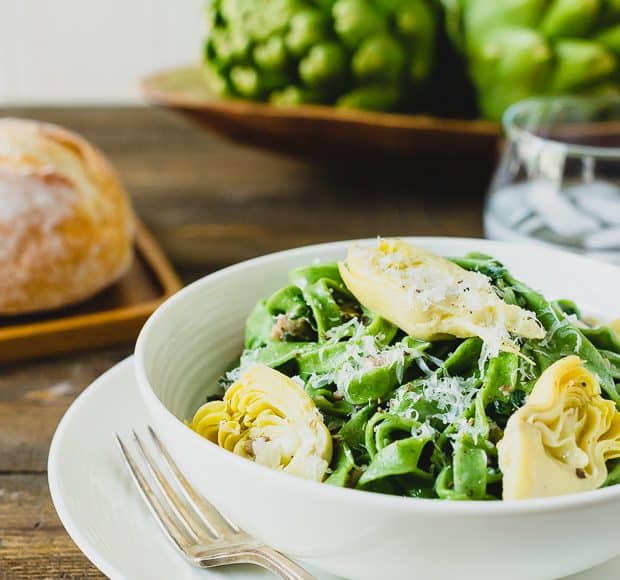 Homemade Spinach Fettucine with Creamy Artichokes and Chicken Sausage Sauce + Seasonal Recipes for April
Tell me the truth: how many jelly beans and Peeps and chocolate covered Peeps (why haven't I discovered these earlier in life, by the way?) and Cadbury eggs did you sneak in the last couple of days? I'll tell you, if you tell me. Truth…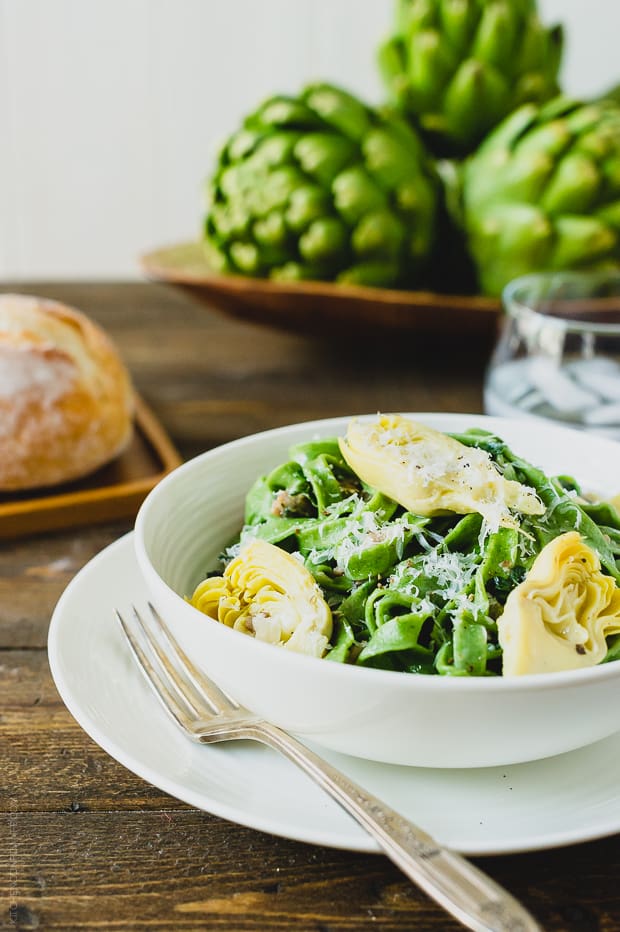 Homemade Spinach Fettucine with Creamy Artichokes and Chicken Sausage Sauce + Seasonal Recipes for April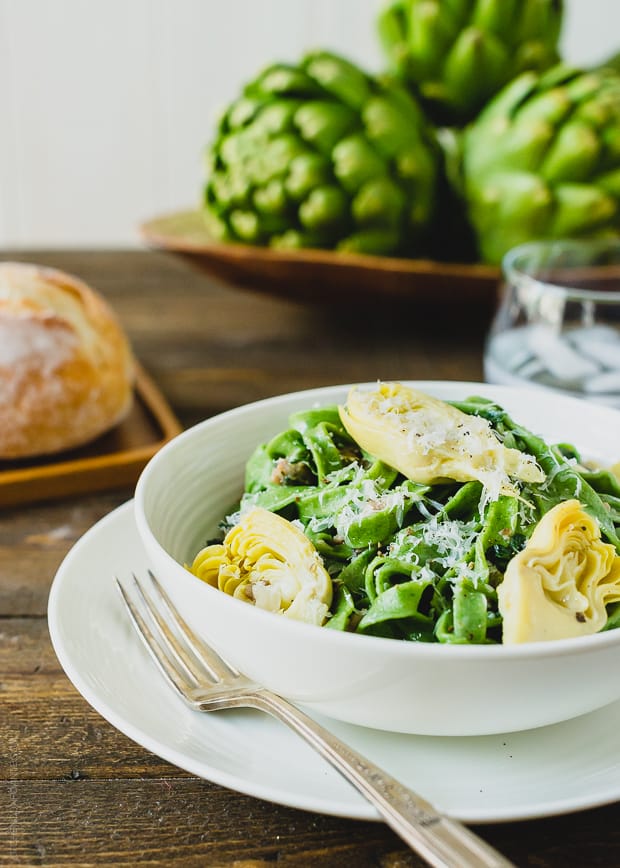 Tell me the truth: how many jelly beans and Peeps and chocolate covered Peeps (why haven't I discovered these earlier in life, by the way?) and Cadbury eggs did you sneak in the last couple of days? I'll tell you, if you tell me.
Truth is, as I was churning the wheel in spin class this morning, I resolved to myself to hide the candy stash from sight – it's just too tempting! I'm so relieved that we are through with what I call candy season, for several months. From Halloween to Easter, our house has seen a lot of candy!
Once we get past Easter, I love to take a break, but I do find that I make more homemade sweets, so don't worry, there will be some baking, my friends.
In the meantime, I want to share something green and wholesome: Homemade Spinach Fettucine with Creamy Artichokes and Chicken Sausage Sauce.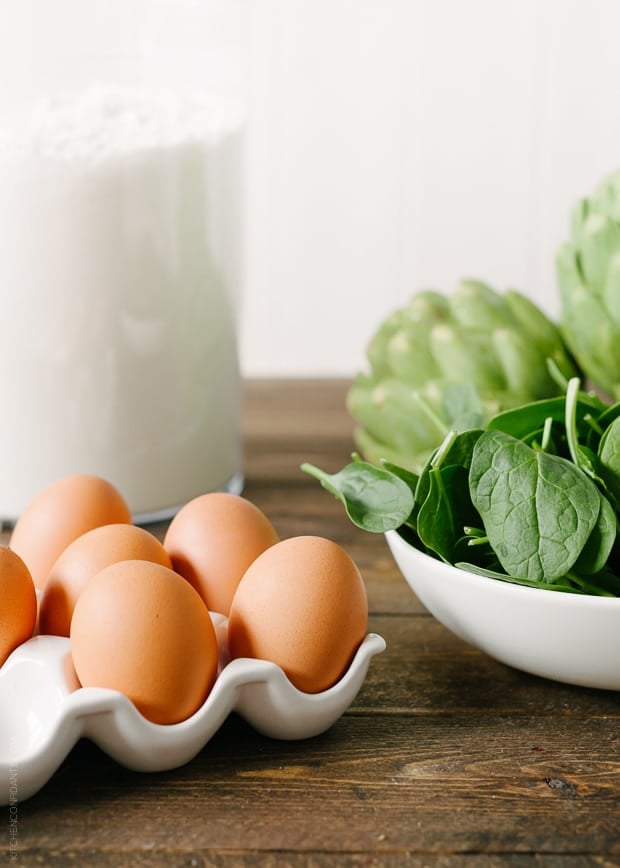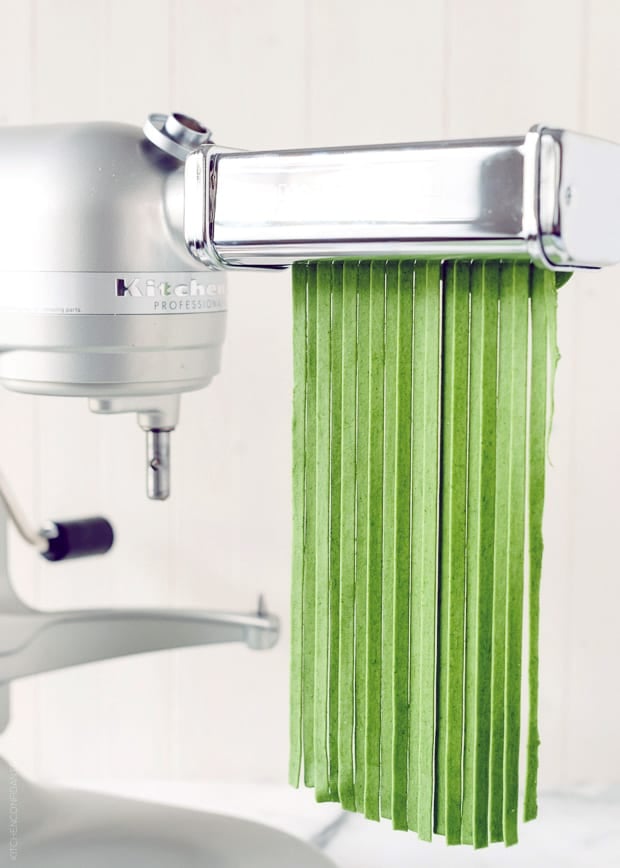 I always say I should make homemade pasta more often, it's quite simple, once you get the hang of it. I made long gorgeous strands of homemade spinach fettucine and am sharing the recipe on KitchenAid's blog, The Kitchenthusiast. There's something so fulfilling about making pasta from scratch – in this case, 4 ingredients transform into beautiful ribbons of green. But the sauce! I loved this creamy artichoke and chicken sausage sauce – and I think you'll be surprised to find out what makes it creamy.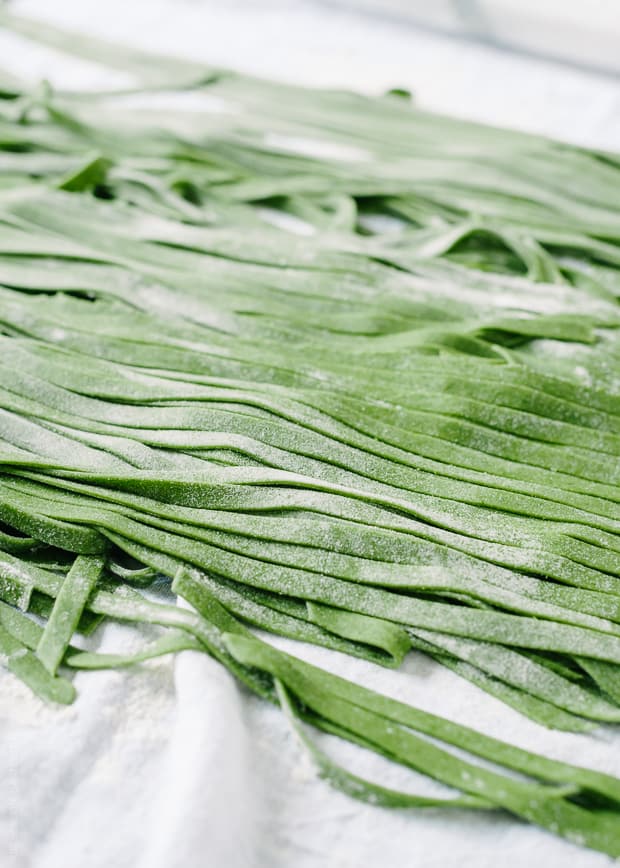 Please join me and find the recipe for Homemade Spinach Fettucine with Creamy Artichokes and Chicken Sausage Sauce at The Kitchenthusiast by clicking here.
Also, I thought you might enjoy more seasonal inspiration – there are some wonderful #eatseasonal recipes this month curated by my friend Becky at Vintage Mixer. Please check them out here!