In the Kitchen with Green Chef
Love the idea of a meal kit delivery service but still searching for one that serves up certified organic ingredients with bold, global flavors? Join me in the kitchen with Green Chef and find out why they stand out, and what my family loved! This…
In the Kitchen with Green Chef
Love the idea of a meal kit delivery service but still searching for one that serves up certified organic ingredients with bold, global flavors? Join me in the kitchen with Green Chef and find out why they stand out, and what my family loved! This post is brought to you by Green Chef.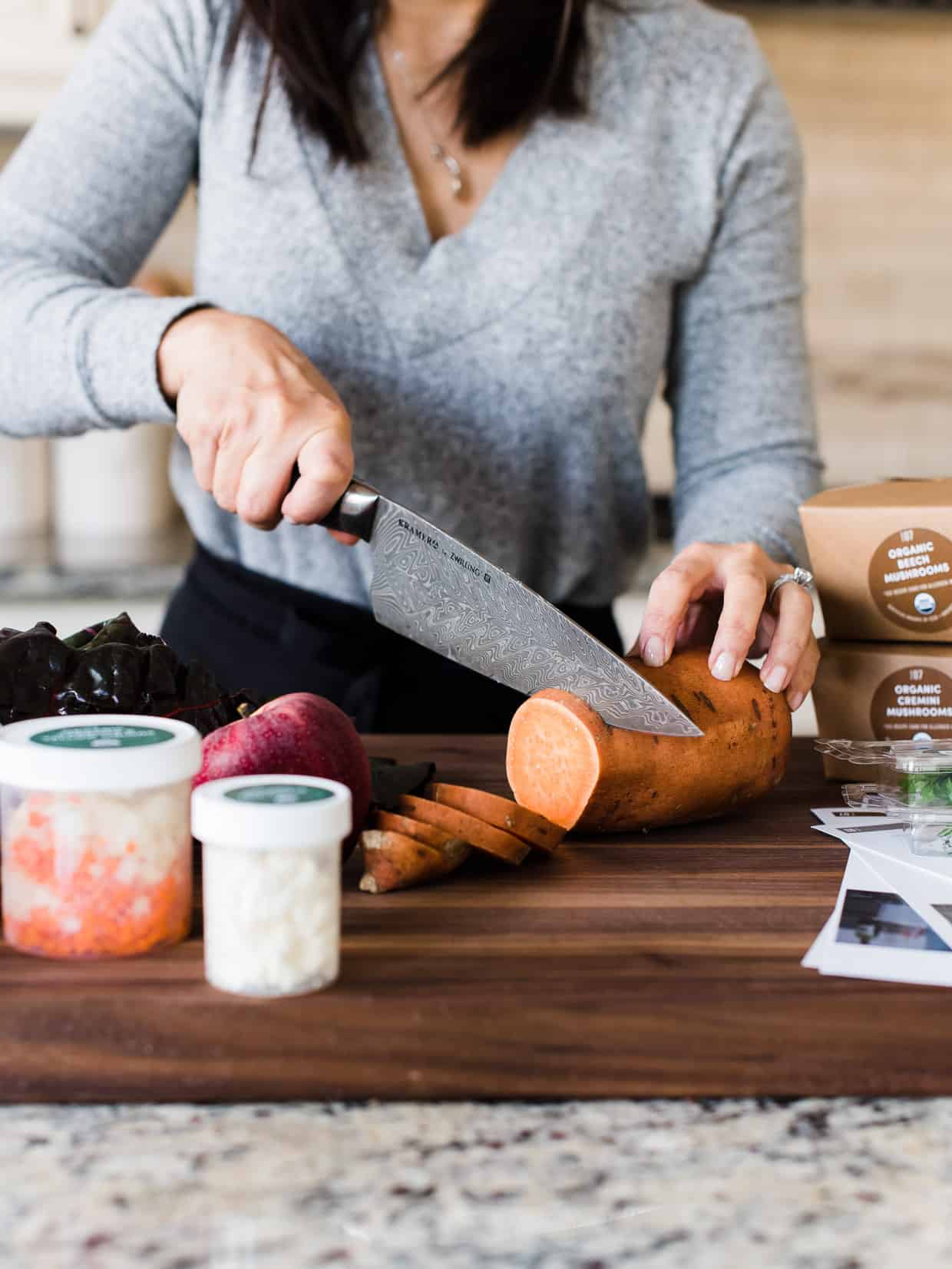 It was one of those days – I'm sure you've had the kind – where the hours just blur from one to the next, the hands on the clock moving a little too fast (wasn't it just 11 am?), and evening creeps in a little too quickly. How did that happen? And why didn't I go to the grocery store earlier? These questions surface as you realize that dinner time is not too far away.
The doorbell rang and it was as though the dinner gods heard me and answered my prayers. On my doorstep was a box from Green Chef and I felt a sigh of relief.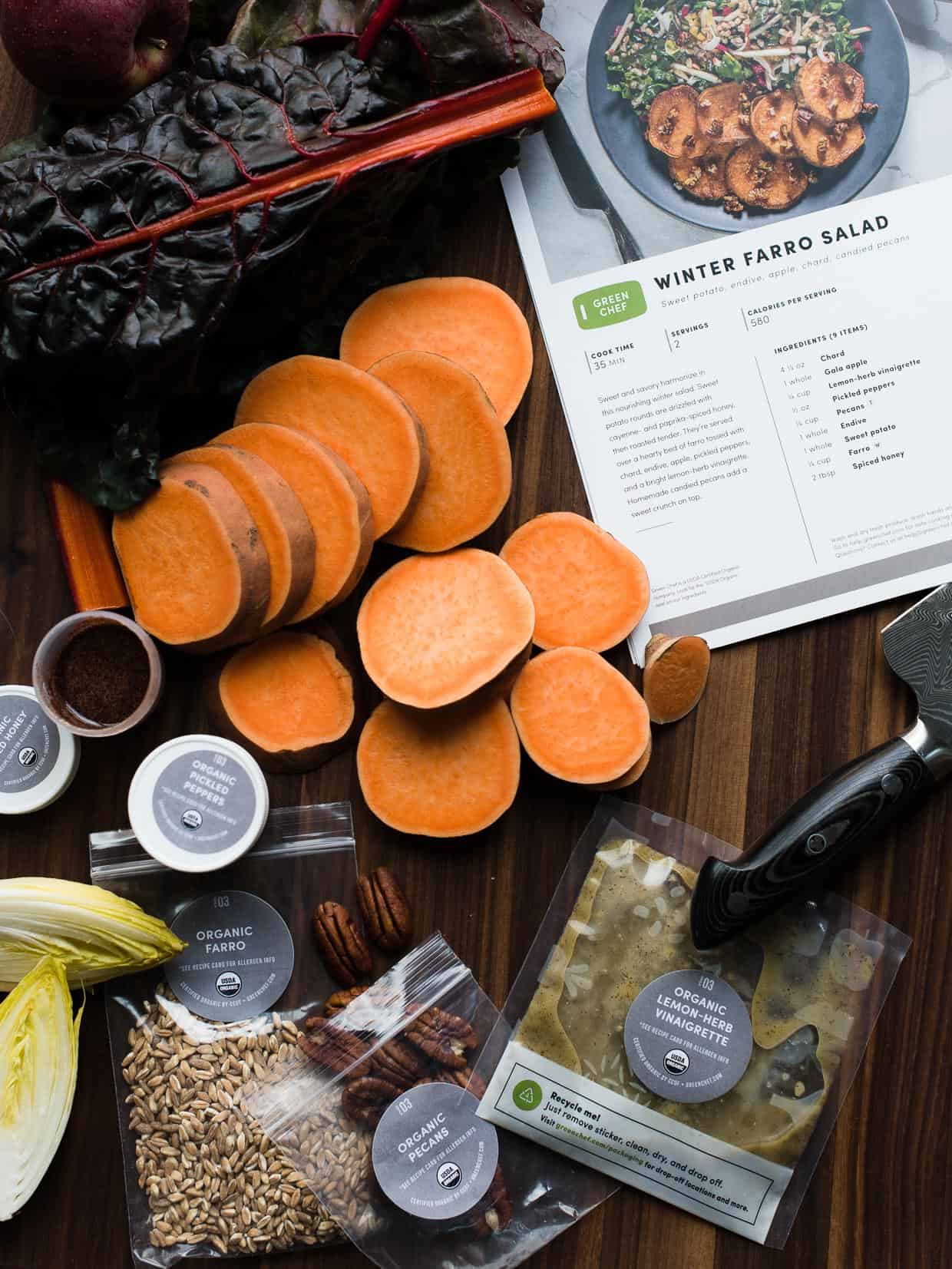 I've had a chance to try several meal kit companies over the last couple of years, but when I first heard of Green Chef, I was super excited to give it a try. Why? Well, Green Chef is a game changer in that it is the first USDA-certified organic meal kit company with more organic ingredients than any other company in the industry. And since it's also the first meal kit company to receive Gluten-Free certification through the Gluten Intolerance Group's Gluten-Free Food Service (GFFS) program, I thought of all my gluten-free friends who have struggled to find a meal kit delivery service that could work for them.
When I shop, I try my best to select organic ingredients, so having the chance to partner with and try Green Chef was especially exciting — I love that their organic ingredients have no GMOs, synthetic pesticides, antibiotics, growth hormones, or steroids. And beyond that, as I looked at the recipes they created with these wholesome ingredients, I was thrilled to see that they weren't timid in their cooking or in the flavors they embrace. I couldn't wait to see what I would find in my Family Omnivore box!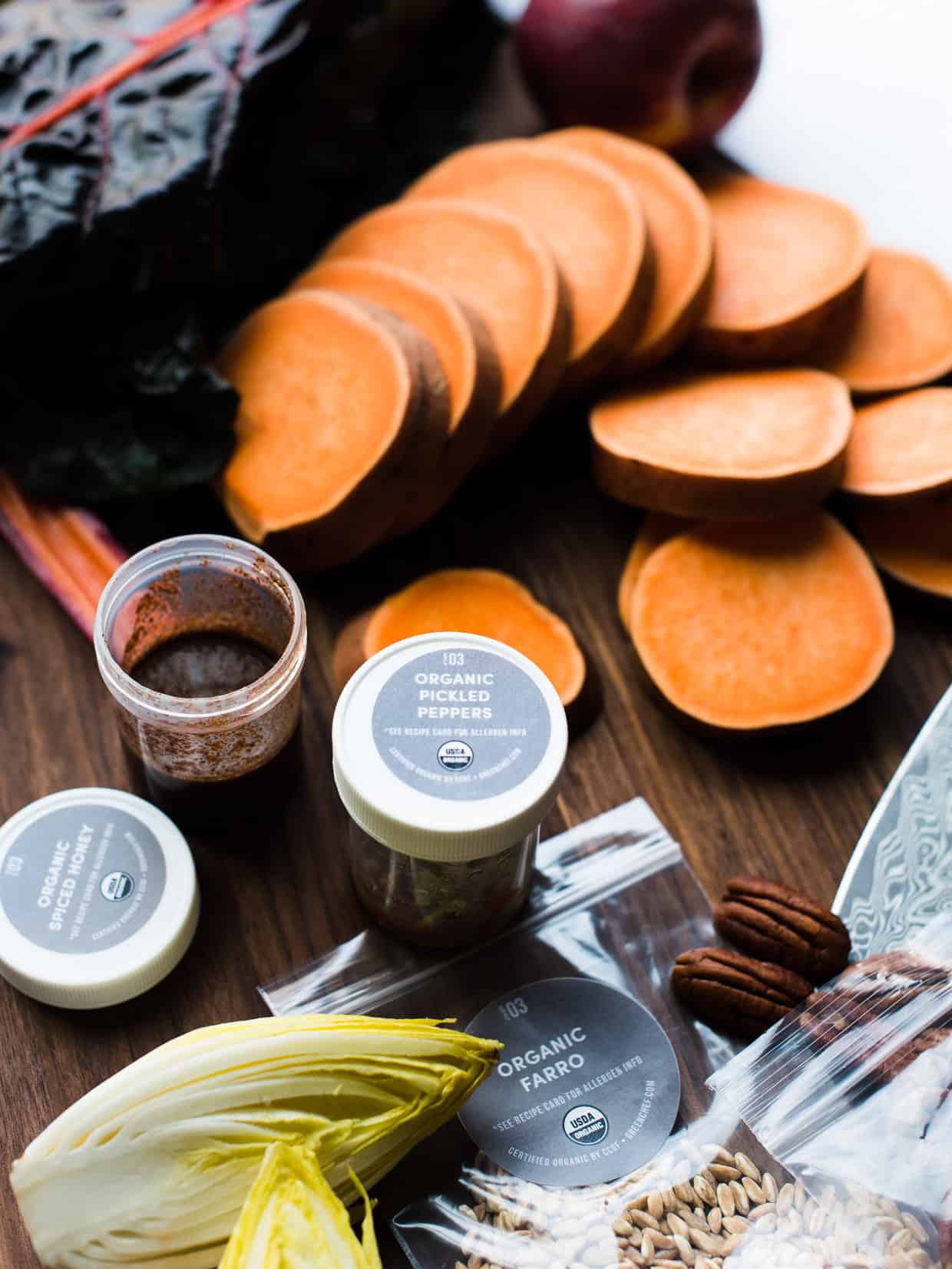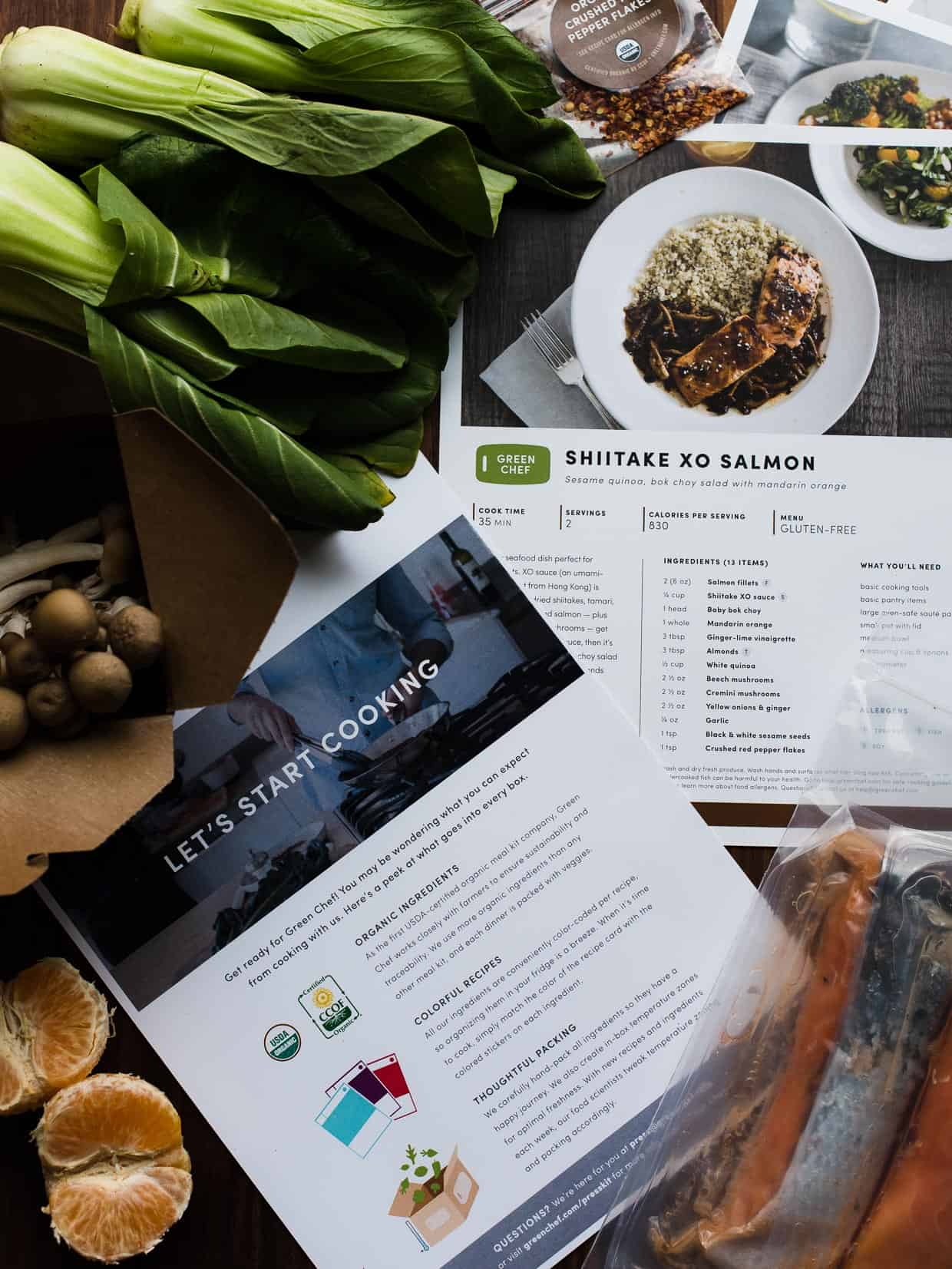 I wasn't disappointed.
New to the menu, and in my box, were the ingredients for Shiitake XO Salmon – have you ever had XO sauce? It's a super-flavorful condiment from Hong Kong, where XO stand for "extra old," and much like a teriyaki sauce, adds an umami punch to your cooking. Green Chef's version is actually vegan, replacing the sauce traditionally made with dried scallops, shrimp, smoked ham, hot pepper and Shaoxing rice wine with vegan ingredients: molasses, dried shiitake and beech mushrooms. Cooking pan-seared salmon in the XO sauce is brilliant, and delicious drizzled over sesame quinoa, mushrooms and a citrus kissed bok choy salad.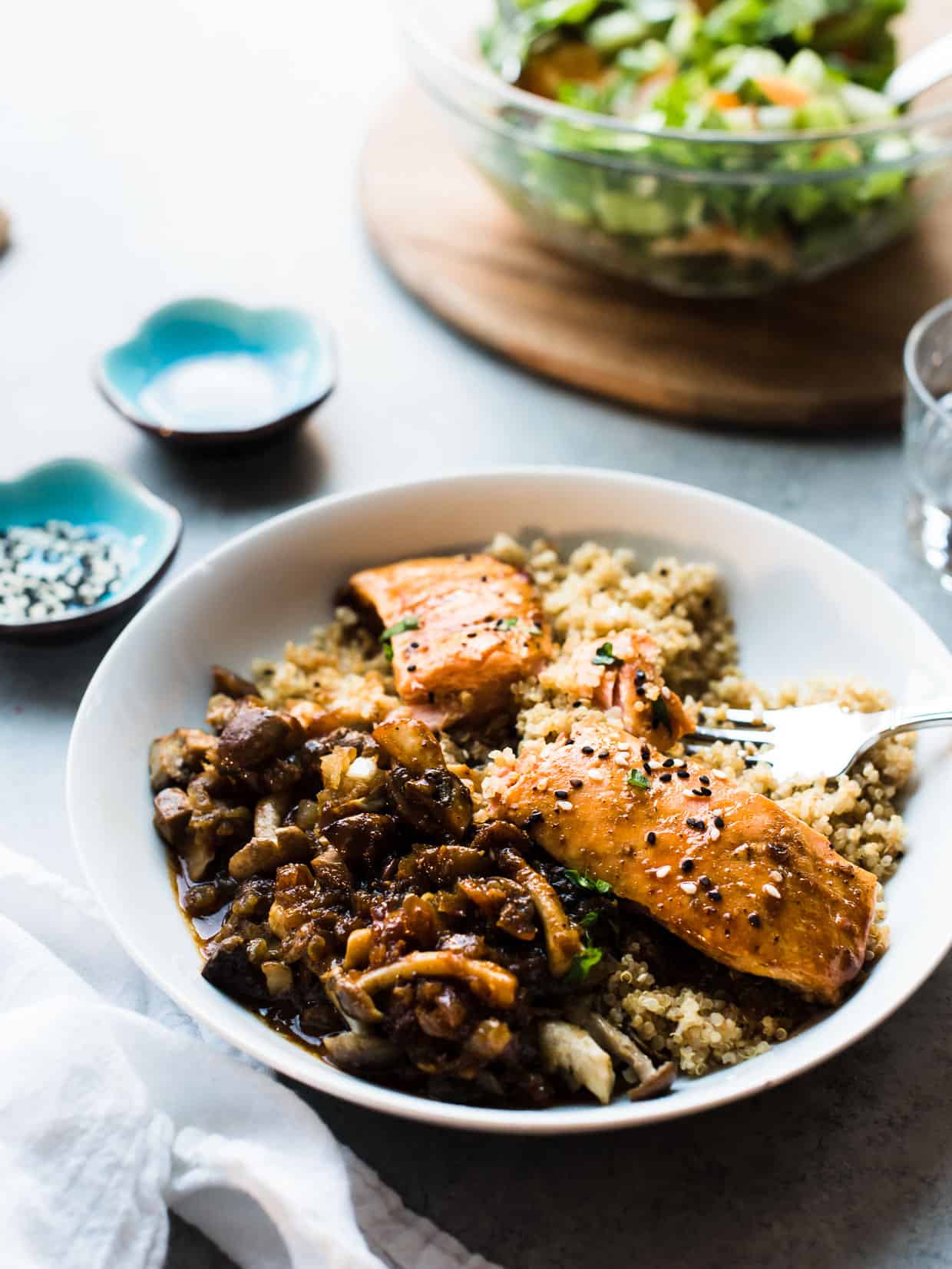 Also in my box were everything I needed for Feta-Stuffed Chicken. I knew my husband and daughter would especially enjoy this dish, because what's not to love about Mediterranean flavors? Pan-seared chicken breasts stuffed with Kalamata-olives and feta cheese are flavor packed next to roasted butternut squash and broccoli and served with couscous and sun-dried tomatoes. The true seal of approval was when my husband nodded and said, "I really like the chicken — it tastes like something you would make!"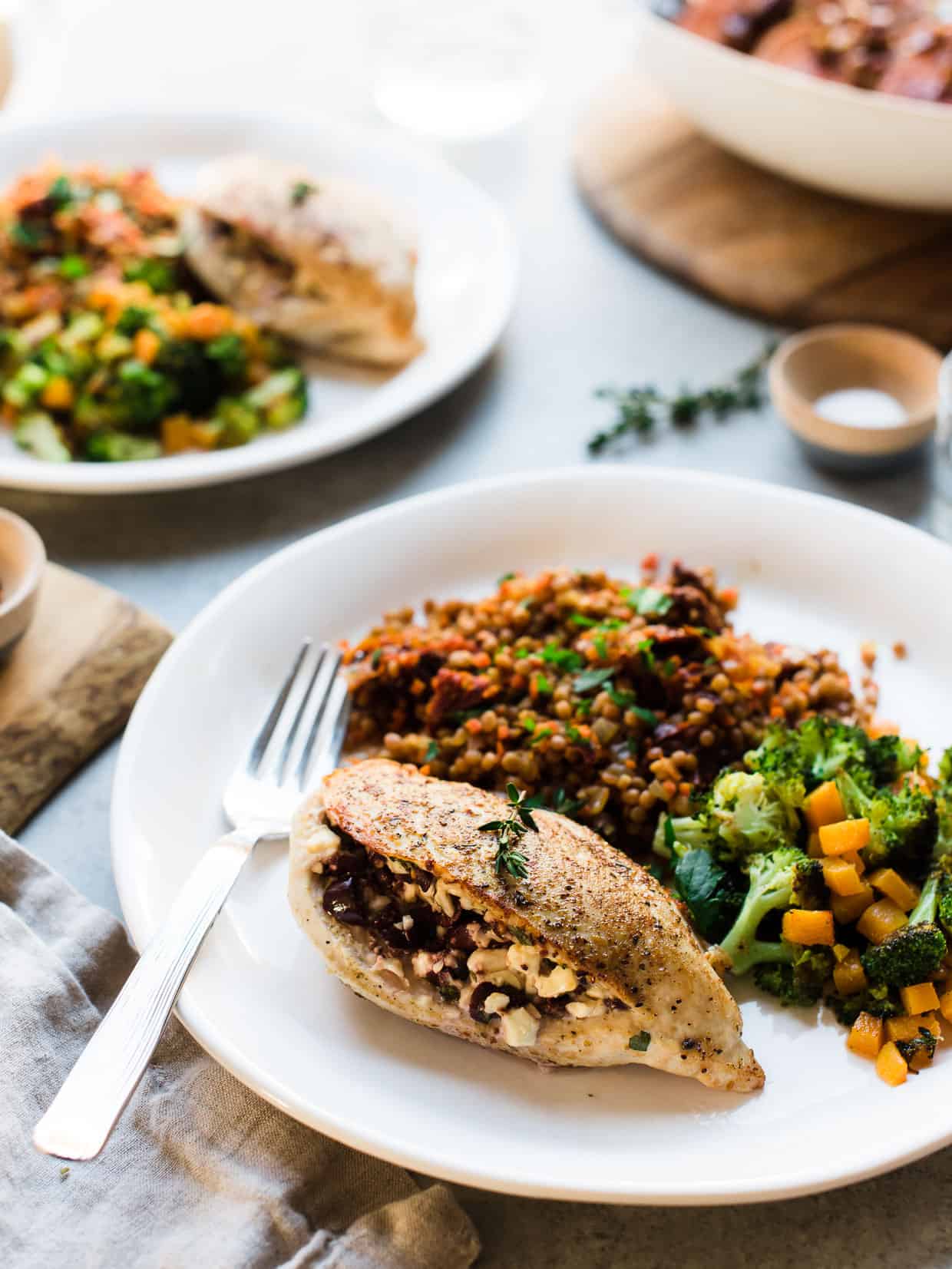 And that's the thing — I feel like all the recipes in the menus are dishes I would love to make anyway, just without the heavy lifting! I love that the recipes don't shy away from spices or flavor (feta! Kalamata olives! XO sauce!) and that it doesn't oversimplify the cooking technique. Whether you're a novice cook or experienced in the kitchen, Green Chef meals are approachable and easy to follow, without sacrificing method or flavor.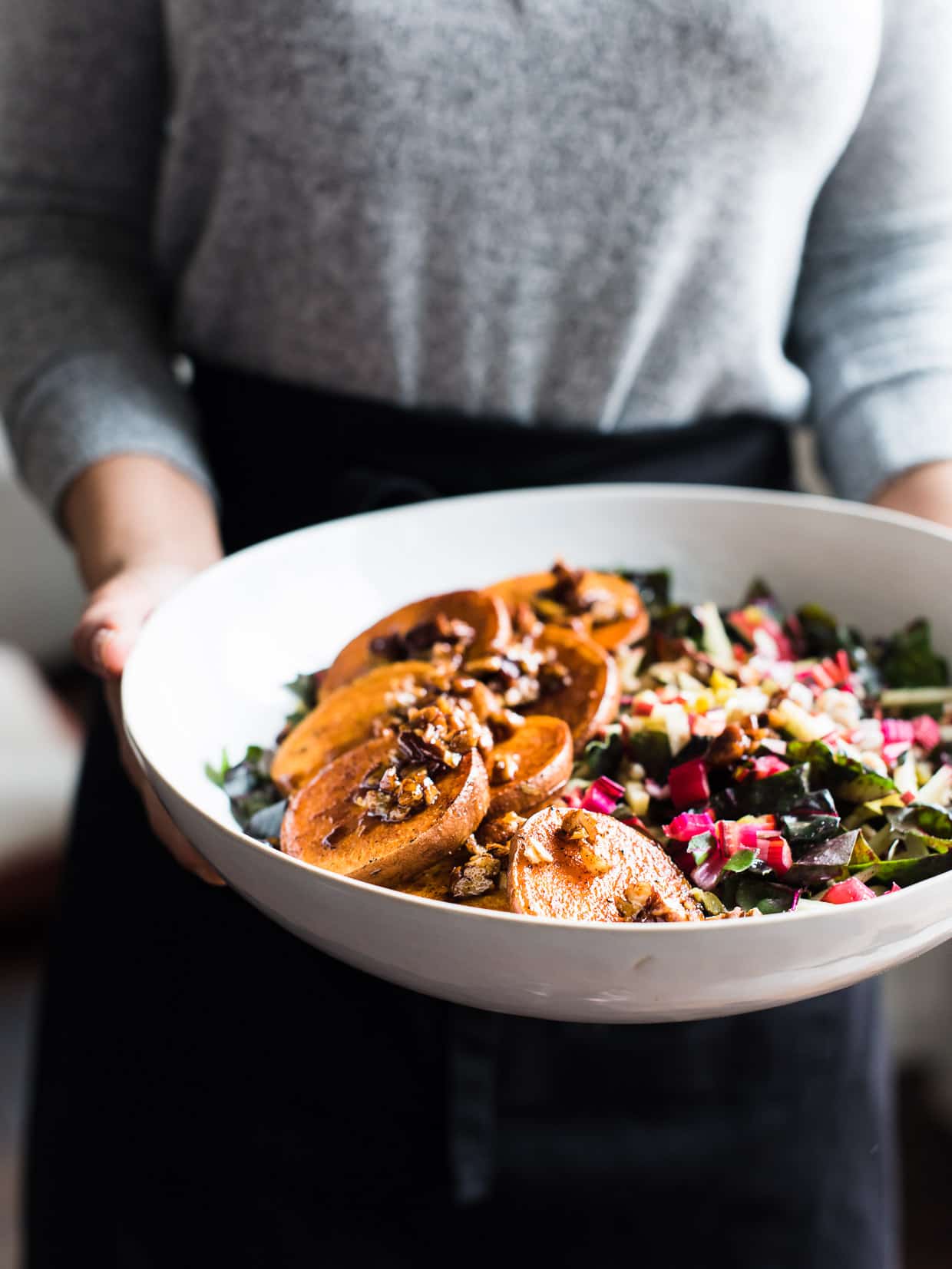 In case you needed more proof that Green Chef recipes are my kind of cooking, the last meal in my box was their Winter Farro Salad. Does this sound familiar? You know I'm crazy about farro salads, so I was really excited to try this one. And again, I loved it! Bold flavors are layered into this salad, from spicy pickled peppers to spiced honey glazed sweet potatoes and pecans, which are tossed into a chard salad with crisp, Gala apples, endive, farro and a lemon-herb vinaigrette. My kind of meal!
Who Should Try Green Chef?
So, is Green Chef for you? Green Chef is perfect for:
Cooks who are looking for a home delivery service that offers fresh, organic and non-GMO ingredients
Anyone who doesn't enjoy (or have time for) grocery shopping or meal planning but wants delicious weeknight meals that embrace global flavors
Busy families who are looking for new, exciting flavors, and don't want unimaginative meals for kids
Anyone looking for gluten-free certified, vegan, paleo, and keto menus, as well as omnivore options
Cooks who struggle with wasted ingredients after cooking recipes
Cooks who appreciate eco-friendly, sustainable packaging
Want to Try Green Chef?
If you've ever wanted to try Green Chef, here's your chance! Click THIS LINK to get $40 off your order.
Disclosure: This post is brought to you in partnership with Green Chef. Thank you for supporting brands that matter to me; sponsored posts such as this help behind the scenes at Kitchen Confidante. All opinions in this post are, as always, my own.