Kale and Shrimp Scampi | Simple Sundays
Mealtime with this easy recipe for Kale and Shrimp Scampi means (almost) instant gratification. "Back in my day." That used to be something "old" people say. But I found myself saying to my son, "Back in my day, I had to wait a whole week…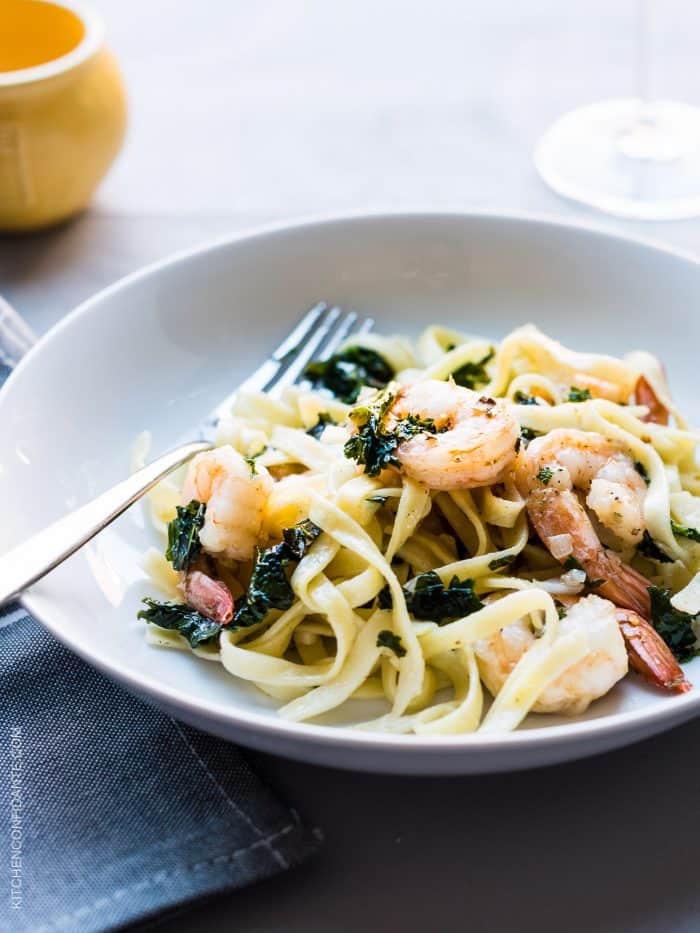 Kale and Shrimp Scampi | Simple Sundays
Mealtime with this easy recipe for Kale and Shrimp Scampi means (almost) instant gratification.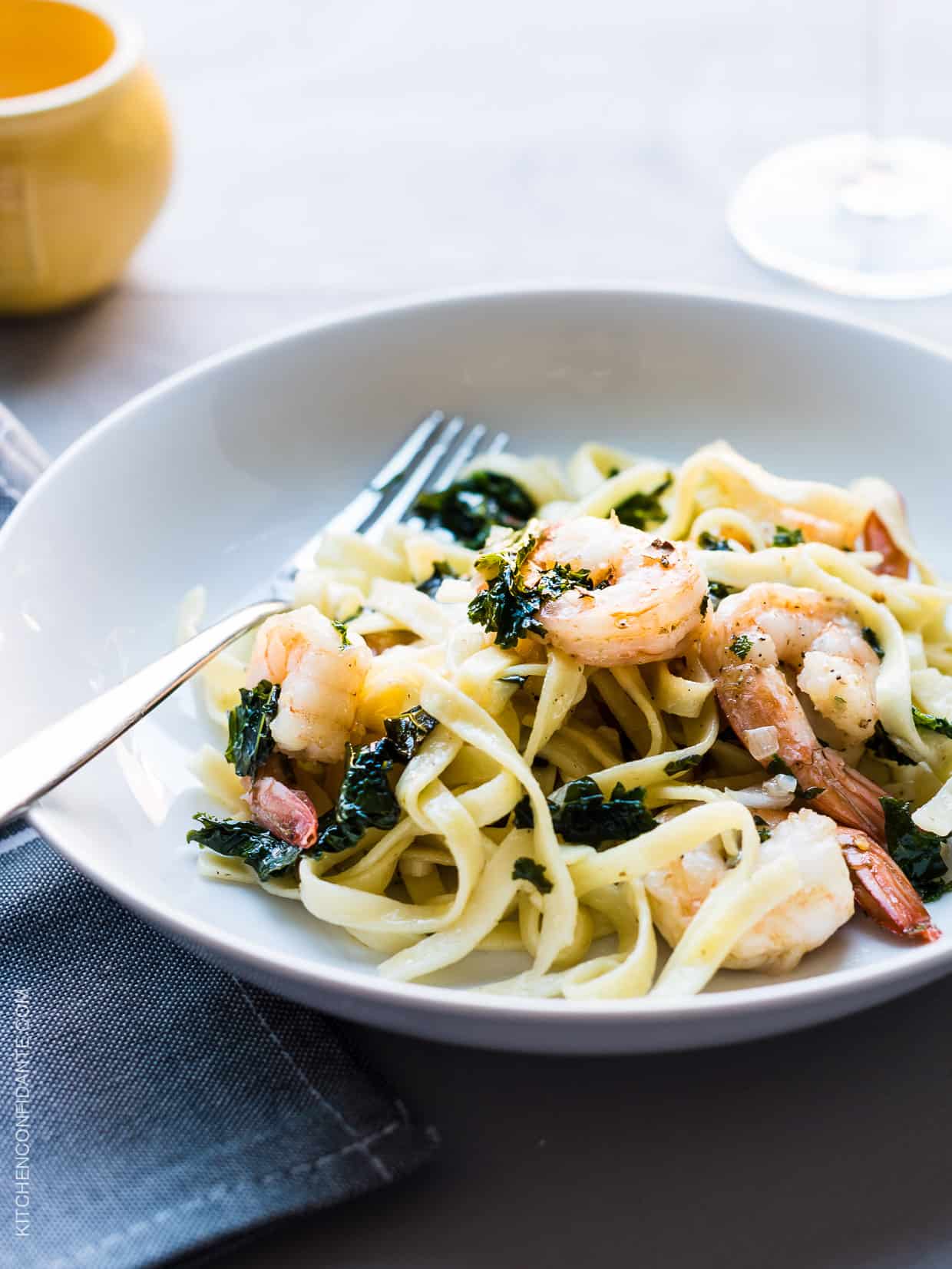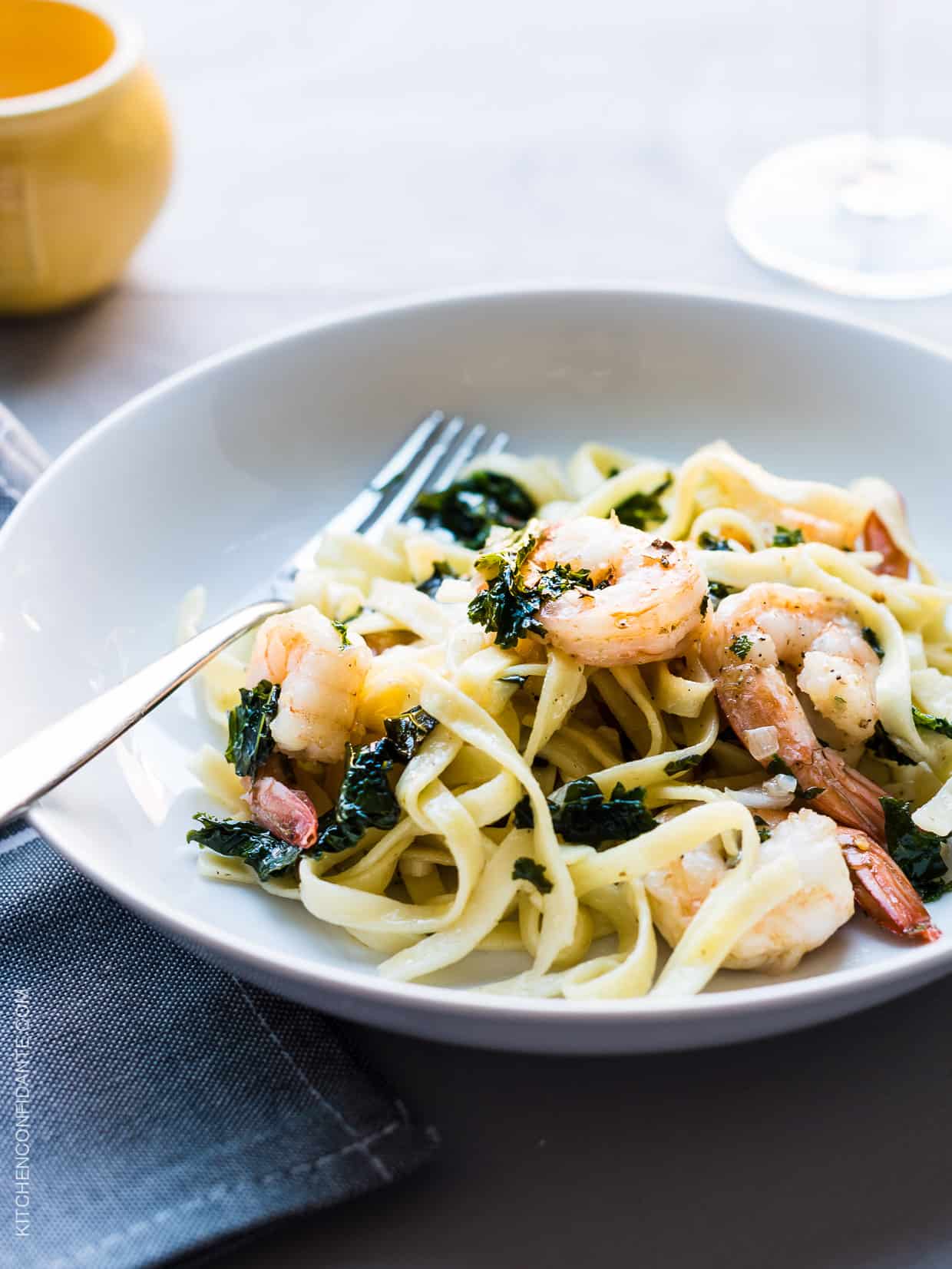 "Back in my day."
That used to be something "old" people say.
But I found myself saying to my son, "Back in my day, I had to wait a whole week for a new episode to watch my favorite show."
"Woah. Really?"
In this age of Netflix and instant gratification, I've become a dinosaur, apparently, and gone are the days of TV Guide (eek, remember those?) and actually watching shows when they aired.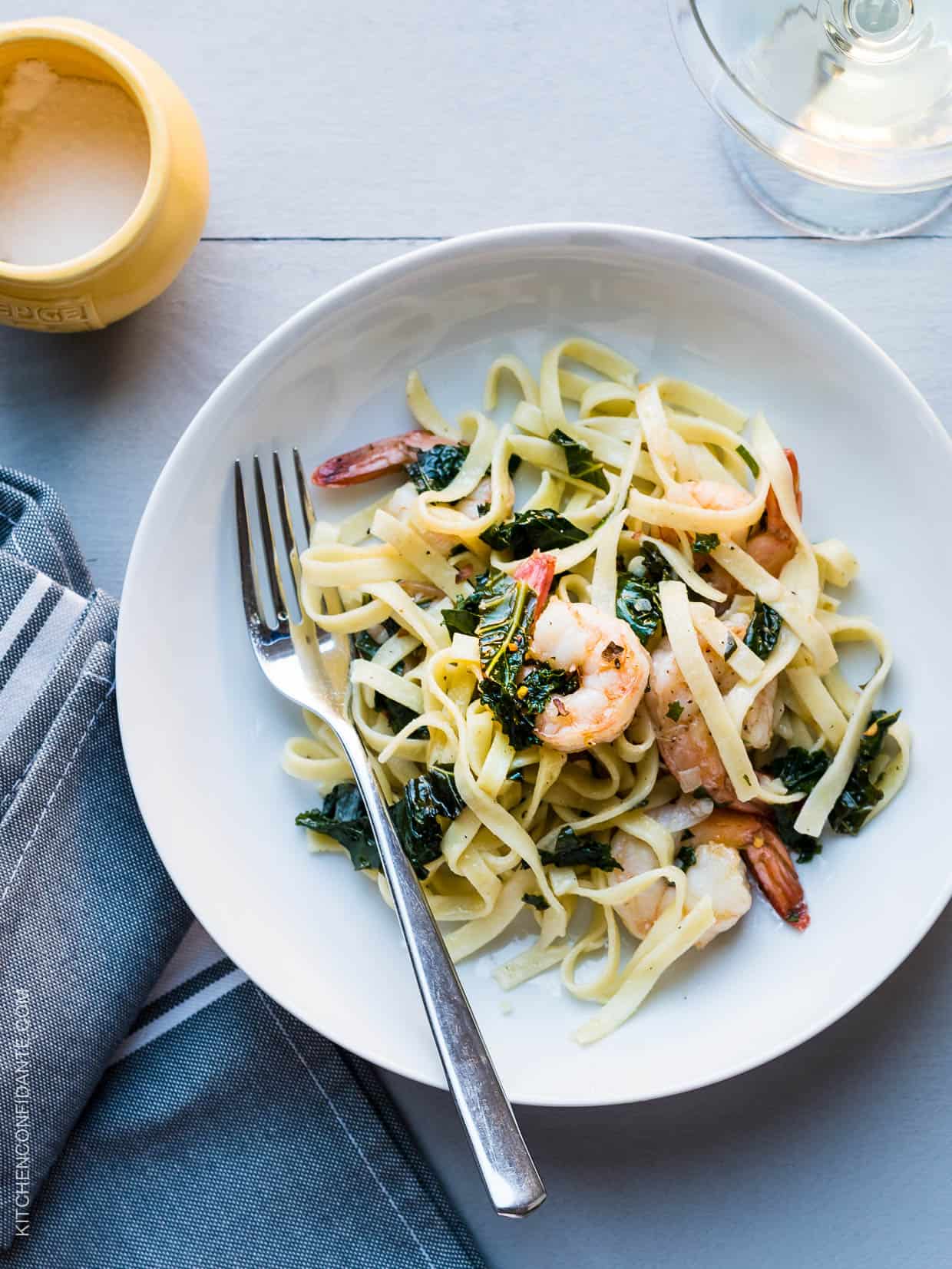 So now I feel a little more ancient.
As much as I may laugh and worry that my kids are growing up in this era of immediacy, there is something to be said for instant gratification when it works in our favor. And if that means mealtime is a little less stressful because I can make a Kale and Shrimp Scampi in a flash, then I'm all for it.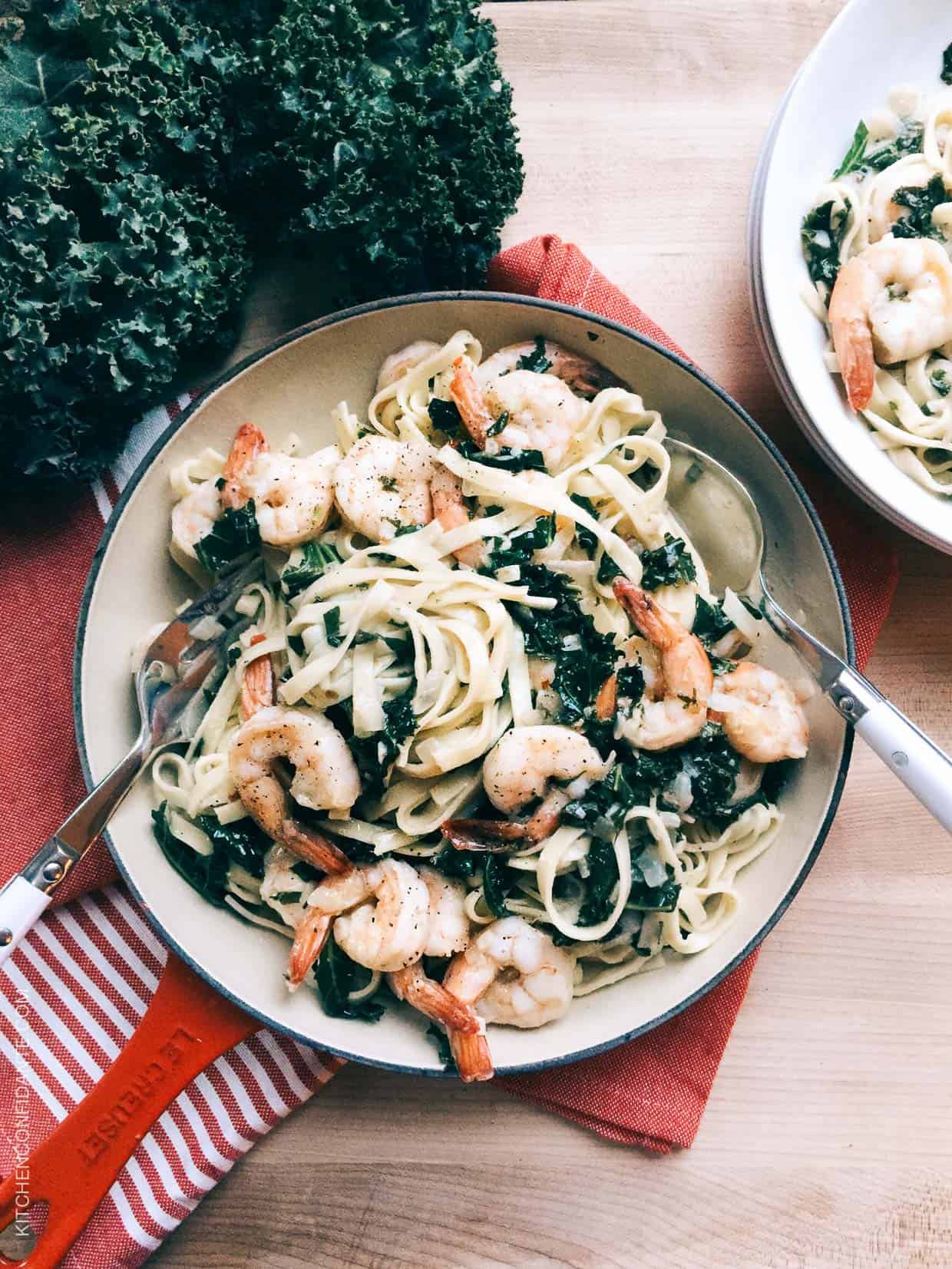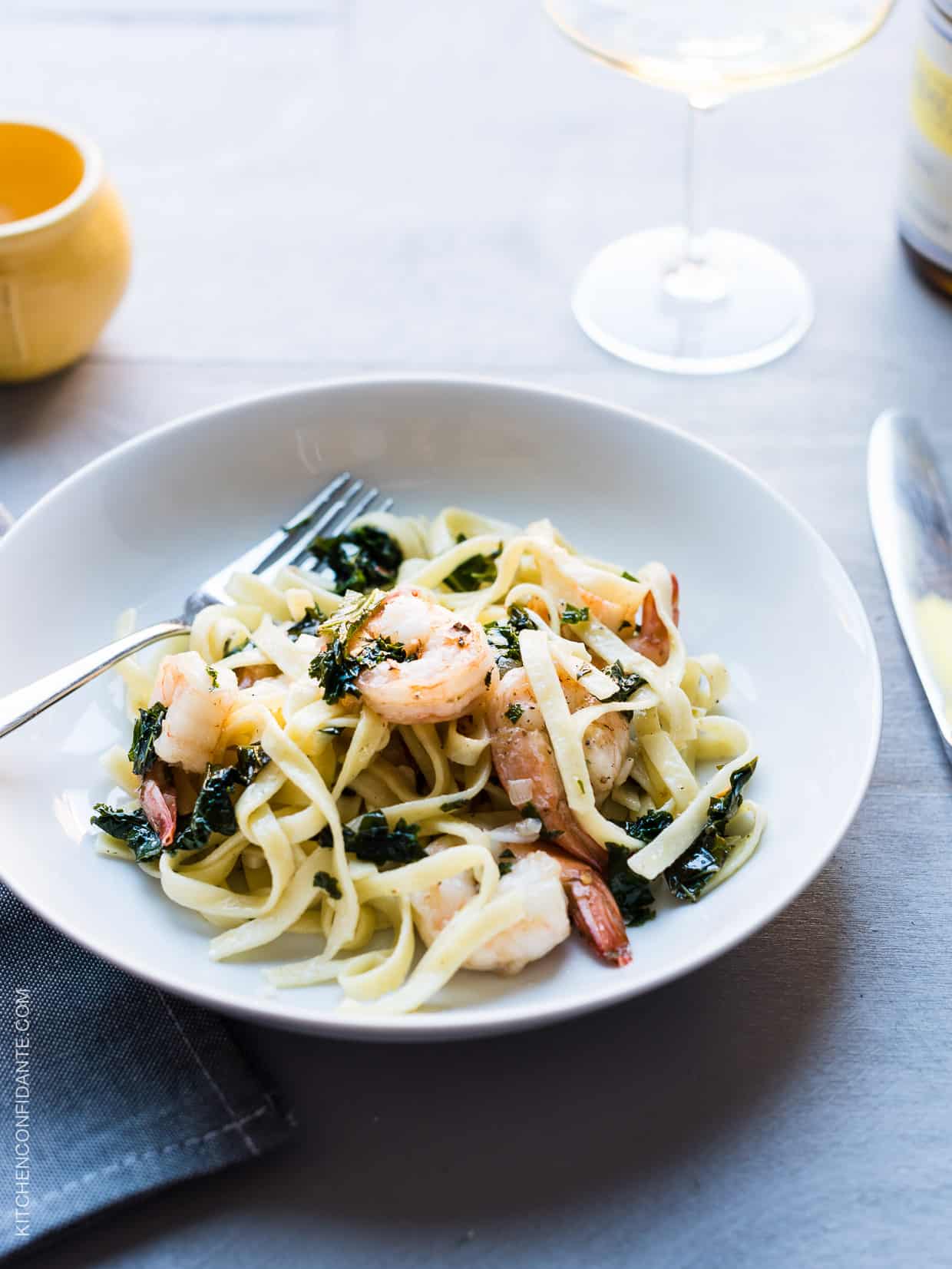 I made this one skillet wonder the other day – it was one of those nights that I was craving something twirly, but also needed something quick. Shrimp came to the rescue, along with fresh linguine, which also shaves minutes off of cooking time. Handfuls of leafy kale brought it all together, and no one had to wait. That is a good thing, even back in my day.
Mealtime with this easy recipe for Kale and Shrimp Scampi means (almost) instant gratification.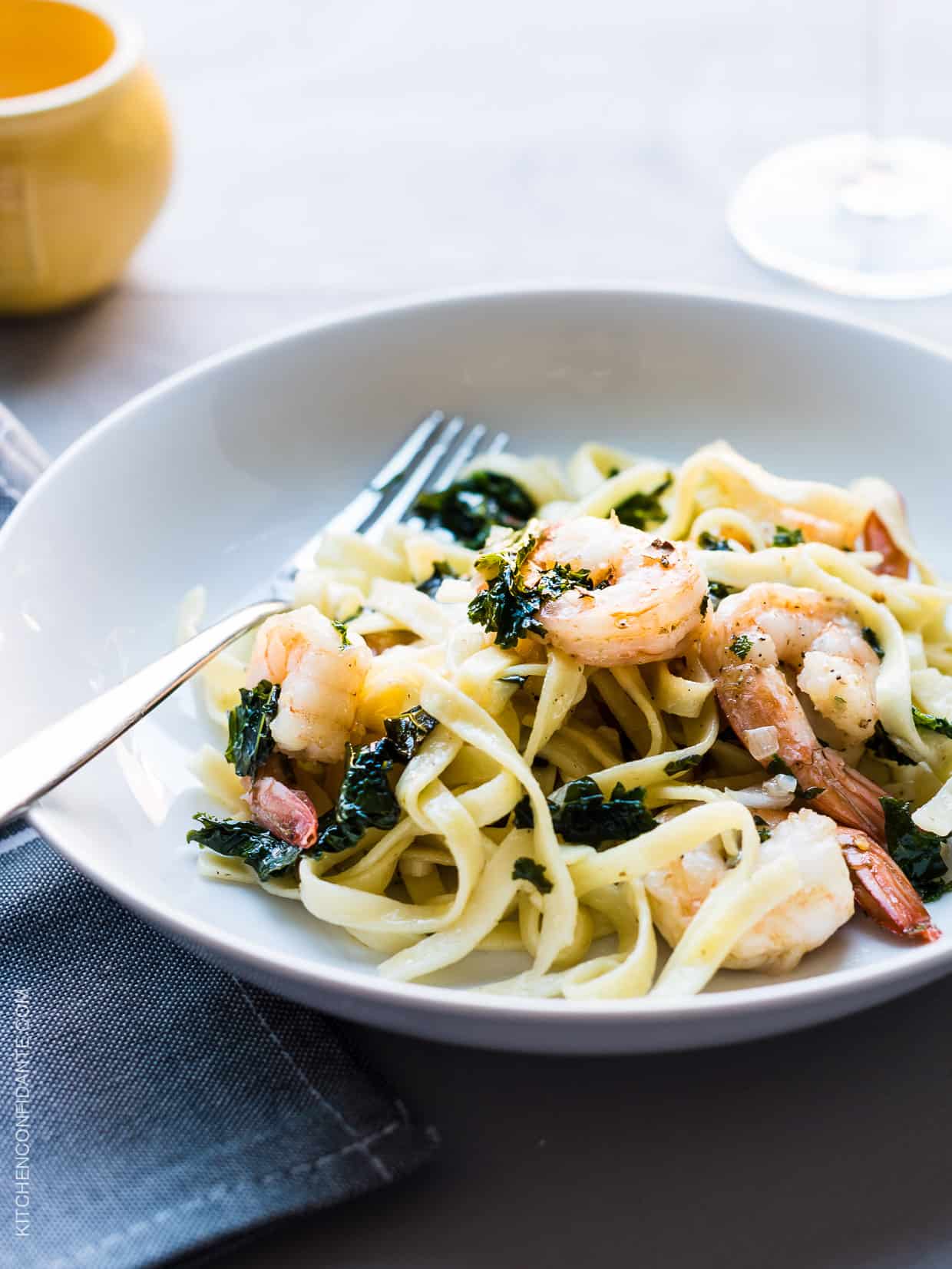 Print Recipe
Ingredients
1 pound fresh linguine (can substitute dried)
4 tablespoons unsalted butter, divided
4 tablespoons olive oil, divided
2 large shallots, finely chopped
3 cloves garlic, minced
1/4 teaspoon red pepper flakes
1 pound shrimp (26/30), peeled and deveined (tails left on if desired)
kosher salt, to taste
freshly ground black pepper, to taste
1/3 cup white wine
juice of 1 lemon
4 cups chopped kale
Instructions
Bring a large pot of water to a boil over high heat. Once the water is boiling, generously salt the water and cook the linguine according to the package directions. Drain and set aside.
In a deep sided skillet or large pot over medium heat, melt 2 tablespoons of the butter in 2 tablespoons of the olive oil. Cook the shallots, garlic and red pepper flakes for about 3 minutes, or until the shallots have wilted and the garlic is fragrant. Add the shrimp and season to taste with salt and pepper. Stir the shrimp, and cook for about 2 minutes, or until the shrimp is pink and cooked. Transfer the shrimp to a small bowl.
Add the wine and lemon juice to the pan. When it comes to a bubble, stir in the remaining butter and olive oil. Add the shrimp, linguine and kale to the pan, tossing to coat in the sauce. Serve immediately.