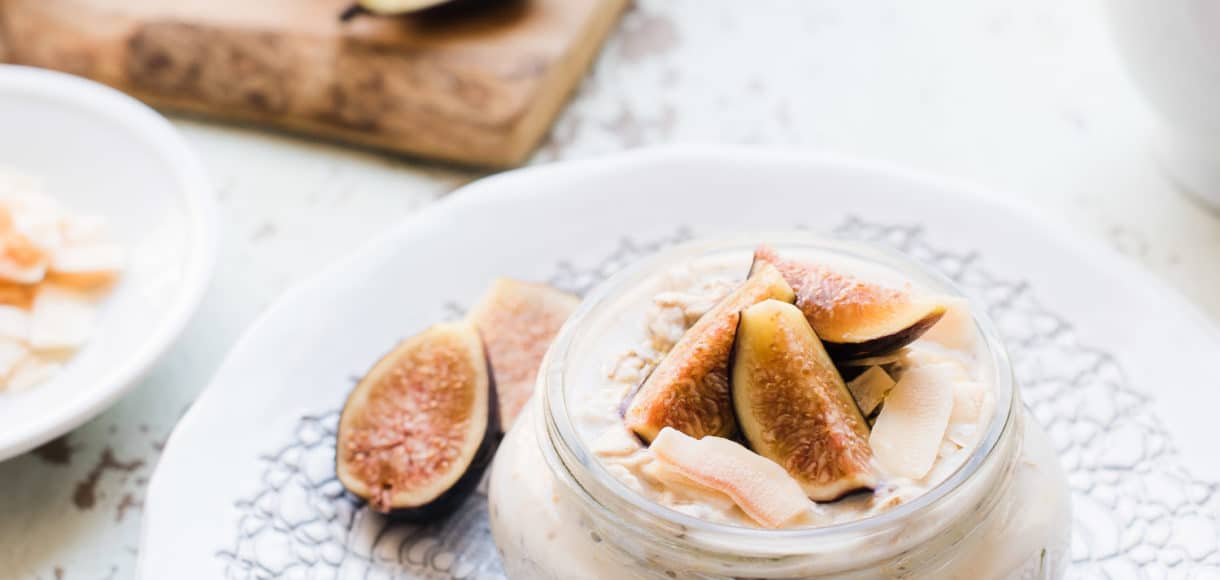 Overnight Oats with Figs, Honey and Toasted Coconut
Overnight Oats with Figs, Honey and Toasted Coconut is the perfect breakfast for summer – make it the night before so you can grab it and go! One of the best things about heading out of town is all the eating and exploring — if…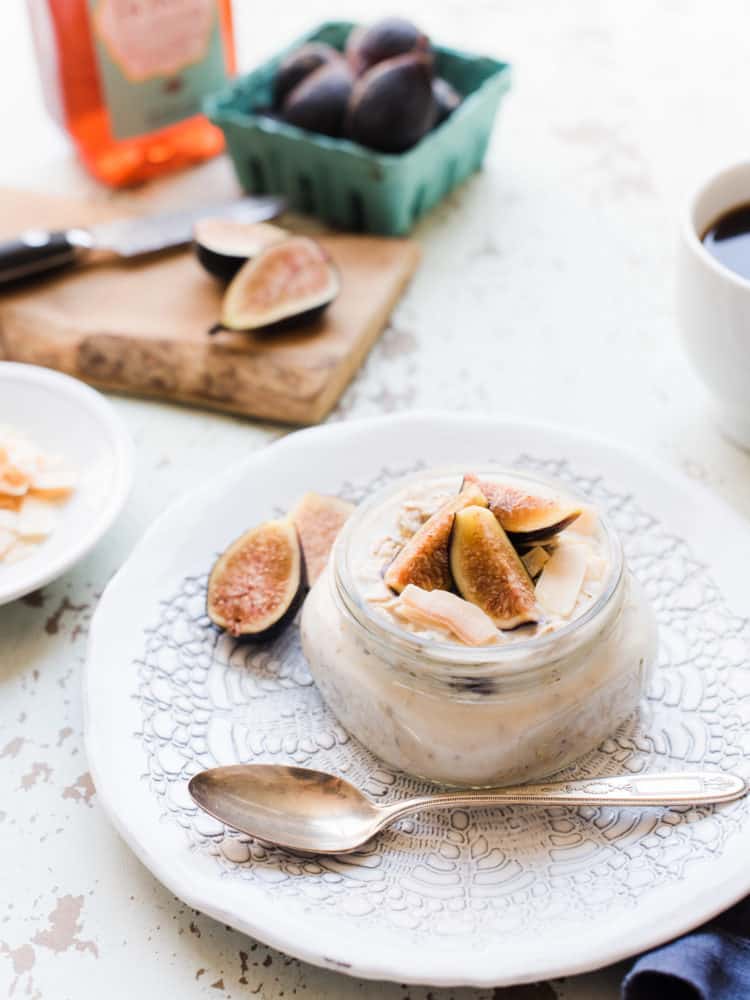 Overnight Oats with Figs, Honey and Toasted Coconut
Overnight Oats with Figs, Honey and Toasted Coconut is the perfect breakfast for summer – make it the night before so you can grab it and go!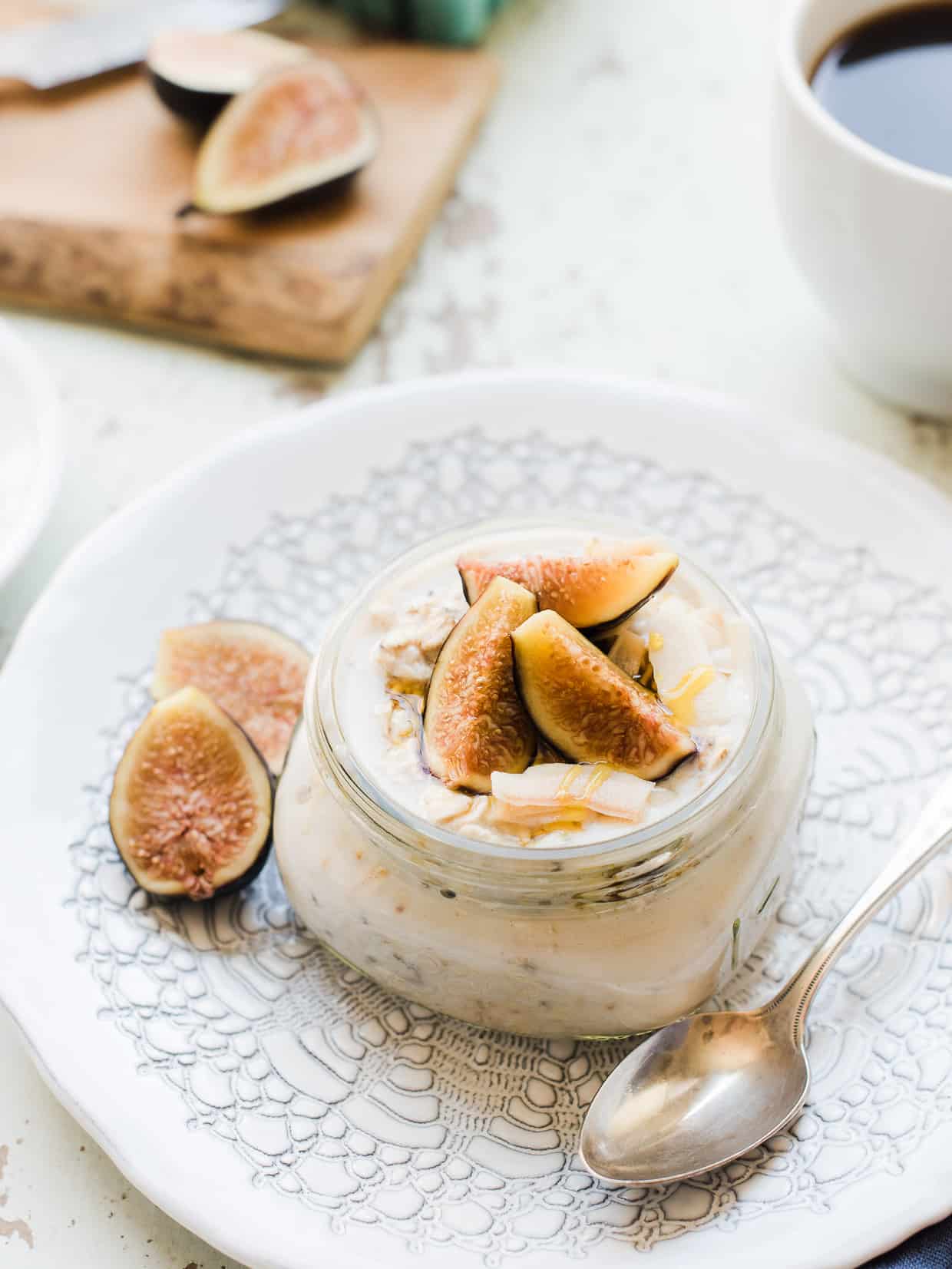 One of the best things about heading out of town is all the eating and exploring — if you're like me, vacations are all about discovering new flavors and not having to cook! I work on a food itinerary just as keenly as I do the travel itinerary, and as I sit here typing, my feet are still tender from all the miles we walked, my stomach still full from the meals we ate. It was delicious and fun, but after spending a few days back in my old hometown last week, I was eager to leave hot and humid New York and get back in my kitchen.
It's time to eat clean, savor home-cooked meals, and get back into routines.
The one routine I didn't break while on this trip was breakfast — the hotel had a marvelous muesli that is similar to my beloved overnight oats, my go-to breakfast in the summer. When you need to fuel up for day in the heat, overnight oats is always a good choice, no matter where you are!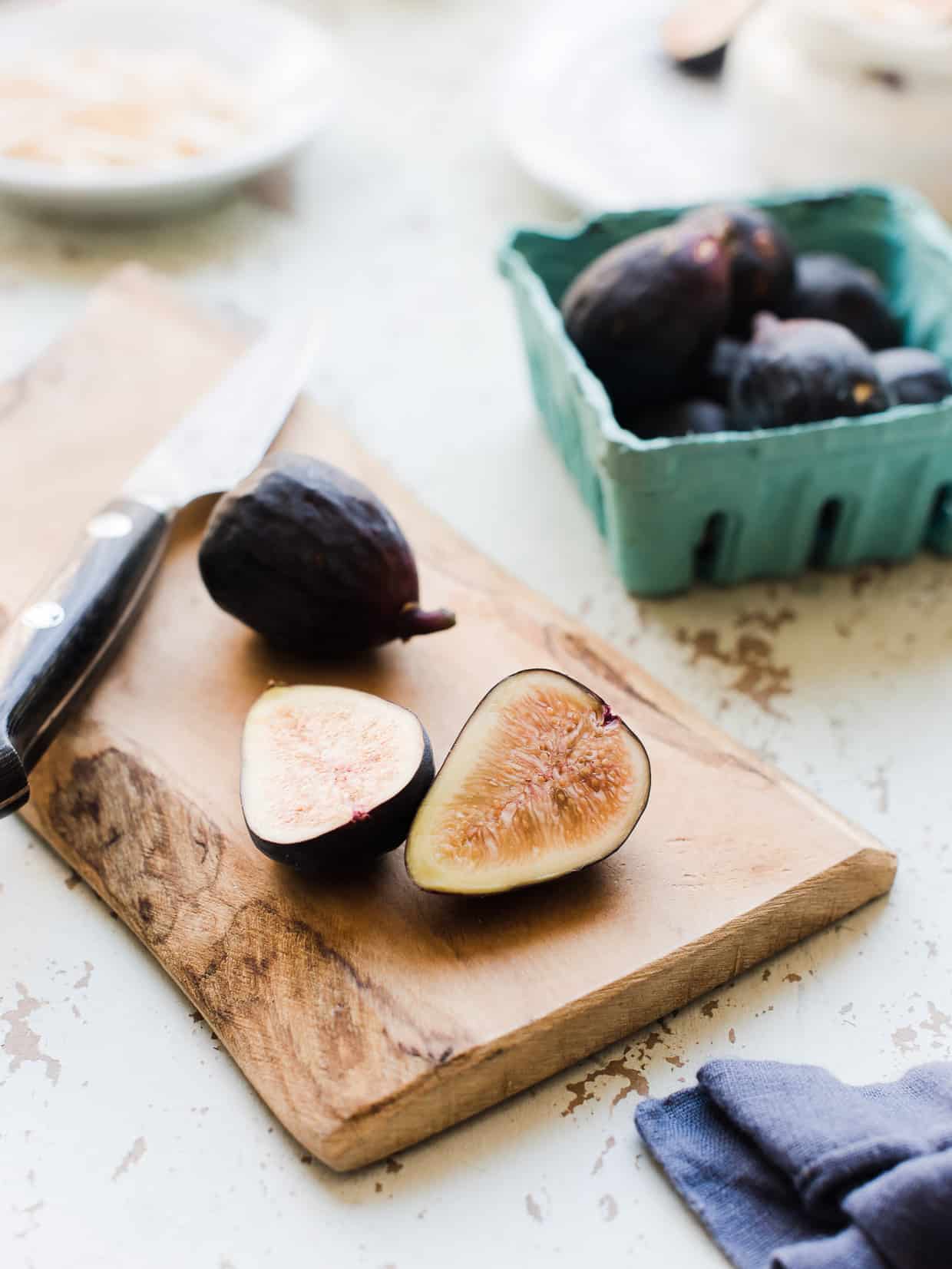 Back home in California, as I was at the market restocking on fruits and veggies, the figs caught my eye, and my heart skipped a beat. They're here, my beloved figs, and I felt like they were welcoming me home! I knew that the very first thing I would do is slice them into my morning breakfast of Overnight Oats with Figs, Honey and Toasted Coconut.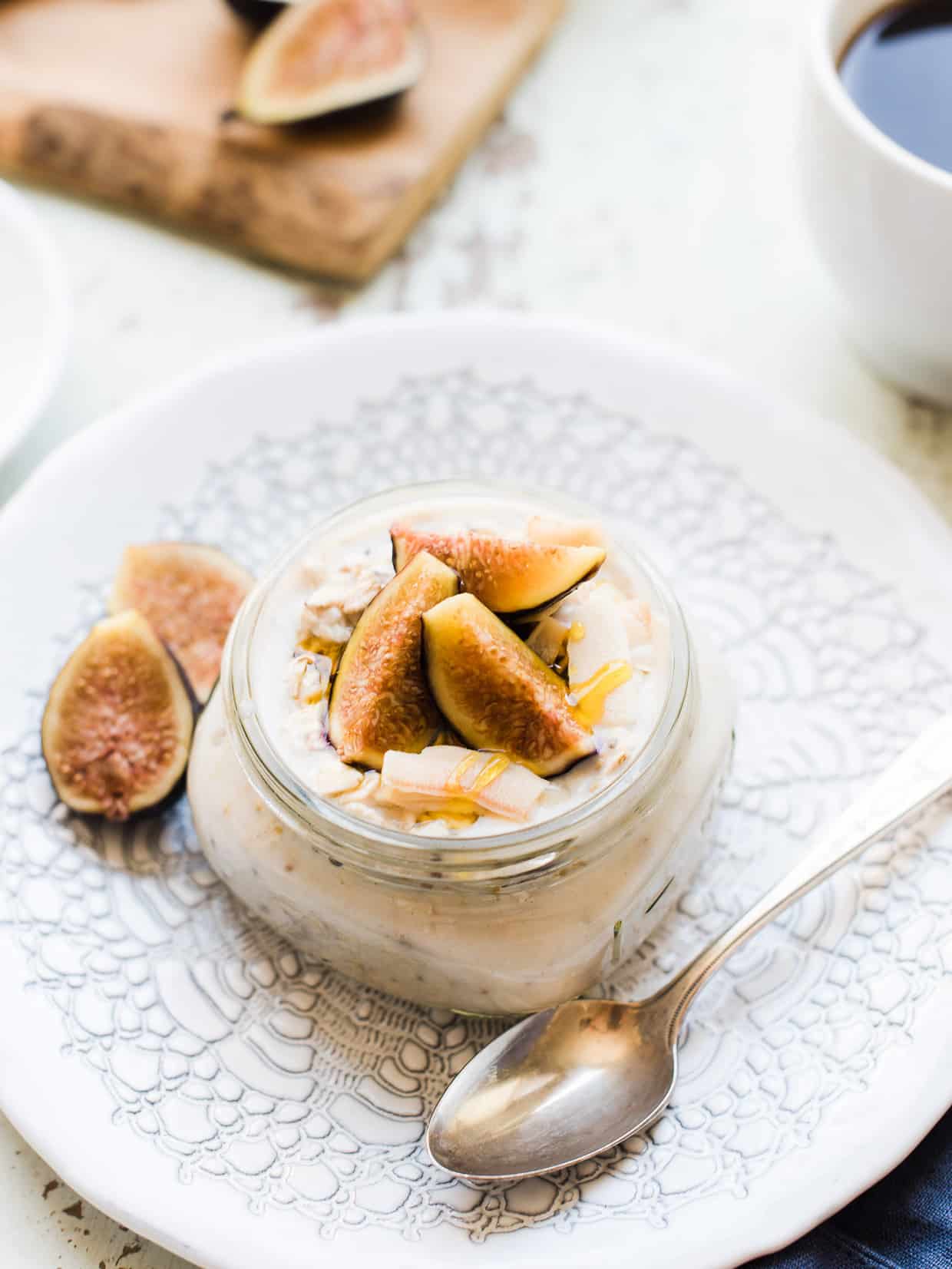 The last time I shared overnight oatmeal with you was a whopping five years ago, but it's still my favorite way to start the day in the summer. And with figs in season, I might be so bold to say this is the perfect summer breakfast! Figs and honey are made for each other, and together, they bring their symphony of sweetness to overnight oats, along with dried berries and toasted coconut. It's the no-cook breakfast you crave when you still want something homemade, and keep you fueled for hours. Or at least until you get through all that post-vacation laundry.
Disclosure: There are affiliate links in this post.
Overnight Oats with Figs, Honey and Toasted Coconut
Overnight oats are one of my go-to breakfasts, especially in the summer, when you crave something cool to fuel up for the day. This version is perfect for fig season, which adds its natural sweetness, made even more tempting with a drizzle of honey and toasted coconut. Make it the night before so you can grab it and go, or for a delicious mid-day pick me up!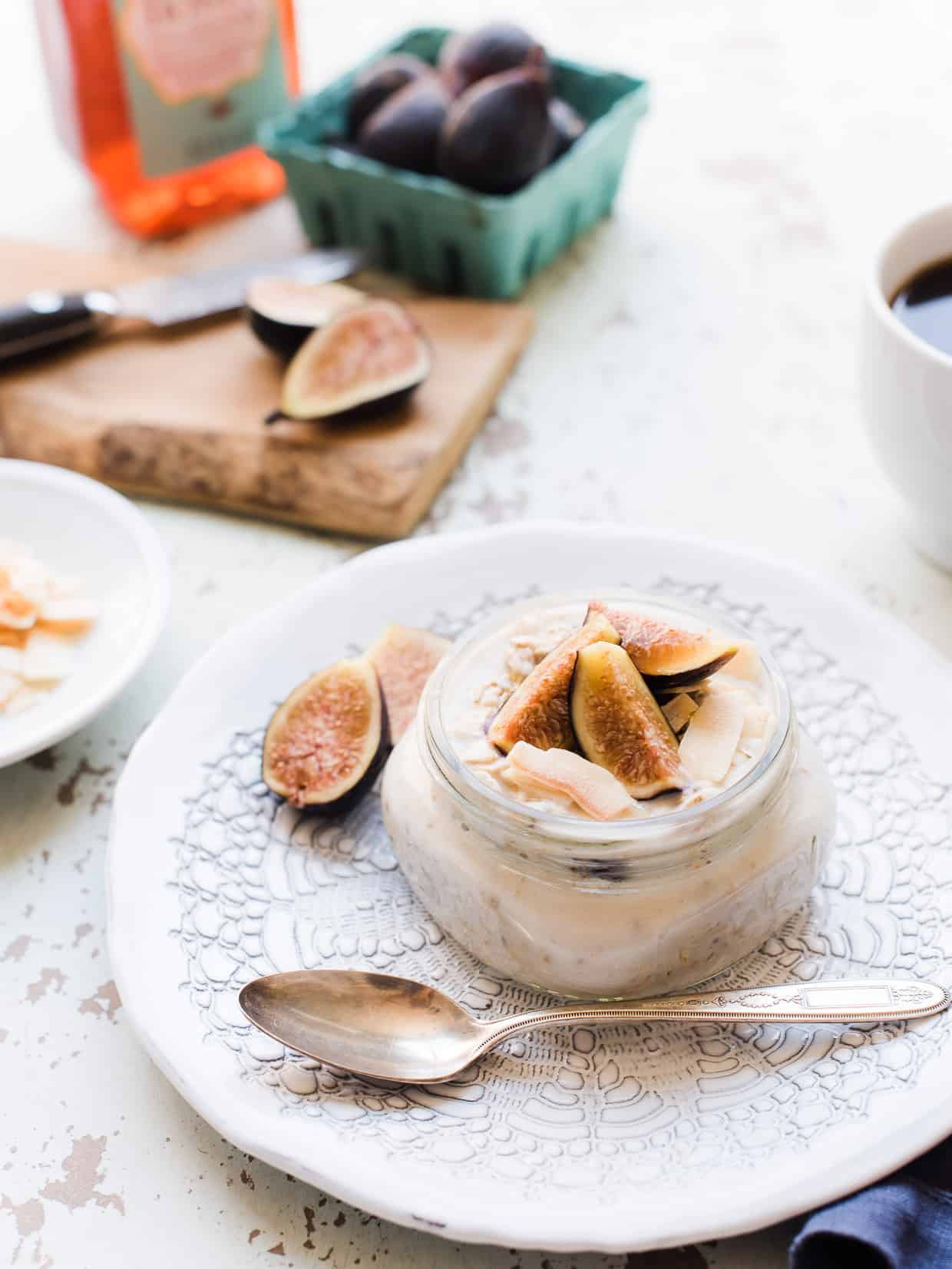 Print Recipe
Ingredients
1/4 cup old-fashioned oats
1 tablespoon chia seeds
1/2 cup unsweetened almond milk
2 tablespoons dried berries (dried cherries, cranberries, blueberries, golden raisins all work)
1 tablespoon toasted coconut
3 fresh figs, quartered
honey, for serving
Instructions
In a 250 ml or 8 oz mason jar, combine the oats, chia seeds, almond milk, dried fruit and coconut.
Cover with lid and shake until combined.
Refrigerate for at least 5 hours or ideally, overnight.
Top with fresh figs and honey in the morning and enjoy!