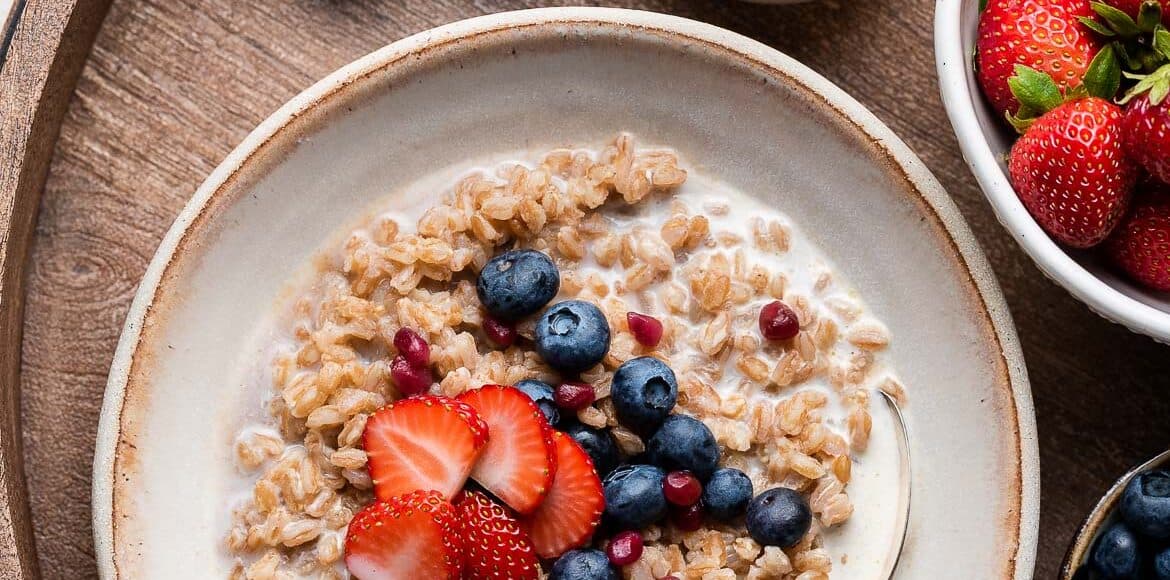 Maple Cinnamon Breakfast Farro
Breakfast farro is a delicious alternative to oatmeal! The toothsome bite to the farro makes it a hearty and healthy way to start the day.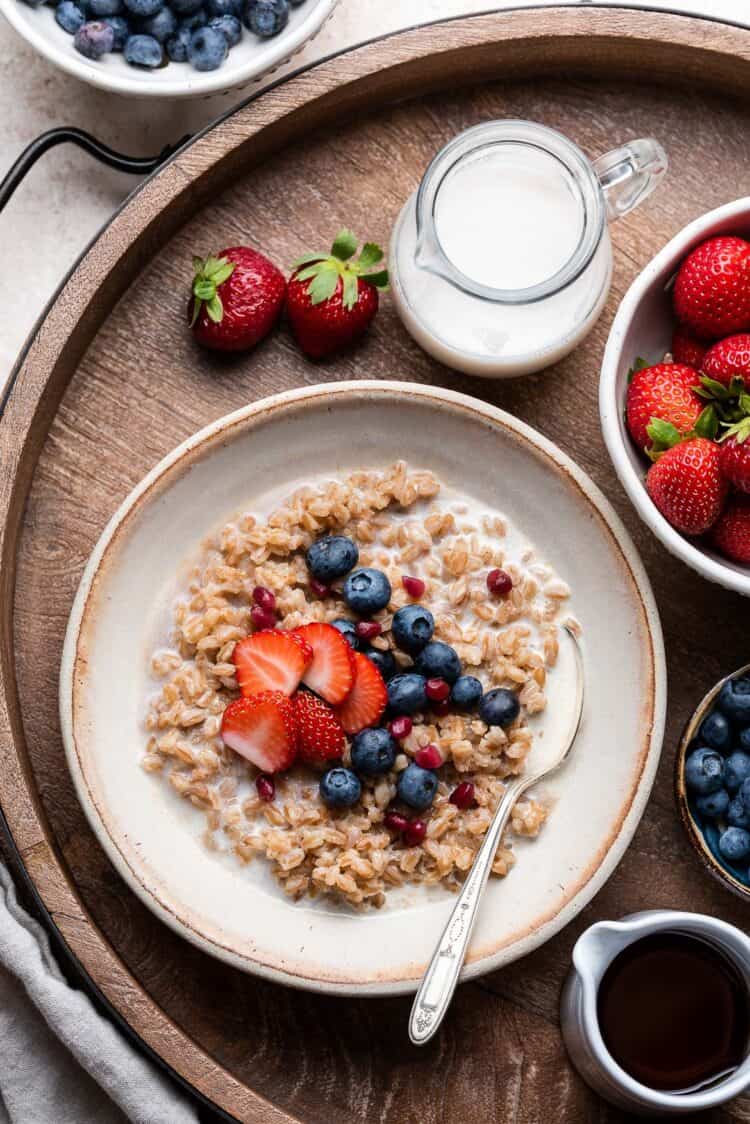 Maple Cinnamon Breakfast Farro
A farro breakfast porridge is a delicious alternative to oatmeal! The toothsome bite to the farro makes it a hearty and healthy way to start the day.
Note: This post first appeared on February 17, 2013. The recipe has been updated from the archives with updated content and photographs, as well as improved kitchen notes and recipe annotation. I hope you enjoy this favorite from my kitchen.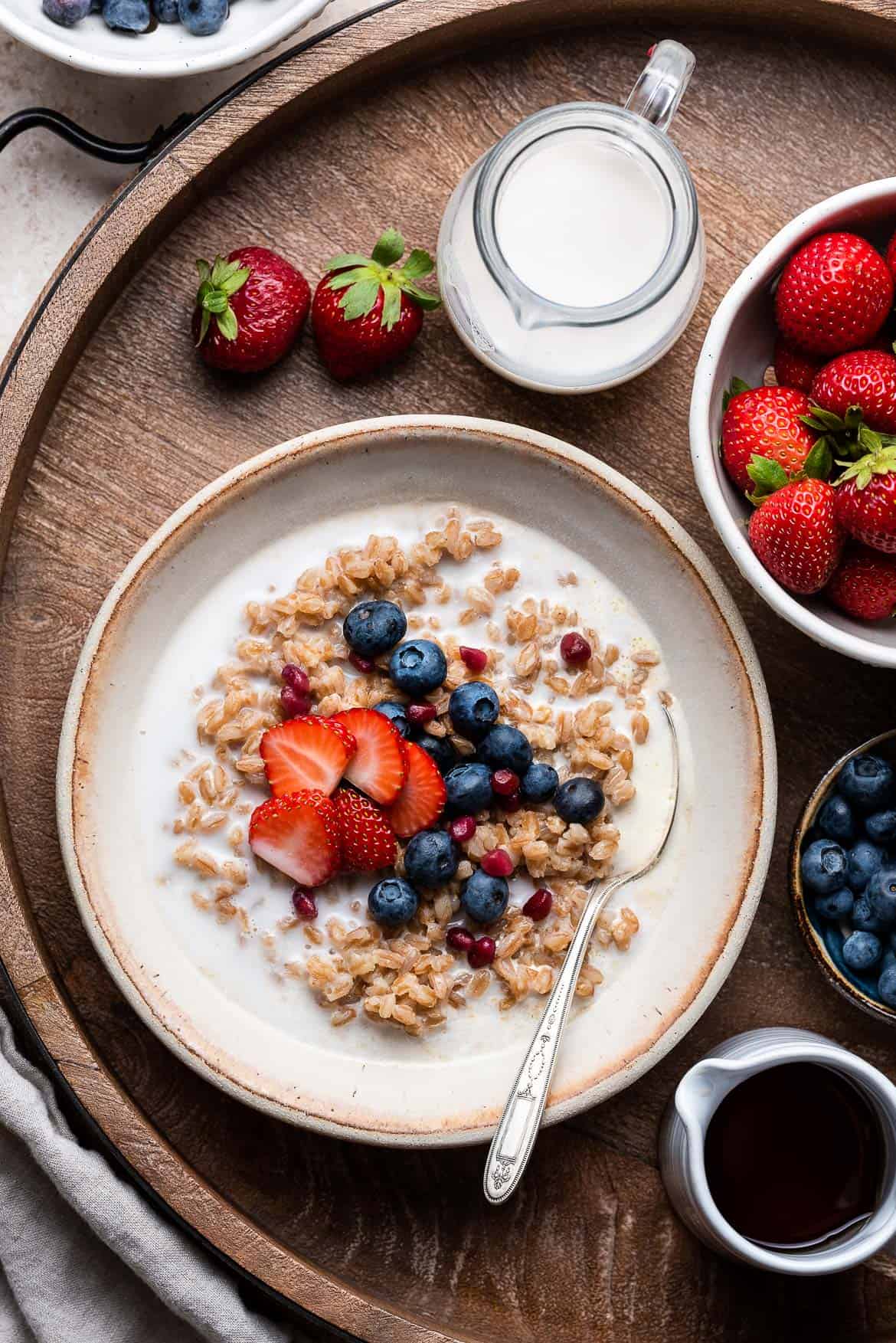 I used to dress by the heater in my bedroom. Those winter mornings, I would lay out my uniform near the grills, so as I pulled on the crisp shirt with the Peter Pan collar and the painstakingly ironed pleated plaid skirt, I wouldn't be shocked by the cold. Cable knit stockings and a thick sweater, both navy, of course, would complete the uniform, and I would head into the kitchen for breakfast.
Some of my most vivid memories of winter mornings as a child were of those when my grandmother would be with us for a long visit. She would fly in from the Philippines, leaving the humidity of the tropics for the bleak tundra that New York would become in the winter months. It was her oatmeal that I remember, stirred lovingly over the stovetop, and as sweet as her soft hugs.
I called her Mama. Emphasis on the first syllable. My mother called her Mama, but with emphasis on the second. It made total sense. And Mama's oatmeal was the only kind I liked. She made it just right.
Oatmeal is still a favorite breakfast, even in the not so frigid California winters. When we ski, that is what we eat, to nourish for a busy day ahead. My husband packs oatmeal for work. And I used to do the same, in my pre-children life.
Farro Breakfast Porridge
These days, I have been exploring making breakfast porridges with other grains, and I have found that I love farro. My Maple Cinnamon Breakfast Farro is hearty and with a nice chewiness that oatmeal can't offer. I make it almost as sweet as Mama's, and I think she would have absolutely approved.
What is farro? Farro is an ancient grain with Egyptian origins and popular in Italian cooking. It's incredibly versatile, whether in soups or salads, or in this case, breakfast!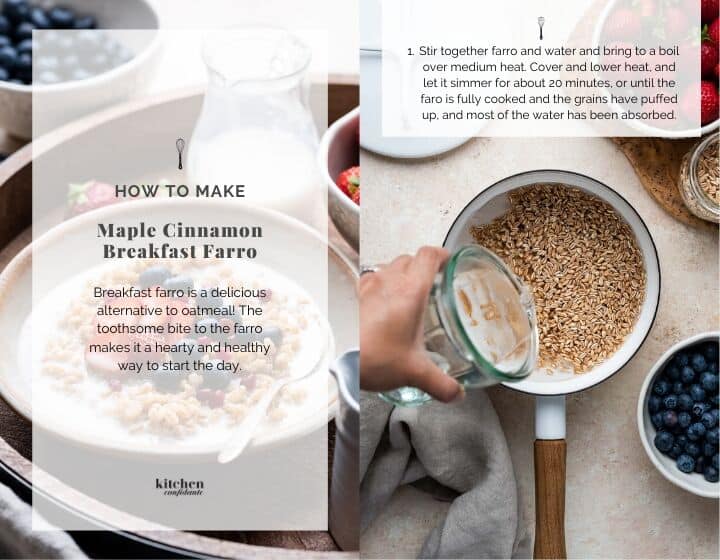 I usually buy the quicker cooking pearled (all bran is removed) or semipearled (part of the bran is removed) farro, as it is a time saver in the kitchen and cooks in about 10-20 minutes. Trader Joe's has a 10 minute farro that is delicious. But whole grain farro is wonderful, too; just remember to cook it longer (30-40 minutes)!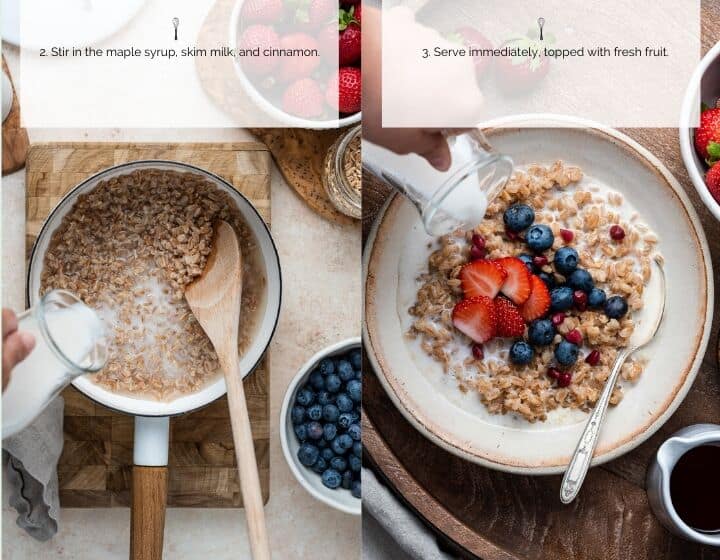 More Healthy Breakfast Recipes
Overnight Refrigerator Oatmeal
Overnight Oats with Figs, Honey and Toasted Coconut
Mocha Oatmeal Bowls
More Farro Recipes
Roasted Butternut Squash Winter Salad with Kale, Farro and Cranberry Dressing
Stuffed Butternut Squash with Farro, Chickpeas and Kale
Farro Soup with Red Chard and Sausage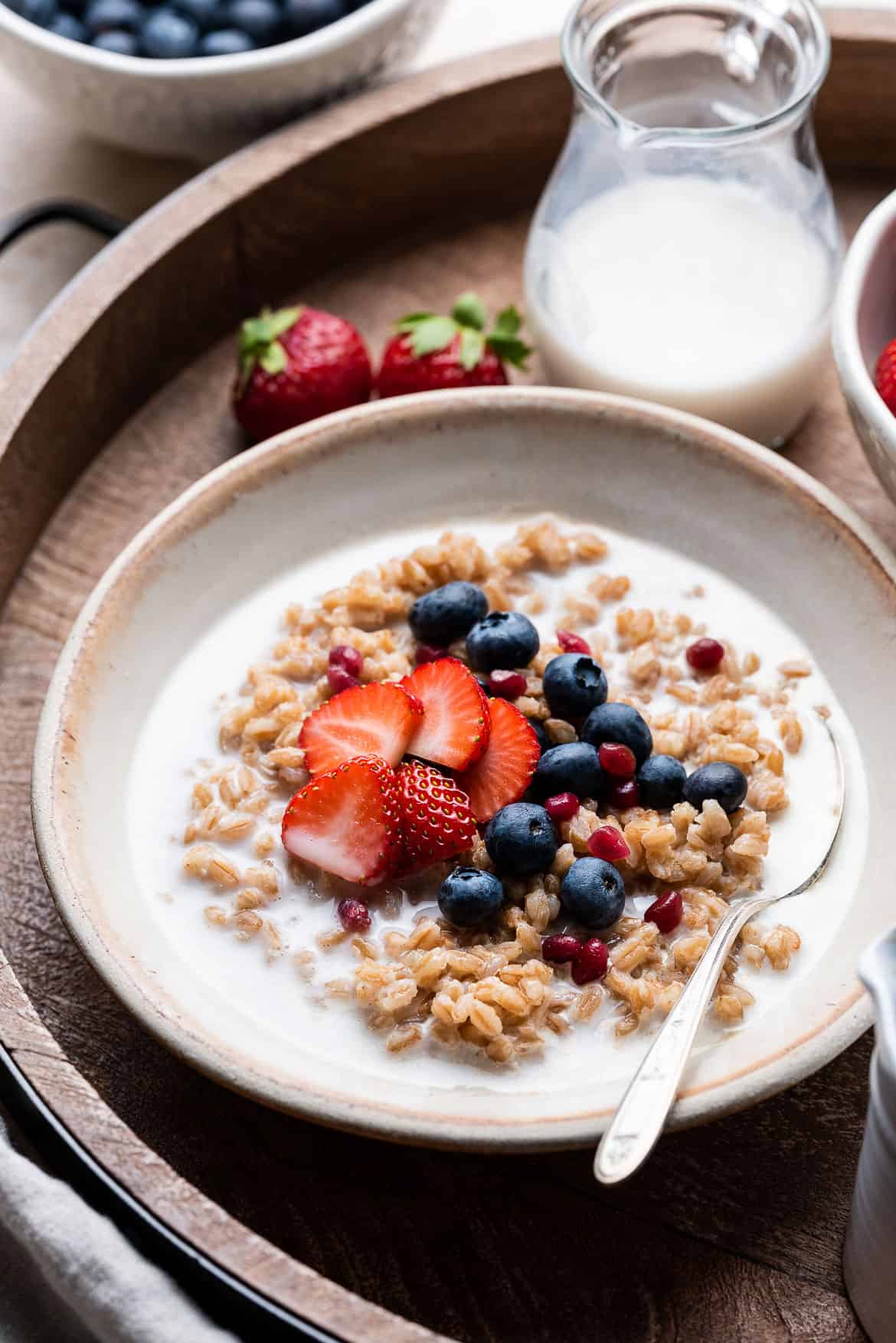 Maple Cinnamon Breakfast Farro
Maple Cinnamon Breakfast Farro is a delicious alternative to oatmeal. The toothsome bite to the farro makes it a hearty and healthy way to start the day.
Ingredients
1/2

cup

farro

1 3/4

cups

water

2-3

tablespoons

maple syrup

1/4

cup

skim milk

1/4

teaspoon

cinnamon

fresh fruit

such as berries or sliced bananas
Instructions
In a small saucepan, stir together farro and water and bring to a boil over medium heat.

Once it is bubbling, cover and lower heat, and let it simmer for about 20 minutes, or until the faro is fully cooked and the grains have puffed up, and most of the water has been absorbed.

Stir in the maple syrup, skim milk, and cinnamon.

Serve immediately, topped with fresh fruit.
Notes
This recipe yields 1-2 servings, depending on your appetite!
Nutrition
Calories:
241
kcal
|
Carbohydrates:
54
g
|
Protein:
6
g
|
Fat:
1
g
|
Saturated Fat:
1
g
|
Cholesterol:
1
mg
|
Sodium:
30
mg
|
Potassium:
233
mg
|
Fiber:
8
g
|
Sugar:
14
g
|
Vitamin A:
62
IU
|
Calcium:
80
mg
|
Iron:
1
mg