Peach Sorbet Mojito Float
Coming home after a long vacation, I opened the door to our house, walking into the familiar-yet-no-longer-familiar. Do you know that feeling, when your eyes look around and you have to remind yourself, oh yes, this is what the kitchen looks like, and your nose…
Peach Sorbet Mojito Float
Coming home after a long vacation, I opened the door to our house, walking into the familiar-yet-no-longer-familiar. Do you know that feeling, when your eyes look around and you have to remind yourself, oh yes, this is what the kitchen looks like, and your nose plays tricks on you why does the house smell new? And then the cat greets you with unrelenting squawks, letting you know she missed you. Before you know it, suitcases are scattered all over and the unpacking ensues. A few naps here and there, and you battle the jet lag and begin to wonder what to cook for dinner.
After over a week of travels in Asia, returning home to my kitchen is almost surreal, and I miss the daily dim sum and nightly glasses of wine. Quite honestly, one of the hardest parts of coming back home is cooking, and this is coming from someone who loves to cook (as you know quite well!). I want to return to the life of poolside service and slushy drinks, and Evian mist sprays and not having to do the dishes.
We've already started planning our next vacation. (Can we leave tomorrow?)
I may miss slushy drinks, but no one says you can't make your own! This Peach Sorbet Mojito Float is one way to pour myself a vacay, even if I have to wait a while until our next one. I used some peach mint sorbet that I recently made, and transformed it into a peachy, slushy mojito that will hold me over until our next getaway. It just may take several glasses.
Peach Sorbet Mojito Float
Pour yourself a vacay with this refreshing float! Peach sorbet and a mojito come together for a vacation in a glass.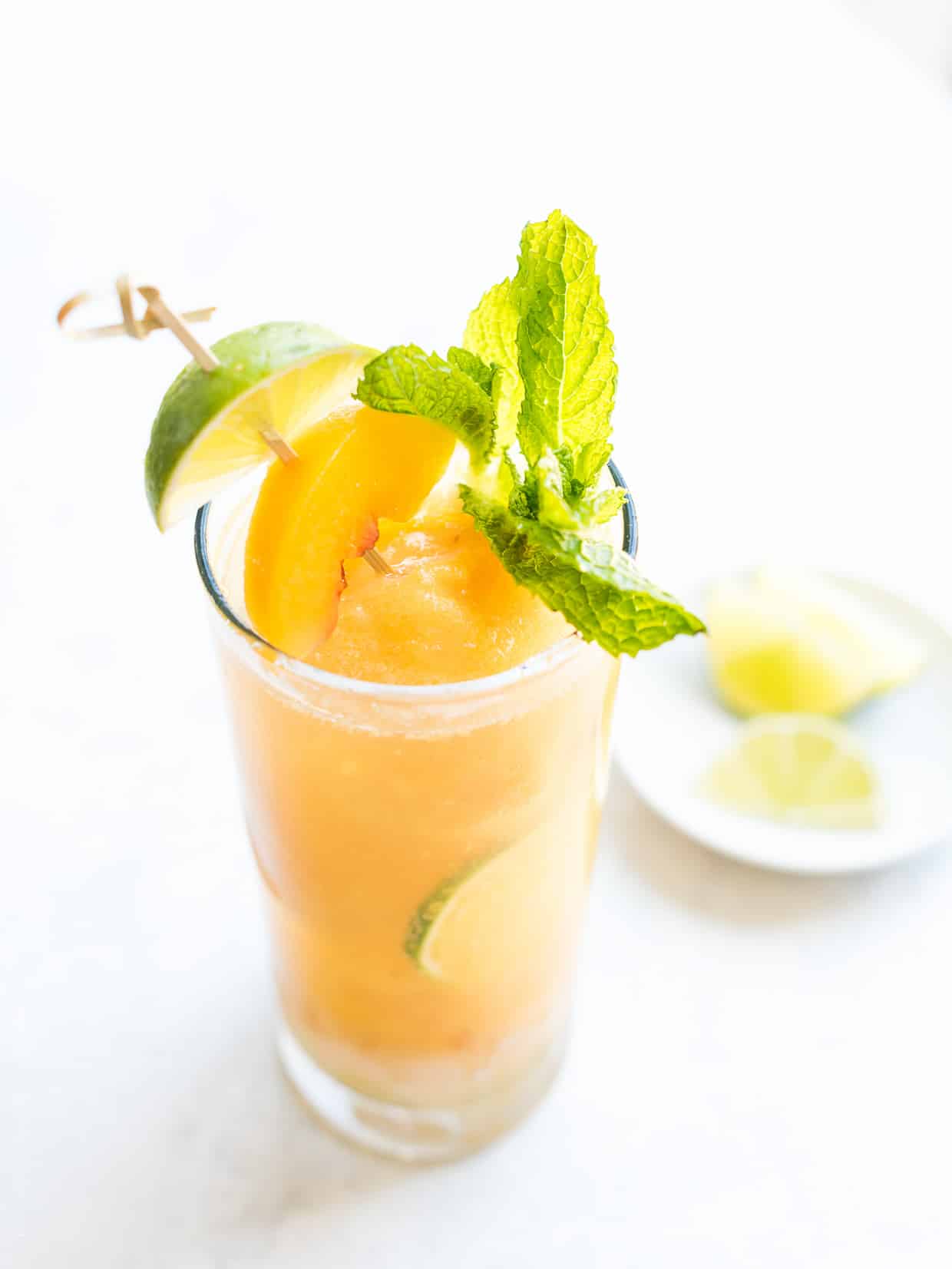 Print Recipe
Ingredients
3 small scoops peach sorbet (try my recipe for Peach Mint Sorbet)
10 mint leaves, plus more for garnish
3 lime wedges, plus more for garnish
2 ounces agave nectar (optional, for added sweetness)
2 ounces (4 tablespoons) rum
ice cubes
club soda
peach slices, for garnish
Instructions
Place scoops of sorbet into a tall glass. In cocktail shaker (or glass), muddle the mint, lime and agave nectar, if using. Stir in the rum and add the ice. Shake, then strain and pour over the sorbet. Top with club soda. Stir and garnish with mint, lime and slices of peach. Cheers!