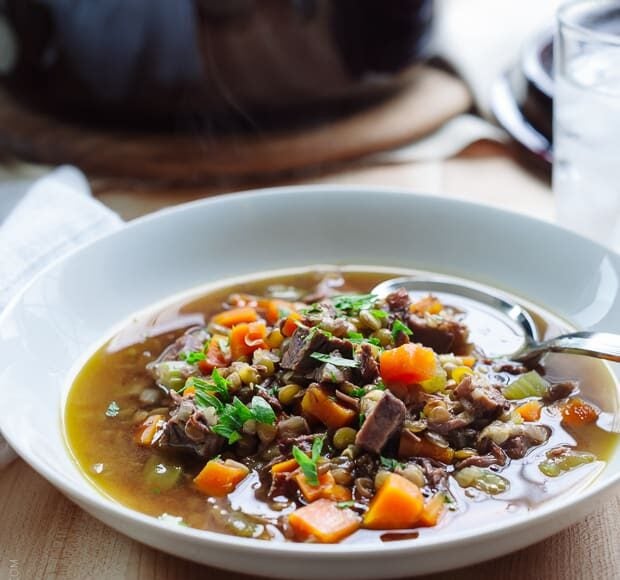 Prime Rib Beef and Lentil Soup
Beat the post holiday blues by transforming leftover holiday indulgence into nourishing Prime Rib Beef and Lentil Soup. Not too long ago, seeing the return of the holiday bins in our house would bring that glum feeling. The post holiday blues would commence the moment…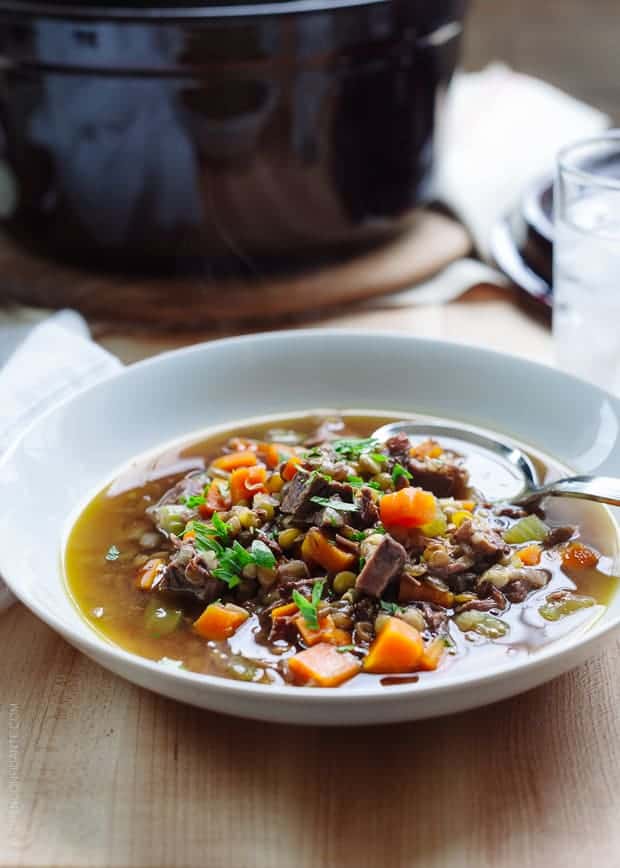 Prime Rib Beef and Lentil Soup
Beat the post holiday blues by transforming leftover holiday indulgence into nourishing Prime Rib Beef and Lentil Soup.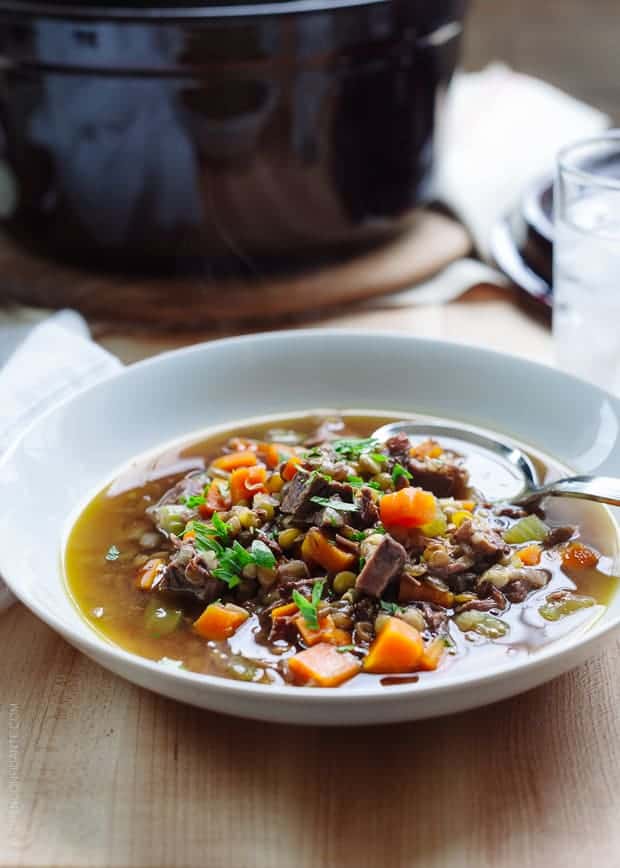 Not too long ago, seeing the return of the holiday bins in our house would bring that glum feeling. The post holiday blues would commence the moment the first ornaments were unhooked from the tree branches, the lights that had been so meticulously draped unceremoniously untangled and balled up for next year. The coziness of the holidays would disappear in mere moments, leaving the house feeling bare and cold.
I used to dread it, and if it were up to me, I would leave the decorations up for as long as possible. Not too long — after all, I am not a fan of seeing Christmas lights on houses year round — but long enough to feel ready to let it go.
At first, my husband and I were opposites on this matter. He is typically ready to part with the glimmer and the evergreen as soon as the last present is opened, and those first holidays together, he would struggle with leaving the tree up while I would call him a Grinch the moment he started packing things up.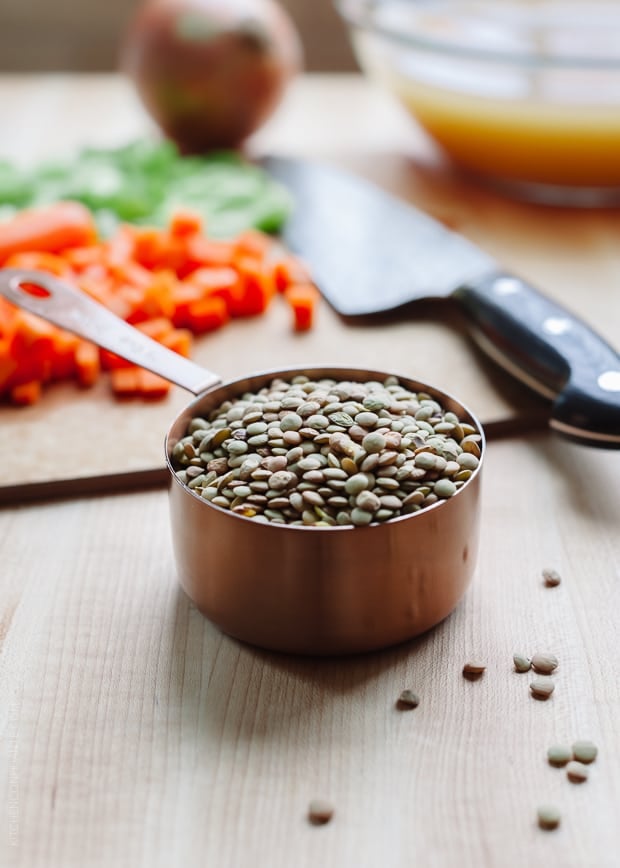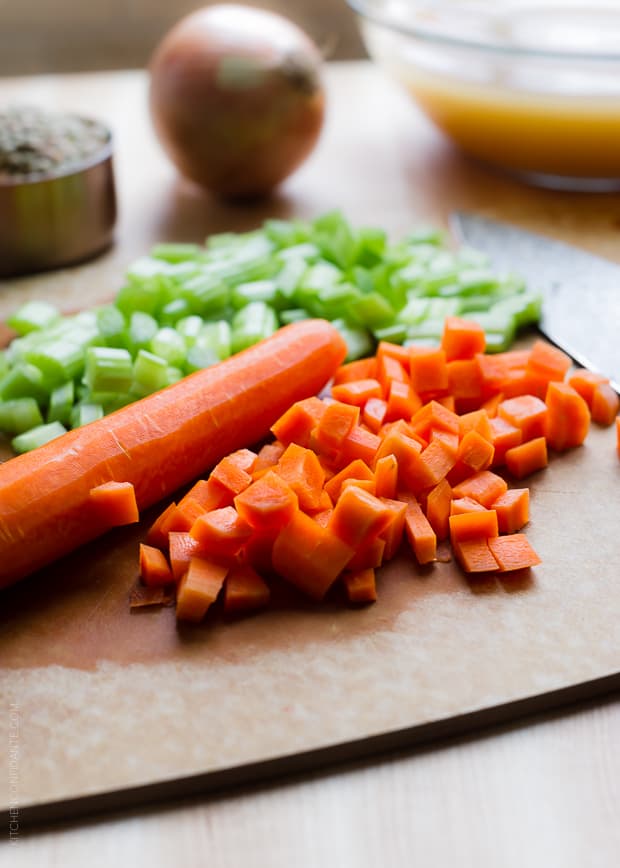 But over time, we have slowly met in the middle, and when I discovered him in the living room dismantling the tree yesterday, I didn't feel the usual pang of regret. Instead, I felt an inner peace, a sense of relief, a feeling of cleansing. Seeing our house removed of clutter and returned to normal was, in a way, welcome. I glanced down at my son and saw my old self in his eyes, and in his voice, when he saw the tree half undressed. "No!" he called out.
When the holiday festivities are over, we can't help but feel some of the post holiday blues. But with the fridge full of leftovers, the pantry full of sweets, and having had our fill of baked goods bursting from the oven, we can keep the holiday feeling a little longer, even if our mantle is bare. Every year, I try to find a new way to reincarnate our Wasabi Garlic Crusted Prime Rib. I've made Beef, Shiitake Mushroom and Barley Soup and Prime Rib Pho. This year, I made Prime Rib Beef and Lentil Soup.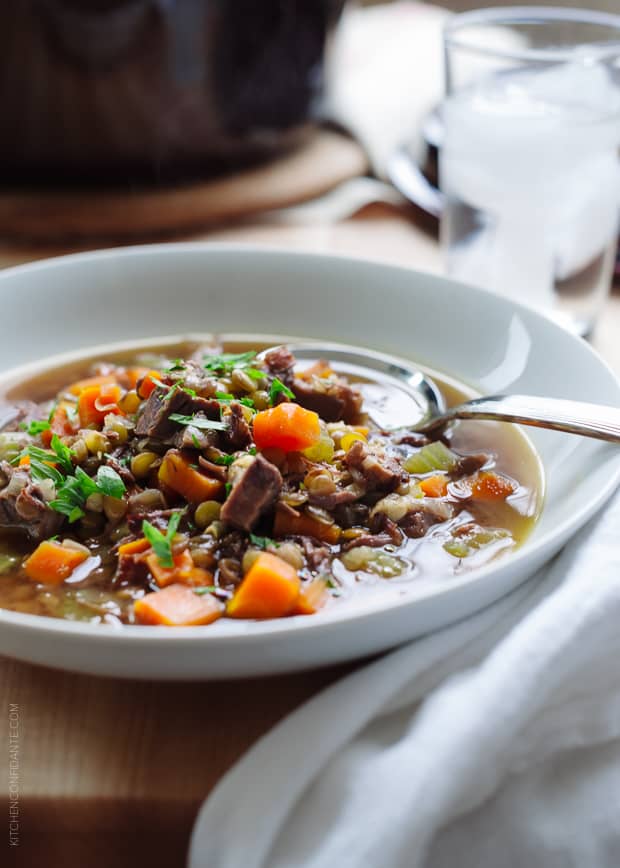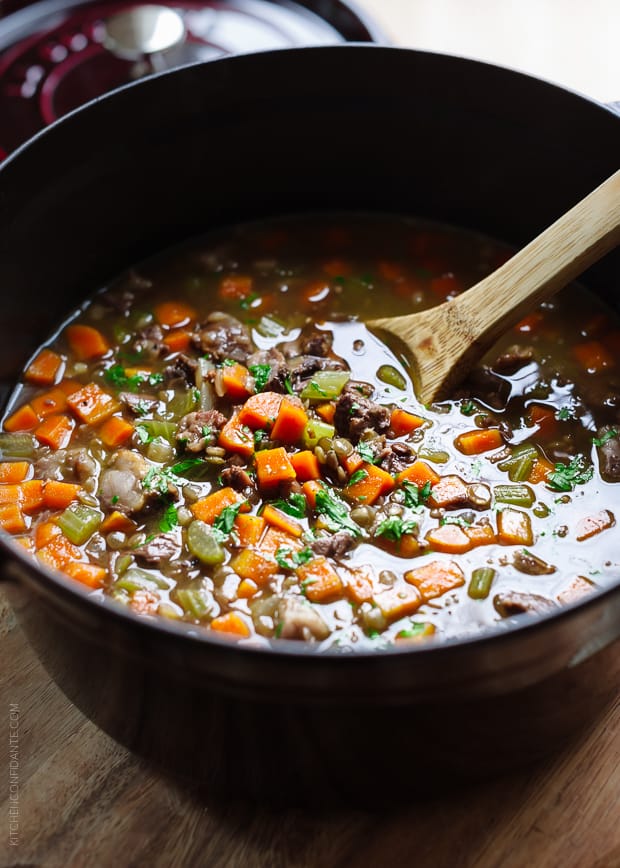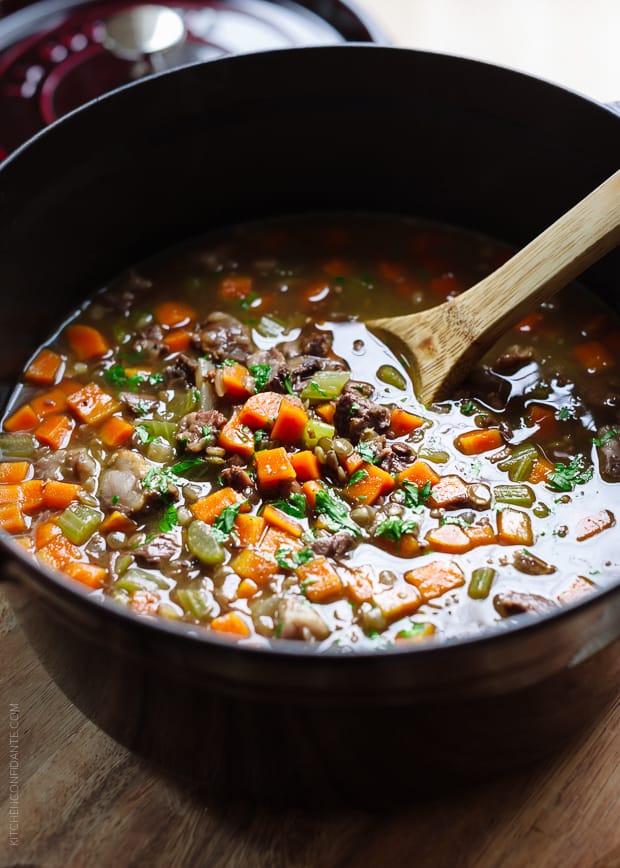 If you roasted a prime rib this Christmas, or have one planned for New Years, be sure to hold on to the bones and any leftover meat. They're full of flavor and ready to be transformed into something wholesome, something nourishing, something comforting after all the holiday indulgence.
This soup will help you reset after all the festivities and keep you feeling cozy. It's the best way to beat those blues and embrace the return to normal. Soup is always good for that.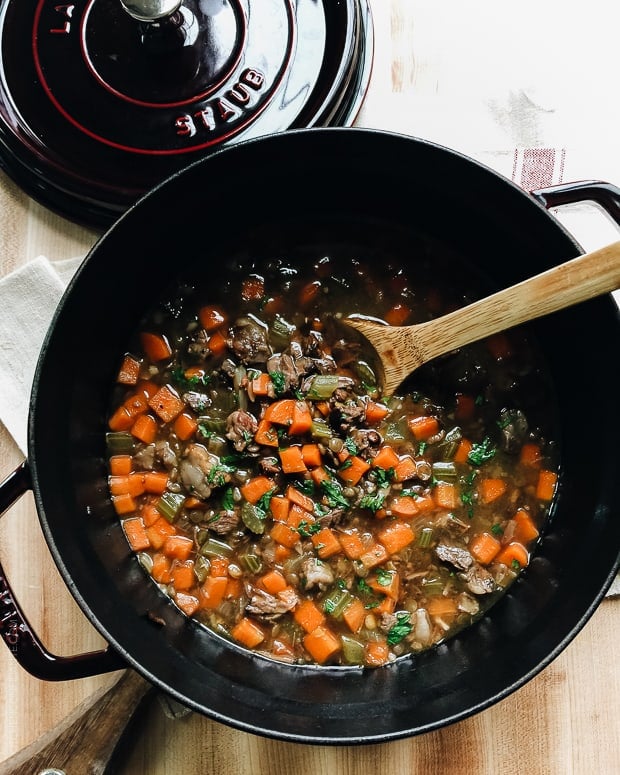 Prime Rib Beef and Lentil Soup
Leftover holiday indulgence transforms into nourishing soup. If you didn't make prime rib but still want to make this delicious soup, then don't worry. See recipe notes below.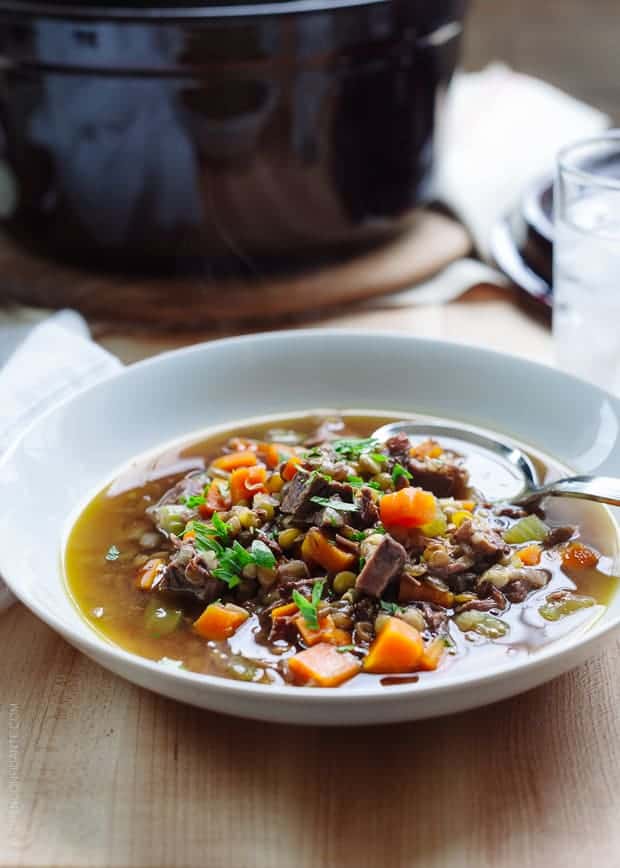 Print Recipe
Ingredients
For the Prime Rib Beef Stock:
2-3 left over prime rib bones, with some meat
1/2 onion with skin attached
2 stalks celery
1 carrot
10 cups water
For the Prime Rib Beef and Lentil Soup:
2 tablespoons extra virgin olive oil
1 cup diced yellow onion (about 1 small yellow onion)
2 cloves garlic, minced
1 1/2 cups diced celery (about 2 stalks celery)
1 1/2 cups diced carrots (about 2 medium carrots)
2 stalks celery, diced (about 1 1/2 cups)
1 teaspoon kosher salt, plus more or lesss to taste
1/4 teaspoon freshly ground black pepper, plus more or lesss to taste
1 cup lentils
8-10 cups prime rib beef stock (or use your favorite low-sodium beef stock)
meat from 2-3 roasted beef ribs
1 tablespoon balsamic vinegar
1-2 tablespoons finely chopped flat leaf parsley (Italian parsley)
Instructions
Make the Prime Rib Beef Stock:
In a Dutch oven or large pot, cover rib bones, onion, celery and carrot with about 10 cups water. Bring to a boil, then allow to simmer over low heat for about 3 hours. Strain broth, skimming any fat (chilling the stock makes it easier to separate the fat from the broth). Store in air tight containers in the refrigerator or freezer. Reserve meat for soup. This can be done the day before you plan to make the soup.
Make the Prime Rib Beef and Lentil Soup:
In a Dutch oven or soup pot, heat olive oil over medium-low heat. Sauté onions until transparent, about 3 minutes. Stir in the garlic, celery and carrots, season with salt and pepper, and cook for about 5 minutes more. Add lentils and beef stock, and bring to boil. Lower the heat to a simmer, then cover the pot, and allow to cook, stirring periodically, for about 15 minutes. Stir in the meat from beef ribs, and simmer for another 15-20 minutes, partially uncovered, or until the lentils are fully cooked and tender. Stir in balsamic vinegar and adjust seasoning with salt and pepper if necessary. Serve hot with crusty bread.
Notes
If you didn't make prime rib but still want to make this delicious soup, then don't worry. Use store bought beef broth in place of the prime rib beef stock. For the meat, use any leftover roast beef or steak - leftover roasted tri-tip would work nicely here, too.