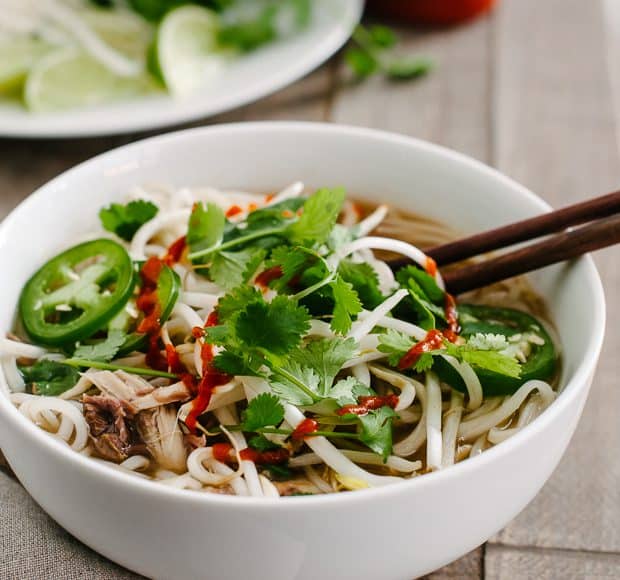 Prime Rib Pho | Simple Sundays
Save those prime rib roast bones and make a delicious Vietnamese style noodle soup! I've watched more movies in the last two weeks than I have in the past few months. I've worn cozy sweaters and stretchy jeans every single day. My work out clothes…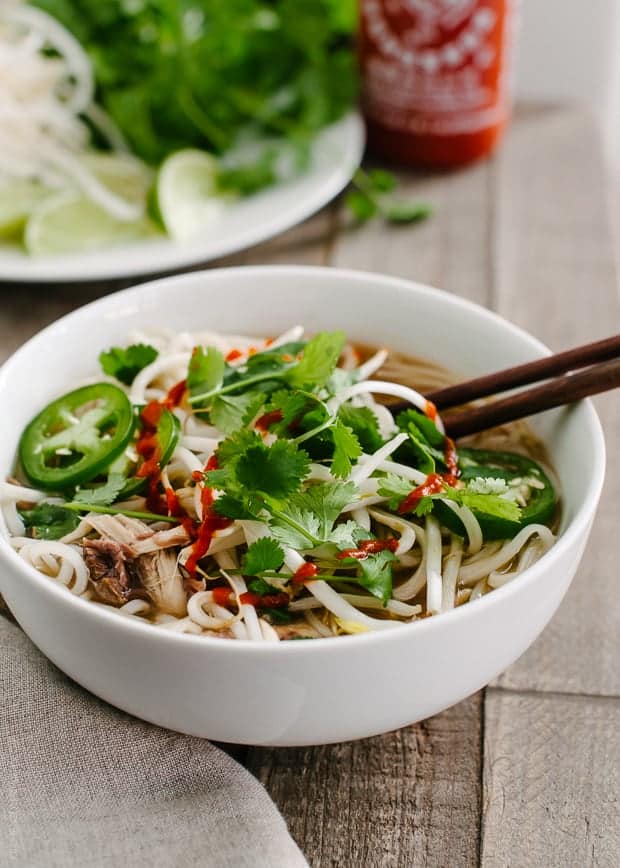 Prime Rib Pho | Simple Sundays
Save those prime rib roast bones and make a delicious Vietnamese style noodle soup!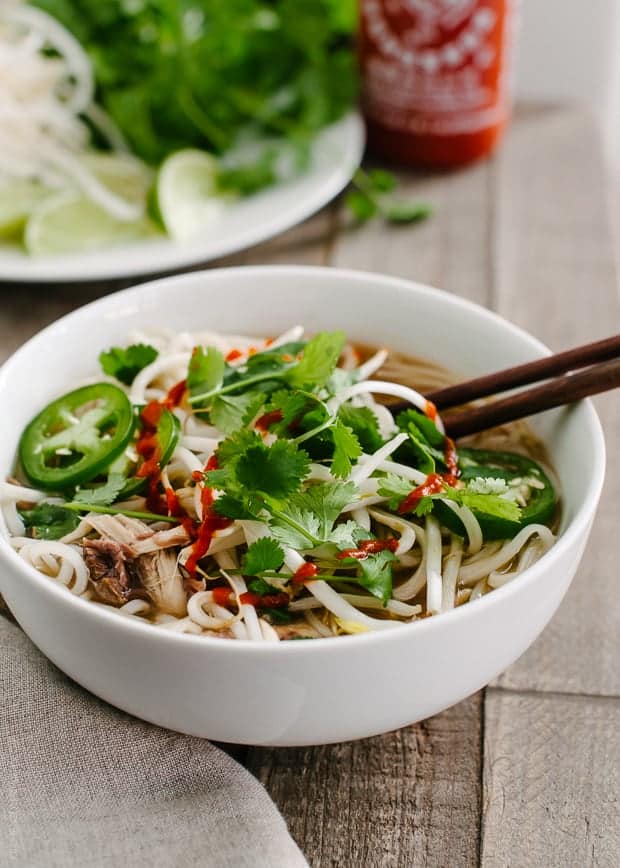 I've watched more movies in the last two weeks than I have in the past few months. I've worn cozy sweaters and stretchy jeans every single day. My work out clothes have rested in their drawer. Popcorn has become a daily food group. And leftovers have been, basically, the best thing ever.
Part of me wants this to go on forever. These days of no alarms, no commitments, no schedules – it's been wonderful. I have loved not having to pack lunches and sign homework planners. But I'm almost ready to face reality. I'm ready to resurrect the workout pants.
Are you?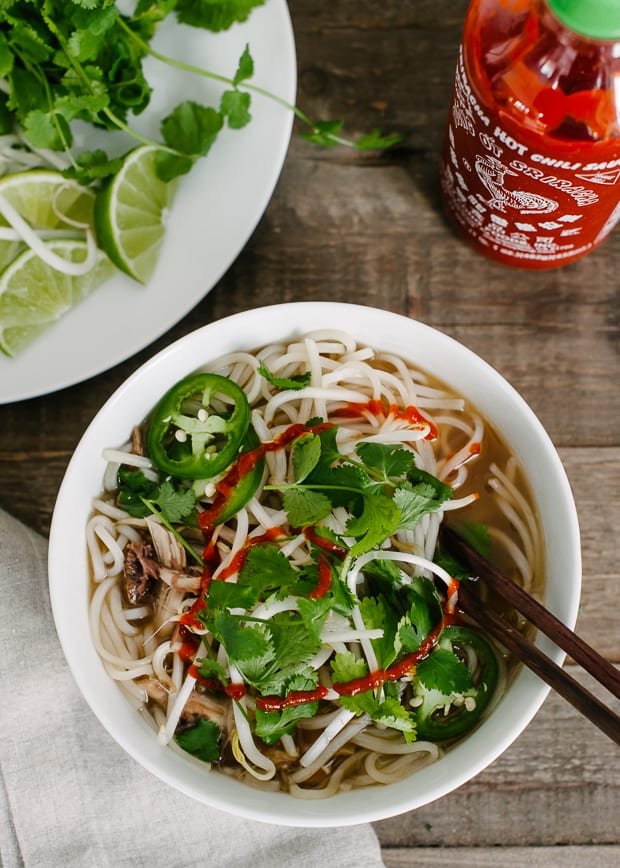 We've had a wonderful holiday break, and it really was truly relaxing. Celebration worthy meals were followed by days of reinvented meals, and without fail, our craving for soup – specifically, pho – needed to be satisfied.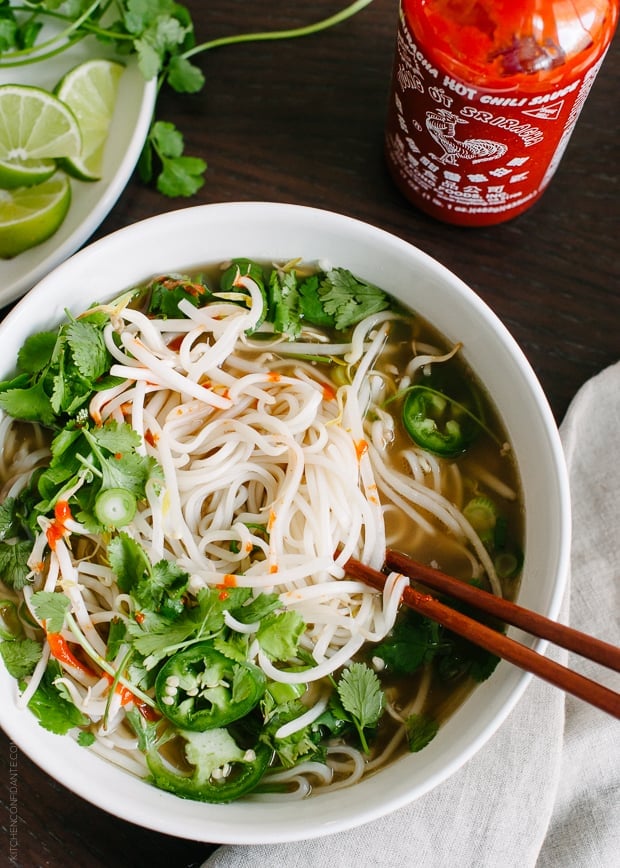 Our Christmas Eve prime rib found a new way to be reincarnated this year. I usually make my soup, but this year, our family has been rather obsessed with our local noodle house, and we wanted to see how my prime rib stock would fare as Prime Rib Pho. Rib bones with generous bits of meat left were set to simmer for hours on end, transforming water into a rich broth you just want to slurp. Noodles can be made in minutes, herbs add fragrance, and thin slices of jalapeño and splashes of shocking sriracha add a punch of heat that warms you from deep within your belly. With quarts of stock on hand, these lazy days after Christmas were even better – pho in the comfort of our own home meant we could slurp this craving without driving anywhere.
But even better, my refrigerator is stocked with stock. Vacation may be over, but we can still enjoy it to the very last drop.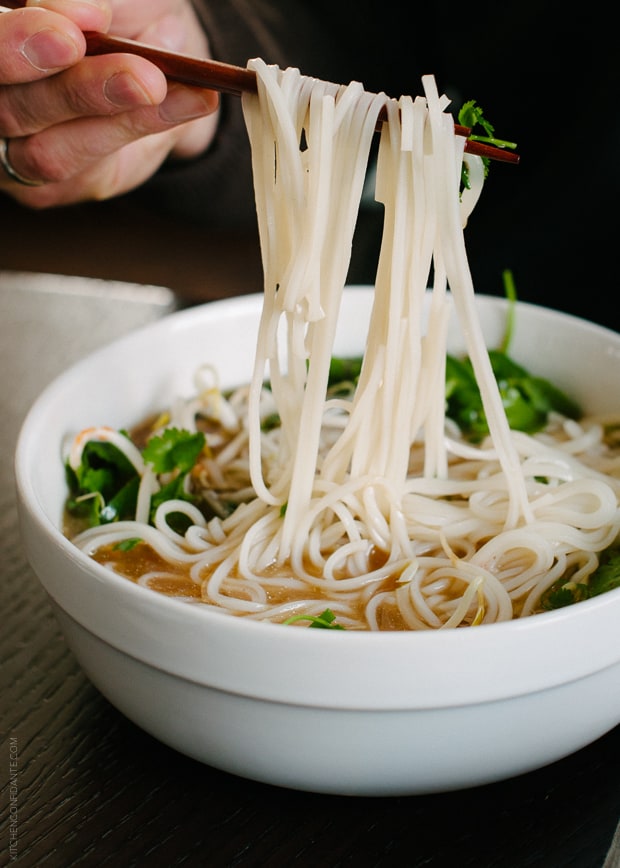 Save those prime rib roast bones and make a delicious Vietnamese style noodle soup!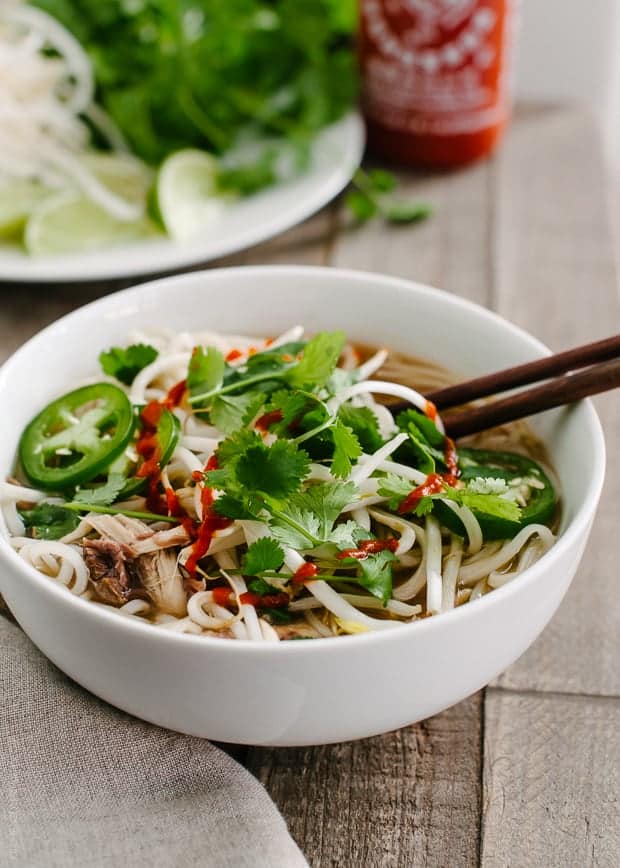 Print Recipe
Ingredients
3 left over prime rib bones, with some meat
1/2 onion with skin attached
3 stalks celery
1 carrot
8 cups water
1 stick cinnamon
3 tablespoons fish sauce, plus more to taste
2 cups chicken broth
freshly ground black pepper
1 lb dried pho noodles (Vietnamese rice noodles)
1 lb mung beans
2 scallions, thinly sliced
1/4 cup basil, roughly chopped
1/4 cup cilantro, roughly chopped
2 limes, sliced in wedges
2 jalapeños, thinly sliced
Asian chili garlic sauce, sriracha, and/or hoisin for serving
Instructions
In a Dutch oven or stock pot, cover rib bones, onion, celery and carrot with 8 cups water. Bring to a boil, then allow to simmer over low heat for about 1 hour.
Remove the ribs and meat, allow to cool for a moment, but let the soup stock continue to simmer on the stove. When the beef is cool enough to handle, debone and shred the meat. Place the shredded beef into the refrigerator while the rest of the meal is cooking. Place the bones back into the soup pot and continue to simmer for about 3 hours. Strain the soup stock into a large pot or dutch oven, add the cinnamon, fish sauce, and chicken broth, and cook over high heat until the liquid reduces to roughly 8 cups. Season to taste with additional fish sauce and freshly ground black pepper, if necessary.
Skim any fat from the broth. If possible, strain the broth into containers and refrigerate ovenight. Discard any fat that has chilled on the top.
Soak the noodles in a bowl of hot water for 30 minutes, or until soft.
Bring a pot of water to boil. Salt it generously, then drop in the softened rice noodles and cook for about 3 minutes. Drain. Do the same for the mung beans, blanching them briefly.
Divide the rice noodles, mung beans, and shredded meat into bowls, and ladle broth into each bowl. Garnish with scallions, basil, cilantro, jalapeño slices and chili sauce. Serve immediately.