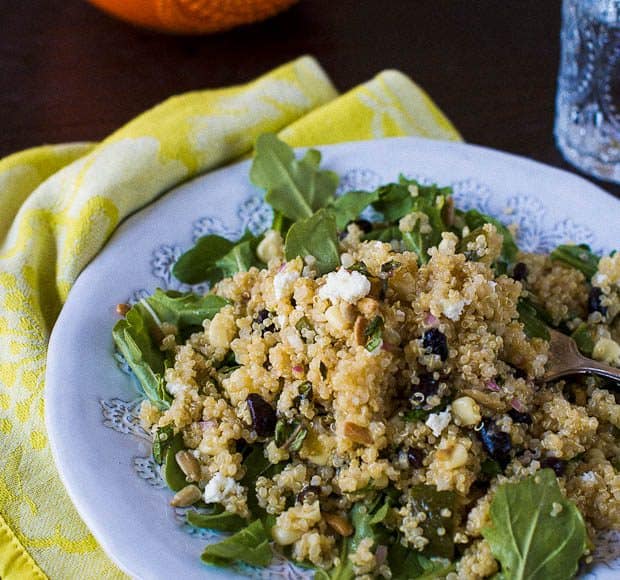 Quinoa Black Bean & Corn Salad
Come, let's start eating lunch so we can go to the Apple Store, I urged my son. Is that were you can buy all kinds of apples? Despite his naiveté, I burst out laughing. Seriously, mom, is it? he persisted innocently. As soon as I…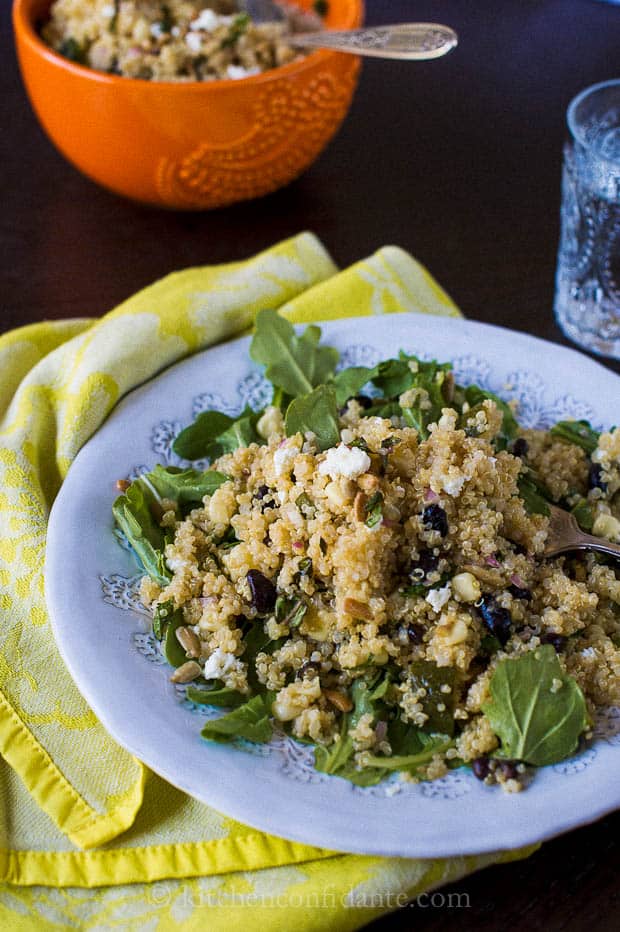 Quinoa Black Bean & Corn Salad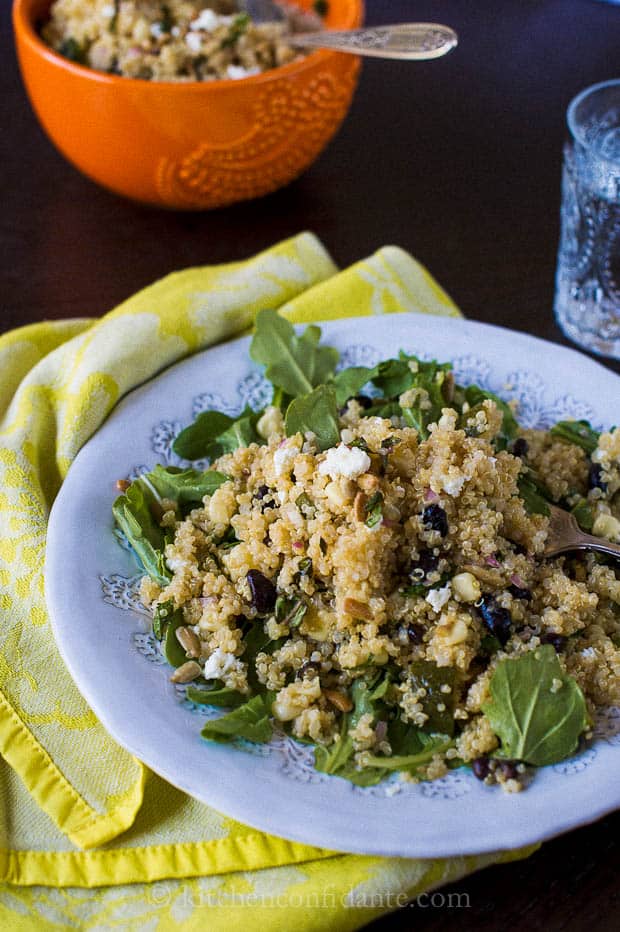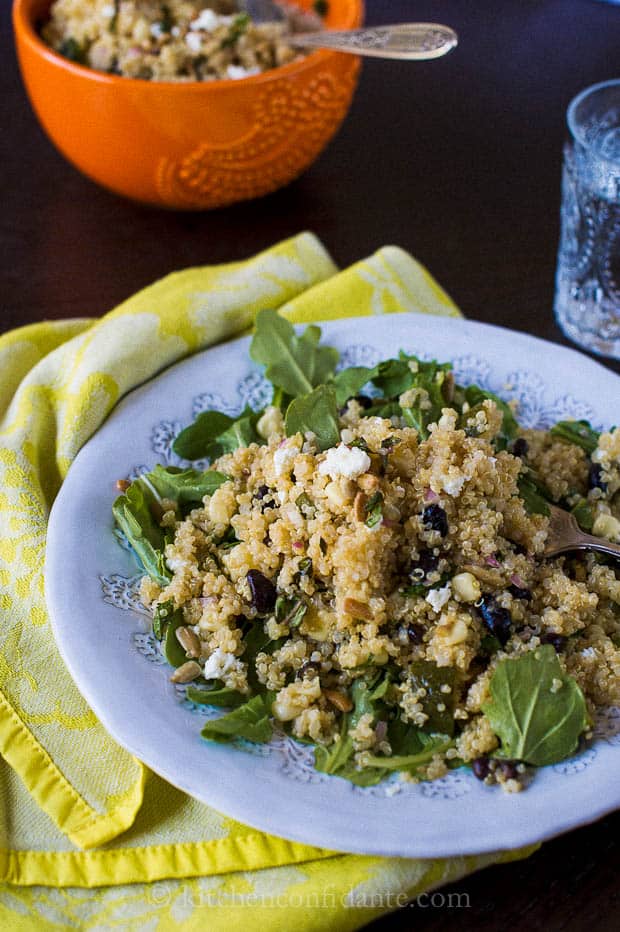 Come, let's start eating lunch so we can go to the Apple Store, I urged my son. Is that were you can buy all kinds of apples? Despite his naiveté, I burst out laughing. Seriously, mom, is it? he persisted innocently. As soon as I had a chance to regroup and look at his innocent eyes, I had to give him a hug and explained that no, we needed to go to the Apple computer store, to see if they could fix my laptop.
I just love moments like these.
Our day was a busy one – we were running a day behind on errands and playing catch up. I have been battling a summer cold and have been wavering between craving wholesome foods and bars of chocolate. For lunch yesterday, I wanted something quick and light but packed with nutrients. This big bowl of Quinoa Black Bean & Corn Salad was just what I was looking for.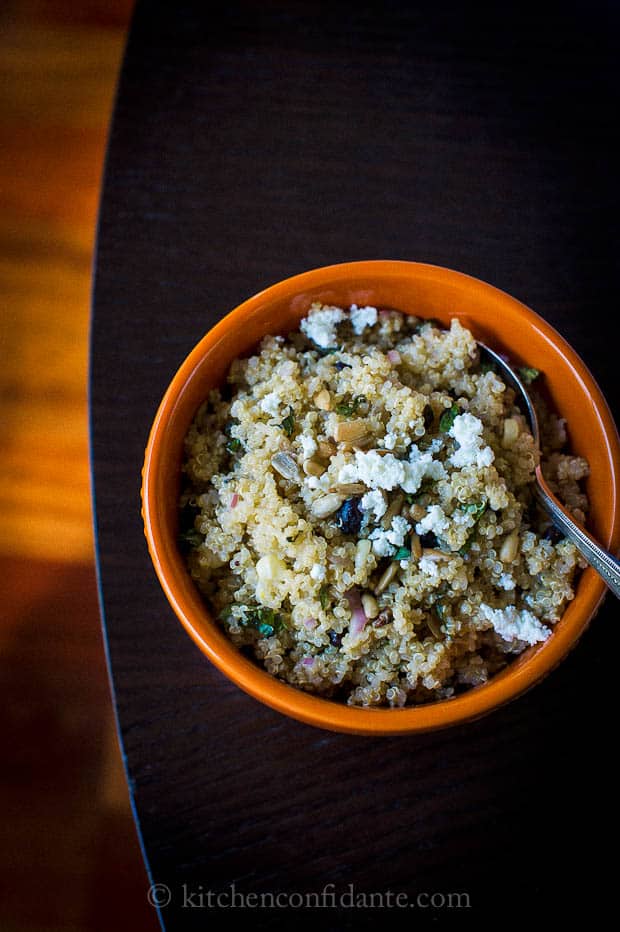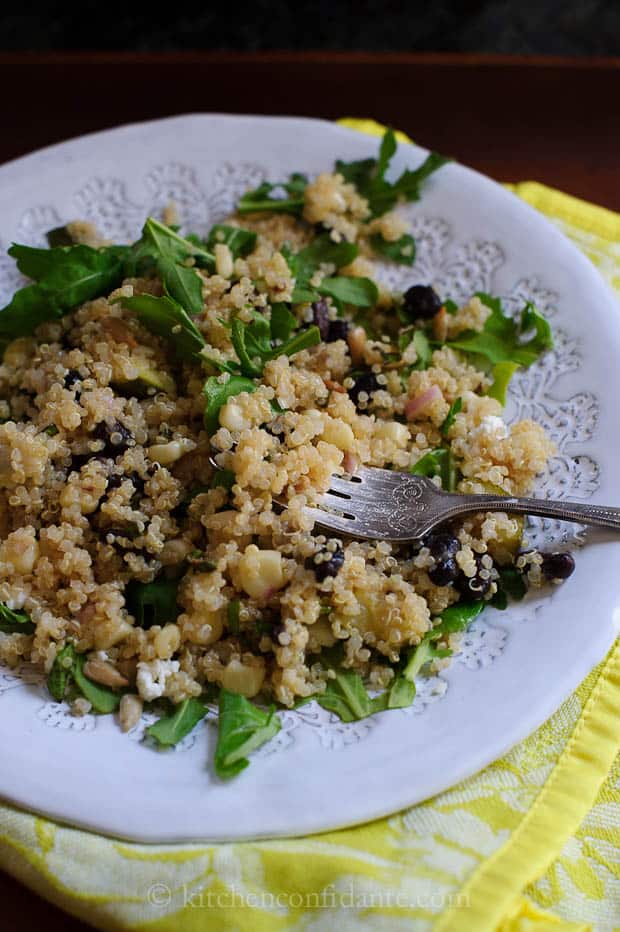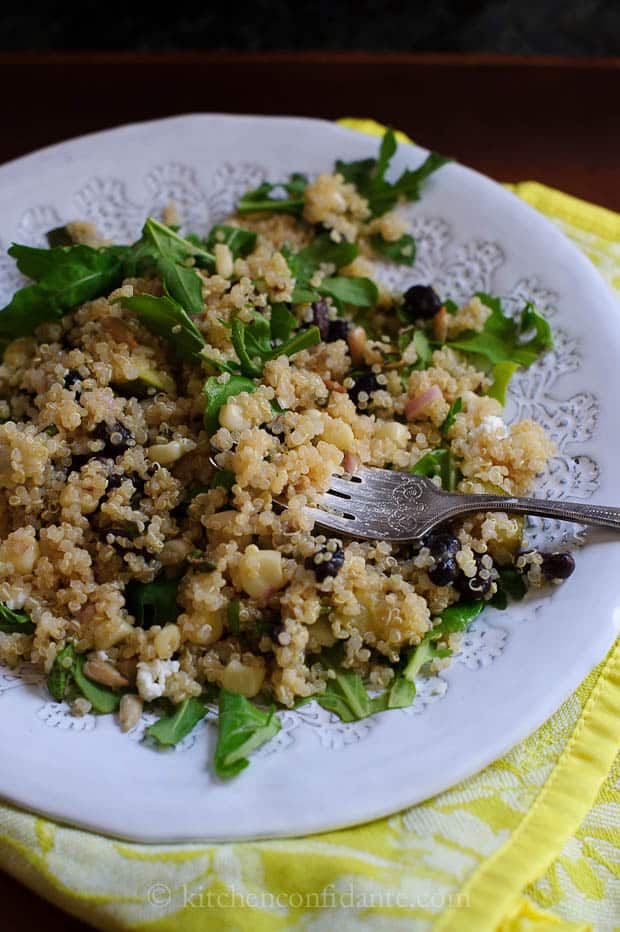 Quinoa as a superfood is old news by now, but one that bears repeating, at least for myself. I have been trying to incorporate it into my diet more, and can't get enough of its nutty flavor and light texture. Paired with black beans, corn, as well as summer zucchini, my salad is an awesome side dish, but even better as a quick lunch when I'm on the go.
And with that, my son and I were off to see the Apple Geniuses. If only they did have a store that sold just apples!
Quinoa Black Bean & Corn Salad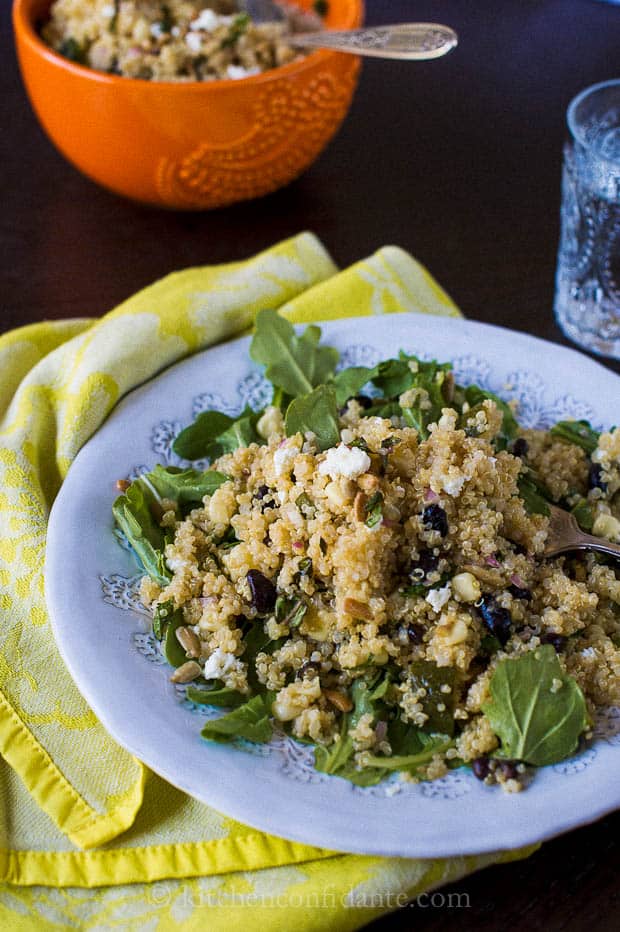 Print Recipe
Ingredients
For the quinoa:
1 cup quinoa
1 tablespoon olive oil
2 large shallots, minced
1 cup water
2 medium zucchini, cut into 1/2 inch pieces (optional)
2 cups corn kernels (fresh or frozen)
For the salad and dressing:
1 14 oz can black beans, drained
1/2 cup sunflower seeds
2 tablespoons lemon juice
2 tablespoons Sherry vinegar
1 tablespoon minced shallot
1 tablespoon Dijon mustard
1/2 cup chopped mint leaves
1/4 cup chopped cilantro leaves
1/4 teaspoon salt
1/4 teaspoon ground pepper
1/3 cup olive oil
1/4 cup goat cheese, crumbled
arugula (optional)
Instructions
In a small saucepan, heat 1 tablespoon olive oil over medium low heat. Cook shallots until slightly transparent, about 2 minutes. Add quinoa, zucchini and corn, and stir until coated and glossy. Stir in the water and bring to a boil. Cover and lower heat to a simmer, and let it cook for 10 minutes, or until the liquid has been absorbed. Remove from heat allow to cool.
Make the dressing by combining the tablespoon of shallot with lemon juice, vinegar, mustard, mint, cilantro, salt, pepper and olive oil in a small bowl, whisking well to combine. Toss the dressing into the quinoa, along with the black beans and sunflower seeds. Serve the salad lukewarm or chilled, with a crumbling of goat cheese and arugula, if desired.
Adapted from Quinoa Corn Salad with Mint Vinaigrette and Toasted Pinenuts, Friends at the Table by Debi Shawcross.