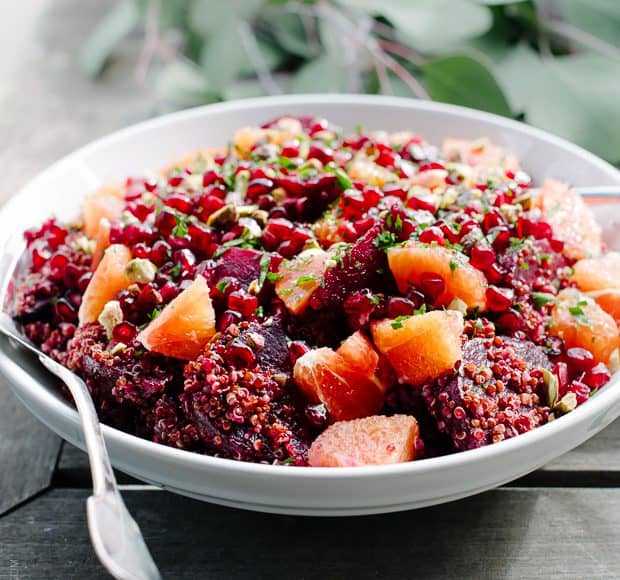 Quinoa Salad with Roasted Red Beets, Oranges and Pomegranate
Maria Speck's Quinoa Salad with Roasted Red Beets, Oranges and Pomegranate is a vegetarian and gluten-free friendly salad that is stunning and festive.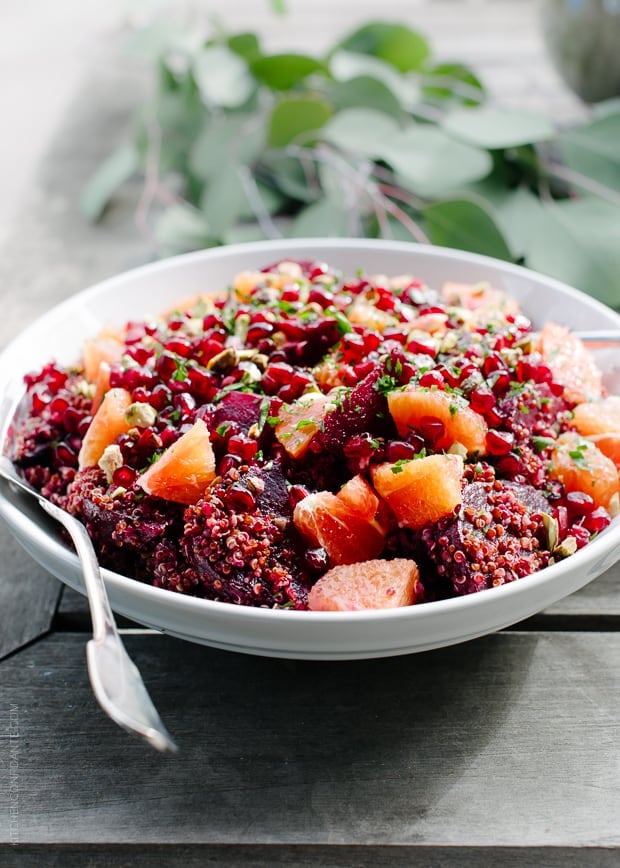 Quinoa Salad with Roasted Red Beets, Oranges and Pomegranate
All of winter's best ingredients are in this wholesome Quinoa Salad with Roasted Red Beets, Oranges and Pomegranate. Whether you make it for dinner or a large gathering, it's a stunning salad that is sure to please anyone at the table, plus it is vegetarian and gluten-free friendly!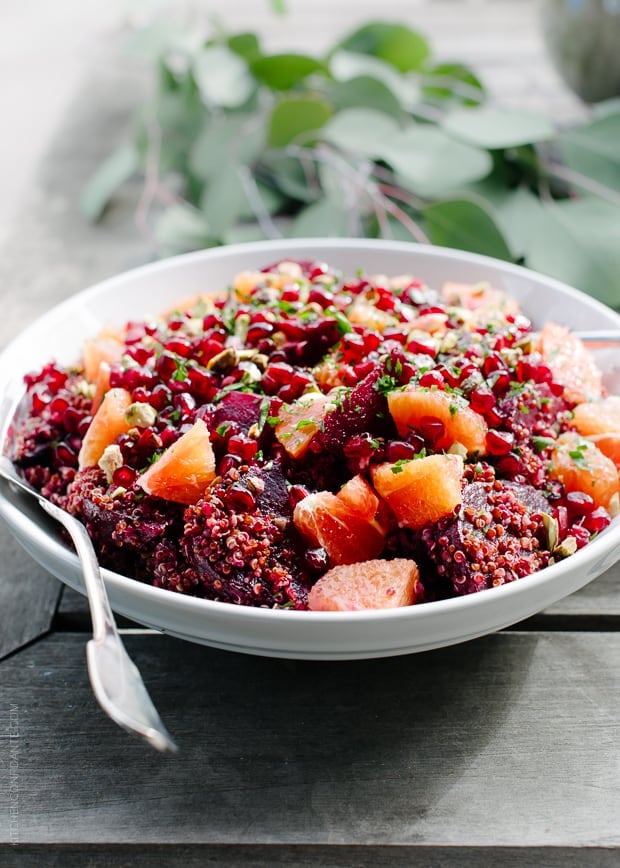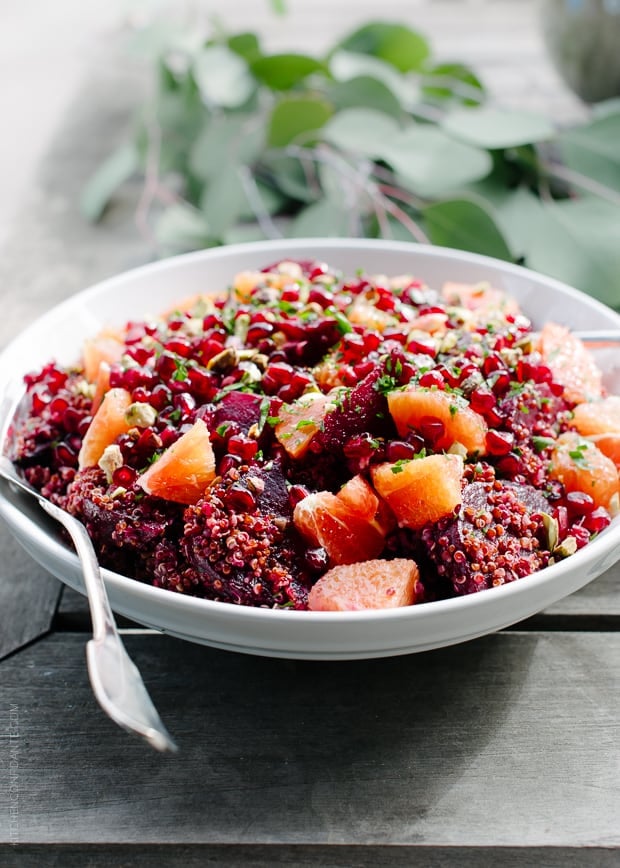 Potlucks stress me out. There, I said it. And not in an "oh-my-there's-so-much-food-and-I-must-eat-it-all-but-I'm-on-a-diet" sort of way, because, quite frankly, the D word is something I use to describe the food I eat and not the food I am restricted to eat (there is a difference). It's more of an "oh-my-gosh-what-will-I-bring-that-will-be-interesting-and-it-will-be-judged-oh-the-pressure" sort of stress.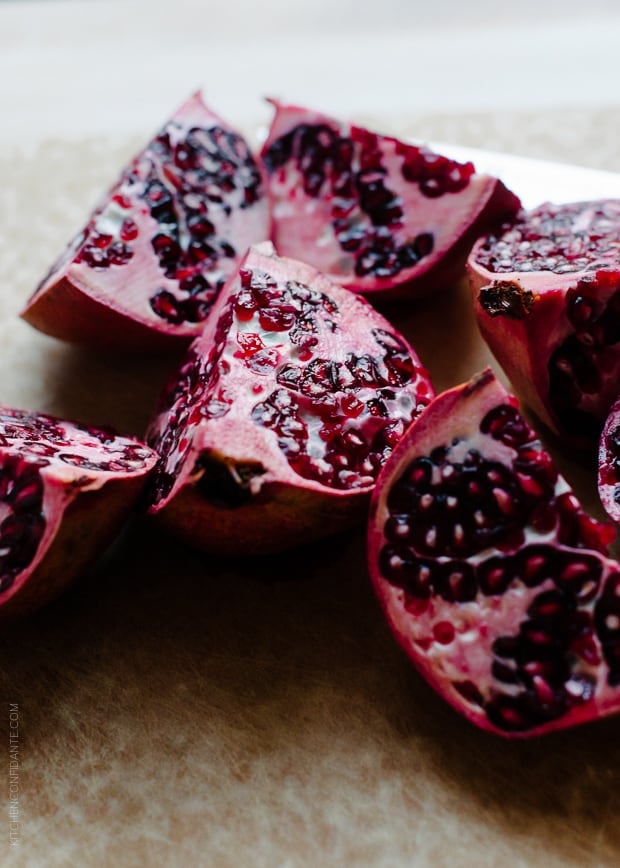 Does this sound crazy? Well, as much as potlucks can create a little anxiety within, I must admit that I also love them. I love the smorgasbord, the ability to eat bites of all different foods that may not necessarily harmonize with one another. As a host, I love that there is less pressure to prepare an entire meal, and that friends can pitch in. Plus it's a wonderful way to learn new recipes from good friends.
But once I know that there is a potluck, I have to deal with this internal struggle. Do I bring something tried and true? Do I bring something that has been featured on the blog? Do I try something new – always a big risk, but one I always seem to take, breaking an entertainer's cardinal sin of experimenting.
As I hemmed and hawed on these points last week, trying to decide what to bring to an annual cookie exchange brunch with dear friends that I have been blessed to meet because of this bizarre world of food blogging, my eyes happened to glance down on my desk to Maria Speck's latest cookbook: Simply Ancient Grains: Fresh and Flavorful Whole Grain Recipes for Living Well.
Maria sent me her latest cookbook after she saw my Roasted Butternut Squash Winter Salad with Kale, Farro and Cranberry Dressing. By now, you know that I love experimenting with ancient grains – whether it is stuffed in an artichoke, or in an Eggplant Parmigiana, or in a muffin or for breakfast. I have been eager to devour Maria's newest book devoted to the grains I love, and to find new ways to experiment with grains that I want to know better, such as spelt, kamut, and millet.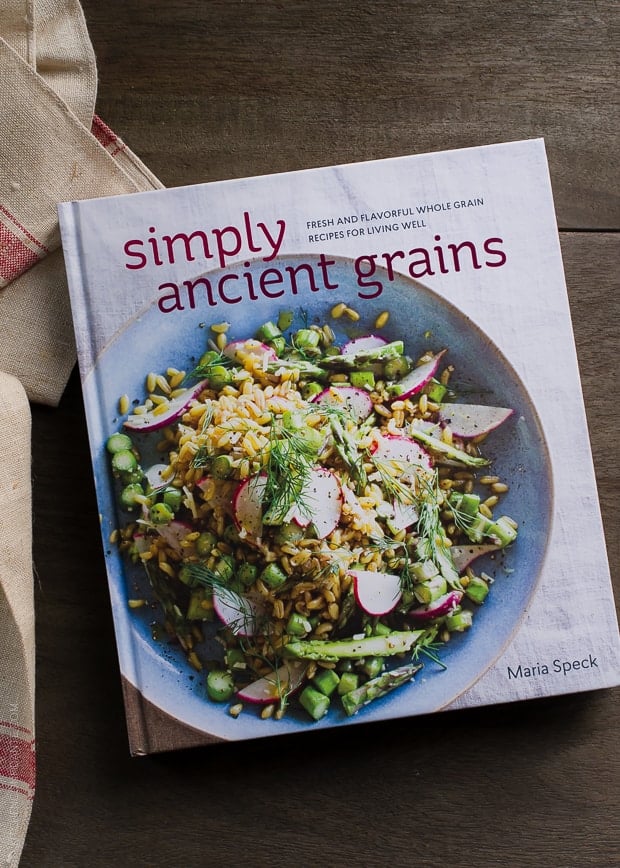 I flipped through the pages and discovered a wealth of recipes – breakfast bowls for busy mornings, brunch friendly meals for weekends, hearty main dishes for any day of the week, and tempting desserts that are just a little more wholesome, but not lacking in indulgence.
I settled on her chapter on side dishes and salads. I was looking for something that could please a crowd, that would provide balance to a meal that would end with a mountain of freshly baked cookies, and something that I suspected you, too, would love and find perfect for your holiday arsenal.
Her Quinoa Salad with Roasted Red Beets, Oranges and Pomegranate sounded like just the thing. This is how she describes it:
"This is the grain salad I serve during the holidays when I feel the need to please a crowd but have too much on my hands. It works for vegetarians and for guests who chose to go gluten-free — and it saves the cook because it can be made ahead." — Maria Speck, Simply Ancient Grains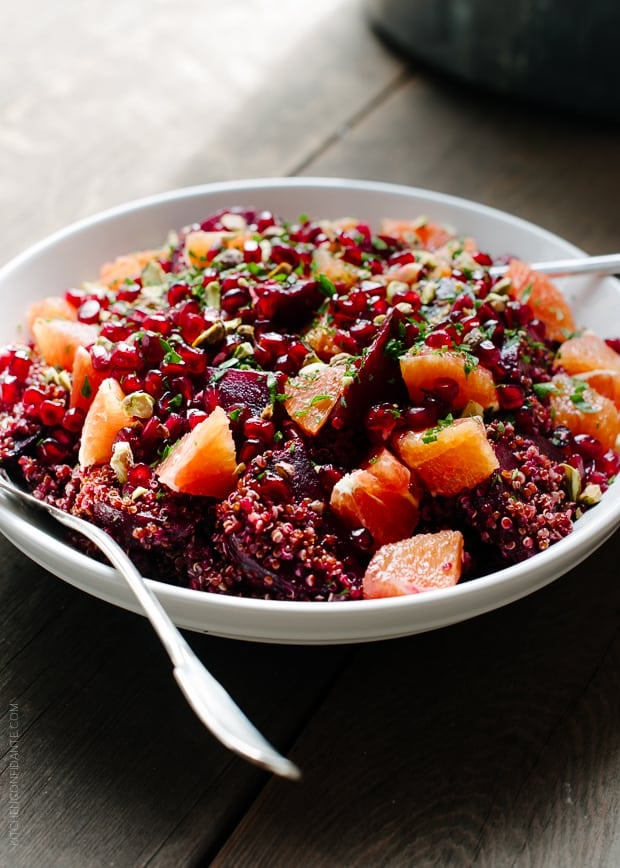 Done.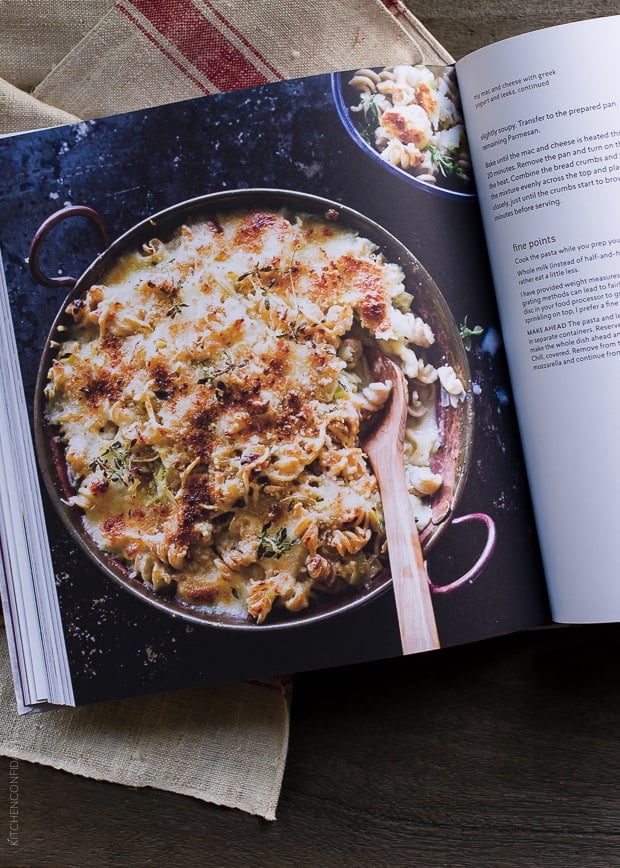 You know what else I love about Maria's book? She makes cooking with grains approachable, especially for the cook who is brand new to grains. She encourages you to try different variations on her recipes, so if something is hard to find or not in season, you can still enjoy the recipe. And my favorite part, she includes tips for making it all ahead. I can use all the tips I can get.
I've been cooking from her book all week, and my favorite chapter right now is Breakfast: Warming Bowls for Busy Mornings. I made her Burgundy Bulgur with Blueberries, with variations she encouraged, and it's such a nice way to break up my go to yogurt-granola-muesli routine. Not to mention it is incredibly beautiful. I promise to photograph it next time I make a batch and share it with you on Instagram.
In the meantime, this quinoa salad is more than plenty to get you on your way to learning more about Maria's style and beautiful approach to food. It's fresh and vibrant, and sure enough, it was truly party-worthy. The colors and flavors are stunning, and all the ingredients I love about wintertime are showcased: deep, earthy beets, glistening pomegranate seeds, and brilliant citrus. The original recipe calls for blood oranges, but it was a little early for that yet, at least here. I used some rosy Cara Cara oranges, and it was perfect. This quinoa salad is a showstopper, whether you make it for a potluck, as I have, or as part of a meal with your family.
Find out more about Maria Speck and Simply Ancient Grains on Instagram, Facebook, Twitter or by following the hashtag #simplyancientgrains.
MORE QUINOA RECIPES TO TRY
Chocolate Banana Quinoa Muffins
Toasted Quinoa Stuffed Artichokes
Mushroom Quinoa Risotto
Quinoa Stuffed Pork Tenderloin
Quinoa Salad Lettuce Cups
Quinoa Salad with Roasted Red Beets, Oranges and Pomegranate
Quinoa Salad with Roasted Red Beets, Oranges and Pomegranate is a salad that is stunning and festive, whether for a large holiday gathering or a simple family meal. This beautiful recipe is reprinted with permission from Simply Ancient Grains by Maria Speck.
Ingredients
Beets and Quinoa:
3

medium red beets

about 1 1/4 pounds

2

cups

low-sodium vegetable broth

1 1/2

cups

water

2

cups

quinoa

(preferably red), well rinsed and drained (7-8 cups cooked)

1/2

teaspoon

fine sea salt

I used kosher salt
Salad:
3

blood oranges

I substituted Cara Cara oranges - use whatever oranges you can find

1/2

cup

chopped pitted dates

preferably firm Deglet Noor

1

tablespoon

sherry vinegar or freshly squeezed lime juice

1/4

teaspoon

fine sea salt

or kosher salt

1/2

teaspoon

freshly ground black pepper

1/4

cup

extra-virgin olive oil

1/4

cup

plus 2 tablespoons finely chopped fresh flat-leaf parsley

2/3

cup

pomegranate seeds

from 1 medium pomegranate

1/4

cup

lightly toasted chopped pistachios for garnish
Instructions
Prepare the beets:
Place a rack in the center of the oven and preheat to 425°F. Cut the greens off the beets (reserve for another use), leaving about 1 inch of stem. Rinse the beets and pat dry. Place the beets in an 8x8-inch baking dish, adding enough water to reach a depth of 1/4 to 1/2 inch. Cover the pan tightly with aluminum foil and roast until the beets are tender (a knife should slide in easily), 45-60 minutes, depending on the size. Remove from the oven and allow to cool. (If you are in a hurry, place the beets in a microwave safe dish, add 1/4 cup water, cover loosely, and microwave on high until they are tender, about 10 minutes, depending on size.)
Prepare the quinoa:
Add the broth, water, quinoa and salt to a large heavy saucepan and bring to a boil. Decrease the heat to maintain a simmer, cover, and cook until the liquid is absorbed, 15-20 minutes. Remove from the heat and set aside to steam, covered, for 5 minutes. Transfer the quinoa to a large serving bowl and spread to cool, about 20 minutes.
Make the salad:
Cut one orange in half crosswise. Peel 1 1/2 oranges, and cut the segments into 1/2-inch pieces; you will need a scant 1 1/2 cups (reserve the rest for another use). Zest the remaining 1 1/2 oranges until you have 1 tablespoon zest, then squeeze them until you have 1/4 cup plus 2 tablespoons juice.

When the beets are cool enough to handle, peel and cut them into 1/2 inch wedges. Using a fork, stir the dates into the bowl with the qunoa, separating any chunks. Stir in the beets.

In a medium bowl, using a fork, combine the orange juice, zest, vinegar, salt and pepper. Gradually beat in the olive oil in a thin stream until emulsified. Stir in the 1/4 cup parsley. Pour the dressing over the salad and gently toss ot combine. Season with salt and pepper to taste. Let sit at room temperature for 10 to 15 minutes to allow the flavors to meld.

Toss once more, then top with the oranges, sprinkle with the pomegranate seeds, pistachios and the remaining 2 tablespoons parsley, and serve.
Notes
Maria's recommendations:
Use a deep red quinoa for its beautiful hue, but regular quinoa will work, too.
The salad can be served on bed of spinach, if you wish.
The oranges can be sliced, pith, membranes and all - Maria jokes that she is lazy, but the pith does contain nutrients.
Make ahead tips:
The quinoa can be prepared up to 5 days ahead.
Beets can be roasted 2 days ahead. Chill separately, covered.
The salad (except for the final topping of oranges, pomegranate seeds, pistachios and parsley) can be prepared 4 hours ahead. Chill, covered. Bring to room temperature before serving and top with the remaining ingredients.
Recipe reprinted with permission from Simply Ancient Grains: Fresh and Flavorful Whole Grain Recipes for Living Well by Maria Speck (Ten Speed Press, 2015).
Nutrition
Calories:
295
kcal
|
Carbohydrates:
42
g
|
Protein:
8
g
|
Fat:
11
g
|
Saturated Fat:
1
g
|
Sodium:
483
mg
|
Potassium:
490
mg
|
Fiber:
6
g
|
Sugar:
11
g
|
Vitamin A:
320
IU
|
Vitamin C:
9
mg
|
Calcium:
40
mg
|
Iron:
3
mg