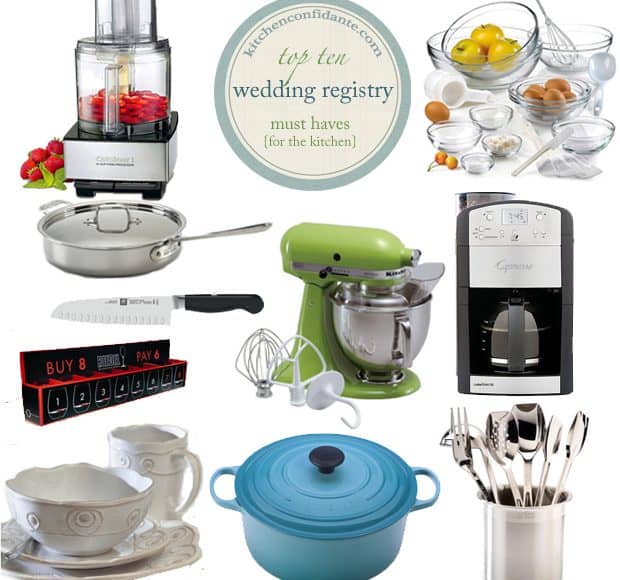 The Wedding Registry | Top 10 Kitchen Must Haves
food processor // sauté pan // chef's knife // wine glasses // white dinnerware set dutch oven // cooking spoons // coffee maker // mixing bowls // stand mixer In less than two weeks, there will be a celebration. A wedding! My little sister,…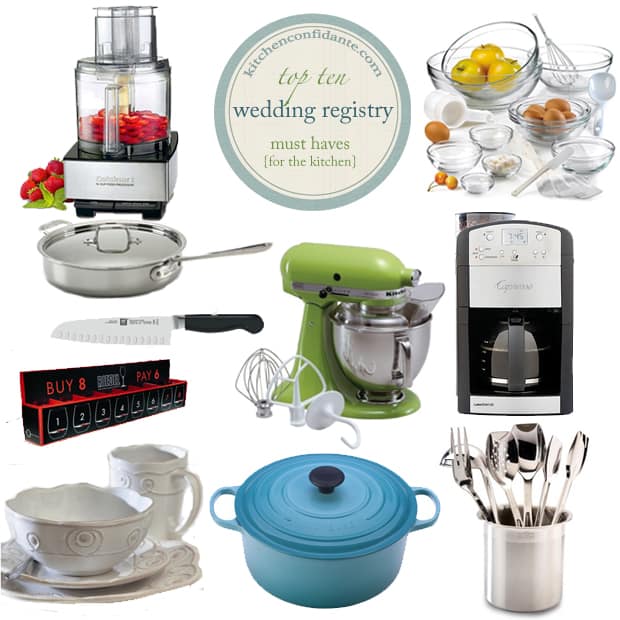 The Wedding Registry | Top 10 Kitchen Must Haves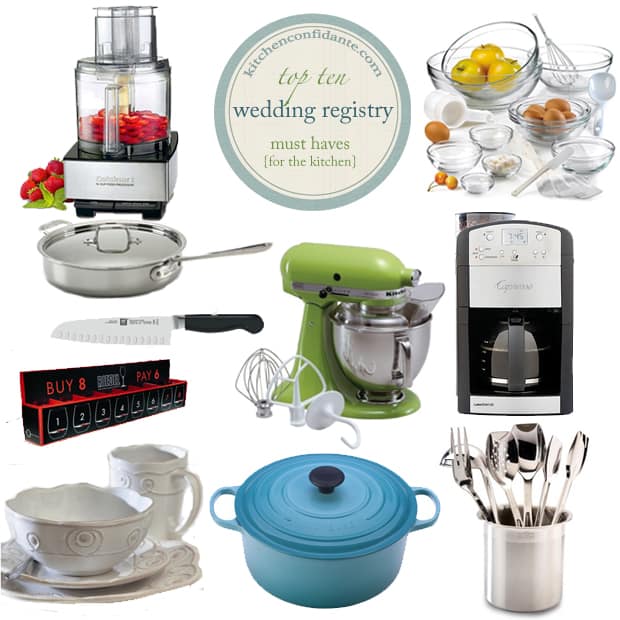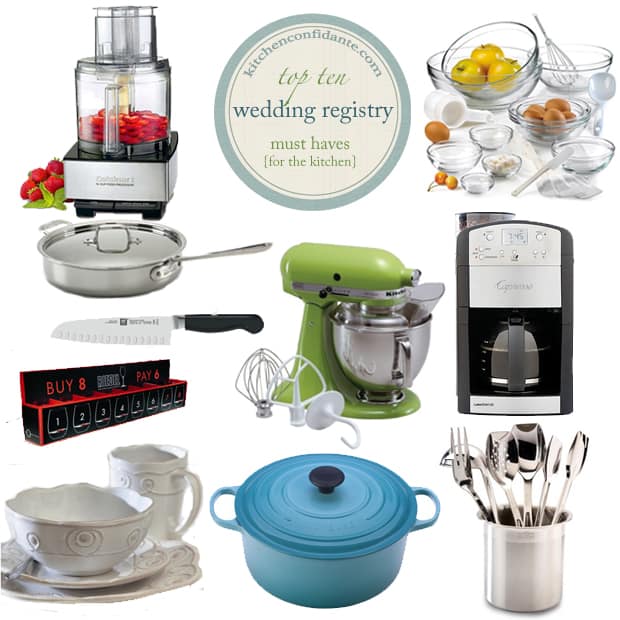 food processor // sauté pan // chef's knife // wine glasses // white dinnerware set
dutch oven // cooking spoons // coffee maker // mixing bowls // stand mixer
In less than two weeks, there will be a celebration. A wedding! My little sister, whom I consider my dearest friend, is marrying her love. And as the year has passed, with all its planning and excitement, it reminded me of my own experiences selecting the perfect wedding registry.
I read all the magazines, I scoured the internet, I had already built up a kitchen once before, and thought I had it all figured out. But if I could turn back time and do it all over again, I would have done it differently. For a long time, I have wanted to share with you what I have found to be my Top 10 Kitchen Must Haves for a Wedding Registry. My favorite products are for anyone (engaged or not) who is starting off on their cooking adventure, and I can't wait to share it with you. PLUS, there is exciting news, so be sure to read through to the end for my big announcement!
Top 10 Kitchen Must Haves
Henckels Santoku Chefs Knife
Forget the big knife block. I have learned that it is more ideal to build your knife collection slowly, based on pieces that you have really had a chance to play with at the store. And when it comes down to it, all you really need is one good knife. For me, that would be this Henckels Santoku Chef's Knife. Its weight is evenly distributed, and light enough that even after a day of chopping, I don't feel fatigue. It's the knife I reach for, time and again. I would dare say the other knives on my knife holder are jealous of this one.
Cuisinart Food Processor
When a knife won't cut it, there's nothing better than a large capacity food processor. I use it to make quick work of chopping, for sauces, and doughs. It really is indispensable and the extra set of hands I turn to when I cook day to day.
KitchenAid Stand Mixer
I'll never forget when my husband surprised me one Christmas with my stand mixer. He brought it home on Christmas Eve and urged me to unwrap the box, and I've been playing with it ever since. It's over 10 years old now and going strong, and has made countless cakes, cupcakes, pies, cookies, sausages, pasta, whipped cream, and even a meatloaf. I. Love. My. Mixer.
All Clad Stainless Deep Sided Saute Pan
If I had to get rid of all my cookware and could only keep one, this would be it. I can't even tell you how versatile this sauté pan is. With sides deep enough, I can fry, sauté, and even make a soup in it. The stainless steel makes it such a breeze to clean up, and many years later, my pan is still shiny and looks brand new.
Cooking Spoons
For years, I used cooking spoons that would end up melting or wearing down. This tool set is amazing. Long handles to keep your hands away from hot oil, and sturdy enough to flip the heaviest meats, it will even look good at the dinner table. This is, hands down, my favorite tool set ever.
Dutch Oven
Everyone should have a dutch oven. Between the sauté pan and a cast iron dutch oven, you can tackle nearly anything. This hefty piece will sear and braise delicious short ribs, it will make the most comforting soups, it will even bake bread. And if you take care of it, it will last you a lifetime and beyond. I know my daughter already has her eyes on my dutch oven.
White Dinnerware Set
When my husband and I selected dishes for the first time together, we were drawn to, like everything else we owned, ultra modern styles. That was all well and good, but after a while, charcoal-black dishes get boring. And not every food looked good. Our dishes lacked versatility, and I finally understood why so many recommended white dishes when selecting a registry. I love this set for its soft white finish, and sensible detailing. It's not too fancy, not too casual, it is just right, whether for hosting Thanksgiving dinner or a cozy Sunday brunch.
Mixing Bowl Set
You can never have too many prep bowls when cooking, and I love this set. The bowls nest for easy storage, and in a pinch, it's pretty enough to go from kitchen counter to kitchen table.
Coffee Maker
All I have to say is when you get married, you will need your morning coffee. I can leave it at that, but I will go on to say that the fresher it is, the better. So I like coffee makers with a built in burr grinder for a surpremely flavorful, fresh, and rich brew.
Wine Glasses
Wine. It's a must. This wine glass set will see you through many celebrations, and I hope you toast them all. From anniversaries to promotions, to the birth of your first child, there will be many happy memories in the future to celebrate. I say cheers to that!
Save the Date for Giveaways!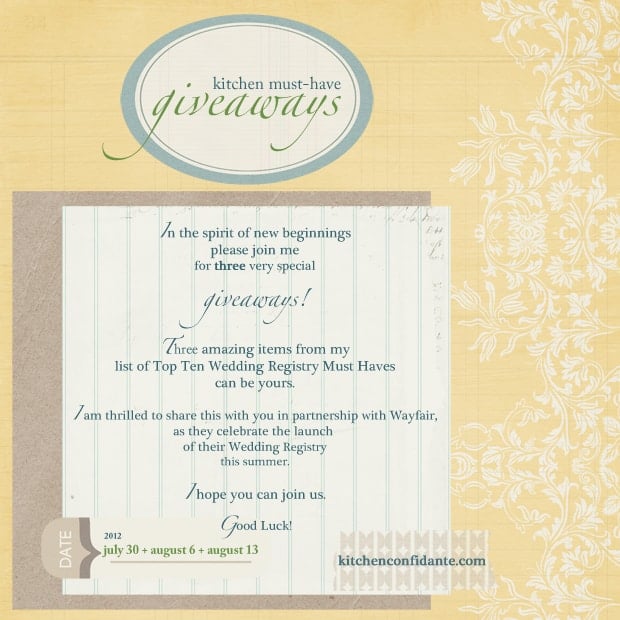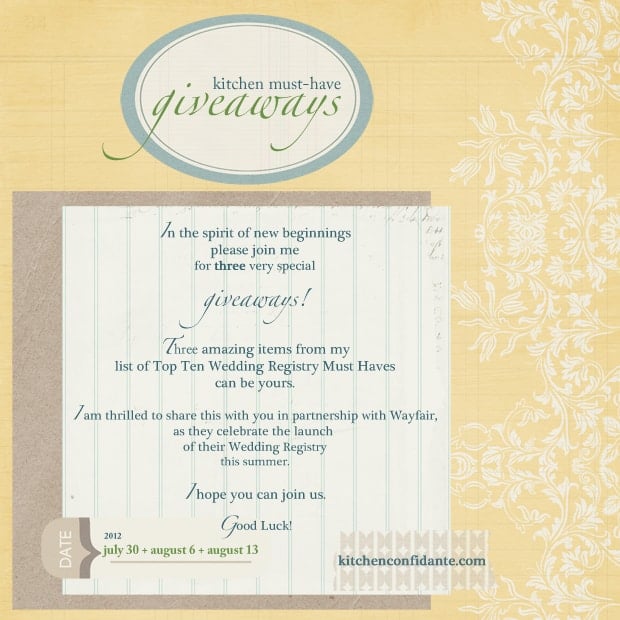 I can't tell you how excited I am to give away some of my most favorite kitchen must haves. I use these products every day and know that when you are starting out in the kitchen, whether as part of a married couple or not, you will find these products will make being in kitchen even more fun. Please join me next week, Monday, July 30th for the very first giveaway!
My sincere thanks to the amazing folks at Wayfair for generously partnering with me in these giveaways. Please be sure to check out their newly launched Wedding Registry.