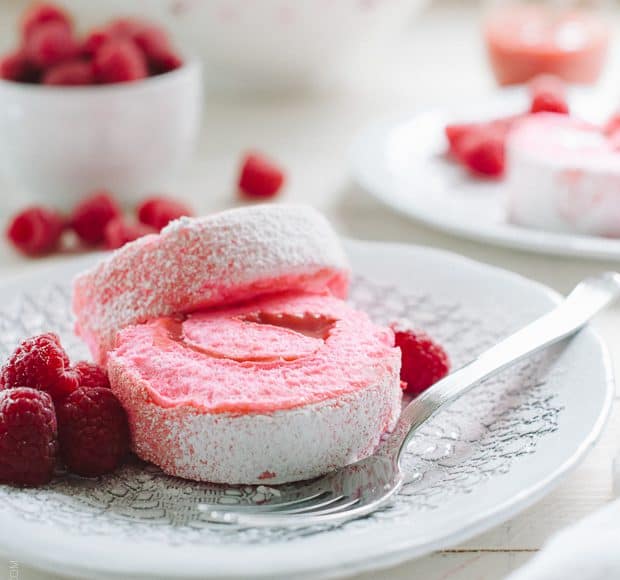 Raspberry Meringue Roll
I think of my mother every day. I see her everywhere I turn, from the red geraniums on my neighbor's doorstep to the snow peas at the market, to my daughter's theatrical flair and my son's thoughtful hugs. But May and October are the two…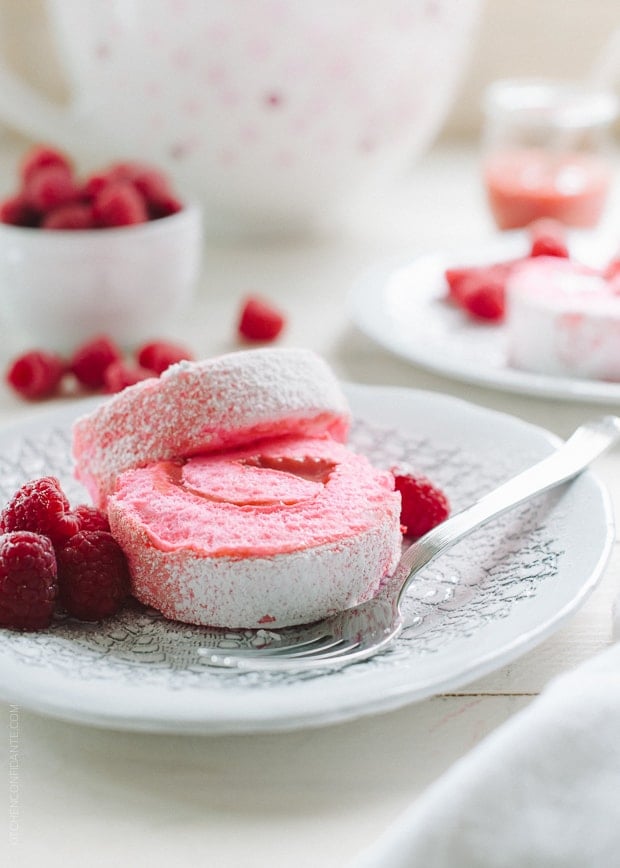 Raspberry Meringue Roll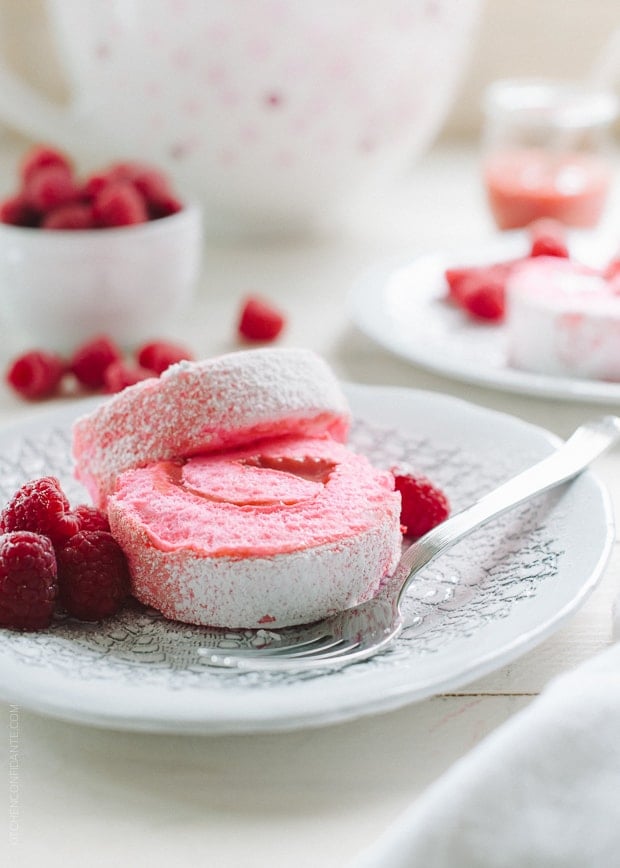 I think of my mother every day. I see her everywhere I turn, from the red geraniums on my neighbor's doorstep to the snow peas at the market, to my daughter's theatrical flair and my son's thoughtful hugs. But May and October are the two months in the year that I think of her even more, when stores flush pink to celebrate Mother's Day and pink ribbons remind us all of Breast Cancer Awareness Month. Those of you who know me well probably also remember that her birthday is in October, and these months are bittersweet, even more than usual. I waver between feeling the awful grief of losing my mother, just weeks after Mother's Day and days before my 19th birthday, and the joy of celebrating motherhood with my own children. I usually find myself crying, very mixed tears of sorrow and gratefulness.
So when KitchenAid asks me to join them in their Cook for the Cure program with the Susan G Komen® Foundation, there is hardly a doubt. I am always eager to honor my mother, and all those affected by breast cancer.
Going through my mother's recipe binder, I flipped through the yellowed, handwritten pages looking for a recipe for Brazo de Mercedes. This Filipino classic, which translates to "arm of Mercedes," is a dessert of obvious Spanish heritage, and is typically a light meringue roll filled with a rich yellow custard. I decided to take this, one of her favorite desserts, and give it a pink twist, to celebrate Mother's Day and the Cook for the Cure initiative.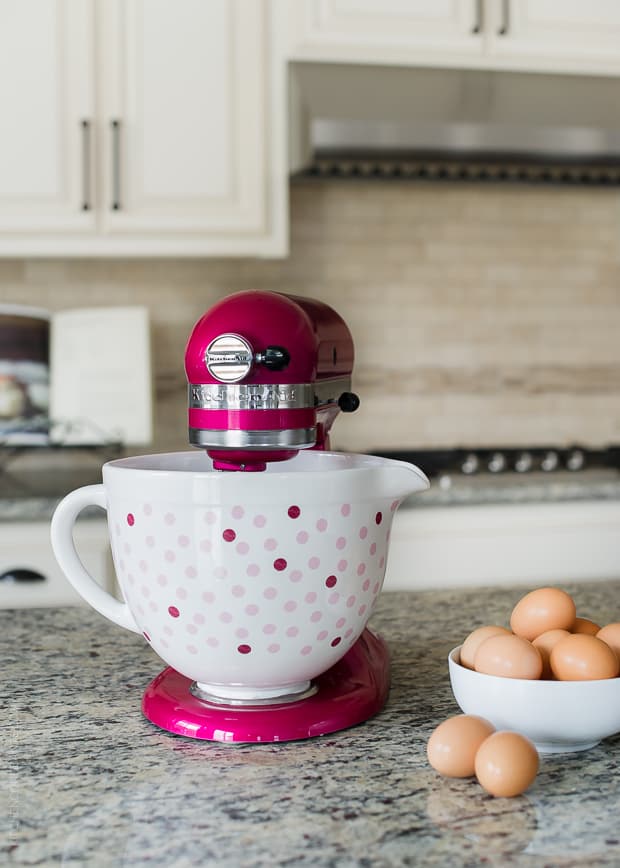 To make my Raspberry Meringue Roll, I used KitchenAid's stand mixer in the gorgeous raspberry color, and I am excited to share a sneak peek of the pink polka dot ceramic bowl which will be available on KitchenAid.com in September to raise awareness for the fight against breast cancer and to celebrate their partnership with Susan G Komen®.
Eggs are the hero of this dessert, with the rich yolks going into the raspberry lemon curd and the whites whipping up in the bowl to make the meringue. If you've never made a meringue before, I encourage you to try! It's one of those things that just bring a smile to your face – my kids called this the marshmallow roll, and I won't argue with them. They're quite right.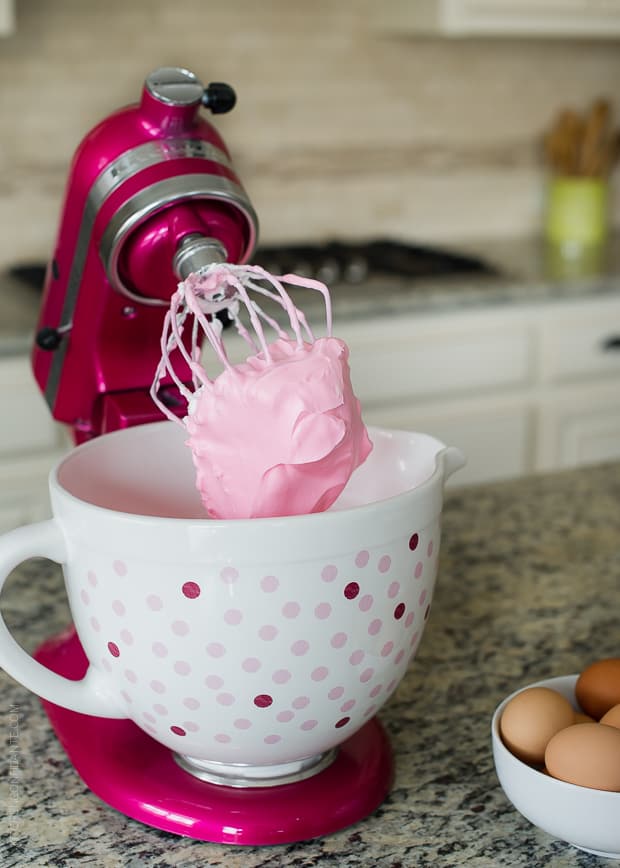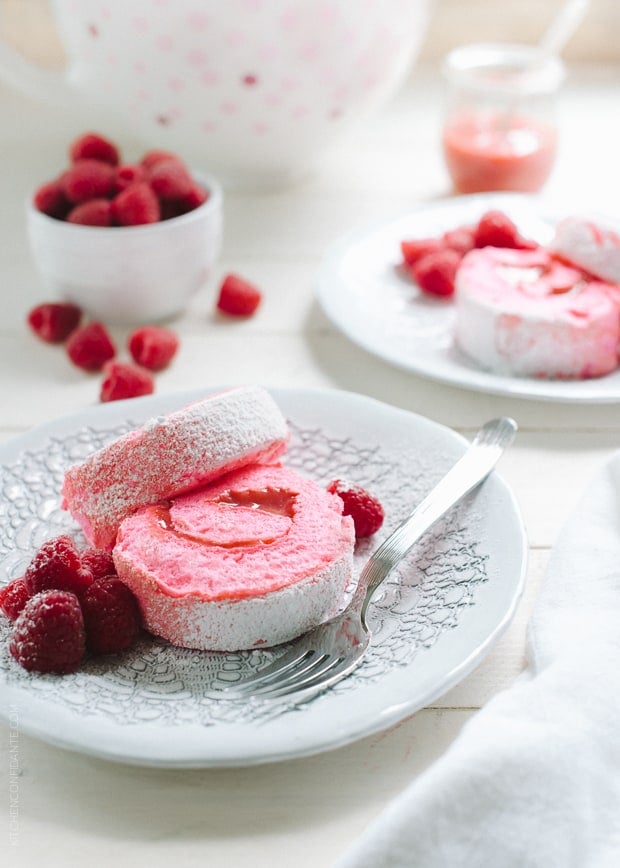 Light as air meringue and raspberry lemon curd roll together in a light dessert, perfect for celebrating. Make it for the special women in your life, remember them, and cherish them. Mom, this slice is for you.
For more information on KitchenAid's Cook for the Cure initiative for Breast Cancer Awareness, visit Cook for the Cure to learn how you can support their efforts. Find recipe inspiration on the Kitchenthusiast Blog and the Cook for the Cure Pinterest Board.
Disclosure: This post is part of a collaboration with KitchenAid and their Cook for the Cure initiative for Breast Cancer Awareness. While I was provided the KitchenAid Stand Mixer and Cook for the Cure Ceramic Bowl to create this recipe, I was not compensated to publish this post; I am always honored to participate in their #cookforthecure efforts. All opinions are, as always, my own.
Light as air meringue and a raspberry lemon curd roll together in a light dessert, perfect for celebrating. This recipe was inspired by Brazo de Mercedes, one of my mother's favorite Filipino desserts, usually filled with a creamy custard. I like the tart lemon curd and the balance it brings to this dessert.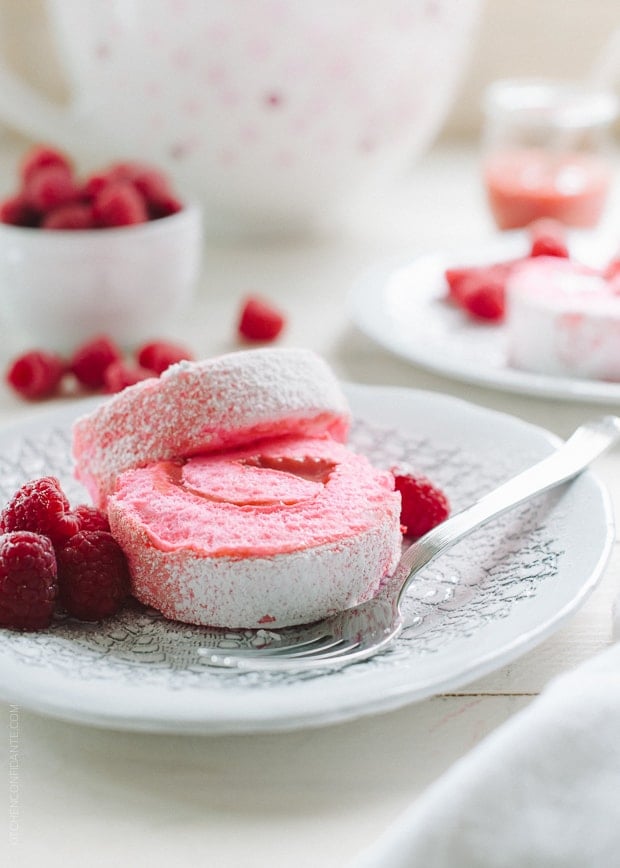 Print Recipe
Ingredients
For the Raspberry Lemon Curd
6 oz (about 1 1/2 cups) fresh raspberries, plus more for serving
1/2 cup fresh lemon juice
3 large egg yolks
1 large egg
3/4 cup sugar
4 tablespoons unsalted butter, cut into small cubes
For the Meringue
5 large egg whites
1/2 teaspoon cream of tartar
1/2 cup graulated sugar
pink gel food coloring (optional)
1/4 cup confectioner's sugar
Instructions
In a small saucepan, combine the raspberries and lemon juice, cover, and place over medium heat. Cook until the raspberries pop and the liquid bubbles, about 4 minutes. Pass the raspberries through a strainer, pressing well with a spoon. Be sure to scrape pink puree on the underside of the strainer into the bowl to use. Pour the raspberry puree back into the saucepan and set aside to cool.
Whisk together the egg yolks and egg until combined. While whisking, pour in sugar and whisk until a light yellow color. Add the egg mixture to the raspberry puree in the sauce pan, and continue whisking until creamy and well incorporated, about one minute. Place over medium heat, whisking constantly, until the custard thickens and can coat the back of a wooden spoon, about 8-10 minutes. Remove the pan from the heat, and stir in the butter, one cube at a time. Strain into a bowl or jar, cover surface with plastic wrap and chill in the refrigerator for at least one hour. This can be done a day or two in advance. If you are in a time pinch, chill in an ice bath in the refrigerator for quicker cooling.
Preheat the oven to 325 degrees F. Prepare a 9x13 jelly roll pan by lining with parchment paper that has been buttered on both sides. When you line the jelly roll pan, be sure to let the parchment line the sides of the pan; it helps to cut slits in the corners to that it fits into the pan nicely. Set aside.
In the bowl of an electric mixer with the whisk attachment, beat the egg whites on high speed. Gradually add the cream of tartar and the sugar, slowly adding the sugar in increments. Whip until the egg whites are soft and have increased in volume. If you wish, add a drop or two of pink gel food coloring and whip until combined. Spread the meringue into the parepared jelly roll pan, smoothing it with a large spatula. Place into the oven and bake for 20 minutes, or until the meringue has set. If it looks like it is getting too fluffy in places, do not worry, it will deflate when you take it out.
Cool the meringue in the pan for about 5-10 minutes. Butter another piece of parchement paper and place buttered side down over the top of the meringue. Invert onto a work surface and carefully peel off the top parchment that was in the jelly roll pan. Spread a thin layer of chilled raspberry lemon curd over top, leaving an 1 to 1 1/2 inch border on the meringue on all sides. Using the parchment paper, carefully roll the meringue. If needed, spread a little more curd into the ends, roll it in the buttered parchment and chill in the refrigerator for at least an hour.
When ready to serve, release from parchment and sprinkle generously with powdered sugar. Slice and serve with fresh raspberries.