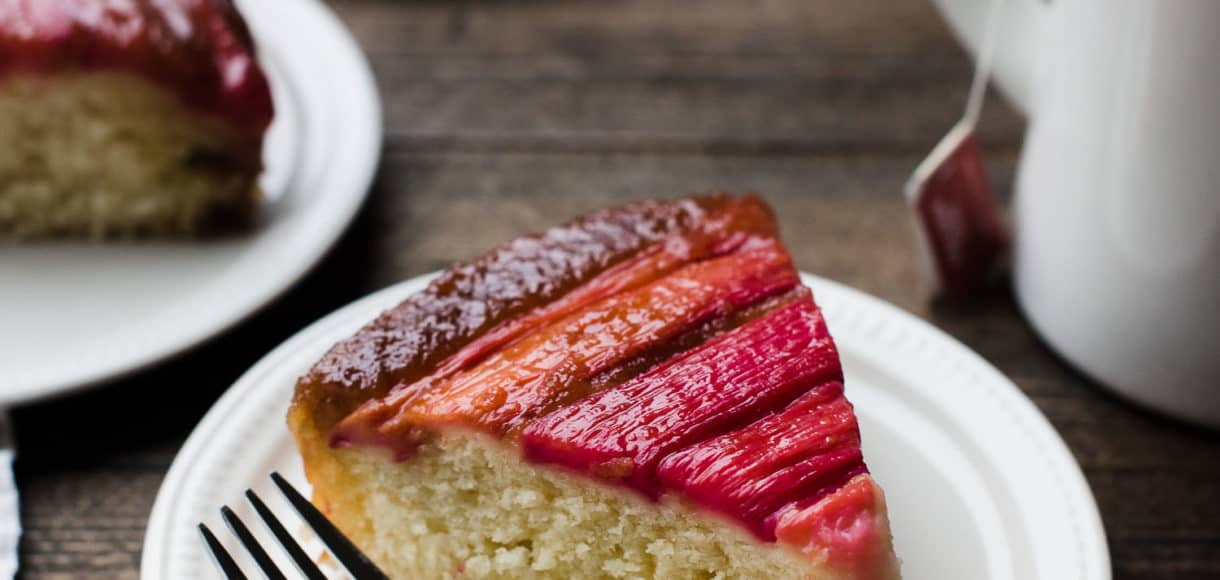 Rhubarb Upside-Down Cake
If you love pineapple upside-down cake, you will fall in love with its ruby cousin. Rhubarb Upside Down Cake is elegant but homey and so simple to make! Tangy rhubarb melts into a brown sugar topping on a homespun cake that is perfect for spring.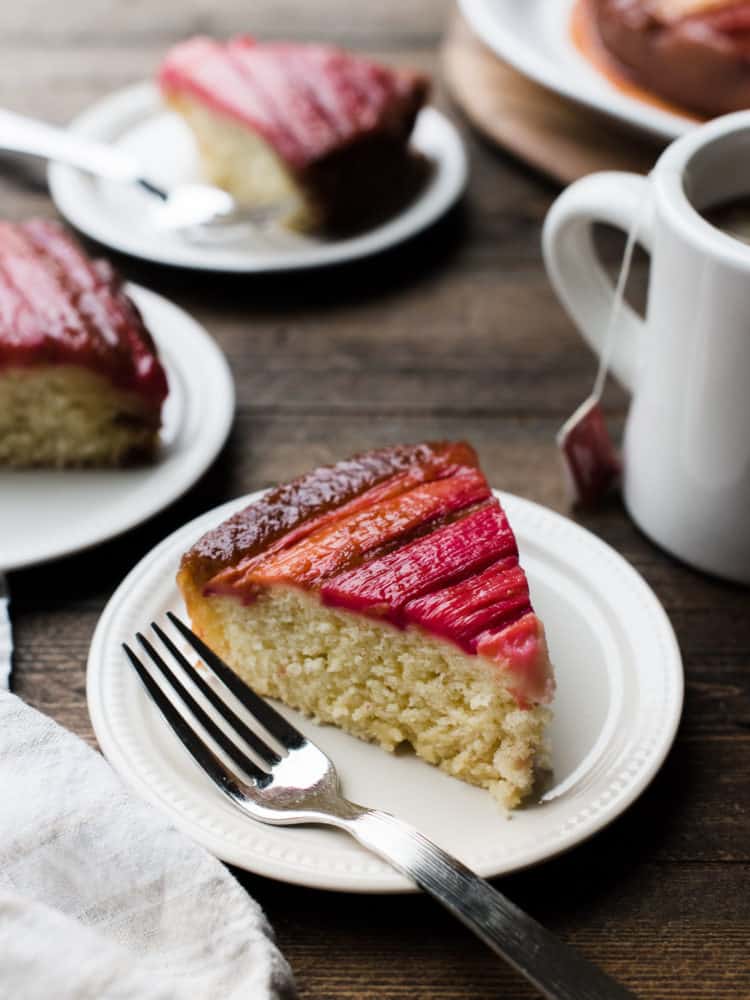 Rhubarb Upside-Down Cake
If you love pineapple upside-down cake, you will fall in love with its ruby cousin. Rhubarb Upside Down Cake is elegant but homey and so simple to make! Tangy rhubarb melts into a sugary topping crowning this cozy cake, perfect for when rhubarb is in season.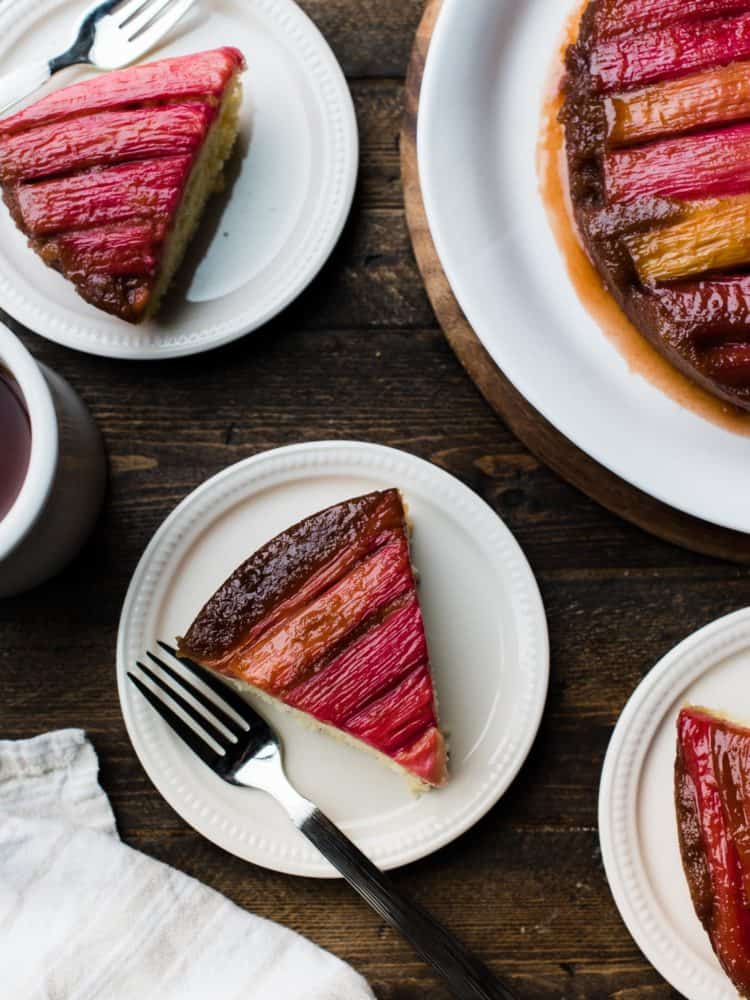 Facebook has gotten a lot of heat lately, with the chatter on data mining and misuse. But on a personal level, I have to acknowledge that when I first set up my account years ago, I fell in love with the ability to keep in touch with my brother and sister and cousins scattered across the country. I was able to see when my friends from college and grad school had babies and chuckled when even my dad joined the fun.
Somewhere along the way, it evolved, and as a small business, facebook was another extension of my space here, and I've been able to share what inspired me in the kitchen, no different than all the big brands out there that equally charm and annoy me every time I log on to my personal facebook. I get to chat with you there, share more recipes, and see what you have been cooking in your own kitchens!
Despite the press, there is one thing that Facebook understands, and that is nostalgia.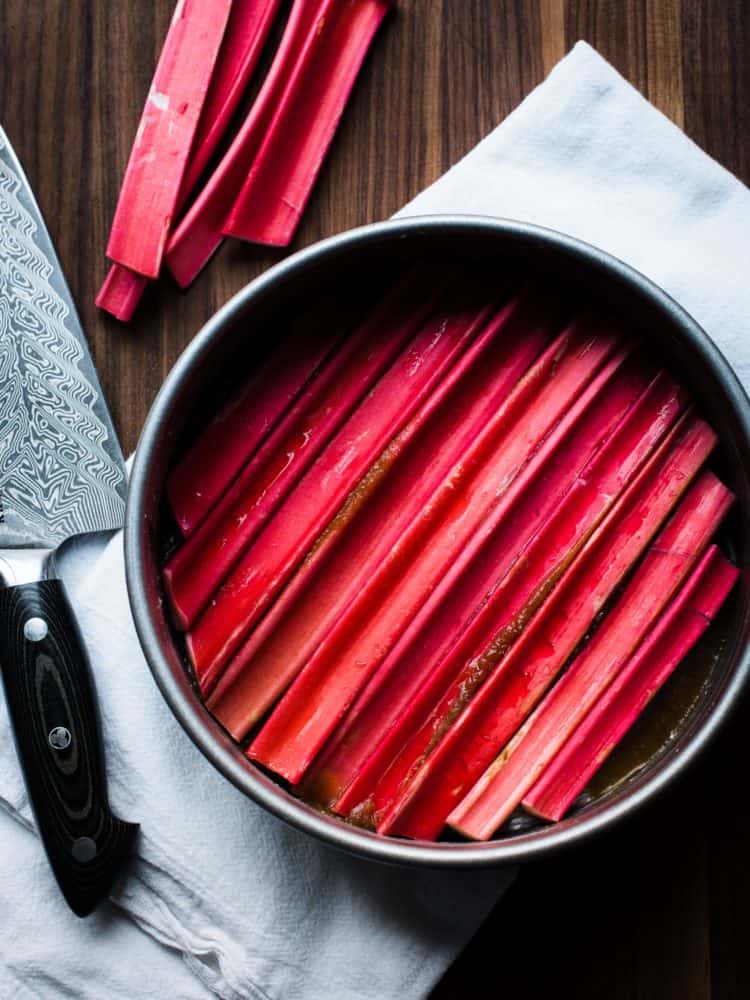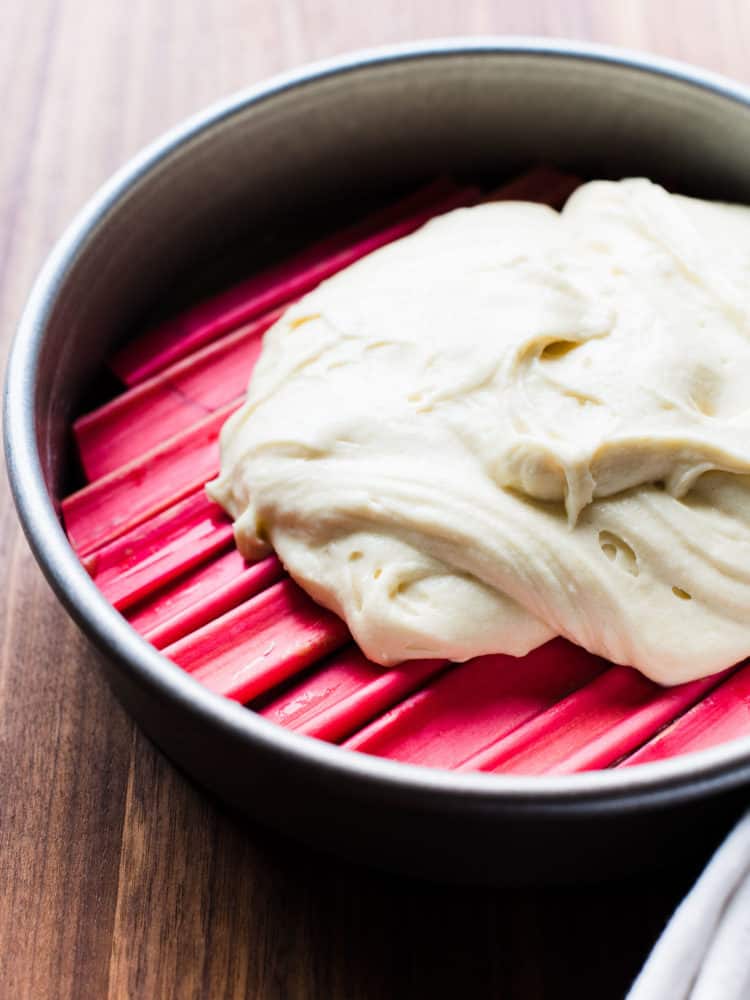 You know by now how I'm a sucker for nostalgia — and those daily memories that pop up in my feed (5 years ago today! 8 years ago!) bring smiles to my face. Look how tiny the kids were! Sigh, I remember that dinner in Hawaii. Oh, there's the rhubarb empanadas I love!
Ah, rhubarb, there's something about you that makes me so nostalgic. I'll never forget that summer Chicago night when my friend Liz made her grandmother's rhubarb cake that has become such a favorite of my family — did you know that my daughter has already decided she wants rhubarb cake for her wedding? Let's not get too far ahead of ourselves, but you guys, that makes my heart all kinds of happy. I have fallen in love with rhubarb, and I'm always torn between making something familiar and cozy or something new.
I thought back to those homespun desserts my mom would make, and the various newspaper clippings in my folder for pineapple upside-down cake. I started to crave that buttery brown sugar that melted into the fluffy cake, and I'm sure that if she were still with us, she would have happily welcomed a new upside-down cake to love.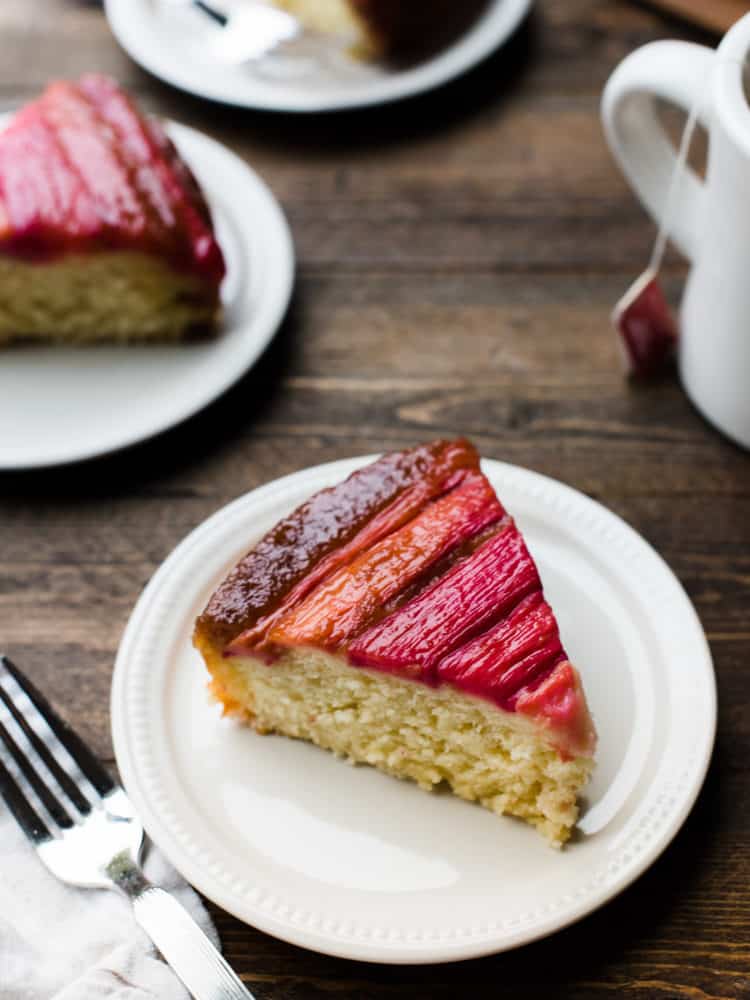 As I flipped the cake onto the plate and lifted the pan to reveal the gorgeous stripes of rhubarb that baked beautifully over the cake, I couldn't help but do a little happy dance. Perhaps the hardest part about this cake is waiting for just the right moment to slice into it! Too soon and it will fall apart under your knife, too long and the sweet and tangy topping will be too cold. For me, it has to be just right, warm, cozy, and melt in your mouth delicious.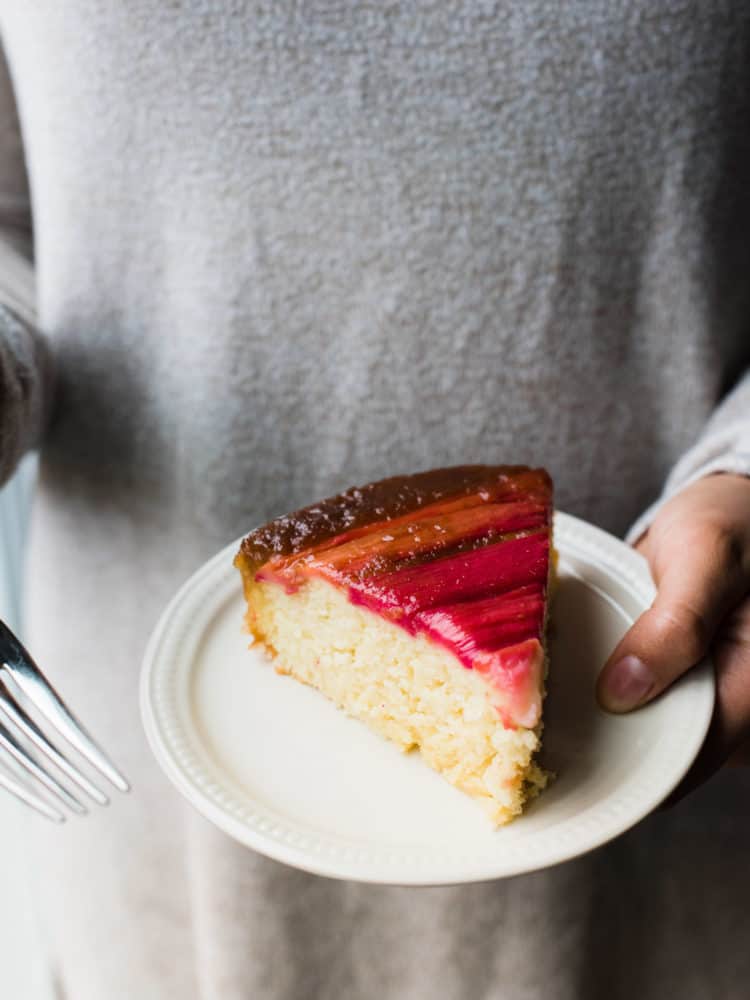 Rhubarb Upside Down Cake
Upside-down cakes may be old-fashioned, but in my world, they never go out of style. The leggy stalks of rhubarb make it extra elegant, and quite a showstopper, but no one needs to know how easy this cake is to make!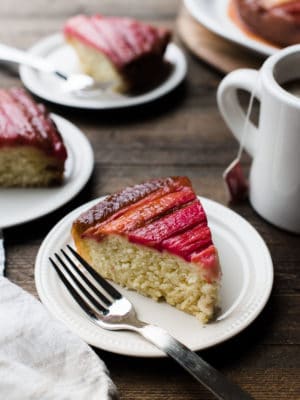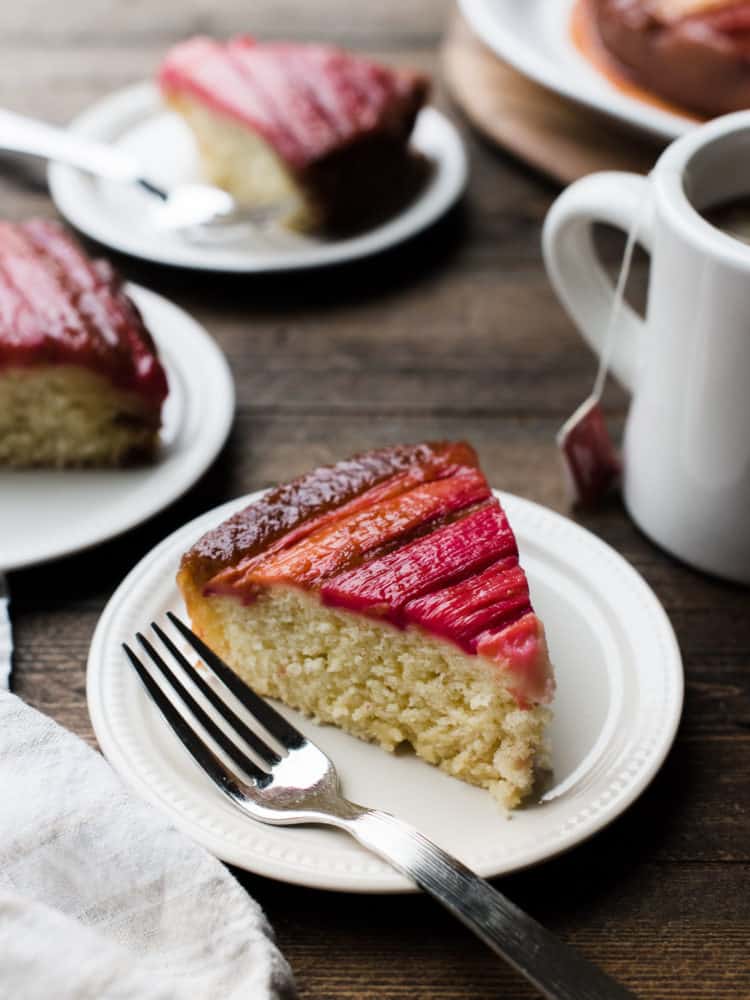 Ingredients
For the Topping
6

stalks rhubarb

1/3

cup

unsalted butter

1/2

cup

light brown sugar

packed

1/4

teaspoon

cinnamon

1/4

teaspoon

ginger
For the Cake
2

tablespoons

butter

room temperature

3/4

cup

granulated sugar

1

large egg

1/2

teaspoon

kosher salt

1 3/4

teaspoons

baking powder

1

teaspoon

vanilla extract

1 1/3

cups

all purpose flour

1/2

cup

buttermilk

Any remaining rhubarb

diced, up to 1 cup (optional)
Instructions
Make the Topping
Preheat the oven to 375°F with a rack placed in the center of the oven.

Following the shape of your 8- or 9-inch cake pan, cut the rhubarb to fit. I like to line up the rhubarb in a row, place the pan on top and trim. Fine tune the cuts so that they snugly fit in the pan. Set the rhubarb aside.

Lightly butter or grease the cake pan.

Melt the butter, then mix with the brown sugar, cinnamon and ginger in a bowl. Pour the sugar mixture into the prepared cake pan, then line up the rhubarb.
Make the Cake
Using an stand mixer or hand mixer, beat the butter until soft. Add the sugar and egg and beat until fluffy.

Add the egg, salt, baking powder and vanilla extract and beat until smooth, scraping down the sides of the bowl.

Working in batches, add the flour and the buttermilk, and mix, alternating and ending with the flour. Do not over mix.

If you have any remaining rhubarb and wish to use it in the cake batter, gently fold it into the batter.

Spread the batter over the rhubarb topping, and bake in the oven for about 30-35 minutes, or until the cake is firm to the touch and an inserted toothpick comes out clean.

Let the cake rest for 3 minutes.

Place a plate on top of the cake pan and invert. Wait about 30 seconds, then lift the pan to release the cake.

Serve the cake warm or at room temperature.
Recipe Notes
Upside-down cake is most delicious when served warm. If you're making the cake in advance, let the cake cool completely and store, covered, in the refrigerator. Reheat before serving.
If you have any remaining rhubarb and wish to use it in the cake batter, it adds another layer of rhubarb flavor, similar to my favorite rhubarb cake.
Adapted from my mom's Pineapple Upside Down Cake and King Arthur Flour's Pineapple Upside Down Cake.
Nutrition Facts
Rhubarb Upside Down Cake
Amount Per Serving (1 slice)
Calories 313
Calories from Fat 99
% Daily Value*
Total Fat 11g 17%
Cholesterol 49mg 16%
Sodium 200mg 8%
Potassium 156mg 4%
Total Carbohydrates 49g 16%
Protein 3g 6%
* Percent Daily Values are based on a 2000 calorie diet.