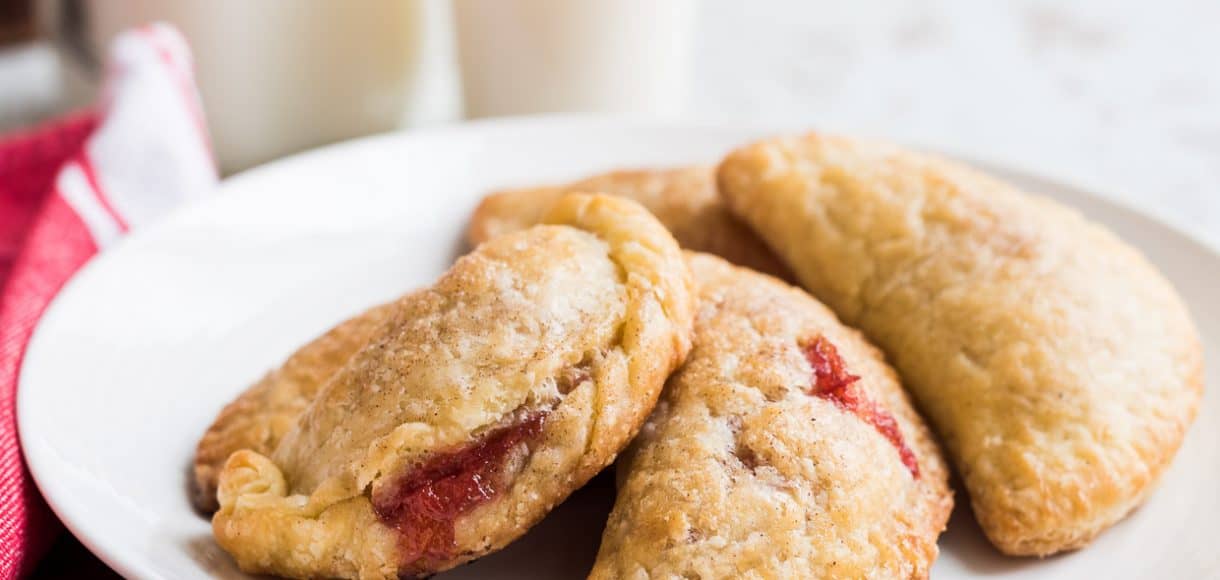 Rhubarb Empanadas
Rhubarb Empanadas are little pockets of spring! These sweet dessert hand pies are filled with rhubarb and are perfectly portable.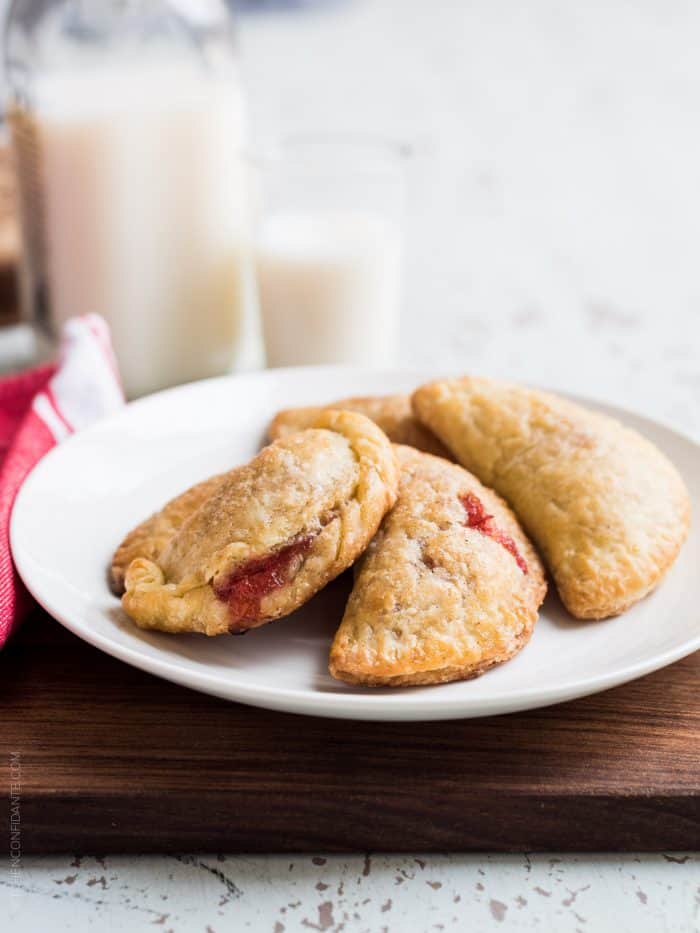 Rhubarb Empanadas
Rhubarb Empanadas are little pockets of spring! These sweet dessert hand pies are filled with rhubarb and are perfectly portable.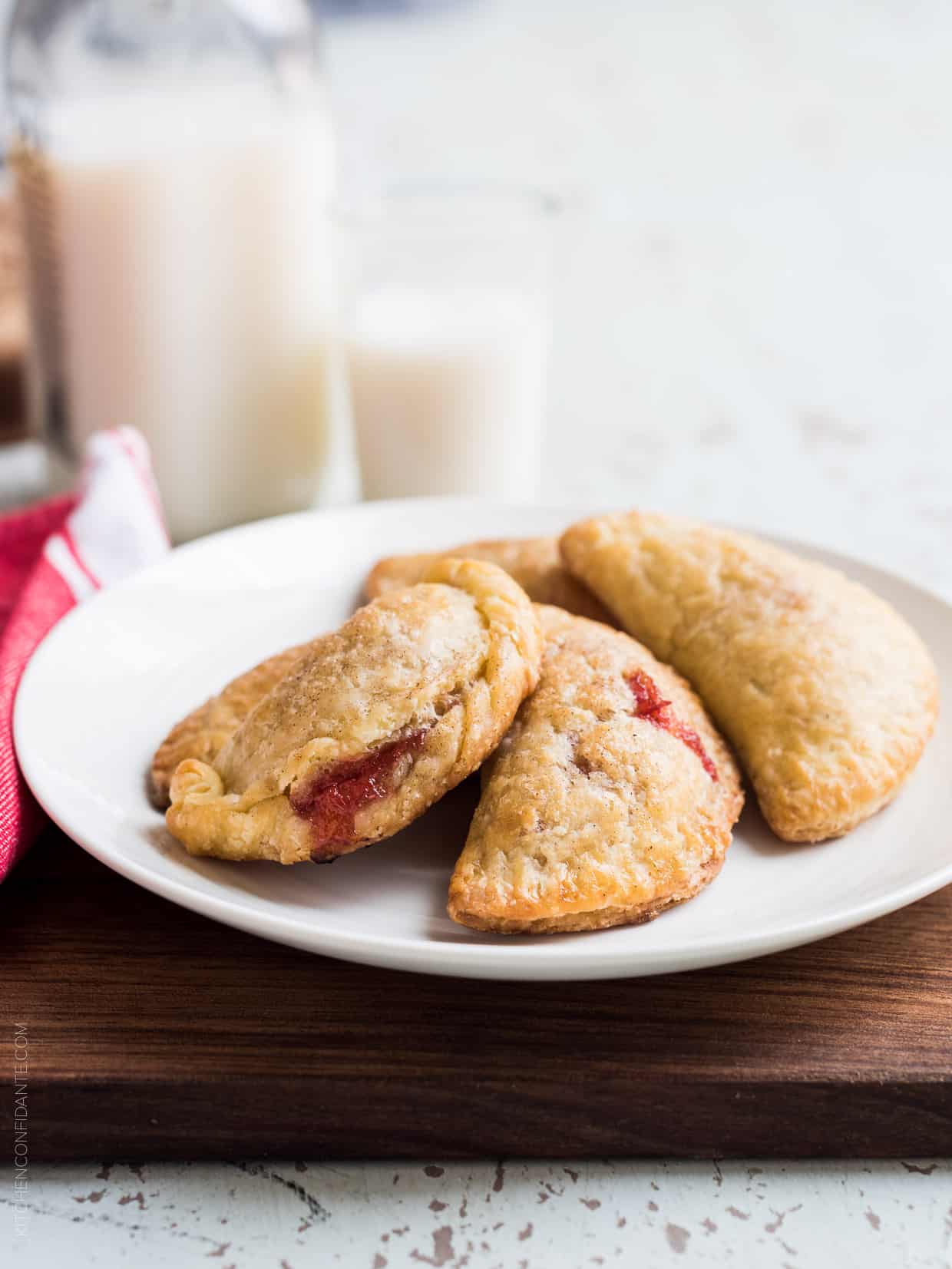 I walked by the nest, glancing in out of habit, checking in to see if the baby birds were still all there, counting their heads each time. They had grown so big and raised a ruckus at feeding time, the cacophony always drawing me closer with a smile. But before I had a chance to peek in the nest, I noticed that all was silent in their little corner of the garden, and as I approached, I understood why.
They were gone.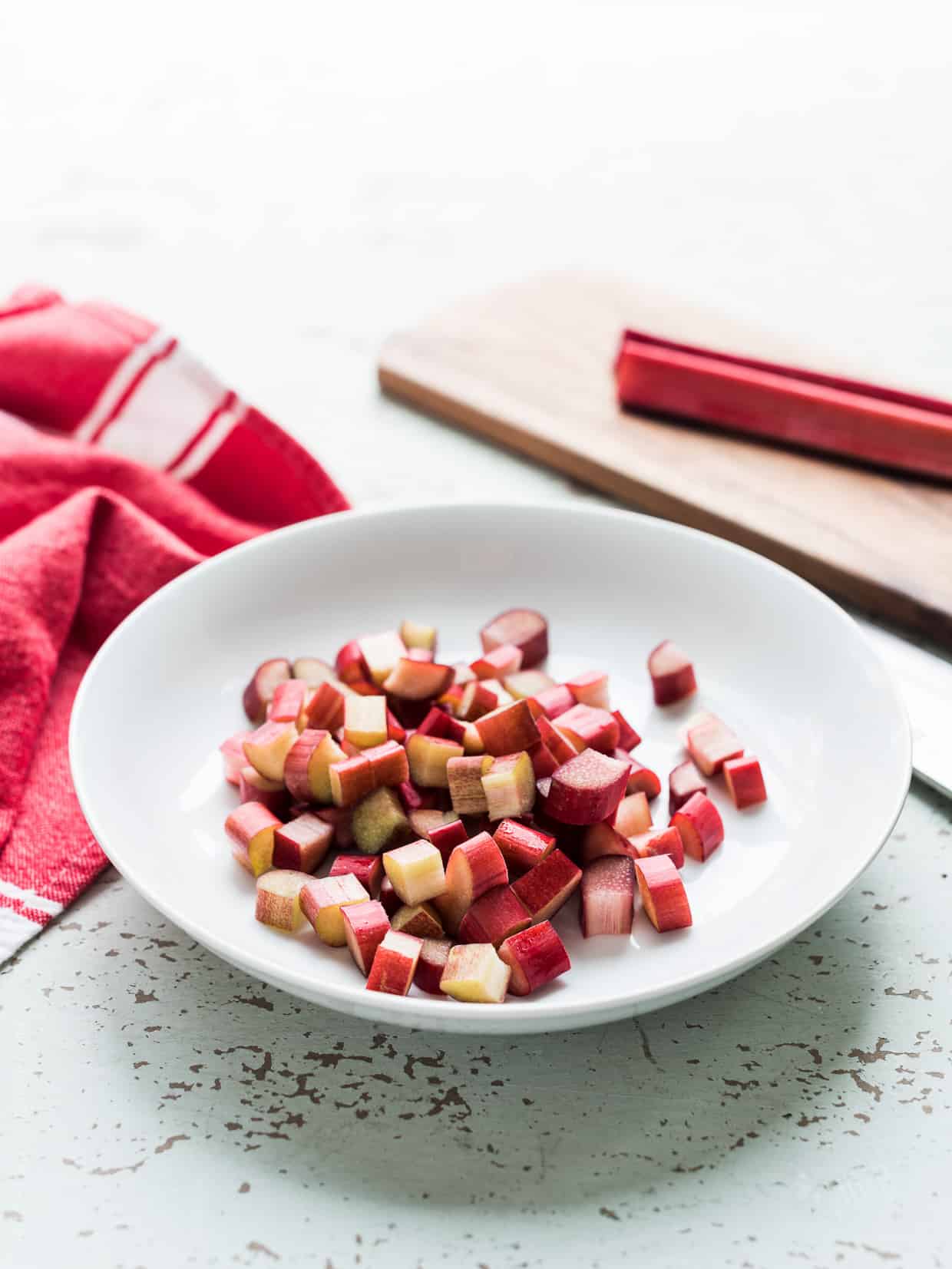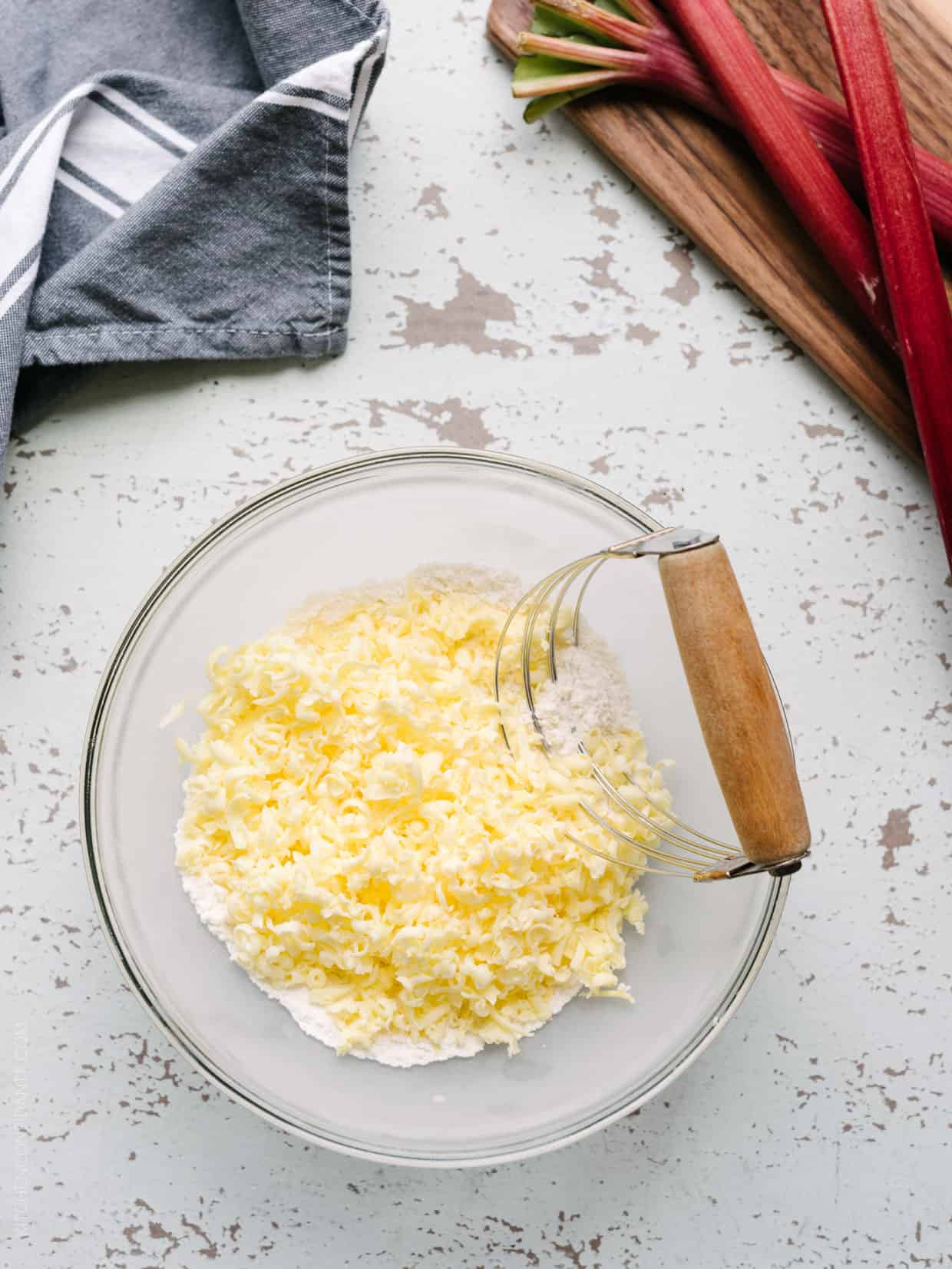 The baby birds have left the nest, and I felt like an empty nester. It was all too soon, they grew up way too fast! And so I called my husband to let him know, and to remind him that perhaps it was time to remove the nest when he gets a chance, kind of like how we tease our kids that we will renovate their bedrooms when they leave for college.
(Oh boy, don't get me started on that. We're years away yet, so let's just brush that aside for the moment, shall we?)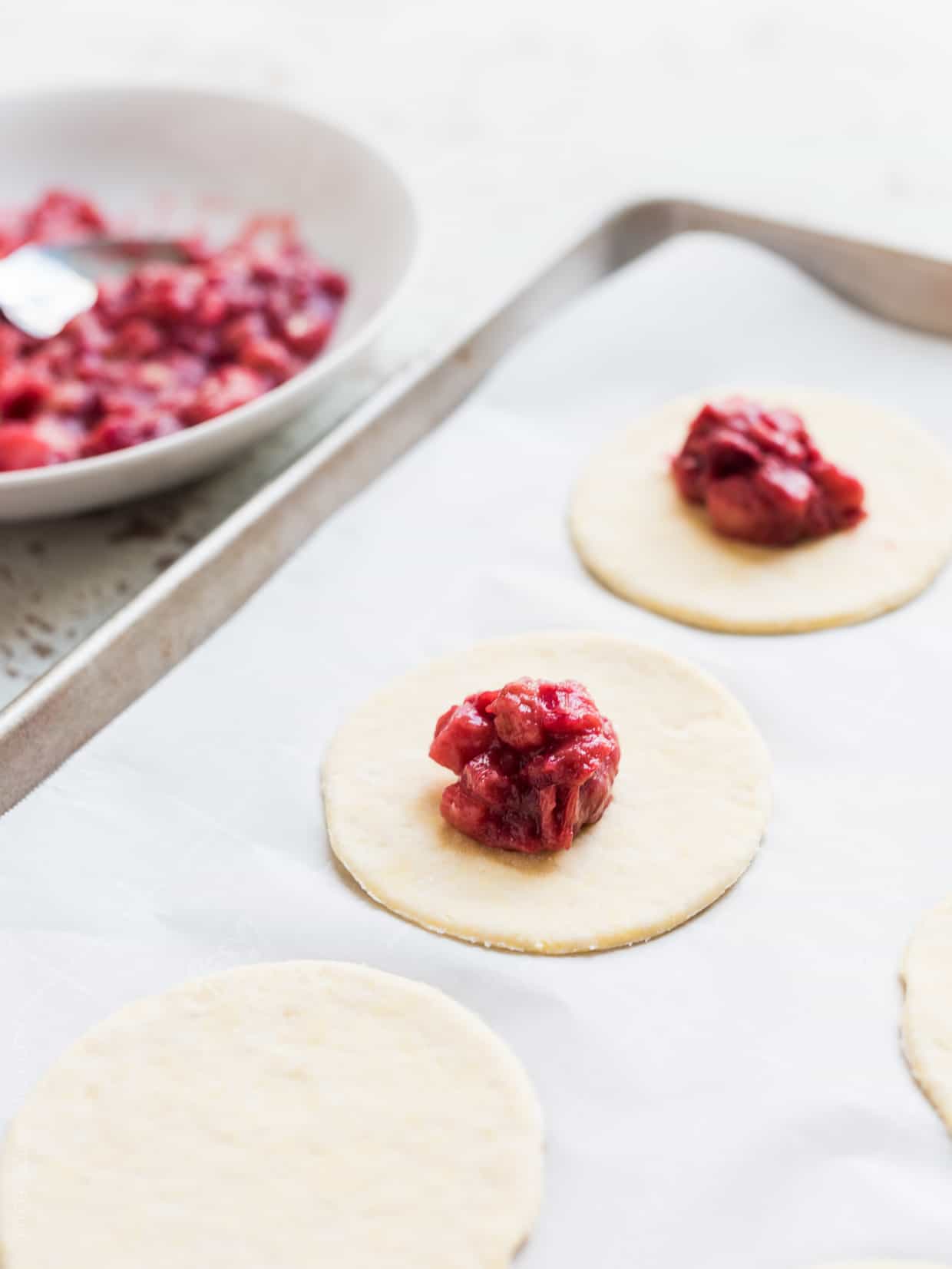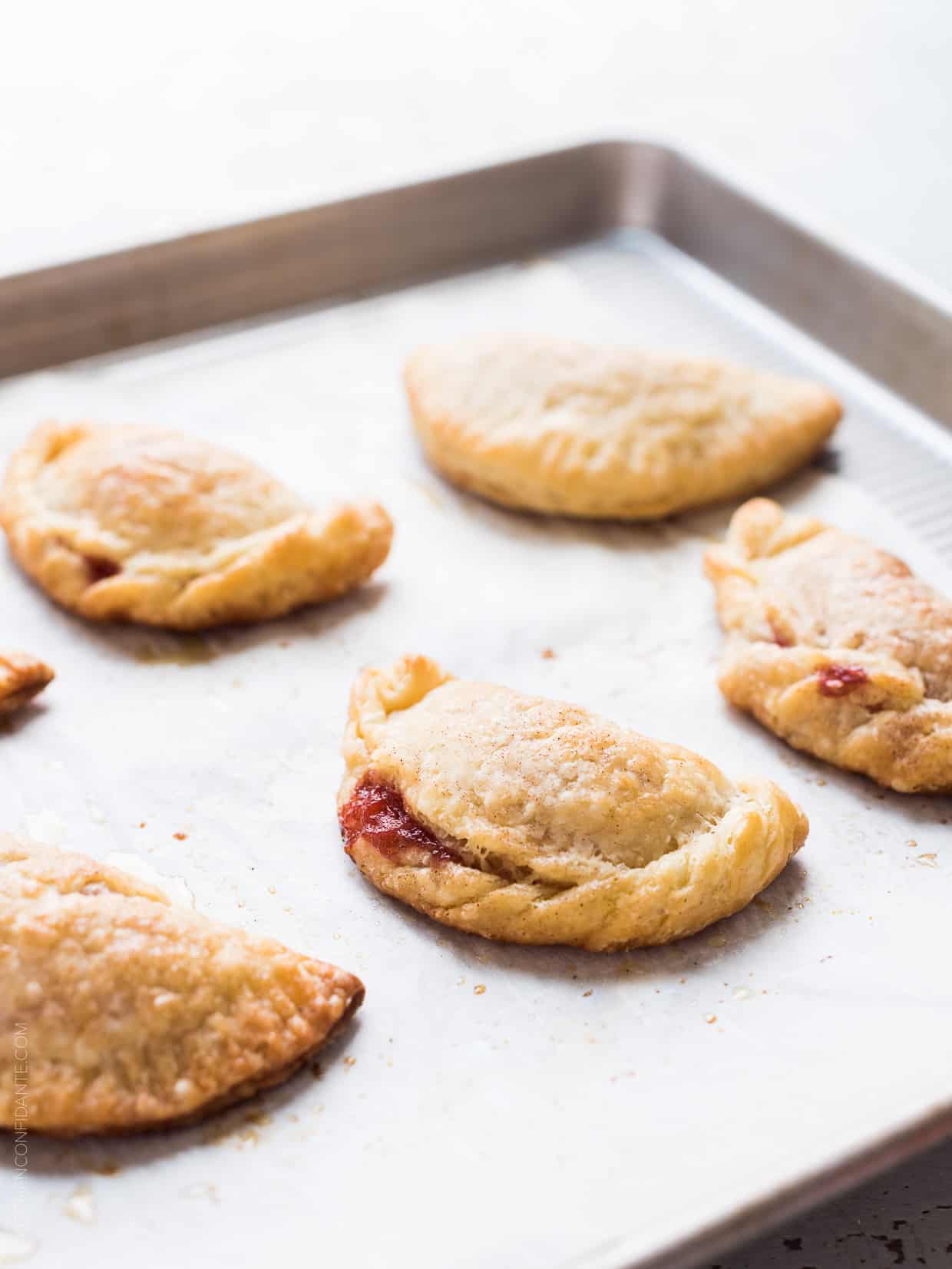 Aside from the reminder that life moves too swiftly, it reminded me that spring is flying by. And while the markets are really starting to come to life and all the fruit is starting to sweeten, I am not yet willing to let go of my beloved rhubarb.
My husband came home from a quick business trip gushing about the dessert empanadas he had in LA. They were filled with apples, but that didn't quite seem right to me, despite how delicious he said they were. I knew in an instant what to do with the stalks of rhubarb I had waiting in the fridge.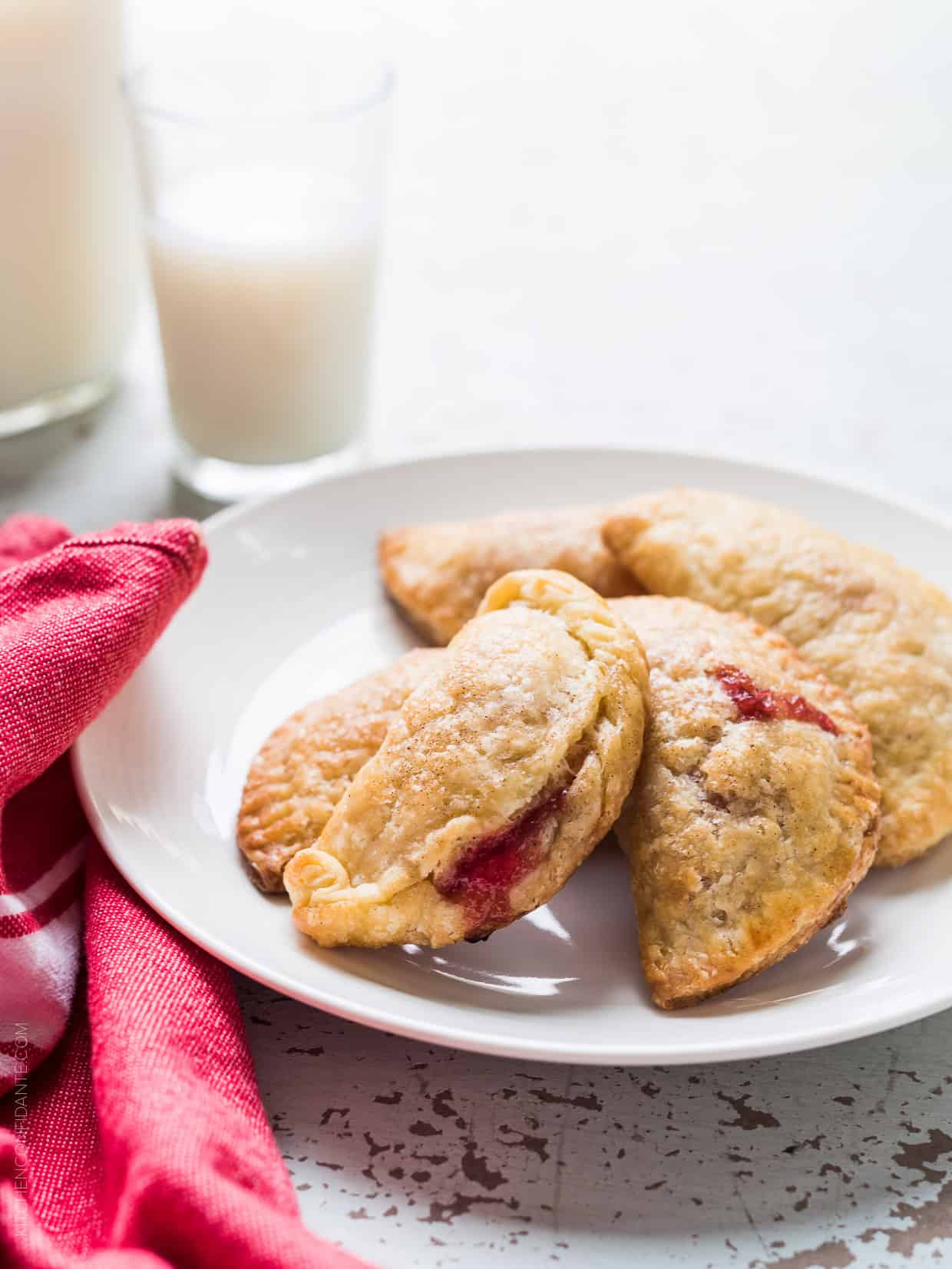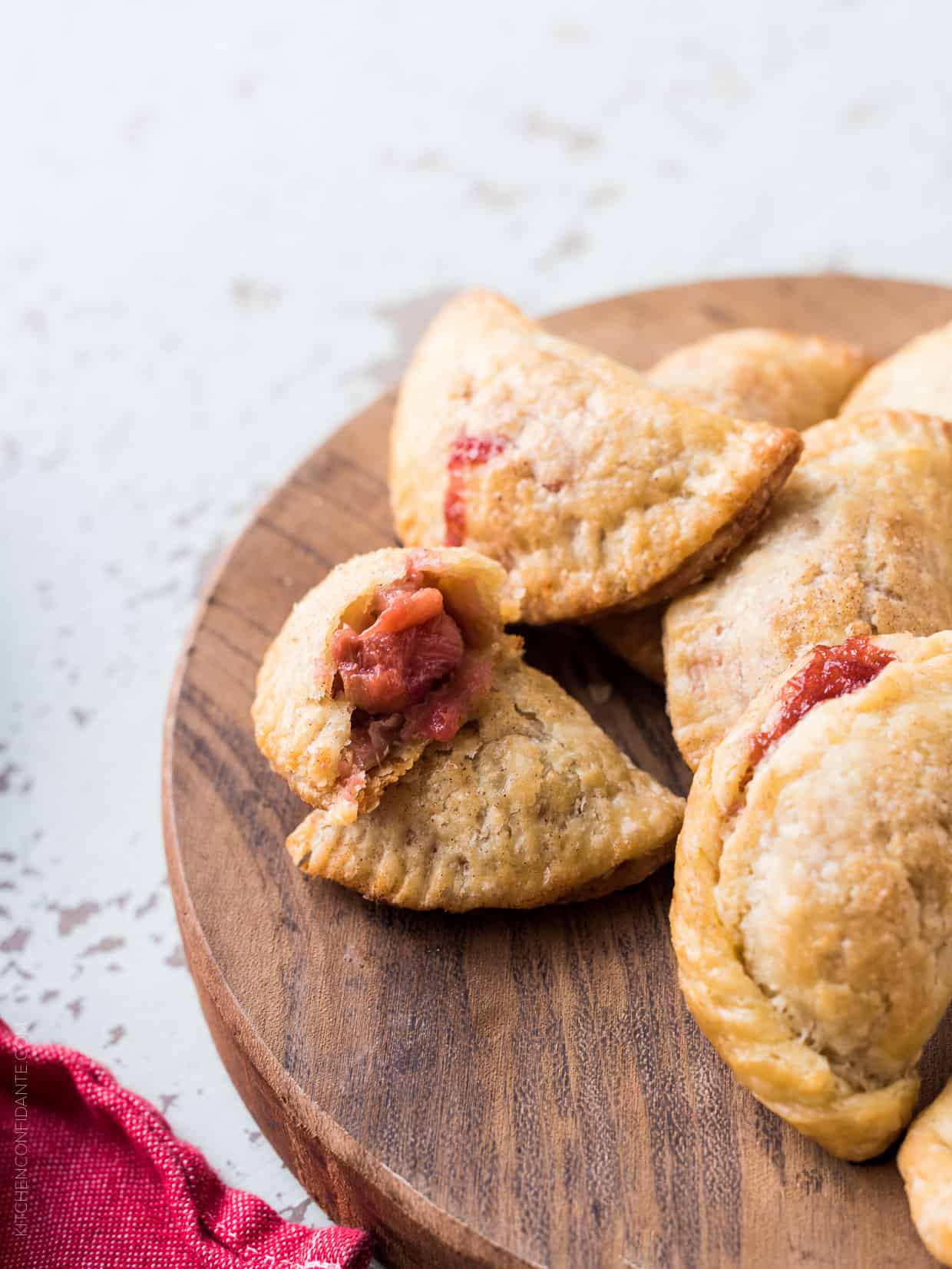 Dessert empanadas are simply sweet versions of the savory classic – little hand pies of portable sweetness. A lifetime ago, I made banana empanadas, but this time, I tried a new dough – an eggless one – and love how it works beautifully to encase the rhubarb filling with absolutely flaky, light butteriness. The rhubarb empanadas disappeared a little too quickly, just like our little birds, but while our little winged friends may never return, I know for certain that this recipe will be coming back to my kitchen, again and again.
MORE RHUBARB RECIPES
Rhubarb Mint Margarita
Rhubarb Frangipane Cake
Rhubarb Upside-Down Cake
Blueberry Rhubarb Cobbler
Rhubarb-Wine BBQ Sauce
Rhubarb Scones
Rhubarb Empanadas
Rhubarb Empanadas are little pockets of spring! These sweet dessert hand pies are filled with rhubarb and are perfectly portable.
Ingredients
Dough
1

cup

flour

1

tablespoons

sugar

1/2

teaspoon

salt

1/2

cup

1 stick unsalted butter, frozen

1/4

cup

ice water
Filling
1

tablespoon

unsalted butter

6

oz

rhubarb

chopped

3

tablespoons

granulated sugar

1

teaspoon

balsamic vinegar

1/2

teaspoon

lemon juice

pinch

kosher salt
Assembly
1

large egg

beaten

1

teaspoon

water

1

tablespoon

sugar

1/2

teaspoon

cinnamon
Instructions
In a medium bowl, stir the flour, salt and sugar together with a fork or a whisk. Grate the butter with a box grater and add to the flour. Using your fingers, begin to work the butter into the dough until you have coarse crumbs. Stir in the water a tablespoon at a time, using a fork to incorporate it into the dough, checking it with your fingers by pinching the dough together. You can also do this with a food processor, if you wish. Do not over work the dough – you want to be able to see bits of butter within the dough, and it will still be rather shaggy and loose. Turn the dough out onto a lightly floured surface and use your hands to bring it together into a ball, but be careful not to overwork the dough. When the mixture pulls together into a ball, wrap the dough in a piece of plastic wrap, form it into a disk, and refrigerate for at least an hour or overnight.

In a small sauce pan, melt the butter over medium heat. Add the rhubarb and cook for about 3-5 minutes, or until the rhubarb is soft. Stir in the sugar, vinegar, lemon juice and salt and cook for another 3 minutes, or until it is thick and jam like. Remove from the heat, transfer to a bowl and refrigerate for at least 30 minutes to cool completely.

On a lightly floured surface, prepare to roll out the dough. Lightly sprinkle the dough with flour, and use a rolling pin to roll the dough into a large disk about 1/4-inch thick. Use a 4-inch cutter (or bowl, or empty can, etc.) to cut the dough into rounds. Gather the scraps of dough and re-roll to cut at least one more round. You should have about 8 rounds.

Place 2 tablespoons of rhubarb filling in the center of each round of dough. Whisk the egg and water together, then lightly brush the edges of the dough. Fold one side of dough over the other and crimp with your fingers or simply press together with a fork. Place the empanadas onto a parchment lined baking sheet and refrigerate for 20 minutes, along with the egg wash.

While the empanadas chill, preheat the oven to 400°F with a rack placed in the center of the oven.

When the empanadas are ready to bake, lightly brush the tops with the egg wash. Stir together the sugar and cinnamon and sprinkle on top. Use the tip of a sharp knife to make a small hole on the top of the dough to allow steam to escape. Bake for 20 minutes or until golden brown. Remove from the oven and let it cool a little before serving.
Notes
Many aspects of this recipe can be prepared in advance, which can come in handy if you are making this for entertaining. Make the dough up to three days in advance (or longer, by storing tightly sealed in the freezer). The filling can also be prepared a day or two in advance.
The empanadas themselves can be assembled in advance (without the egg wash), placed on a parchment lined tray, and transferred to a resealable freezer bag for longer term storage. Bake frozen empanadas directly from frozen, adding a few minutes to the baking time.
Dough based on Mini Egg Pies, Kawaling Pinoy
Filling adapted from Strawberry Rhubarb Hand Pies, Hugh Acheson via Saveur.
Nutrition
Calories:
213
kcal
|
Carbohydrates:
21
g
|
Protein:
3
g
|
Fat:
14
g
|
Saturated Fat:
8
g
|
Cholesterol:
55
mg
|
Sodium:
157
mg
|
Potassium:
86
mg
|
Fiber:
1
g
|
Sugar:
8
g
|
Vitamin A:
450
IU
|
Vitamin C:
1.8
mg
|
Calcium:
27
mg
|
Iron:
0.9
mg