Captured
Ever go to a restaurant or an event and encounter a dish that you immediately want to recreate in your own kitchen? Where you immediately think, How can I get my hands on the recipe? Indeed, the jackpot in this situation is the one where you…
Captured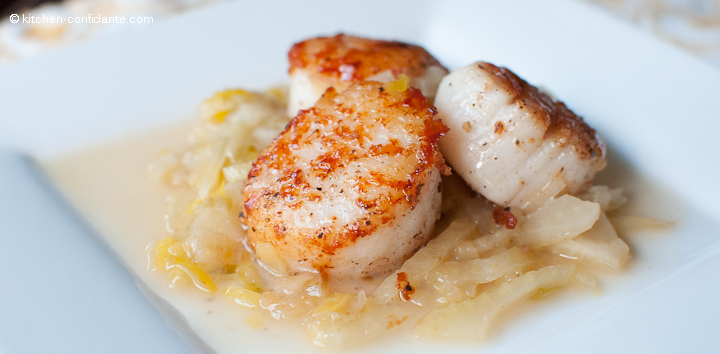 Ever go to a restaurant or an event and encounter a dish that you immediately want to recreate in your own kitchen? Where you immediately think, How can I get my hands on the recipe? Indeed, the jackpot in this situation is the one where you can meet the chef and they generously give you the recipe. (If this has ever happened to you, I would love to know!)
In most cases, however, we are faced with our senses conducting culinary detective-work. Your tastebuds go on overdrive, trying to parcel out ingredients and seasonings. Sometimes the menu description helps. And when you return to your kitchen and set upon recreating the dish, if you happen to capture the essence of the dish, it is bliss!
When I attended the Foodbuzz Blogger Festival last November, one of the most memorable dishes from the Grand Dinner was the Seared Scallops with Bonny Doon Vineyard Verjus Beurre Blanc. What impressed me most was the perfect preparation – scallops can be challenging to execute as it is – preparing it perfectly for over 300 guests was absolutely commendable. The sauce was silky and refined, setting off the impeccable sear.
Inspired by this dish, back in my own kitchen, I made Seared Scallops with Sake Braised Fennel & Leeks. The surprise for me was how simple it was to capture the flavors! The sauce can easily be made ahead of time, and with scallops taking little time to sear, it makes for a lovely dish to prepare when entertaining, perfect as an appetizer. Or make a larger serving, grab some crusty bread, and make a meal out of it!
Seared Scallops with Sake Braised Fennel & Leeks
Serves 4.
2 tablespoons extra virgin olive oil
1 fennel bulb, cut in half, then sliced very thinly crosswise
1 leek, quartered and sliced, white part only
1/8 cup sake* (optional)
1/4 cup chicken broth
2-3 tablespoons unsalted butter
8 scallops
kosher salt
freshly ground black pepper
In a heavy skillet, heat olive oil over medium-low heat. Sauté fennel and leeks, seasoning with a pinch of salt and pepper. Stir frequently until fennel is transparent. Add sake to the pan, allow alcohol to cook off for about a minute. Add chicken broth and bring sauce to a simmer. Stir in butter, adjust seasonings with salt and pepper.
Season scallops lightly with salt and ground pepper. Heat a skillet over medium-high heat. Add olive oil. Sear scallops 2-3 minutes per side, about 5 minutes total. Serve over bed of fennel and leeks and drizzle with the sauce.
* Feel free to substitute the sake with your favorite white wine or to omit altogether if that is your preference.