Porchetta + Scenes from An Advanced Butchery Class at Avedano's
Homemade porchetta may be impressive, but it is rustic and simple at its heart. If you can roast a chicken, you can make this porchetta recipe.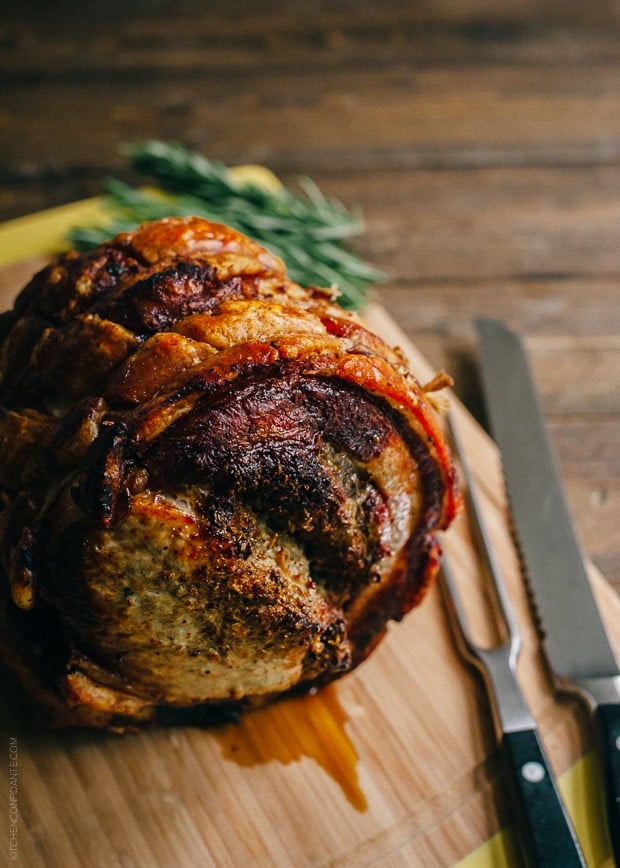 Porchetta + Scenes from An Advanced Butchery Class at Avedano's
Homemade porchetta may be impressive, but it is rustic and simple at its heart. If you can roast a chicken, you can make this porchetta recipe.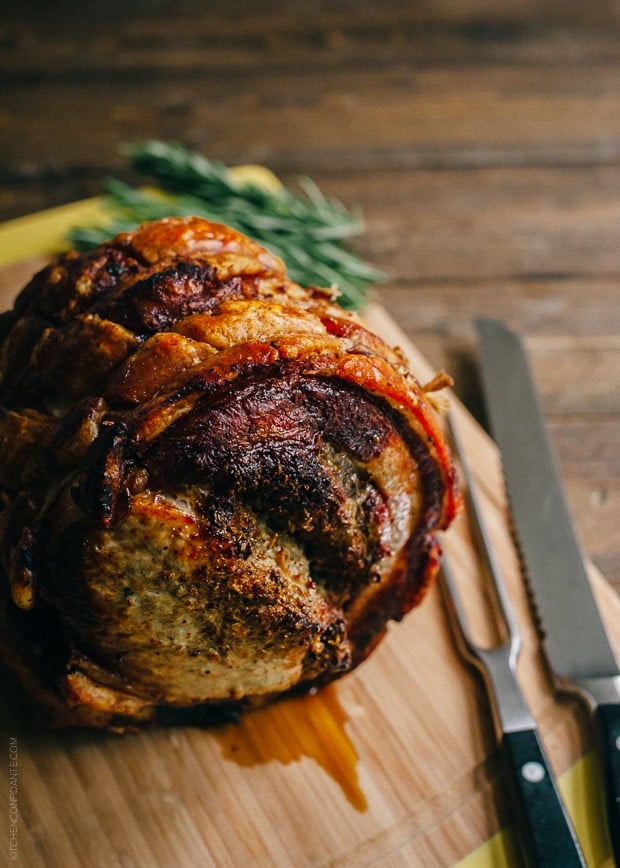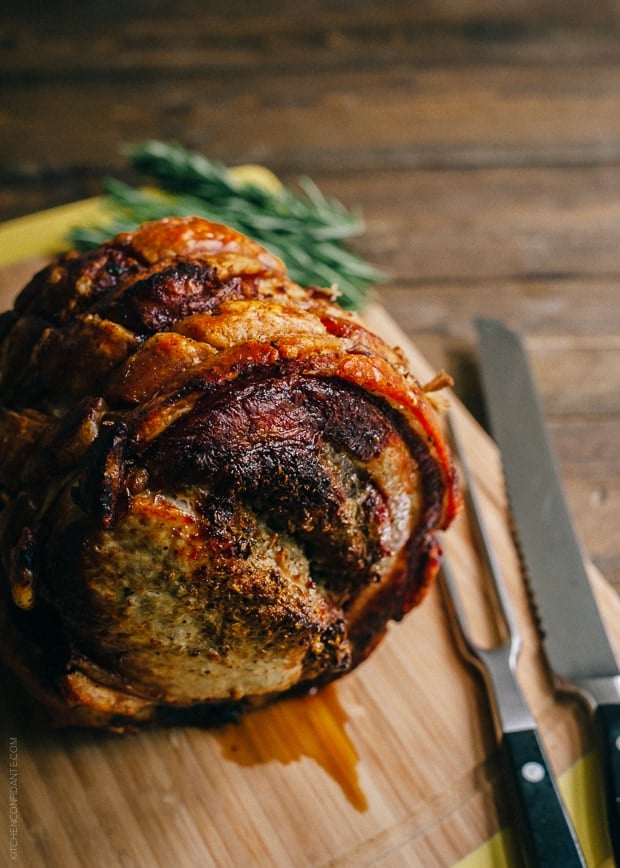 Disclosure: This post was made possible by the National Pork Board.
At the top of a hill in Bernal Heights, in an unassuming neighborhood of San Francisco, where tourists don't seem to venture, there is, along with a view of the city, a small shop, with a modest neon sign. Avedano's looks like it has been there for decades, and it is true that the building, built in 1901, has stood strong for over a century. Avedano's as we know it opened in 2006, the brainchild of three women with a simple idea and a passion for delicious meat.
[Jump to the recipe if you prefer to skip scenes from the butchery.]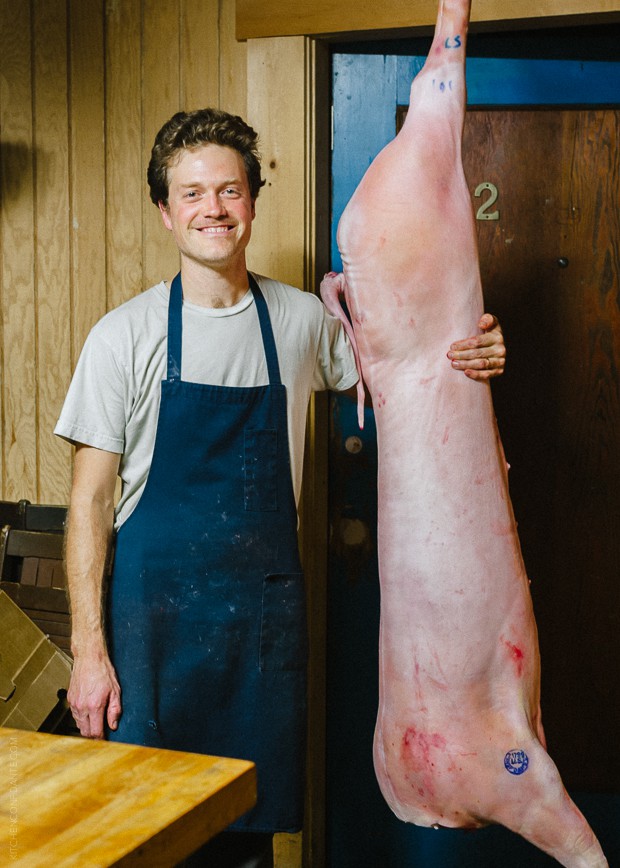 This small butcher and meat shop embraces its history with all the vintage touches of the butcher shop that came before it – and even more fascinating, it embraces the kind of butchering that has recently seen a revival. Luckily for the residents of Bernal Heights, they have access to excellent meats and curated gourmet food products, not to mention some tasty sandwiches all made in-house.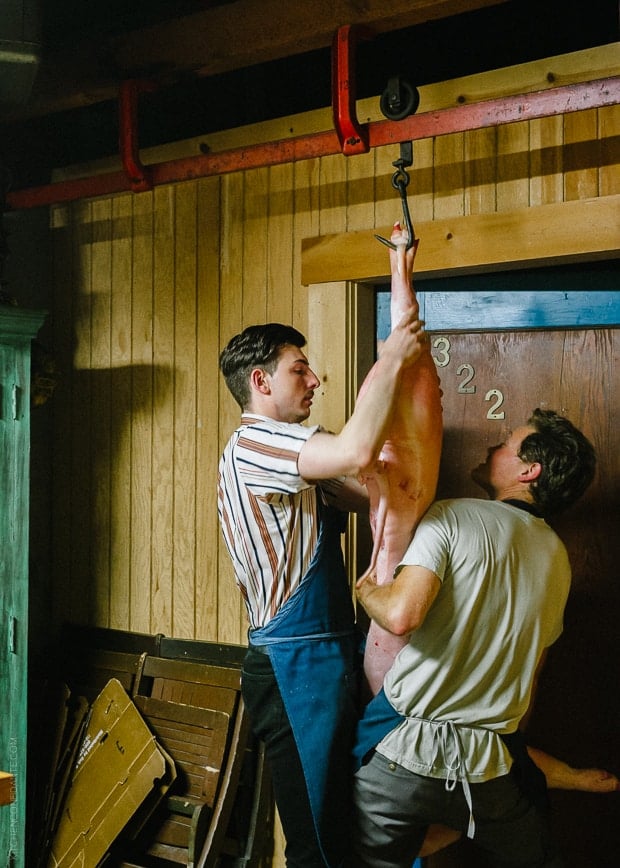 When you and I go to the average supermarket and see the cuts of meat all portioned and sometimes packaged neatly, you become accustomed to an almost sterilized view of what you are truly eating. To understand the qualities of a particular cut of meat, we often forget that an understanding of an animal's anatomy is just as important as knowing where it was born and raised, and what it ate, and how it was slaughtered.
When you can understand the muscle structure of a pig, you will understand why certain parts are better for slow, luxurious braises, versus a lighter hand in cooking. This is an unfortunate part of urbanization – we are so far removed from our food, we lack that almost second nature quality to cooking that our grandparents possessed.
I was fortunate to walk behind the meat counter at Avedano's and into the back of the shop, where the magic happens. If you recall, I have been lucky to explore some of the items on my Pork Bucket List, thanks to the National Pork Board (remember how I last tackled Pork Belly Buns?). My partnership with them allowed me to cross two more things off my list, the first of which is: take a hands-on butchering class.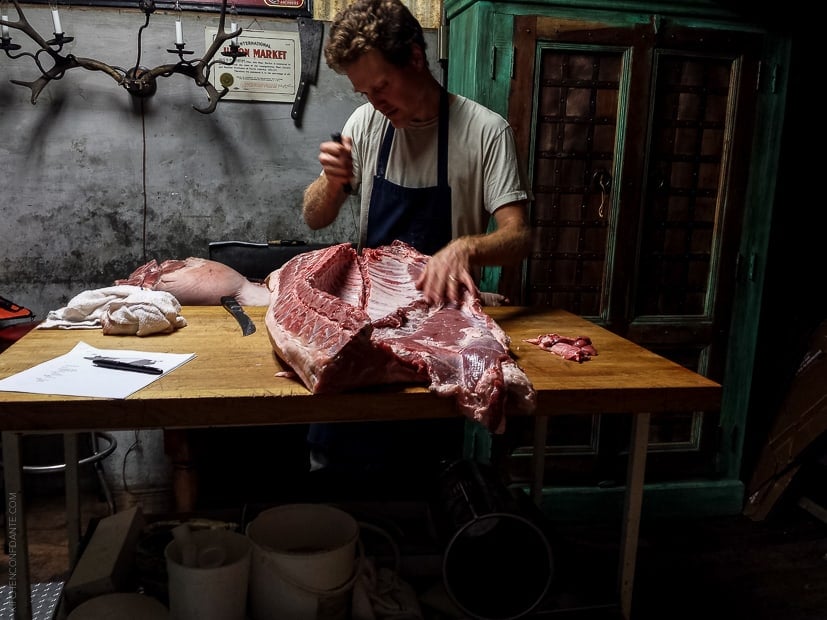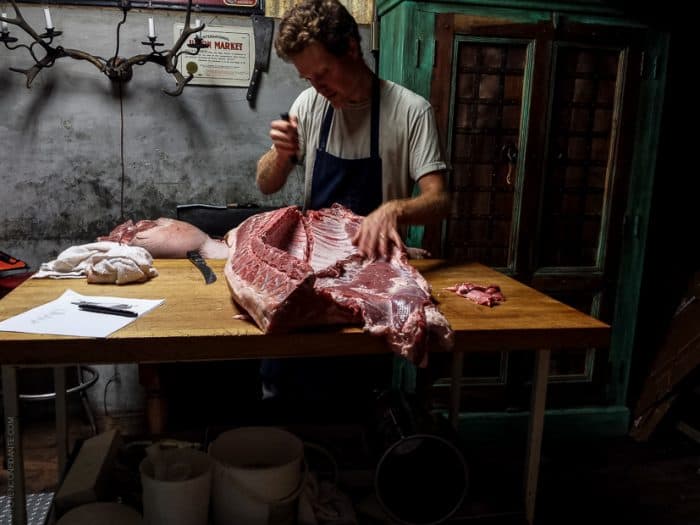 With the guidance of butcher Christian Shiflett, I spent the afternoon with an in depth look into how to break down half a hog. This private lesson allowed me to get comfortable with using a knife and saw, learning more about the retail cuts you and I are used to seeing – and even more interestingly, the ones we sadly do not usually have access to at our local markets.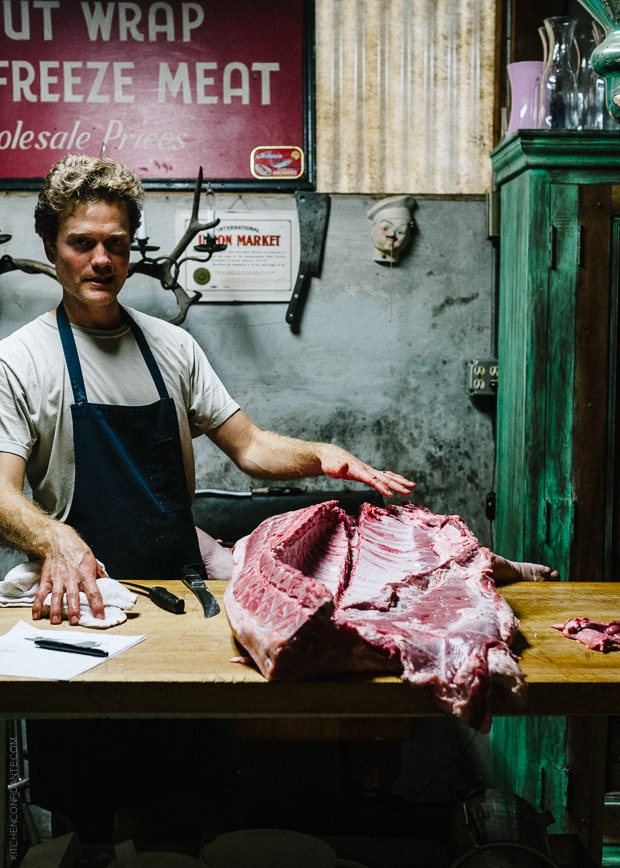 Each cut has a name, each joint and each bone offers promise, and flavor. We approached the butchering in a special way, as I had a firm goal in mind: this weekend, I wanted to tackle another item on my bucket list: making porchetta for the first time.
I learned that butchering the hog for porchetta requires a different approach, to retrieve the pork loin intact with the pork belly. We spent the next couple of hours cutting some of my favorite cuts: tenderloin and pork shoulder, spare ribs and shank.
Along the way, Christian shared his adventures in cooking some of the cuts not as popular in the US (though clearly not true of other countries). And he shared his secrets for a perfect porchetta recipe.
I learned so, so much.
And I brought home lots of meat.
How to Make Porchetta
Back in my kitchen, my head still swimming with all I had learned, I set to work transforming my porchetta into a bronze roast, the crisp skin yielding meat seasoned with a potent blend of herbs, spices, citrus and garlic. Let me tell you a secret. It is not as daunting as I thought it would be! If you can roast a chicken, you can make porchetta.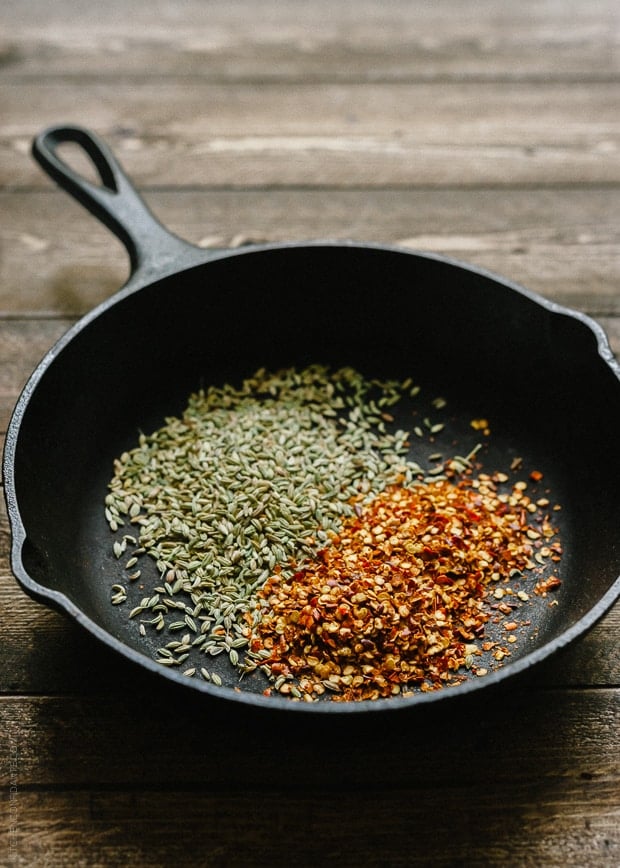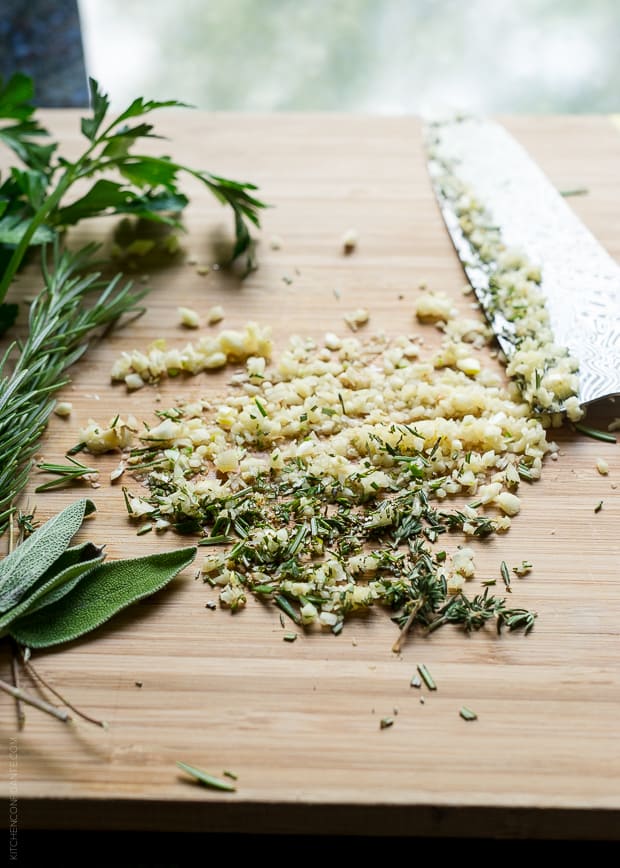 Porchetta Recipe
A traditional porchetta recipe calls for fennel pollen – but a long story aside, I had to take a different approach, using the more easily accessible fennel seed. Toasting the spices brought out nuances that somewhat makes up for the substitution, and assembling the porchetta was as simple as scoring the meat, seasoning it with the aromatic blend of herbs and spices, rolling and tying, and letting the oven do the hard work.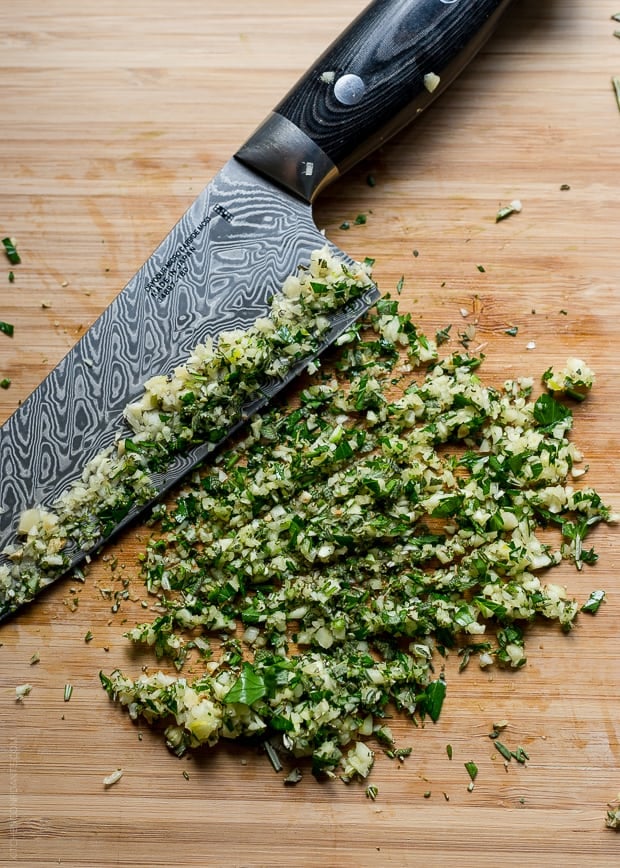 I followed Christian's roasting advice, and just a couple of hours later, the aroma of roasted pork was permeating every pore in my body and each inch of the house. It was a true test of my will to not peek into the oven every two seconds – each sizzle and pop that would sound from the depths of the oven was true temptation.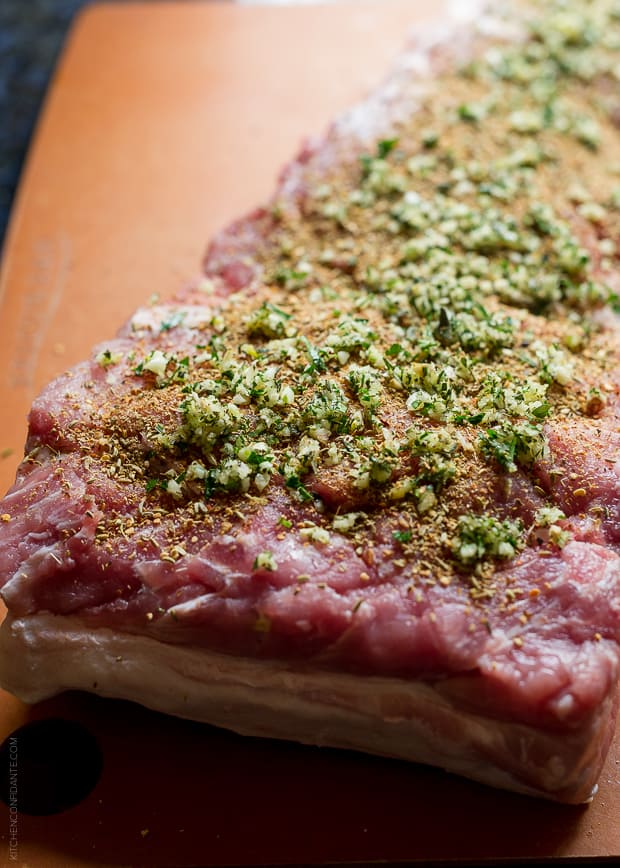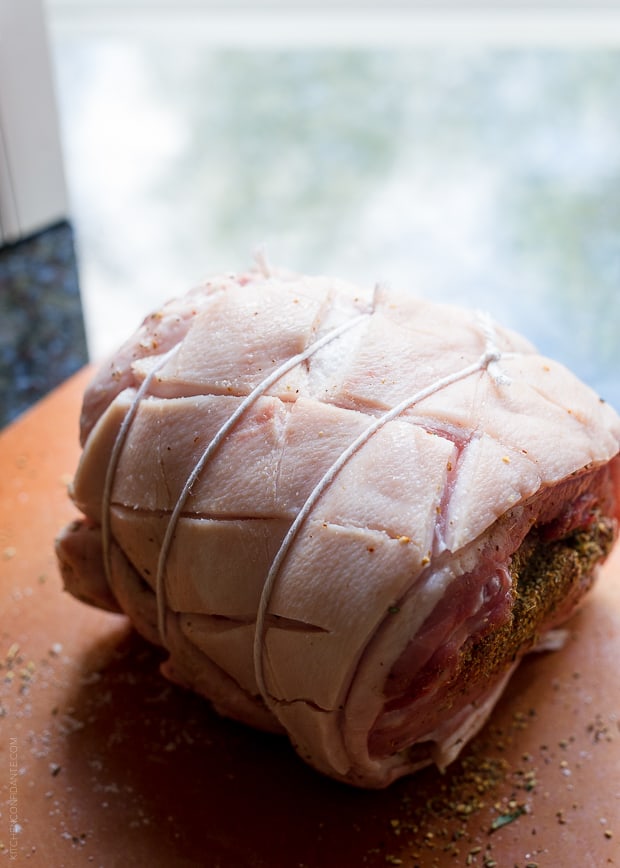 But when it emerged, I was rewarded. Homemade porchetta. It was glistening and bronze, and the skin was crisp and irresistible. And within, the pork was seasoned robustly.
Knowing that I had a hand in helping to butcher the meat brought a whole new meaning to this pork roast, and I daresay, I will never think of porchetta again without remembering all I learned in a tiny little butcher shop at the top of a hill with a neon sign.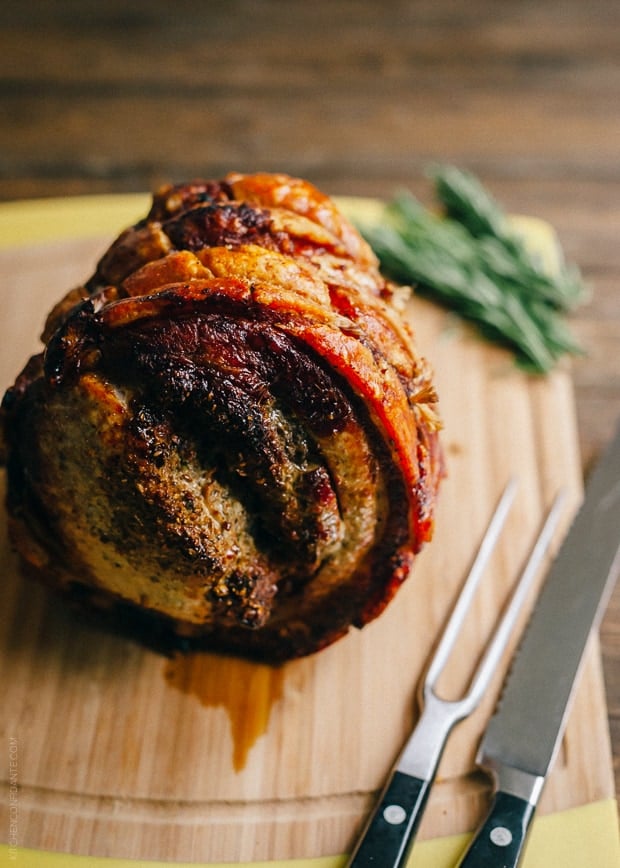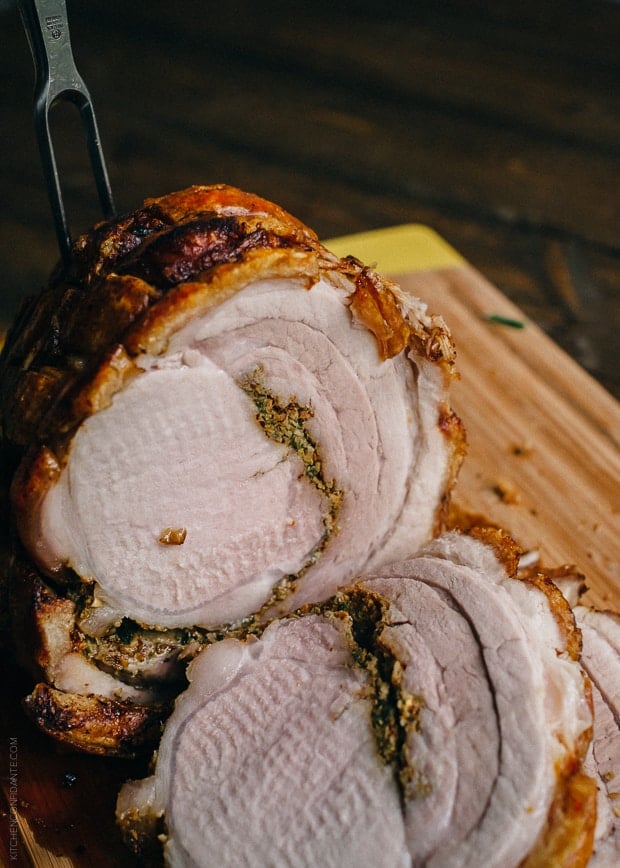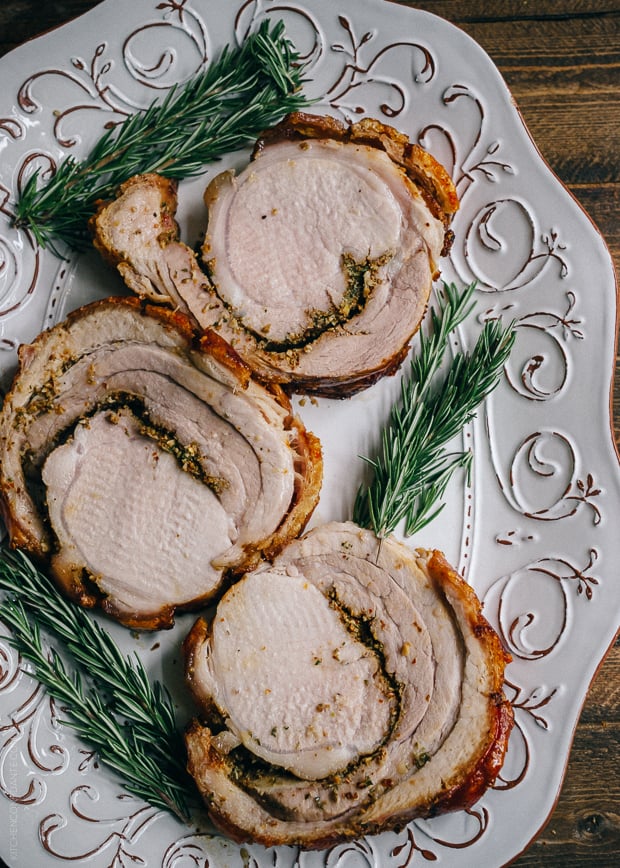 My sincerest thanks to the staff at Avedano's, most especially Christian Shiflett, for sharing a wealth of knowledge with me last Saturday afternoon. I truly learned so much and will never think of pork in quite the same way again.
And I am also grateful to the National Pork Board for the unique opportunity to help not only me fulfill my #PorkBucketList, but the lucky winner of my recent #PorkBucketList Giveaway. Thank you.
Disclosure: This post was made possible by the National Pork Board. All opinions, as always, are my own. Sponsored posts such as these help behind the scenes at Kitchen Confidante. Thank you so much for your visits and making my blog part of your day.
More Pork Recipes
Grilled Pork Skewers with Balsamic Marinade
Filipino Pork Adobo
Roast Pork Loin with Apple Chutney
Quinoa Stuffed Pork Tenderloin
Roast Pork Loin with Balsamic, Dijon & Thyme
Porchetta
Homemade porchetta may be impressive, but it is rustic and simple at its heart. If you can roast a chicken, you can make porchetta.
Ingredients
1

5-6 lb

skin-on pork middle

3

tablespoons

fennel seed

2

tablespoons

red pepper flakes

5

cloves

garlic

minced

zest of 1 lemon

2

tablespoons

fresh sage

2

tablespoons

fresh thyme

2

tablespoons

fresh parsley

1

tablespoon

fresh rosemary

2

tablespoons

kosher salt
Instructions
Prepare the pork by scoring the skin with the tip of a sharp knife, creating straight lines parallel to one another about 2 inches apart. Repeat on the diagonal so they criss cross. Flip the pork middle over and repeat on the meat side.

Toast the fennel seeds and red pepper flakes for about 1-2 minutes on medium heat in a dry skillet. Let it cool. Finely grind the cooled spices in a food mill or blender and set aside.

Finely mince the garlic, along with the fresh herbs. Combine this mixture with the lemon zest, ground fennel and red pepper flakes, along with 1 tablespoon of salt. Season the meat liberally.

Roll the pork beginning with the loin portion, seasoning the skin along the way with a little salt. Use butcher's twine to secure the roast by tying it crosswise in 2-3 inch intervals. Season the skin with the remaining salt.

Let the roast rest in the refrigerator, without any cover, ideally overnight. Pat dry with paper towels periodically. This will help with crisping the skin.

When you are ready to roast, let the roast sit for about 1 1/2-2 hours at room temperature. Place in a roasting pan with a rack.

Preheat the oven to 412° F with the oven rack in the center of the oven.

Place the roast in the oven and roast for about 2 hours, or until a thermometer inserted in the center of the roast reads 145 degrees. About 15 minutes prior to finishing, if the skin is not bronzed, increase the temperature to 450° F degrees for the final moments of cooking.

Remove the roast from the oven and let it rest for 30 minutes. Slice into rounds about 1/2 inch thick using a serrated knife.
Notes
Special thanks to Christian Shiflett at Avedano's for his guidance in roasting porchetta. This recipe also contains adaptations from from Porchetta, Bon Appetit (September, 2011) and Rabbit Porchetta, In the Charcuterie by Taylor Boetticher and Toponia Miller (Ten Speed Press, 2013).
Nutrition
Calories:
470
kcal
|
Carbohydrates:
4
g
|
Protein:
77
g
|
Fat:
15
g
|
Saturated Fat:
4
g
|
Cholesterol:
214
mg
|
Sodium:
1947
mg
|
Potassium:
1380
mg
|
Fiber:
2
g
|
Sugar:
1
g
|
Vitamin A:
768
IU
|
Vitamin C:
5
mg
|
Calcium:
72
mg
|
Iron:
3
mg