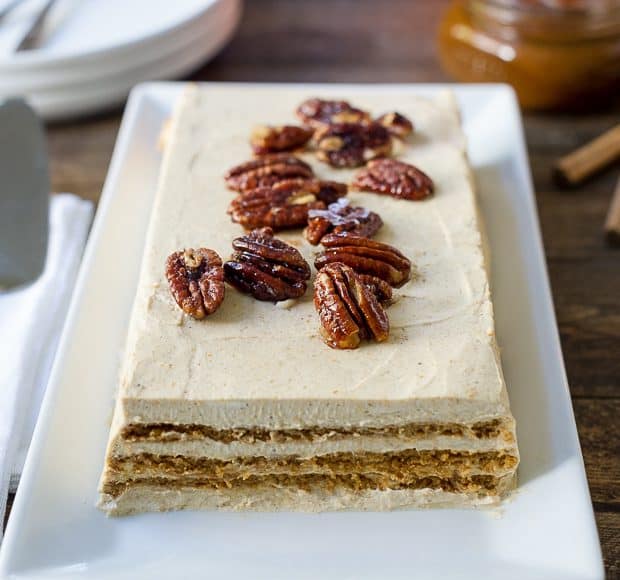 No Bake Kahlúa Pumpkin Spice Cheesecake
When the first pumpkins appear at the markets, and the candy invades the stores, I find myself getting giddy: the holidays are here! This is the marathon of deliciousness I look forward to all year – we've been training to build up our endurance to…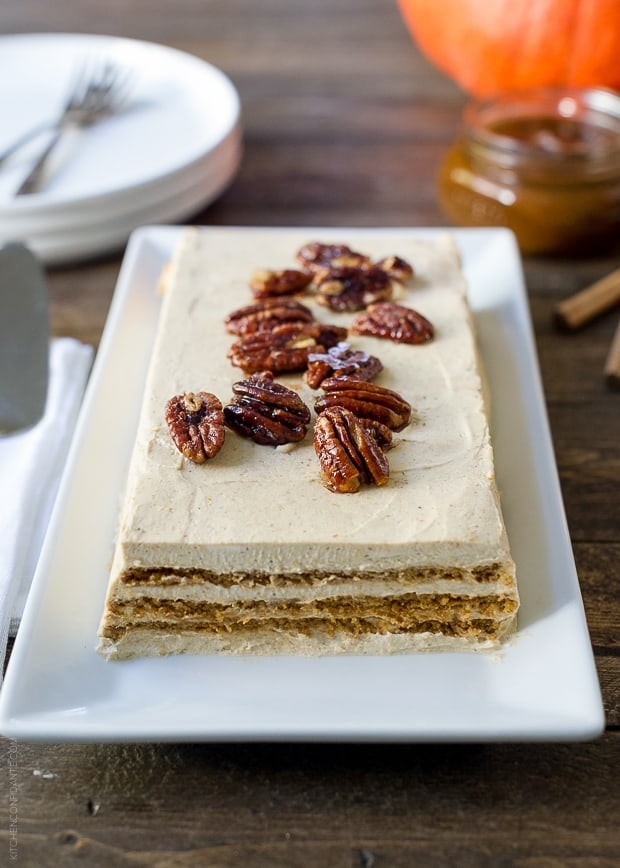 No Bake Kahlúa Pumpkin Spice Cheesecake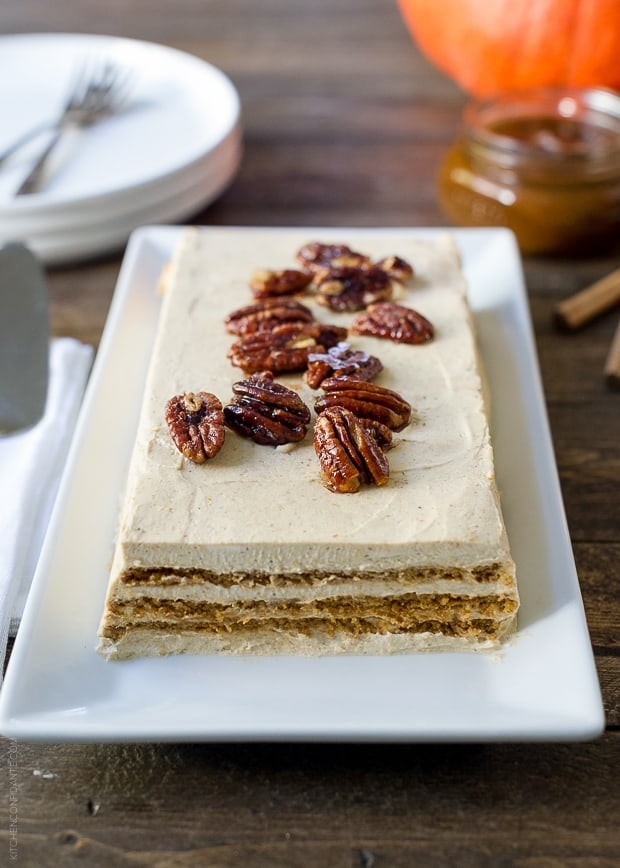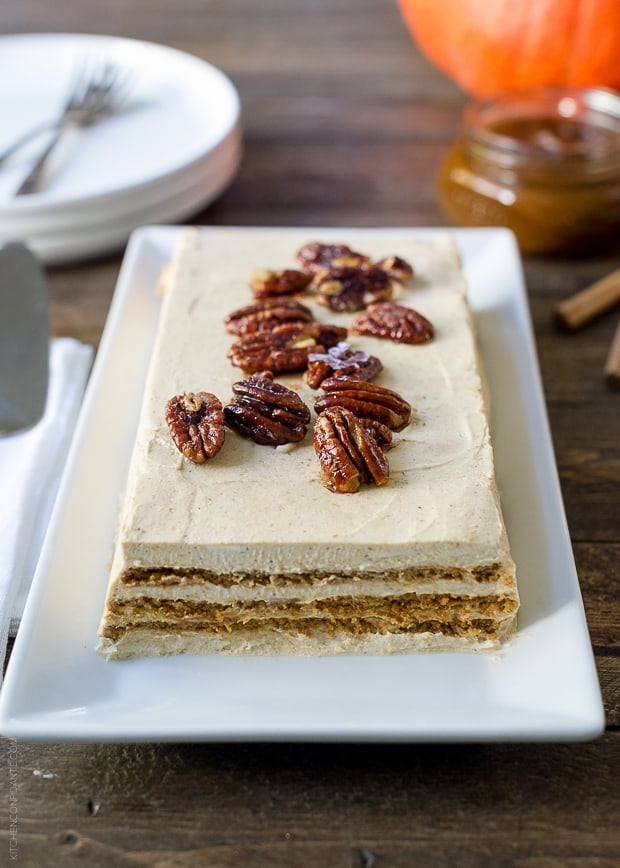 When the first pumpkins appear at the markets, and the candy invades the stores, I find myself getting giddy: the holidays are here!
This is the marathon of deliciousness I look forward to all year – we've been training to build up our endurance to savor Halloween, Thanksgiving, Christmas and New Year's. So I am so very excited to share that I am working with Kahlúa this holiday season – be prepared for all kinds of rum & coffee inspiration!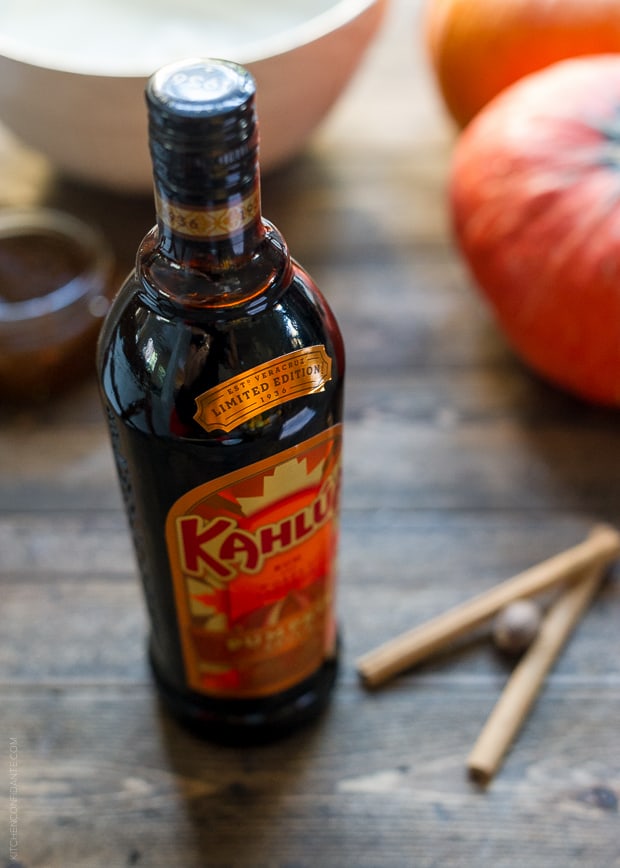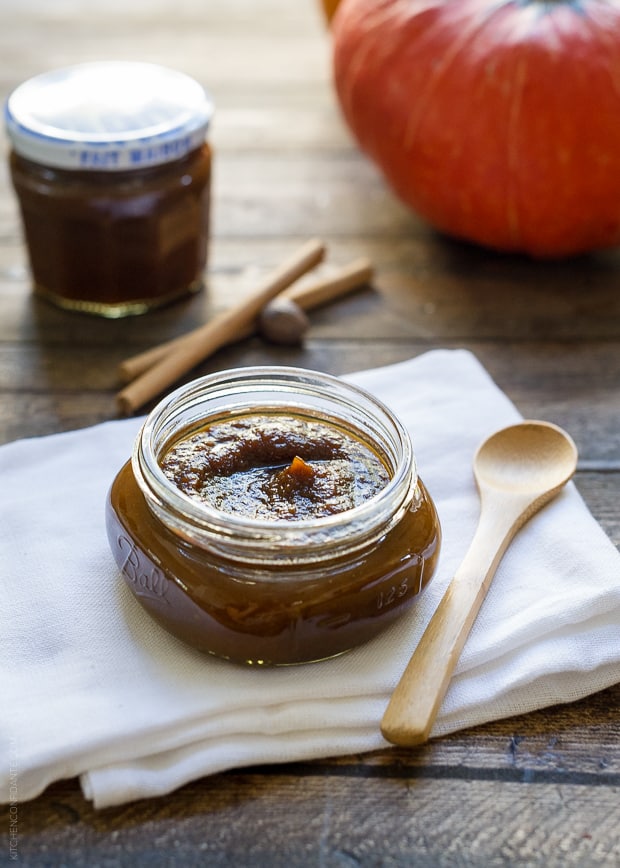 And my love for pumpkins kicks it all off.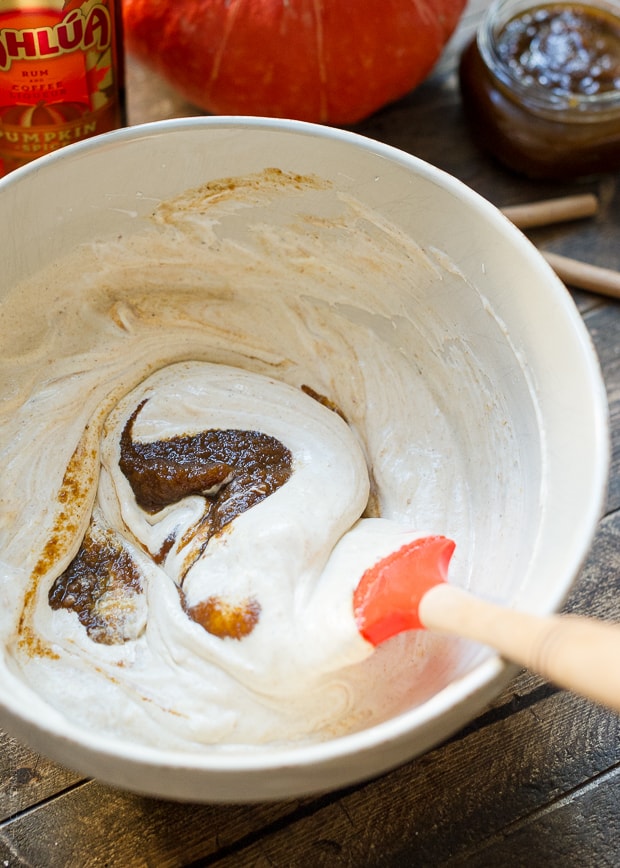 Baking pumpkin cookies and making a batch of maple pumpkin butter was a good warm up, but when I learned that Kahlúa makes a limited edition Kahlúa Pumpkin Spice, I couldn't wait to embrace this autumn inspired liqueur. A cheesecake was in order.
This No Bake Kahlúa Pumpkin Spice Cheesecake is the perfect way kick off the fall celebrations. I swirled maple pumpkin butter into creamy mascarpone with a delicious helping of Kahlúa Pumpkin Spice. This pumpkin spiced cheesecake filling was layered between crunchy cinnamon graham crackers and several hours later, I had a simple but divine dessert. To top it off, I candied some pecans for a little extra crunch.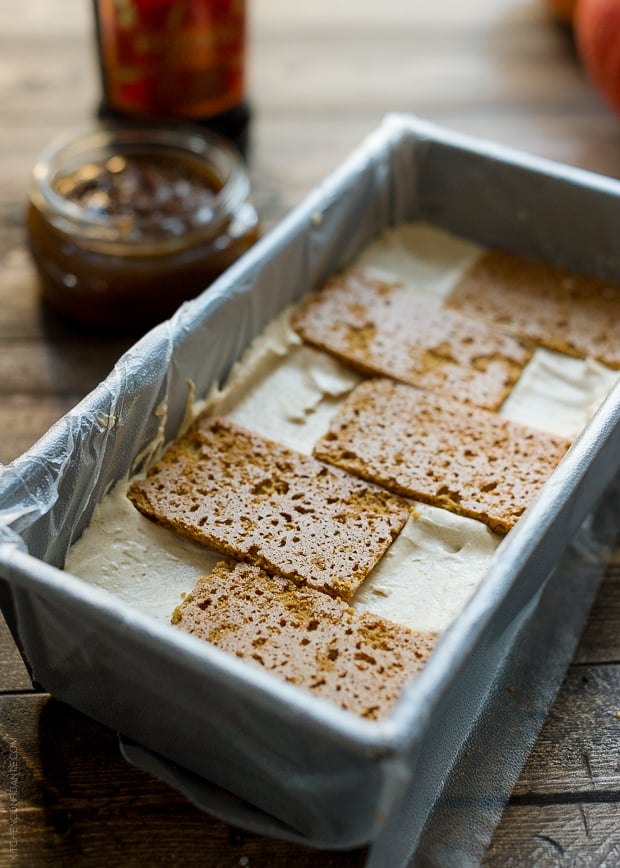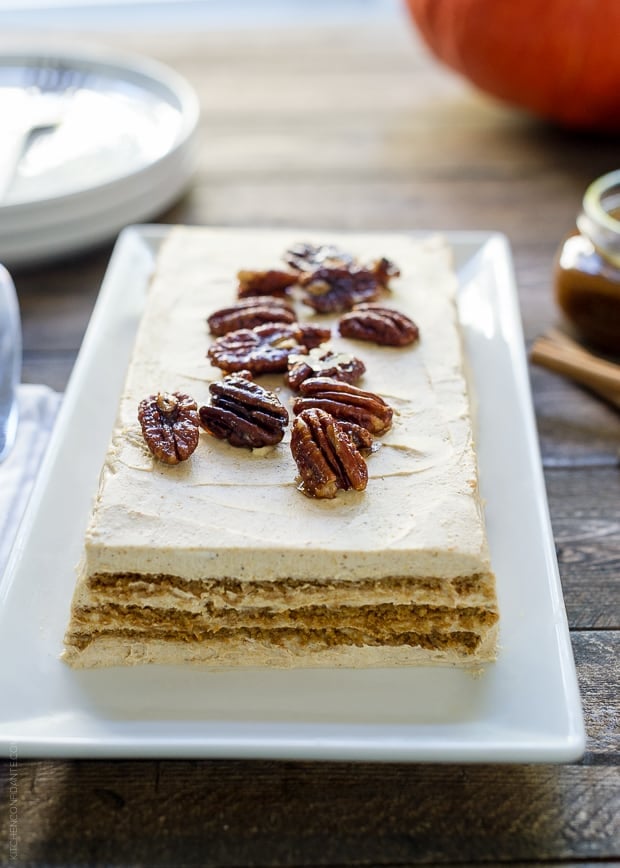 Decadent yet simple, I love how you can make this ahead of time, making it perfect for all those autumn celebrations we have in store.
For more inspiration to shake up your holiday season with Kahlúa, be sure to check out Kahlúa on your favorite social channel:
KahluaHoliday.com
Kahlúa on Twitter

Kahlúa on Instagram

Kahlúa on Facebook
Kahlúa on Pinterest
Disclosure: This post is brought to you by Kahlúa. All opinions are, as always, my own. Sponsored posts such as these help behind the scenes at Kitchen Confidante. Thank you for visiting and making my blog part of your day!
No Bake Kahlúa Pumpkin Spice Cheesecake
Creamy and dreamy, this no bake dessert has layers of fall flavor!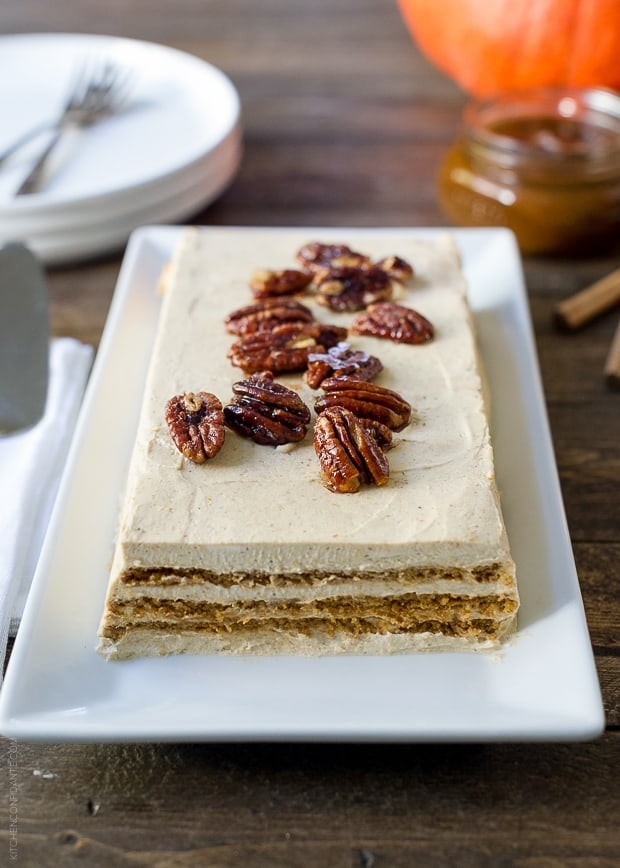 Print Recipe
Ingredients
1 1/2 cups mascarpone cheese
1 cup heavy cream
1 cup pumpkin butter (try my <a href="http://kitchenconfidante.com/maple-pumpkin-butter-recipe" title="Simple Sundays | Maple Pumpkin Butter">Maple Pumpkin Butter recipe</a>)
4 tablespoons Kahlúa Pumpkin Spice
20-24 graham crackers
Candied pecans, for serving
Instructions
Prepare a loaf pan by lining it with plastic wrap, letting the wrap overhang the sides.
In the bowl of an electric mixer, beat mascarpone cheese and heavy cream until the mixture is smooth and thick, like a firm whipped cream. Fold in the pumpkin butter and Kahlúa Pumpkin Spice.
Spread an even layer of the pumpkin spice cream in the bottom of the pan, about 1/4 inch thick. Place the graham crackers on the cream, cutting pieces of the graham cracker to fit the pan. Spread another layer of the cream over the graham crackers, and repeat the layering, ending with a layer of the cream.
Cover the cheesecake with plastic wrap and let it chill in the refrigerator overnight, or at least 8 hours.
Turn the cheesecake over a serving platter and remove the plastic wrap. Top with candied pecans and serve.
Adapted from Lemony Layered Cheesecake, Food & Wine (July, 2014).