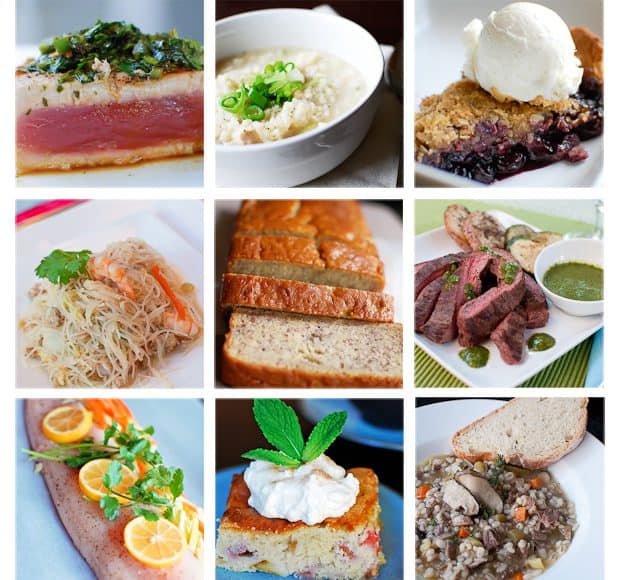 Simple Sundays | Top 10 Family Favorite Recipes
From top left: Pan-Seared Tuna with Avocado, Soy, Ginger and Lime, Arroz Caldo, Blueberry Crisp, Pancit Bihon, Buttermilk Banana Bread, Flank Steak with Chimichurri Sauce, Fish En Papillote, Rhubarb Cake, Beef, Shiitake Mushroom & Barley Soup Playing favorites. It's something that one never wants to…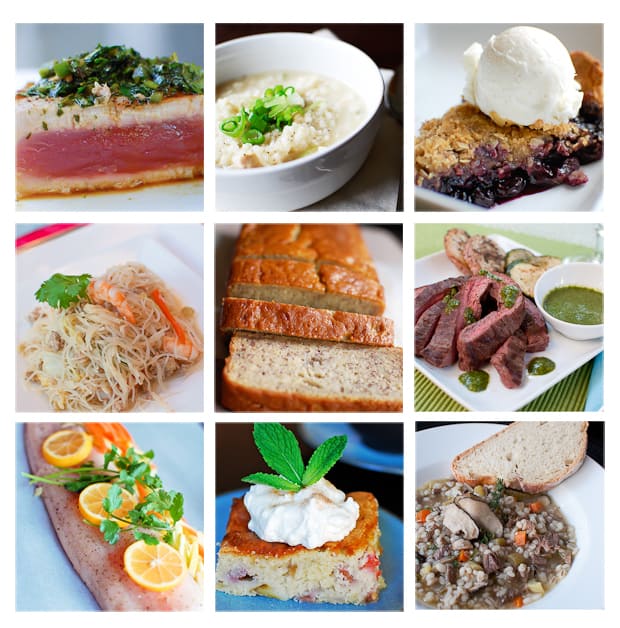 Simple Sundays | Top 10 Family Favorite Recipes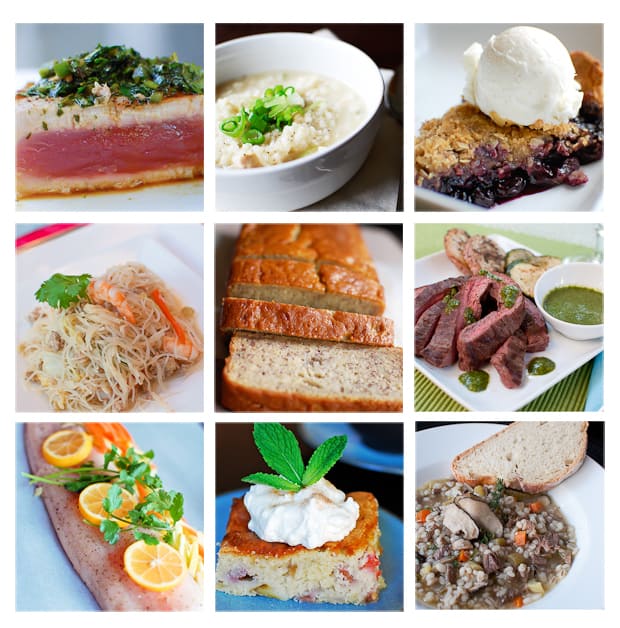 From top left: Pan-Seared Tuna with Avocado, Soy, Ginger and Lime, Arroz Caldo, Blueberry Crisp, Pancit Bihon, Buttermilk Banana Bread, Flank Steak with Chimichurri Sauce, Fish En Papillote, Rhubarb Cake, Beef, Shiitake Mushroom & Barley Soup
Playing favorites. It's something that one never wants to admit to, but inevitably, favorites do emerge over time. I have been asked here and there: What's your favorite thing to cook? Well, that's like asking me to pick a favorite child! Or like telling me I can only pick one thing from a chocolate shop (can you say torture?). But I can tell you what my family loves to eat, those dishes that make the rounds more frequently through the weeknight rotation. I thought today might be a good day to share that with you.
To help me narrow it down, I asked my family what their favorite dishes were, and I realized that many are dishes that I posted when I first started Kitchen Confidante. I think when most food bloggers start out, the old family favorites are often the first to be posted, but with just a handful of readers, they quickly get overlooked and buried beneath newer recipes. Part of me wants to keep it that way because, as you will see, my photography was certainly a work in progress. Of course, my photography is still a work in progress, so I'll just say it — my pictures back then kinda sucked. But I can assure you that the recipes don't and I know your family will love them, too.
Each photograph above represents my family's most cherished dishes. There are Filipino favorites such as my Arroz Caldo – the comforting chicken and rice soup that you can count on when you are feeling sniffly and achy. If it's your birthday, you can be sure I will make Pancit Bihon, because, of course, noodles represent long life. Busy family life means simple meals, so fish is always welcome, since it cooks so quickly. Fish en Papillote is easy with virtually no crazy clean up, and Tyler Florence's Pan Seared Ahi Tuna with Avocado, Soy, Ginger and Lime speaks to our love for bold and spicy flavors. When the weather gets warmer, you can be sure we are grilling 90% of the time. Flank Steak with Chimichurri Sauce is often in rotation, and the chimichurri sauce ends up drizzled on everything, I'm surprised we don't just drink it straight out of the bowl.
I thought you might also find it interesting to know that the Number 1 Reader recipe – the recipe many come to Kitchen Confidante for and the one that generates the most feedback from happy tummies – is also one of my family's favorites: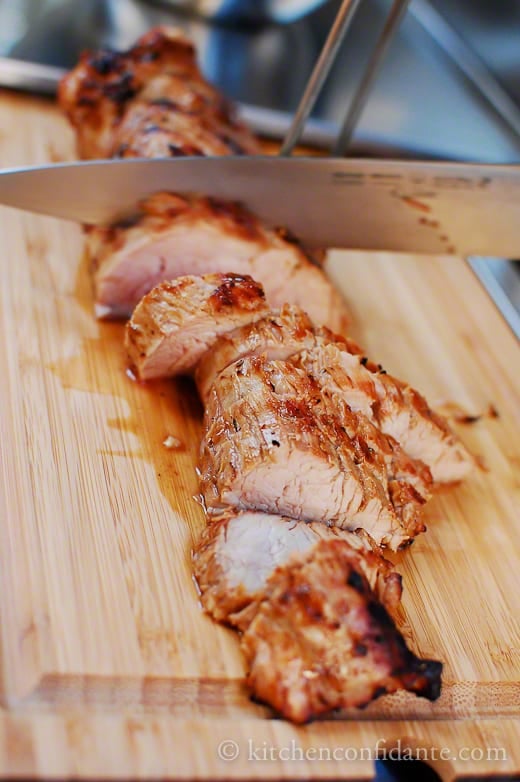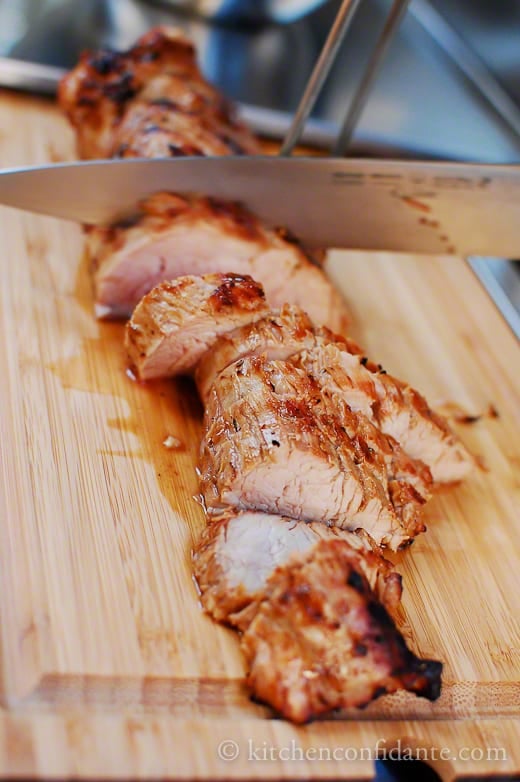 Grilled Balsamic-Garlic Crusted Pork Tenderloin has surprised me in some ways. I know we love it, but it makes me so happy to know that many of you love it, too! It has thrilled me to know that families as far away as Norway and as close as Los Angeles have gathered around their dinner table to this favorite dish.
Here's to finding new flavors and favorites over the years. I hope you find these recipes as enticing as my family does – happy exploring and happy cooking!