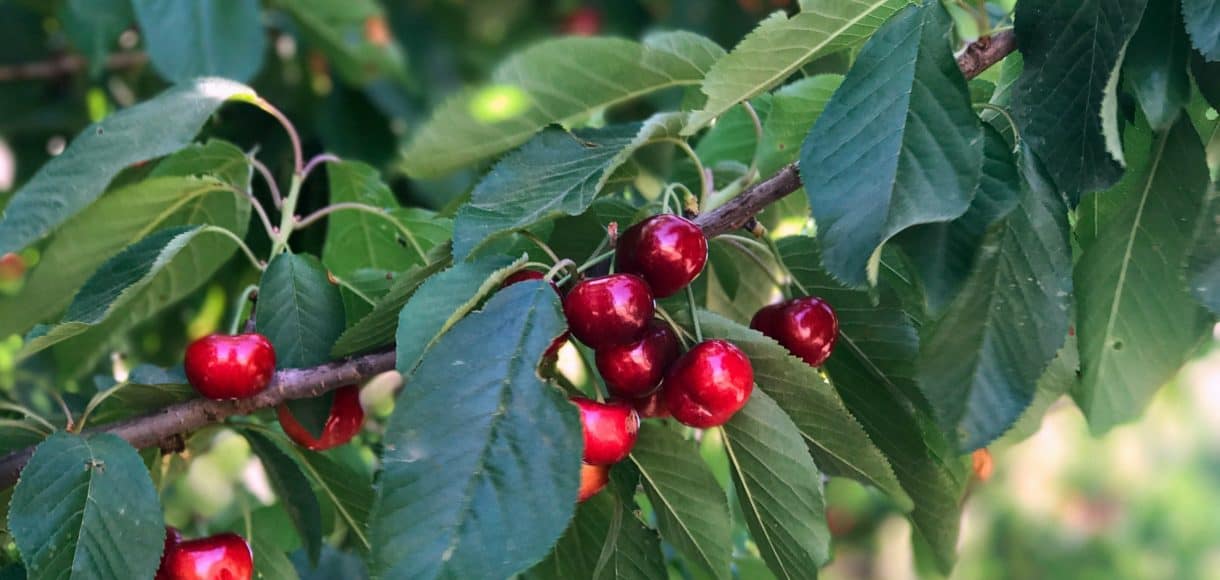 A Taste of Cherry Picking in the Bay Area: A Family Guide to U-Pick Farms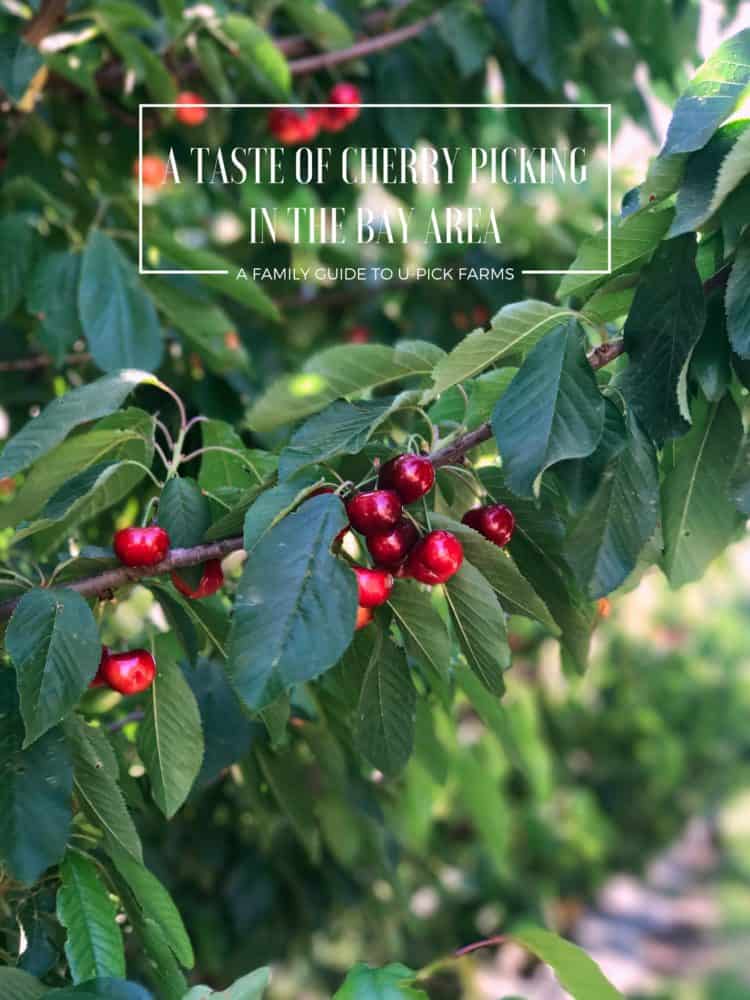 A Taste of Cherry Picking in the Bay Area: A Family Guide to U-Pick Farms
Want to go cherry picking in the San Francisco Bay Area? Join us for our family guide on u-pick farms and tips for cherry picking in Brentwood, California!
U-Pick Cherry Farms in Brentwood, California
Cherry season is here at last! In the valleys of the East Bay, on the other side of Mt. Diablo, is the town of Brentwood, rich in farming history, and home to dozens of u-pick farms, pre-pick farms and farm stands that attract locals and visitors once the spring and summer fruit come to ripen. Mid to late May is when the season generally begins for cherries, and depending on the year and growing season, can last as late as July (although most seem to close in mid-June, when the trees are picked through). If you're looking for a fun way to spend a day, strolling under the canopy of cherry trees, and picking your own sweet cherries, hop in the car, head over to the farms, grab a bucket, and have some fun!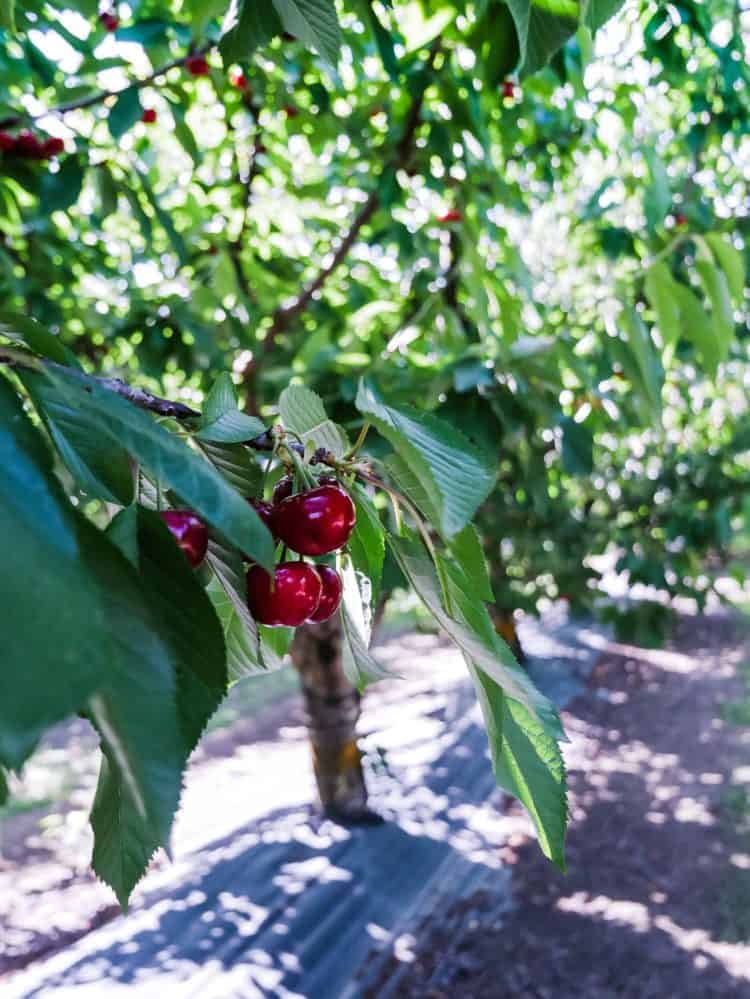 U-pick farms we recommend:
Maggiore Cherry Ranch
(925) 634-4176
2683-2691 Walnut Blvd, Brentwood, CA 94513
Smaller and tucked away from the busier farms along the main roads of the orchard trail, we love Maggiore's Cherry Ranch because it is much quieter and away from the crowds. The exact address can be tricky because they may rotate orchards depending on which trees will be reserved for commercial picking, so definitely call ahead — or look for signage along the roads. If you read their Yelp reviews, you'll see that there is often confusion when it comes to location. If you are able to find them, it is worth it.
Pease Ranch
(925) 634-4646
25175 Marsh Creek Road, Brentwood, CA 94513
Pease Ranch comes recommended by my friend Gina, particularly because they offer a greater variety of cherries (seven!). There is ample parking and lots of shade for strolling. Credit cards are accepted with a $20 minimum purchase. Also, if you want to enjoy a picnic after picking, they offer a small picnic area (not all u-pick farms permit picnicking), so this would be a sweet way to finish the morning, whether you pack a picnic or simply want to enjoy your harvest.
More u-pick farms to consider:
Nunn Better Cherries
(925) 634-2148
2777 Sellers Avenue, Brentwood, California 94513
Chavez U-Pick Cherries
(925) 625-3994
23800 Marsh Creek Road, Brentwood, CA 94513
Freitas Cherry Ranch
(925) 634-5461
555 Hoffman Lane, Brentwood, CA 94513
Find more u-pick cherry farms at Harvest Time.
What is YOUR favorite u-pick cherry farm in the Bay Area? Please comment and share below!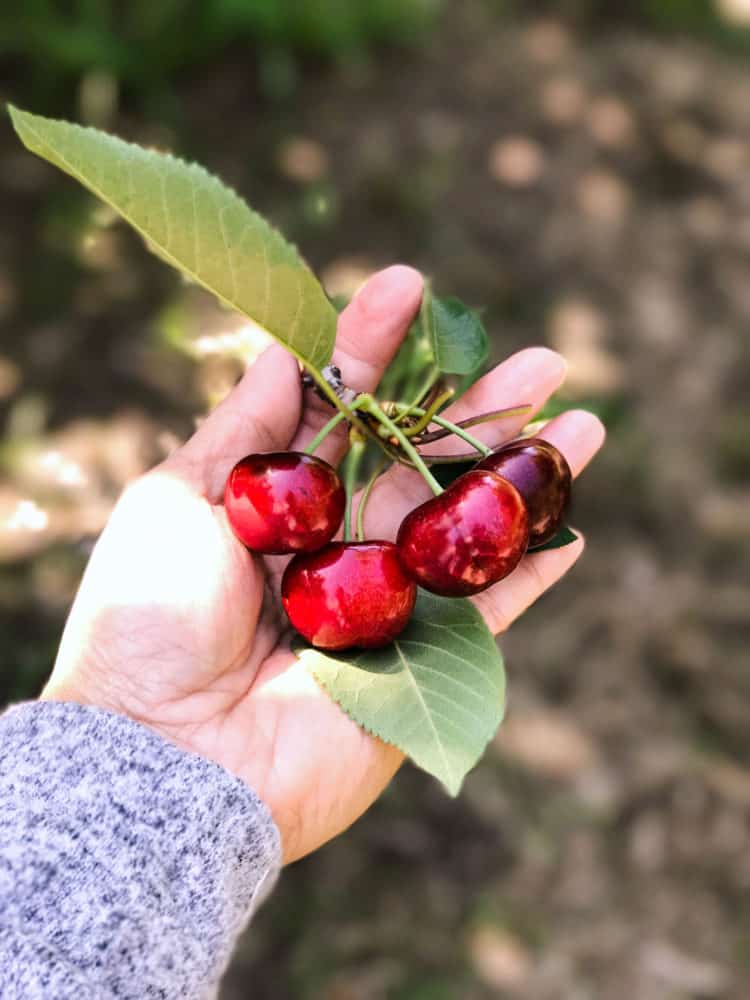 CHERRY PICKING TIPS
Call ahead. Once you've decided on some farms — pick more than one just in case they are full or decide to close for some reason — call the morning you plan to visit for the most updated information. Each farm is different when it comes to open hours, fruit ripeness, etc., so it's best to call ahead.
Print out a trail map. Head over to Harvest Time and print out their handy map with farms, produce calendar, and other tips. They even have an app!
Go early. Not only will you avoid the mid-day heat, but everyone else in the Bay Area who has the same idea. Traffic is no joke, and by late morning, lines of cars heading into the orchards is not uncommon, especially on holiday weekends.
Go on a weekday. Better yet, if you can, go on a weekday to avoid crowds!
Bring cash. Most farms only accept cash, and if you get a little overzealous with the picking, remember, you pay for what you pick!
Find the right cherry variety. Check the farms for the varieties of cherries that they grow, which can vary from farm to farm. Also, once you're there, ask how to find your favorite varieties — at Maggiore's for example, varieties are color coded with paint on the tree trunks.
Plan the potty break. I speak to families with small children, but grown ups need to pay attention to this too, especially if you've been driving from far away! Many farms have portable toilets, but if you're like me, and not a big fan of porto potties that have been baking in the warm summer sun, I recommend stopping off at Starbucks for a potty break before you go picking!
Mind the ladders. Children are not allowed to climb the ladders for obvious safety reasons, but do not worry, there are plenty of low hanging branches for even toddlers to reach!
Wear comfy shoes. We're in the orchards not a fashion show! Keep the heels at home, and don't wear white, just in case you get a little cherry juice on you. Then again, you're not supposed to be eating as you pick, right?! Also, a hat and sunscreen is a good idea if you're picking mid-day!
Dark cherries are the sweeter ones, depending on variety. Give the un-ripe cherries more time on the branches and go for the darker cherries. Sometimes, this means getting on a ladder, so be careful!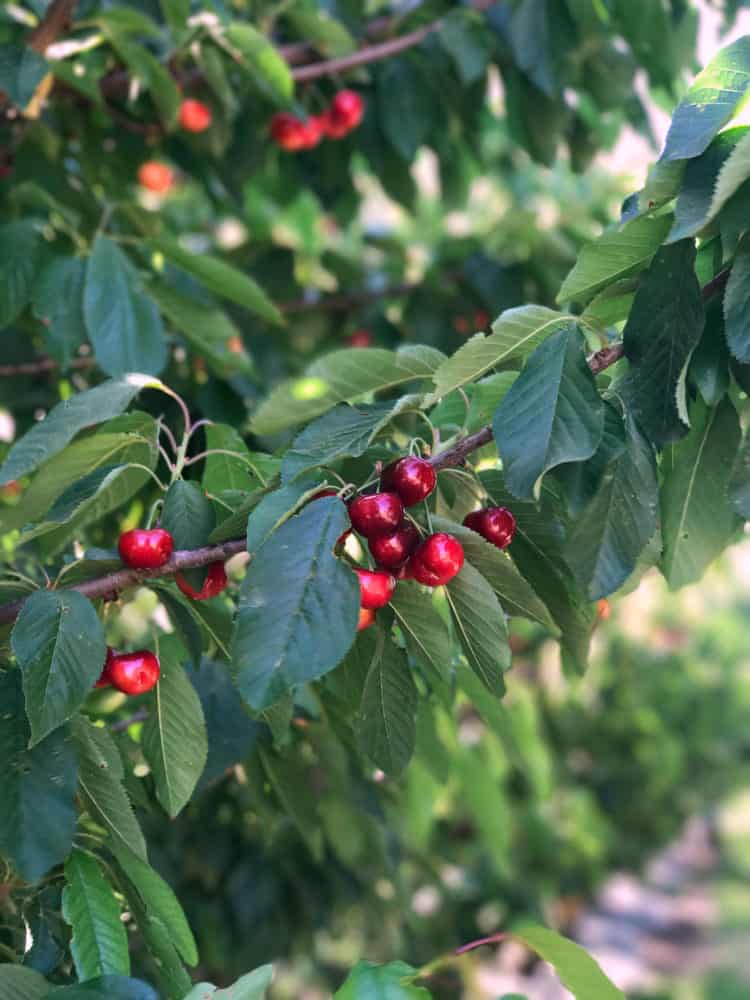 CHERRY RECIPES
Now that you've picked all those cherries, what to do with them? Here are some recipes to try: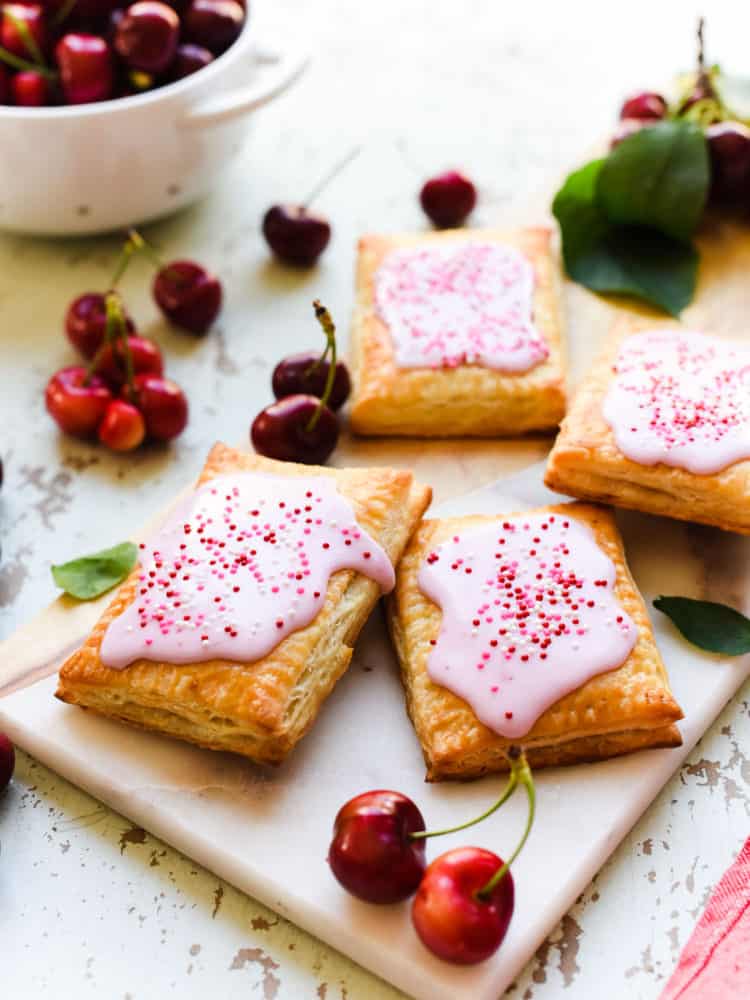 Homemade Cherry Pop Tarts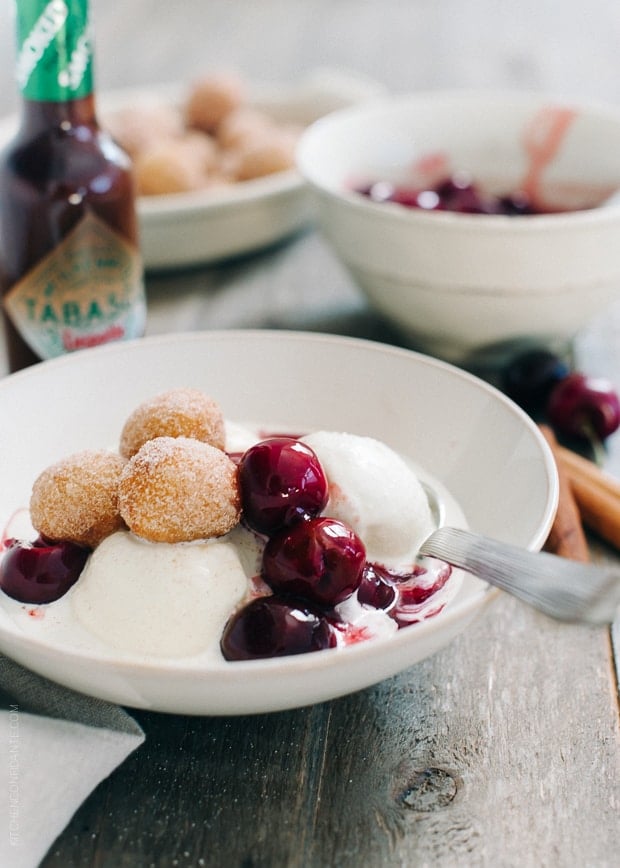 Churro Doughnut Holes with Ice Cream and Cherry Chipotle Sauce