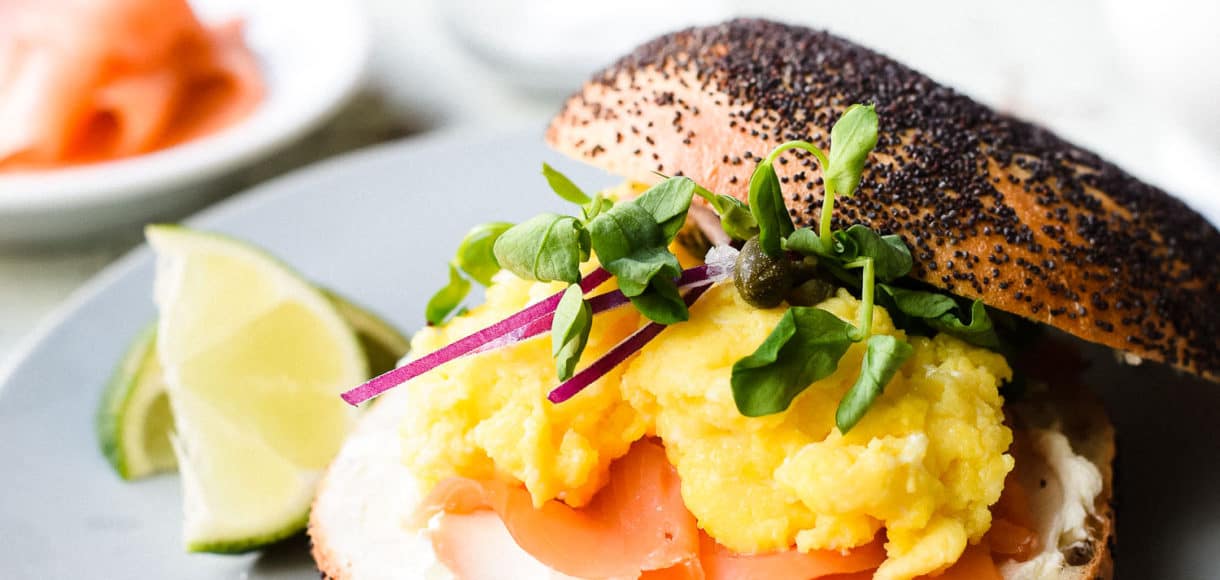 Scottish Smoked Salmon Bagel with Scrambled Eggs
This recipe for Scottish Smoked Salmon Bagel with Scrambled Eggs gives bagel with lox a luxurious update with silky, English-style scrambled eggs. I hate Mother's Day. There. I said it. It sounds awful. It looks awful. It is awful. But it's the truth. And it…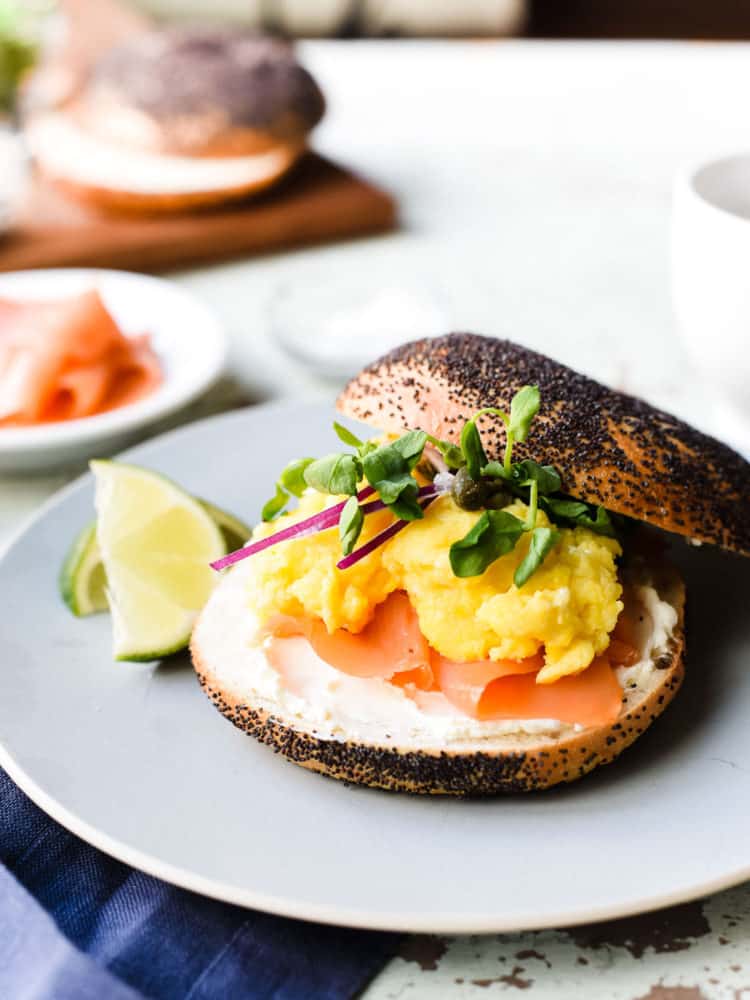 Scottish Smoked Salmon Bagel with Scrambled Eggs
This recipe for Scottish Smoked Salmon Bagel with Scrambled Eggs gives bagel with lox a luxurious update with silky, English-style scrambled eggs.
I hate Mother's Day.
There. I said it.
It sounds awful. It looks awful. It is awful. But it's the truth. And it wasn't always this way.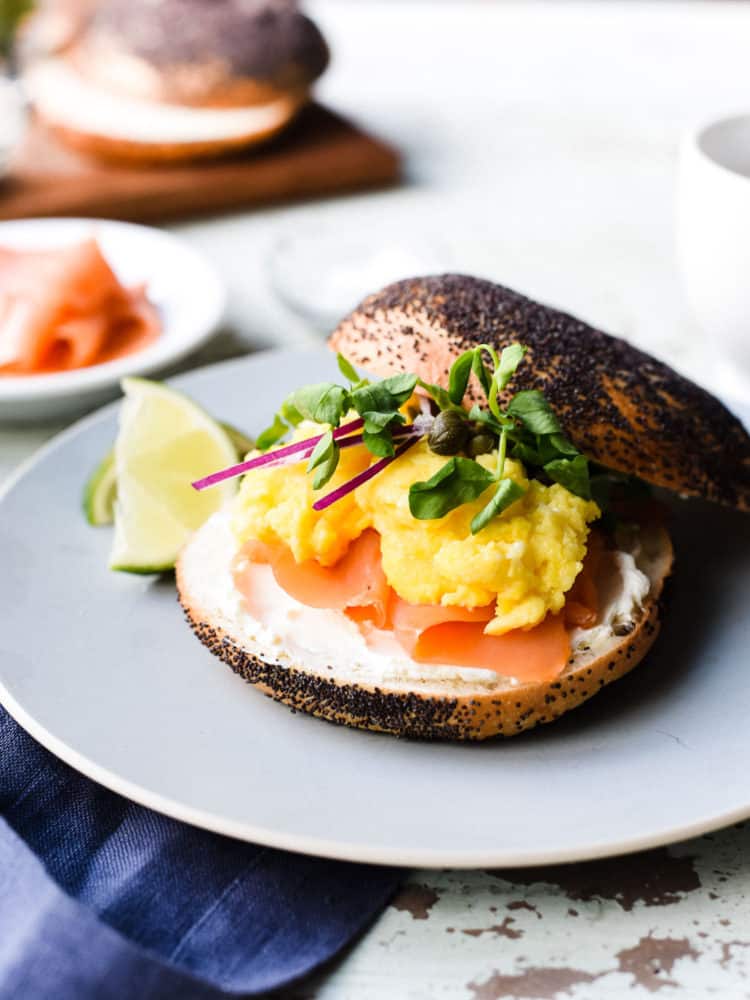 The moment I see the cards in the stores, I begin to feel uneasy. Something becomes unsettled within me, culminating in the apex of it all – realizing that I need to avoid Facebook so I don't have to see everyone's odes to their mothers. Believe me when I say this: I'm not a jealous person. I really am not. But on Mother's Day, I become the ugliest side of myself, where jealousy bubbles within. Pictures of mothers, jokes about mothers, even people who complain about their mothers — I wallow in self pity and envy, and lots of tears, because as far as I'm concerned, I was robbed.
The other thing that I've noticed is this – it doesn't get easier. In truth, it actually gets worse. When I first lost my mom nearly 23 years ago, the holiday was hard, but not as hard as it is now. You would think the opposite would be true, but here I am, a mother myself, my children surprising me with how they are growing way too fast, even though I know it is inevitable. The feeling of loss is worse on this day more than any other, and it gets harder for me as each year passes, almost as though the weight of the years of not having a mother begins to sit on my shoulders a little heavier over time.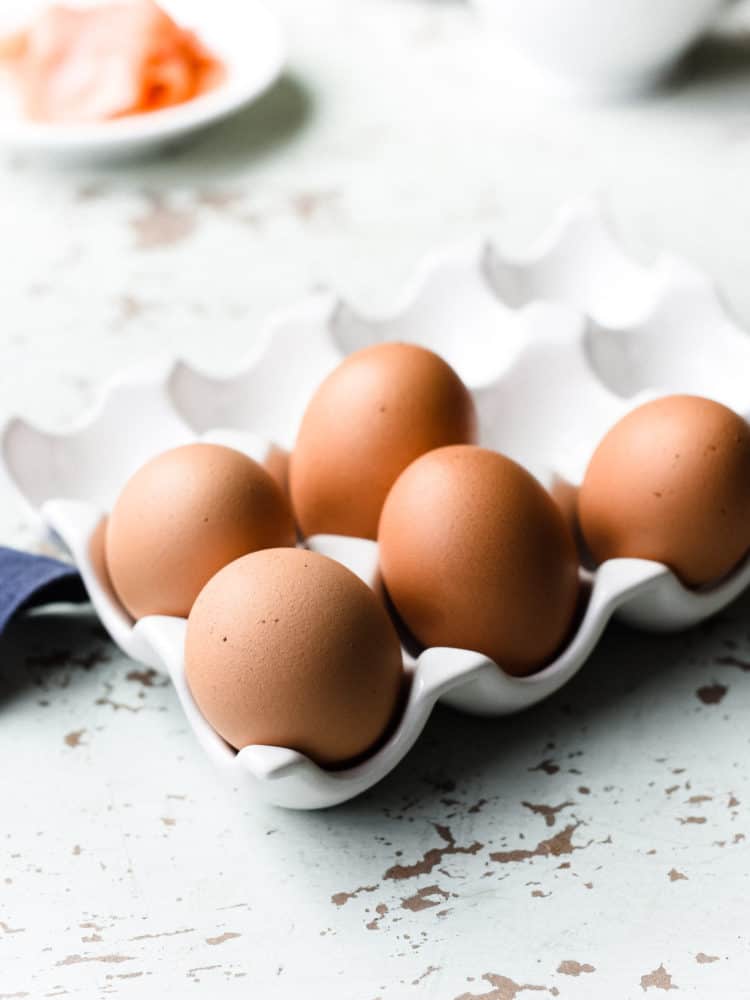 I know I'm not the only one who, as a daughter who has lost a mother, hates mother's day. But this is the first time I am saying this aloud. What makes me feel even worse is that as a mother, I also feel the other end of the spectrum of love and appreciation for this day. I have so much to be thankful for.
I have a husband who asks me every year, "what do you want to do for Mother's Day?" even though my answer is always, "nothing." I have a son who gives me hugs and reminds me he loves me. I have a daughter who I can try my best to share that bond my mother was able to give me. I have my health, something that at my age, my mother did not.
So after I have my good cry, I get over myself. I need to not ruin this holiday for my children, because heck, let's be honest, it's probably the only day they'll make me breakfast! And I'm never going to pass that up!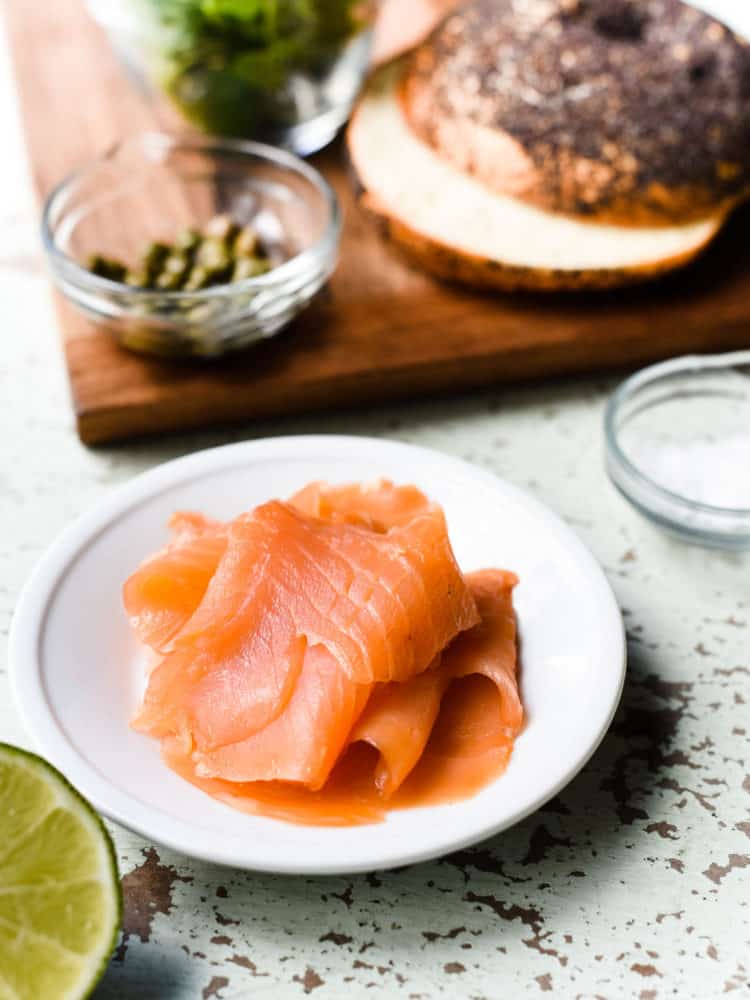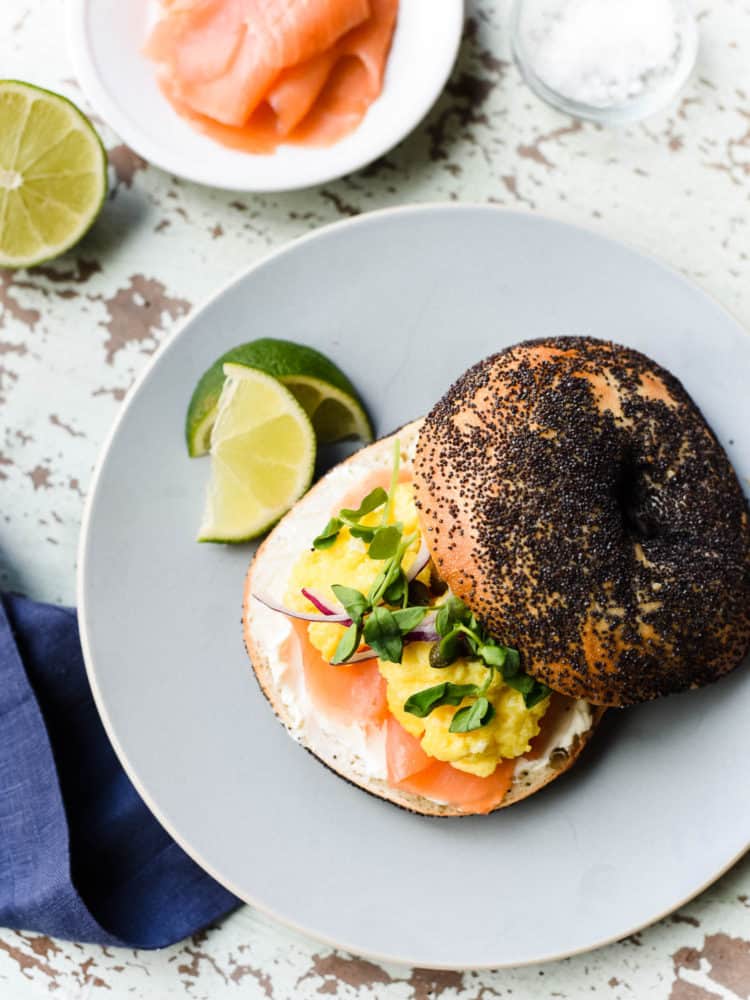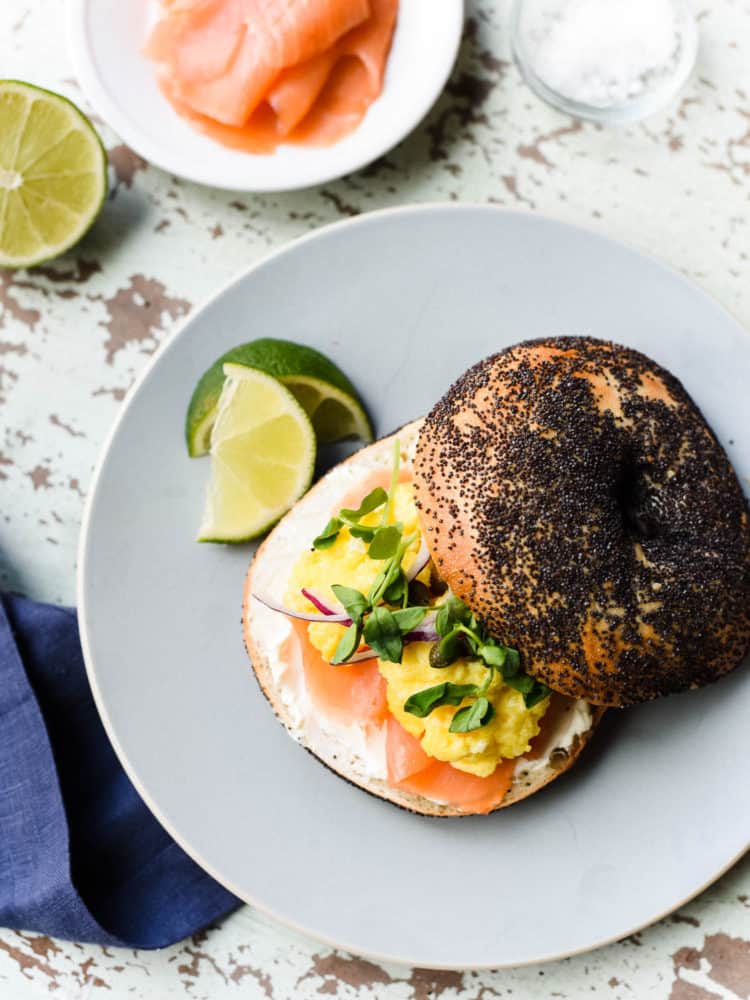 My mother was the one who introduced me to the wonders of bagels with lox – it remains one of the things I miss most about New York – and one of my most favorite breakfasts ever. Just when I thought a bagel and lox couldn't get any better, I encountered Scottish Smoked Salmon Bagel with Scrambled Eggs on our trip to London this spring.
It came to the table looking like any other bagel and lox, although I did notice that it took a while to come out of the kitchen. And after one bite, I quickly understood why. First, let's talk about the lox. If you've never tried Scottish smoked salmon, I urge you to find some. Smoked over oakwood, there is a distinct flavor that puts all other lox to shame. As for the eggs — it has transformed how I scramble my eggs now. Scrambled eggs – American style – in a frying pan was the first thing I cooked as a little girl, but after having utterly creamy, delicate English-style scrambled eggs, I don't know how I could possibly go back. All piled together on a generous slather of cream cheese on a toasted bagel, and you've got the ultimate bagel with lox, which, by the way, is so simple, anyone can make it – even my children.
Even better, it would put a smile on anyone's face, even mine, tear stains and all.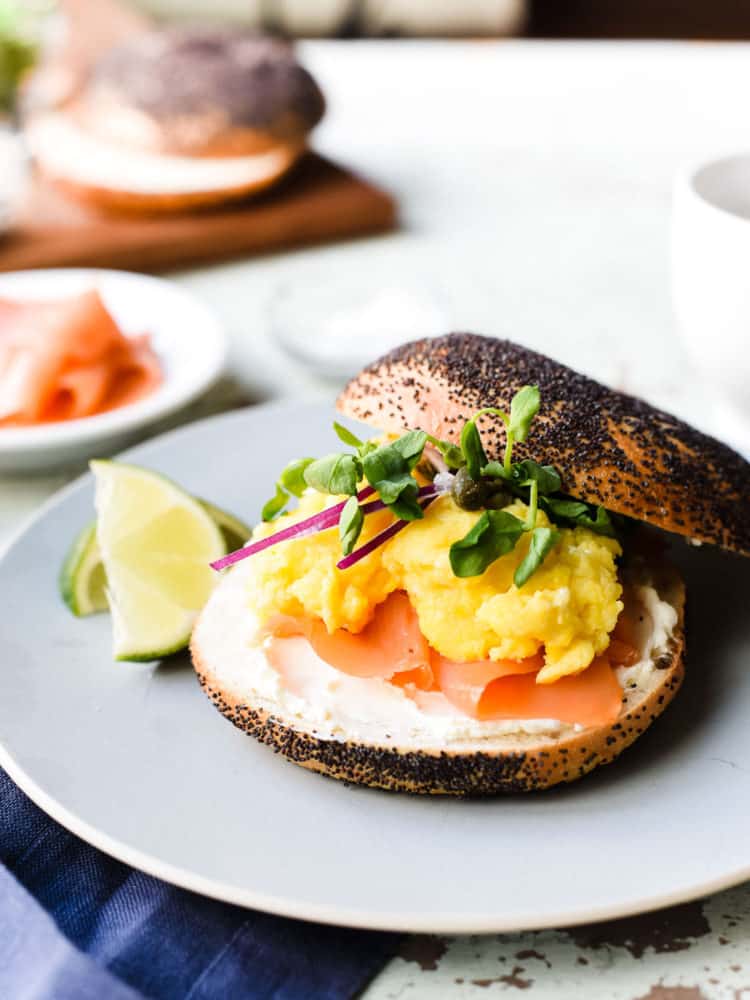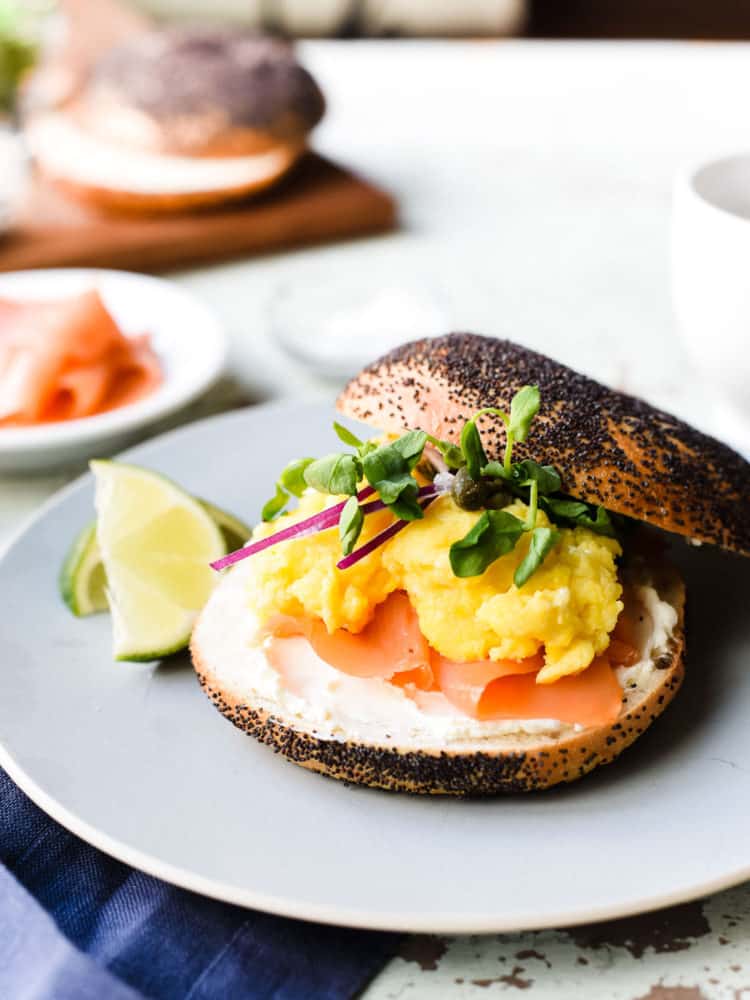 Scottish Smoked Salmon Bagel with Scrambled Eggs
This recipe for Scottish Smoked Salmon Bagel with Scrambled Eggs gives bagel with lox a luxurious update with silky, English-style scrambled eggs.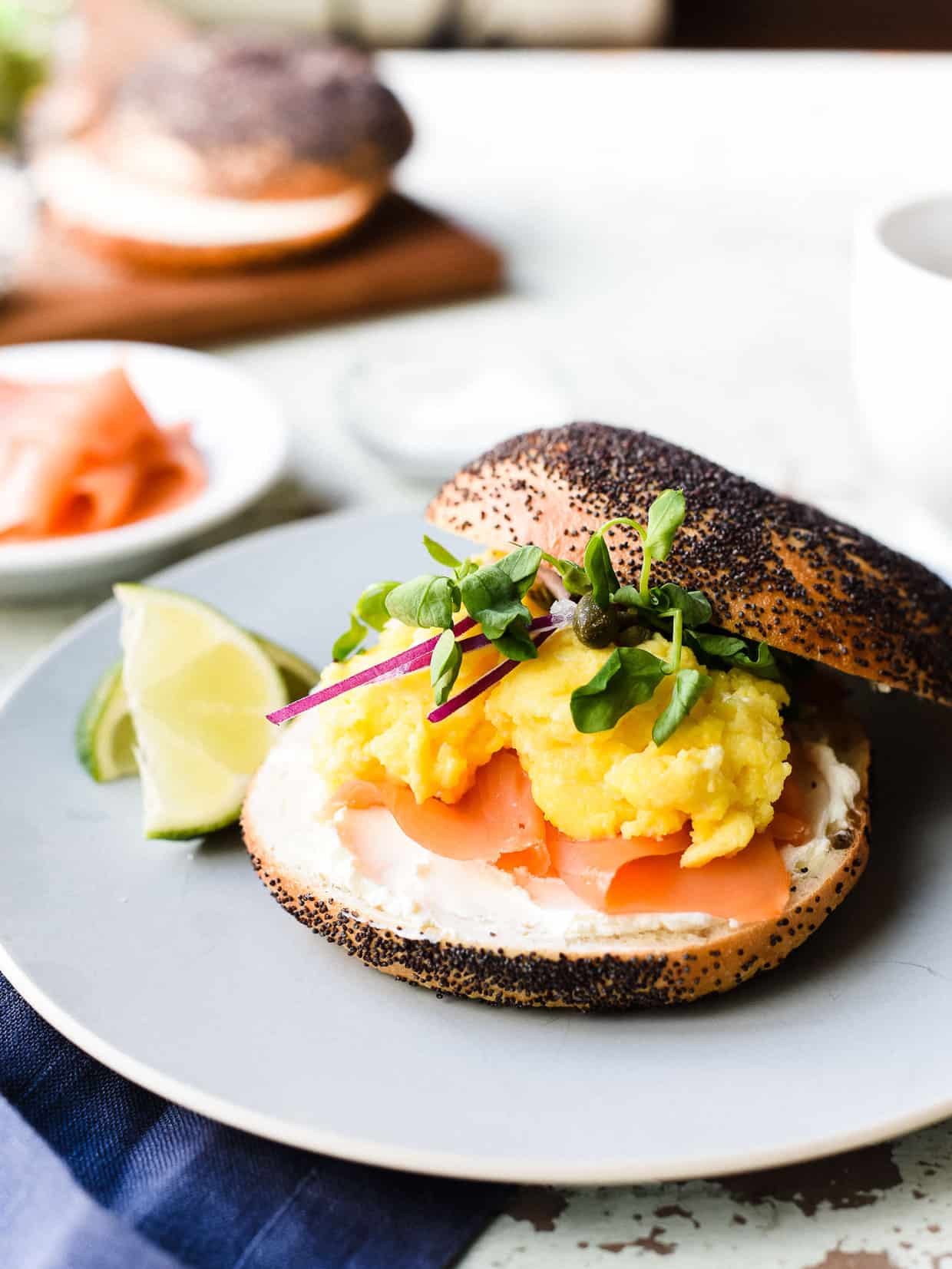 Print Recipe
Ingredients
3 tablespoons unsalted butter
4 large eggs
kosher salt, to taste
freshly ground pepper, to taste
2 bagels, toasted
4 oz Scottish smoked salmon
Cream cheese, quantity to taste
1/4 cup thinly sliced red onion, for serving
Micro greens, for serving
Capers, for serving
Instructions
Place a saucepan over low heat. Drop in the butter. As it begins to melt, give your eggs a brief whisk, then add it to the pan. Using a rubber spatula, stir the eggs constantly as it cooks, scraping the sides of the saucepan as you go. The eggs will slowly come together, forming small tender curds, about 3 minutes. Season to taste with salt and pepper.
On one half the bagel, spread cream cheese, then top with layers of Scottish smoked salmon and the scrambled eggs. Garnish with red onion, micro greens and capers. Top with other half of the bagel and enjoy immediately.