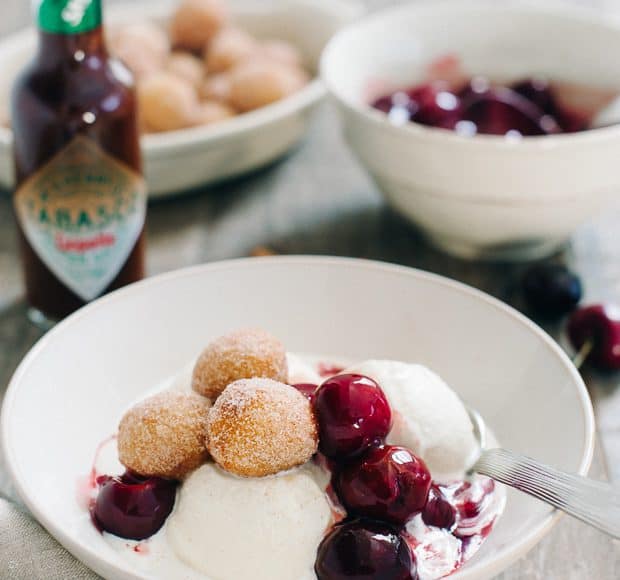 Churro Doughnut Holes with Ice Cream and Cherry Chipotle Sauce
I think you need a big bowl of Churro Doughnut Holes with Ice Cream and Cherry Chipotle Sauce. It's the ultimate in sugar and spice and all things nice. I think I can say, perhaps for the first time in a long time, that it…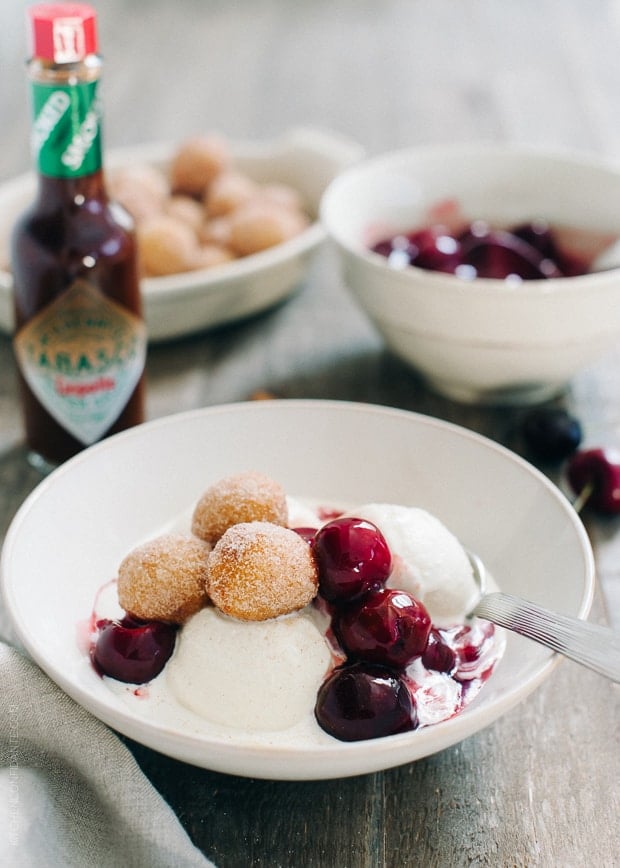 Churro Doughnut Holes with Ice Cream and Cherry Chipotle Sauce
I think you need a big bowl of Churro Doughnut Holes with Ice Cream and Cherry Chipotle Sauce. It's the ultimate in sugar and spice and all things nice.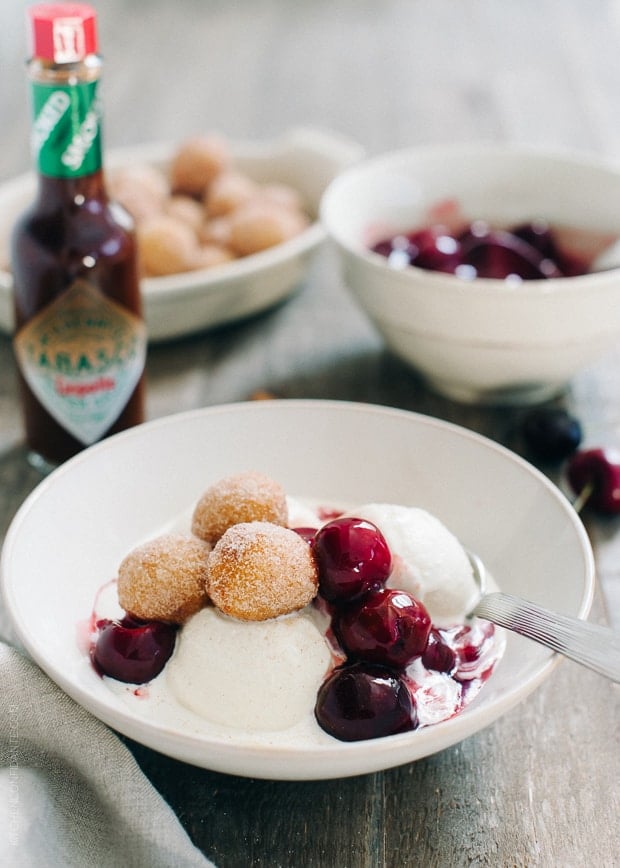 I think I can say, perhaps for the first time in a long time, that it was an incredible summer. Don't get me wrong, each summer is special, but you know that feeling at the end of the season, when you feel as though you should have done more or have the feeling like you missed out on something? This time is a little different for us.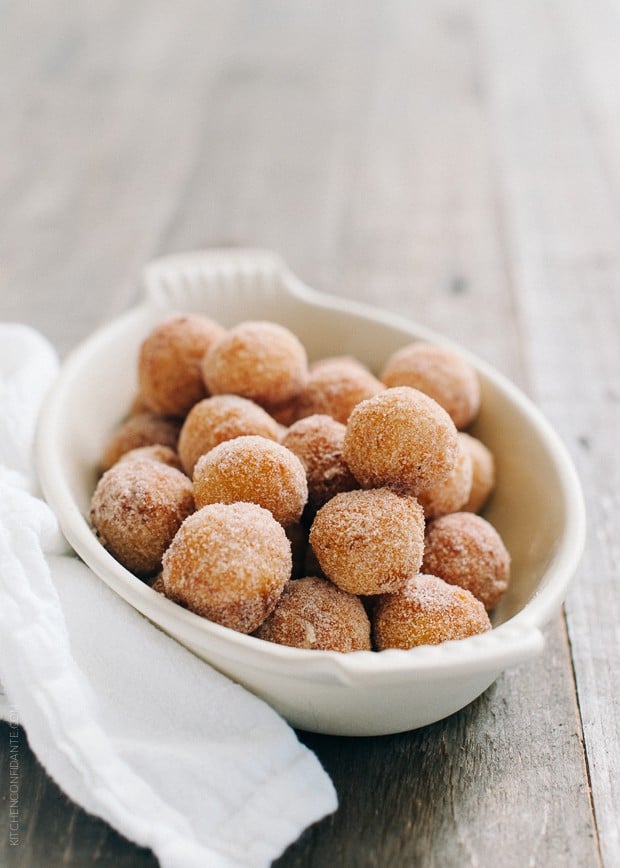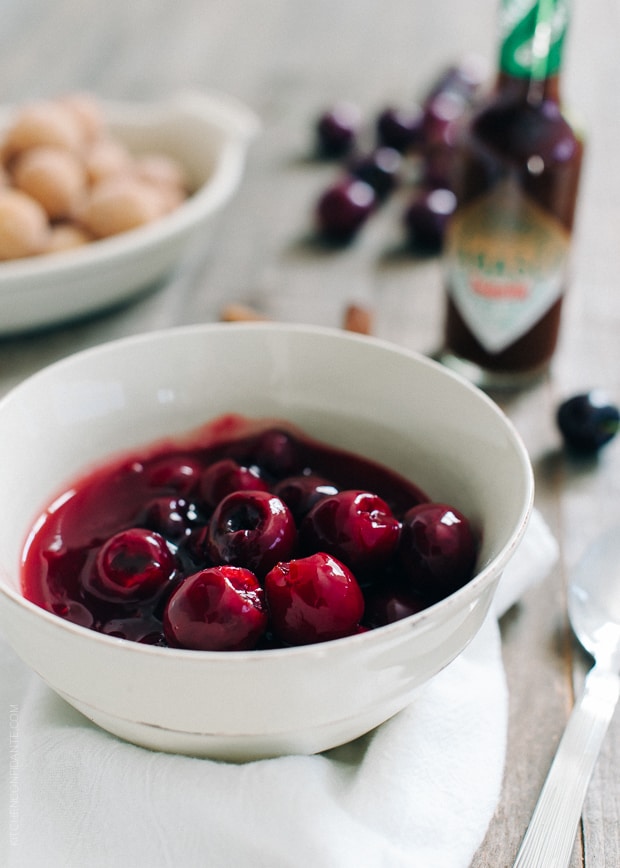 At the start of the children's summer vacation, they each wrote a summer bucket list, and you know what? We checked off most of their wishes! There were all kinds of goals – nothing crazy, but all fun. Eat shaved ice…check. Get a big role at drama camp…check. Go on a waterslide…check. There were concerts and kayaking, lots of movies, and lots of fun camps. There was a trip to the beach. It was a wonderful summer, and I feel very blessed that we were able to enjoy it all together.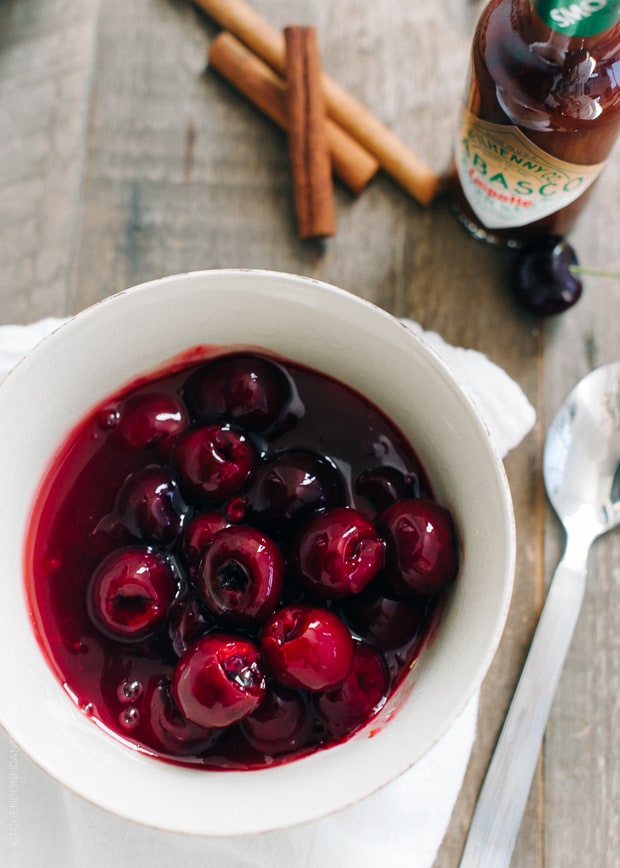 Now that summer is drawing to a close, I am not too sad, but the one thing I am still holding on to as much as possible is all the fruits and vegetables. Especially the stone fruit. I'm eating my fill of plums and peaches and nectarines, and I refuse to say good bye to the cherries. They're slowly saying goodbye, but when I see them, I'm still buying them, and transforming them into a decadent sauce that will stretch the season a little bit longer.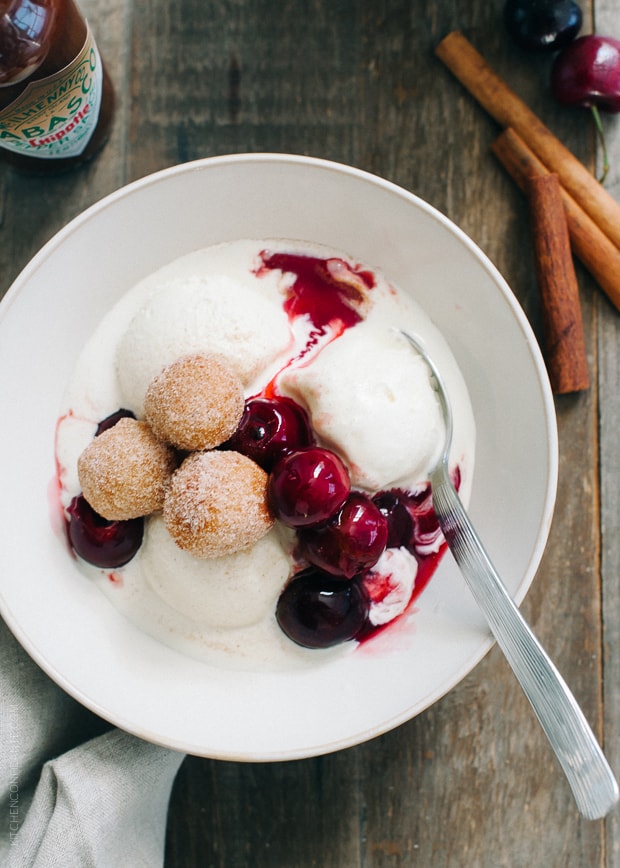 A couple of cups of cherries is all you need to make the summer last by stirring it into a warm Cherry Chipotle Sauce. For my third recipe in my Tabasco Tastemakers series, I brought a lot of sweet and spicy into the mix by using the Tabasco Chipotle Pepper Sauce. Don't be alarmed by the heat, because you're going to drizzle it over mounds of creamy vanilla ice cream and top it all off with sweet and spicy churro doughnut holes. Each spoonful of ice cream will have a bit of summer cherry, with a little bit of heat from the warm sauce, and chewy doughs of heaven.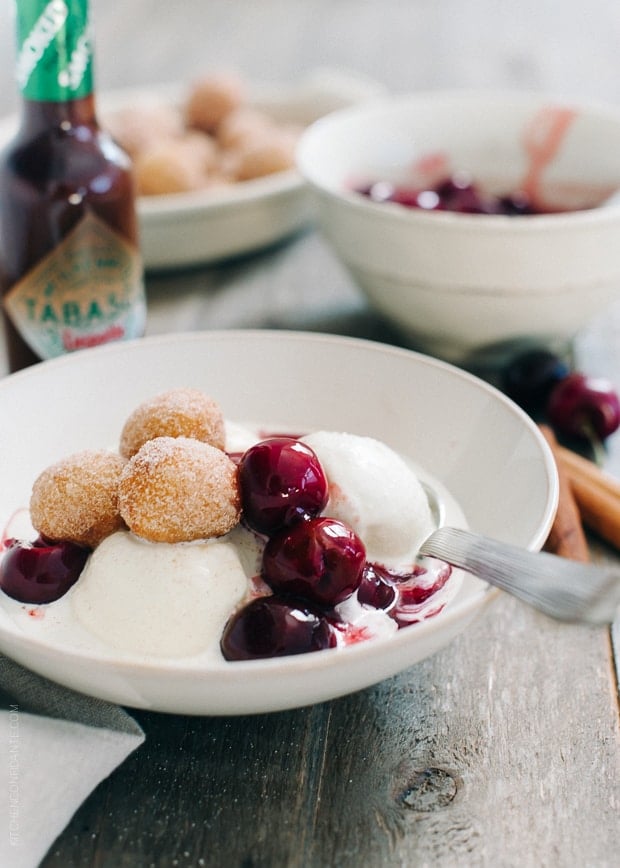 If you do one thing before summer ends, let it be this. Add Churro Doughnut Holes with Ice Cream and Cherry Chipotle Sauce onto your bucket list. And make sure you check it off.
Disclosure: This post was made possible by Tabasco. This recipe is the third in a recipe series I am publishing as part of the TABASCO® Tastemakers program featuring the Tabasco Family of Flavors. Thank you for supporting brands that matter to me and help behind the scenes at Kitchen Confidante. All opinions in this post are, as always, my own.
More from my Tabasco Tastemaker Series:
Scotch and Salt Cocktail + Scenes from Avery Island, Home of Tabasco
Fried Heirloom Tomatoes with Buttermilk Fried Oysters and Green Pepper Aioli
Dungeness Crab Salad with Buttermilk Garlic Pepper Dressing
Churro Doughnut Holes with Ice Cream and Cherry Chipotle Sauce
The ultimate in sugar and spice and all things nice.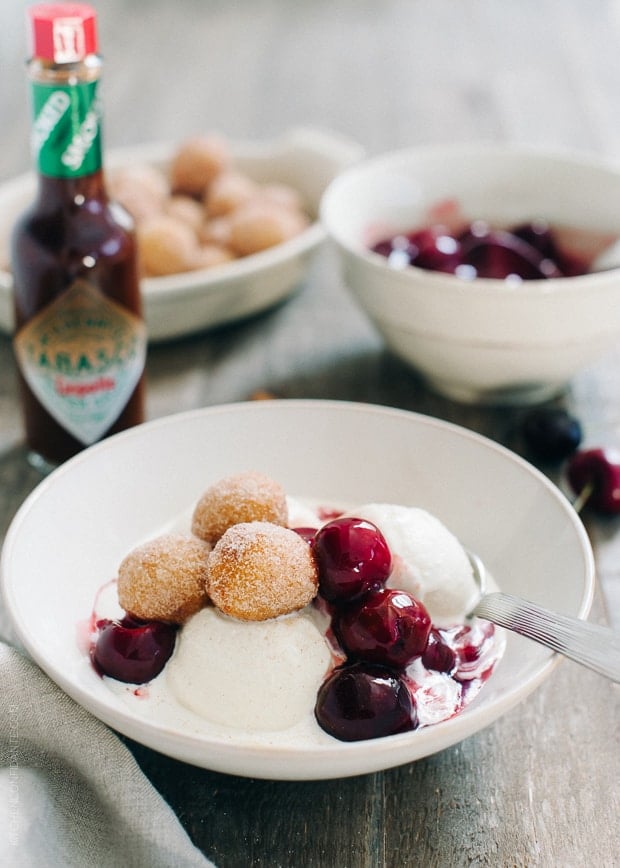 Print Recipe
Ingredients
For the Cherry Chipotle Sauce:
1/2 cup lemonade
2 tablespoons Tabasco Chipotle Pepper Sauce
1/4 cup granulated sugar
1 tablespoon cornstarch
2 cups fresh cherries, pitted (frozen cherries can be used, too)
For the Churro Doughnut Holes:
1 cup water
3 tablespoons granulated sugar
1/2 teaspoon kosher salt
2 tablespoons canola oil
1 cup all-purpose flour
1 1/2 pints peanut or canola oil, for frying
1/2 cup granulated sugar
1 teaspoon ground cinnamon
1/4 teaspoon cayenne pepper (optional)
vanilla ice cream, for serving
Instructions
To make the Cherry Chipotle Sauce:
In a small sauce pan, whisk together the lemonade, Tabasco Chipotle Pepper Sauce, sugar and cornstarch. Bring to a boil, then let it simmer while whisking. Drop in the cherries, and let it cook for about 2-3 minutes, or until the sauce begins to thicken. Remove from heat and let it cool slightly. The sauce can be used immediately, or stored in a glass container in the refrigerator for later.
To make the Churro Doughnut Holes:
In a small saucepan, whisk together the water, 3 tablespoons sugar, salt and oil. Place over medium heat and bring to a boil. Remove from heat and beat in the flour using a wooden spoon until it forms a ball. Let it cool slightly.
Use a small cookie or ice cream scoop to form balls out of the slightly cooled dough, measuring about 1 inch in diameter. Use your hands if you wish to make it smooth balls of dough.
In a small bowl, stir the sugar, cinnamon and cayenne pepper (if you want a little extra kick) until combined. Set aside.
In a medium saucepan or deep sided skillet, or using a deep fryer, heat the oil to 375 degrees F.
Fry the doughnut holes in small batches until golden brown, about 3-4 minutes per batch. Use a slotted spoon to transfer the churro doughnut holes to drain onto a paper towel lined dish. Then drop the doughnut holes into the sugar and coat on all sides. Set aside. Repeat until all the doughnut holes are done. You should have about 28 churro doughnut holes.
Serve while the doughnut holes and the cherry sauce are warm over vanilla ice cream.
Notes
Make ahead tips:
Prepare the churro dough in advance and form into balls. Refrigerate until ready to fry.
Prepare the cherry chipotle sauce in advance and store in a sealed container in the refrigerator. Warm before serving.