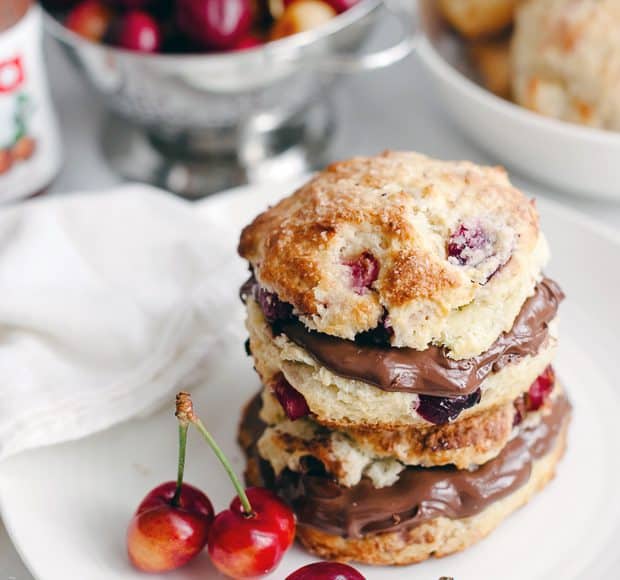 Cherry Nutella Scones
Scones, I find, are a taste of happiness any time of day. Eat them warm in the morning with some tea for breakfast, or make them a dessert with a dollop of Nutella. Either way, this recipe for Cherry Nutella Scones is guaranteed to make your heart smile.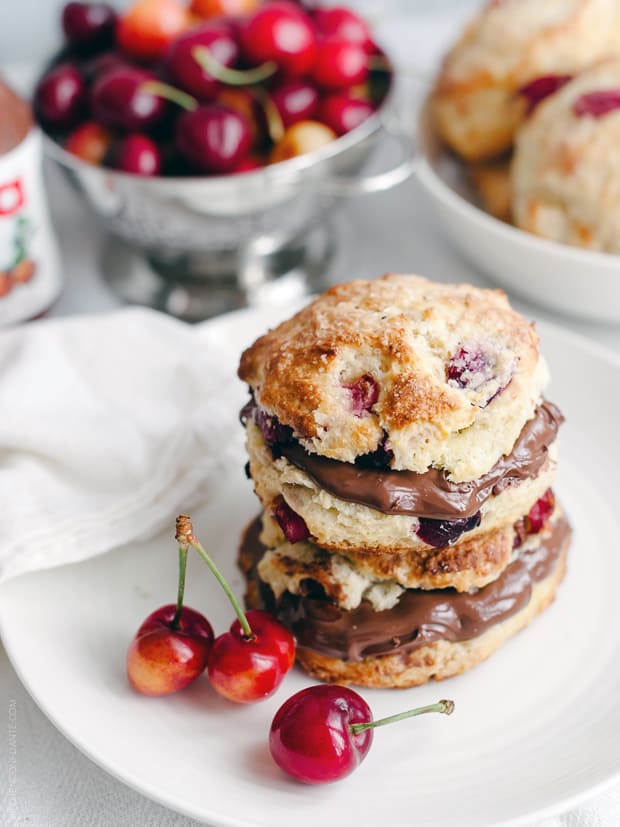 Cherry Nutella Scones
These Cherry Nutella Scones are baked with chopped fresh cherries inside and then split open and spread with Nutella for an indulgent treat. Disclosure: This post was originally sponsored by Nutella.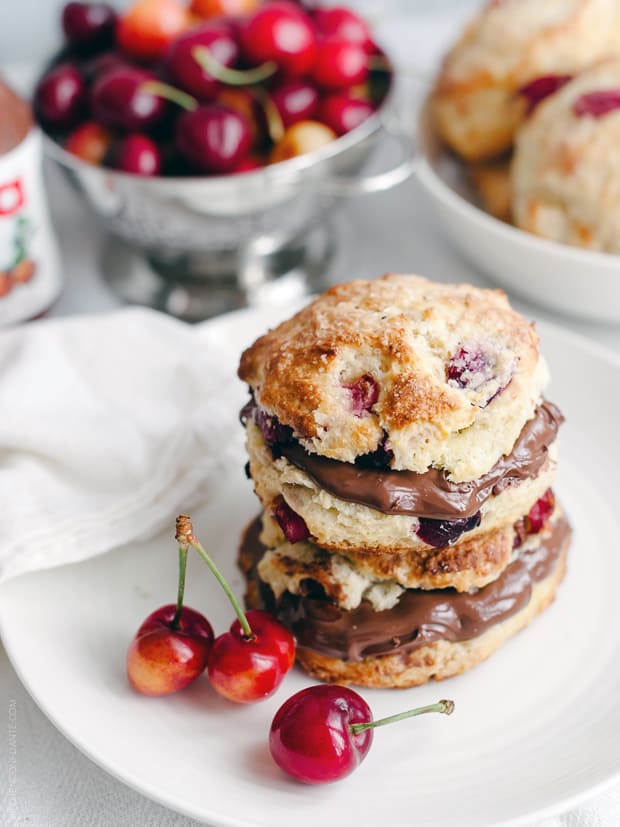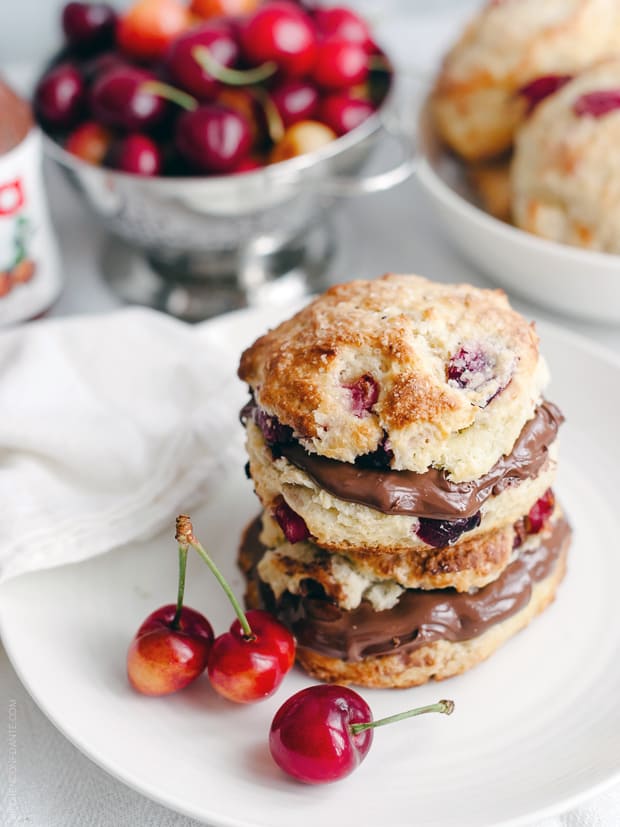 I miss her.
It was 20 years yesterday. 20 years since I heard her laugh, since we shared a meal, since I pretended to be embarrassed as she danced without a care in the world. 20 years since I gave her a hug. How could it be? How is it that in those 20 years, I have found love, created life, and now live in a cozy little valley town in California? How is it that my mother does not know this side of me?
Perhaps she does. I'd like to think so. I'd like to think she has been there, watching me, every step of the way.
I miss her more than ever. And in many ways, the idea, the concept, the reality that 20 years have passed is one that my mind can not grasp. It happened in the blink of an eye.
But something else has happened.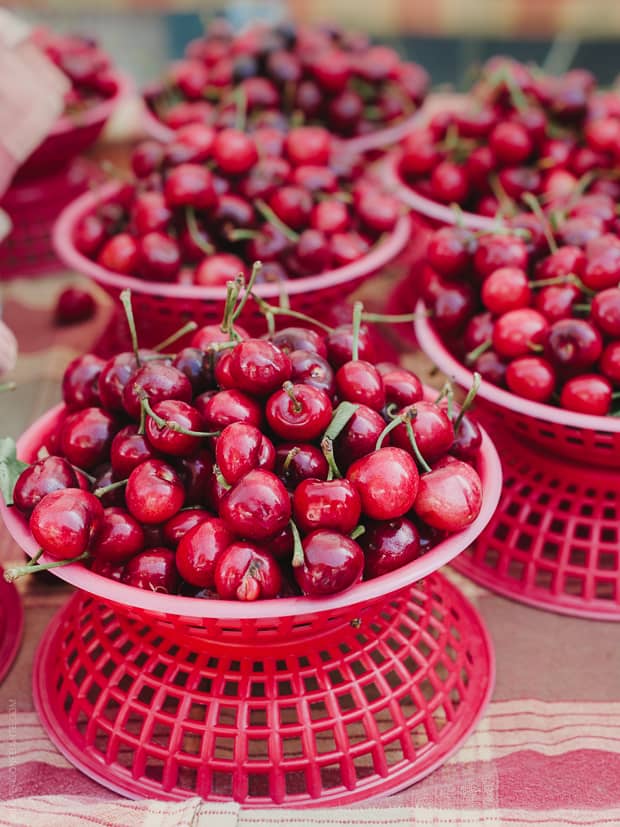 I find her in the moments that make me happy. She is there, in those silly moments, when I do a goofy dance with my children, just as she used to, with us. She is there when we savor life's little adventures, be it a family trip or trying a tasty new hole in the wall. She is there when my daughter dances on stage at her recital. She is there when my son hugs me and reminds me, "she's always in your heart, mommy."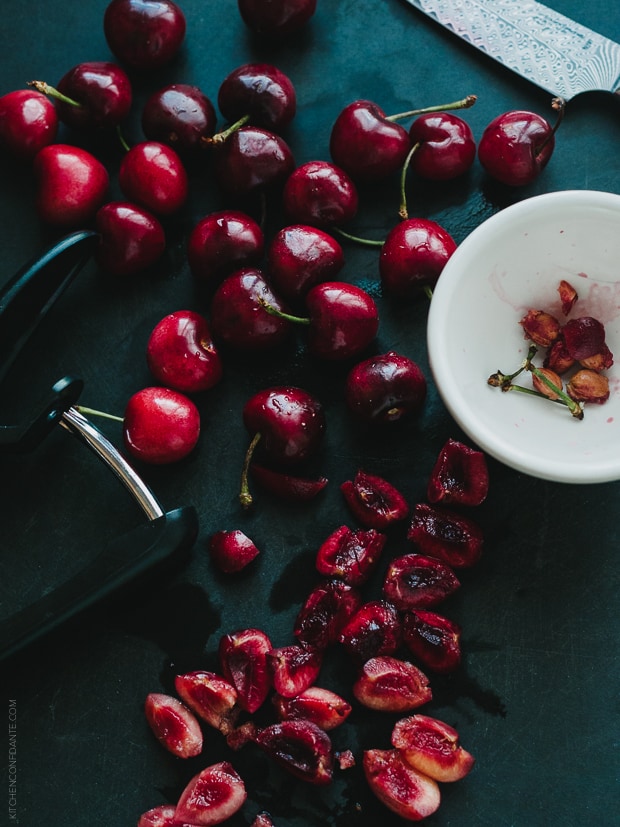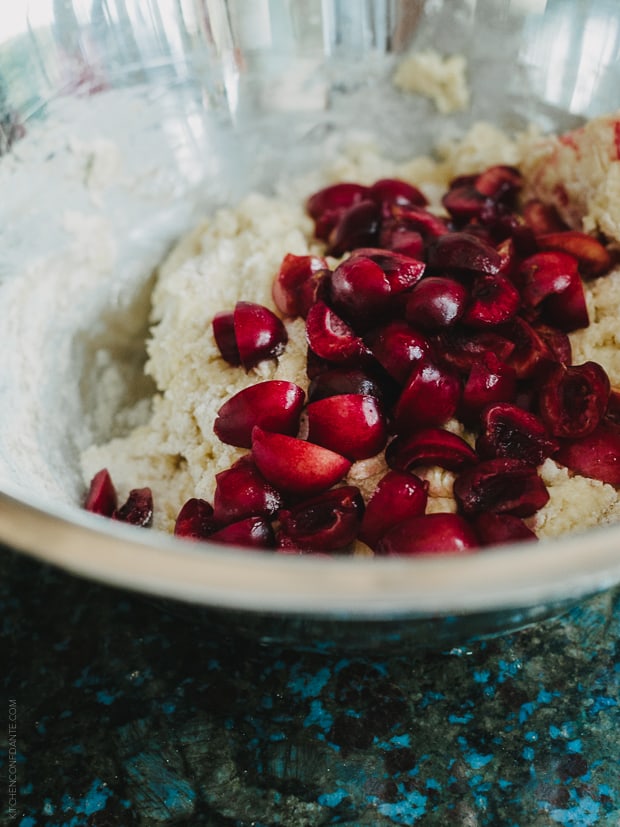 I tell them as often as I can. I'll tuck them into bed, and whisper, "Remember, I'll always be with you. In your heart." I want them to know. Just in case. Just in case I leave them too soon.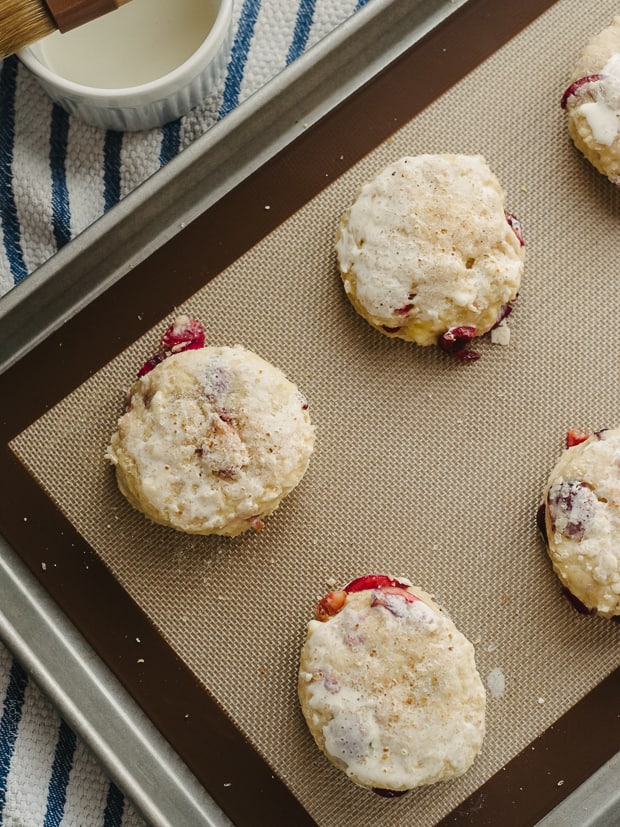 So when my son put his hands on my cheeks yesterday and reminded me that she is always in my heart, I felt her. As my tear met his hands, I knew that she was in his heart, too.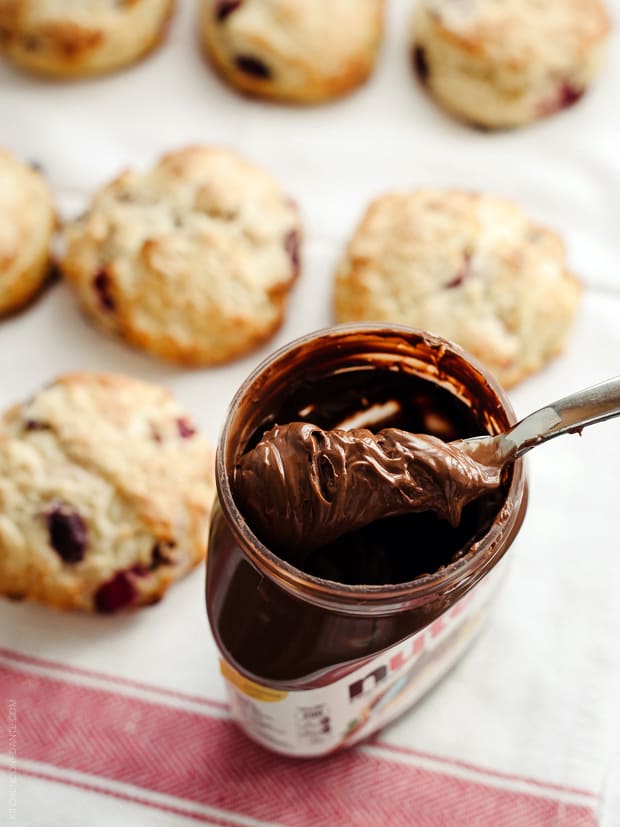 That teardrop turned into happy tears. My children inherited her compassion, and her kindness. They know how to spread happiness.
Spreading the happy. Being a mother has taught me that it's my children who remind me that the little things that can make a day special: Walking through the farmer's market on a Saturday morning, with the sun on our shoulders. Sampling to find just the right cherries. Discovering that they will be perfect in some tender scones for breakfast on a Sunday morning. Or even better, enjoying them for desert, warm and straight out of the oven, with chocolate hazelnut spread sandwiched between, oozing out the sides.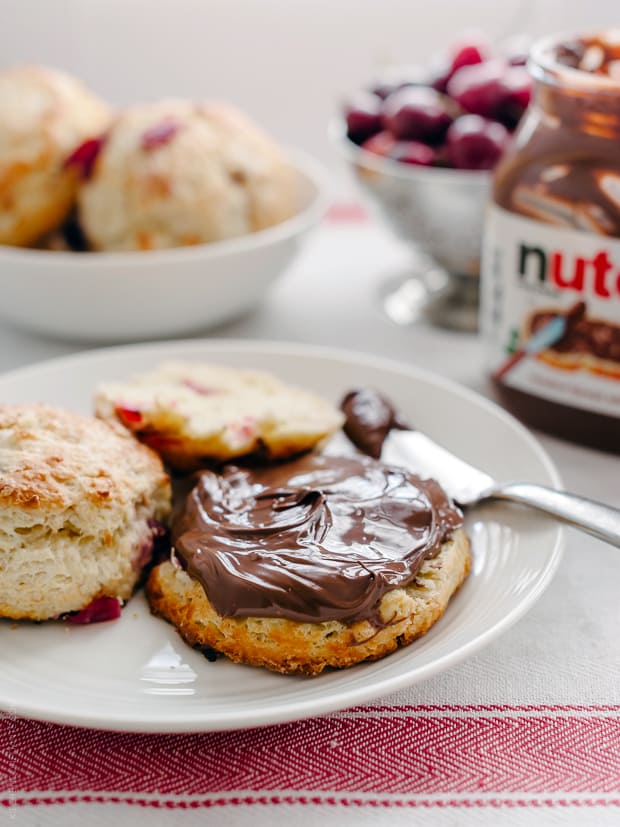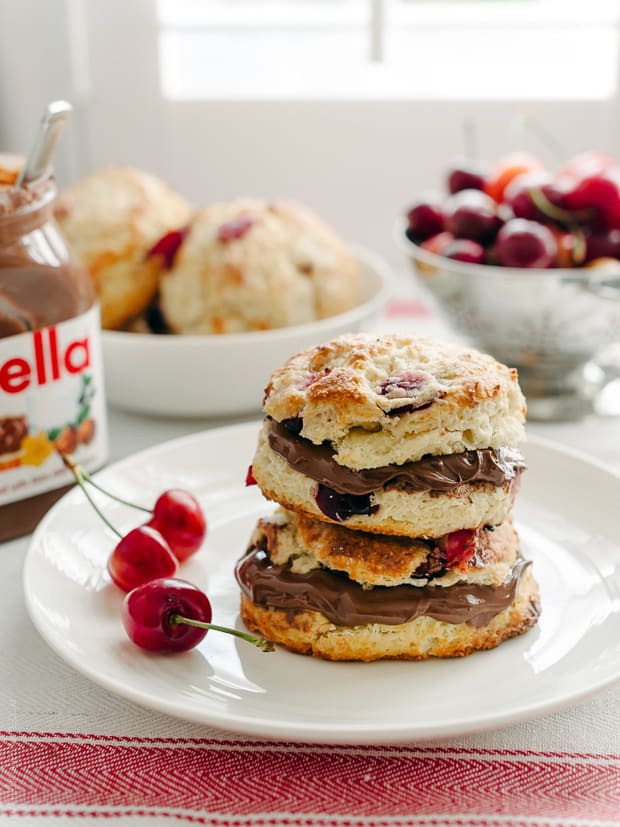 These Cherry Nutella Scones were the perfect way to spread happiness with the special people in my life, and packaged up, they will make some friends who need a pick me up a reason to smile, too. I couldn't think of a sweeter way celebrate happiness this season.
How to Make Cherry Nutella Scones
First, pit your cherries (use this quick tip if you do not have a cherry pitter), quarter them, and set aside with the rest of the scone ingredients. In a large bowl, whisk together the dry ingredients. Cut in the cold butter until coarse crumbs have formed. Whisk the eggs, combine with buttermilk, and stir lightly into the dry mixture to form a dough. Add the cherries. The dough will be sticky.
Turn the dough out onto a floured surface, knead a bit to incorporate the cherries, and form into a disk. Cut 8 scones with a 3″ round cutter. Place scones on a prepared baking sheet, brush with cream and sprinkle with cinnamon and sugar. Freeze for 30 minutes. Bake for 20 minutes, then let cool slightly, and split open to spread with Nutella.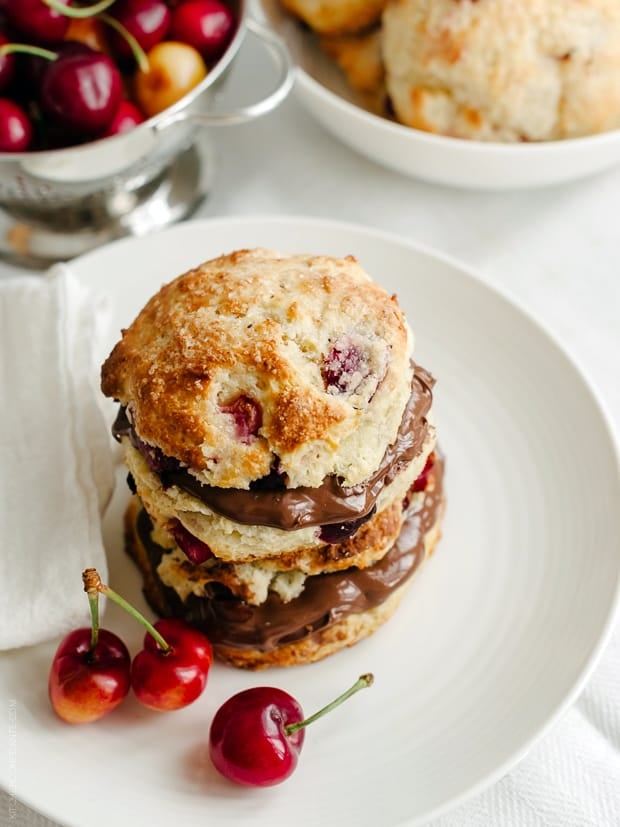 Nutella® hazelnut spread is a happy start to every day! Pick up a jar of Nutella in the spreads aisle and enjoy it with whole wheat toast, waffles, pancakes, strawberries, bananas and many other foods. Nutella. Spread the Happy™.
Check out the Nutella® Tumblr page — share pictures of how you enjoy Nutella, find more recipes, and join in spreading the happy! Disclosure: Compensation was provided by the makers of Nutella via Mode Media. The opinions expressed herein are those of the author and are not indicative of the opinions or positions of Nutella.
More Cherry Recipes
How to Pit Cherries without a Cherry Pitter | One Quick Tip
Cherry Dutch Baby Pancake with Pecan Streusel
Coconut Cherry Cobbler
Cherry Rolls
Stovetop Rhubarb-Cherry Crisp
Homemade Cherry Pop Tarts
Cherry Nutella Scones
Scones, I find, are a taste of happiness any time of day. Eat them warm in the morning with some tea for breakfast, or make them a dessert with a dollop of Nutella. Either way, this recipe for Cherry Nutella Scones is guaranteed to make your heart smile.
Ingredients
2 1/2

cups

all-purpose flour

1/2

cup

granulated sugar

1

tablespoon

baking powder

1/4

teaspoon

kosher salt

1/2

cup

cold butter

cut into small pieces

2

large eggs

2/3

cup

buttermilk

2

cups

cherries

pitted and quartered

2

tablespoons

cream

2

teaspoons

sugar

1/2

teaspoon

ground cinnamon

Nutella

for serving
Instructions
In a large bowl, whisk together the flour, sugar, baking powder and salt. Using a pastry cutter, cut the butter into the flour mixture, until you have coarse crumbs. This can also be done with two knives or a food processor.

Whisk the eggs lightly and combine with the buttermilk. Add to the flour mixture and stir until just moist.

Add the cherries to the dough, then mix lightly. The dough will be sticky.

On a lightly floured surface, turn the sticky dough out and knead lightly until the cherries are incorporated into the dough and the dough is shaped into a disk. Roll the dough 3/4 inch thick. Using a biscuit cutter or cookie cutter, cut out 3 inch rounds. You should have about 8 scones. Place the scones on a baking sheet lined with parchment or a silicone mat, and lightly brush with cream. Stir together the sugar and cinnamon and sprinkle over the scones.

Place the scones in the freezer for 30 minutes. Meanwhile, preheat the oven to 400° F.

Once the scones are chilled, bake for 20 minutes, or until golden. Let cool slightly, then cut the scones in half. Spread with Nutella and enjoy.
Notes
Adapted from Cheddar-Dill Scones, The Barefoot Contessa Cookbook by Ina Garten.
Freezing dough for ultimate rise acquired from King Arthur Flour.
Nutrition information for cherry scones only and does include Nutella added.
Nutrition
Calories:
361
kcal
|
Carbohydrates:
51
g
|
Protein:
7
g
|
Fat:
15
g
|
Saturated Fat:
9
g
|
Trans Fat:
1
g
|
Cholesterol:
79
mg
|
Sodium:
214
mg
|
Potassium:
319
mg
|
Fiber:
2
g
|
Sugar:
19
g
|
Vitamin A:
525
IU
|
Vitamin C:
2
mg
|
Calcium:
112
mg
|
Iron:
2
mg