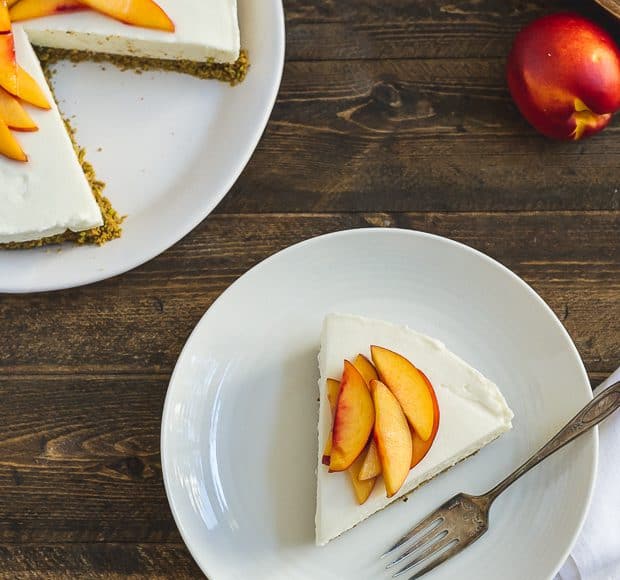 No-Bake Goat Cheese Cheesecake with Nectarine Compote
A recipe for No-Bake Goat Cheese Cheesecake with Nectarine Compote. A no-bake dessert is a treasure for summer and beyond.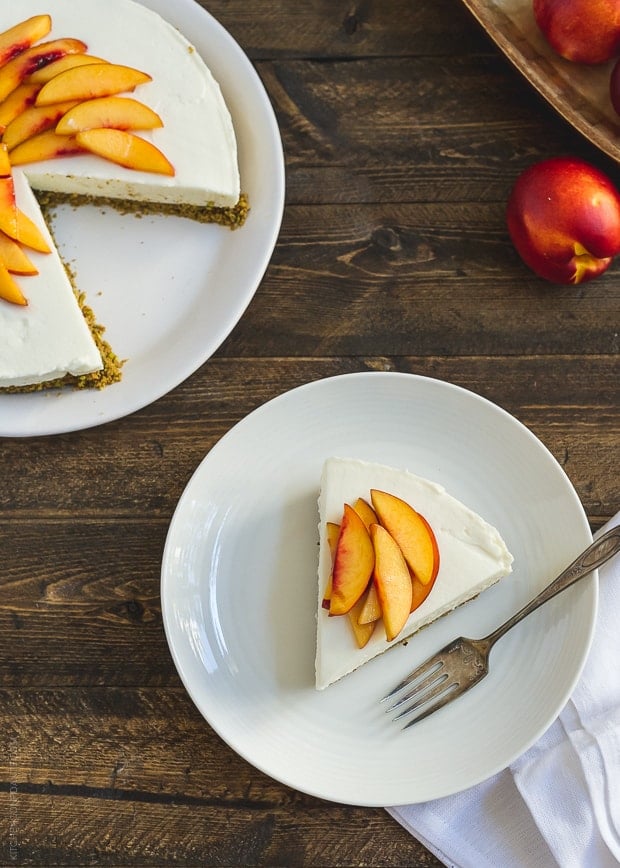 No-Bake Goat Cheese Cheesecake with Nectarine Compote
A recipe for No-Bake Goat Cheese Cheesecake with Nectarine Compote. A no-bake dessert is a treasure for summer and beyond.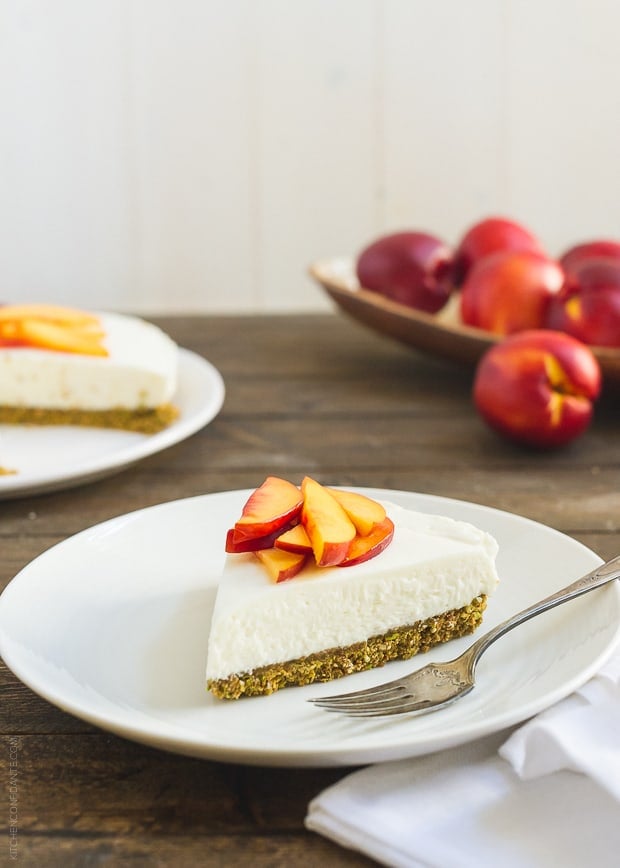 I often wax poetic about how in love I am with life in California, I imagine that sometimes it sounds like much of the same: blah blah, the farmers markets, blah blah, the avocados, the artichokes, the hills green and golden, the weather, blah blah…
And yes, while I am ever so grateful to live here, I always hold a special place for New York. I was born there. I was raised there. I was married there. There's a part of NYC that emerges every so often, little things, and I am just as nostalgic when I see autumn leaves scattered along a sidewalk, or a slice of pizza on a paper plate, or an image of the skyline. Today in particular, my heart belongs to New York. I've written about it many times before.
As much as my love for the urban farmers market is part of living in California, it is actually rooted in New York. The first time I stumbled upon a farmer's market was in the heart of Union Square, back when the Greenmarket was still rather small, but definitely an oasis of freshness in an otherwise tasteless world of supermarket fruits and vegetables. Later, I remember how excited I was to see that they opened a smaller market near my office further uptown, an outpost of perhaps 4 farmers offering anything from vegetables to homemade pies. Since then, the markets have expanded to all the boroughs, and become part of daily life for many.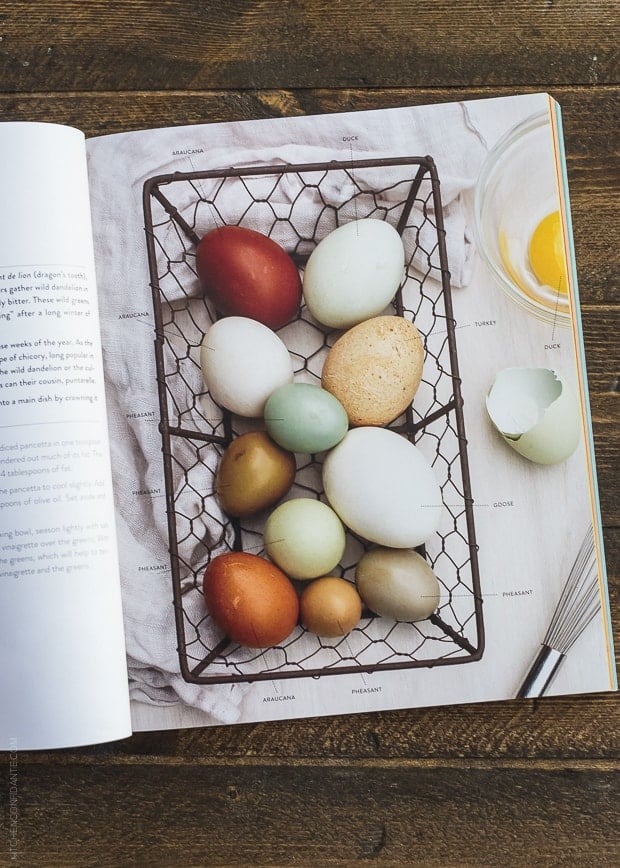 The New Greenmarket Cookbook: Recipes and Tips from Todays Finest Chefs and the Stories behind the Farms That Inspire Them
by Gabrielle Langholtz has been sitting on my desk for a couple of months, and I finally had time recently to give it the attention it deserves. I brought it into the kitchen and have been inspired by its collection of recipes from chefs and notables that most cookbooks would kill to namedrop (Andres, Ripert, Bittman, Hesser, et al), but who have been just as inspired by Greenmarket Farmers Markets in their own kitchens, professional and otherwise. I have been cooking through it, and have found some real gems – the recipes are approachable and sensible, allowing ingredients to truly shine.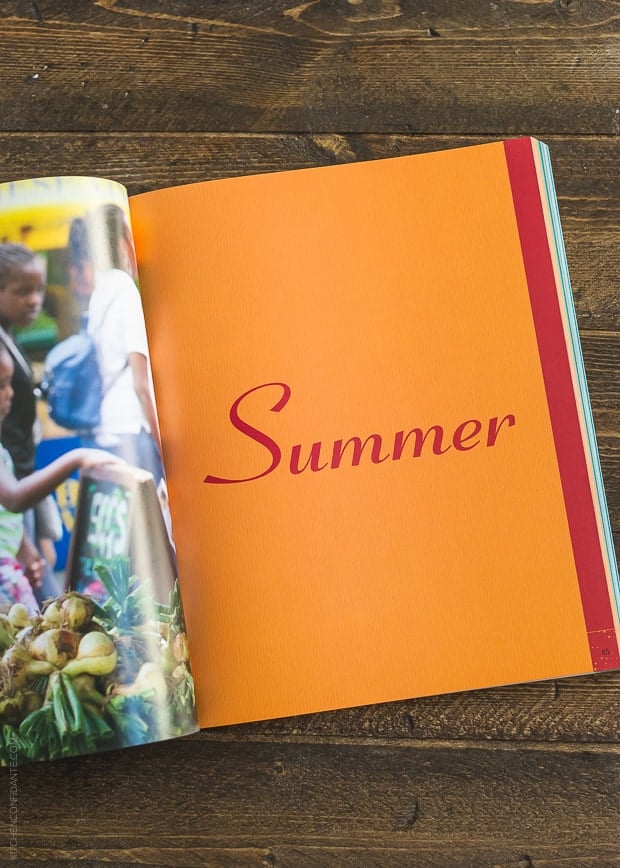 When I was done with it in the kitchen, the cookbook found its way to my bedside table, where I would read it like a book of short stories. The farmers that made Greenmarket what it is today are highlighted throughout the book – their stories adding color and depth, painting a picture just as delicious as the recipes. It really is such a thoughtful book, and in many ways a testament to the immense effort it took to make two worlds – a struggling farming community and a city deprived of freshness – work together for the betterment of both.
I mean it when I say I haven't enjoyed a cookbook like this in a very long time.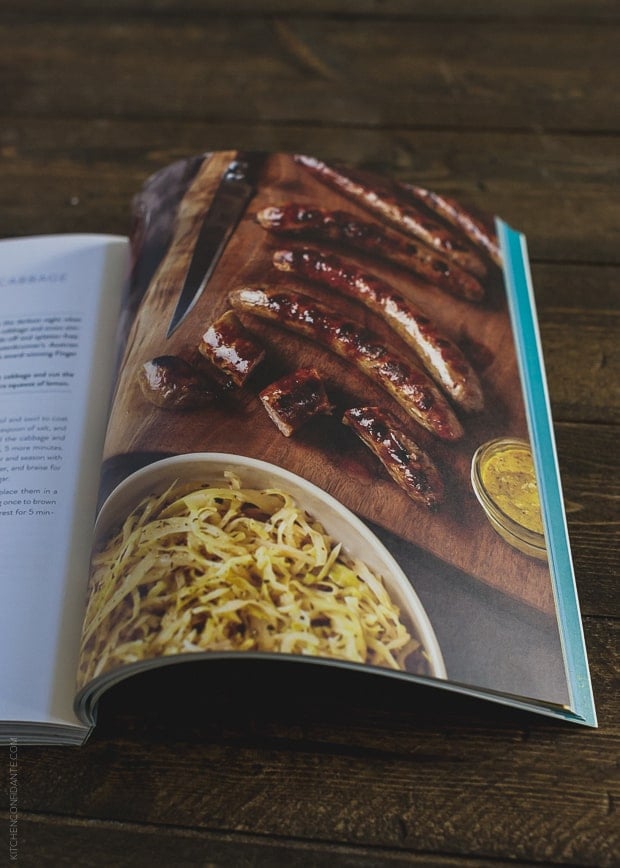 There are so many wonderful recipes, but for now, I want to share with you this No-Bake Goat Cheese Cheesecake with Nectarine Compote from Louisa Shafia. We have 10 days left before the calendar dictates us to shift to pumpkin spiced everything, but for now, there are still amazing nectarines at the market. It would be a shame to move on too quickly – give the nectarines a bit of love while they are still here. And while Indian summer rages strong (it will be triple digits in my part of the Bay Area today), no-bake anything is the only way to go.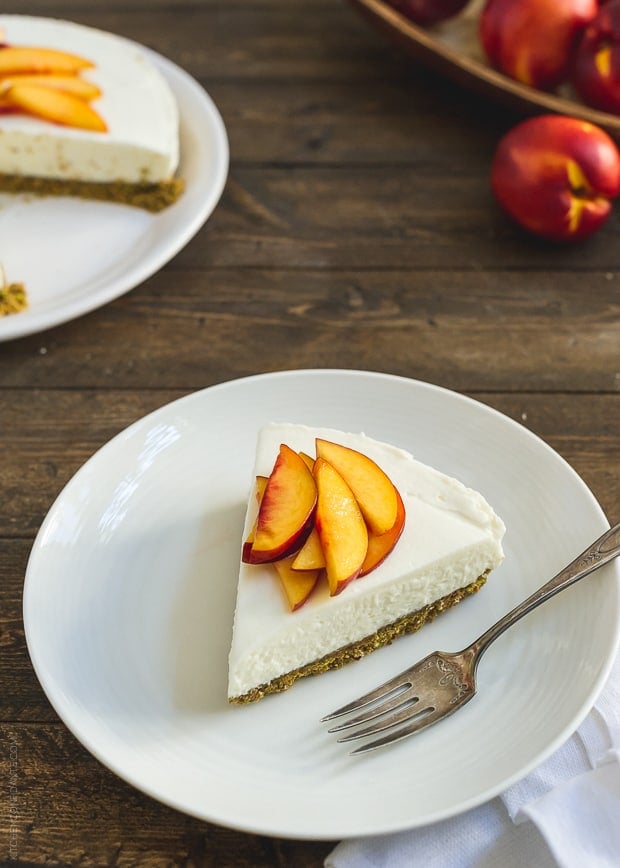 No-Bake Goat Cheese Cheesecake with Nectarine Compote
Tangy goat cheese adds richness to this amazing cheesecake, along with crushed pistachios in the graham cracker crust. It couldn't be simpler to make. The good news is that once the nectarines are gone, you can adapt the compote to whatever fruit is available to you – I can see making this again with velvety figs, or sweet cranberries, come winter.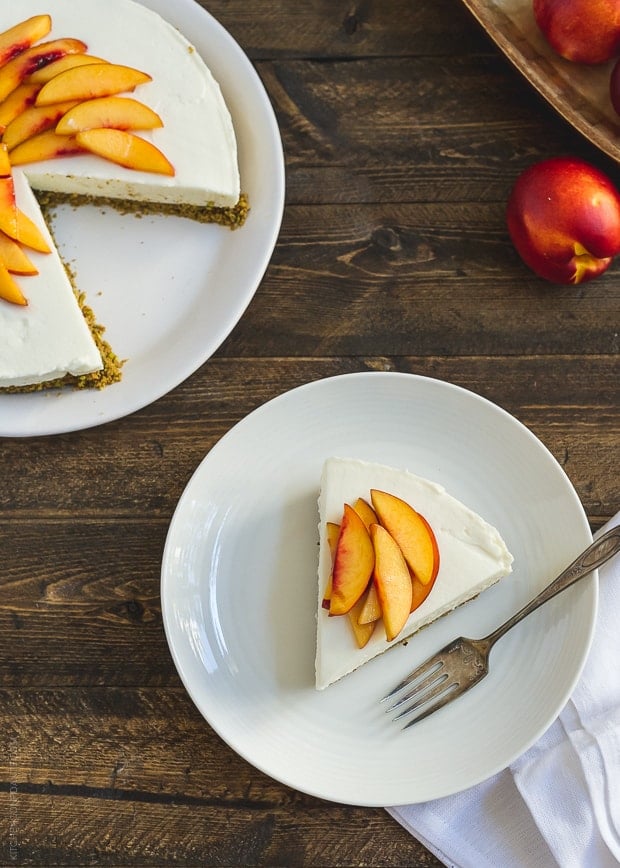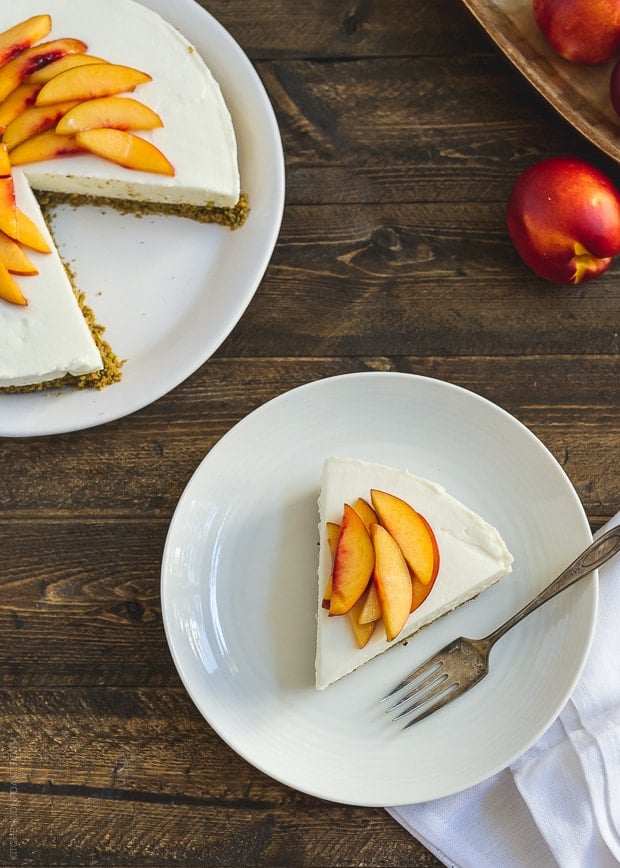 More Goat Cheese Recipes
Blueberry Goat Cheese Scones
Sweet Potato Chips with Whipped Goat Cheese and Caviar
Fig, Honey and Goat Cheese Galette
Summer Wheat Berry Salad with Stone Fruits and Goat Cheese
Skillet Pesto Flatbread with Goat Cheese, Artichokes and Roasted Butternut Squash
Disclosure: I received a copy of The New Greenmarket Cookbook for review, however, I was not compensated to review the book or write this post. All opinions are always my own.
No-Bake Goat Cheese Cheesecake with Nectarine Compote
A recipe for No-Bake Goat Cheese Cheesecake with Nectarine Compote. If you are looking for goat cheese dessert recipes, give this No-Bake Goat Cheese Cheesecake a try!
Ingredients
For the Crust:
1 1/2

cups

toasted pistachios

1

cup

crushed graham crackers

about 7-8 large graham crackers

4

tablespoons

melted unsalted butter

plus more for greasing pan

1/2

teaspoon

ground cinnamon

1

cup

plus 2 tablespoons granulated sugar

divided

pinch

kosher salt
For the Cheesecake:
1/2

cup

heavy cream

1

pound

fresh crumbled goat cheese

room temperature

3/4

cup

crème fraiche

1

tablespoon

lime juice

pinch of kosher salt
For the Nectarine Compote:
2

ripe nectarines

cut into wedges

2

tablespoons

granulated sugar

1

tablespoon

lime juice
Instructions
Lightly grease a 10 inch springform pan with butter.

In a food processor, combine the pistachios, graham crackers, melted butter, cinnamon, 2 tablespoons sugar, and salt, and pulse until the mixture is sandy in texture and is just beginning to form clumps. This should take between 30 seconds to 1 minute. Pour the crumbs into the springform pan and press evenly over the bottom, using a measuring cup to evenly pack the crust. Let it rest in the refrigerator while you prepare the filling.

In the bowl of an electric mixer with the whisk attachment, whip the heavy cream until it has stiff peaks. Transfer the whipped cream to a bowl and set aside. Replace the mixer bowl to the electric mixer (no need to wash), and beat together the goat cheese, crème fraiche, 1 cup sugar for 2-3 minutes, or until creamy and smooth. Add the lime juice and a pinch of salt and mix. Fold in the whipped cream with a large spatula, then transfer the filling into the prepared crust. Smooth the top, cover with plastic wrap and refrigerate for at least 4 hours, or overnight, until firm.

About 30 minutes to 1 hour before serving, make the nectarine compote: Mix the sliced nectarines with the sugar and lime juice in a small bowl and let it sit at room temperature for 30 minute to 1 hour.

Serve the cheesecake topped with the nectarine compote.
Notes
Make it ahead:
The cheesecake will keep in the refrigerator for up to 4 days.
How many will this cheesecake serve? This 10" cheesecake will serve 8-10.
From The New Greenmarket Cookbook by Gabrielle Langholtz and GrowNYC. Reprinted with permission from Da Capo Lifelong, © 2014
Nutrition
Calories:
5046
kcal
|
Carbohydrates:
385
g
|
Protein:
137
g
|
Fat:
345
g
|
Saturated Fat:
175
g
|
Cholesterol:
737
mg
|
Sodium:
2386
mg
|
Potassium:
2962
mg
|
Fiber:
27
g
|
Sugar:
286
g
|
Vitamin A:
12167
IU
|
Vitamin C:
36
mg
|
Calcium:
1124
mg
|
Iron:
20
mg