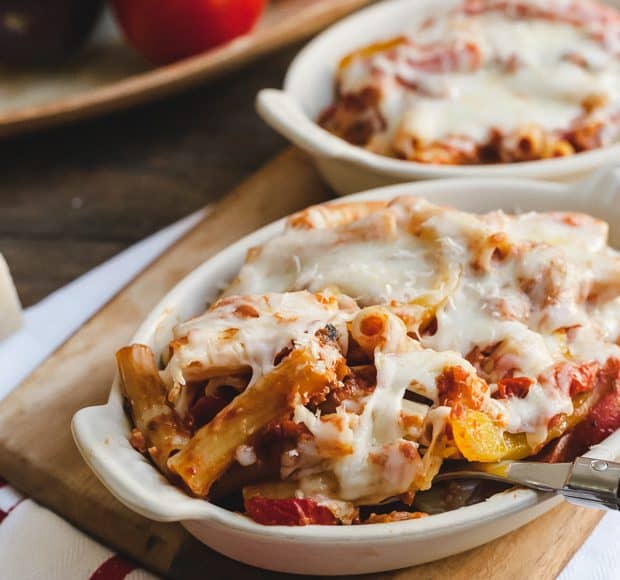 Baked Ziti with Roasted Eggplant and Peppers
Pasta feeds and pancake breakfasts – to me, the two used to go hand in hand, events of mass consumption, fundraising for a common goal. I remember volunteering at my grammar school when I was a little girl, curious at the crowds seated at the…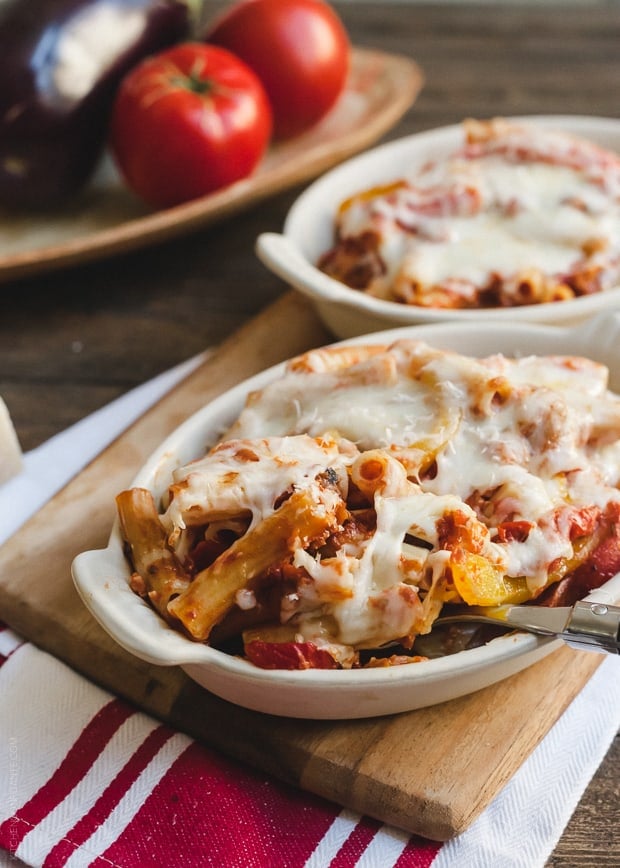 Baked Ziti with Roasted Eggplant and Peppers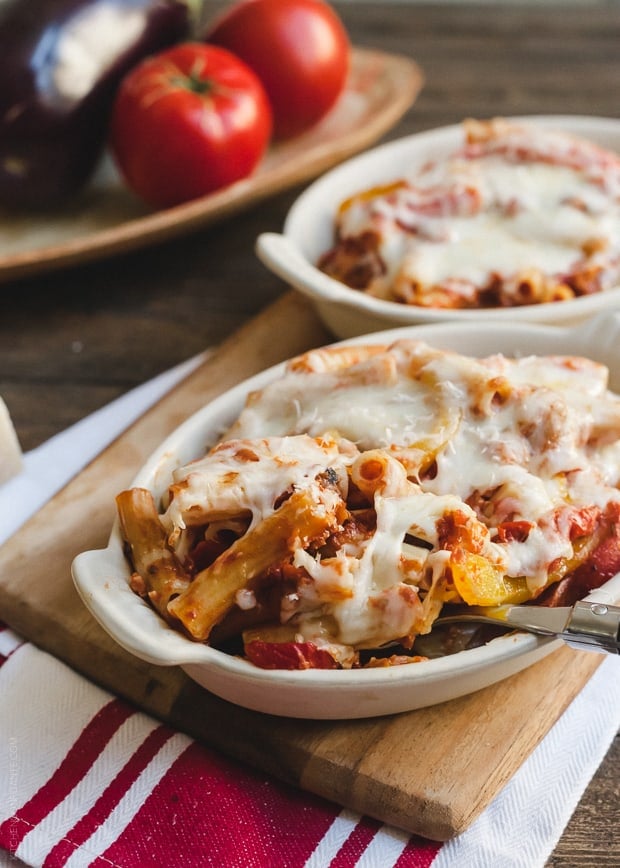 Pasta feeds and pancake breakfasts – to me, the two used to go hand in hand, events of mass consumption, fundraising for a common goal. I remember volunteering at my grammar school when I was a little girl, curious at the crowds seated at the long tables in the school cafeteria, the ones that often gave us kids splinters if you weren't careful, now topped with plastic tablecloths, and at the parents who were hustling in the kitchen, stirring vats of spaghetti or flipping pancake after pancake.
The pancake breakfasts were fun, but the pasta feeds were lost on me. I didn't quite appreciate how runners actually relied on the carb loading before race day. I just thought they loved spaghetti. We lived in New York, after all – didn't everyone love pasta?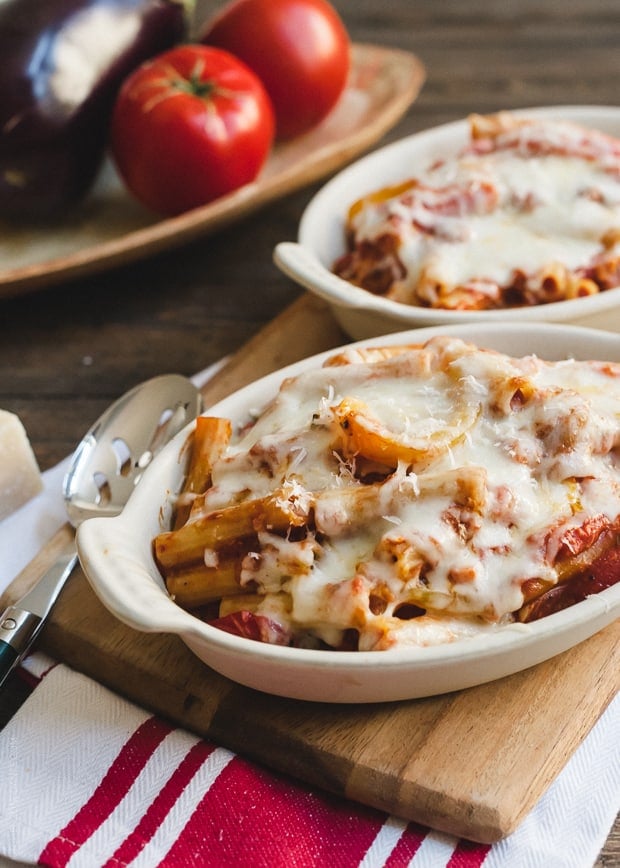 The image of crowded church basements and metal folding chairs returned to me a few weeks ago when my husband asked if we could have pasta every Friday night. He's training for a race, and the distances are getting longer and longer. Mile upon mile, he's pounding the pavement, and he needs to fuel up as he approaches those long runs.
I'm happy to oblige. Like I said, doesn't everyone love pasta?
It's rather nice, looking forward to pasta night each week. The kids are content, and I can finally try my hand at some dishes that have been on my mind. Now that summer is segueing into fall, this Baked Ziti with Roasted Eggplant and Peppers is a wonderful way to use the season's offerings and add its roasted flavors into a cheesy baked ziti. Roasting both the eggplant and the peppers mellows them in both flavor and texture (and makes it more palatable to pickier eaters!), melting into the cheese and the pasta with each bite.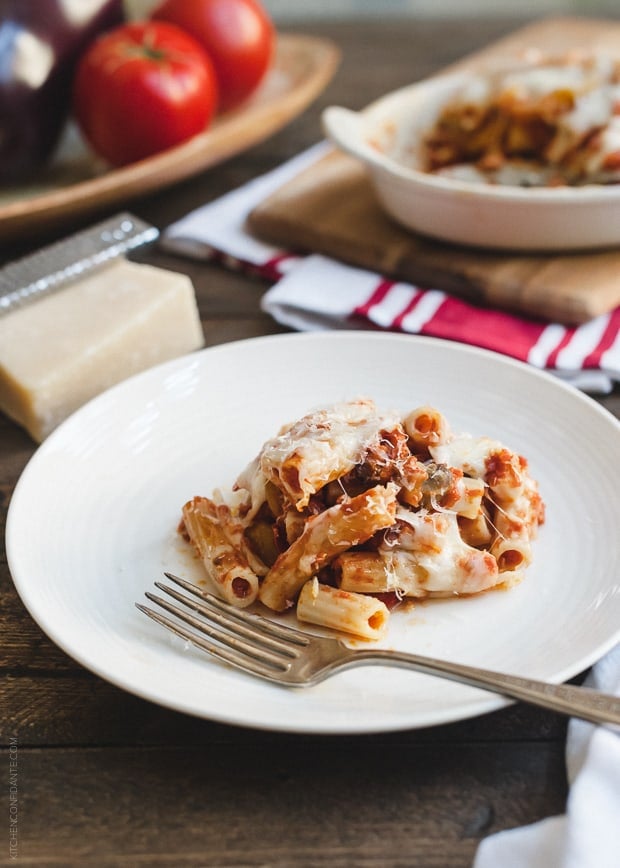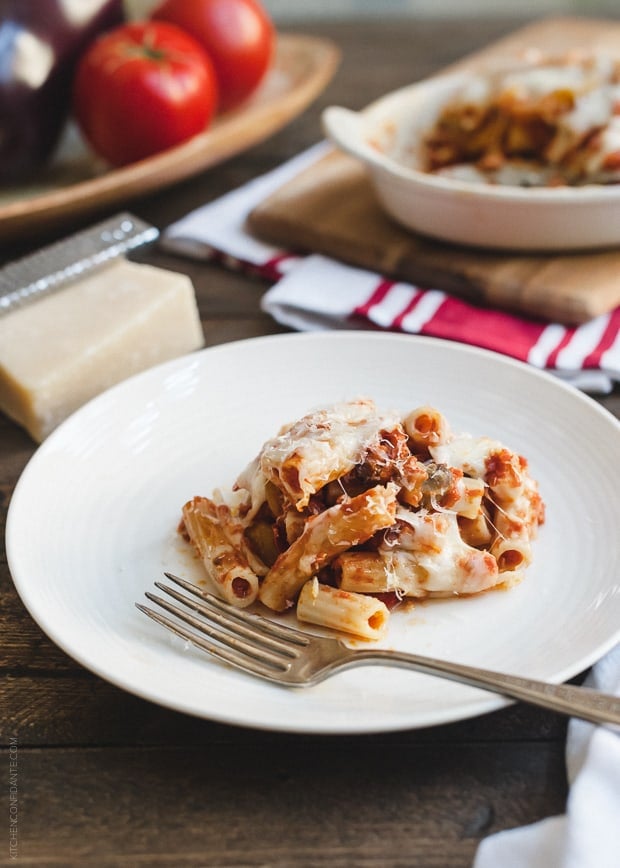 Eat Seasonal
Join my friends and I who embrace eating seasonally! The bounty of September is here! Just look at all this #eatseasonal inspiration: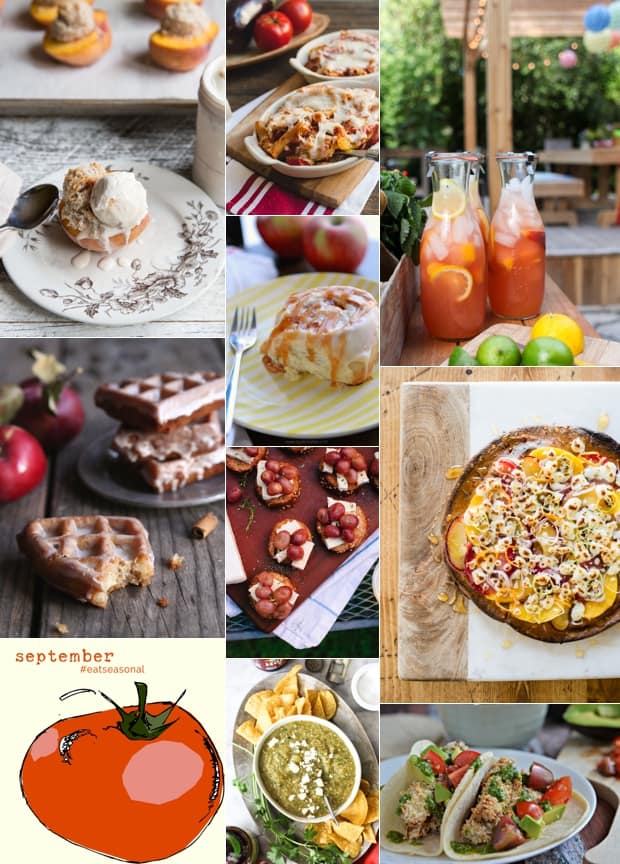 Get the delicious recipes:
Thai-Glazed Skillet Corn with Cotija Cheese by Climbing Grier Mountain
Apple Fritter Waffle Doughnuts by Completely Delicious
Roasted Grape Crostini with Brie and Thyme by Cookie and Kate
Crispy Eggplant Tacos with Cilantro Sauce by Mountain Mama Cooks
Pumpkin cake and Semifreddo Push Pops by Molly Yeh
Quinoa Pizza with Stone Fruit, Chiles, and Queso Fresco by Cafe Johnsonia
Honey-Sweetened Peach Lemonade by Simple Bites
How to Make Hatch Chile Salsa Verde by Foodie Crush
Green Onion & Chive Yogurt Dip by Project Domestication
Coconut Macaroon Filled Peaches by Vintage Mixer
Best Ever Caramel Apple Cinnamon Rolls by Lauren's Latest
Check out the September produce guide on The Vintage Mixer.
Baked Ziti with Roasted Eggplant and Peppers
Summer meets fall when roasted eggplants and peppers are tucked into cheesy baked ziti.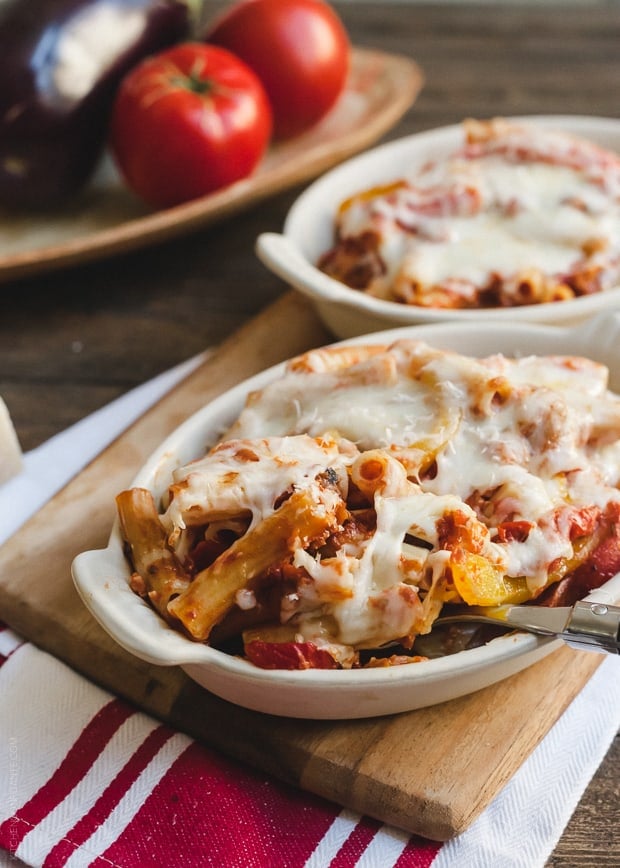 Print Recipe
Ingredients
2 medium eggplants (1 lb each)
4 tablespoons olive oil, divided
kosher salt and freshly ground black pepper
1 bell pepper
2 oz pancetta
2 cloves garlic, minced
1 tomato, diced
15 oz tomato sauce
3/4 lb ziti, penne or rigatoni pasta
1/3 cup grated Parmigianno Regianno, plus more for serving
1/2 lb mozzarella, shredded
Instructions
Preheat the oven to 400 degrees F.
Line a baking sheet with aluminum foil and lightly brush with olive oil.
Peel the eggplant and trim the ends. Slice each eggplant in half lengthwise, then lengthwise into thirds again. Trying to keep the eggplant together to retain its shape, cut them across in 1/2 inch pieces. Transfer to the prepared baking sheet using a wide spatula, the drizzle the mounds of eggplant with about 3 tablespoons olive oil and season with salt and pepper. Cover tightly with foil and place in the oven to roast for about 45 minutes, or until very tender.
Pierce the bell pepper with a fork and hold it over an open gas flame until the skin is black and blistered all over. Place in a brown paper bag or in a covered bowl and let it cool. Peel the skin (using a paper towel helps) and discard. Remove the stem and seeds, then slice the peppers into think 1/4 inch pieces lengthwise.
Bring a large pot of water to a rolling boil. Salt the water and cook the pasta. Drain and set aside.
Heat remaining tablespoon of olive oil in a deep sided saute pan over medium heat. Add the pancetta and garlic, and cook until the pancetta and garlic begin to brown. Add the roasted eggplant, peppers, and tomato and cook for one minute. Add the tomato sauce and season with salt and pepper. Add the cooked pasta and stir in the parmigianno regianno cheese. Transfer the dressed pasta to a baking dish and sprinkle with mozarella. Bake in the oven for about 20 minutes, or until the cheese has all melted and the sauce underneath is bubbling.
Serve with additional Parmigianno Regianno cheese.