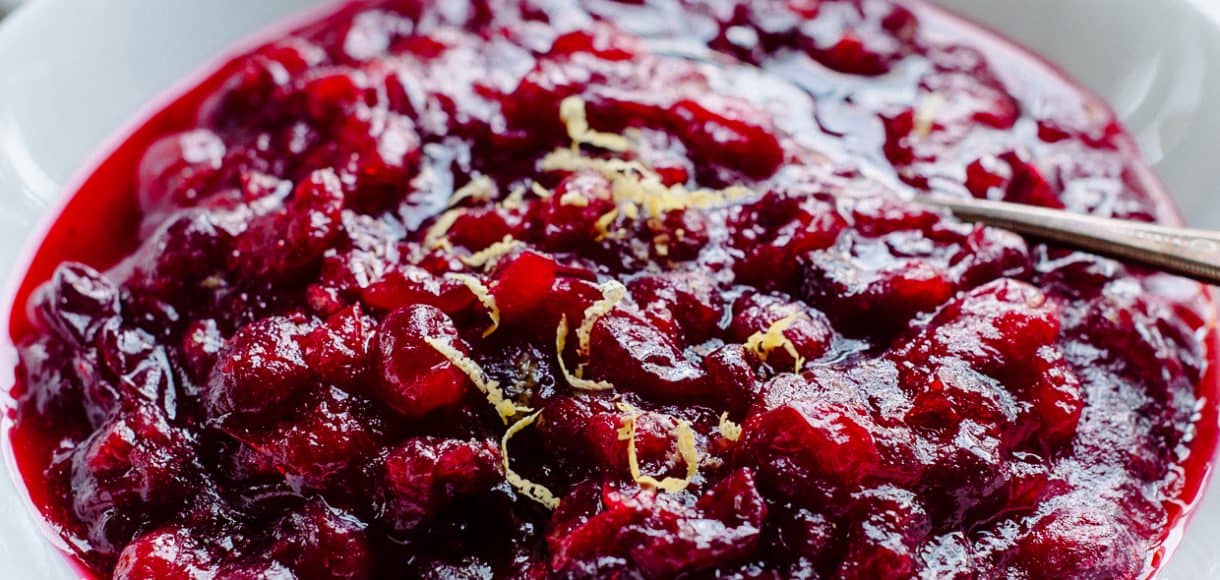 Cranberry Wine Sauce
Open a bottle of wine while you make your holiday meal and use a cup to add a little something extra to the cranberries in this Cranberry Wine Sauce!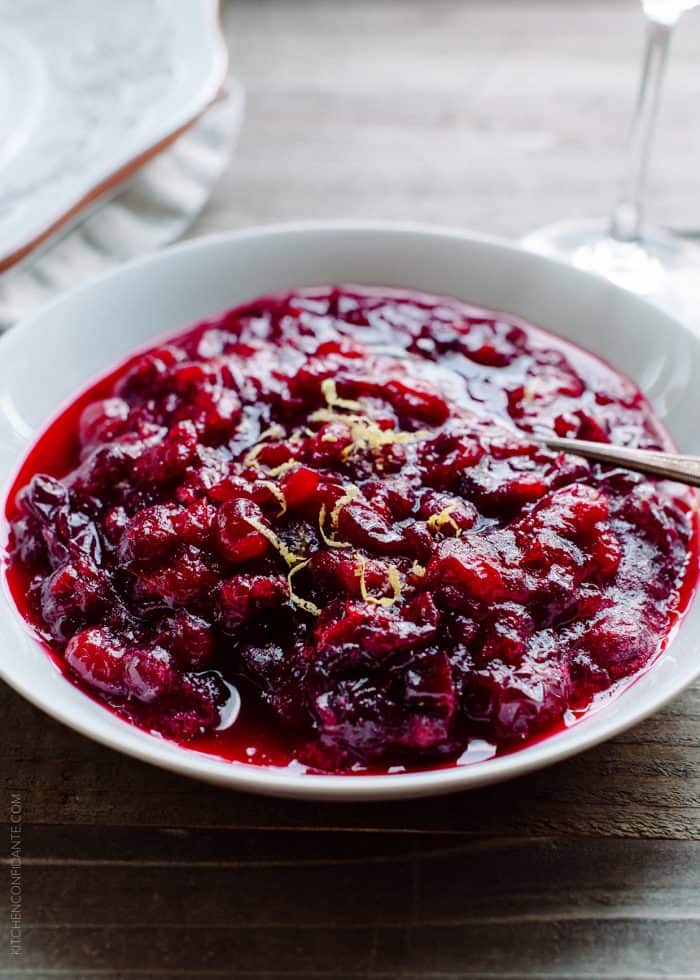 Cranberry Wine Sauce


The house is still. It's finally clean, even the kitchen, at least for now. The guest room is freshly made, and stocked with towels and blankets, and my daughter has set the Thanksgiving table. And before I head to bed, I am going over the final menu and all the last minute items my husband will get at the store while I head to the airport early in the morning to pick up two very important ingredients to our Thanksgiving dinner: my sister and brother in law.
Now that the house is ready, I feel like I can give myself permission to get excited! And the first dish has been tackled and is chilling in the refrigerator. Cranberry sauce is the one dish I always start with – it's a great way to dip my toe into all the holiday cooking, and this year, I'm elevating the staple — I made Cranberry Wine Sauce.
I'm guessing that you may have plenty of wine at the ready, and you may even be sipping on a little as you cook. Take a little wine and stir it into those beautiful cranberries, and as you hear them pop on the stove, you will smell the aroma of mulled wine transform into a glistening sauce that has a little more depth and a whole lot of character.
It is a celebration, after all. Why not let the cranberries have a little fun, too?

p.s. If you have any Cranberry Wine Sauce leftover, I have just the thing for you! It's perfect in Cranberry Wine Galette, Cranberry Sauce Slab Pie and Cranberry Sauce Cornbread Muffins!
Cranberry Wine Sauce brings a touch of elegance to your Thanksgiving table!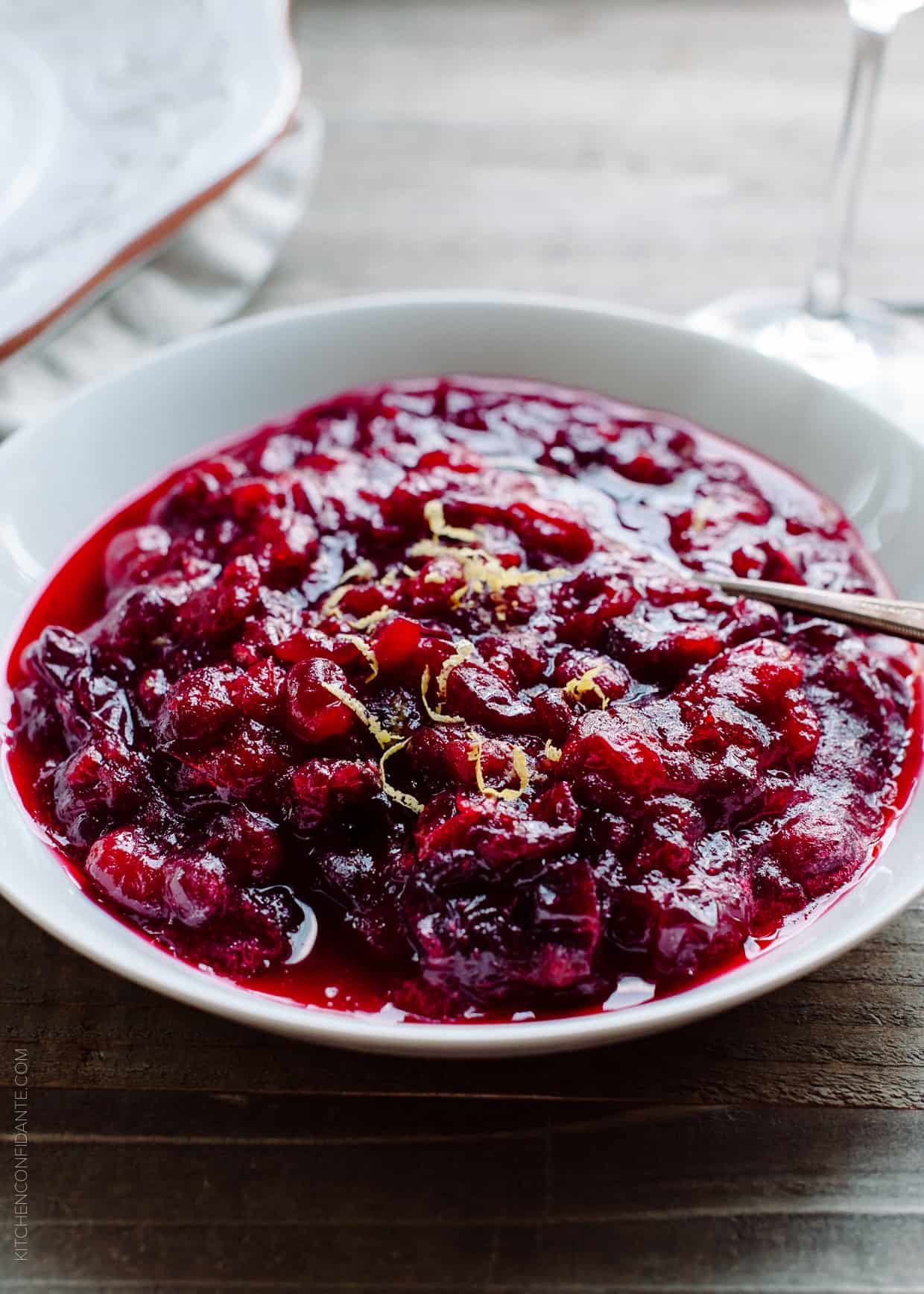 Print Recipe
Ingredients
3 cups fresh cranberries
3/4 cup white wine, such as a Sauvignon Blanc or Chardonnay
3/4 cups granulated sugar
zest of 1 lemon
Instructions
Combine the cranberries, wine and sugar in a small saucepan and placing over medium-high heat. Bring it to a boil, stir in the lemon zest, lower heat to a simmer, and let it cook for about 5-10 minutes, or until the cranberries have all popped. Transfer to a glass container and cool completely. This can be done a few days in advance.