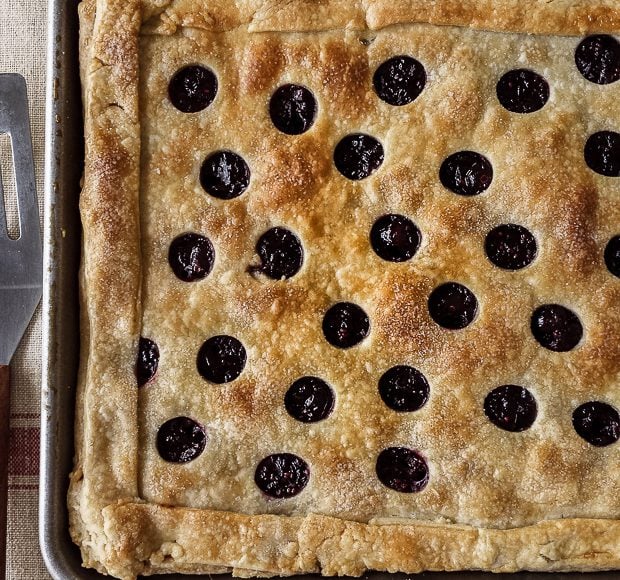 Cranberry Sauce Slab Pie
Pies and I, we don't really get along. Well, let me rephrase that. When it comes to eating pies, I'm quite comfortable with that. Yes. But when it comes to making pies, well, there's a little internal struggle that often emerges in my never perfect…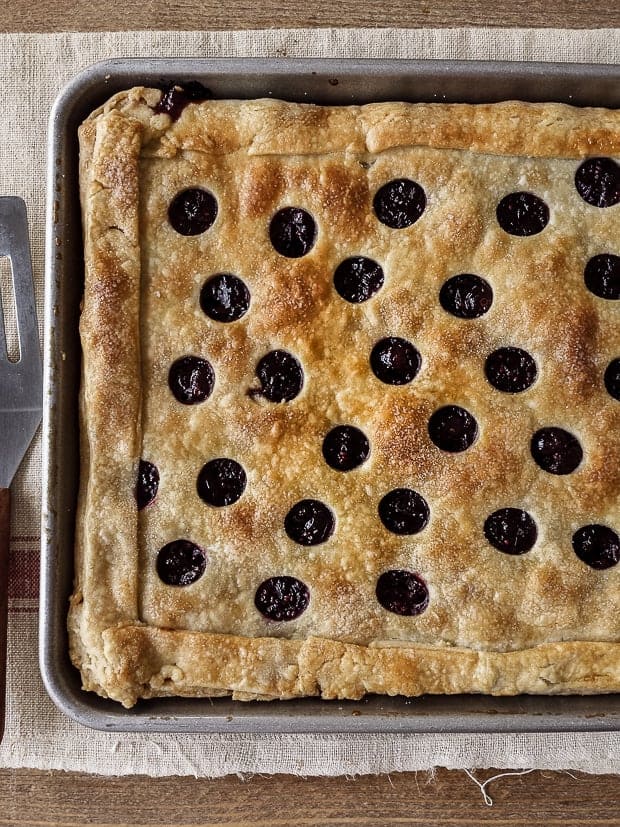 Cranberry Sauce Slab Pie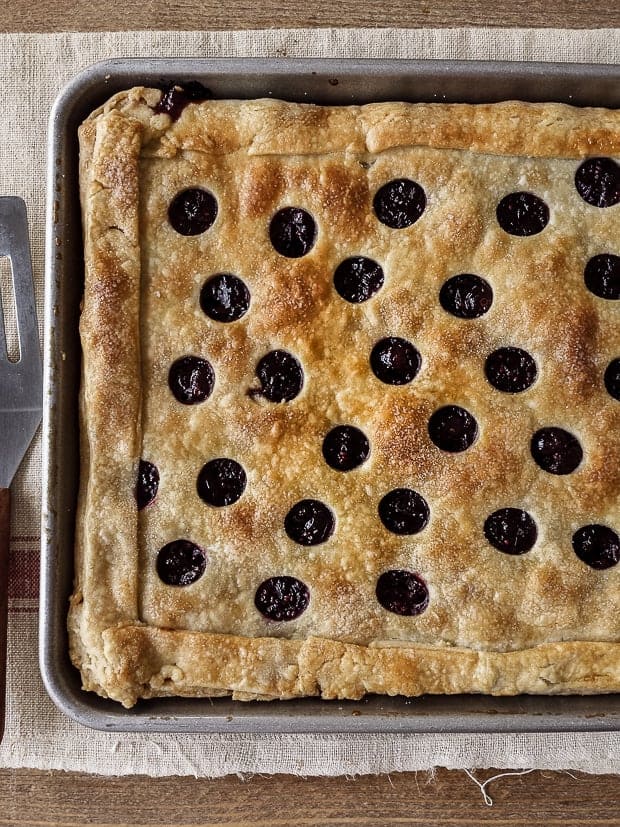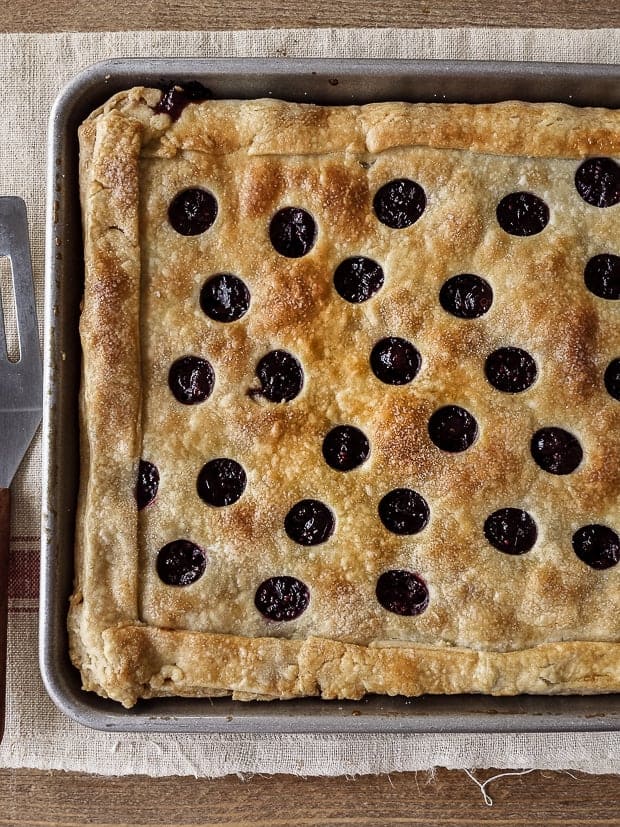 Pies and I, we don't really get along. Well, let me rephrase that. When it comes to eating pies, I'm quite comfortable with that. Yes. But when it comes to making pies, well, there's a little internal struggle that often emerges in my never perfect pies. It's the crimping that does me in, so by now, you already know that galettes and I are much closer pals. They may be my pie crimping cop out, perhaps until now.
The first time I saw a slab pie, I felt a twinge in the bottom of my stomach. "I can do that!" I felt with renewed hope.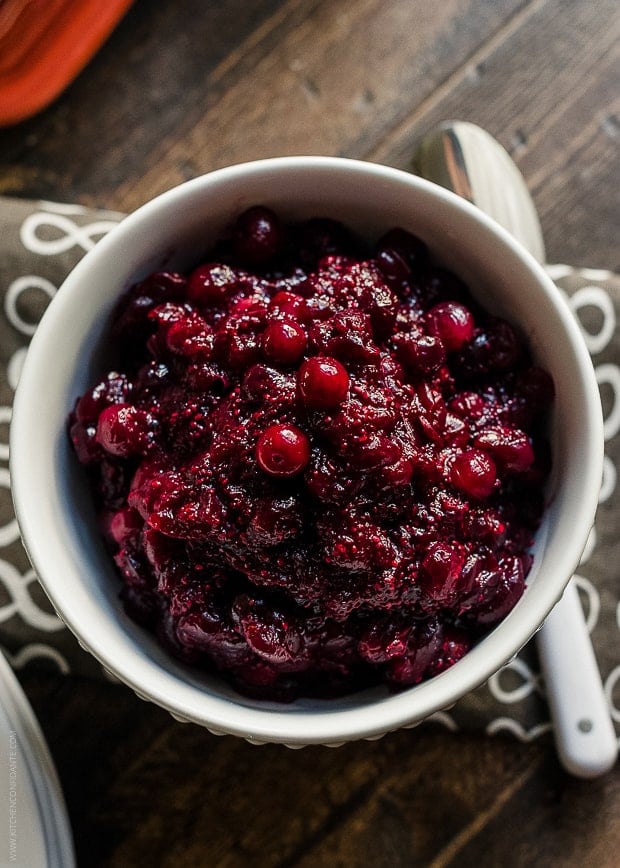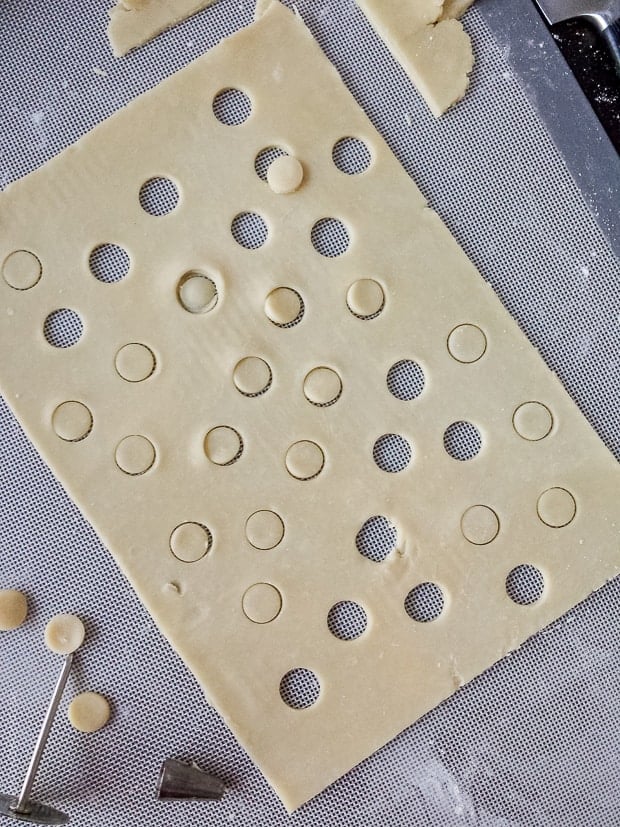 I took a stab at the slab pie, an endeavor I found definitely less intimidating and, dare I say, fun. But what made this pie even simpler was the filling. Cranberry sauce!
Cranberry Sauce Slab Pie makes use of one of my favorite holiday sides. Make a double batch for this pie, or perhaps leftovers for the perfect post-Thanksgiving treat. Either way, I love finding a way for cranberry sauce to do double duty during the holidays.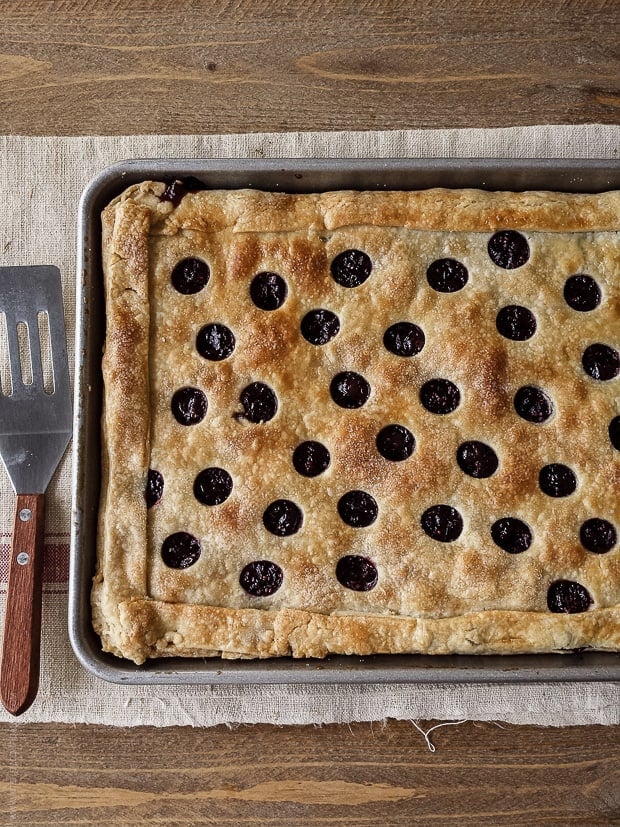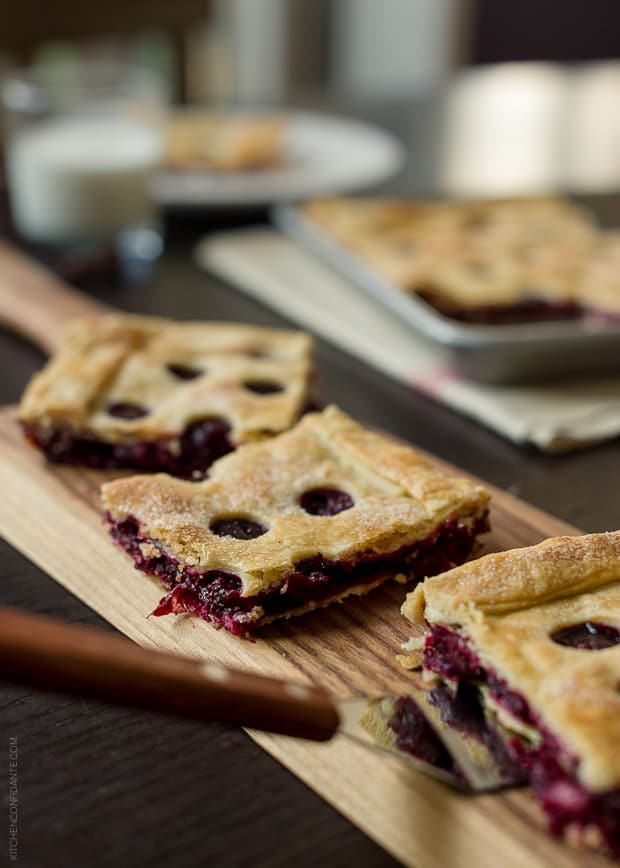 A slice of slab pie made me realize something. Crimping may be pretty, but I'll still eat an ugly pie. And between you and me, there really is no such thing as an ugly pie.

Eat Seasonal Thanksgiving Potluck
This month, join Becky from Vintage Mixer and our friends in this special month of #EatSeasonalHoliday! We gathered for our own Thanksgiving Potluck and hope you can find inspiration for your own celebrations:
Get the delicious recipes: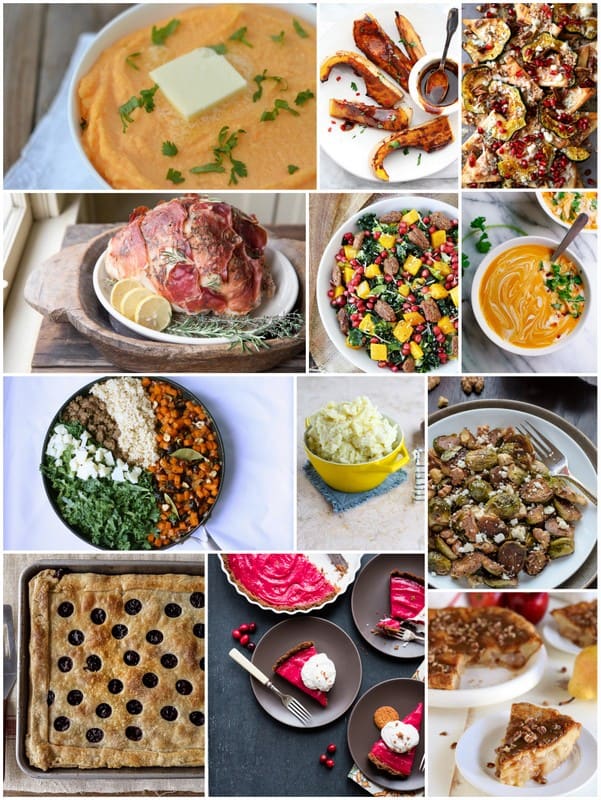 Appetizers:
Autumn Acorn Squash Pita "Nachos" with Pomegranates & Blue Cheese by Climbing Grier Mountain
Thai Curried Butternut Squash Soup by Cookie and Kate
Turkey and Gravy:
Proscuitto Wrapped Turkey with Gravy by Vintage Mixer (with seasonal herbs of course!)
Sides:
Secrets to the best mashed potatoes by Simple Bites
Root Veggie Mash by Mountain Mama Cooks
Kale and Brussels Sprout Salad by Two Peas and Their Pod
Thanksgiving Couscous with Butternut Squash, Sausage, Kale, Manchego, Dried Fruits and Nuts by Project Domestication
Maple Roasted Brussels Sprouts with Walnuts & Feta by The Law Students Wife
Miso Roasted Butternut Squash by Foodie Crush
Desserts:
Apple Pear Praline Pie by Completely Delicious
GF Cranberry Lemon Curd Tart with Gingersnap Crust by Cafe Johnsonia
Check out the November produce guide on The Vintage Mixer. Thank you so much, Becky, for organizing such a delicious round up of recipes!
Cranberry sauce does double duty in this easy slab pie.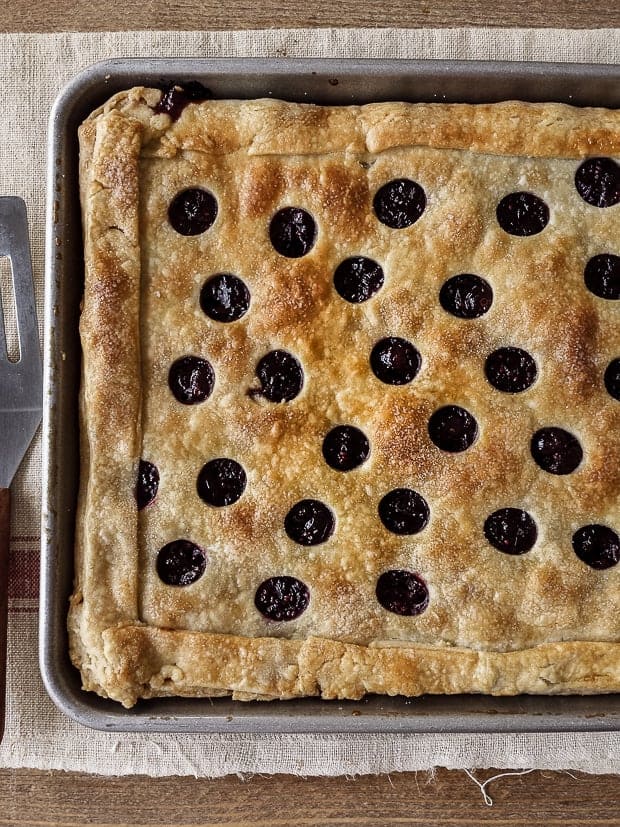 Print Recipe
Ingredients
2 1/2 cups all-purpose flour
1 pinch of salt
3 tablespoons sugar
1 cup (2 sticks) cold unsalted butter, cut into small pieces
2 large egg yolks, lightly beaten
1/4 cup ice water
2 cups cranberry sauce
1/3 cup granulated sugar (to taste, depending on your cranberry sauce)
2 tablespoons heavy cream
sanding sugar
Instructions
In the bowl of a food processor, combine the flour, salt, and sugar. Add the butter and pulse until you have coarse crumbs. Add the egg yolks and pulse a few more times. With the food processor running, add the ice water a spoonful at a time just until the dough comes together; be sure not to make it too wet. Divide the dough into two parts, placing each on plastic wrap, forming a ball, and flatten into a rectangle. Place each disk in the refrigerator to chill for about 1 hour, or overnight.
Preheat the oven to 375°F.
Roll each rectangle of dough to about 1/4 inch thickness, and making 1 rectangle of dough a little larger than the other one. You should be able to cover a small cookie sheet (quarter sheet) with the slightly larger rectangle, leaving about an inch overhangning on all four sides. Trim any excess. Prepare the other dough by cutting out shapes, cutting strips for a basketweave, or leaving it whole, if you wish.
In a small bowl, mix the cranberry sauce with the sugar, then spread it in the crust. Carefully drape the dough over the pie, then fold over the overhanging bottom crust and crimp. Lightly brush the crust with heavy cream and sprinkle with sugar. Place the pie in the refrigerator for about 15 minutes to chill.
Bake for about 45-55 minutes, or until the crust is golden brown and the filling is bubbling. Cool on a wire rack at least an hour or so before slicing.
Pie dough from <a href="http://www.marthastewart.com/355508/pate-sucree">Pate Sucree</a>, Martha Stewart.