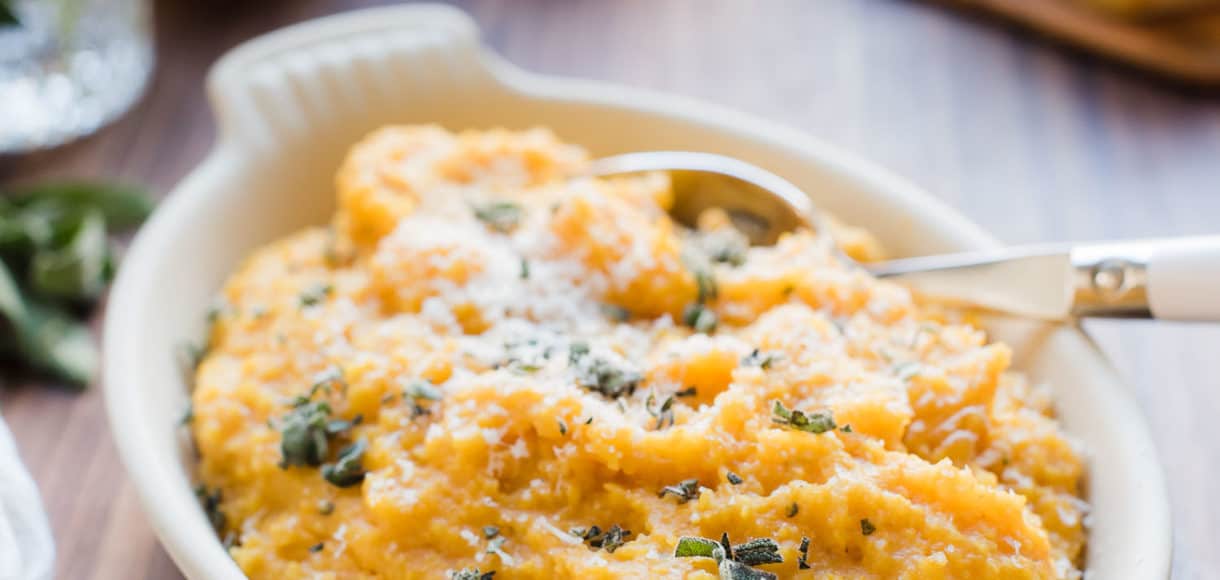 Pumpkin Sage Polenta
A hint of pumpkin and the taste of sage brings the glow of autumn to a simple Pumpkin Sage Polenta. It's the perfect side dish for fall!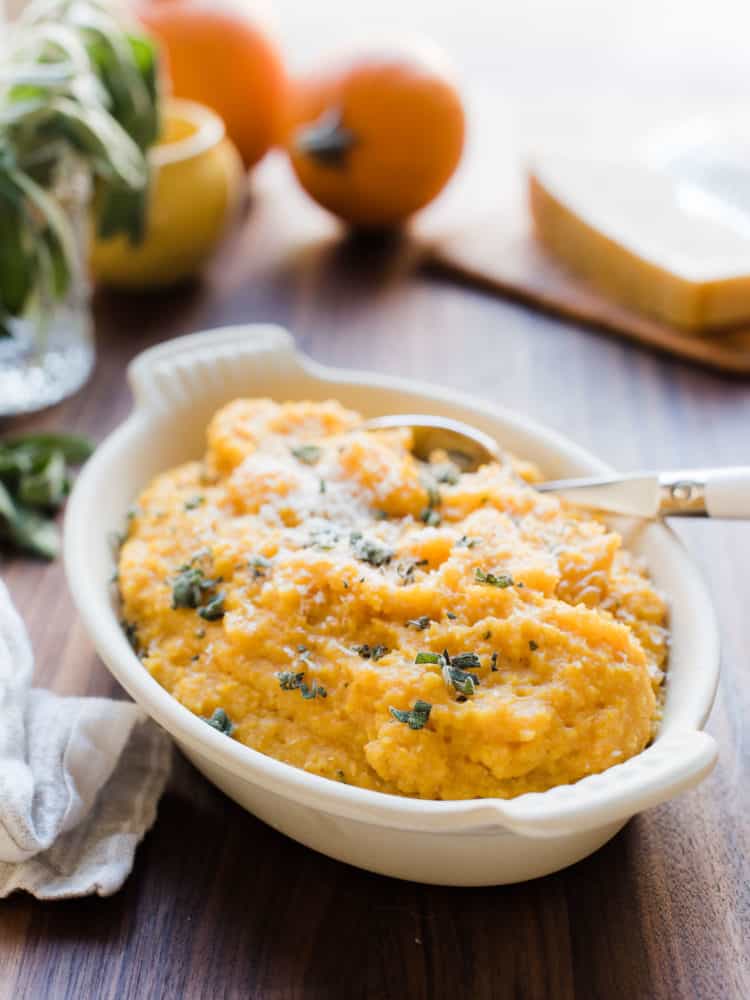 Pumpkin Sage Polenta
A hint of pumpkin and the taste of sage brings the glow of autumn to a simple polenta.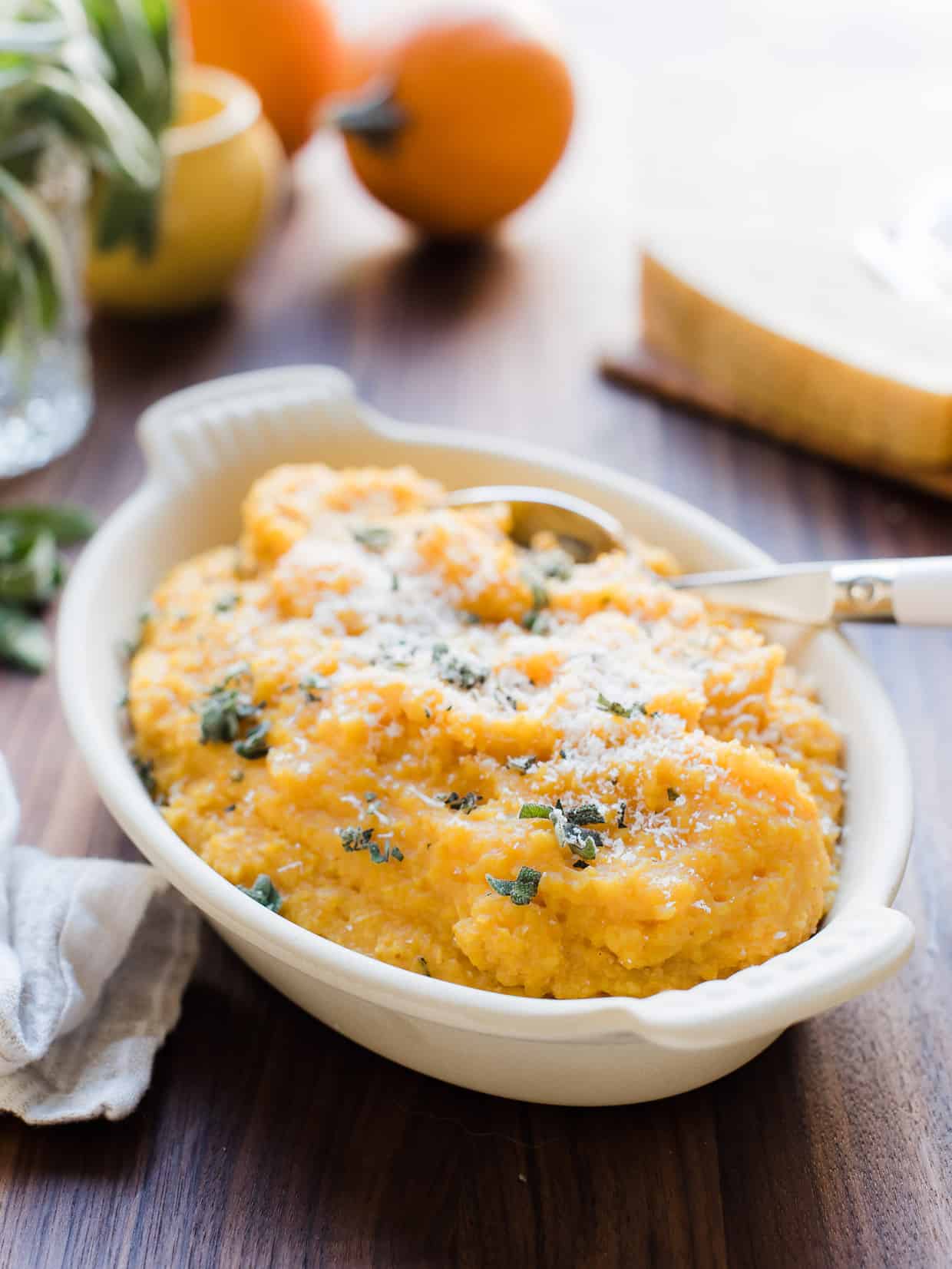 Note: This post for Pumpkin Sage Polenta first appeared October 27, 2013 in the Simple Sundays series and has been updated with improved kitchen notes, recipe annotation, photographs and video. I truly hope you enjoy this favorite from my kitchen!
The hay crunched beneath our feet as we surveyed the rows of pumpkins, the sun finally making its presence known after the chill of autumn gave way to a few hours of heat. My children exuberantly ran ahead of me, declaring each pumpkin they touched "the one!" I reminded them that I would only put their final final selections in the wagon, as they steered me over to pumpkins half my size.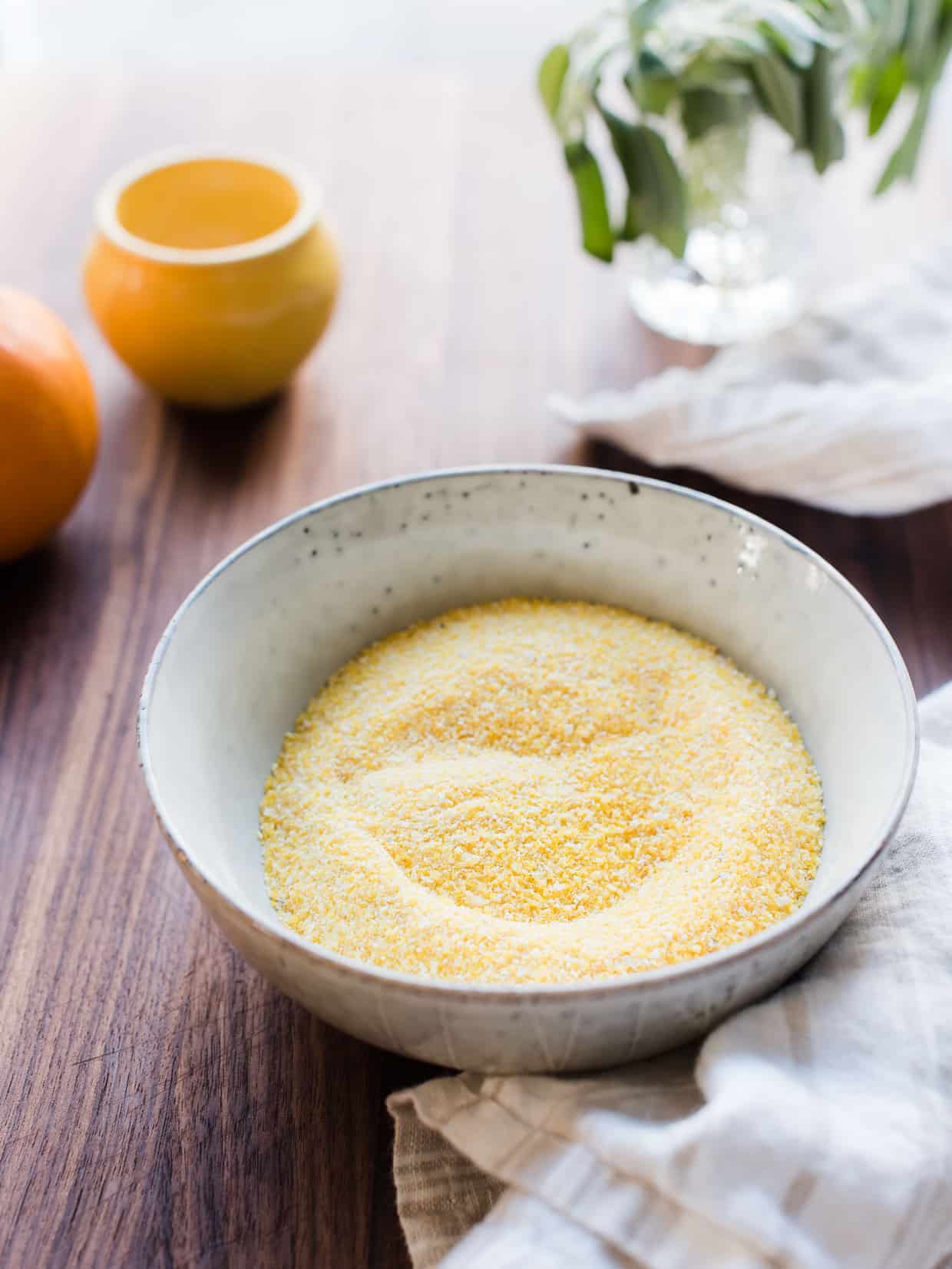 It didn't matter. I must have lifted over twenty pumpkins into and out of our wagon, behemoths of gourds, as I began to break a sweat, my hair sticking to my neck and my hands coated in dust. "This is the one mommy, I promise!" was followed by "Ooh, this one is perfect!" Had I anticipated this better, I may have skipped the gym that morning. My quads burned as I hoisted each specimen.
Finally, it was all settled: the largest pumpkin was appointed to Daddy, the second largest was determined perfect for the pattern my daughter pre-selected, and the squat, globe-shaped pumpkin was just what my son had envisioned. As for me, I was too exhausted to pick one out to carve; instead, I was already dreaming up ways to cook with pumpkin.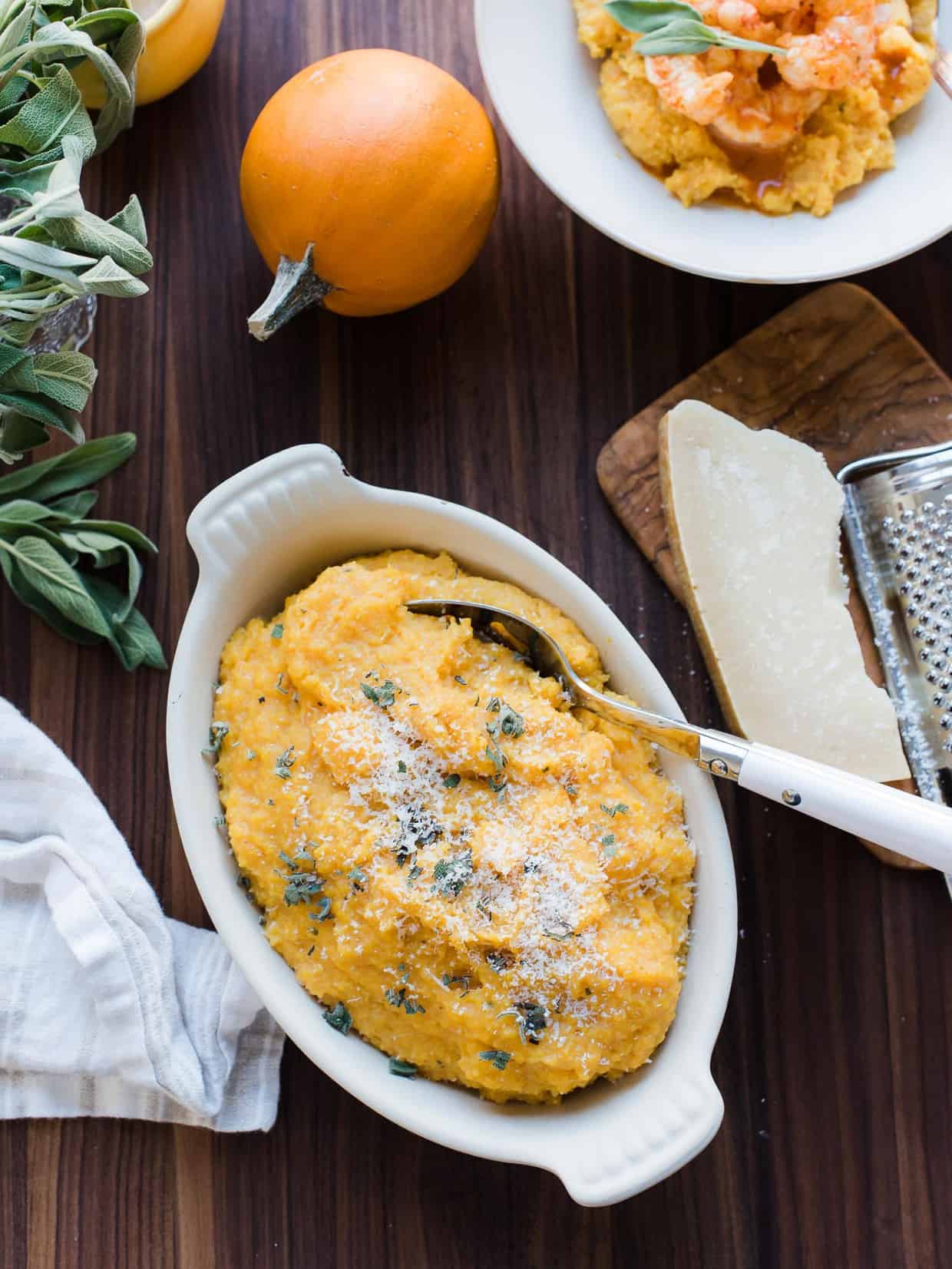 Polenta. Creamy, dreamy polenta. I've been absorbed by it lately. When a reader asked if I could share the polenta recipe that nestled my Braised Chipotle Short Ribs, I was more than happy to oblige by whipping up a fresh serving, but this time stirring in a little bit of autumn.
Pumpkin Sage Polenta bubbled and hissed on the stove as my children worked on their final pumpkin carving today. My daughter ran to me and exclaimed, "Ooh, can I taste the mac and cheese?" The buttery polenta had her fooled. But she tried it anyway, and one spoonful apparently was not enough. She snuck in a few more bites then returned to the pumpkins on the table. There was more work to be done.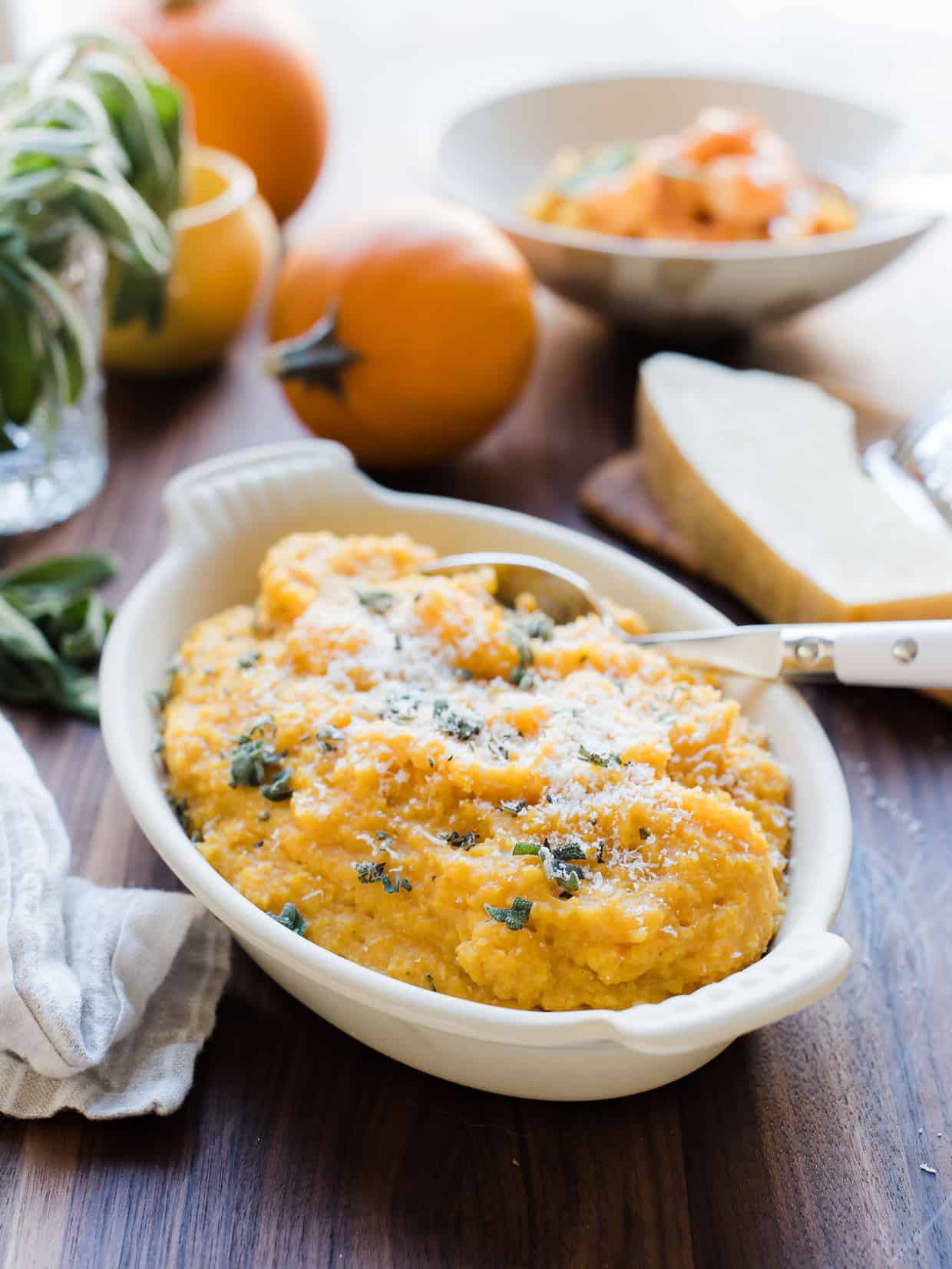 More recipes inspired by autumn flavors:
Savory Herb Stuffing Bread
Pumpkin Spice Buttermilk Bundt Cake
Stuffed Butternut Squash with Farro, Chickpeas and Kale
Cranberry Sauce Slab Pie
Apple Dumplings
Pumpkin Sage Polenta
A hint of pumpkin and the taste of sage brings the glow of autumn to a simple polenta. If pumpkin isn't your thing, any autumn squash would work nicely, or if you prefer, leave it out for a more straightforward polenta*.
Ingredients
3

cups

water

1

cup

polenta

2

teaspoons

kosher salt*

1/2

cup

pumpkin puree

canned is fine if you do not have freshly roasted pumpkin

1

teaspoon

sage

chopped

1/2

cup

Parmesan cheese

2

tablespoons

unsalted butter

cubed
Instructions
In a medium saucepan, whisk together the water, polenta and salt. Bring to a boil over medium heat, whisking periodically. Lower the heat and let the polenta simmer, stirring constantly with a wooden spoon. Add the pumpkin and sage, and continue stirring for about 15-20 minutes, until the polenta begins to pull away from the sides of the saucepan. Stir in the parmesan cheese and butter. Serve immediately while hot and creamy, or if you prefer, place in a square dish to cool and serve in slices.
Notes
* Recipe updated 11.23.14 – salt reduced after reader feedback. I originally used 3 teaspoons of salt in the polenta, however, if you are concerned that it may be too salty, go with 2 teaspoons and adjust as necessary.
Nutrition
Calories:
257
kcal
|
Carbohydrates:
34
g
|
Protein:
8
g
|
Fat:
9
g
|
Saturated Fat:
5
g
|
Cholesterol:
23
mg
|
Sodium:
1375
mg
|
Potassium:
129
mg
|
Fiber:
1
g
|
Sugar:
1
g
|
Vitamin A:
5125
IU
|
Vitamin C:
1.3
mg
|
Calcium:
162
mg
|
Iron:
0.9
mg