Fireworks Pasta Salad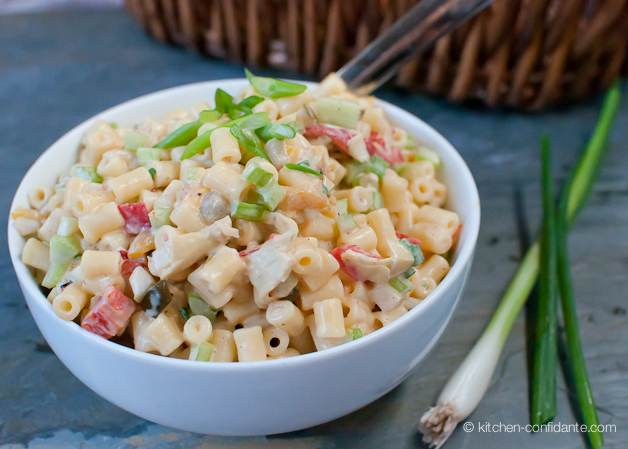 I'm back! Did you miss me? Well, there really was no need to miss me, since my little home on the web was in such good hands. I hope you enjoyed the beautiful guest posts from The Cilantropist and Joylicious. It was an honor for me to grace Kitchen Confidante with their stunning images and delicious recipes; I can not wait to cook them soon! I also can't wait to share more about my much needed vacation to Maui — stay tuned for that, as well.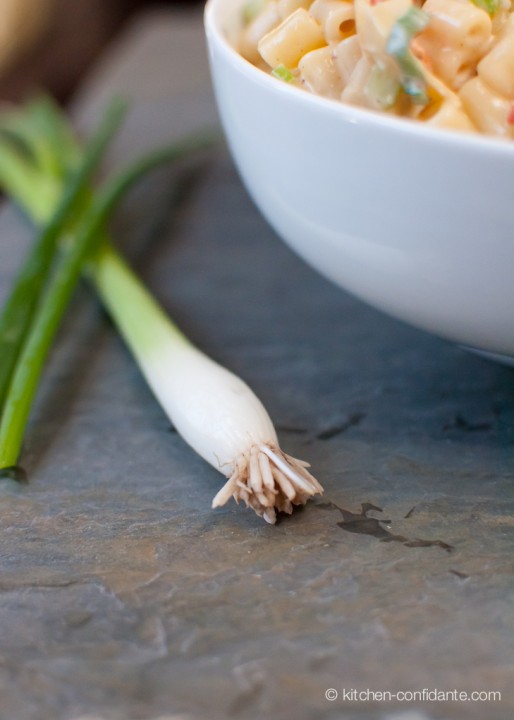 Are you all ready for the Fourth of July festivities? Perhaps you will be heading out of town, or maybe you will be staying close to home — either way, you can't have a July 4th celebration without fireworks and salads, so I have for you today a crunchy & spicy pasta salad that will add some pop to your table. Not only is it dressed with a spicy update to the familiar macaroni salad dressing, it also features crunchy red onions, scallions, and even spicy dill pickles.
A friend of ours recently launched Let's Get Pickled, specializing in boldly flavored pickles sourced from local Bay Area ingredients. When we recently sampled some of his offerings, I was so impressed by the complex flavors behind the perfectly pickled vegetables. Some of their specialties include Gilroy garlic pickled in aged balsamic vinegars, stuffed eggplant pickled in champagne wine vinegar, and marinated mixed vegetables in brine. I decided to use the Spicy Dill Pickle in champagne wine vinegar with garlic, onions, and herbs in this salad. The subtle but wonderfully noticeable heat from the pickles added a lovely kick to the salad.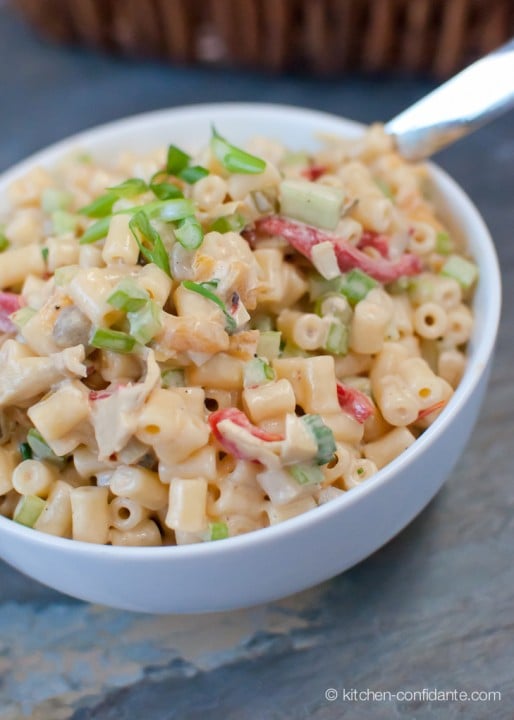 What I love most about this salad is that you can make a huge batch in advance of your parties, and the flavors improve over time. And it goes so well with all the favorite barbecue and picnic fare! I hope you get a chance to try it – have a safe and Happy Fourth!
[framed_box width="628" bgColor="undefined" textColor="undefined" rounded="true"]
Fireworks Pasta Salad
Serves 8-10.
Adapted from Modern Macaroni Salad, Bon Appétit, July 1999 via Epicurious. This version adds even more kick to the already updated classic. Make it the night before a gathering and let the flavors really come together for a spicy twist on macaroni salad.
16 ounces tubetti pasta
2/3 cup mayonnaise
1/4 cup Dijon mustard
juice of half lime
1 1/2 tablespoons sugar
1/2 teaspoon paprika
1/2 teaspoon cayenne pepper
1 1/3 cups chopped drained spicy dill pickles
1 1/4 cups chopped celery
1/2 cup minced red onion (or 2 shallots, minced)
1 12-ounce jars roasted peppers, drained and sliced
1 cup thinly sliced green onions
handful cilantro, chopped
salt & pepper to taste
Cook the pasta in a pot of boiling salted water, according to the package directions. Drain and rinse with cool water. Set aside.
In a bowl, whisk together the mayonnaise, mustard, lime juice, sugar, paprika, and cayenne pepper. Stir in the tubetti pasta, pickles, celery, red onion, roasted peppers, green onions, and cilantro. Season to taste with salt and freshly ground black pepper.
[/framed_box]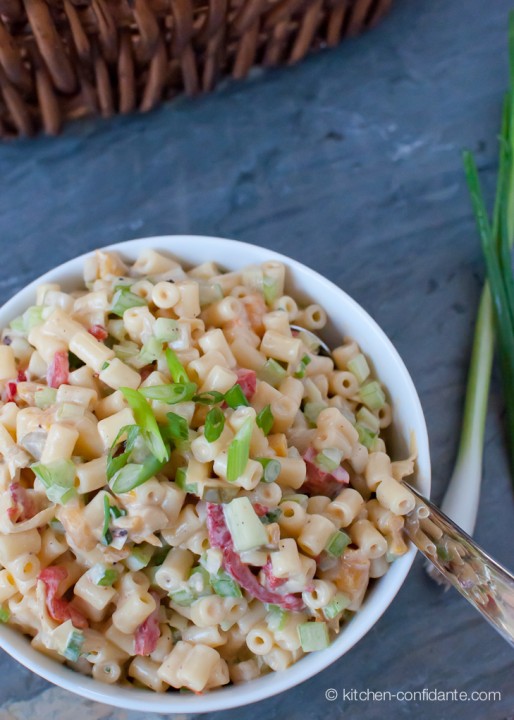 26 Responses to "Fireworks Pasta Salad"
Pingback: Fireworks Pasta Salad
Leave a Comment