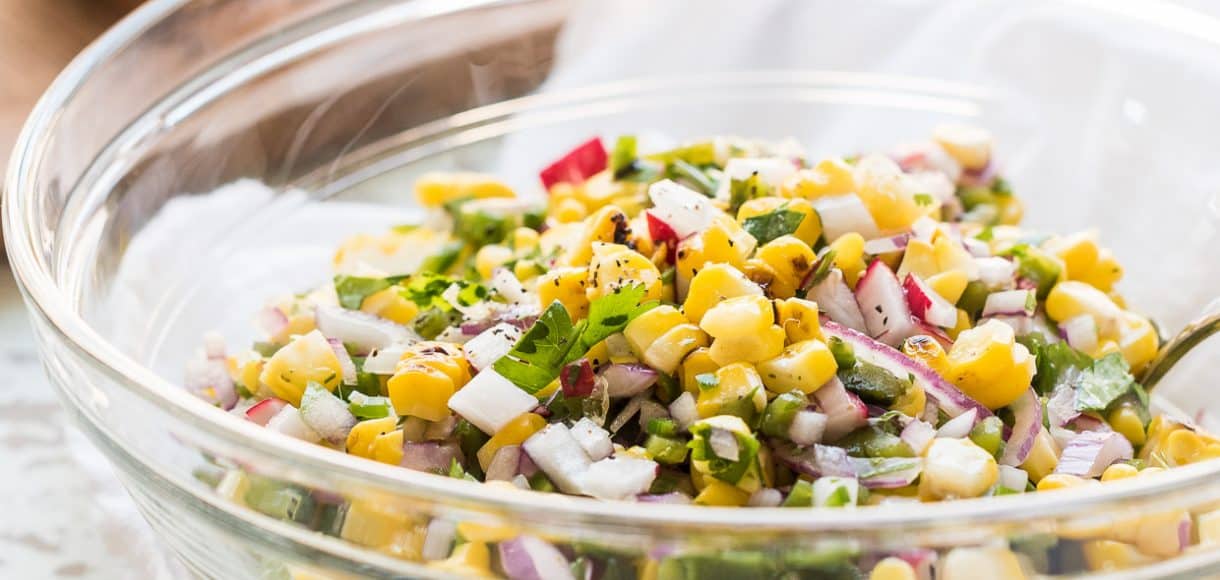 Grilled Corn and Poblano Salad
Full of fresh flavors, Grilled Corn and Poblano Salad is a simple summer side dish you'll crave all season long.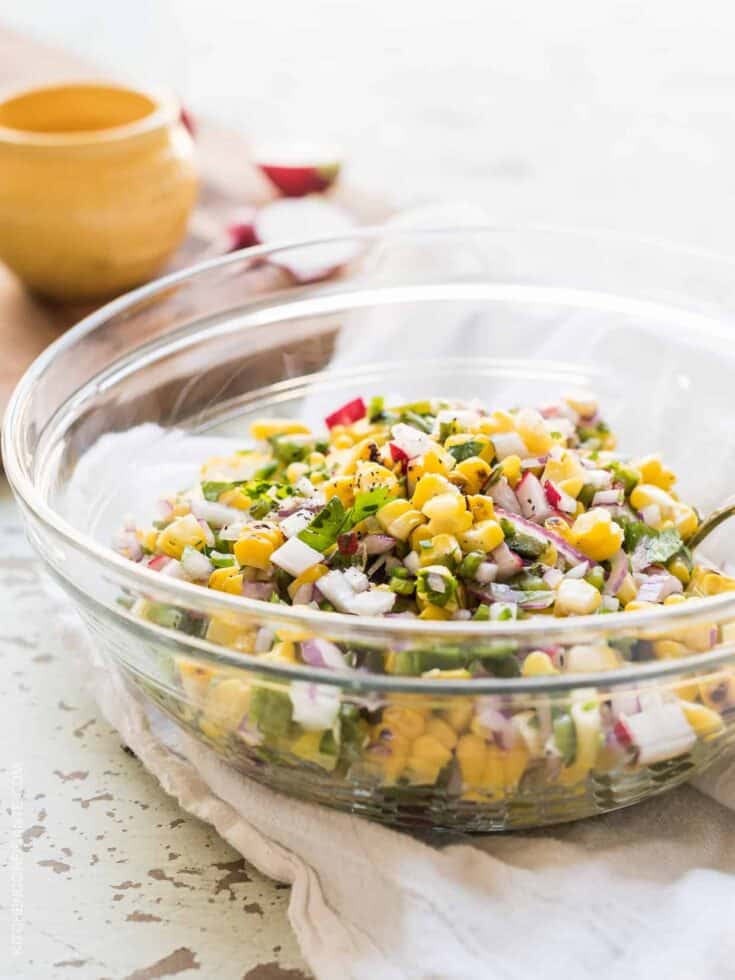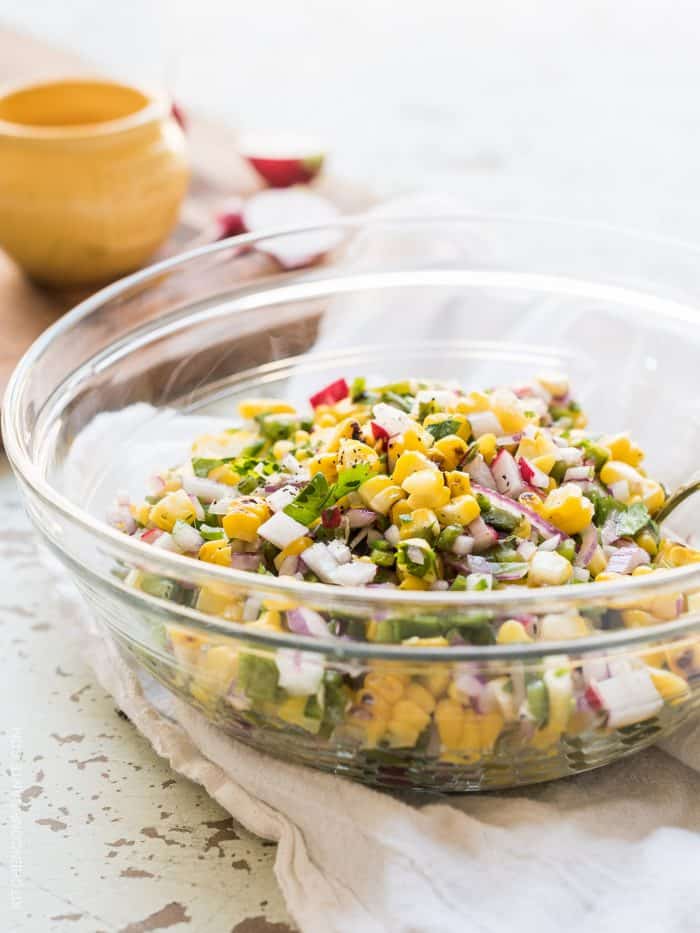 Grilled Corn and Poblano Salad
Grilled Corn and Poblano Salad has all the fresh flavors you crave in a simple summer salad recipe! It comes together quickly so you can savor summer longer.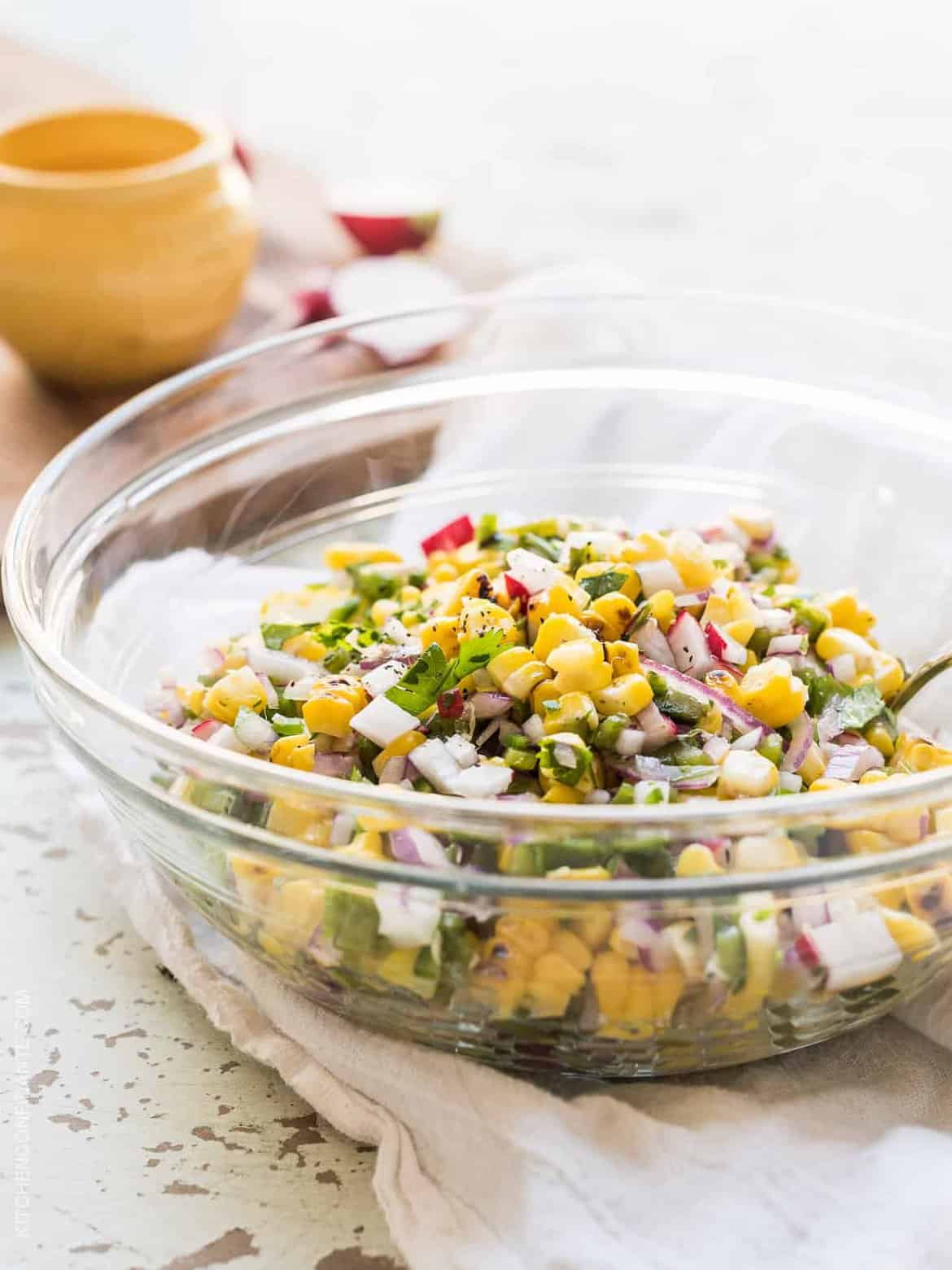 There's something about the first week of June that makes me feel like I feverishly packed for a trip, raced to the train station, barely making it on an express train to the next season. Things happen at a frenzied pitch, and even once you're on the train, the landscape just blurs by until you come to your final stop: welcome to summer.
If you're like me, you've survived the end of the school year, bittersweet and all. Every time I blink, I am reminded that my little ones are not so little, and we all are moving on to the next phase in their lives. Pepper that with a busy work schedule and tag teaming as my husband and I juggle work travel and weekends full of fun, and I think we are all ready to transfer off the express and take the local. Or maybe even walk. Ever so slowly.
Now that summer feels real, I am slowly starting to settle in — I want to savor every cherry, every sweet ear of corn. My shoulders have already gotten some sun, they always have a head start it seems (does anyone else loath tanning in odd patches?). And now, we have our first school-free week ahead of us, without alarm clocks and packing lunches.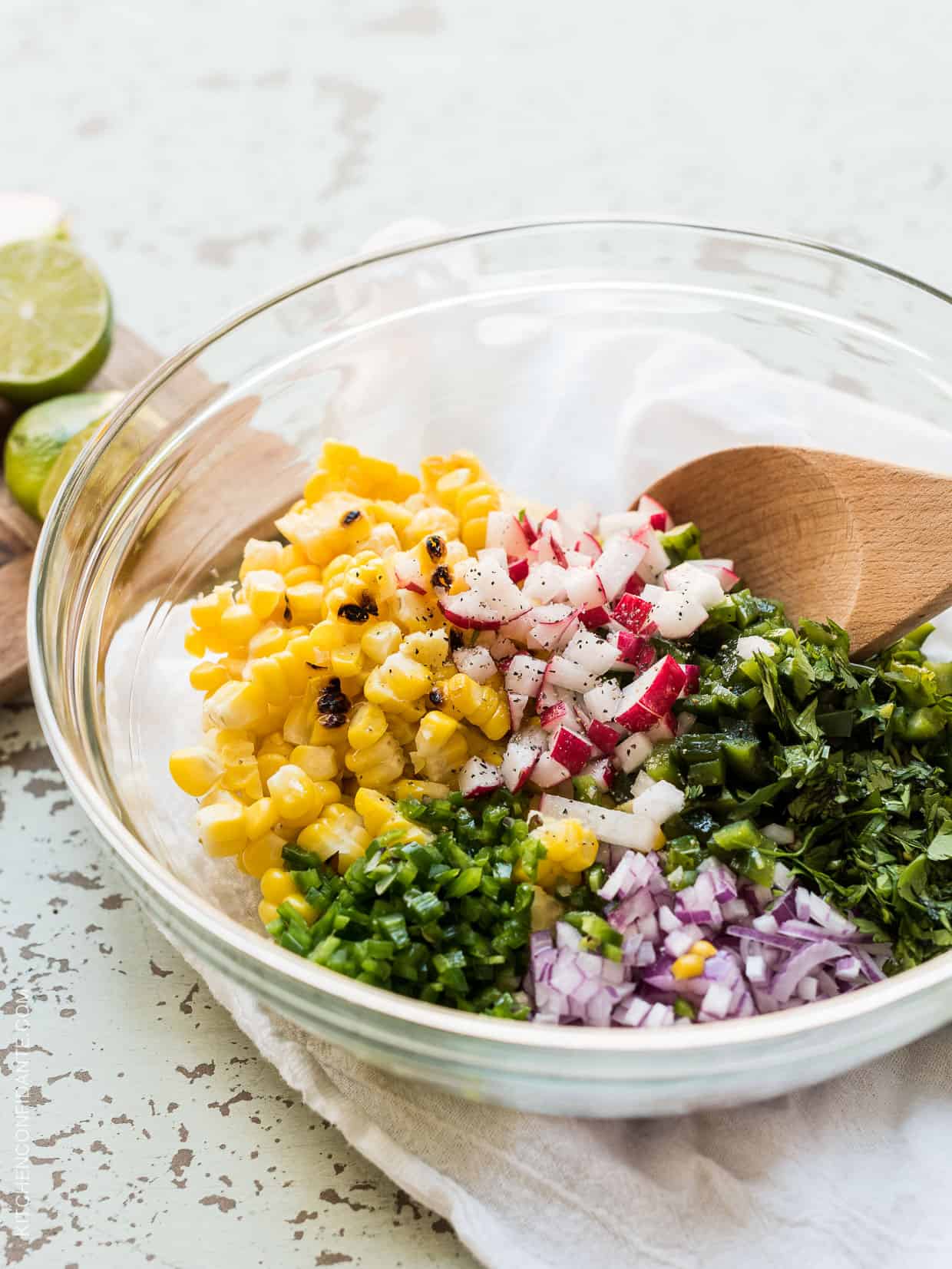 I want every meal to come off the grill, and that includes salads. When it comes to corn, I can't get enough of that smokey flavor that comes with grilling the ears, husks and all. I love those little charred kernels most, and when you char a poblano pepper, you've got the makings of a super simple, delicious Grilled Corn Poblano Salad.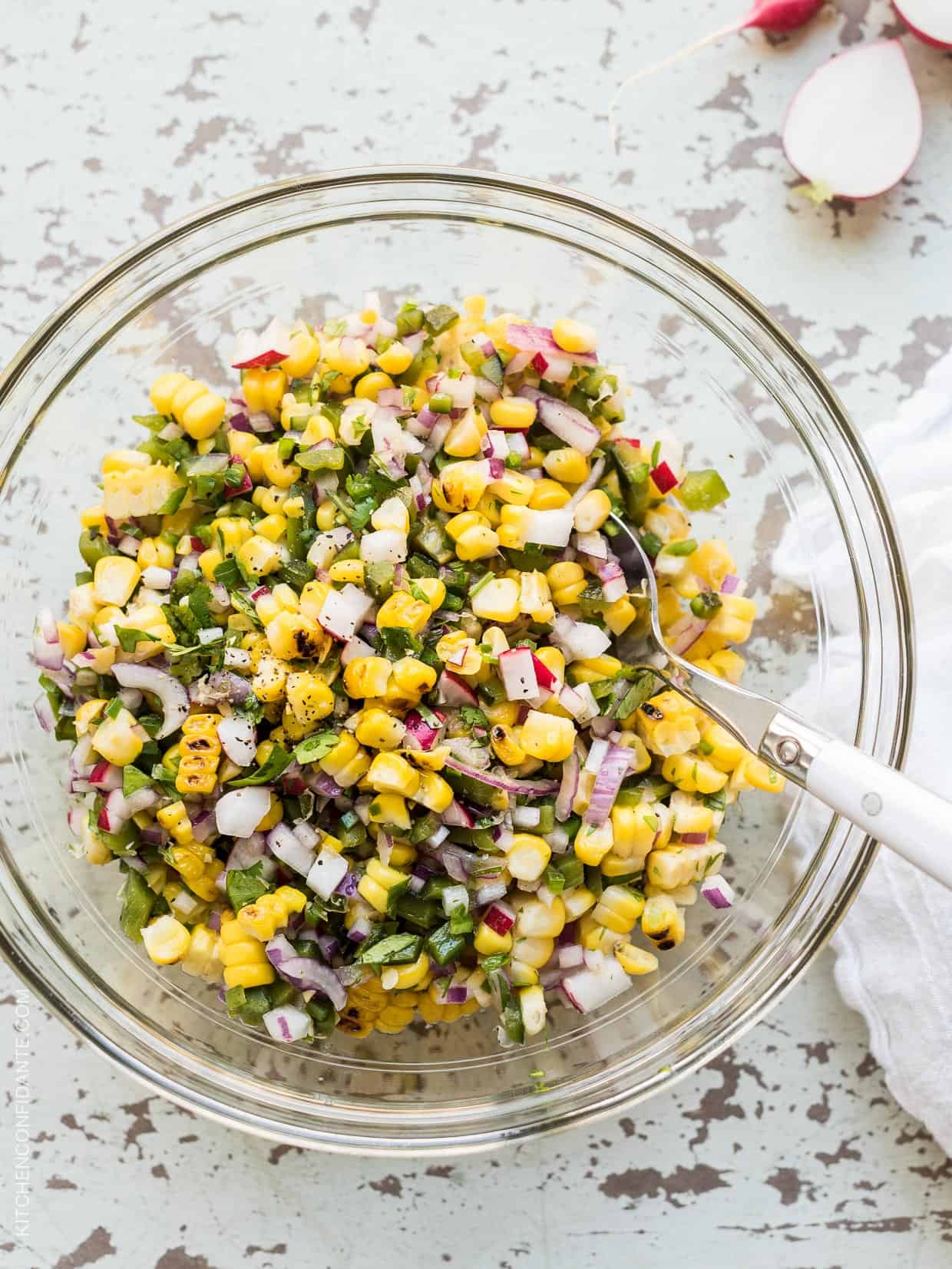 This is the type of salad that you can make before hand to let all the flavors seep together overnight before a big barbecue. It comes in handy when you've got a few leftover ears of grilled corn from the night before. But it's equally as good as a quick throw-together salad for the middle of the week. Whichever path you choose, you'll end up at the same destination – a simple summer side dish that you'll want to eat all season long.
TRY MORE EASY SUMMER SALAD RECIPES
Summer Lentil Salad
Summer Wheat Berry Salad with Stone Fruits and Goat Cheese
Fig and Apricot Summer Lentil Salad
Berry Jicama Salad
Tomato, Corn and Nectarine Chickpea Salad
Grilled Corn Poblano Salad
Grilled Corn and Poblano Salad comes together quickly so you can savor summer longer.
Ingredients
2

ears corn

husks on

1

poblano pepper

1/2

cup

finely diced red onion

1/2

cup

chopped radishes

1/2

cup

chopped cilantro

1 -2

jalapenos

seeded and finely chopped

juice of 1 lime

1

tablespoon

rice vinegar

1

tablespoon

olive oil

kosher salt to taste

freshly ground black pepper to taste
Instructions
Soak the ears of corn in a bowl of cool water for about 15 minutes.

Preheat the grill to medium-high heat.

Remove the silk from the corn by gently peeling back the husks (without removing) and removing the silk. Replace the husks on the corn and place on the grill. Cook on grill for about 15 minutes, turning periodically, until the kernels are tender and cooked. Remove from the grill and let it cool.

As the corn is cooking, grill the poblano pepper at the same time, also for about 15-20 minutes, turning periodically, letting the skin char and blacken. If you wish, you can also do this on a gas stovetop, holding the pepper with tongs over the open flame. Remove the poblano from the grill and transfer to a paper bag or wrap in some aluminum foil and let it cool. Once it is cool, peel the skin off the pepper and discard. Seed and chop the pepper into 1/4 inch pieces and transfer to a bowl.

Slice the corn kernels off the cob and add to the poblano peppers.

Add the onion, radish, cilantro and jalapeno to the corn and poblano peppers, and mix to combine. Stir in the lime juice, vinegar, and olive oil, and season to taste with salt and pepper.

The salad can be enjoyed immediately, but is especially wonderful when it has had a chance to sit in the refrigerator (even overnight to let the flavors come together).
Nutrition
Calories:
87
kcal
|
Carbohydrates:
12
g
|
Protein:
2
g
|
Fat:
4
g
|
Saturated Fat:
1
g
|
Sodium:
15
mg
|
Potassium:
247
mg
|
Fiber:
2
g
|
Sugar:
5
g
|
Vitamin A:
330
IU
|
Vitamin C:
31.2
mg
|
Calcium:
11
mg
|
Iron:
0.4
mg