Simple Sundays | Harissa-style Roast Chicken with Butternut Squash and Potatoes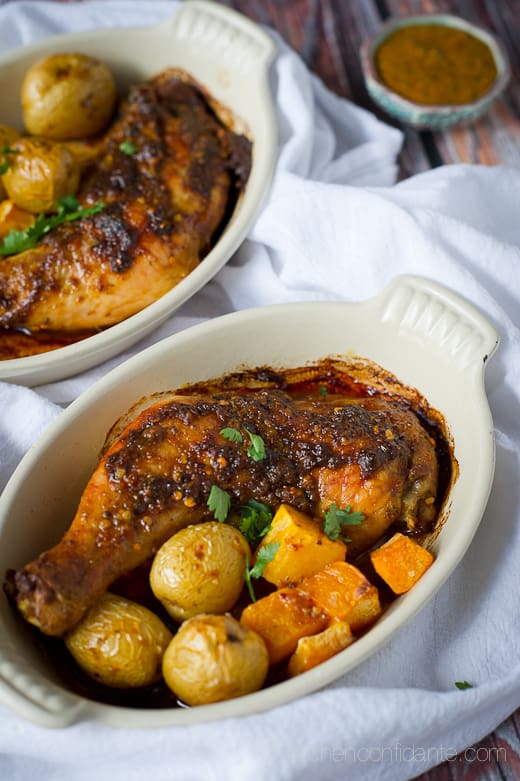 Simple Sundays | Harissa-style Roast Chicken with Butternut Squash and Potatoes
Running errands the other day, I pushed my shopping cart from one end of the store to the other. I warily passed the display of Christmas trees and cringed as I heard the holiday music caroling from the shelves of CDs. I may be the biggest lover of all things Christmas, but with Thanksgiving still over a week away, it all felt, well, premature.
In the last 24 hours, something has changed. I'm really starting to feel festive. Perhaps the energy comes from listening to and guiding my children as they drafted their Christmas wish lists this weekend. Or the aroma of fireplaces perfuming the crisp night air. Even the holiday music that my daughter started to play today did not grate my nerves. Instead, it calmed me. I hummed along.
With all that we have to squeeze in between these two major holidays, I find myself paring back on my everyday cooking. Gotta save the big guns for the entertaining. With weeks packed with holiday performances and school events, decorating and gift giving, I try to cook as simply as possible.
If I owned a slow cooker, these are the days I would probably use one. Instead, I rely on my oven. And flavor. Harnessing the power of a Harissa style fire-roasted red pepper sauce, a simple roast chicken is transformed into a bold and hearty meal. Allow baby potatoes and butternut squash to soak in the fiery warmth, and let each bite warm your belly. Let it sustain you through this holiday season.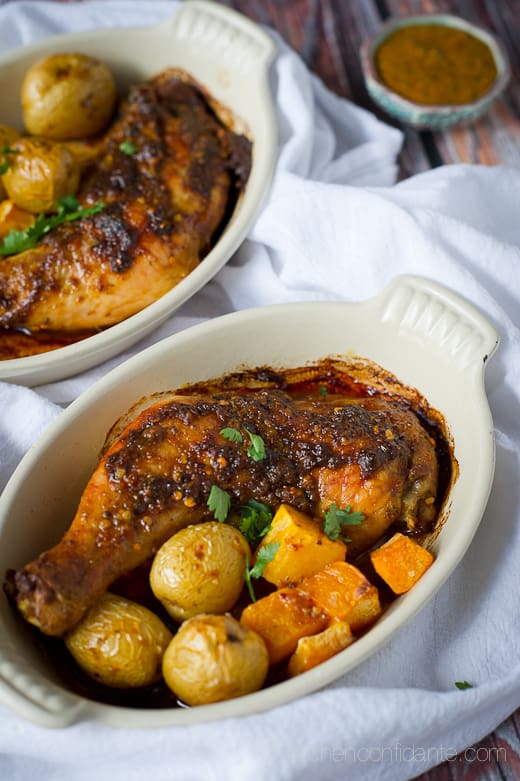 Harissa-style Roast Chicken with Butternut Squash and Potatoes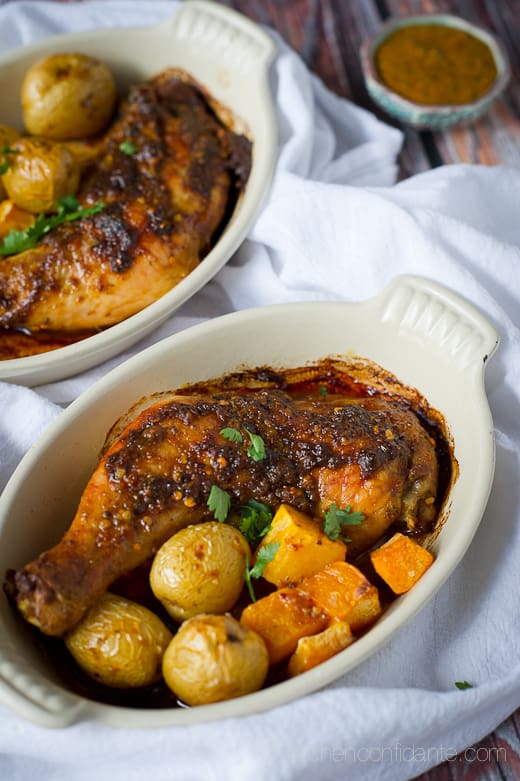 Print Recipe
Ingredients
1 cup fire-roasted red peppers (see notes below)
6 cloves garlic
2 tablespoons red chili flakes
1 teaspoon cumin
1/2 teaspoon kosher salt, plus extra for seasoning
1/2 cup fresh cilantro
1/2 cup olive oil
4 chicken legs
1 butternut squash, peeled, seeded and diced (see notes below)
1 1/2 cups small potatoes
Instructions
Preheat the oven to 375°F.
In the bowl of a food processor, chop the fire roasted red peppers, garlic, red chili flakes, cumin, salt, and cilantro until it is a smooth paste. With the motor running, add the olive oil and blend until the sauce is smooth and creamy. Set aside about 1/2 cup.
Marinate the chicken in the remaining sauce for at least 30 minutes. For maximum flavor, marinate overnight.
Place the chicken in a baking dish. Lightly toss the prepared butternut squash and potatoes in about 2 tablespoons of Harissa sauce and nestle between the chicken pieces. Season lightly with salt. Bake for about 30 minutes or until a thermometer inserted into chicken registers 165°F. Serve immediately with reserved sauce.
Notes
For convenience, jarred fire-roasted red peppers (such as can be found at Trader Joe's) can be used. Also, to save time, I will sometimes opt for pre-cut butternut squash that you can find in the produce section. Of course, if you have time, there's nothing better than roasting and peeling your own peppers over an open flame.