Simple Sundays | Roasted Butternut Squash Winter Salad with Kale, Farro and Cranberry Dressing
Simple Sundays | Roasted Butternut Squash Winter Salad with Kale, Farro and Cranberry Dressing
This warm Roasted Butternut Squash Winter Salad with Kale, Farro and Cranberry Dressing is a wholesome and comforting dish – perfect with Thanksgiving turkey, as a side for a delicious winter meal, or as a wholesome lunch on its own.
I overheard my children in the middle of a discussion. For once, they were in agreement.
"My favorite months are from October to January."
"Yeah."
I can totally see why. It all starts with my son's birthday in early October, launching us into what is three months of festivity and food. And presents. Halloween brought us bucketfuls of sweets (which, amazingly, is nearly all gone), and in a few days we will be brining the turkey and making the pies for Thanksgiving.
Tis the season.
I love this time of year for slightly different reasons. Oven roasted anything, for one. Pumpkins. Cranberries. Butternut squash. All those wintery flavors that make you want to stay in a cook all day.
These last several weeks, I've been a little obsessed with butternut squash and farro. I blame – or thank – a dish I tried when I met some wonderful ladies for dinner at Davanti Enoteca while I was in Chicago not too long ago. We ordered tons of dishes to share, but it was a warm insalata that was my favorite of the evening: Roasted Squash with Farro Whipped Goat Cheese, Hazelnuts and Watercress. I knew I had to make something similar when I came back home.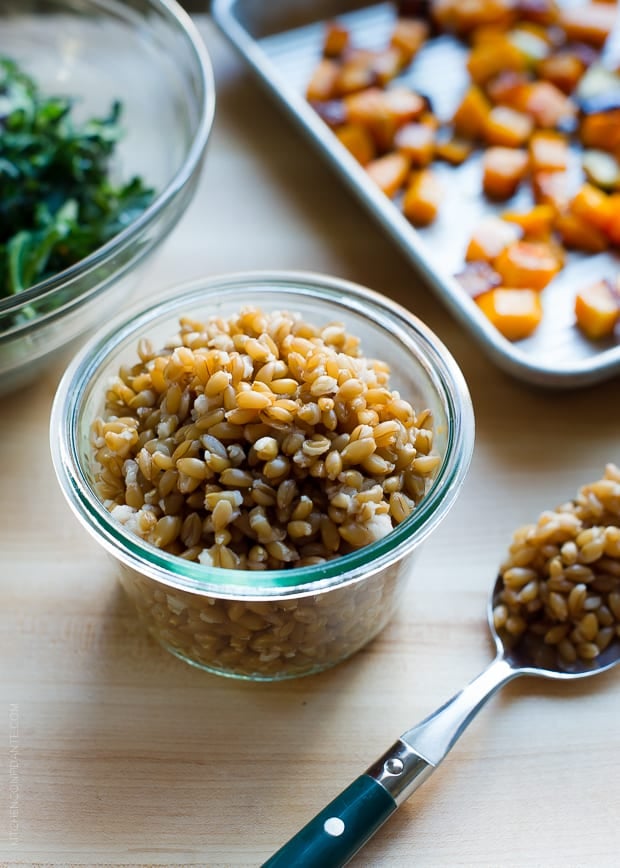 Many batches of roasted butternut squash and farro later, and I couldn't wait to share this Roasted Butternut Squash Winter Salad with Kale, Farro and Cranberry Dressing with you. It's my idea of a perfect fall dish – whether as a side for Thanksgiving turkey, or a simple weeknight meal, next to thick pork chops, or even all by itself for a wholesome lunch. It's meant to be served warm, to take you through these cold winter months.
As for this my kids and this season of festivity, we're just getting started. Thanksgiving will bring us my sister and her husband, then we will dive right into readying the house of Christmas, New Years, and soon after, my daughter's birthday. When I write it all out, it sounds a little daunting, but I just need to remember: take it one dish at a time.
Roasted Butternut Squash Winter Salad with Kale, Farro and Cranberry Dressing
When I was in Chicago, I became enamored with a roasted butternut squash, farro and goat cheese dish at Davanti Enoteca. I knew I had to recreate it at home. This Roasted Butternut Squash Winter Salad with Kale, Farro and Cranberry Dressing is meant to be served warm, and is my idea of a perfect fall dish - whether it is a side for Thanksgiving, or a simple lunch onto itself!
Print Recipe
Ingredients
1 butternut squash, peeled, seeds removed and diced into 1/2 inch cubes
4 cloves garlic
4 tablespoons olive oil, divided
2 cups farro
kosher salt
freshly ground black pepper
1 tablespoon butter
1 shallot, finely diced
3 cups finely shredded kale
1/4 cup feta cheese
For the Cranberry Dressing:
3 tablespoons balsamic vinegar
2 tablespoons unsweetened cranberry juice
1/2 teaspoon kosher salt
1/4 teaspoon freshly ground black pepper
1/4 cup olive oil
Instructions
Preheat the oven to 400°F.
Placed the butternut squash and garlic on a rimmed baking sheet, drizzle with about 2 tablespoons olive oil, season with salt and pepper, and toss well, using your hands to evenly coat the squash. Roast the squash in the oven for about 15-20 minutes, or until fork tender.
While the buttenut squash and garlic roasts, place the farro and about 4-5 cups of cold water in a saucepan, season generously with kosher salt, and bring to a boil over medium high heat. Once the farro comes to a boil, lower heat to a simmer, cover, and let the farro cook for up to 40 minutes, or until the farro has bloomed. Check your farro package for instructions, as some farro may cook faster/longer.
When the butternut squash is tender, remove from the oven and set aside. Squeeze the garlic out of the peel into a small bowl, mash with a fork, and set aside. Discard garlic peel.
In a deep sided saute pan, heat remaining 2 tablespoons olive oil and butter over medium-low heat. Once the butter is melted, add the shallots and roasted garlic and cook for a minute or two, or until the shallots are translucent. Stir in the kale, butternut squash, and farro. Season to taste with salt and pepper. Remove from heat and let it sit while you make the cranberry dressing.
In a small bowl, whisk together the balsamic vinegar, cranberry juice, salt and pepper. While whisking, slowly drizzle in the olive oil. Stir in about half of the dressing into the warm salad. Stir in the feta cheese.
Transfer the salad to a serving dish and serve warm, with additional dressing on the side.
Notes
Roasting the butternut squash and garlic, as well as cooking the farro can be done in advance. I like to keep cooked farro in the refrigerator, which makes this dish come together faster.