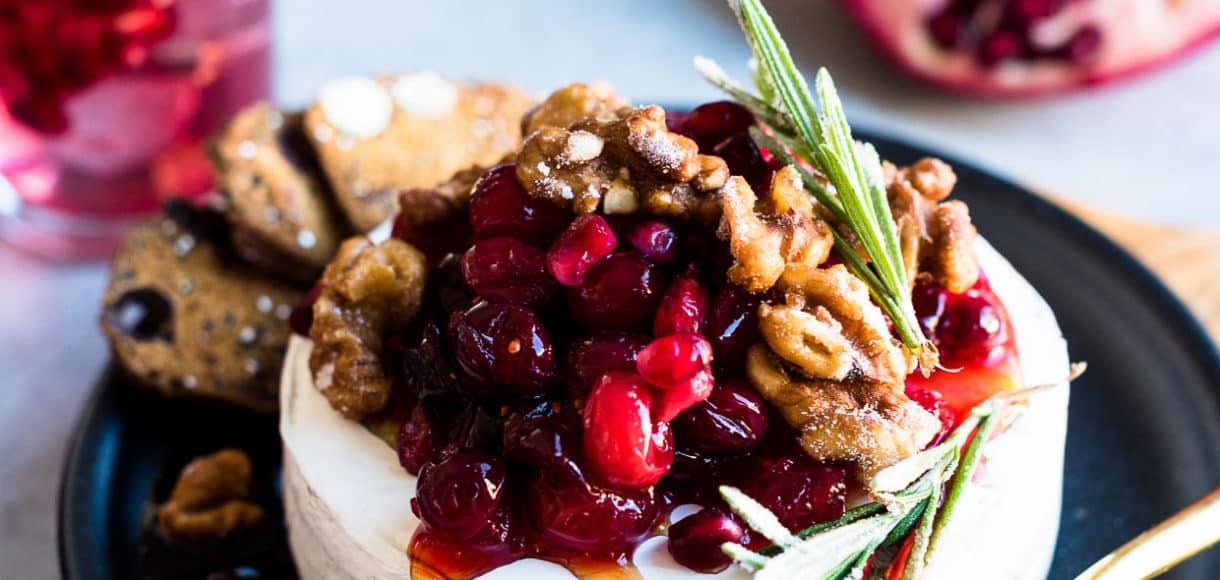 Cranberry Pomegranate Baked Brie | Simple Sundays
Cranberry Pomegranate Baked Brie – stunning in presentation but so very simple to prepare, this easy appetizer is festive and holiday-ready. The sauce can also be served on its own, perfect for the Thanksgiving table. In exactly one week, we will be driving to the…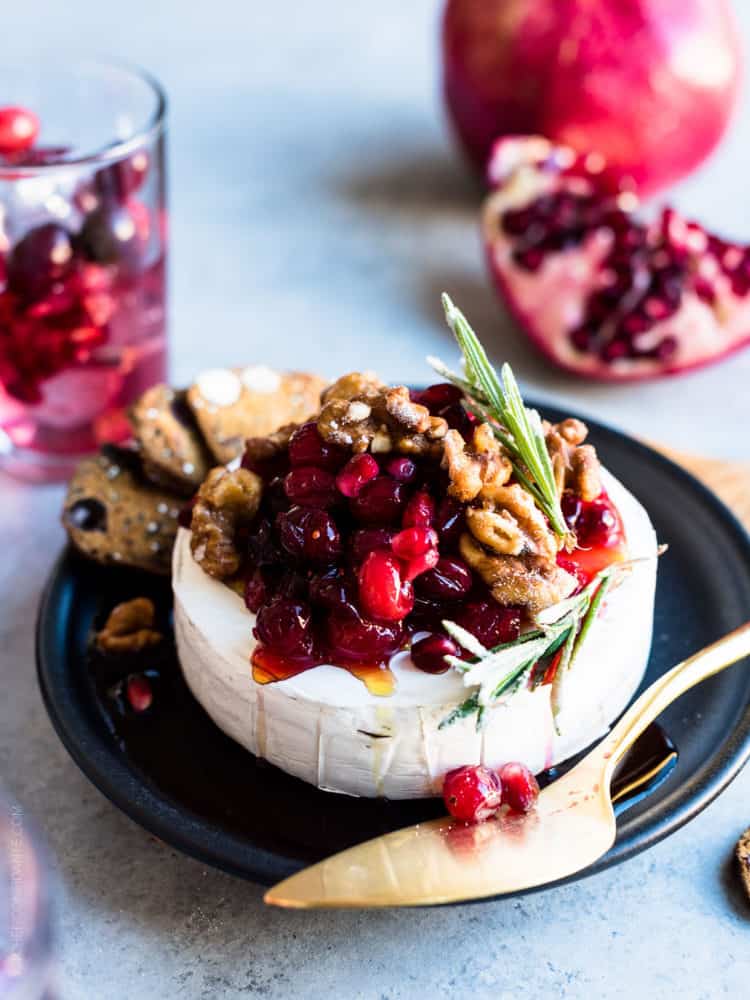 Cranberry Pomegranate Baked Brie | Simple Sundays
Cranberry Pomegranate Baked Brie – stunning in presentation but so very simple to prepare, this easy appetizer is festive and holiday-ready. The sauce can also be served on its own, perfect for the Thanksgiving table.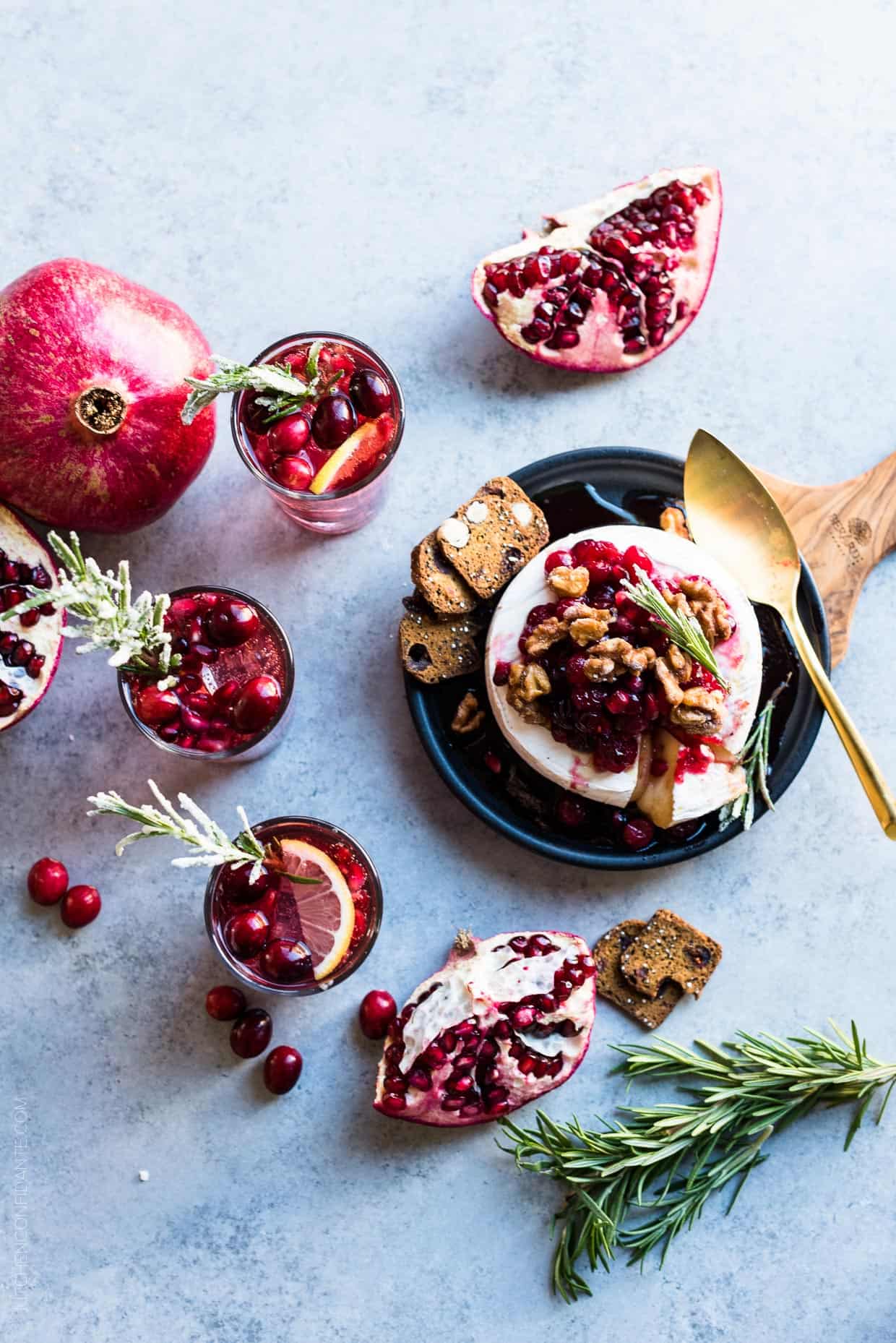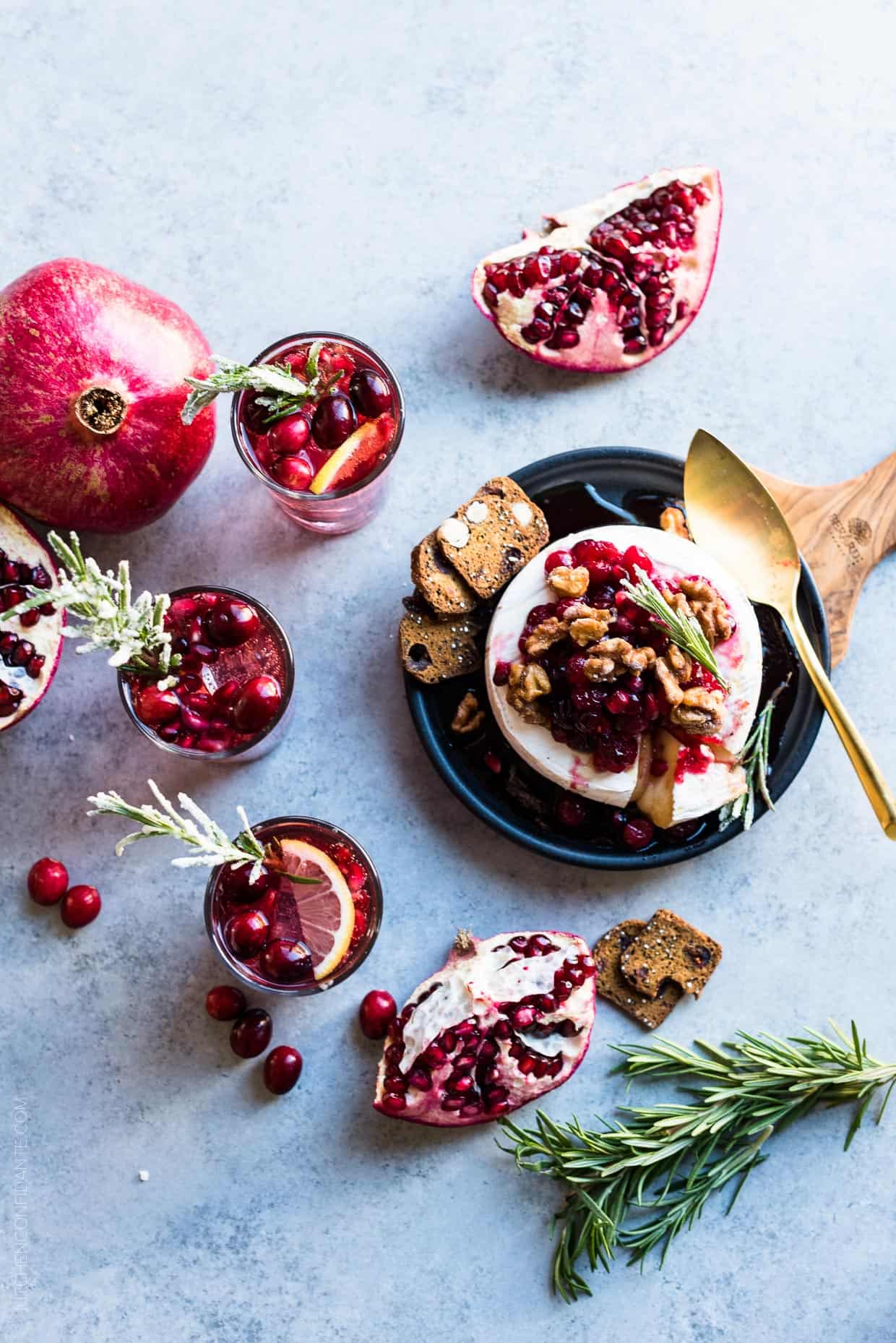 In exactly one week, we will be driving to the airport, with excited hugs ready to welcome my mother-in-law, who will be spending the Thanksgiving holiday with us. This, as you might know from our previous Thanksgivings, is a departure for us, since my side of the family is usually the ones who visit during this time of year. We're shaking things up, though holding fast to tradition.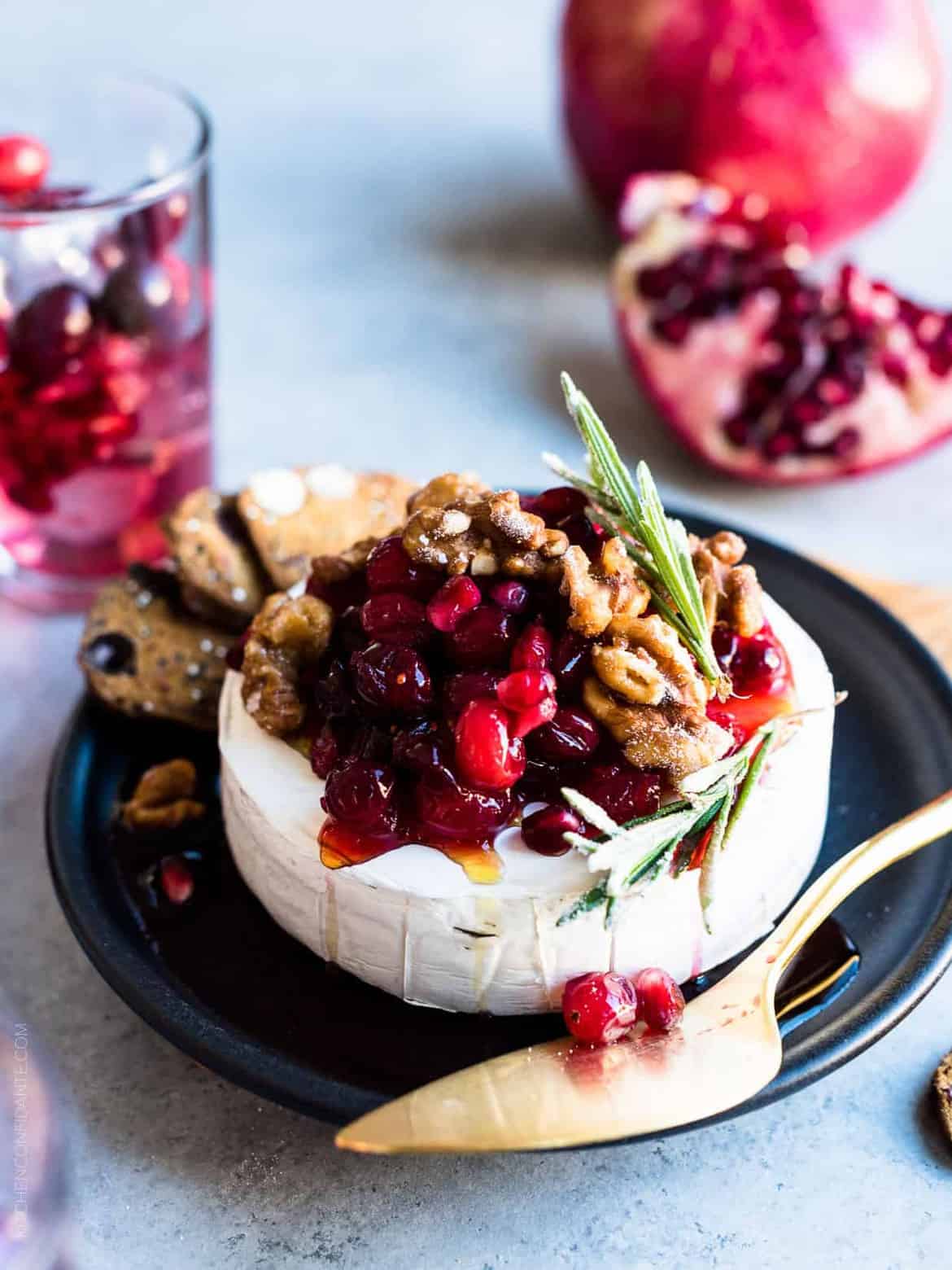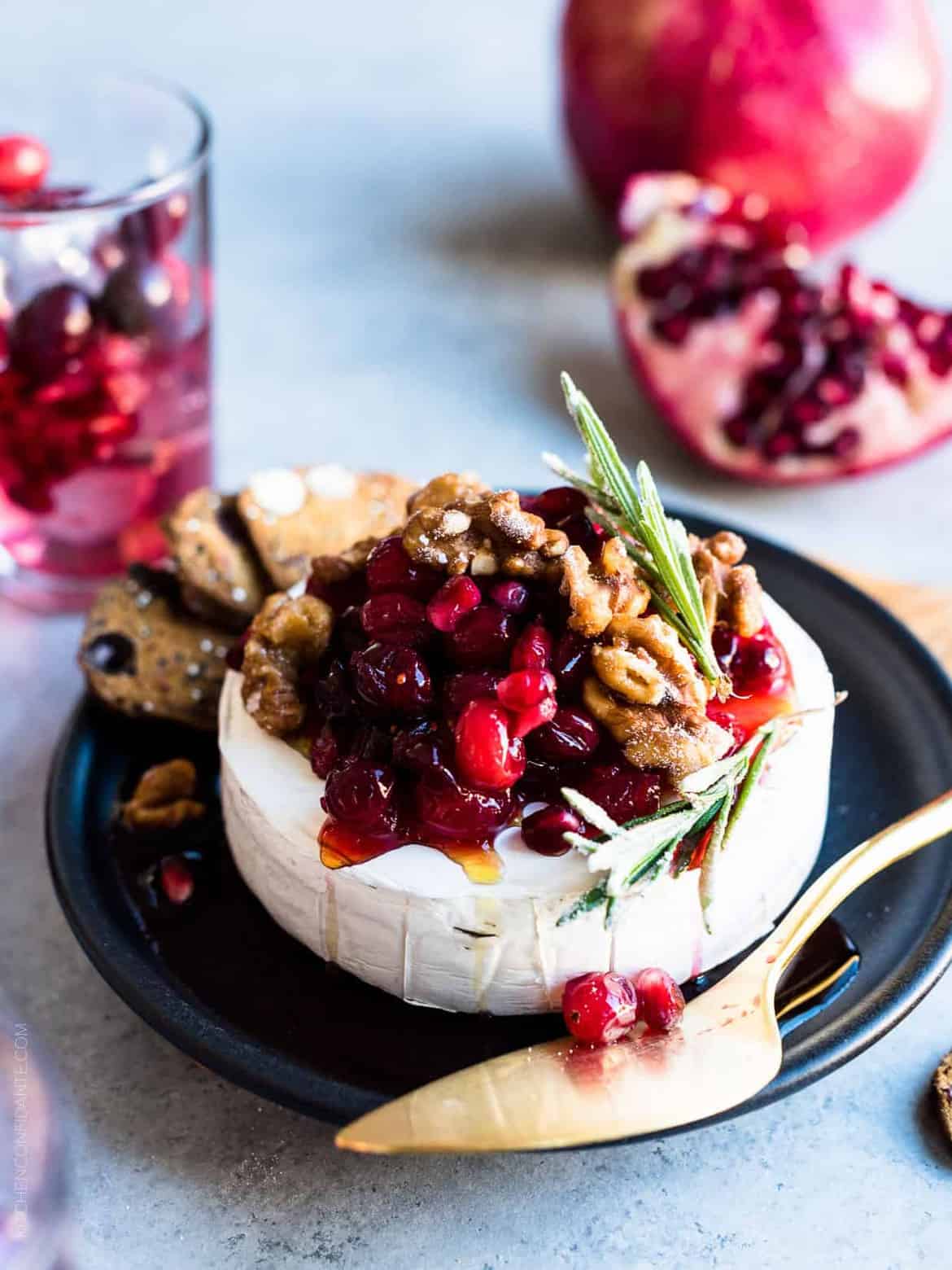 Between prepping the turkey and rolling dough for pies (did I mention that she is an amazing pie baker, something I always hope will rub off on me, given my pie challenges?), we are looking forward to all the activities scattered between the cooking: the kids' theatre performance, crafts and movies, and hopefully some museum hopping, too. The only trouble is, there never seems to be enough time.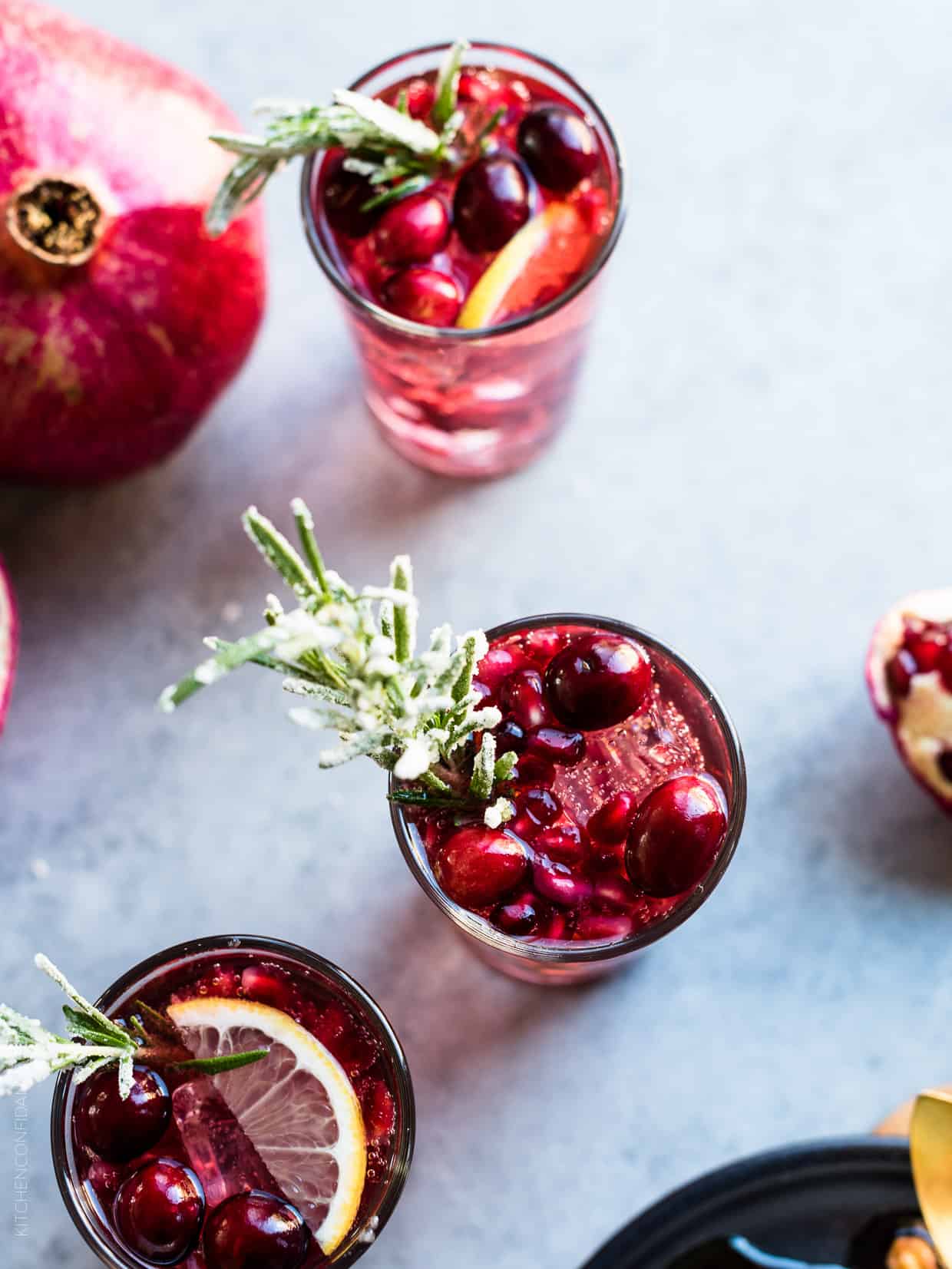 So my anthem this year is to SIMPLIFY. To make sure there is time for fun. While I love the cooking, the less fuss, the better. Have the butcher brine the turkey, for example. And make recipes that can serve double duty. Like this Cranberry Pomegranate Baked Brie, for example.
The recipe I share below is perfect if you're entertaining a crowd – it is utterly simple and a showstopper, and the earthy brie tastes heavenly with the tart cranberries and pomegranate that ooze into the gooey cheese. But when it comes down to it, the sauce itself would be perfect alongside the Thanksgiving turkey, so why not split the sauce? Half to top a luscious, bubbling baked brie, the other half to chill and serve with turkey and stuffing? That's what I plan to do. Call it killing two turkeys with one stone.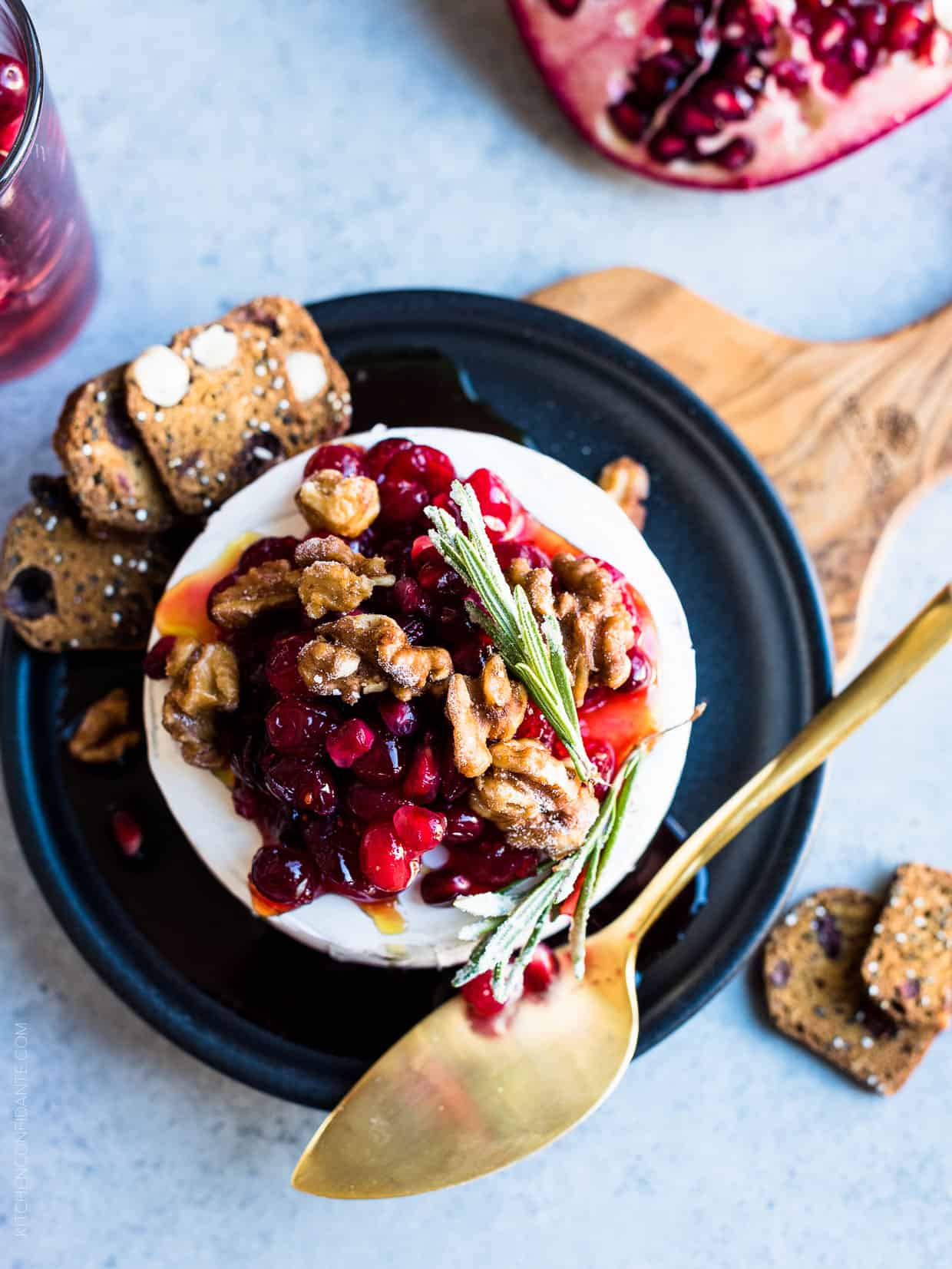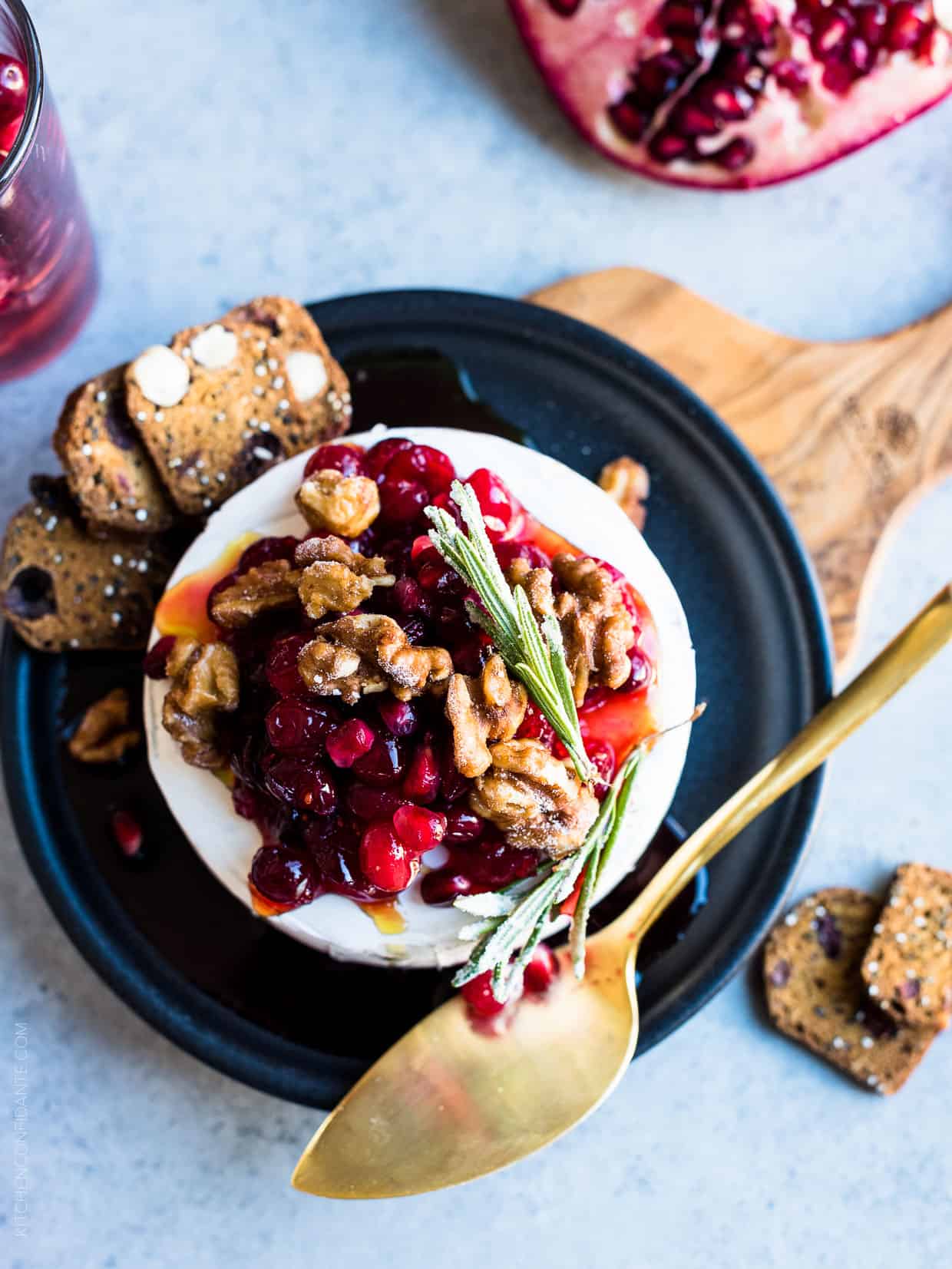 Note: I originally created this recipe to pair with a sparkling Pomegranate Rosemary Punch I created in partnership with Bai on Instagram. This blog post is not sponsored; I just had to share this recipe for the baked brie here!
Cranberry Pomegranate Baked Brie
Stunning in presentation but so very simple to prepare, this easy appetizer is festive and holiday-ready.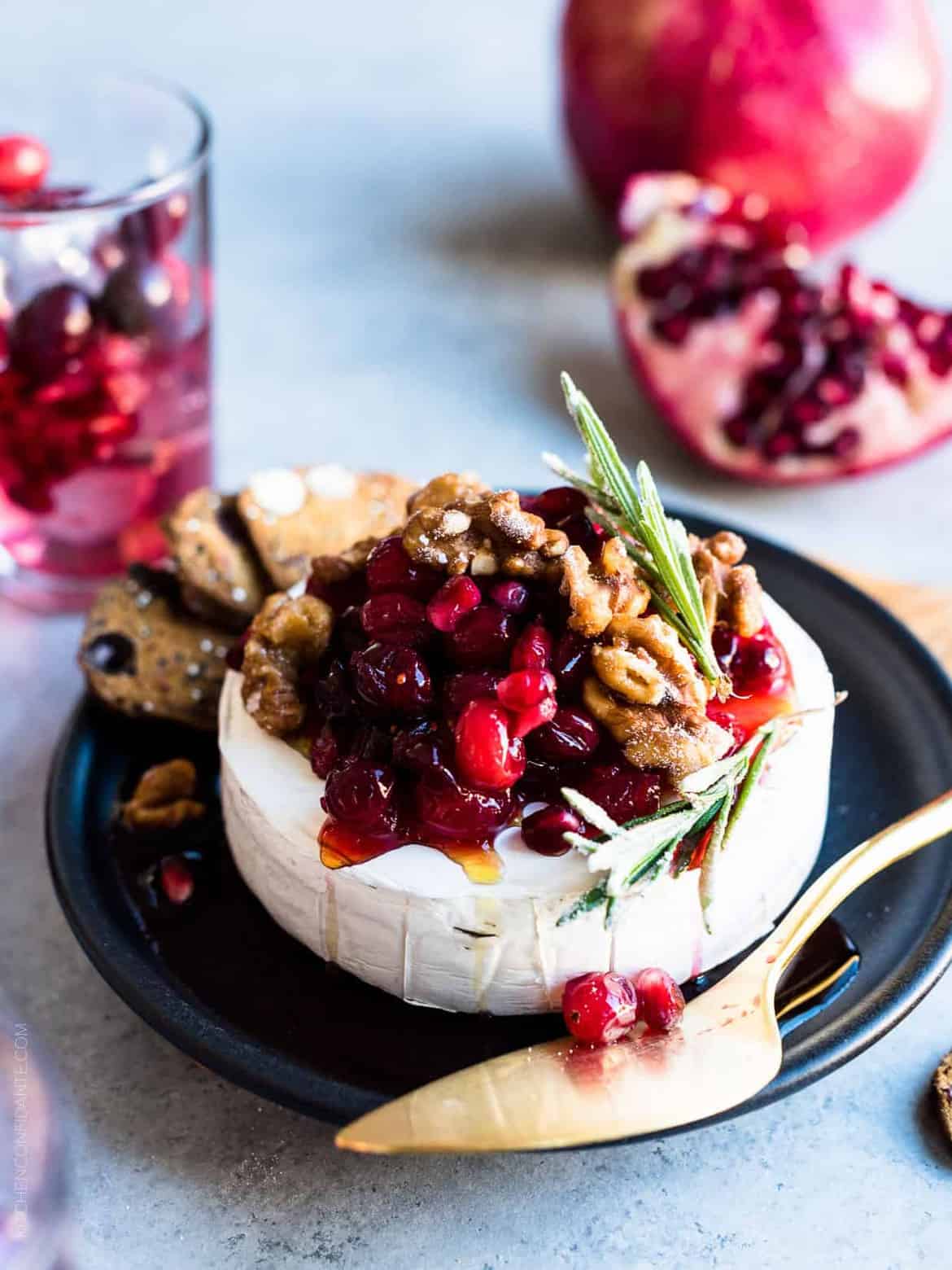 Print Recipe
Ingredients
12 oz (about 3 cups) fresh cranberries
1 cup pomegranate juice (see notes)
3/4 cup granulated sugar, more or less to taste (see notes)
1 cup pomegranate aerils
2 8oz wheels brie
1/4 cup honey
1/2 cup candied walnuts
rosemary, for garnish (optional)
crackers, for serving
Instructions
Combine the cranberries, pomegranate juice and sugar in a small saucepan and placing over medium-high heat. Bring it to a boil, lower heat to a simmer, and let it cook for about 5-10 minutes, or until the cranberries have all popped. Adjust sweetness to taste by adding more sugar, if necessary. Stir in the pomegranate aerils. Transfer to a glass container and cool completely. This can be done a few days in advance.
Preheat oven to 350°F. Place wheels of brie on ovenproof serving dishes or a parchment lined baking sheet and bake for about 7 minutes, or until the cheese is starting to soften. Top with the honey and cranberry pomegranate sauce, and return to the oven for about 2-3 more minutes, or until the brie gooey and soft.
Remove from oven, top with candied walnuts and garnish with rosemary, if using. Serve warm with crackers.
Notes
Depending on the pomegranate juice you find, there can be a difference in strength and sweetness — note that pomegranate juice that is fresh tastes different from pomegranate juice from concentrate. Either will work, just taste and sweeten your sauce with sugar accordingly.
The sauce can be made in advance, making this even easier when you are entertaining. And if you wish, the sauce is delicious all on its own, so consider preparing just one baked brie, and reserving the remaining sauce for the Thanksgiving table!