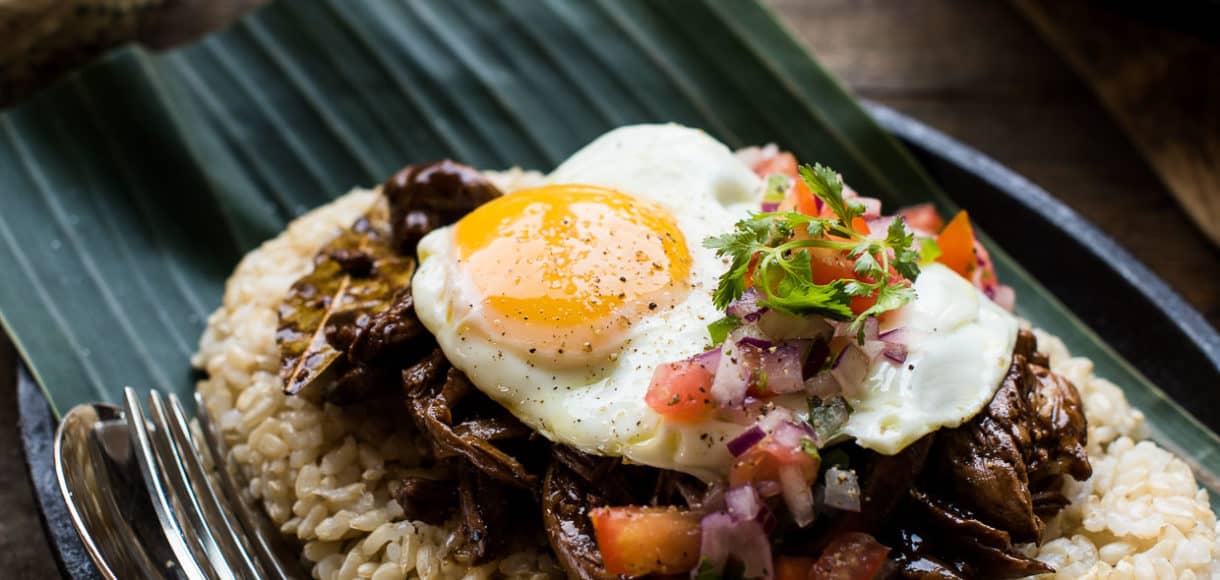 Adobo Loco Moco Inspired By My AncestryDNA Results
Adobo Loco Moco marries the Hawaiian plate-lunch with the classic Filipino Chicken Adobo, and is the perfect savory dish for breakfast, lunch or dinner! This post is sponsored by AncestryDNA.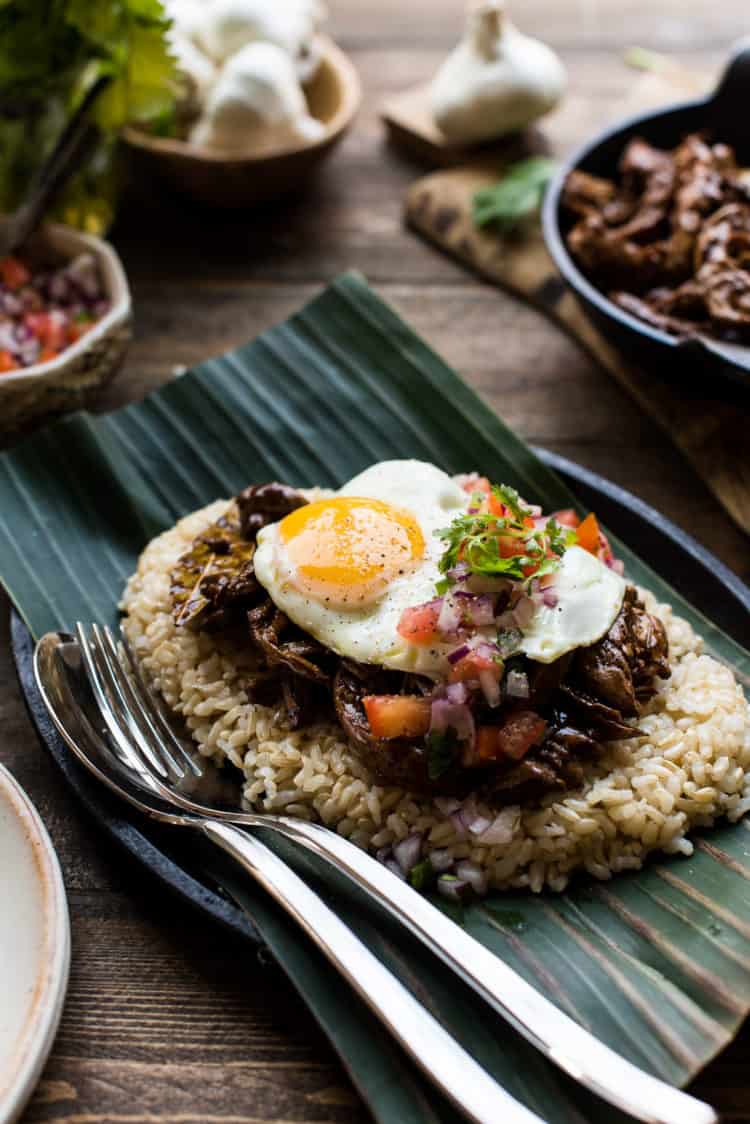 Adobo Loco Moco Inspired By My AncestryDNA Results
Loco Moco is a traditional Hawaiian dish, a humble version of the plate-lunch. This Adobo Loco Moco marries the rice plate with the classic Filipino Chicken Adobo, and is the perfect savory food for breakfast, lunch or dinner! This post is sponsored by AncestryDNA.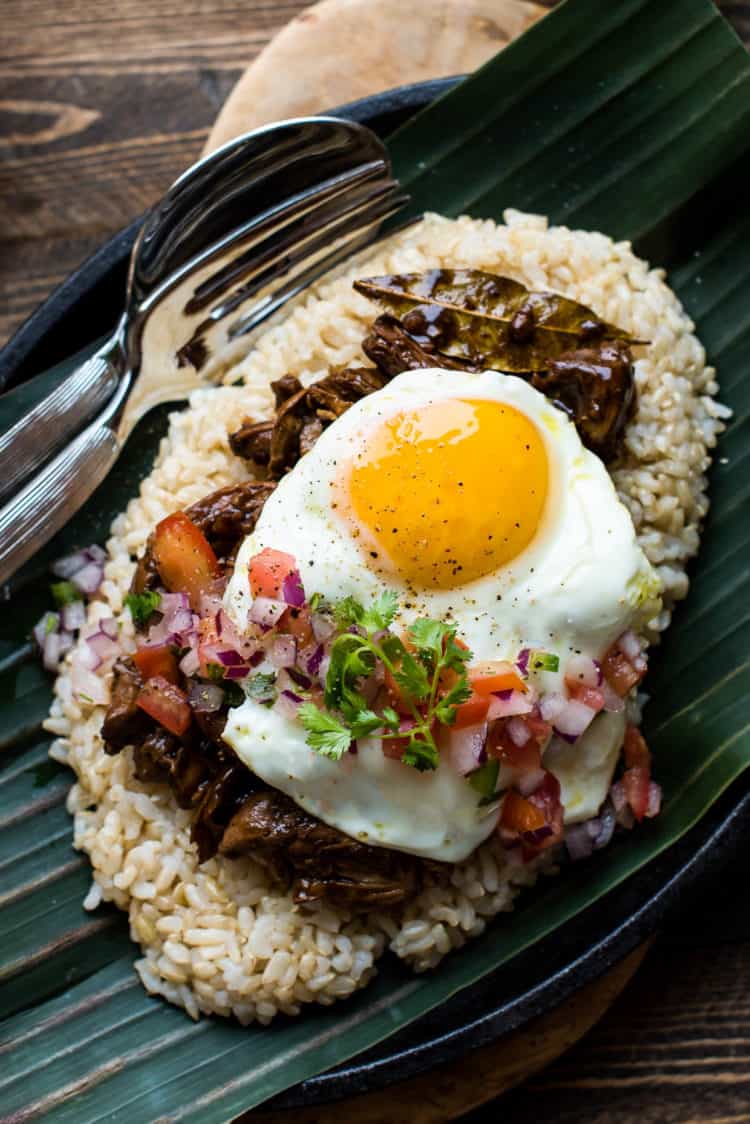 One of the reasons I started this blog was to preserve my family's stories, to share our food and the history behind them, whether it was deeply rooted in our family history, or simply inspired by the experiences we share. In essence, it started for my children, so that one day, they can look back and cook from their childhood, and pass it on to their own kids one day.
But I also love how it has evolved, and how I have connected with so many of you. Knowing that the food we share here has become part of your family weeknights, or special celebrations, or even your holidays — that is quite an honor for me!
I've always thought I knew my family history — both my parents came from the Philippines, and the food I share here reflects those flavors and the influences of my being born and raised here in the U.S. But I've always wondered about the stories my mom and dad shared, particularly when it came to the question of heritage.
And about a month ago, my son and I were chatting about this when he brought up AncestryDNA.
"Wouldn't it be cool if you got to do one of those kits, mom?"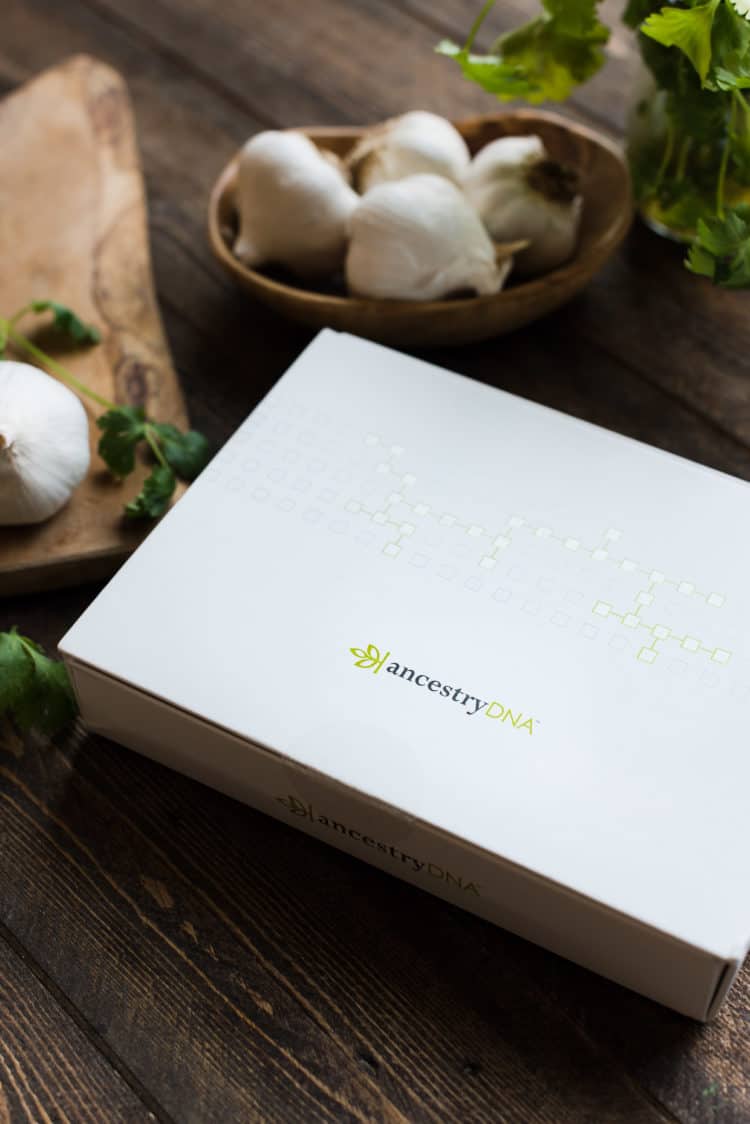 Well, it was as if fate heard us. About a week later, AncestryDNA reached out to me to see if I would be interested in learning more about my DNA story and to see how the results might inspire my cooking!
Needless to say, I was so excited to partner with them, and I can't wait to share what I learned with you!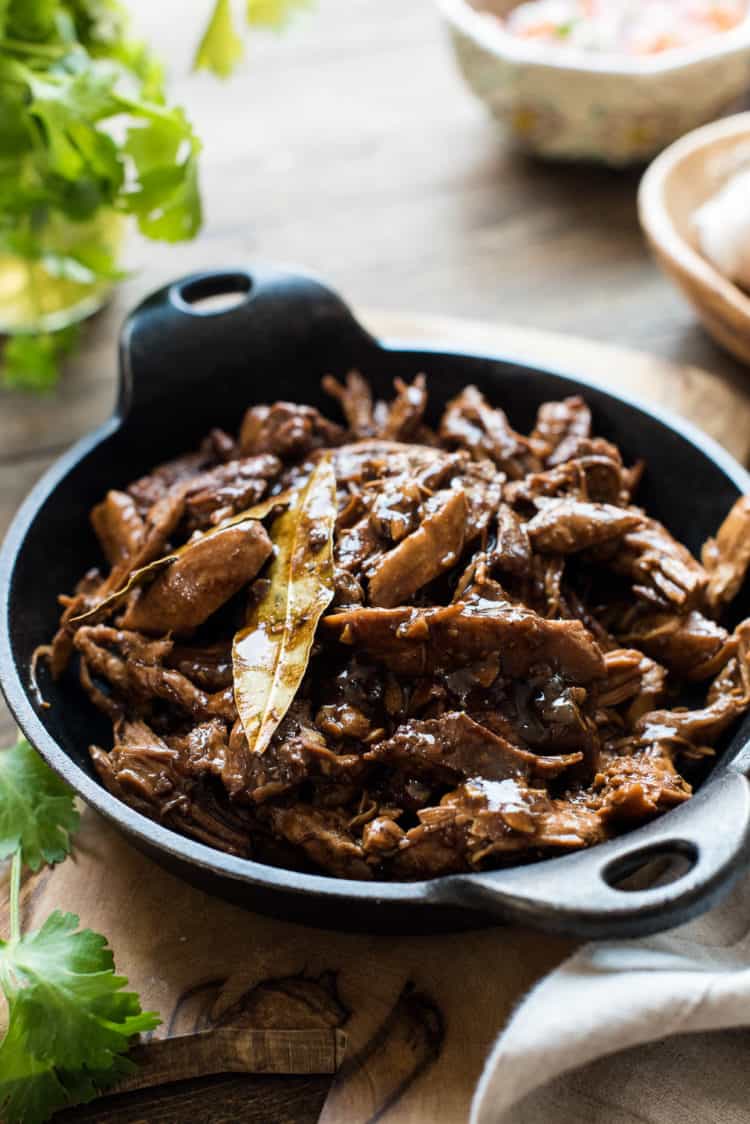 What I Expected
While both my parents are from the Philippines, my mom's side of the family has often traced back and talked openly about the family's Portuguese and Spanish roots. Given the colonial history of the Philippines, this made sense, and my aunts often talk about my great-great grandfather's Portuguese lineage. So I fully expected to see that in my DNA story, but I also thought I might see some Chinese DNA, because I thought I heard a rumor that there might be Chinese heritage on my dad's side of the family.
Doing the kit was super easy, and you may have seen me share this process on Instagram stories. All it took was a quick saliva sample and I sent it off for processing!
My DNA Story
So, are you ready for my BIG reveal? Drumroll please….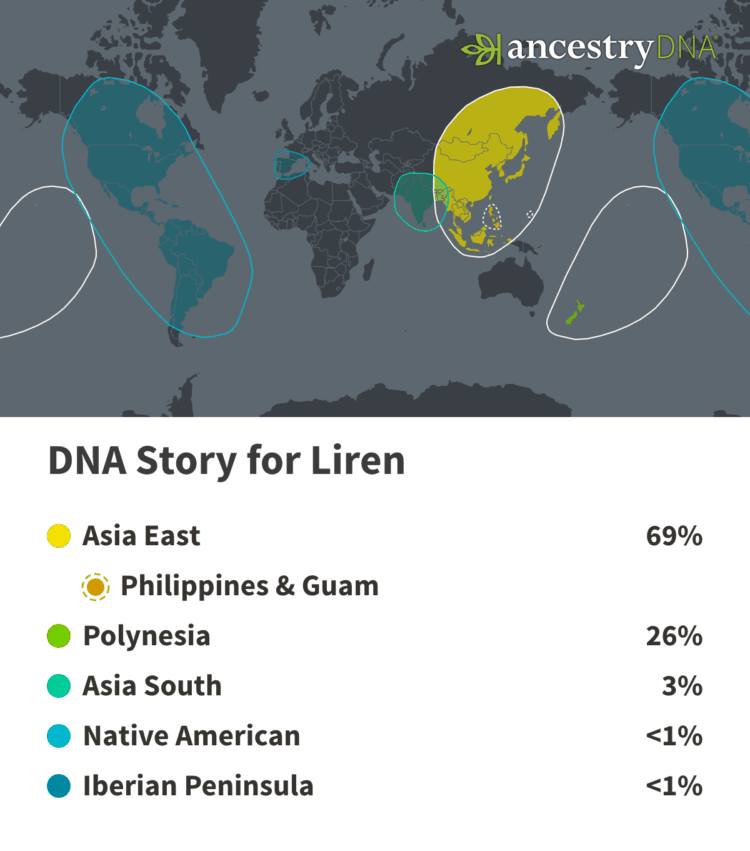 I have to admit, what a surprise! While not earth-shattering, I fully expected the percentage of Asia East to be higher, perhaps closer to 98%.
But what took me by surprise was the 26% Polynesia result. At the same time, it's not too much of a surprise, given how The Polynesian Triangle neighbors the Philippines in the Pacific Ocean, its three points being Hawaii, Easter Island (Rapa Nui), and New Zealand. I suppose I just never considered it or have heard any family stories relating to Polynesia, so to see a quarter of my DNA identified as Polynesian was quite unexpected!
How My DNA Story Inspired My Cooking
Learning about my Polynesian heritage made me chuckle, because any time we're in Hawaii, my husband would tease that I'm one of the locals and that I should help out lost tourists. I do look the part, but I also joke back that that's because there's a huge Filipino population in Hawaii, so of course, I fit right in! But, now, maybe there's truth to all that joking!
I knew instantly that I had to mash up my Filipino and Polynesian roots in a dish that marries the two together! And what better dish than making a form of my beloved chicken adobo into a dish I fell in love with during my travels, the loco moco!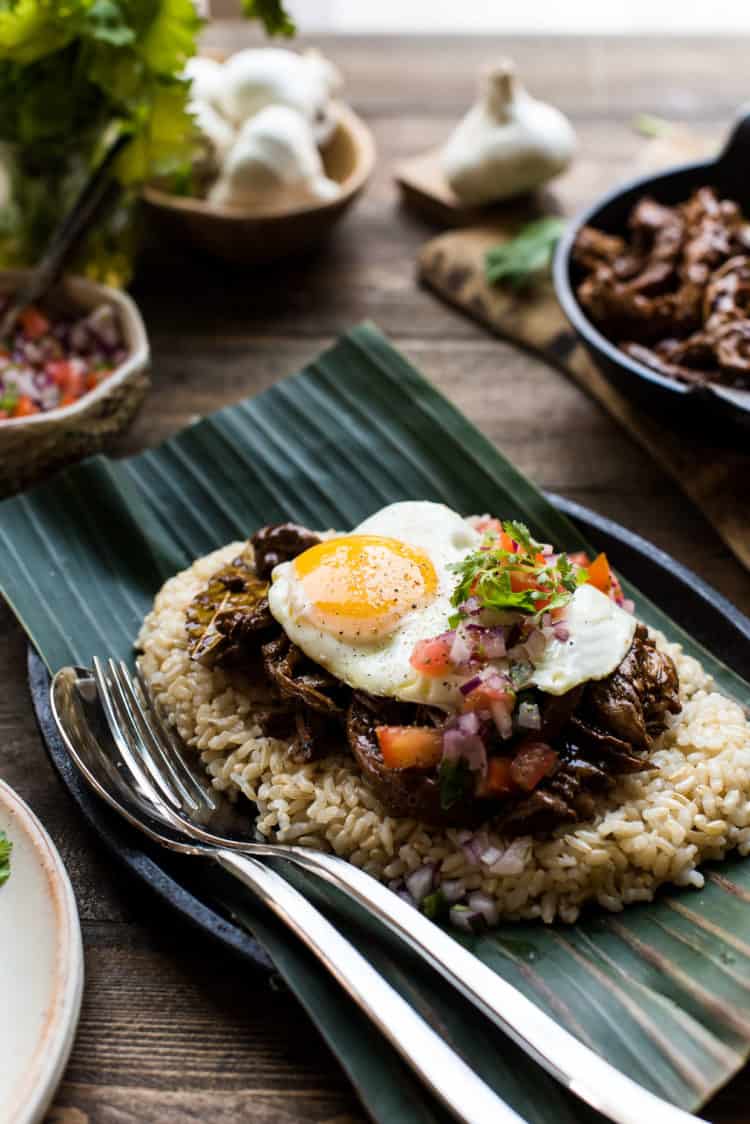 Adobo Loco Moco
If you haven't had a loco moco, it is a Hawaiian dish, a humble version of the plate-lunch. A basic loco moco has a hamburger patty on a bed of rice, and is topped with a mushroom gravy, perhaps some onions, and the crowning jewel, an egg. These days, there are so many variations of loco mocos, adopting the many flavors that make up the melting pot of Hawaii and Polynesia. I've even had quite refined short rib loco mocos, which I have shared with you before.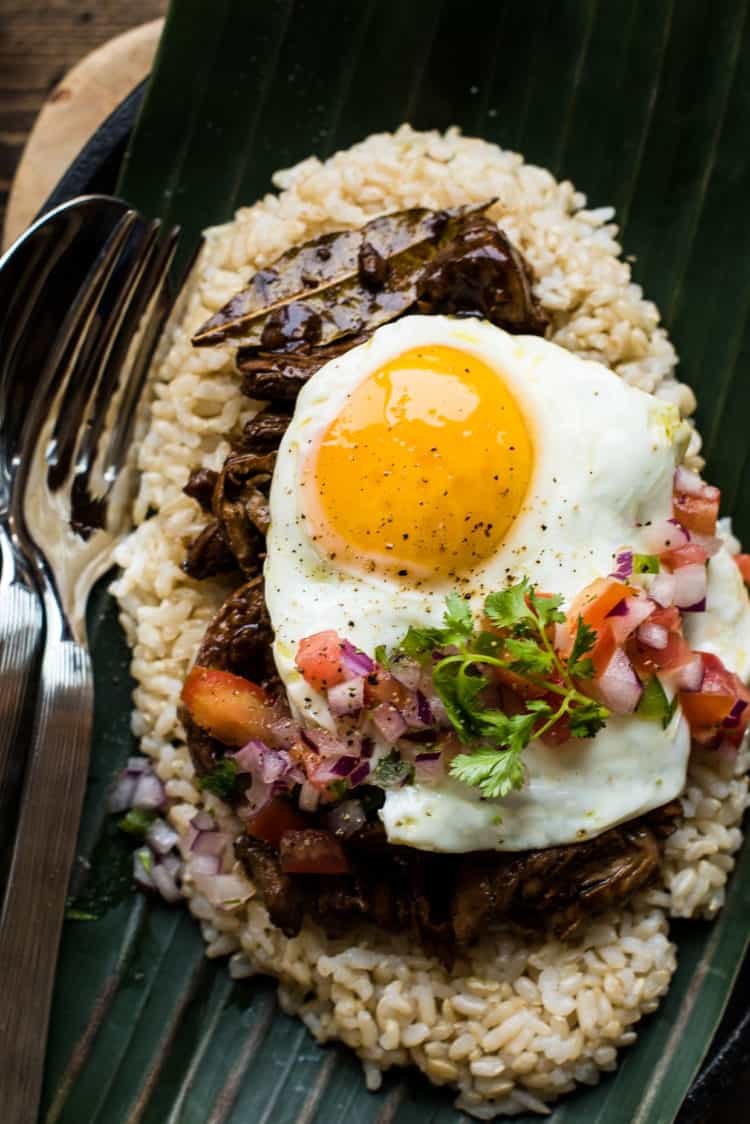 But to honor both parts of my heritage, I knew an adobo loco moco would be the perfect dish to represent me. Shredded chicken adobo on a bed of brown rice, in a garlicky sauce that I thicken to a gravy, is already quite comforting, but add a sunny-side up egg, and it's bliss. To complete the dish, I made a traditional onion and tomato relish that is often served as a side dish in the Philippines to add brightness and zing to heavy dishes. It's me on a plate, and between you and me, it's one of the best things I have ever made!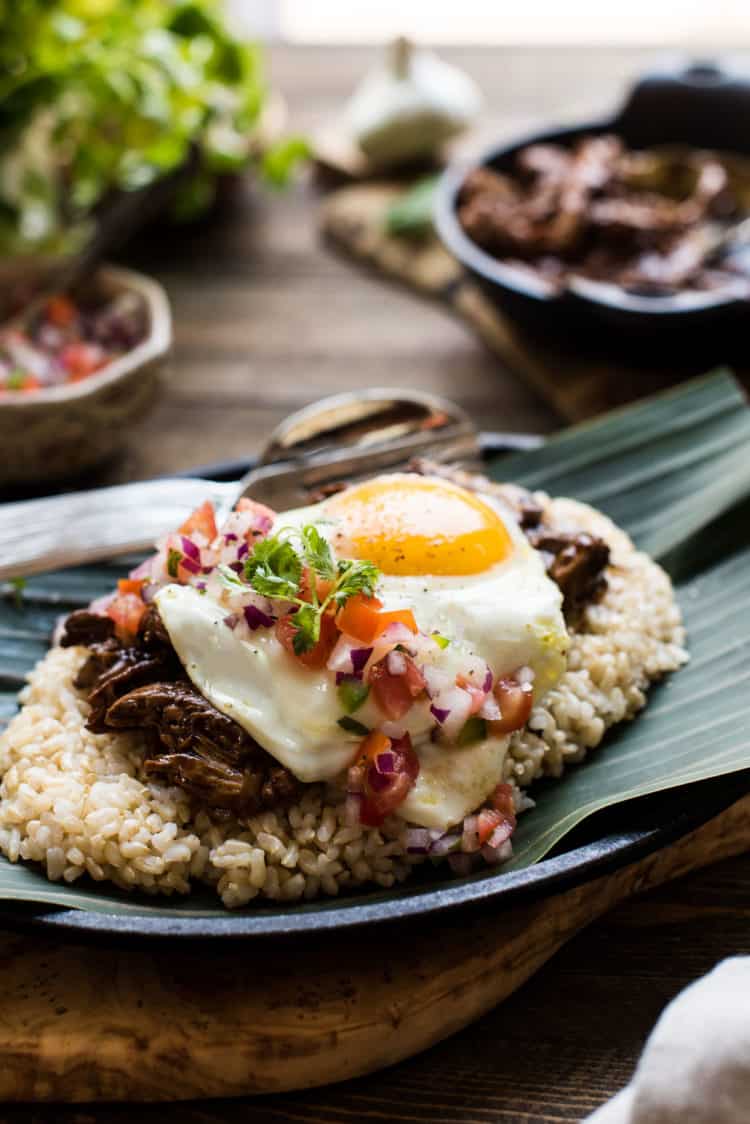 What About Your DNA Story?
Have you ever been curious about your own DNA story? Learn more about yourself and your DNA story with AncestryDNA during their Summer Sale! Check it out and buy your own AncestryDNA kit – I'd love to know what you find out!
Disclosure: This post is brought to you in partnership with AncestryDNA. Thank you for supporting brands that matter to me; sponsored posts such as this help behind the scenes at Kitchen Confidante. All opinions in this post are, as always, my own.
Adobo Loco Moco
Loco Moco is a traditional Hawaiian dish, a humble version of the plate-lunch. This Adobo Loco Moco marries the rice plate with the classic Filipino Chicken Adobo, and is the perfect savory food for breakfast, lunch or dinner!
Ingredients
1/2

cup

good quality soy sauce

1/2

cup

Apple cider vinegar

8

cloves

garlic

minced or finely mashed

2

bay leaves

Freshly ground black pepper

2

chicken thighs

skinless boneless

2

chicken breasts

skinless boneless

2

tablespoons

olive oil

divided

2

teaspoons

cornstarch

2

teaspoons

cold water

1

cup

diced tomato

1

Cup

finely diced red onion

1

jalapeño

seeded and finely chopped

1/3

Cup

cilantro

finely chopped

1

teaspoon

kosher salt

4

large eggs

Brown rice

for serving
Instructions
In a glass bowl, mix together the soy sauce, vinegar, garlic, pepper and bay leaves. Add the chicken and coat on all sides. Cover with plastic wrap and marinate the chicken in the refrigerator for at least 20 minutes or overnight.

While the chicken marinates, make the tomato and onion relish. Place the tomatoes, onions, jalapeños, cilantro, and salt in a small glass bowl. Stir to combine and set aside to chill in the refrigerator.

Place the chicken, marinade, bay leaves and chili (if using) in a deep sided sauté pan and place over medium heat.

When the sauce begins to bubble, turn the chicken and cook until the meat is nearly cooked through, about 15 minutes.

Transfer the sauce to a bowl, add oil to the pan, and brown the chicken on all sides.

Return the sauce to the pan, bring to a boil and lower heat to a simmer. Cover and simmer for about 20-30 minutes, or until the chicken is tender and the sauce a thick and deep color.

Shred the chicken with two forks. If you lose track of time and/or find that the sauce has reduced too much, add a touch of water to the sauce.

Mix the cornstarch with water in a small bowl until it is smooth with no lumps and whisk into the pan. The sauce will thicken a bit. Remove pan from the heat.

Heat remaining oil in a nonstick pan over low heat. Crack the eggs gently, leaving spaces between the eggs. Cook for about four minutes or until the egg whites are set and the yolks are cooked to your desired doneness.

To serve, place the shredded chicken adobo and some of the sauce over a bed of rice, and top with an egg and the tomato onion relish. Serve immediately.