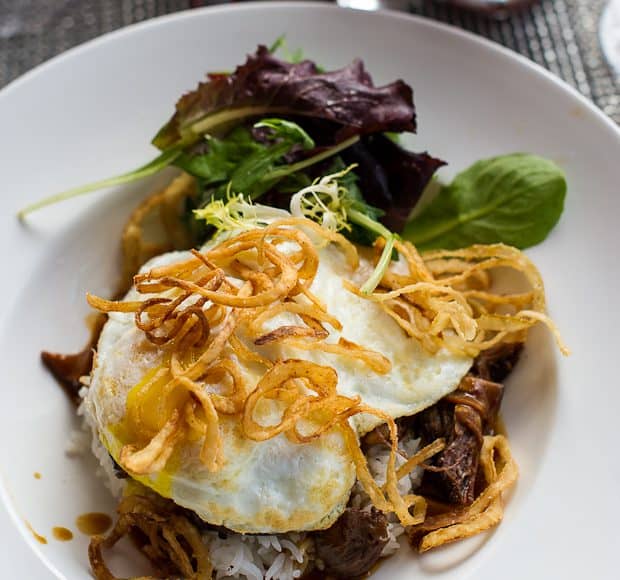 Short Ribs Loco Moco
Back in my parent's house in New York, there is a tall curio cabinet. It flanks a wall between the living and dining rooms, and in it, are dolls. Small dolls that were lovingly collected as my family traveled from country to country, year after…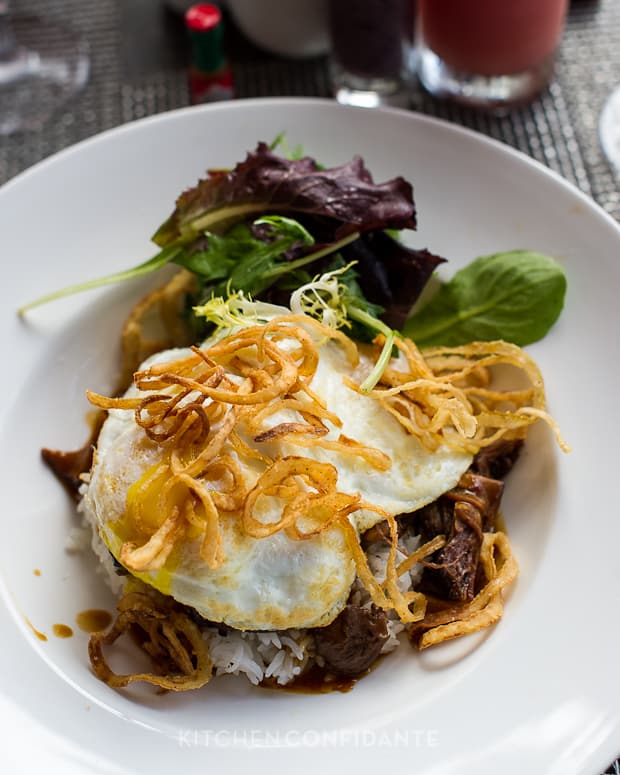 Short Ribs Loco Moco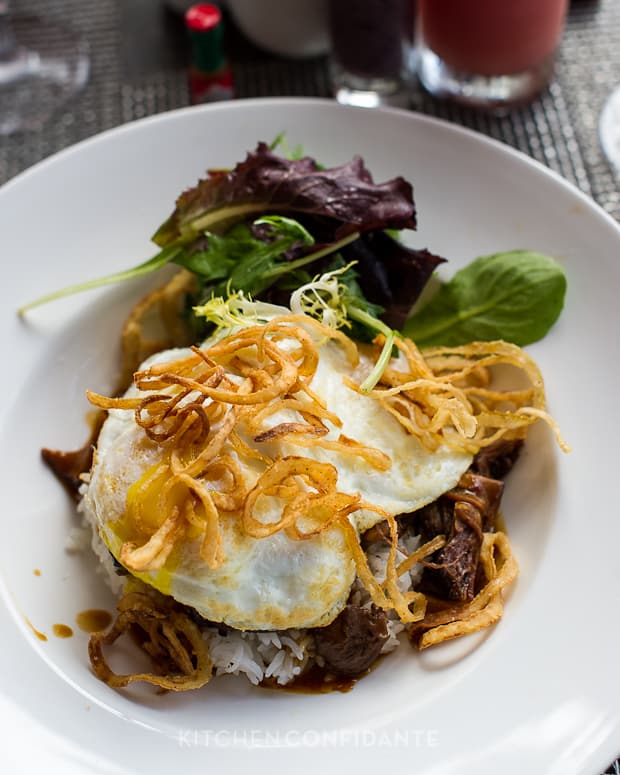 Back in my parent's house in New York, there is a tall curio cabinet. It flanks a wall between the living and dining rooms, and in it, are dolls. Small dolls that were lovingly collected as my family traveled from country to country, year after year. Each one is in traditional dress, souvenirs that my mother made sure we brought home, wherever we were in the world. Some are kitchy, and some truly ornate, but each one is priceless in its sentimental value.
By the time I was in high school, that curio cabinet was quite full, and my parents realized that we needed another one. Not for more dolls, although that would have been a good idea, as they were running out of room. Instead, they realized that my own collection was growing. When we visited Brazil and Argentina, I somehow decided I was going to collect turtles. Year after year, vacation after vacation, my turtle collection was growing. Turtles made of shells, handblown glass, amber, opal, even bread dough. They purchased another curio cabinet, a smaller one, to house my turtle friends.
Shortly after I was married, I moved my turtles here. They still live in a box, each one carefully wrapped. I've moved on to collecting other things, I guess.
A few weeks ago, I went away. If you keep in touch on Instagram, then you will know that we were able to steal away to Waikiki for several days. It was a good little getaway, and even though I saw plenty of turtle figurines I could bring home, instead I was collecting delicious tastes. And I had a little help from friends on Instagram. Myra, also known as bonnevivante, knew we were staying at The Royal Hawaiian. She commented, "You must try the Royal Loco Moco at the restaurant for breakfast."
Boy, was she was right.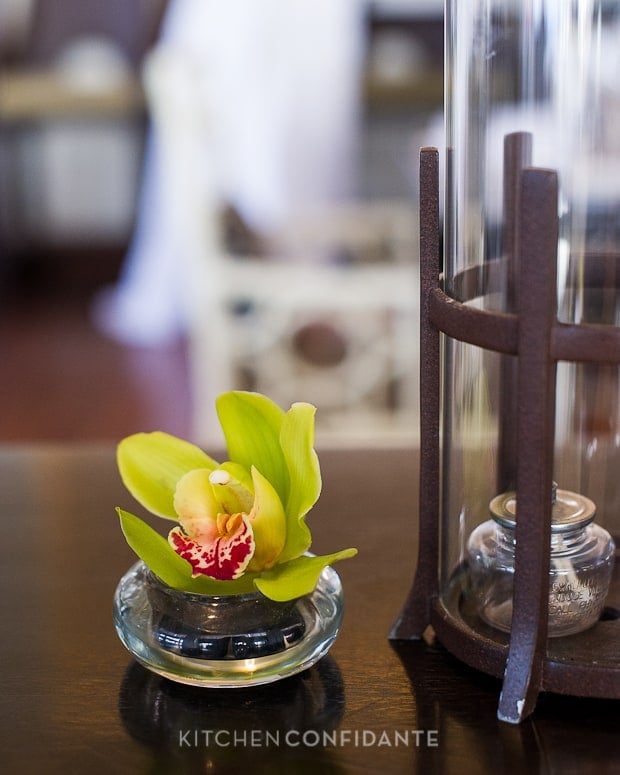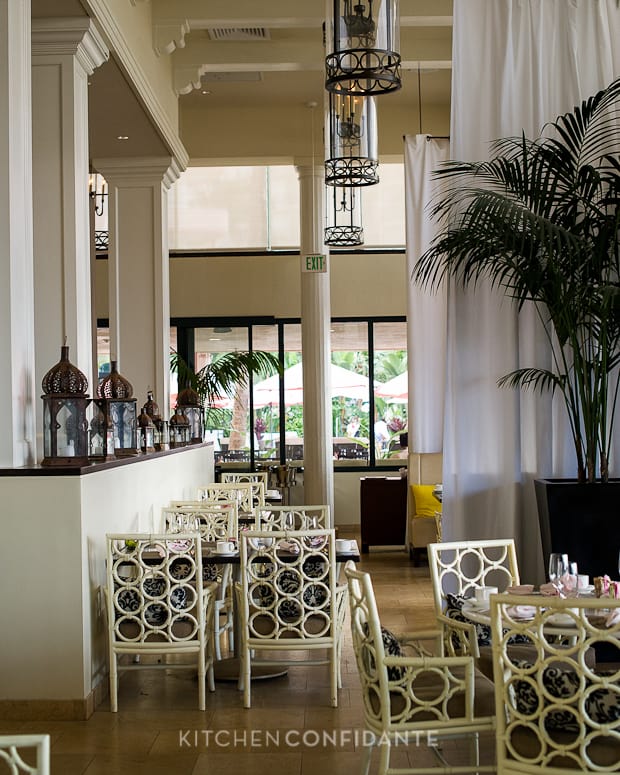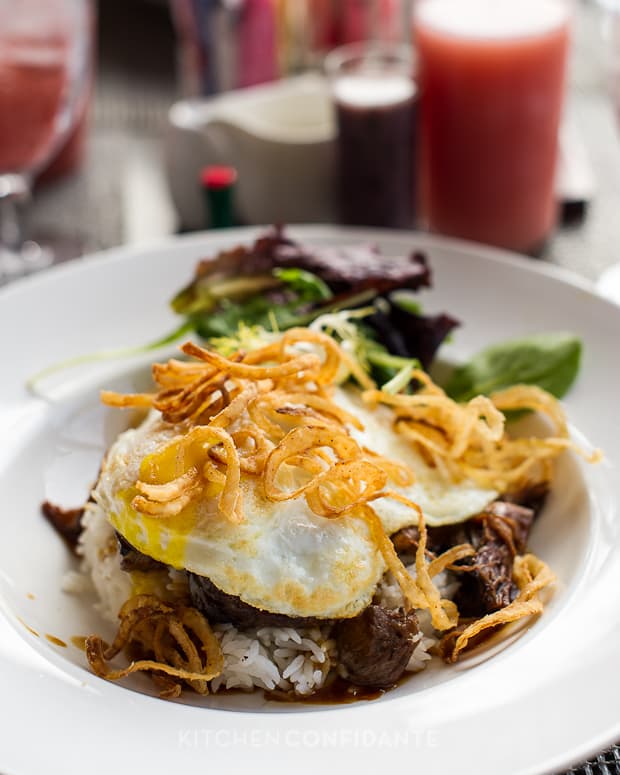 The loco moco. I had never had one before, but it's probably just as traditional in Hawaii as a luau. There are many ways to go about it, but at the very basic, a loco moco is a hot plate of white rice, topped with a hamburger patty, a fried egg, and brown gravy.
At the Surf Lanai restaurant in The Royal Hawaiian, it's a little more fancy. They have the Royal Loco Moco: beef short ribs & rice, poached eggs with hamakua mushroom & crispy fried Maui onions.
For breakfast.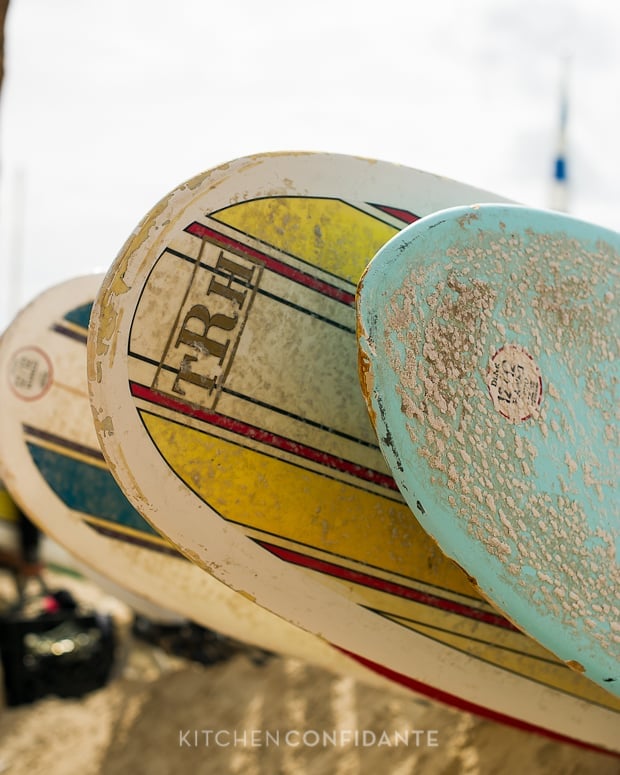 After our first taste, we were hooked. Each day thereafter began with a hearty Royal Loco Moco, which, looking back, is probably good that only meant two more mornings. Because before we knew it, it was time to return home.
But now I had those flavors in my mental suitcase. A souvenir.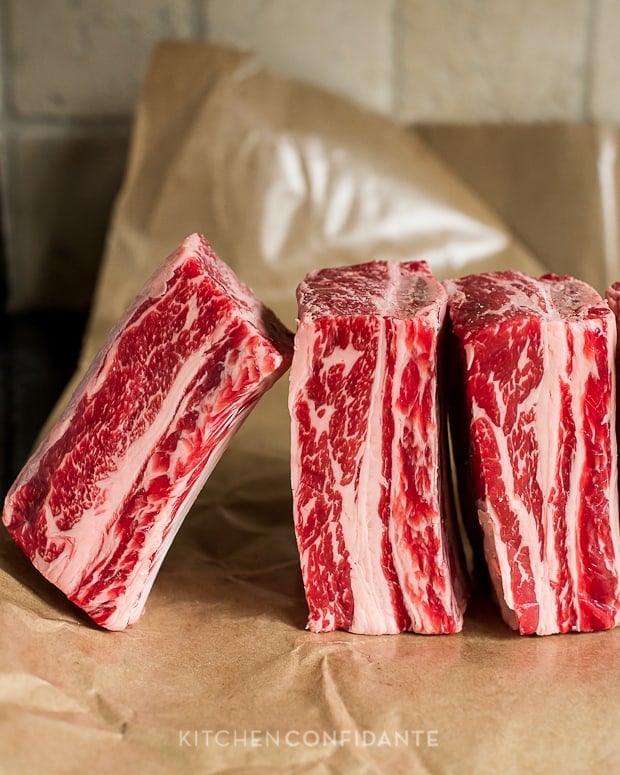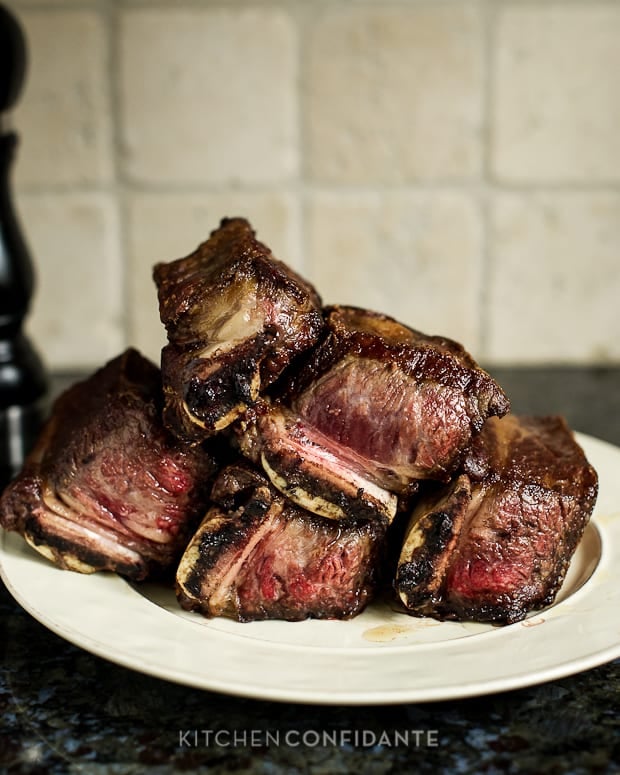 I bought some gorgeous short ribs. And began the process of braising them.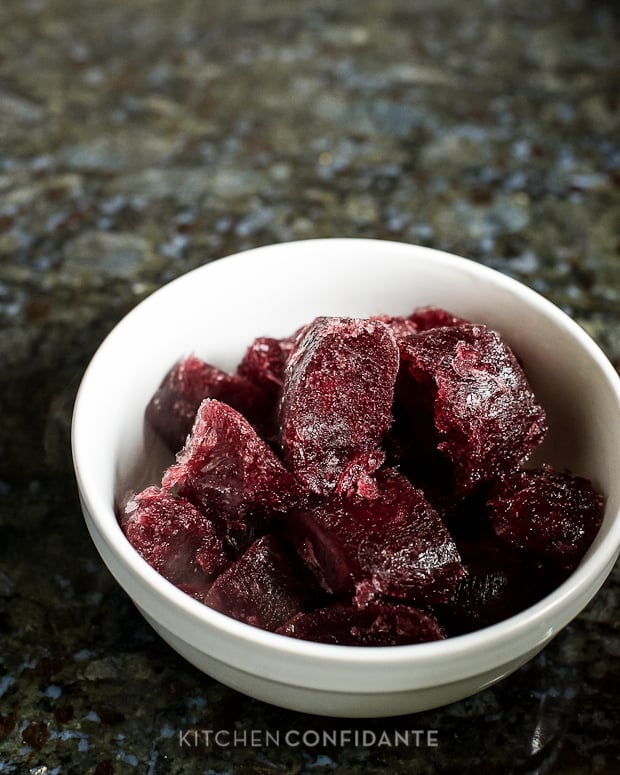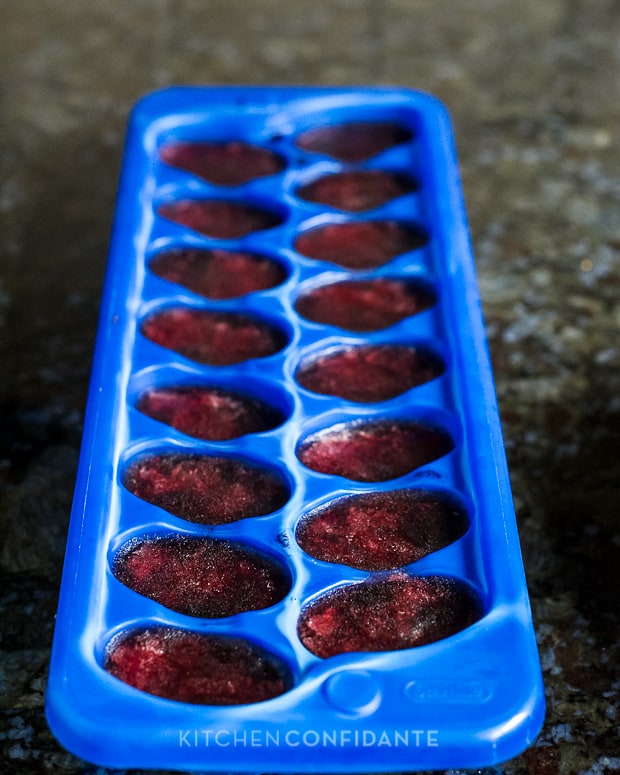 Wine was in order. Do you freeze any excess wine? It comes in handy.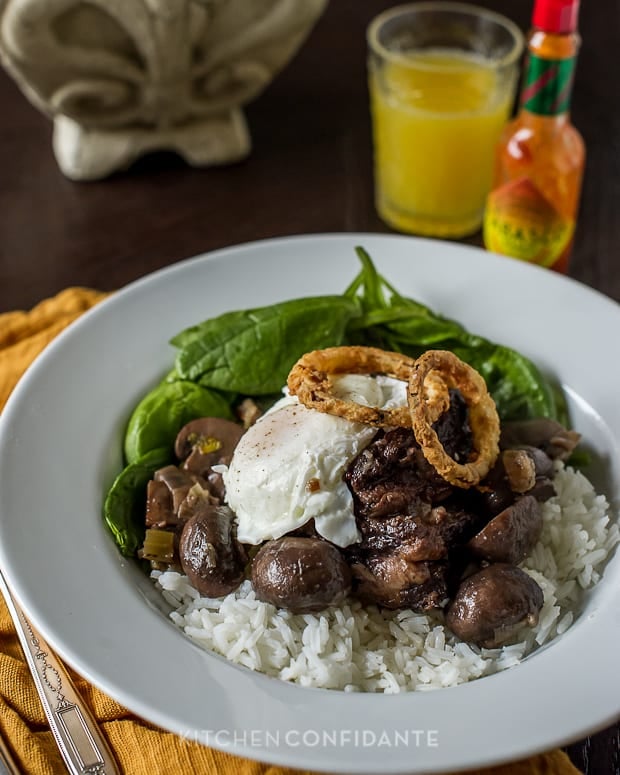 I poached the eggs, and fried up some spicy onion rings. They crowned the short ribs, the sauce swimming in the rice bed below. The islands came to us for dinner.
The humble Hawaiian plate lunch is glorified in this version, and while yes, it is an amazing way to start your day, it's perfectly elegant enough for a dinner with friends. I love that you can make your short ribs the night before and when it comes time to serving, it takes just a few minutes to poach your eggs. That type of ease, I am loco for, for sure.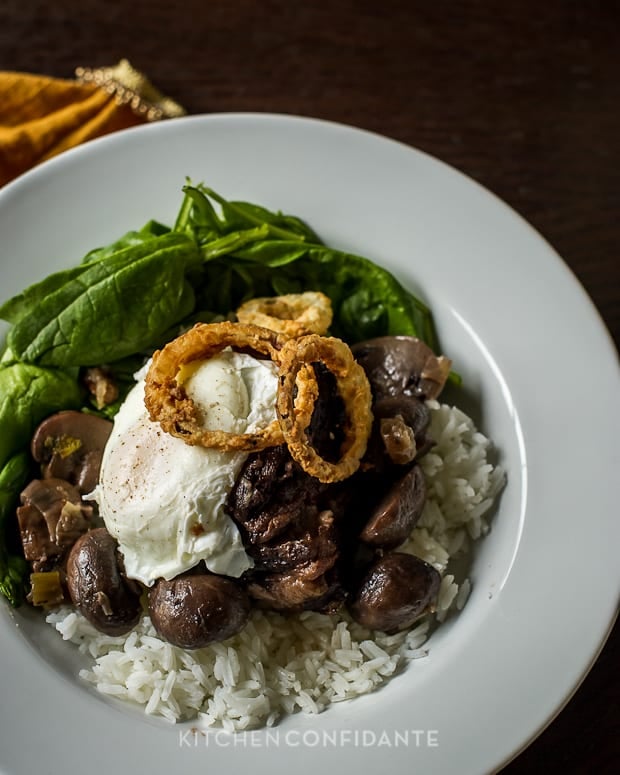 I was so taken with the Royal Loco Moco at The Royal Hawaiian's Surf Lanai Restaurant that I couldn't wait to recreate it at home. Maui onions were replaced by yellow onions and hamakua mushrooms with crimini, but the spirit is the same. I like eating it with a few dashes of Tabasco. If this is the closest I can get to having some aloha in my kitchen, then I'm quite content.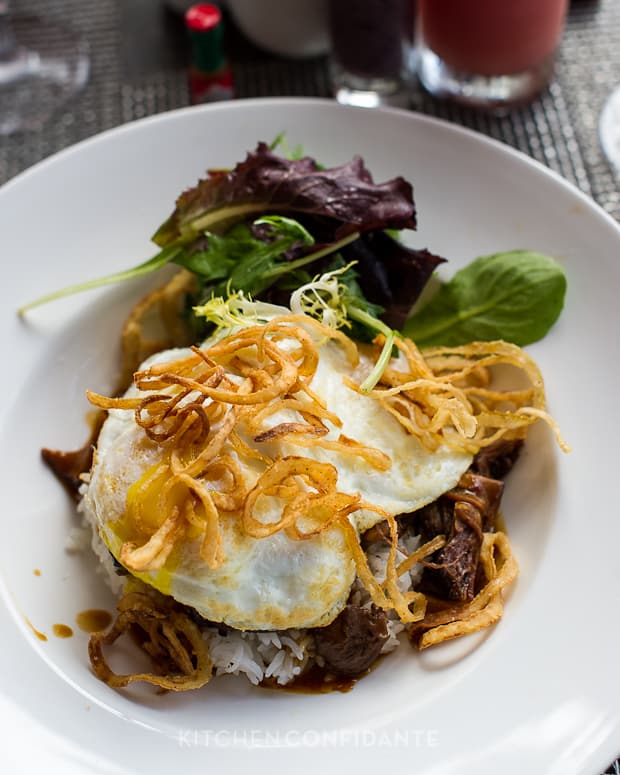 Print Recipe
Ingredients
Short Ribs
2 tablespoons canola oil
6 pieces short ribs
kosher salt
freshly ground black pepper
2 bay leaves
4 small carrots, diced
4 stalks celery, diced
4 medium onion, diced
6 cloves garlic, smashed
3 cups crimini mushroom, trimmed and halved
2 teaspoons tomato paste
2 cups red wine
1 cup beef stock
Rice
1 cup rice
water
Crisp and Spicy Fried Onions
1/2 medium onion, thinly sliced
1 cup buttermilk
2 dashes Tabasco
1/2 cup flour
1/2 cup cornstarch
1/2 teaspoon salt
1/4 cup peanut oil
Poached Eggs
6-12 eggs, (1-2 eggs per person)
water
1 tablespoon vinegar
Garnish
12 oz fresh spinach
Instructions
Short Ribs
This may be prepared in a slow cooker or in the oven. If using the oven, preheat to 275 degrees.
Place an ovenproof casserole, Dutch oven, or heatproof slow cooker insert over medium heat. Add vegetable oil, and heat until it is very hot but not yet smoking. Season short ribs generously with salt and pepper. Add short ribs to the pot, working in batches if necessary (take care not to let the short ribs touch – you run the risk of them steaming rather than browning). Cook ribs until browned, about 10 minutes. Do not rush! Remove ribs from casserole, and set aside.
Remove excess fat, leaving just about 2-3 Tbsp in the casserole.
Add carrots, celery, onion, and garlic to oil in the casserole, and cook over medium heat, stirring occasionally, until vegetables are softened and golden, about 10 minutes. Season with a little salt and pepper. Add the mushrooms and cook a few minutes more.
Add flour and tomato paste to the casserole, and stir to combine. Deglaze the pan with the wine; stir with wooden spoon until all browned bits have been scraped from the pan. Simmer, then add beef stock.
Return browned ribs to the casserole and add the bay leaf. Bring the liquid to a simmer over medium-high heat. Cover the casserole, and place it in the oven or slow cooker. If using a slow cooker, cook on high setting. Cook until ribs are very tender, about 3 hours.
Rice
Prepare rice. Here is my way to cook rice.
Crisp and Spicy Fried Onions
Stir the thin onion slices in a bath of buttermilk spiked with tabasco. Let it sit about 30 minutes. Combine flour, cornstarch and salt in a bowl. Heat the peanut oil in a skillet. Working in batches, coat onion rings in the flour mixture and fry. Drain on paper towels.
Poached Eggs
Heat about two inches of water in a large deep sided skillet. Bring to a rolling boil, then lower heat to just a simmer. Stir in vinegar. Crack egg into a small heatproof bowl or ramekin. Lower into the boiling water and let it sit for 3-5 minutes until the white cook and the yolk is enveloped. If your water is not deep enough, you may have to gently spoon simmering water over the egg yolk to help it along. Work in batches. Retrieve egg with a slotted spoon and rest on a plate for a minute or so.
Assembly
Place a bed of rice in a deep dish. Place a short rib on top, along with mushrooms and some sauce. Top with poached egg and crispy onions. Serve immediately.