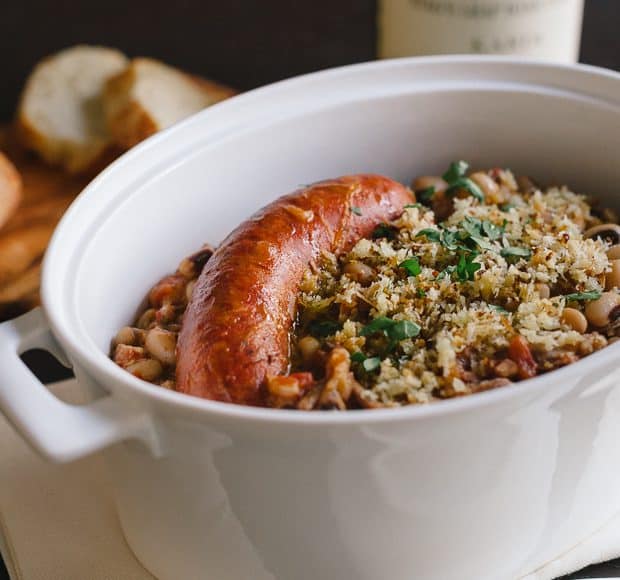 Black Eyed Pea Cassoulet
Black Eyed Pea Cassoulet – Cook it low and slow in a Dutch oven or slow cooker and you'll find that the longer it cooks, the better it tastes. Do you believe in luck? Or do you believe more in good habits, drive and determination? My…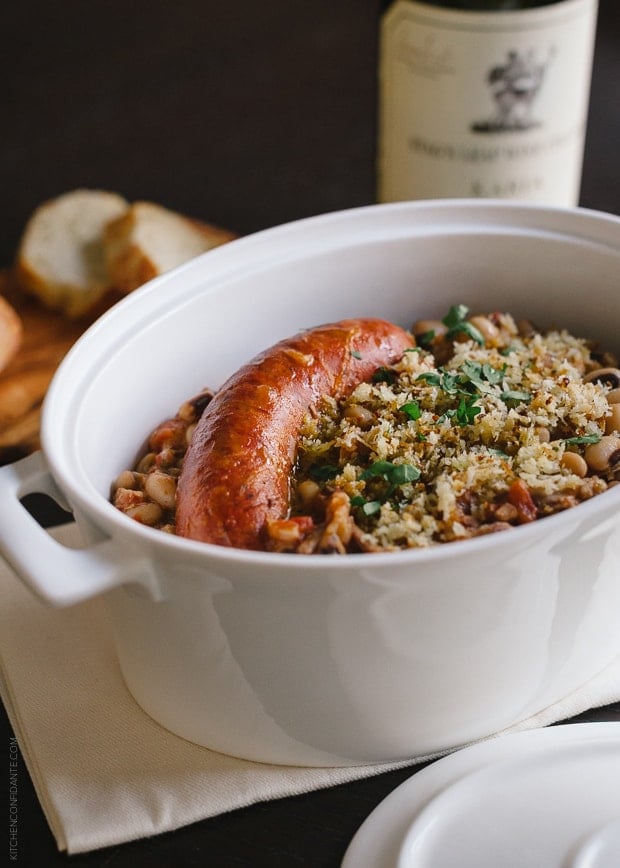 Black Eyed Pea Cassoulet
Black Eyed Pea Cassoulet – Cook it low and slow in a Dutch oven or slow cooker and you'll find that the longer it cooks, the better it tastes.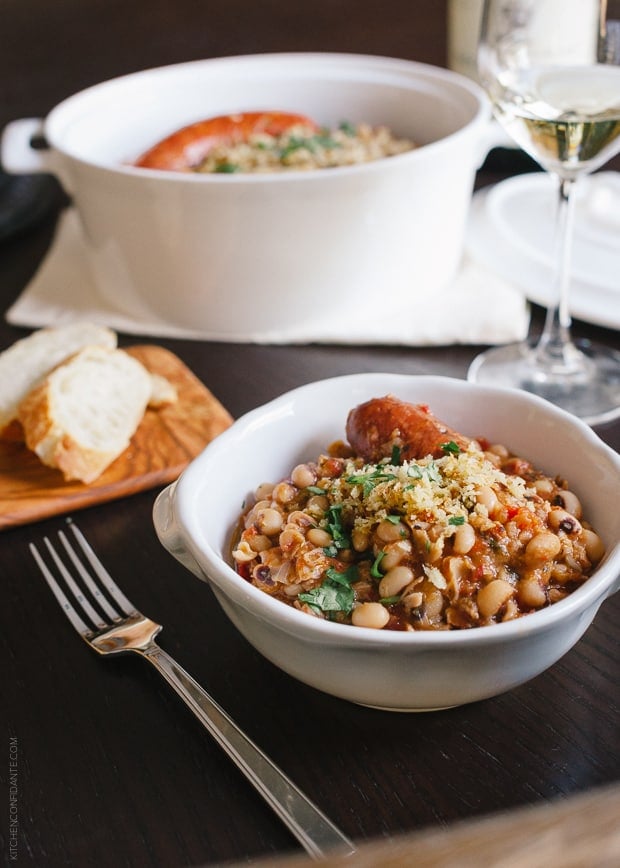 Do you believe in luck? Or do you believe more in good habits, drive and determination? My father raised us to rely on hard work and tenacity, but it was my mother who would encourage us to jump high at the stroke of midnight on New Year's Eve. And I would. Filipino tradition asserted that the higher a child jumps on New Year's, the taller they will grow. And I could use every inch I could get.
It was a nice thought. But as luck would have it, and my genetics, too, for that matter, I never grew beyond 5 foot 3…and three-quarters.
It's New Year's Eve, and as we chill the bubbly and prep hors d'oeuvres, in the back of our minds, resolutions are forming, and goals for the coming year. Once the year starts fresh, it's back to working hard, but once in a while, capricious luck will deal its hand. Let's just cross our fingers it goes our way!
The tradition of eating black eyed peas for New Year's was not one I grew up following. Southern in its roots, Hoppin' John didn't make its way up to my mother's Filipino kitchen in New York, nor did I encounter it as I moved cross country. Between you and me, I had never heard of this tradition until just a few years ago, but I decided it would be a delicious practice to adopt. Like I said, sometimes we need all the luck we can get. And I found mine in a Black Eyed Pea Cassoulet.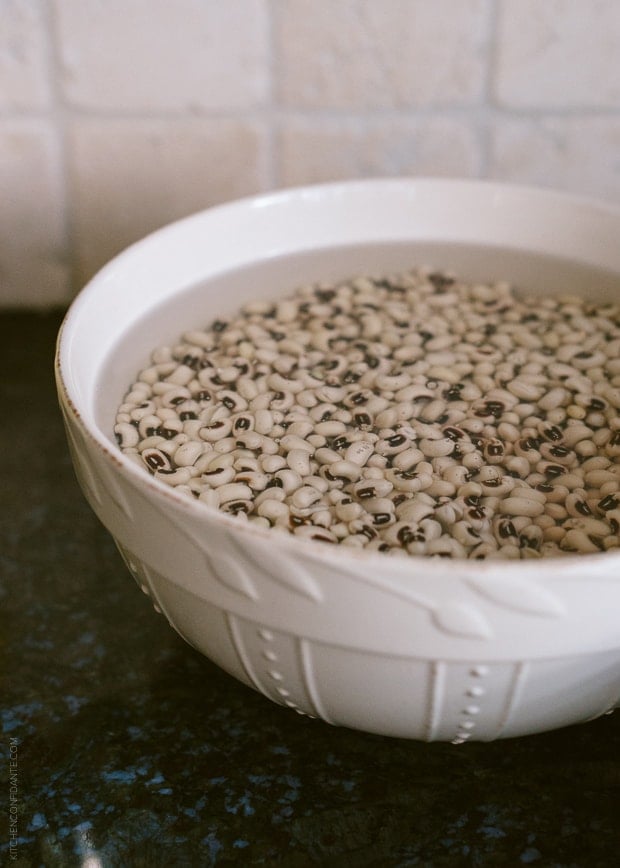 As you get ready for your celebrations, consider leaving a bowl of black eyed peas to soak for the night. As you recover from festivities on New Year's Day, let this rustic cassoulet bubble and brew, nice and slow, until the layers of flavor meld with hunks of pork shoulder that shreds to the touch, and the plump chorizo nestled among the spotted beans, with the crunch of breadcrumbs that greet you with each bite. Spoonfuls of this cozy dish will be just right to ring in the new year. Frankly, it's wonderful any day of the year. It may not be Southern, but it sure tastes lucky to me.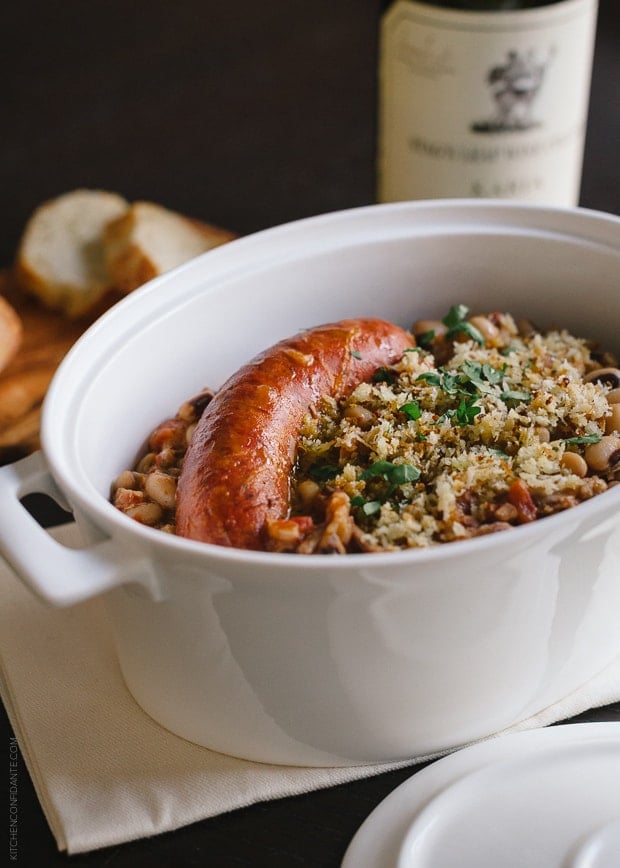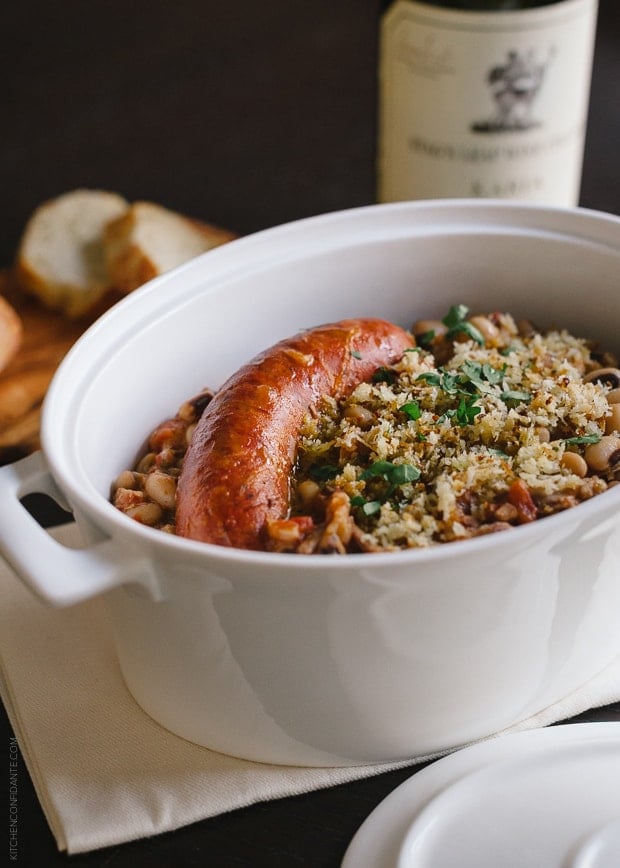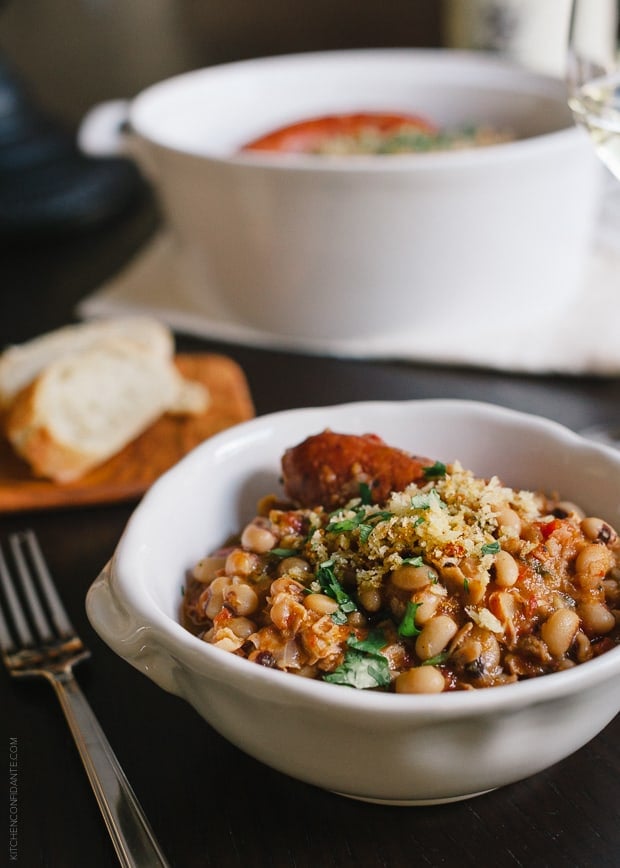 Happy New Year, everyone. Stay safe, and be merry. And see you in 2014!
Cook this cassoulet low and slow, and you'll find that the longer it cooks, the better it tastes, making it suited either to a luxurious braise in a Dutch Oven, or a slow cooker, if you have one. Make it in advance, and it tastes even better the next day.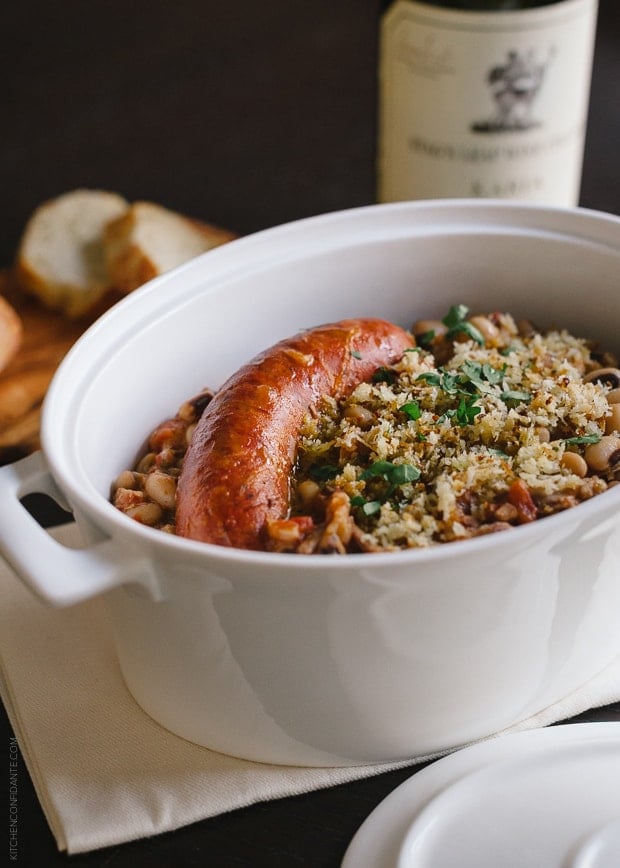 Print Recipe
Ingredients
16 oz dried, uncooked black eyed peas
3 lb. boneless pork shoulder, cut into 4 pieces
Kosher salt and freshly ground pepper, to taste
4 oz. pancetta, finely diced
2-3 tablespoons olive oil, divided
1 1/2 cups panko breadcrumbs
1 large yellow onion, chopped
1 leek, chopped
2 cups white wine, I used a crisp Chardonnay
2 tablespoons tomato paste
1 28 oz can fire roasted diced tomatoes
2 cups low sodium chicken broth
1 bay leaf
6 smoked chorizo sausage links
1 garlic head, halved crosswise
1 teaspoon sherry vinegar
1/4 cup chopped fresh flat-leaf parsley or cilantro, plus more for garnish
bread, for serving
kosher salt and pepper, to taste
Instructions
In a large bowl, soak the black eyed peas in about 8 cups of cool water overnight. Rinse and drain.
Season the pork shoulder pieces generously with salt and pepper. Set aside.
In a Dutch oven, large pot, or insert of a slow cooker over medium heat, heat 1 tablespoon of the olive oil and brown the pancetta. Scoop out the pancetta with a slotted spoon and set it aside. Add the panko breadcrumbs, and stir until toasted and golden brown, and it has absorbed the flavor from the oil. Set this aside as well.
Add another tablespoon or two of oil to the pot and raise the heat to medium-high. Brown the pieces of pork shoulder on all sides, about 3 minutes per side. Transfer to a plate and set aside.
Lower the heat to medium-low, then add the onions and leeks and cook until they are limp. Season lightly with salt and pepper. Stir in the wine, and let the liquid cook until it is reduced by half, scraping the bottom of the pot with a wooden spoon. Stir in the tomato paste, diced tomatoes, chicken broth and bay leaf. Return the pork to the pot, along with the drained black eyed peas, and nestle the sausage and garlic. Bring to a boil, then lower heat to a simmer, and let it cook, stirring occasionally, for at least 3 hours, or until the pork is fork tender. Shred the pork and skim any fat from the top of the pot. Stir in sherry vinegar, 1 cup of the toasted breadcrumbs and parsley (or cilantro). Season to taste with salt and pepper.
Serve hot, with fresh bread, and garnished with additional breadcrumbs and herbs, and a drizzle of olive oil, if you wish.