Simple Sundays | No Knead Buttermilk Bread + The New Artisan Bread in Five Minutes a Day
I am hibernating. I have been waking up each morning when my body wills me to, without the coaxing of an alarm clock or the pressure to rise before the sun. When I emerge from underneath the down comforter, I wrap myself in my fleece…
Simple Sundays | No Knead Buttermilk Bread + The New Artisan Bread in Five Minutes a Day
I am hibernating. I have been waking up each morning when my body wills me to, without the coaxing of an alarm clock or the pressure to rise before the sun. When I emerge from underneath the down comforter, I wrap myself in my fleece robe, and when I am ready to dress for the day, I pull on more fleece. Fleece pants, fleece vests, fleece lined sweaters. My husband has been spoiling me with coffee, piping hot, when I wake, just the way I like it. And the children have been lounging in their pajamas for (almost) as long as they wish.
This is what winter break should be like.
The urge to stay indoors and hibernate doesn't mean I've been unproductive. Quite the contrary. I have been nesting, too. We have cleaned and purged and rearranged furniture. And I have been satisfying the urge to bake something other than holiday cookies. Bread has been on my mind. The feel of flour on my hands. The scent of yeast working its magic in the air.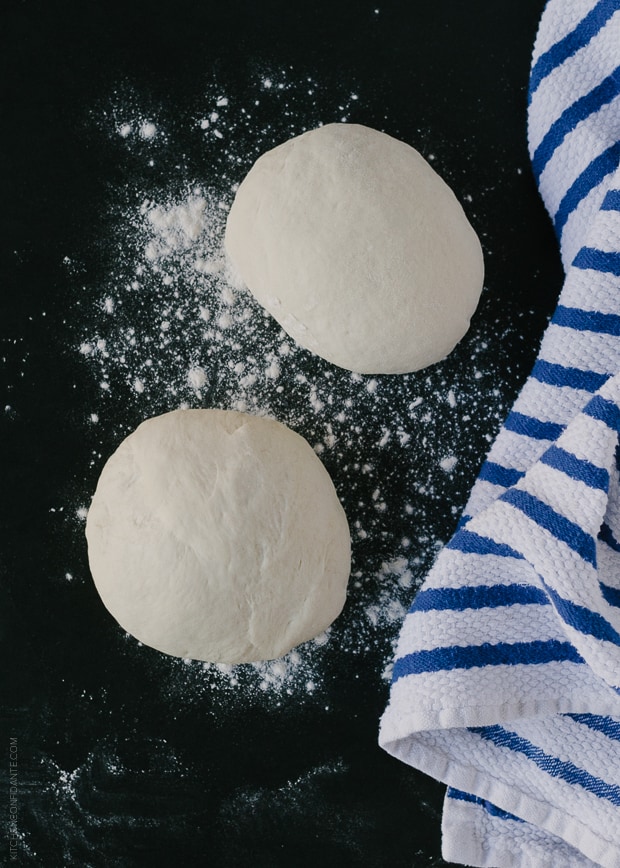 I have had several cookbooks I have been meaning to review. The New Artisan Bread in Five Minutes a Day by Jeff Hertzberg, M.D. and Zoe Francois has excited me since its release, and I was eager to review it when the opportunity presented itself. It just took me a little while. Baking bread is something I tend to put off, despite how much I love the process; mentally, I consider it to take up so much time, something that seems lacking in every day life. But truthfully, I should have known better, because the Bread in 5 concept is something I know I can embrace.
Five minutes. It takes a mere five minutes to bring ingredients together into a dough that will last close to a week. Fresh bread can be had when you wish, with the dough resting in your refrigerator (or freezer, even). What I used to consider a luxury of time is no longer.
The New Artisan Bread is full of recipes that I would love to tackle – from gorgeous peasant loaves to flatbreads and pizzas, to gorgeous stuffed french toast. There's even a section for gluten-free breads. The first I wanted to try was a simple Buttermilk Bread, something that is already a store-bought favorite of my family's. While the original recipe calls for baking the bread in a loaf pan, I decided to try it in smaller segments, and as free form boules. I love the rustic appearance, but quite frankly, I could not be bothered with loaf pans – baking it directly on a baking stone made for less dishes to wash. And I could have smaller, fresh loaves more frequently.
I wish you could smell the bread as it baked in my oven! It permeated the house with its intoxicating aroma, and it was hard to resist slicing into the loaves and slathering it with fresh butter and a sprinkling of salt. The spongy crumb within the crisp crust soaked it up, and the loaves were perfect accompaniments to this week's Beef, Shiitake Mushroom & Barley Soup and Lobster Corn Chowder. But plain slices were the best thing ever.
I have one more week to hibernate before the reality of life returns. There will be more lazy starts and I will be wearing more fleece. And one thing is for sure. There will be more fresh bread…not just next week, but beyond.
Disclosure: I received a copy of The New Artisan Bread in Five Minutes a Day, by Jeff Hertzberg, M.D. and Zoe Francois from Thomas Dunne Books, an imprint of St. Martin's Press for review, however, I was not compensated to write or review the book. All opinions are always my own. Please visit BreadIn5.com to learn more about The New Artisan Bread and for more recipes.
No Knead Buttermilk Bread
The original recipe for Buttermilk Bread as it appears in The New Artisan Bread in Five Minutes a Day calls for loaves to be baked in loaf pans, however, I skipped this to make free form boules, in smaller portions. Please refer to the cookbook for instructions on baking them into sandwich loaves.
Print Recipe
Ingredients
2 1/3 cups lukewarm water
1 cup buttermilk
1 tablepoon granulated yeast
1 to 1 1/2 tablespoons kosher salt
1 1/2 tablespoons sugar
6 1/2 cups bread flour
cornmeal for dusting
Melted butter
Instructions
In the bowl of an stand mixer (or a large bowl, about 6 qt capacity), mix together the water, buttermilk, yeast, salt and sugar. Add the flour and mix using the paddle attachment (or mix by hand with a wooden spoon). Do not knead the dough.
Lightly cover the bowl and let it rest at room temperature for 2 hours, or until the dough doubles in size, then collapses.
At this point, the dough can be used immediately, or it can be stored in the refrigerator in a covered container and used within 5 days. The dough can also be stored in the freezer for up to 3 weeks. 
When you are ready to bake, cut off your desired amount from the dough. I baked free form loaves from portions about the size of a grapefruit on a baking stone. Dust the portion of dough with flour and very lightly knead and shape it into an elonglated ball. Lightly cover with a kitchen towel or plastic wrap and let it rest for 90 minutes.
Preheat the oven to 350 degrees F. Place the rack in the center of the oven with the baking stone, if using.
If baking on a baking stone, lightly dust the bottom of the loaf with cornmeal. Otherwise, place on a parchment lined baking tray. Lightly brush the top of the loaf with melted butter. Bake for about 45 minutes, or until the bread is golden brown. Brush the top of the bread with a little more melted butter upon removing from the oven. Take the bread out of the pan and cool before slicing.