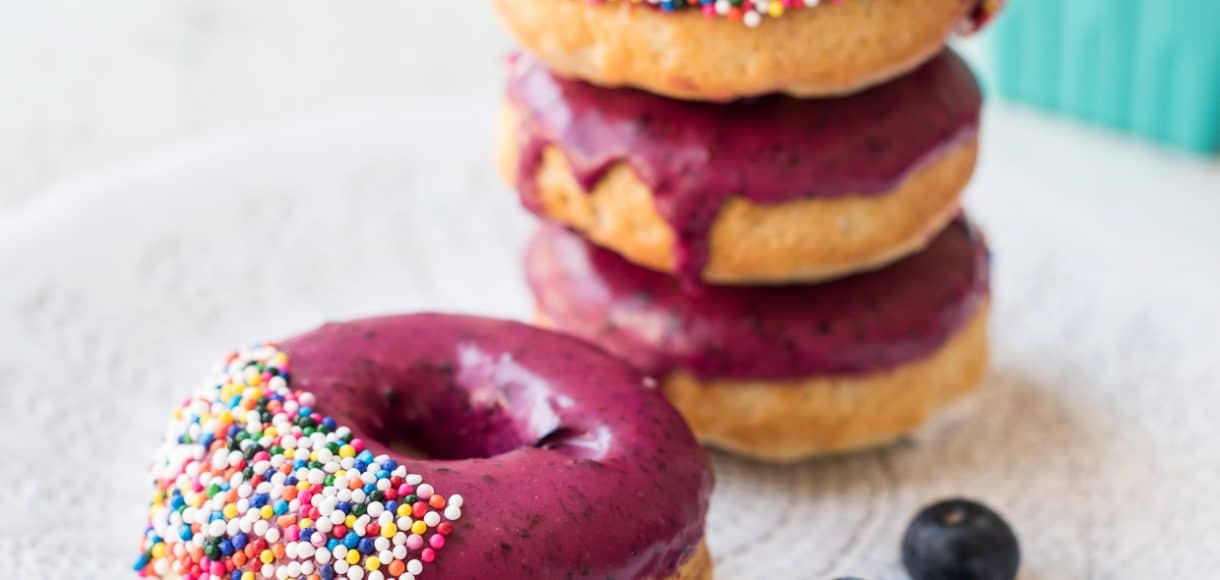 Blueberry Lemon Glazed Baked Donuts
Roughly every six years, the stars align and Father's Day falls on June 19th. This auspicious day happens to be my birthday, and when there are two celebrations on this one Sunday, it feels almost as rare as a visit from Halley's Comet. As rare…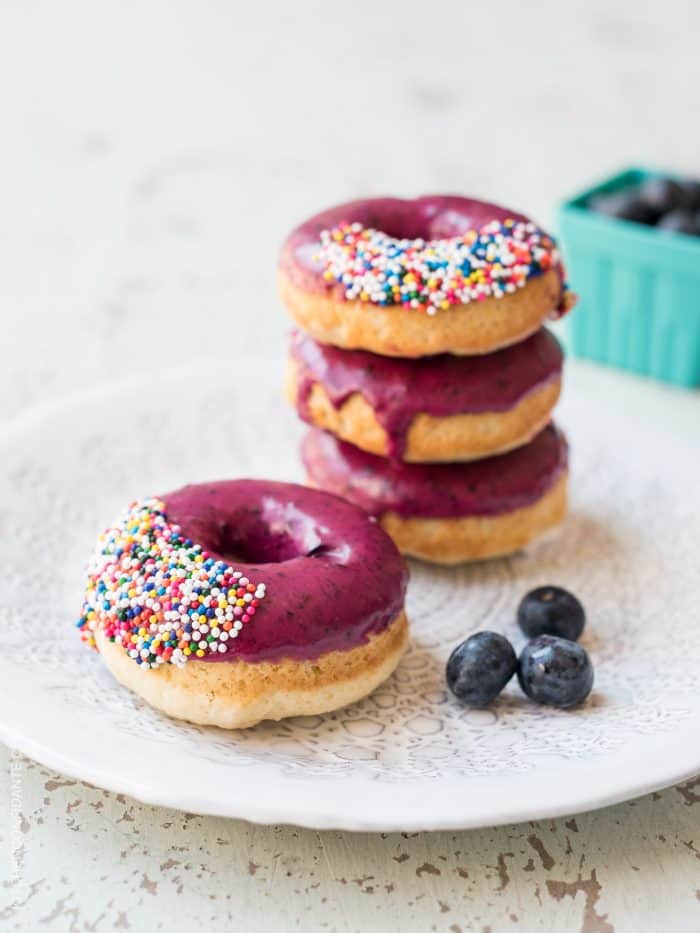 Blueberry Lemon Glazed Baked Donuts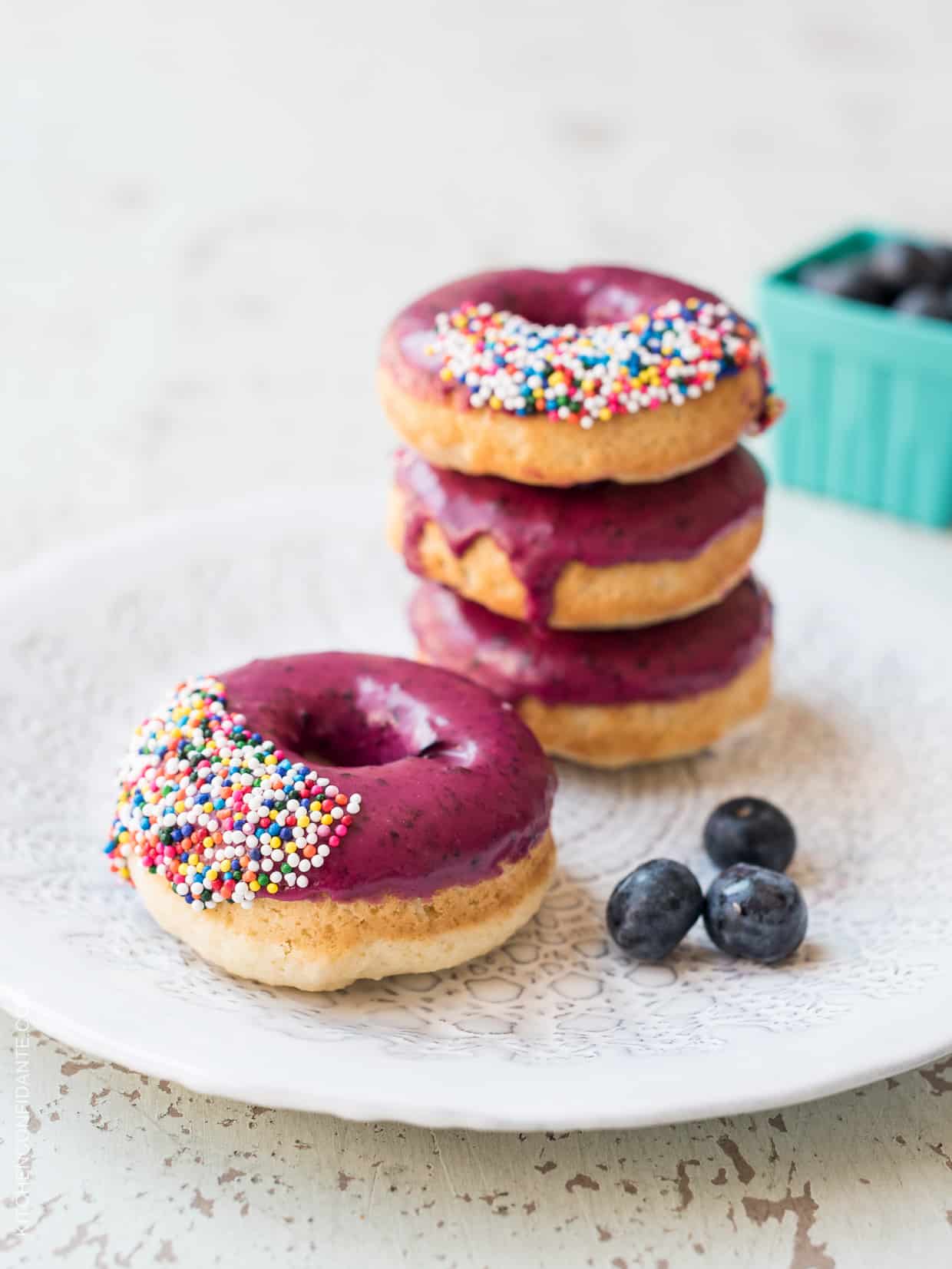 Roughly every six years, the stars align and Father's Day falls on June 19th. This auspicious day happens to be my birthday, and when there are two celebrations on this one Sunday, it feels almost as rare as a visit from Halley's Comet.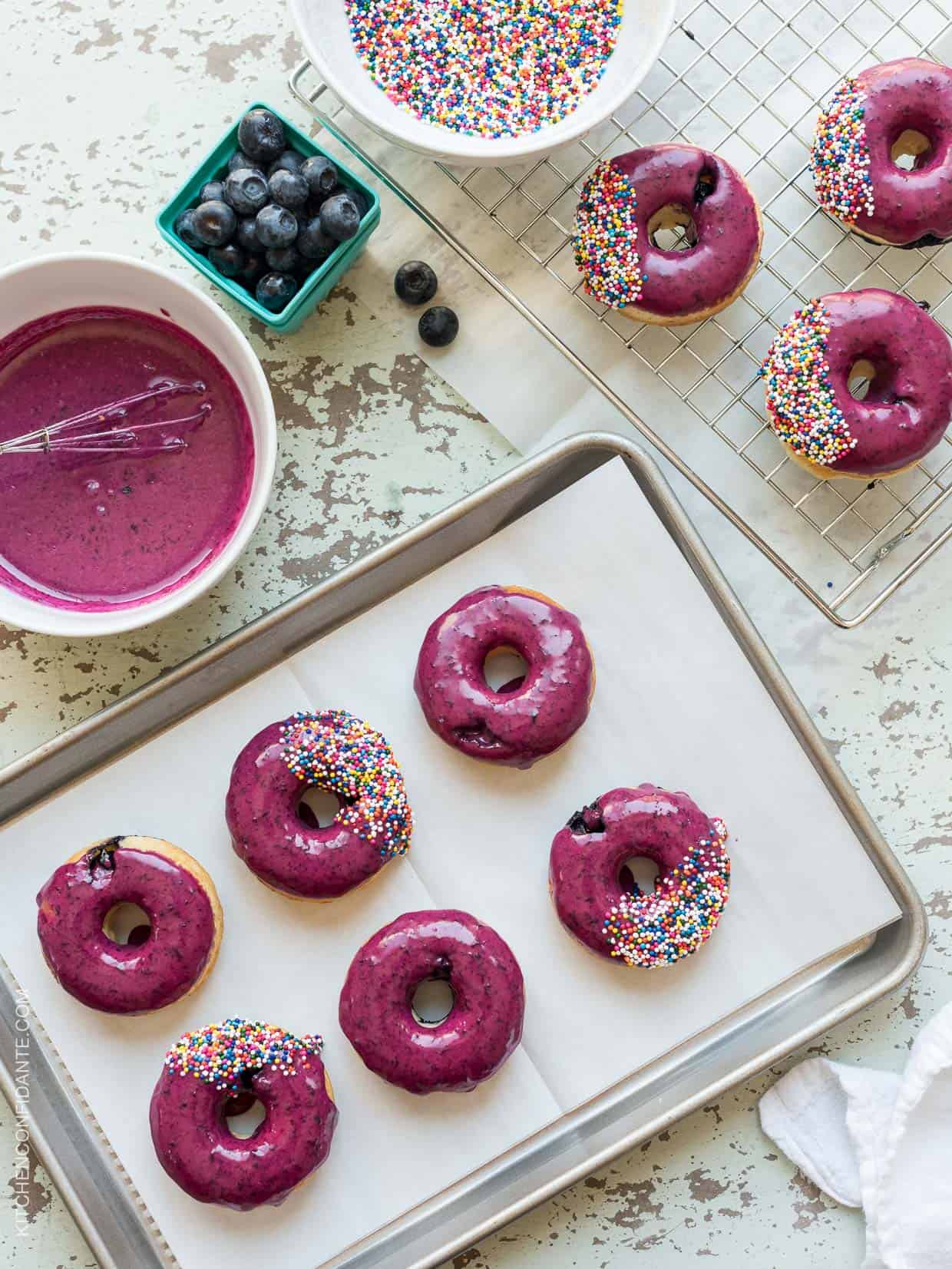 As rare and as special as this is, I am looking forward to a low-key celebration. We've got an exciting family vacation approaching and really, that time away with my family is all the present I need, birthdays, Christmas and anniversaries combined.
That said, sweet treats are in order! We can't have a birthday without one, and doughnuts for dad always seems to be the go-to around here on Father's Day, so I thought we should celebrate with some Blueberry Lemon Glazed Baked Donuts!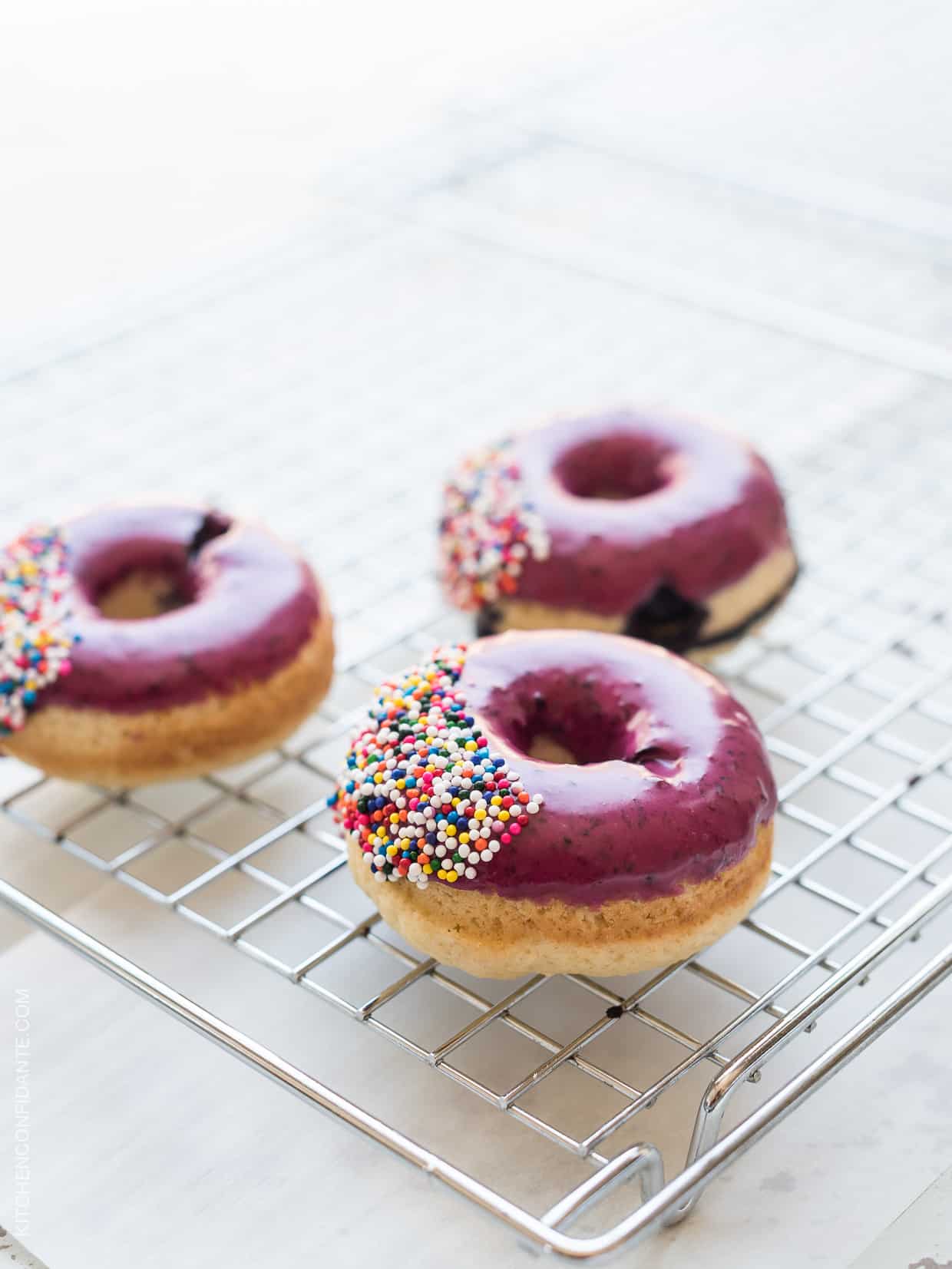 These doughnuts are for the kid in all of us – cake-like buttermilk doughnuts are bursting with sweet blueberries (which I can't get enough of right now), but that glaze – oh that glaze! – makes me so happy. Fresh blueberries give it that brilliant color along with subtle sweetness that goes so well with a hint of lemon. And of course, some sprinkles make it extra happy, no matter what you're celebrating.
Blueberry Lemon Glazed Baked Donuts
Blueberry Lemon Glazed Baked Donuts are a sweet way to start the day happy! This recipe is full of fresh blueberries – from the blueberries in the baked buttermilk donut, to the gorgeous glaze on top!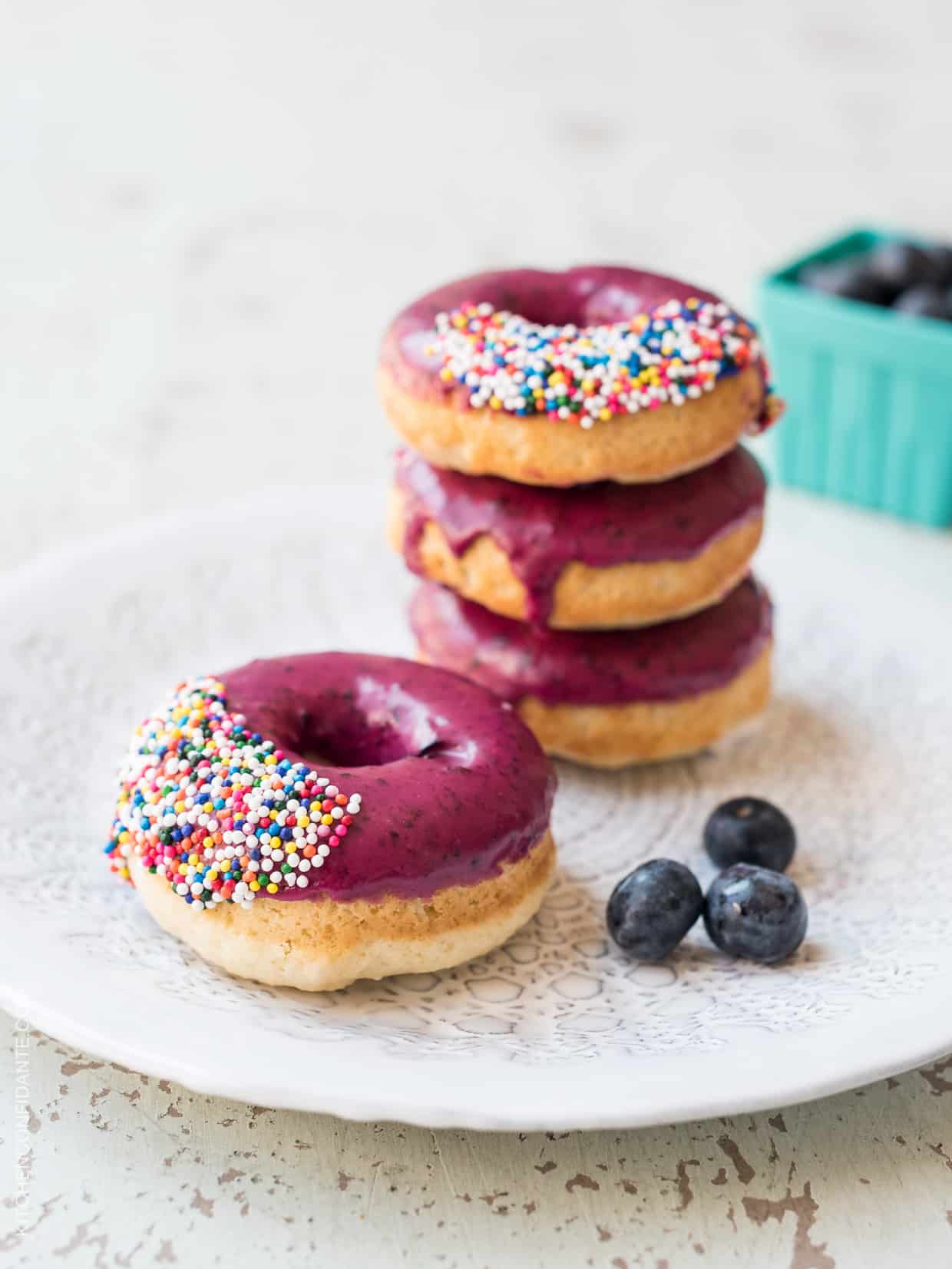 Print Recipe
Ingredients
1 1/2 cups all-purpose flour
1/2 cup granulated sugar
2 teaspoons baking powder
1/2 teaspoon kosher salt
1/4 cup canola oil
1 large egg
1/2 cup plus 1 tablespoon buttermilk
1/2 teaspoon vanilla
1/2 cup fresh blueberries
For the glaze:
1/2 cup fresh blueberries
2 tablespoons lemon juice
1 tablespoon water
1 1/2 – 2 cups powdered sugar
sprinkles, if using
Instructions
Preheat the oven to 350° F.
In a large bowl, whisk together the flour, sugar, baking powder and salt. In a small bowl, whisk together the oil, egg buttermilk and vanilla. Gently stir in the buttermilk mixture into the flour mixture, until just combined.
Lightly spray the doughnut pan with coconut oil spray or your favorite baking spray. Fill the doughnut pan about 2/3 full – I use a pastry bag to make this easier, but it is not necessary. Drop in several blueberries into each well, nestling them into the batter. Bake for about 15 minutes or until golden. Let the doughnuts cool for a few minutes before gently remove the doughnuts from the pan.
Make the glaze by placing the blueberries, lemon juice and water in a small saucepan over medium heat. When the blueberries burst and release their juices, use an immersion blender or a blender to puree the blueberries. Whisk in the powdered sugar in 1/2 cup increments until smooth and you achieve your desired consistency, using a little more or less as necessary. Dip the doughnuts in the glaze and let the excess drip off, then dip it into the sprinkles to coat. Let it cool on a wire rack…or enjoy immediately.