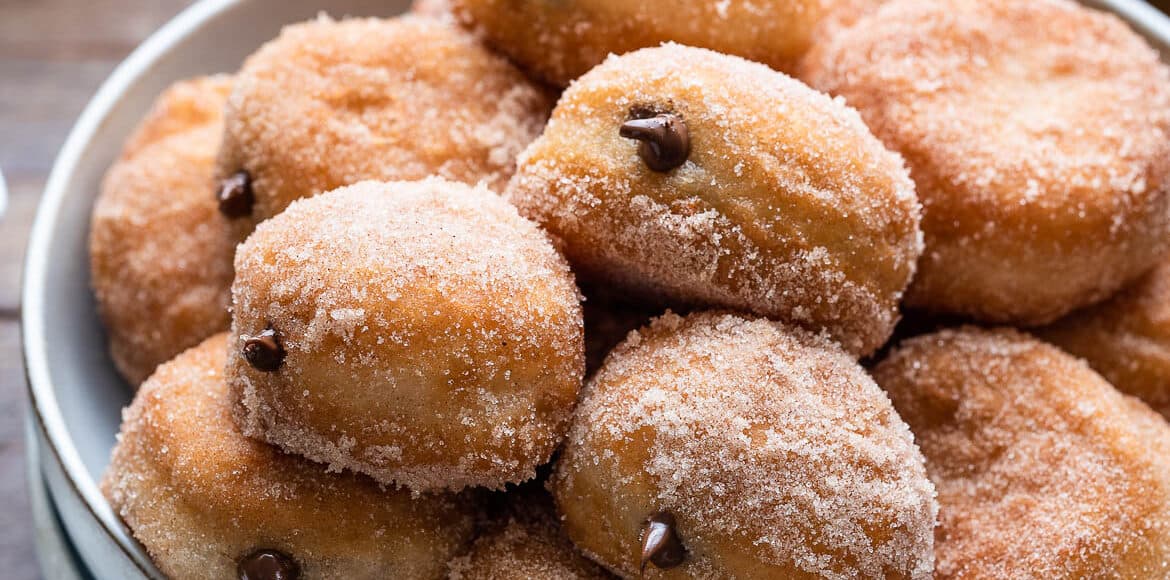 Nutella Filled Mini Doughnuts
Nutella Filled Mini Doughnuts are fluffy yeasted doughnuts, with orange zest in the dough and a dusting of cinnamon sugar that perfectly complements the creamy, chocolate hazelnut Nutella filling. A perfect breakfast treat! Enjoy this recipe and make your next breakfast special!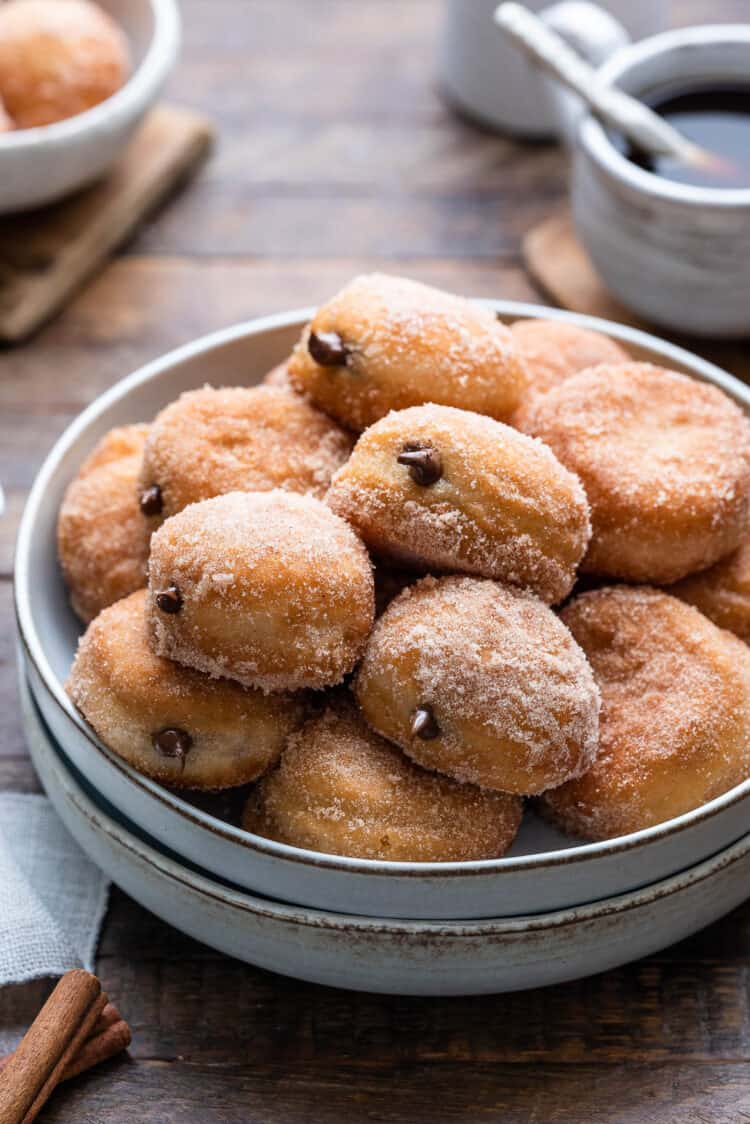 Nutella Filled Mini Doughnuts
Nutella Filled Mini Doughnuts are fluffy yeasted doughnuts with a hint of orange zest, dusted with cinnamon sugar, & filled with chocolate hazelnut Nutella! This post is brought to you by Nutella.
Note: This post first appeared on June 11, 2014. The recipe has been updated from the archives with updated content and photographs, as well as improved kitchen notes and recipe annotation. I hope you enjoy this favorite from my kitchen.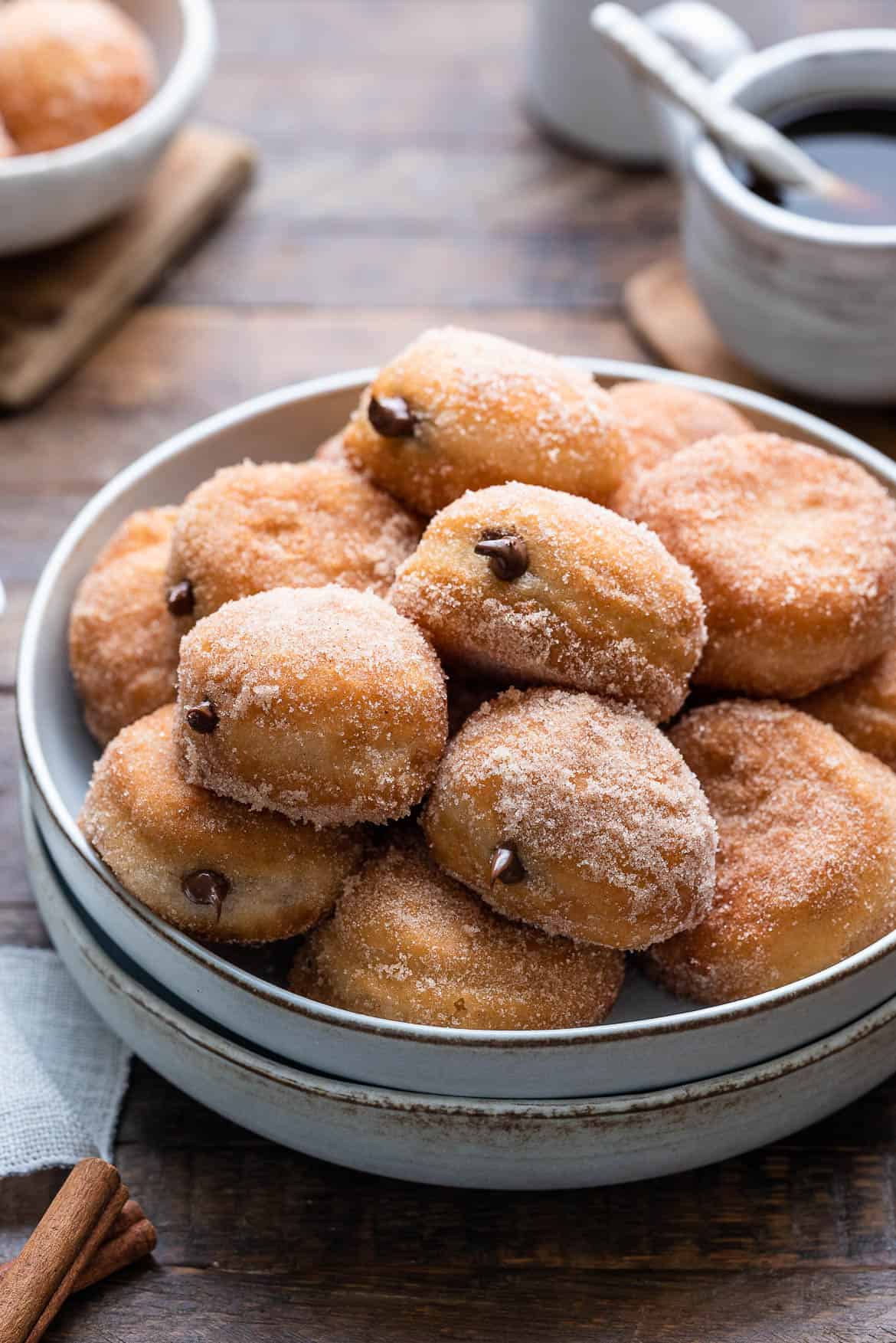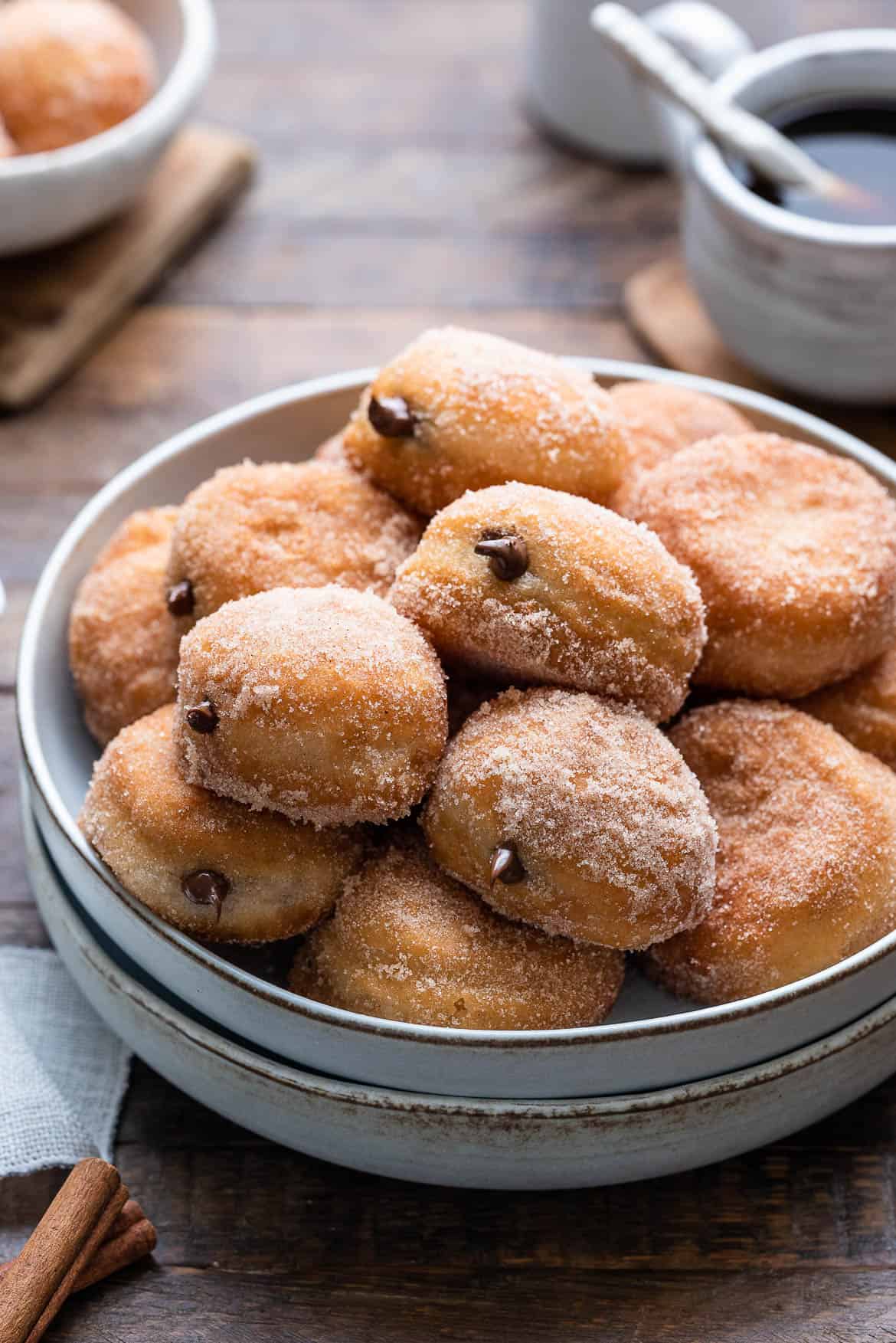 How do you know when the man you choose to marry will be an amazing father? Can you tell by the way he cares for you? By the way he treats young nieces and nephews? By the excited frenzy of baby gear shopping, and intense focus on picking out just the right stroller?
The truth is, you don't know.
You won't know.
You won't know, until the hazy halo of happiness from the first weeks of parenthood turn into the sleepless haze of exhausted months, when the baby between you means more to him than anything else in his life.
You'll know when he comes home to a cacophany of overjoyed shouts, "Daddy!!!!" feet stomping down the stairs, doggie paws skedaddling over the hardwood floors, little arms twisting around his waist.
When you end up in the ER after an emergency at school, and he exudes quiet strength for your little girl, and for you.
When he makes it a priority to be at every open house, every back to school night, each recital, the games, the dances. And when he is devastated when work prevents him from being at Doughnuts for Dads.
When he cuddles before bed with them. When Reading Time is, it turns out, more like chatting time. And tickle time. Or wrestling time.
When you realize that you can't live without your partner in parenting and trust that you both have what it takes to make it through the teen years around the corner.
This year, he was so intent on being there for the children's Doughnuts for Dads day at school – only to miss it once again when my son came down with a terrible tummy bug. So I decided to do our own doughnuts for dads here at home.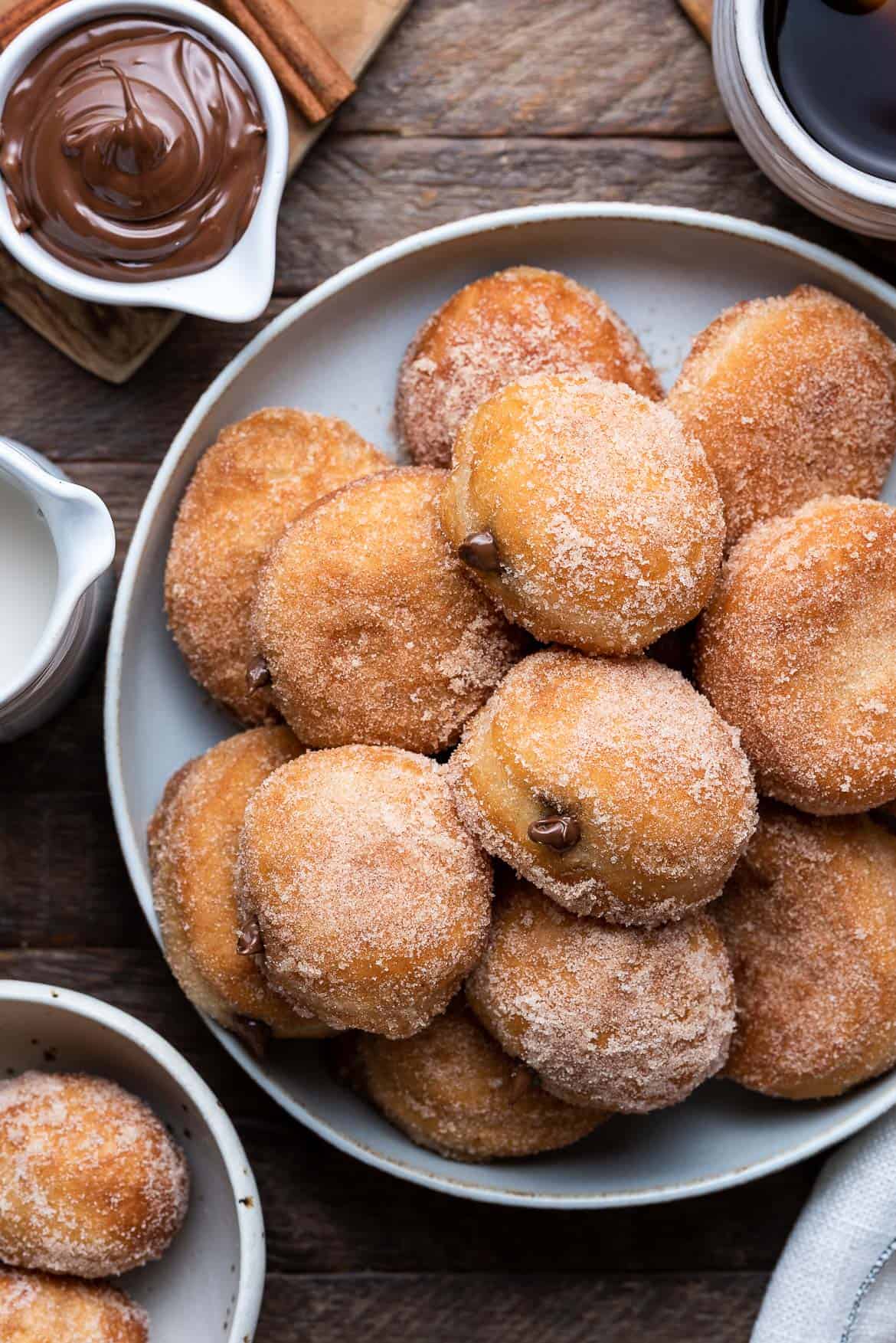 Father's Day is coming up and I can't help but become nostalgic and grateful for the man I married. He was the one for me, and without question, is the one for our children. He has been an amazing father, always thinking of them first, and I see how devoted the children are to him, in their playful ways.
We had a delicious time making this once-in-a-blue-moon treat! Nutella Filled Mini Doughnuts are yeasty delights, to make and to eat. Roll out the aromatic orange-cinnamon dough, and fill it with a teensy bit of extra love: Nutella. Sprinkled with cinnamon sugar on the outside, these doughnuts were made with love for the best dad we know. I hope the dads in your life love it, too.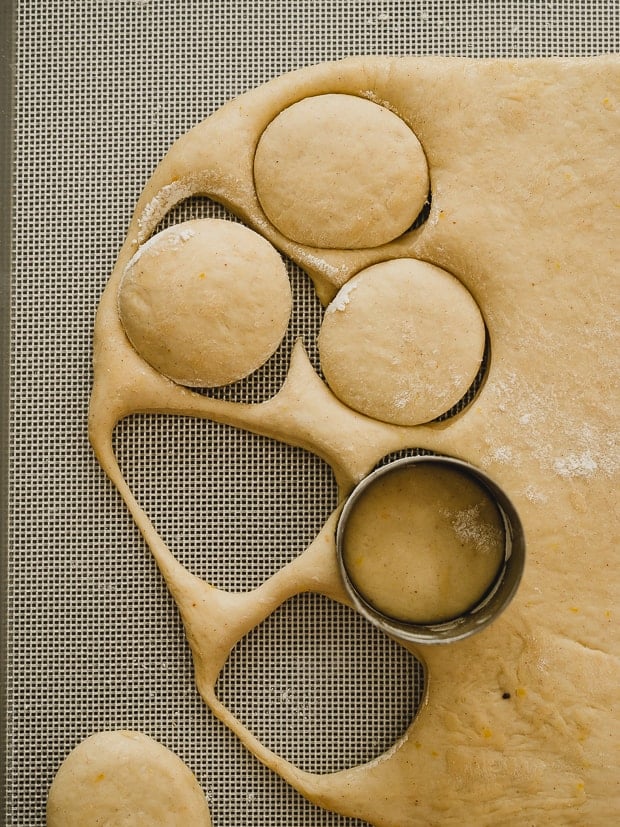 How to Make Mini Doughnuts
If you've never made yeasted doughnuts (or donuts, whichever spelling you prefer), this is a great place to start! The dough is very similar to a brioche, and quite simple to put together.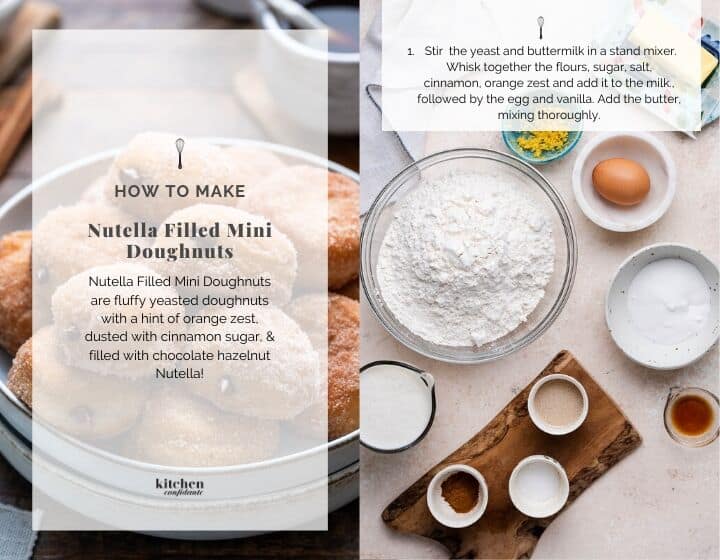 A stand mixer does all the hard work bringing the dough together.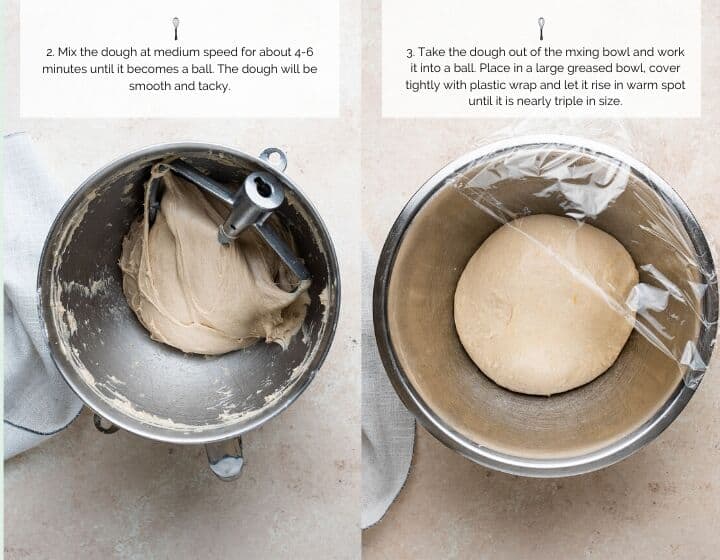 Perhaps the hardest part is waiting for the dough to rise! Keep in mind that a warm environment will help the dough rise. Since my kitchen runs cool, I like to proof my dough in an 80-100°F oven; at this temperature it will take about an hour.
Once the dough is ready to use, if you find the dough difficult to handle, pop it in the refrigerator for a quick chill. this will help rolling out easier.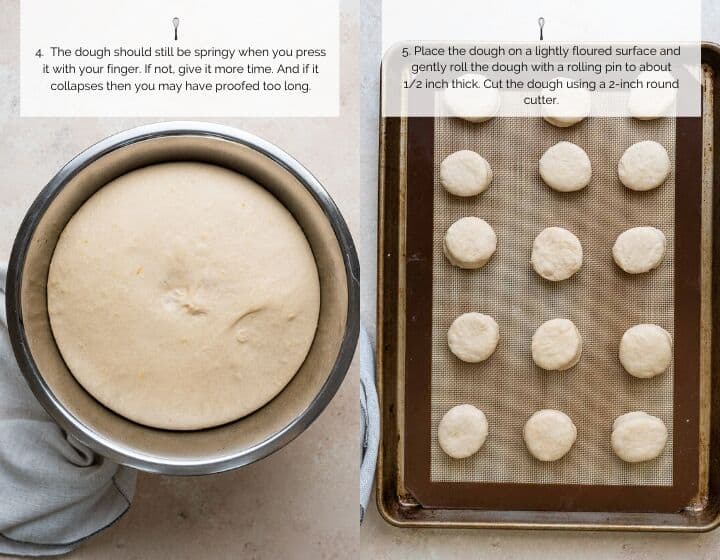 The key to cutting out the doughnuts is to not to overwork the dough. Ideally, just roll and cut it out once. If you do re-roll scraps, do it once – with each pass, the doughnuts become dense.
Now for the frying — use the best quality oil you can find. Doughnuts are best made with an oil that has a neutral flavor and high smoke point (which means it can handle high heat). Typically, peanut oil and grapeseed oil work best. However, I have made this with a very high quality olive oil (such as Cobram Estate) and find that the delicate flavor made my favorite version.
A quick fry will yield fluffy doughnuts ready for a dusting of cinnamon sugar! At this point, they're delicious on their own, but for the ultimate decadence, fill the doughnuts right before serving with Nutella!
For more tips and tricks to making doughnuts, refer to the recipe below!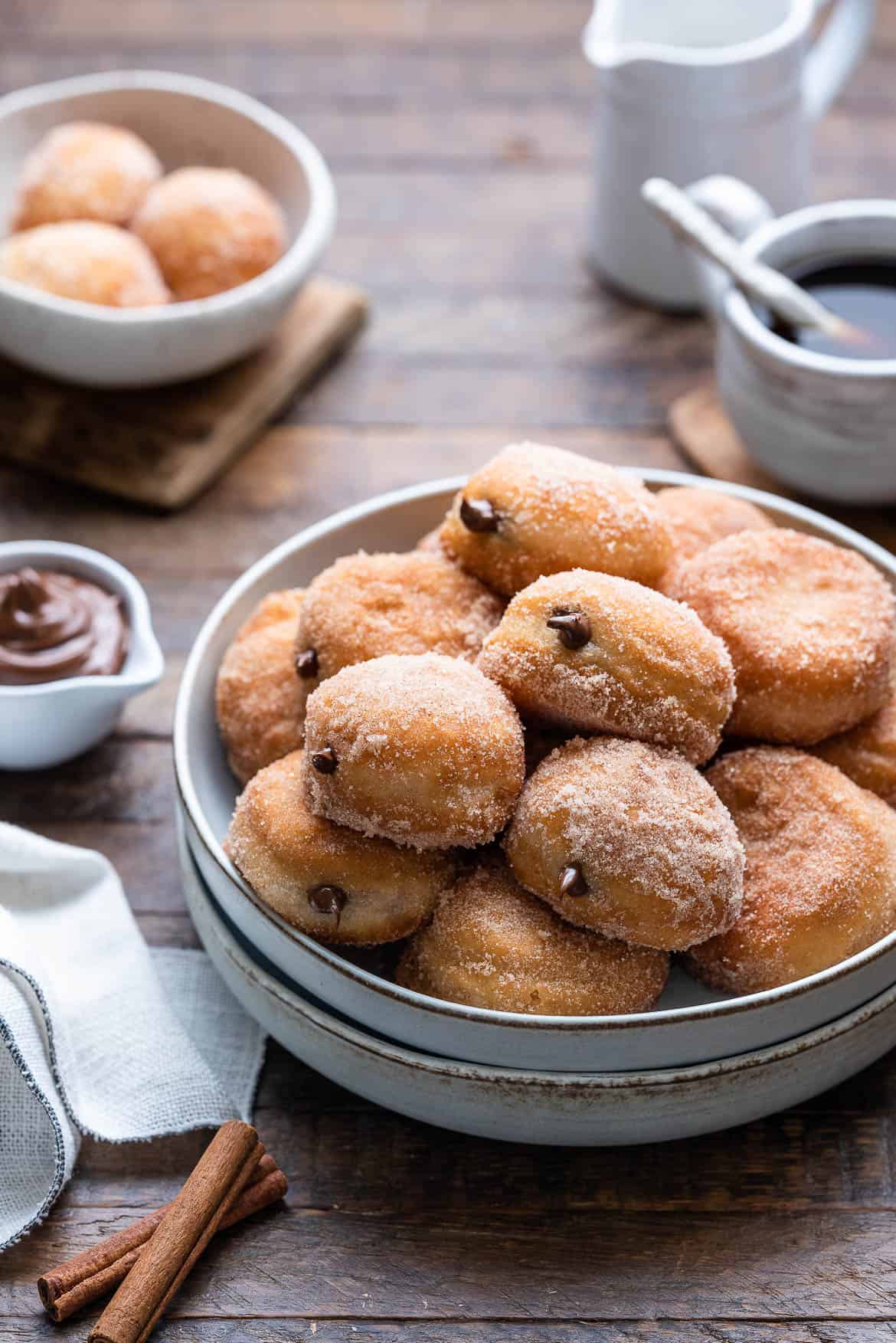 Nutella® hazelnut spread is a happy start to every day! Pick up a jar of Nutella in the spreads aisle and enjoy it with whole wheat toast, waffles, pancakes, strawberries, bananas and many other foods. Nutella. Spread the Happy™.
If you enjoyed these Nutella Filled Mini Doughnuts, be sure to check out:
Cherry Nutella Scones
Nutella Greek Yogurt Fillo Cups
Blueberry Lemon Glazed Baked Donuts
Nutella S'mores Parfaits
Nutella-dipped Frozen Bananas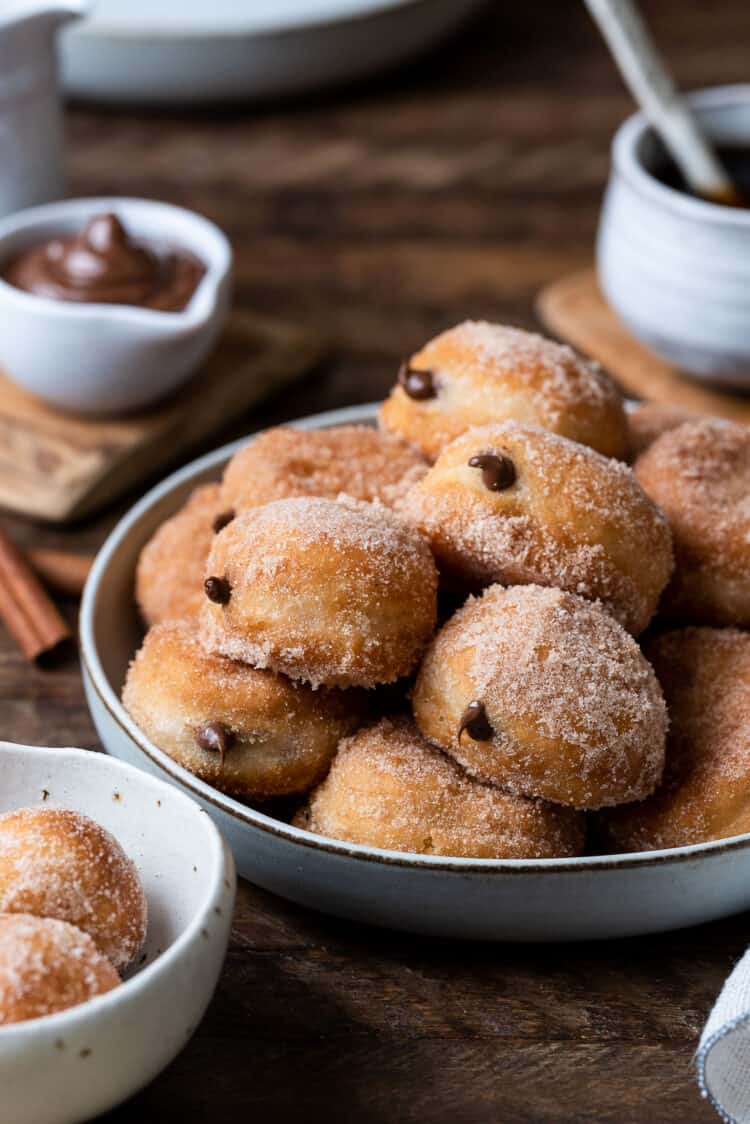 Nutella Filled Mini Doughnuts
Doughnuts are a rare treat in our house, so when we make them, it's a family affair. I love the cinnamon and orange scented dough, and just a touch of sweetness from the chocolate hazelnut Nutella – it's a little bite of delight, for sure.
Servings
24
small doughnuts
Ingredients
3 1/4

teaspoons

active dry yeast

1 1/2

cups

buttermilk

room temperature

3

cups

bread flour

3/4

cups

all purpose flour

1/4

cup

granulated sugar

1 1/2

teaspoons

salt

1

teaspoon

cinnamon

zest of 1 orange

1

large egg

1

teaspoon

vanilla extract

6

tablespoons

unsalted butter

softened

1/4

cup

granulated sugar

1

teaspoon

cinnamon

Nutella

for filling
Instructions
In the bowl of a stand mixer with the paddle attatchment, stir together the yeast and milk on low speed for about 3 minutes. In a medium bowl, whisk together the flours, sugar, salt, cinnamon, orange zest and add it to the milk with yeast. Mix until it is just combined. Add the egg and vanilla and mix for a few seconds, then add the butter, mixing thoroughly. Increase the mixer speed to medium speed and let it mix for about 4-6 minutes until it become a ball. The dough will be smooth and tacky.

Take the dough out of the mxing bowl and work it into a ball. Place in a large greased bowl, cover tightly with plastic wrap and let it rise in warm spot until it is nearly triple in size. How long it takes to rise will depend on the environment – I found that it took me about 1 hour, but it may be less or more for you, so plan accordingly! The dough should still be springy when you press it with your finger. If not, give it more time. And if it collapses then you may have proofed too long.

Place the dough on a lightly floured surface and gently roll the dough with a rolling pin to about 1/2 inch thick. If you find that the dough is hard to work with, pop it in the refrigerator for a bit to firm up a bit. Cut the dough using 2 inch rounds.

Heat oil in a deep fryer or skillet to 350 degrees F. Stir together cinnamon and sugar in a bowl and set aside. Drop in the doughnuts, working in batches. Fry for about 2-3 minutes, or until golden brown. Use a slotted spoon to transfer the doughnuts onto a tray lined with paper towels, then drop them while still hot into cinnamon sugar. Poke a hole into the doughnut and continue until all doughnuts are cooked.

Before serving, pipe in a little bit of Nutella into the doughnuts using a pastry bag and tip. Serve immediately.
Notes
Dough adapted from Basic Berliner, Glazed, Filled, Sugared & Dipped, by Stephen Collucci (Clarkson Potter, 2013).
How to Make Mini Doughnuts FAQs/Tips
Can I use all-purpose flour in place of bread flour? The short answer is yes, you can. Bread flour gives the doughnuts more structure and is ideal, but I have also made it with all all-purpose flour. If you find that the dough feels very loose, you may have to use a little more all-purpose flour when you roll it out.
How many times can I re-roll my dough? I would recommend that you only gather scraps and re-roll 1 time. The more you handle the dough, the denser they will become, so ideally, roll and cut just once!
What kind of oil should I use to fry? Doughnuts are best made with an oil that has a neutral flavor and high smoke point (which means it can handle high heat). Typically, peanut oil and grapeseed oil work best. However, I have made this with a very high quality olive oil (such as Cobram Estate) and find that the delicate flavor made my favorite version.
How much oil should I use? If you're using a deep fryer, follow the instructions for your appliance. If you're using a small Dutch oven or deep skillet, err on the side of more than less, meaning, do not shallow fry the doughnuts. They do best when there is ample oil so that the temperature is maintained better and more of the doughnut makes contact with the oil.
My dough feels very loose and is hard to work with. When this happens, pop it into the refrigerator for a quick chill. This will help give the dough some structure.
How do I store and reheat donuts? Ideally, eat them fresh! But if you have leftovers, freeze the fried doughnuts after they have fully cooled in a single layer on a baking sheet, then transfer to an airtight container. When you're ready to reheat them, pop them in a 300°F oven for about 10 minutes, or until hot and crispy.
Nutrition
Calories:
183
kcal
|
Carbohydrates:
26
g
|
Protein:
4
g
|
Fat:
6
g
|
Saturated Fat:
5
g
|
Cholesterol:
15
mg
|
Sodium:
169
mg
|
Potassium:
98
mg
|
Fiber:
1
g
|
Sugar:
10
g
|
Vitamin A:
120
IU
|
Calcium:
35
mg
|
Iron:
0.8
mg
Disclosure: Compensation was provided by the makers of Nutella via Mode Media. The opinions expressed herein are those of the author and are not indicative of the opinions or positions of Nutella.